Latest posts by Erin Jamieson
(see all)
If you've ever been curtain shopping, you probably know about blackouts and room darkening curtains. But in 2022, Americans are getting creative with ideas, using curtains for room dividers and unique decor by bringing back beaded curtains. 
2020 was the year of home renovations, with the average household spending rising by $4,000. But by 2022 that trend has hardly slowed, and now many are looking for ways to not only make important updates to their home but express their personality and get more organized. 
One thing 2020 and 2022 have taught me and so many Americans are how important both family and home are. And even just small additions can go a long way in making a space your own. While blackout curtains are popular for their functionality, beaded curtains are now being listed as one of the top 29 living room curtain ideas for 2022.  
The reason? Beaded curtains are fun, adventurous, and expressive, and a sure way to make your home or apartment feel unique. But they're also more useful than you might imagine.
Consider this your quick guide to unique beaded curtain ideas, where we explain the pros and cons of beaded curtains, how to select the best-beaded curtains, and my top ideas. 
What are beaded curtains?
Beaded curtains are also called portières, which comes from the French word for door (porte).  You may also simply see them called door beads.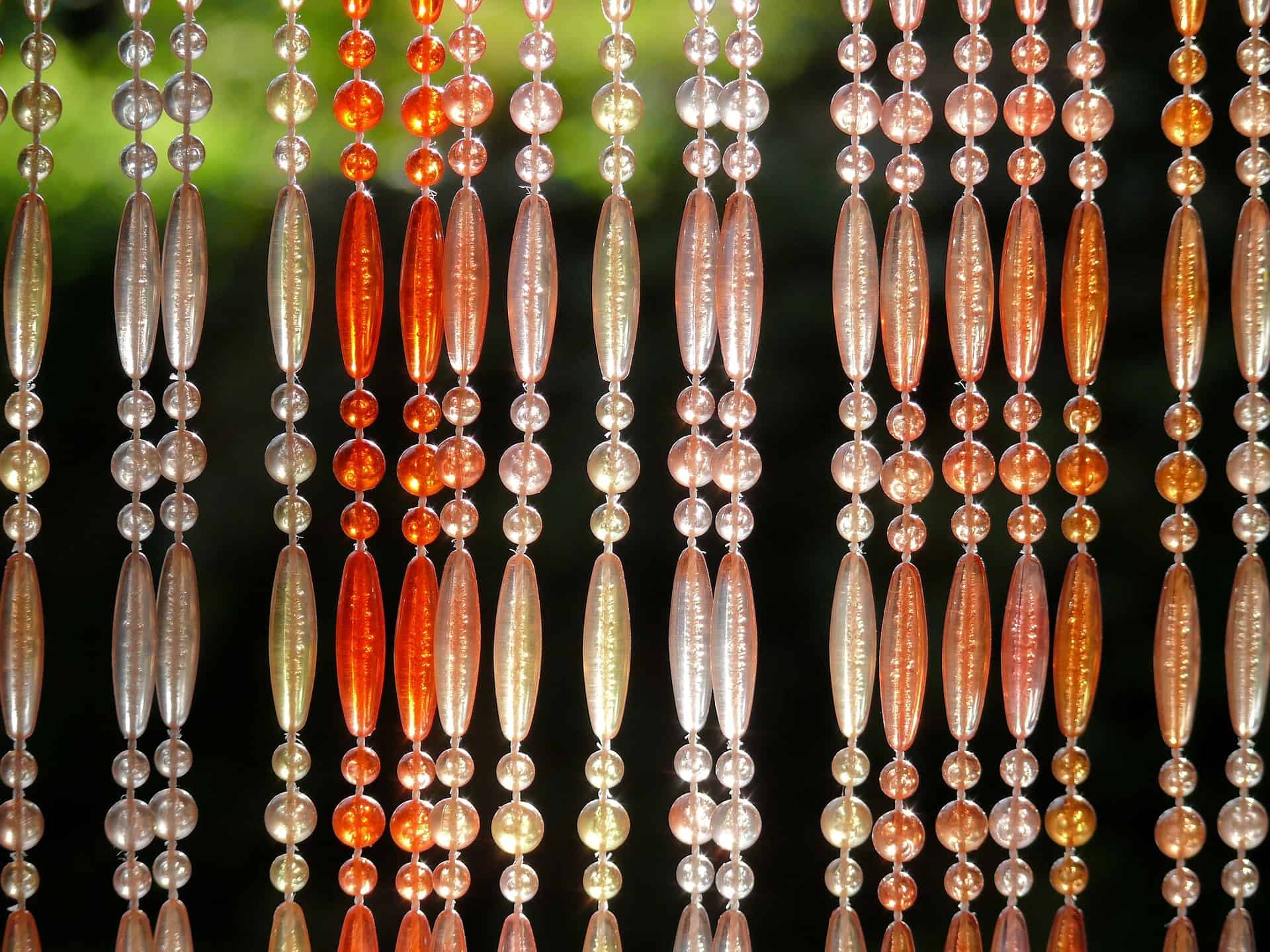 Beaded curtains hang over a door or entryway and can be made from a variety of materials. Unlike regular curtains, which typically are made with solid fabric panels, beaded curtains, as the name suggests, are made of some kind of beaded material, usually, string together on separate strands. In some ways, beaded curtains have a little more in common with blinds than regular curtains. 
What culture are beaded curtains from?
While beaded curtains are now seen amongst many cultures, likely the strongest and earliest connection comes from Asia. Bamboo beaded curtains were especially popular in the 1960s in Asia, as were colorful stone beaded curtains. However, beaded curtains date back to the Imperial Era in China. Today, different styles have been adapted, and you'll find both more traditional and bold choices. 
When were door beads popular?
In the United States, door beads blossomed into popularity in the 1960s and 1970s. They are now making a resurgence, especially as more styles than ever are available. And now beaded curtains are also being used in different ways. As they rise in popularity again, people are becoming more and more creative with how they are used and where they are hung. 
What is the purpose of beaded curtains?
Popularity aside, you may wonder what the purpose of beaded curtains is. Beaded curtains are usually used for decorative purposes above all. They can be placed inside bedrooms or outside of them to create an entrance.
Another way they're being used is to create a separate space within an open concept room. They can be used to create a quiet area to study or read for example. They visually break up the room and provide just a little privacy, and are often paired with decor items like potted plants. 
A final way beaded curtains are used in place of wall decor. Some hang more fragile beaded curtains right on a wall, often above a couch or chair. This is an option if you love the look of beaded curtains but are worried they don't suit your lifestyle or living circumstances. 
What are the pros and cons of beaded curtains?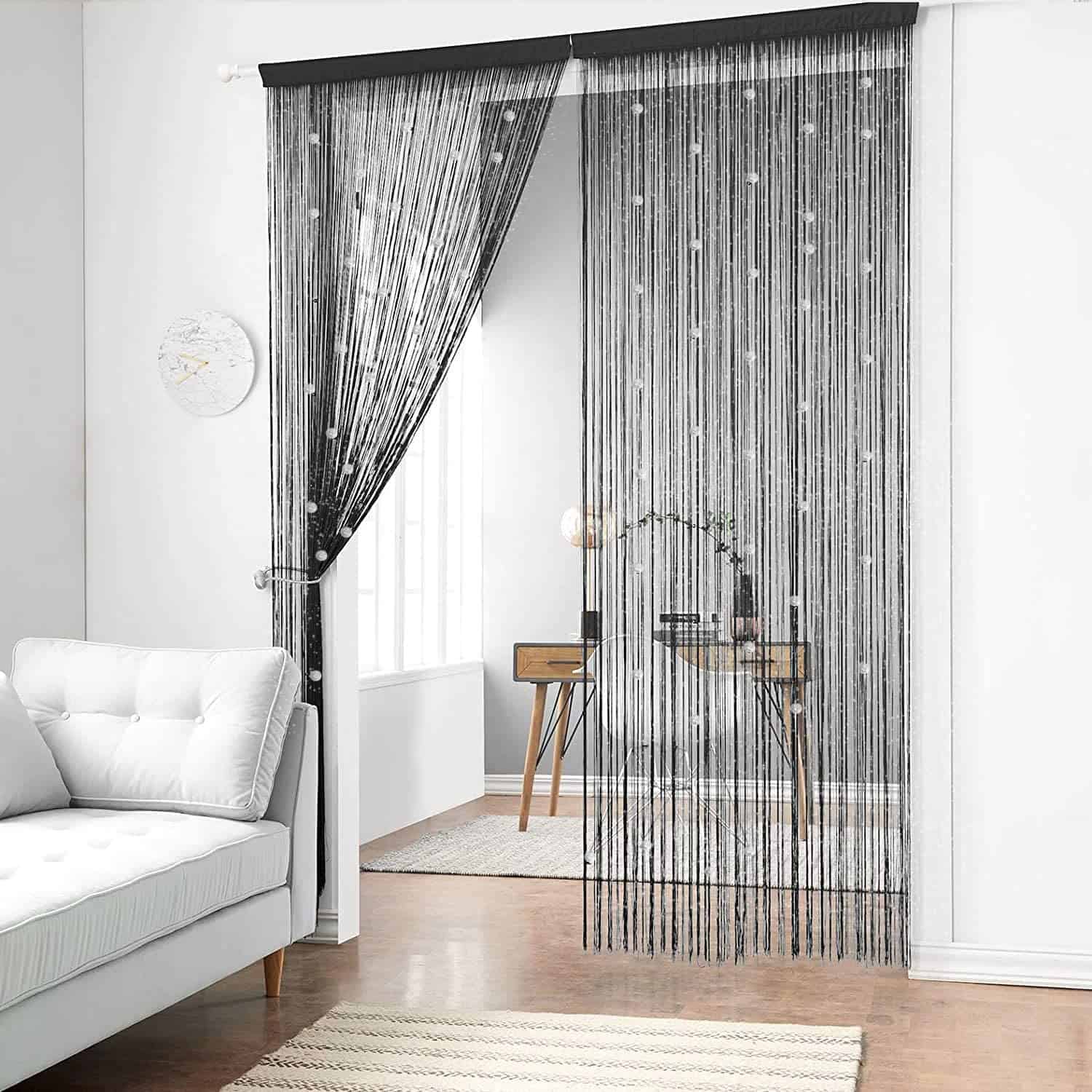 But regardless of how you plan to use beaded curtains, there are pros and cons you need to consider. Beaded curtains can be a delightful addition to a room, but not every room and not every lifestyle is compatible with them. 
The best part about beaded curtains is the unique and playful style they bring. They can add a boho, artistic or casual feel to any room. They're often used to section off quiet spaces and are effective as a pleasing room divider. Beaded curtains are light, easy to pair with other decors, and can even add a sense of organization to a space. Most are fairly affordable, though some handmade ones can get pricey. 
Undoubtedly, beaded curtains just provide an artistic vision many traditional curtains don't. And many find that added beaded curtains can create ambiance and even change the mood of a room. 
Do bead curtains keep bugs out?
Bead curtains may discourage flies, and that's why you'll sometimes see them on porches. That said, unless specially designed to do so, they won't be as effective in keeping out bugs as blinds or other window coverings. They can be a nice way to reduce the number of bugs you encounter– just don't expect them to eliminate them. 
Do beaded curtains provide privacy?
Beaded curtains provide just a hint of privacy– in a way that you might think of sheer curtains. Beaded curtains that are more tightly constructed will provide more privacy and vise-versa. They may make it hard to see a space from far away, and they can also shelter off part of a room. That said, you'll still be able to see through beaded curtains, which is also part of their charm. 
Are our beaded curtains durable? 
Beaded curtains are not as durable as standard curtains, because their stands can be fragile and break. That said, the type of material you select makes a difference. Generally speaking, acrylic beaded curtains and bamboo beaded curtains are both the most durable and least likely to break. Glass beaded curtains must be dealt with carefully. 
Are our beaded curtains safe?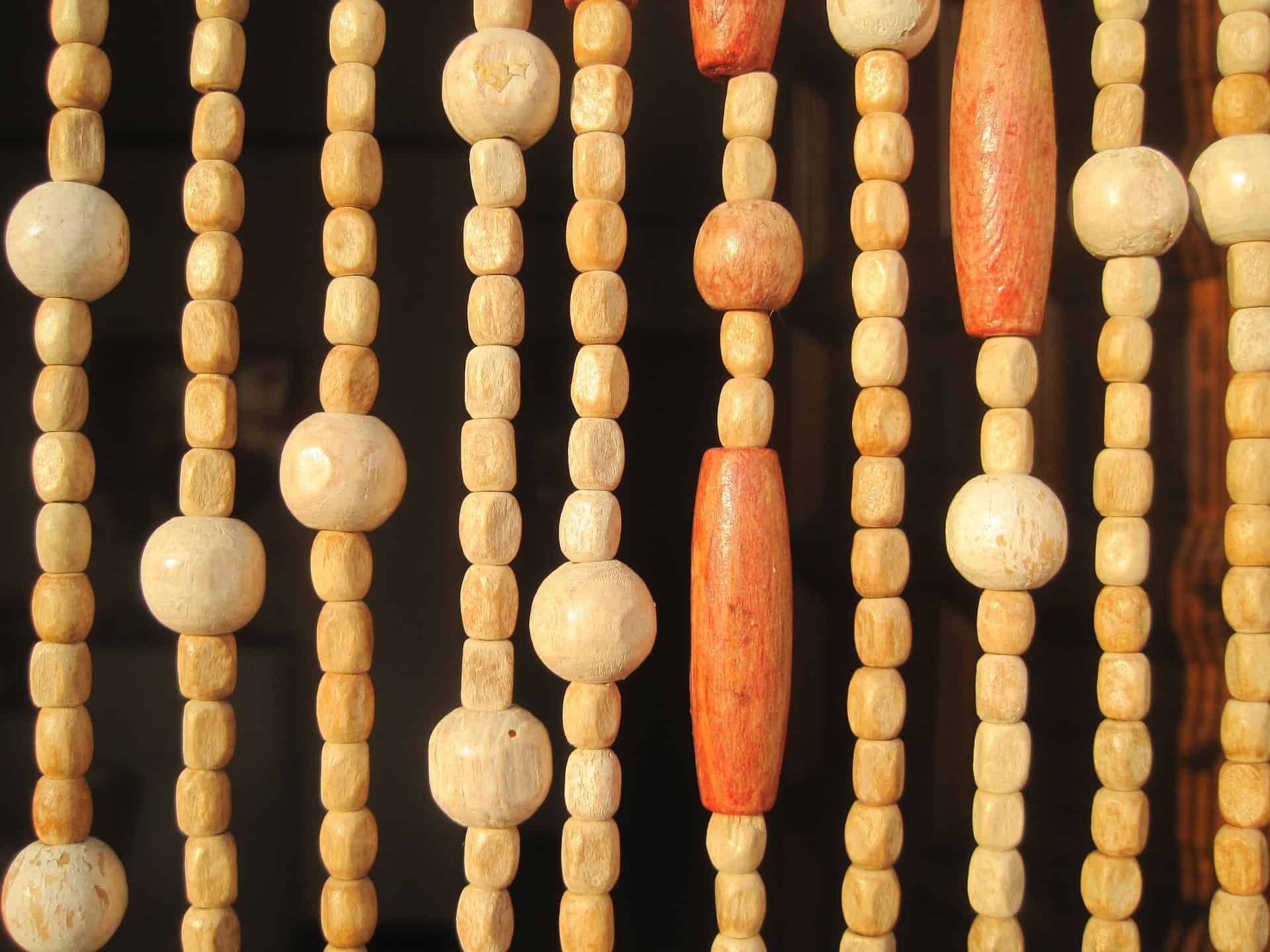 Another consideration is how safe beaded curtains are for your home. That depends entirely on your living situation. If you're placing them high in a window and they don't touch the ground, there's likely little to worry about.
The problem is when they dangle low enough for toddlers or very young children to reach. It is possible that the cords could be life-threatening to a toddler. I also don't recommend beaded curtains that reach the floor if you have an animal, like a cat, that may get tangled in them. In other words, they can be safe if hung high enough, but be careful if you have young children. 
Beaded Curtains: My Picks
Now here are my favorite ideas for unique beaded curtains for your home. I've selected based upon the quality of materials used, unique style, and overall value. You'll find some ideas for acrylic, bamboo, and glass beaded curtains. Under each section, I've explained some of the reasons why you should choose or not choose–that material for your beaded curtains, so you can make the best decision for you and your home. 
Acrylic Beaded Curtains
Acrylic is a material that you usually see more for outdoor vs indoor curtains. Solution-dyed acrylic (linen blend) is popular but generally, acrylic tends to fare better for lasting colors. Acrylic is up to 30 times stronger than glass and also safer if it breaks. These curtains will naturally be more lightweight and tend to be less expensive. However, they are softer and more likely to scratch from everyday wear. In terms of overall value, acrylic beaded curtains are a reasonable choice. 
Crystal Beaded Acrylic Curtains
These enchanting, handmade beaded acrylic curtains could even be used as decor for a wedding. The clear hue is meant to catch the sun for a striking shine. The hand-strung strands can easily be cut to size and come from a 5-star independent Etsy-based store with over 5,000 sales to date. Orders ship within 3-5 business days. Buy Here. 
String Beaded Acrylic Door Curtains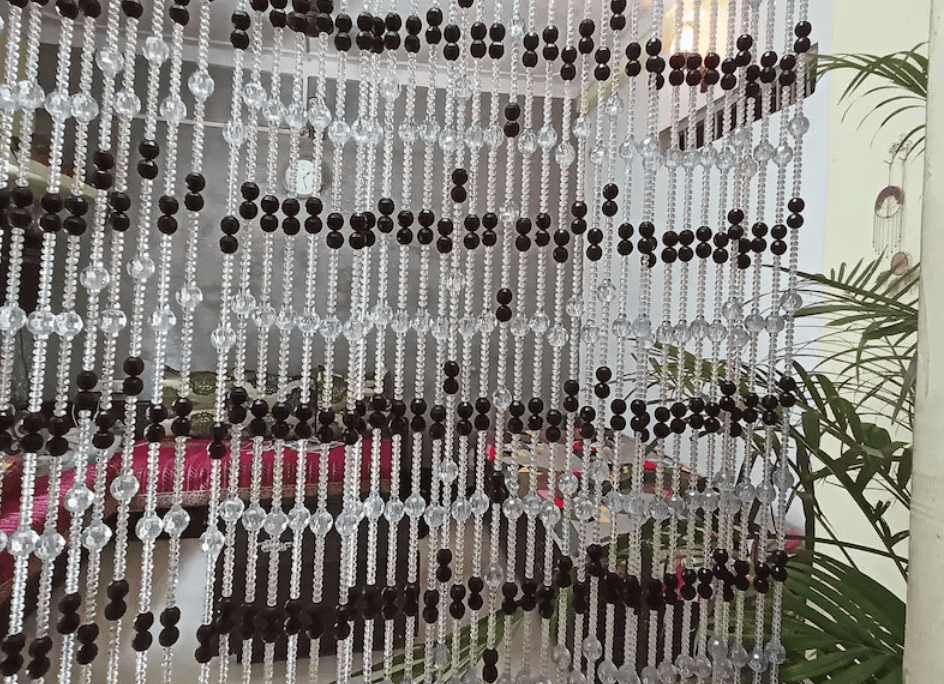 These handmade acrylic beaded curtains pair clear crystals with black for a modern, artistic flair. Custom colors can also be requested, and the premium acrylic used is a step up from some other acrylic curtains. The strings are attached to steel rings for easy hanging. Buy Here.  
Rainbow Teardrop Acrylic Beaded Curtains
These bold acrylic curtains bring a lively, retro vibe to a bedroom. 40 strands of bright, candy hues range the spectrum of the rainbow and hang from 40 strands, with a length of 75 inches. While not the most durable option you can buy, they're fun, playful, and priced at under $30 if you're just looking for some decor. Buy Here. 
ZieDeTang Acrylic Beaded Curtains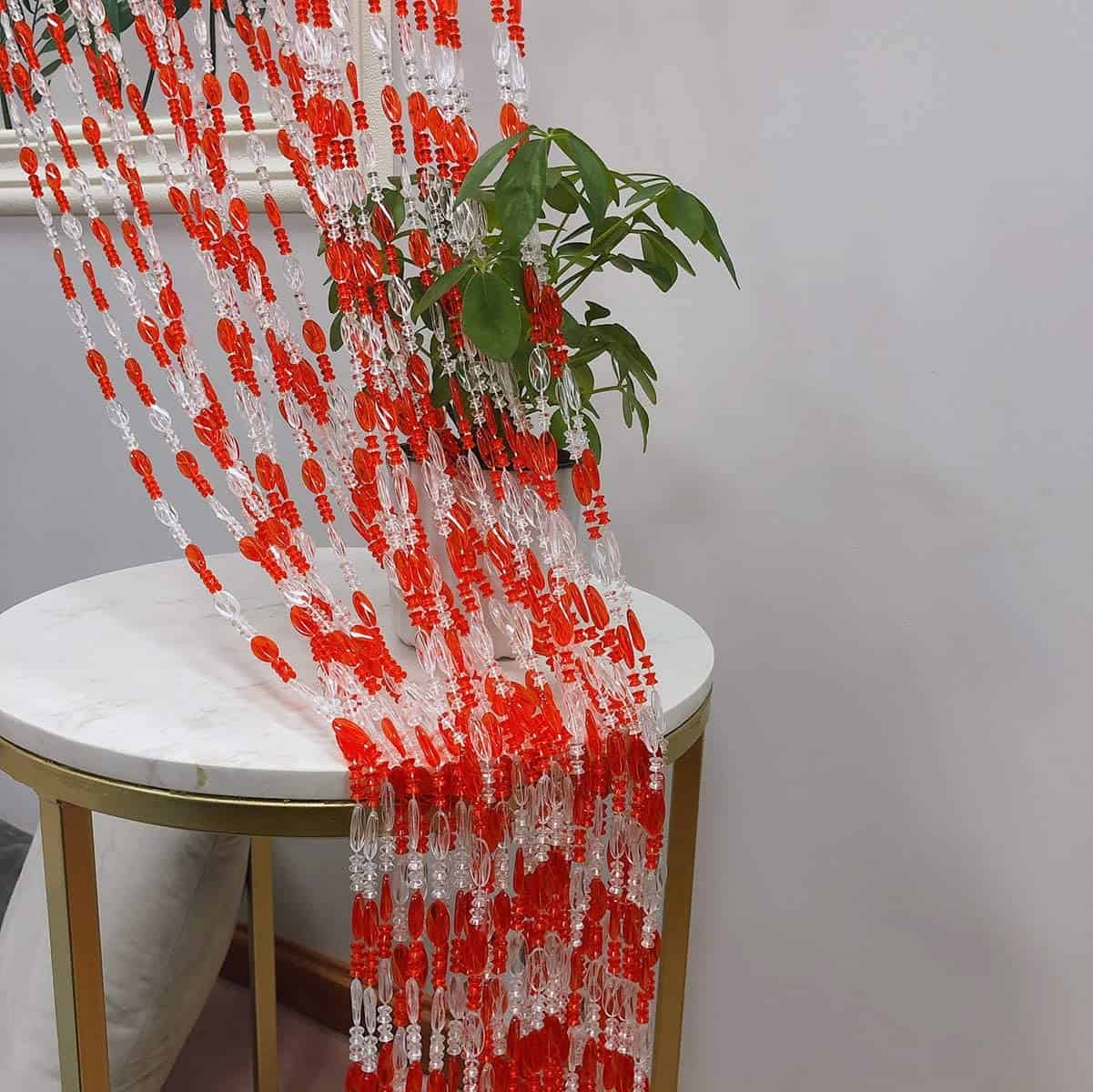 Another budget-friendly option, these Amazon acrylic beaded curtains are playful and add bright decor to doorways. They can be cut to size and are versatile. It is recommended that you order two sets for a thicker strand look. Available in turquoise, purple, brown, dark blue, orange, red, and rose-red, with a rod top style: Buy Here. 
Bamboo & Wood Beaded Curtains
If you want a classic, traditional look, why not start with the original? Bamboo and woven wood beaded curtains are undeniably classic and make a unique addition to the room. Often eco-friendly, these beaded curtains tend to be energy efficient and are more resistant to scratches than acrylic. However, these beaded curtains don't do so as well in wet or humid environments. Woven wood can warp. 
Handmade Bamboo Hippie Beaded Curtains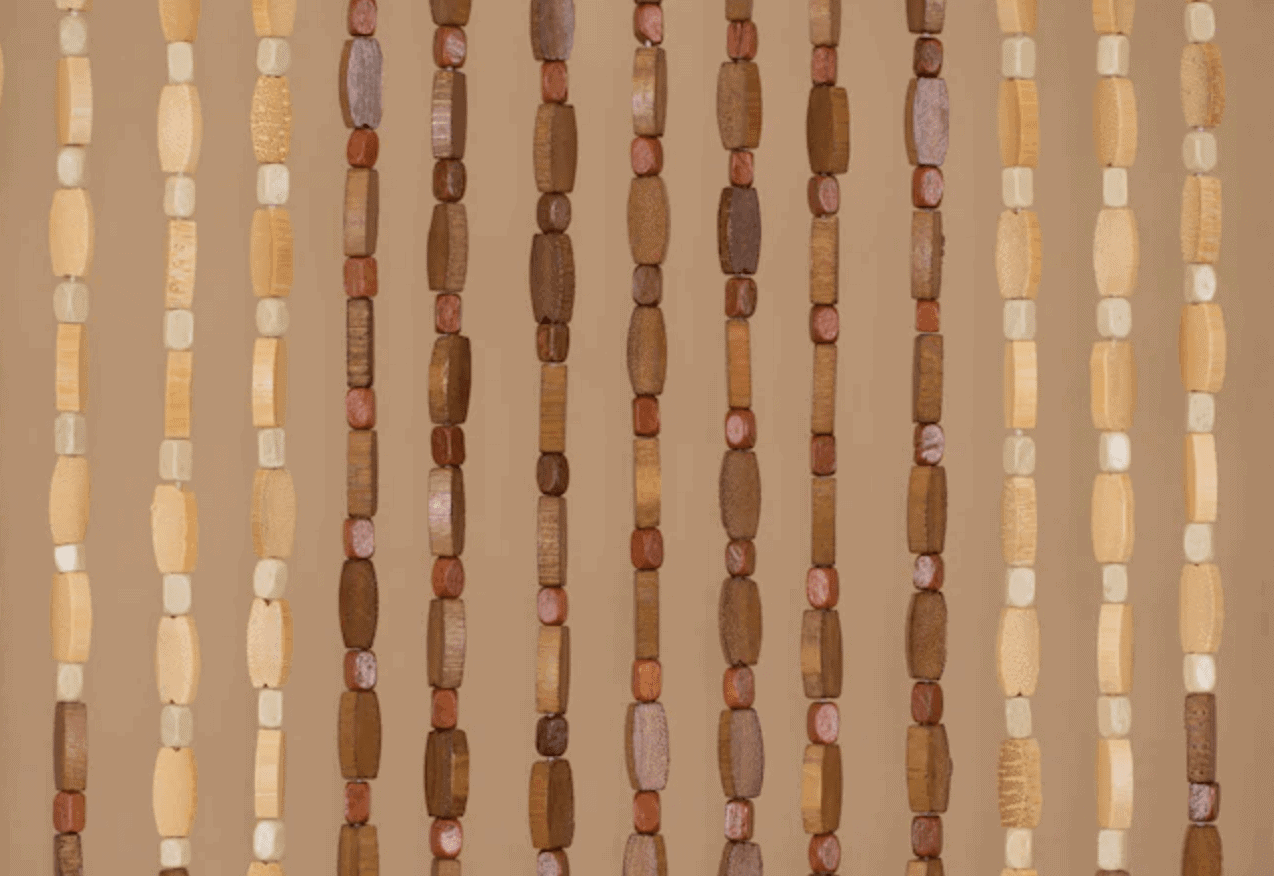 Natural bamboo beads are strung by hand for the beautiful curtains. The strands are flexible and move with you, and are durable enough for everyday use. Your order also comes with two hooks and a window rod for fuss-free installation. These authentic bamboo curtains also shop free within the continental United States and Canada. Buy Here. 
Sunflower Beaded Bamboo Curtains
Floral themes, and sunflowers, in particular, are sprouting up for wall decor and curtains. These cheerful bamboo curtains can even be used as room partitioners, with more privacy than you'd normally expect. An artistic sunflower print against a blue backdrop instantly adds cheer to a room. They're also hand-painted, eco-friendly, and energy-efficient. Buy Here. 
Rosa Floral Bamboo Beaded Curtains
These beaded curtains feature a soft, retro, and boho floral design. The beaded curtain can be used as a semi-sheer room divider or even a closet curtain. Easy-care means the curtains can be carefully wiped clean, and the rose and orange hues provide gentle warmth to a room. 
Moon Phases Beaded Bamboo Curtains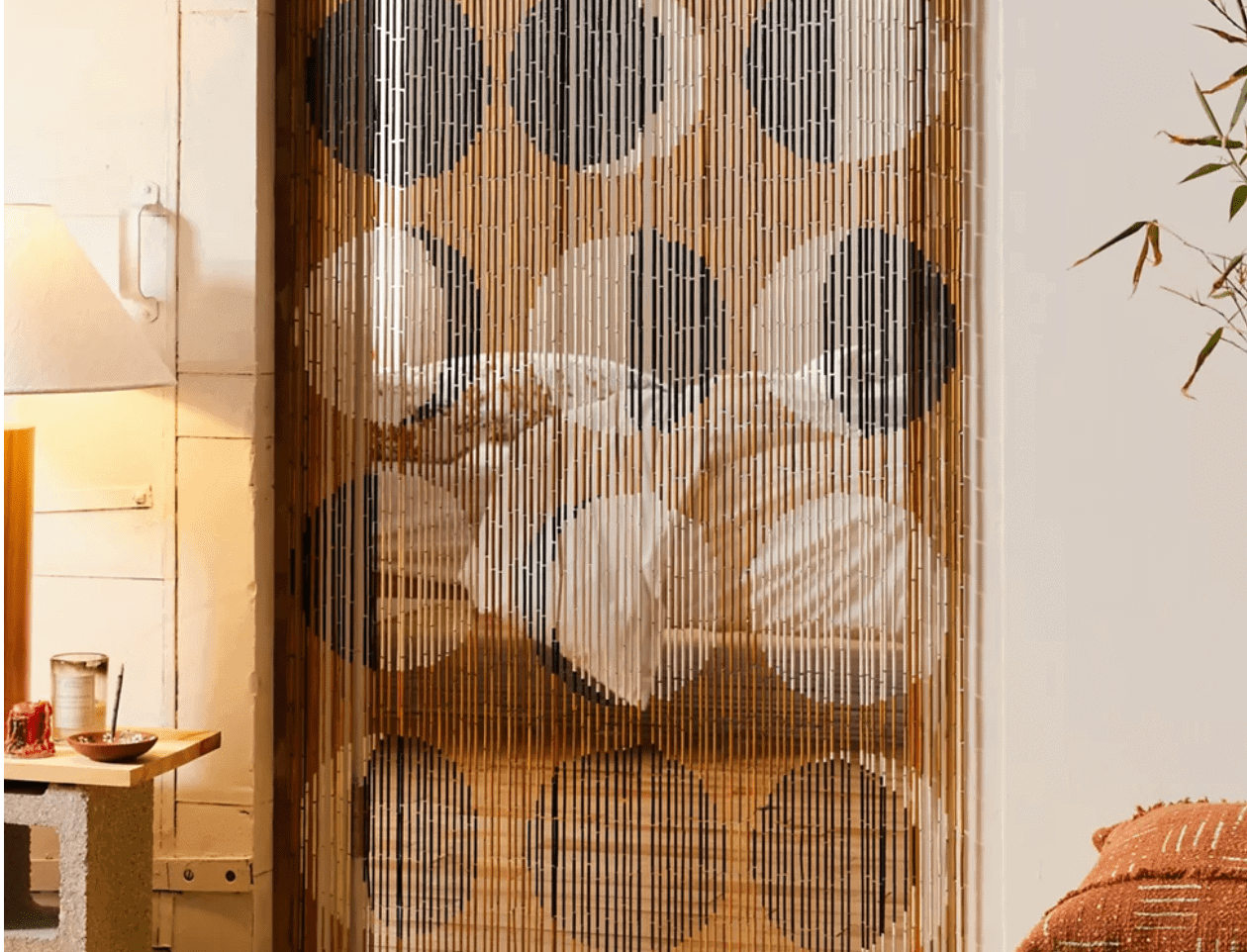 Celestial themes are everywhere in 2022, from designer jewelry to home decor. These unique curtains feature the different phases of the moon, with a modern, geometric pattern. Natural bamboo provides a sturdy foundation for doorways and would look great even for a finished basement. Buy Here.
Traditional Pattern Beaded Wood Curtains
Neutrals, browns, and white tones make these beaded curtains an instant classic. Opt for either a lighter or darker color scheme for these handmade curtains– either pair well with neutral and white walls. Items ship 4-7 days within the United States, and international shipping is also available. The tiered design allows you to peak out of windows without disturbing the curtains. Buy Here. 
Multicolor Beaded Wooden Curtains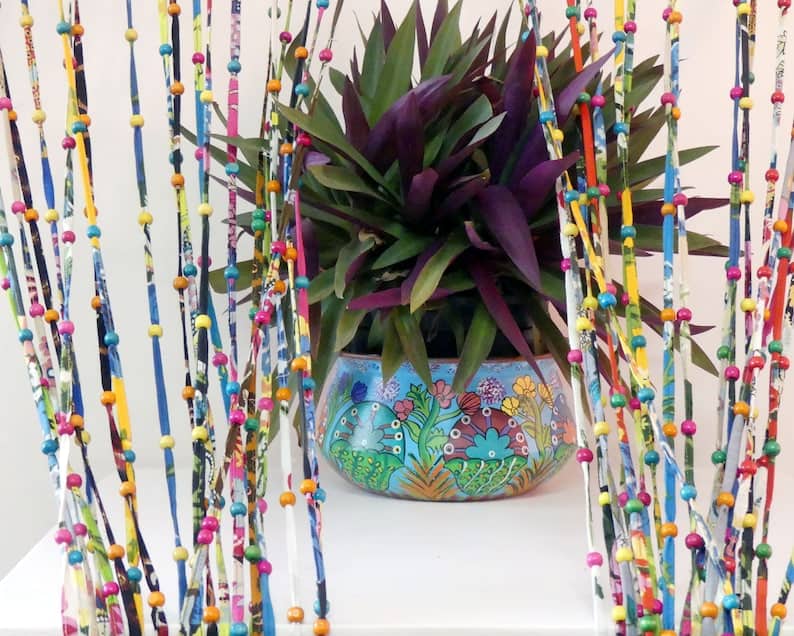 These garland-style beaded curtains are great for a special occasion. Multicolor strands are reminiscent of confetti and add a bright, undeniably playful touch to parties but even a boho living room. The unique handmade curtains are constructed with wood and cotton and can be hung in doorways, on walls, or even on wardrobes. Made by a 4.8-star creator on Etsy with over 11,000 sales; Buy Here. 
Glass Beaded Curtains
There's something undeniably beautiful and artistic about glass beaded curtains. Glass beaded curtains create ambiance in a way other materials simply don't, and often come with high-quality craftsmanship and beautiful hues. They don't scratch easily, but they are the most fragile type of beaded curtain from the materials I recommend. For this reason, I'd use this mostly as pure decor– not as curtains you'll regularly brush up against. 
Bohemian Gemstone Glass Curtains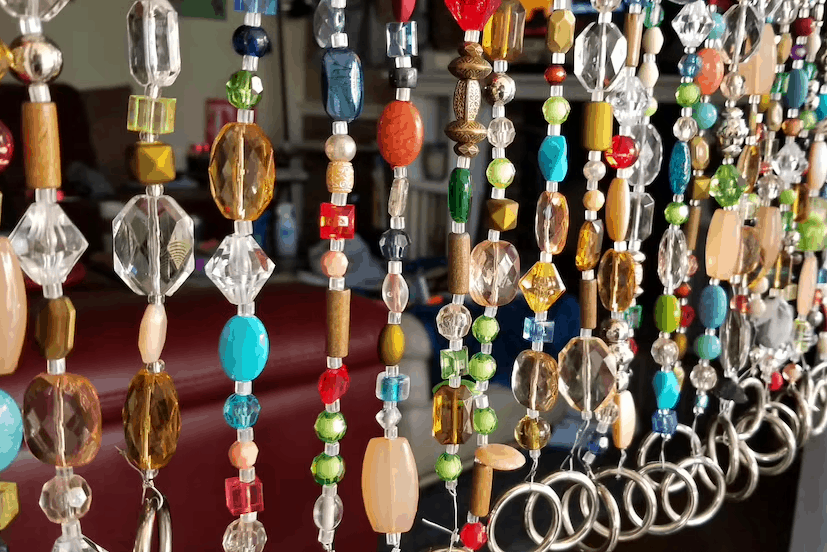 These boho beaded curtains feature the array of rainbow hues you need for a playful accent. Handmade in Florida, glass is paired with acrylic and metal for a more versatile and affordable option. The curtains catch sunlight and are made to order, so you can get the fit you need. Steel rings secure each strand. Buy Here. 
Luxury Beaded Artisan Glass Curtains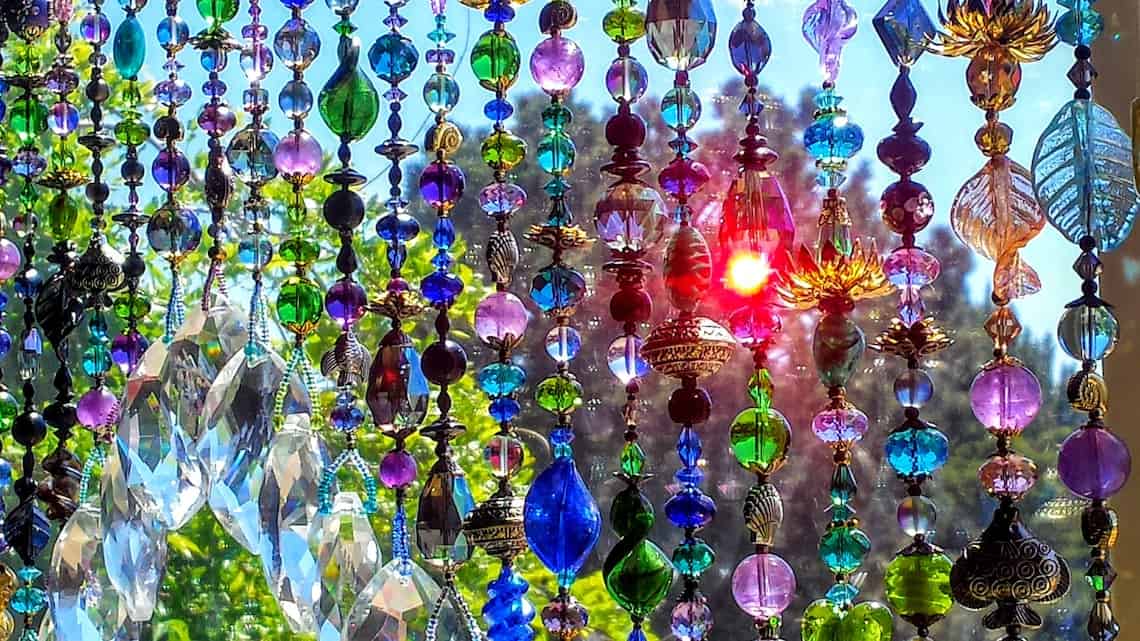 These gorgeous beaded curtains are made to order. The artisan glass features enchanting jewel tones and natural stones for a look that's nothing short of magical. Cool tones, like teal, blue, purple, and greens also evoke calm. The glass beads are given dimension with the addition of Austrian crystals and Indonesian beads. Buy Here. 
Beaded Glass Chandelier-Style Valance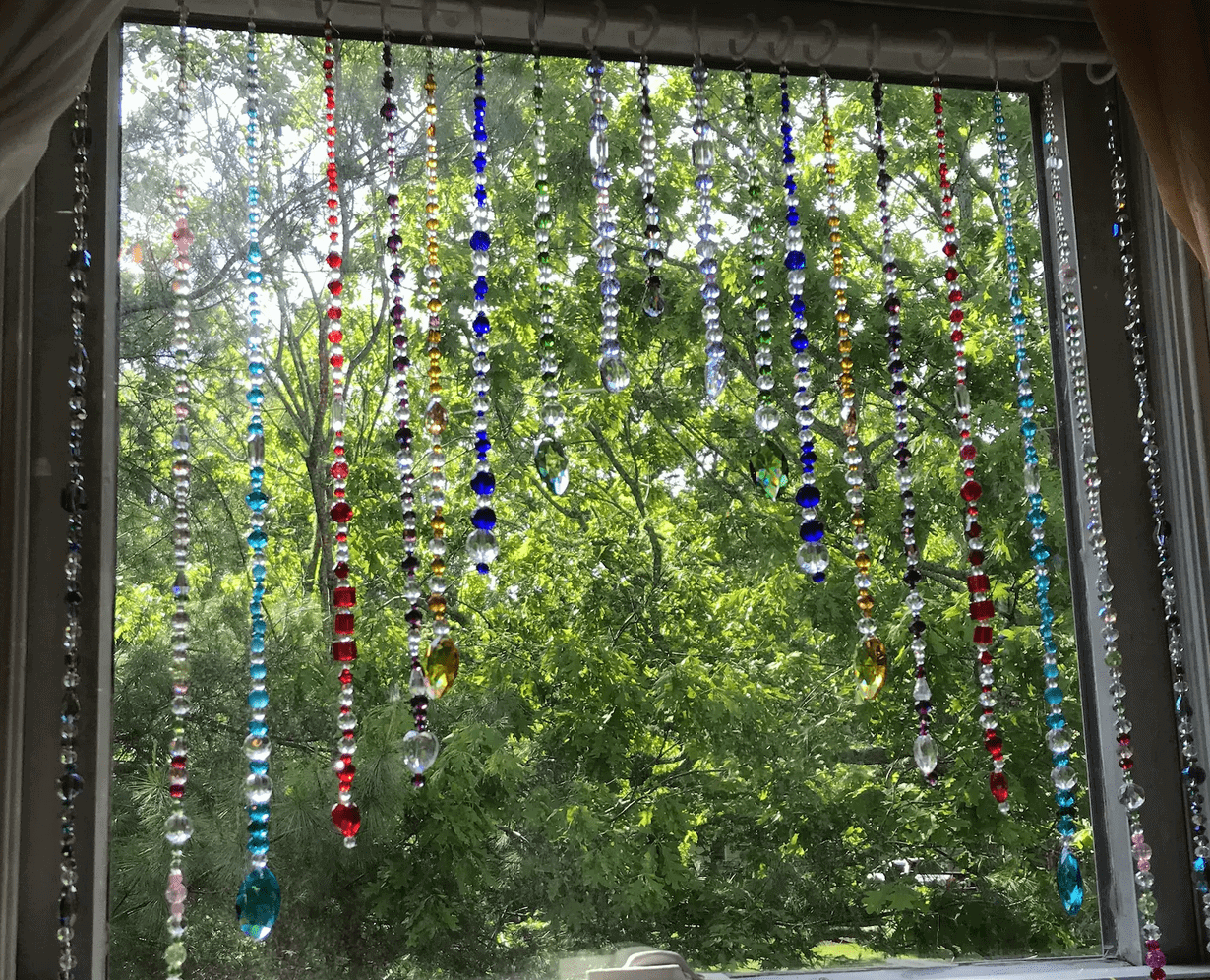 Valances are short curtains, and a shorter length is ideal for kitchens or if you have long kids. These delightful glass beaded curtains are handmade, with deeper jewel tones, such as red and yellow. The tiered design allows you to easily see out a window without even touching the beaded curtains and adds a clever touch to a small window. Buy Here. 
Frequently Asked Questions
Question: How do you fix a beaded curtain?
Answer: Like anyone else, I like saving money where I can and that sometimes includes fixing home decor. Fixing a beaded curtain can be a little tricky, and requires you often replacing individual beads or strands. You might have to adjust the strands using the top of the curtain, and carefully take out the broken strand. But if you're in doubt, it's best to ask a professional to help. 
Question: How many beads do you need to make a beaded curtain?
Answer: Ultimately, how many beads you need depends on your desired curtain length, as well as how tightly packed, and what materials you wish to use. You can expect to use over 200 beads for the average beaded curtain. 
Question: What is a beaded suncatcher used for?
Answer: A suncatcher is usually a petite ornament that reflects the sun's light. Beaded suncatchers may consist of a strand of beads to catch the sunlight, so to speak, and reflect an array of colors. 
Question: How do you hang a beaded curtain on a door?
Answer: Beaded curtains are usually pretty versatile. Some do ship with a specific hanging design, while others require you to buy your own. If you want to hang a beaded curtain on or over a door, your best option is to buy a simple tension rod. S-shaped shower hooks can be used with the rod. You can also install a traditional rod by drilling holes in the wall, but most find tension rods to be the easiest and most cost-effective solution. 
Final Thoughts
Beaded curtains are making a comeback, from traditional bamboo to bold hues. Whether you have a boho style in mind or even want a Zen feeling to a living space, they can be used for doorways and even as room dividers.
Considering using beaded curtains outside? You'll need to make sure that the curtains are weather resistant. You'll need to consider inclement weather, exposure to sunlight, and moisture, other environmental factors. 
One option is a polyester beaded curtain. Though not typically as beautiful or traditional as other options, polyester curtains, in general, are not susceptible to warping or mildew. Consider these sequin polyester curtains for a dramatic flair.