Latest posts by Angelique Alice
(see all)
Do you have a gazebo at home and want to spice up its appearance? If so, this is the sign you have been waiting for. Consider buying gazebo curtains. They will not only give it an edge, but the benefits are endless, and you wouldn't want to miss out on them.
Many people rarely keep the gazebo in mind when buying curtains for the rest of the house, and it's not a wonder. You should know that choosing the ultimate one may take a toll on you; however, with this guide, you will not have a hard time figuring out which are the best Gazebo Curtains for you. Read on to find out more about gazebo curtains and how to choose excellent ones.
Factors to Consider When Choosing The Best Gazebo Curtains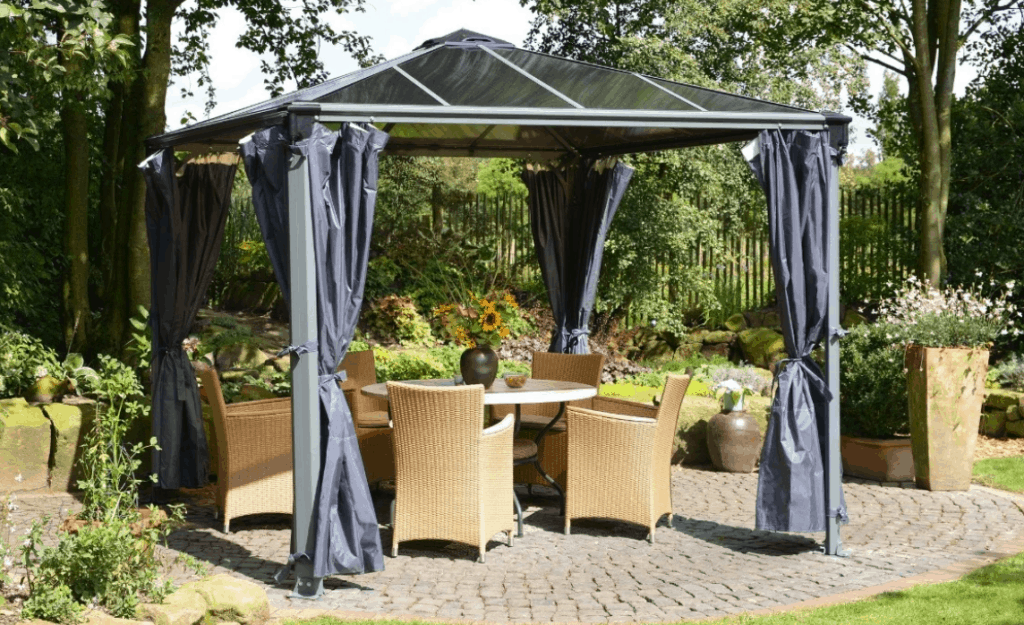 Gazebo curtains are an investment and, therefore, cannot be bought blindly. Before making that purchase, there are many factors to consider, and disregarding them will leave you with regrets. In the end, you will have wasted your time and money. Fortunately, we can avoid having feelings of regret by ensuring we go for curtains that meet our needs. The following are some of the things you should look for when picking out gazebo curtains:
Fabric
When choosing the fabric, you should make sure that it is eco-friendly if you are keen on environment conservation, easy to clean, weather, and water-resistant. Moreover, you will need to keep your budget in mind because there are high-end to low-end fabrics. Here are the fabrics to consider.
Olefin Fabric
Also known as polypropylene, this fabric is dated back to the 1960s. It was derived from the production of both natural gas and oil. Note that it is the best fabric you will come across, and since it has different fabric and yarn alternatives, you are at liberty of choosing any design you like.
Don't we all love having many options? Olefin fabric curtains retain color and are UV resistant because as a synthetic it is pigment or solution-dyed. In addition to that, they are soft, lightweight, and durable.
Polyester and Polyester Blends
This fabric is one of the most common types that we find in many places. Compared to the other curtain options, they are less costly; hence, many people opt for them. However, you should know that they tend to fade quickly thus, won't last a long time before you start thinking of buying others. Despite that fact, its blends have many print options, and they can help you obtain a fuller drape.
Acrylic Fabric
If you are big on bright colors, solution-dyed acrylic fabrics will have you falling in love at first sight! They have many colors options ranging from solids to stripes. Unfortunately, they produce a static charge faster than any other fabric.
Therefore, if you have a pet, you will notice how much of a magnet this fabric is to their hair and may have to reconsider your choice. It won't be a pretty sight to have pet hair on your gazebo curtains. Also, having to clean that up now and then could become tedious.
Indoor Fabrics
This may be common knowledge but not to everyone, and that is okay. Gazebo curtains should have outdoor fabric, and we should be sure of this before making that purchase by inquiring from the retailer.
No, let this be the first thing you do to avoid making any mistake whatsoever. Outdoor fabrics have different protective finishes and yarns, which indoor fabrics lack. As a result, the latter won't withstand the external conditions. For instance, when exposed to UV, you can be confident that they will discolor and fade very quickly.
Cotton and Canvas
You have had interactions with these two fabrics and know firsthand that they absorb water quickly and take ages to dry. Also, failure to dry well, cotton tends to support the growth of mold and mildew. The latter have harmful effects on our health, and therefore choosing this fabric should be out of the question. Please do not put your loved ones at risk because things could get very ugly. Instead, opt for synthetics since you will always have the assurance that they will either dry fast or not absorb water.
Colors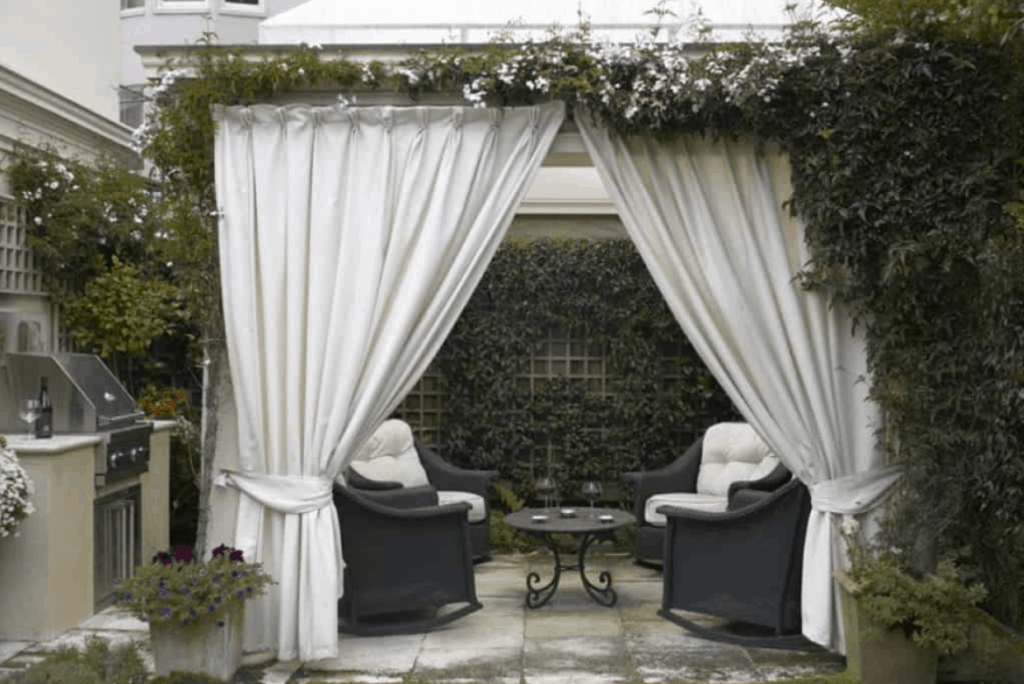 Colors say a lot about who we are. When choosing the color for the gazebo's curtains, we should ensure that we resonate with the choice we make. It shouldn't feel like it is too much or too little. If you want different colors to match your mood, buying various colored gazebo curtains would be an excellent idea.
Botanical Prints
If you love coordination, botanical prints should be your go-to. This is because they will go hand-in-hand with the surrounding. These prints usually have a touch of nature, for example, the floral ones. The good thing is that many options ranging from vibrant floral patterns to lush tropical prints, are available. Can you imagine how well they will complement the garden location? That would be so dreamy.
Neutral colors
Neutral colors are an excellent choice for people with so many colors and prints on their premises because they are subtle. Or simply for homeowners who love neutral colors. After all, we would want the gazebo to be a place we would render home away from home or where we would hide from the world's noise and bask in silence once in a while.
If your goal is to go for minimalistic vibes, try raw linen or cotton; they will turn out beautiful. Feel free to use sheers or dark neutral solids, too, since they will allow natural light to filter in and hinder the penetration of harsh sunlight, respectively.
Bold Colors
Bold colors could be either stripes or solids. This color option is for those who are loud and bold. If you have always wanted to bring the coast to your backyard, choose wide stripes or a bright solid like orange. You will love it without a reasonable doubt! Also, color coordinating your gazebo curtains with the surrounding décor will take your backyard an upper notch. A bold solid could be a great way to go out of your comfort zone if you are fond of neutrals.
Trends
Do you love keeping up with trends? It can be thrilling to know what is trendy even in the curtain world. If you are hooked to trends, you can find out which gazebo curtains are in fashion and use that in decision-making. Some of the gazebo curtain trends include:
Romantic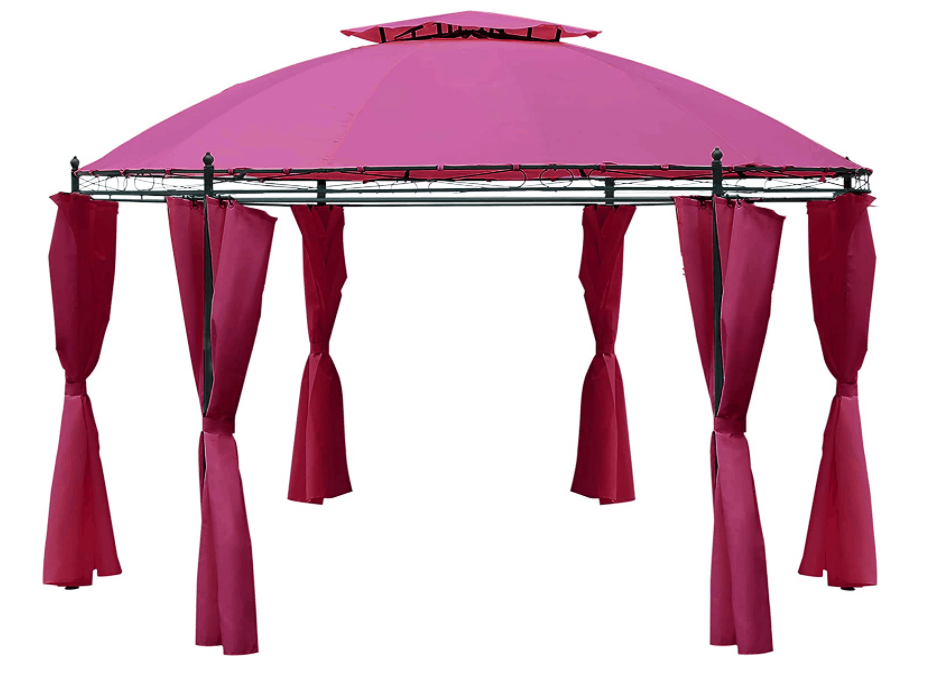 Gazebo curtains can turn your life around, especially if you love romanticizing your life or have a lover. Get flowing see-through gazebo curtains for this effect, and if you can complement them with lanterns and have poufs and pillows arranged on the floor, the better! Also, sheer gazebo curtains tend to shift in the breeze while setting that romantic mood.
Eco-Chic
You could never go wrong with raw linen or cotton-inspired fabrics. These curtains tend to give off feel-at-home vibes. Could you imagine how good it would look when you furnish your gazebo with garden furniture, also referred to as patio furniture? The latter is a type of furniture made with weather-resistant materials and is usually meant for outdoor use. If you can get garden furniture made of bamboo, teak, or rattan, among others, you will be impressed by the curb appeal.
Vintage
It's not a wonder how vintage makes it to the list. Old trends are pretty striking to this day. If this is what you are going for, try using your home's architectural style as inspiration, mainly if it's dated some decades back, and blend them with your gazebo curtains.
Also, consider choosing a color or print that was renowned within the same period or decade. Moreover, make do of any antiques you have or patio furniture; they will improve the whole outlook while amplifying details no matter how small.
Size
The size you choose for the gazebo curtains all goes down to the space availability and its purpose. Is it meant to entertain guests or host them? It would be best if you considered all these factors. The more people you will host in your gazebo, the larger the curtains and vice versa.
The Best Gazebo Curtains for You
Here are some of the gazebo curtains that we highly recommend: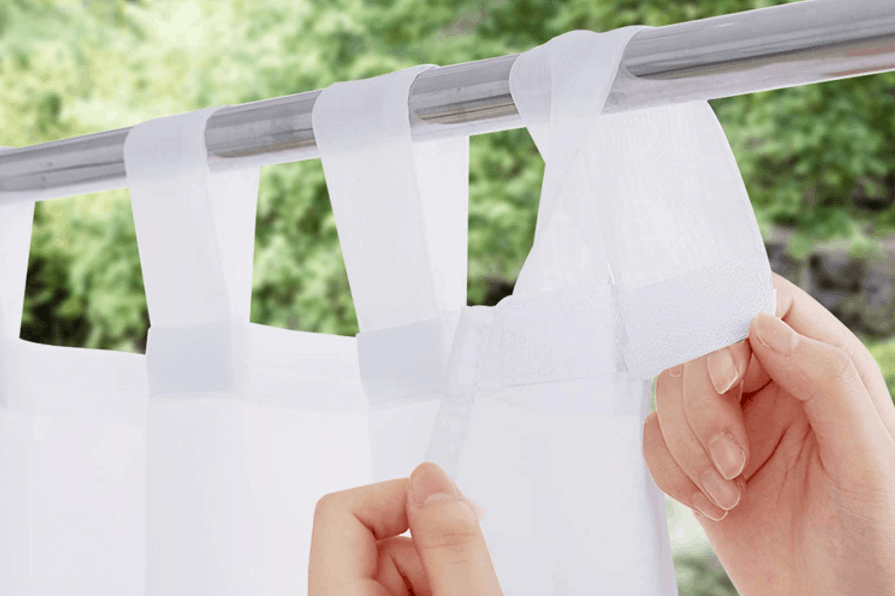 As much as we want to enjoy the sun, closing these curtains once in a while never hurt anyone. This is made possible because they come with a detachable sticky tab that enhances proper closing.
In addition to that, there are rope tiebacks for tying the curtains on those sunny days. The Nicetown gazebo curtains reduce how much harmful sun rays destroy your skin, and that is a plus.
Closing these curtains will act as an insect barrier; therefore, you can still stay in your gazebo without fear of bites and the like. Their fabric is soft, lightweight, and floaty, thus allowing them to flow in the wind. On top of that, they are waterproof, machine-washable, and breathable. If you wish to dry-clean them, there are no limitations to that whatsoever.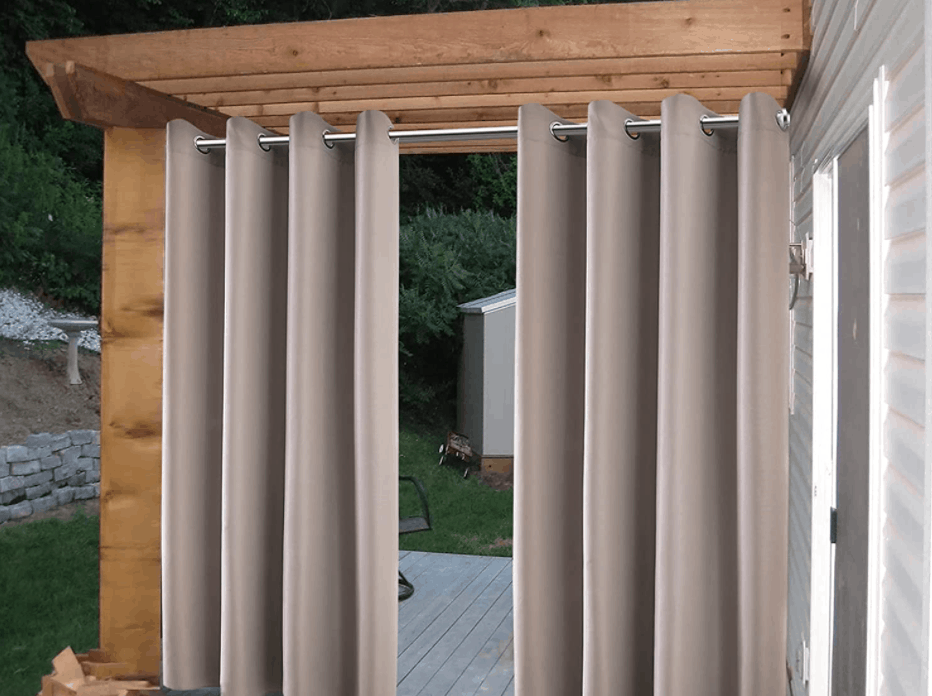 Chocolate hues, anyone? Cross Land gazebo curtains are ready-made and come with a package entailing one panel measuring 54′ wide and 96′ drop.
Eight silver grommets also come with the package, and they ease the use of curtain panels. These curtains offer protection against noise, UV rays, and dust because of their fabric known as Oxford. As much as it is strong, there is some silkiness to it. Like the Nicetown, they are very breathable thus, improving the air quality.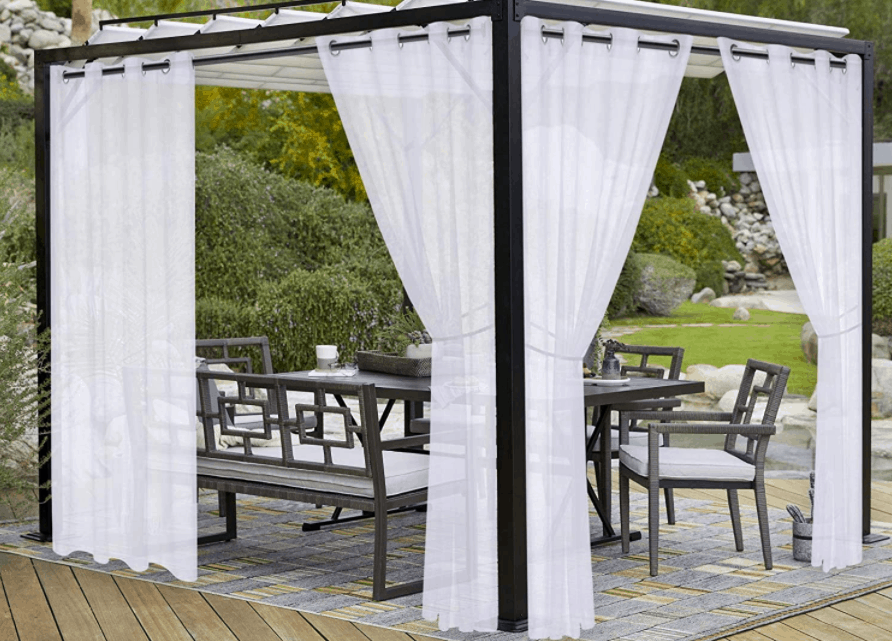 The material used is 100% polyester; however, they have a smooth linen look. There are different sizes and color ranges; therefore, feel free to choose what you deem fit. Their white is stunning one you'd look at and get sold to the idea of getting them.
You can stay in the gazebo comfortably during sunny days since its sheer fabric filters enough light out. These curtains have grommets that are nonrusting, plus using them allows you to hang them on typical curtain rods. Another plus is the fact that they give you privacy, something that we all covet.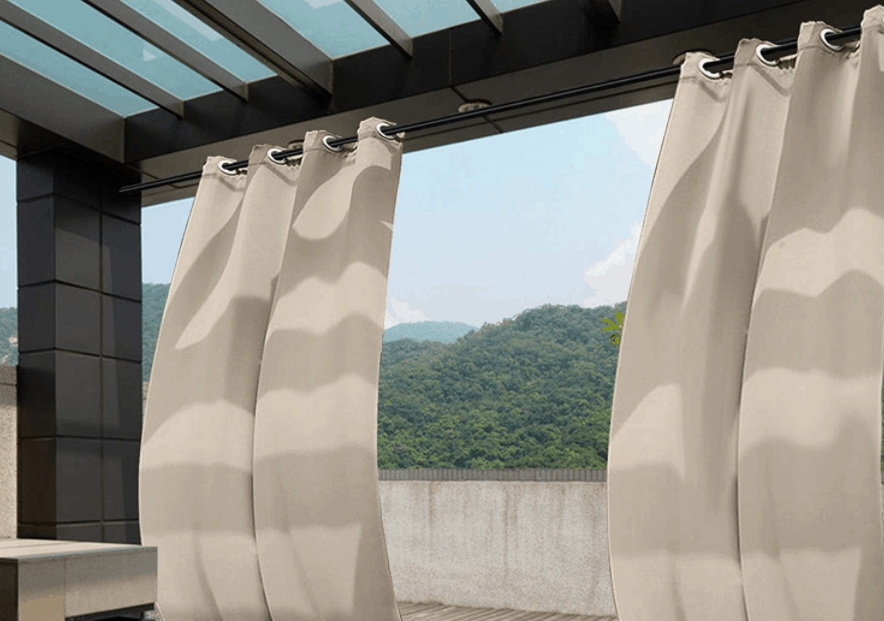 Besides most UV rays and noise being blocked, these curtains have waterproof effects. Macochico curtains retain their curb appeal even when it rains because of their panels. These curtains leave you feeling warm even on cold days. For a fuller look, you can consider getting more fabric which will, in the end, give you privacy- another bonus.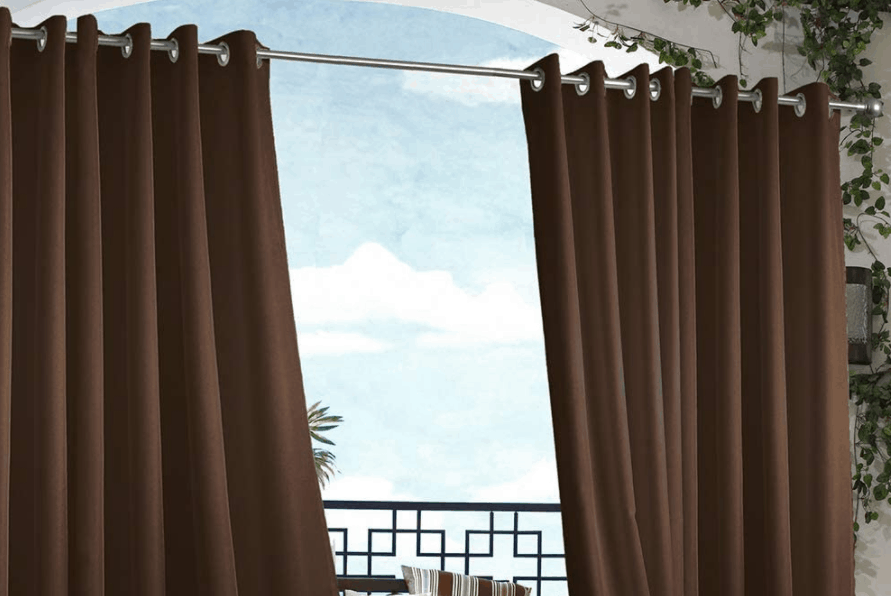 Do you feel like taking the chairs in every time it rains is a tall order? The dream art gazebo curtains are perfect for you! This is because its package entails three curtains followed by one panel, estimated to be 1.5 to 2.7 times the window's width. Failure to make an order that meets your needs, you may be in for a disappointment.
Also, it contains eight silver grommets. Since they have recently gained ground in textiles technology, their fabric is of high density. They transform the gazebo's look since they look very refined and soft. You won't have to worry about how to clean or maintain them. All you need to do is to ensure that the water in the washing machine doesn't go beyond 31 degrees when you put them inside.
Frequently Asked Questions About Gazebo Curtains
Question: How Do You Hang A Gazebo Curtain?
Answer: The first step is to bring all supplies together, including curtains, hooks, the gazebo, and a helper. Check whether the hooks have been put in place. If that is not the case, attach the hooks to the curtain track- the one closest to the frame. Afterward, take the mosquito netting out and put it back in place after the curtains have been hung.
The next step is predictable attach the curtains on the hooks. Start from the left-most grommet while moving towards your right. The panels should meet in the middle of each wall to zip together, ensuring the four panels go around each corner. From there, you have two options, either zip up the curtains or leave them open by using straps.
Question: What Are The Benefits Of Gazebo Curtains?
Answer: The benefits of gazebo curtains include the following:
Mosquitoes are such a nuisance, and we wouldn't want them to be the reason why we can't seem to have a great summer. Despite that, hearing their buzz around one's ear is not something we ever look forward to. Don't forget how much we itch after those bites. Gazebo curtains will put an end to such; you won't have to worry about mosquitoes and other insects at large.

When you put these curtains up, worrying about the weather becomes none of your concern. This is because they are water-resistant and do not allow UV deterioration. If anything, your gazebo remains shaded all through the seasons. Don't forget you could close these curtains or open them to your liking.
Question: Can Typical Curtains Be Used Outdoors?
Answer: The answer is no. As much as all fabrics can make curtains, you must know that very few are suitable for outdoor purposes. The best fabrics include acrylic, polyester blends, and olefin. Regular curtains are never designed to cater to the conditions outside. Hence, their quality will deteriorate in no time, and they will no longer look as they did when new. In a nutshell, this will be a waste of resources.
Conclusion
Anyone can get indecisive about choosing the ultimate gazebo curtains since there are many to choose from. We recommend that you go for the Macochico gazebo curtain. If anything, it speaks elegance in so many ways and has the customer in mind. It also has quite the color options in its palette.
When you finally decide on a specific gazebo curtain, ensure that you stay within budget. Also, consider where you are buying from. You certainly want quality gazebo curtains to last a long time. Remember, you could always purchase different prints and solid colors and change them where need be.