Latest posts by Angelique Alice
(see all)
Most people tend to go for long curtains while the remaining few buy their counterparts. Some use long curtains even when they do not compliment the room; thus, making everything look ridiculous. That is certainly not the look we are going for. There is the need to follow the advice given by interior designers if you want your space to look nothing short of gorgeous. After all, it never hurt anybody to listen to an expert. Now is your time to know some of the best short curtain ideas and inspirations: read on to get more details.
How to Pull off Short Curtains
Consider the Fabric You Will Go for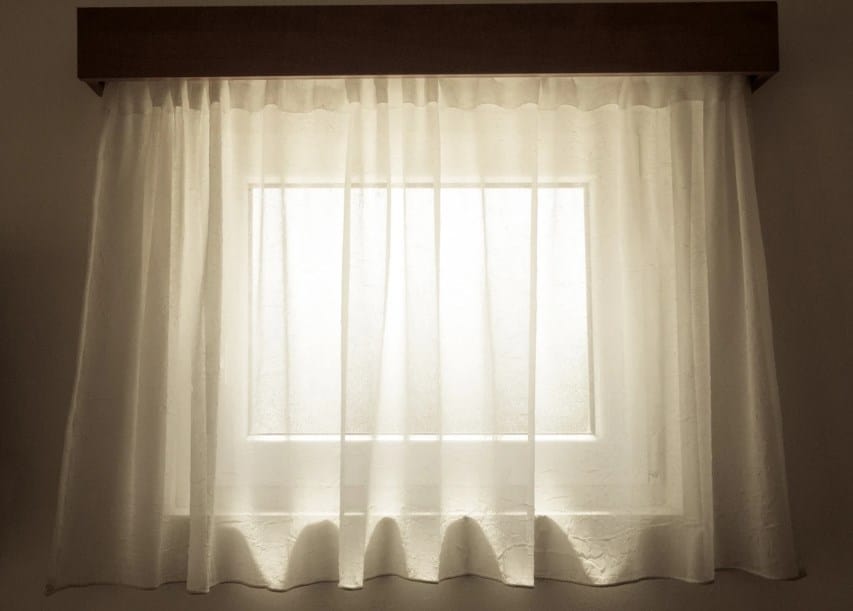 Choosing the fabric for your short curtains may seem easy until you go to the store and come across various fabrics that will leave you wondering which one to settle for. However, if you can get many pairs, this won't be a problem. If you decide on the fabric before visiting stores that sell them, the chances are high that you will change your mind.
There is the need to keep in mind the fabrics and colors in the room if you want them to synchronize. Also, ensure that you do not rush into making that purchase; take your time. Ensure you inquire about the samples available to have a closer look at them. They will undoubtedly influence your decision-making.
Consider Its Function
What do you want these short curtains for, or rather what is their purpose? As much as curtains are for decorative purposes, there is more to them than you think. Their functionality will have people who hate curtains thinking twice about installing them. If the goal is to have privacy, the best short curtains would be those with heavier thermal or blackout fabrics. However, you could consider adding a blackout lining; this is great for bedrooms. On the other hand, choosing light fabrics will be the best option if you need more lighting.
Consider Your Budget
This factor carries so much weight in the sense that it speaks so much for the type of curtains you will go for. High-end curtains will look very exquisite and low-end basic. To avoid breaking bank, ensure that you remain within budget at all costs. Note that a curtain's price depends on factors like size, fabric, and color, to mention a few.
If anything, they usually cause the different pricing in curtains. You will come across curtain prices while perusing the internet. We do not recommend saving the exact amount of money; instead, top up with some more. That way, you can cater to any expenses that pop out of nowhere.
Consider the Color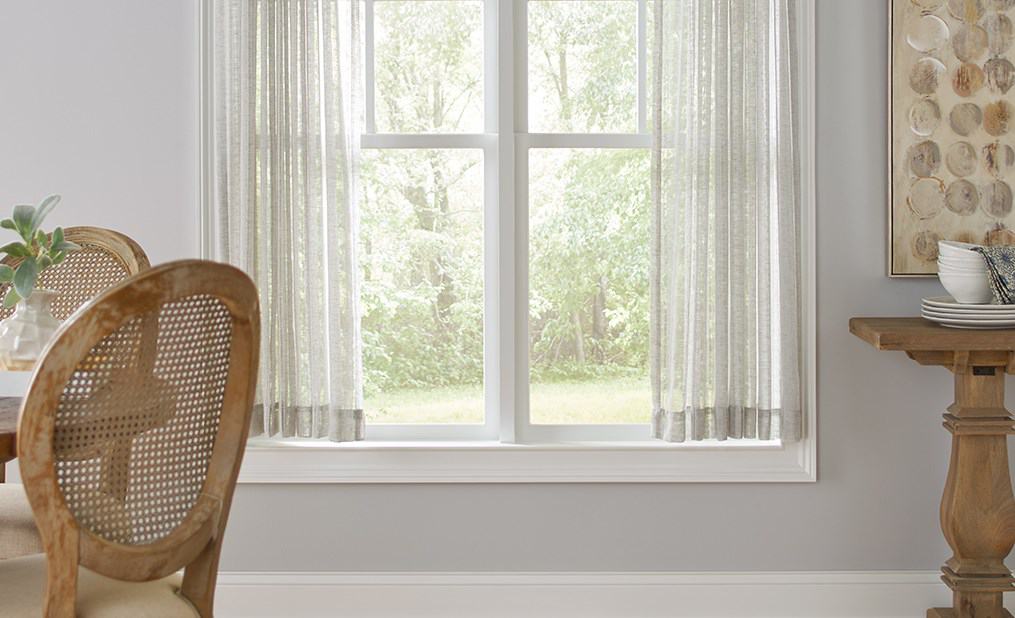 What colors are you drawn to the most? Do you prefer neutrals or the bold kind? That is one of the steps to pulling off short curtains. It is never an easy task, especially if your color choices are dependent on your emotions; that is, you go for bold colors whenever you are in good moods and vice versa.
You have to be sure that whatever you go for won't make you have regrets later when you are moody. Besides that, there is the need to consider the color scheme of your space to avoid color clashing or seeming too complicated. Let the color you choose fit in well with the décor and the like.
Consider Their Maintenance
For you to pull off short curtains, they need to look tidy and in peak condition; therefore, ensure that you ask the retailer how they should be cleaned. However, it doesn't end there since you will need to follow the instructions too. Many curtains come with instructions from the manufacturer, and following them to the latter will ascertain that they last an extended period. This will translate to getting value for your money, notwithstanding that short curtains are an investment.
How to Make Your Short Curtains Look Expensive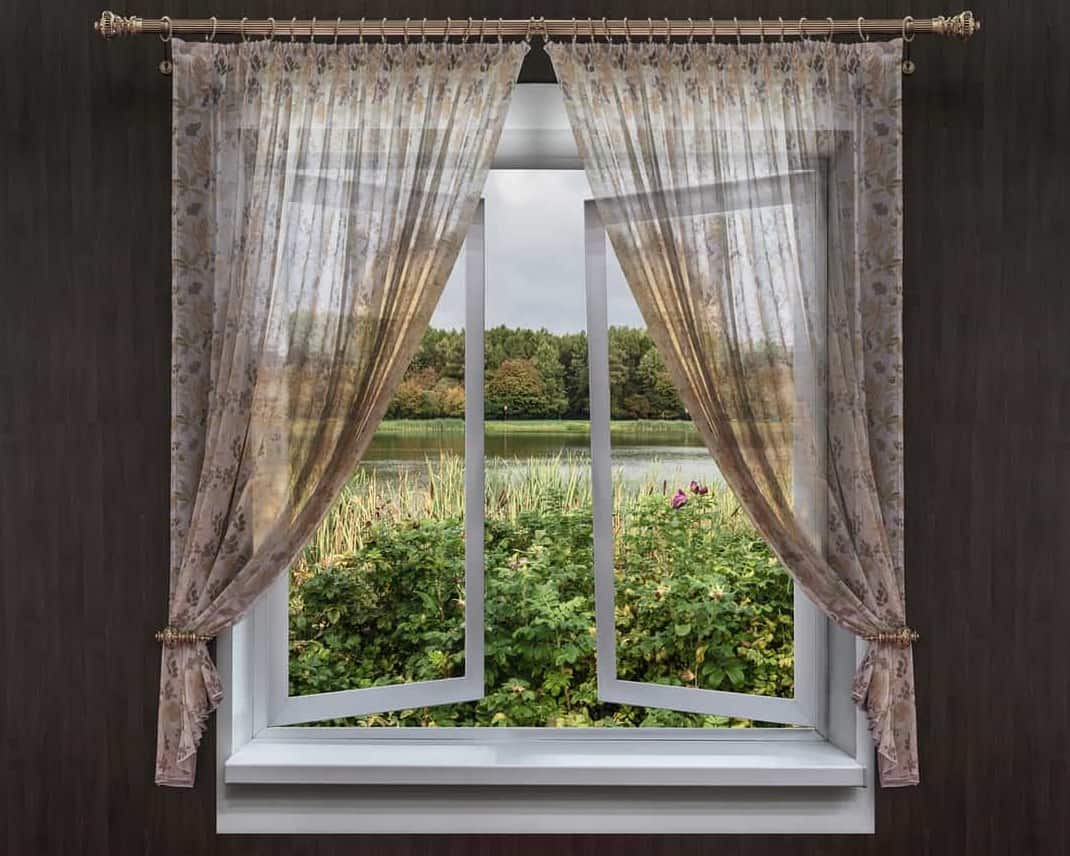 Curtains are like a canvas; this is because there is so much you could do to make them fit almost every occasion while looking expensive. If your goal is to have an exquisite, consider accessorizing them with the proper hardware. Gold speaks classy in every way you could ever think of, and choosing gold faceted rods is something you should keep in mind.
They usually have a grey tone that is beautiful to look at and allow curtains to hang and slide without a hustle. Something else you could consider is the modern gold curtain clip rings. If you obsess over sets using the latter together with gold faceted rods will take your space an upper notch. Also, they are excellent for anyone who wants that modern touch in their space.
Moreover, you could consider going for the 118″ Ritva curtain panels. They allow you more than enough room to hang your curtains. Also, if you wish to increase the volume of the curtains, you could get two. Do not stress over the specific panel width you need since there are free curtain calculators for that. All you will have to do is enter the measurements of the window width and the like, and you will be good to go.
How to Adjust the Length of Curtains That Are too Short
Short curtains may be long enough for you yet too short for someone else. If you purchase short curtains and upon hanging them, they seem shorter than anticipated, you can always lengthen them to your liking. It is not the end of the road for those newly bought curtains.
For instance, you could purchase curtain rings and fit them in your curtains. They will add a few inches to those short curtains. However, to save some coins, it would be best if you bought them on amazon. You will come across either 1.5 or 2 inches, but the 2 inches will make a tremendous difference. Ascertain that you know the width of your curtain rods beforehand to enable the rings to fit perfectly.
You may also have your tailor undo the seam on the bottom. This is because curtains usually have a fabric with a large edge. The result will be a new seam with less fabric folded over it. If you feel like this is a lot to contemplate, your tailor undoubtedly knows what we mean. Besides that, they have the necessary tools required to make short curtain adjustments, including the seam ripper.
Things to Remember When Hanging Short Curtains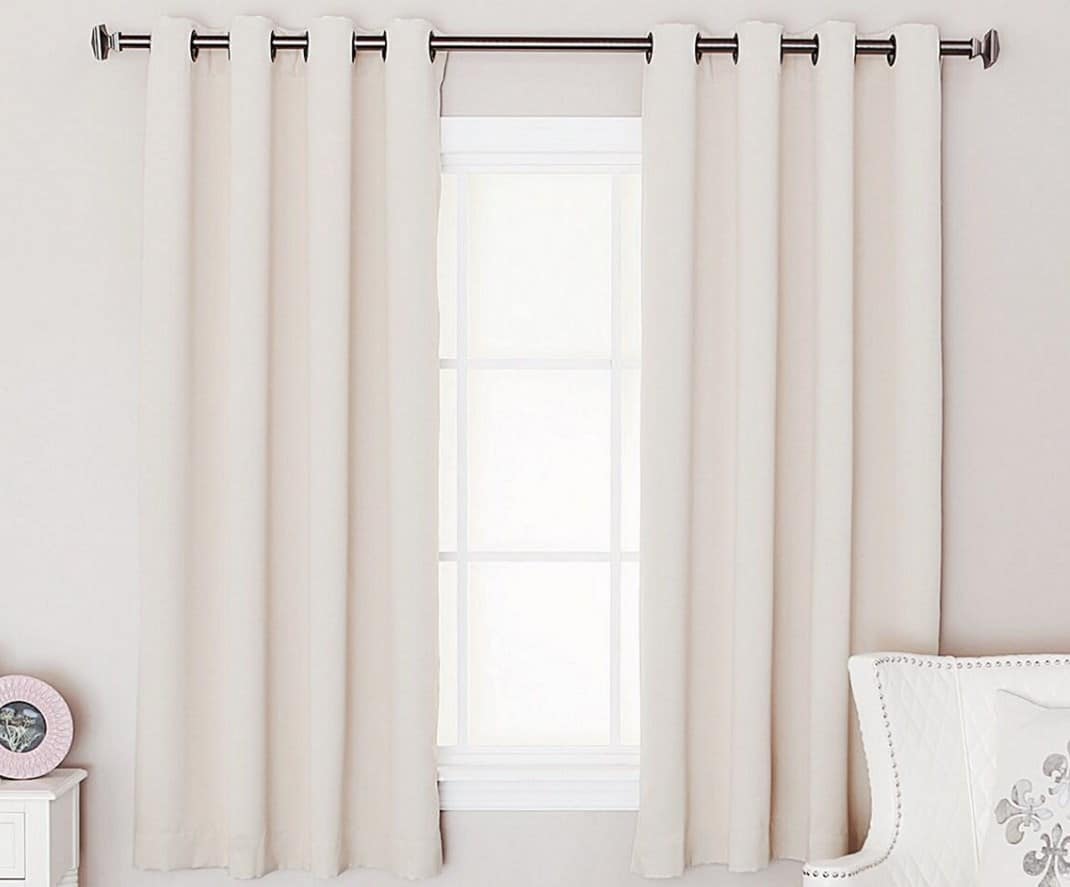 The Width of The Curtains
For your curtains to look attractive, you need to ensure that the fabric you get is 2 to 2½ times the window's width. Your short curtains shouldn't be flat. It is best to take note of the fact that most curtains come with sets of two panels. That way, you can open them from the middle without having any issue whatsoever. Moreover, they will flow beautifully.
Get the Right Curtain Rod
The rod above your window plays a significant role in the hanging process. However, draperies usually hide this rod with formal or pleated styles since they are made with a hidden upper backside pocket. It is not the case when you use contemporary non-pleated or casual window treatments because they hang from tabs or grommets and are left exposed.
However, if you are going for the pleated styles, you should know that they have one rod that is not decorative. On the other hand, contemporary style has rods with numerous styles, not to mention are made from many materials. The latter may include wood and metal. Also, these rods are usually visible.
The Short Curtains We Recommend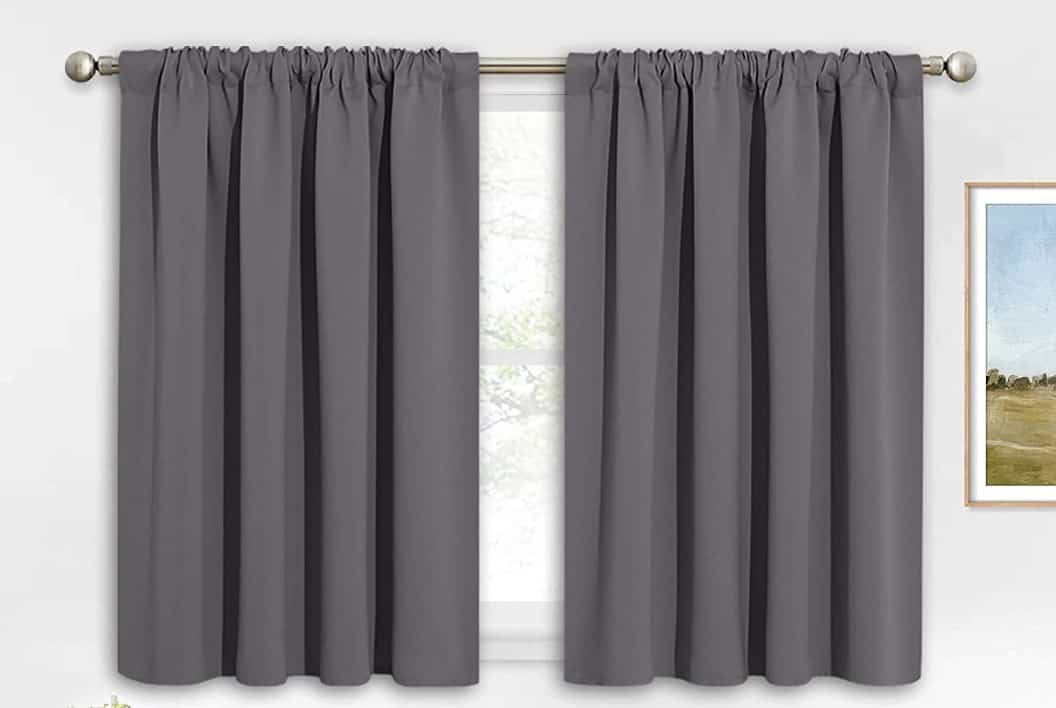 Are you looking for versatile short curtains? This is it.
Pros
They have the same color on either side.
Protect your furniture from fading due to sun exposure.
They have plenty of size options.
They have different color options.
They have thermal properties thus, ensuring temperature regulation.
They are easy maintenance since they are machine washable.
Block up to 85 to 95% of sunlight and UV rays.
They can be used as tiers or curtains.
Cons
You are limited to only using non-chlorine bleach.
You can only use warm iron on them.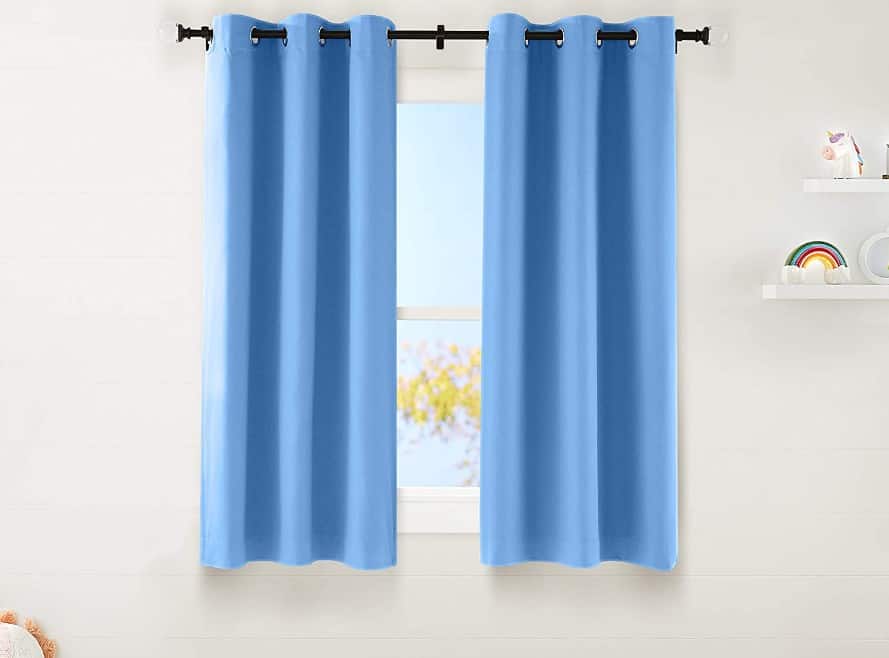 Of course, we couldn't forget the kids! They matter too.
Pros
In their color palette, they have prints and patterns and different color options to spice up your kid's room.
They block out sunlight while letting light get in.
They are easy maintenance since they require no iron and are machine washable.
Provide you with much-needed privacy.
They have noise-reducing properties.
They are of good quality.
Cons
Use no bleach whatsoever.
The size options are few.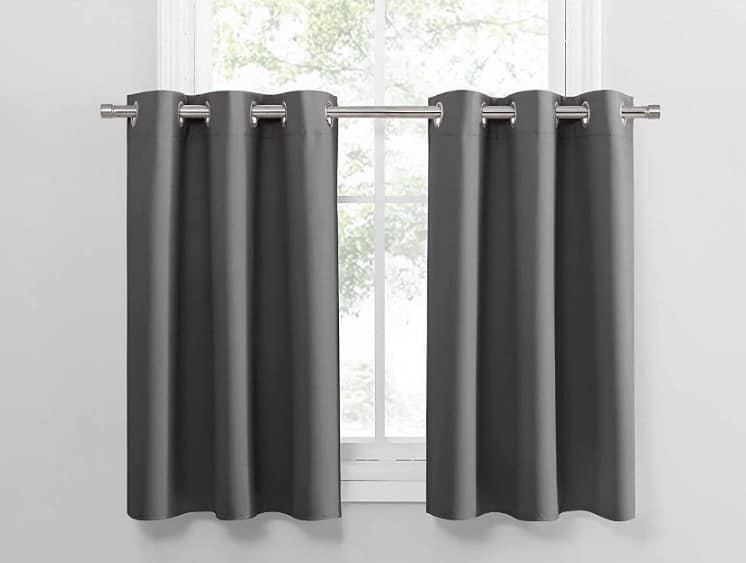 Is there anyone looking for a unique design? These curtains are the best ones for you.
Pros
Numerous color options.
They are made from a great fabric with triple woven technology.
The fabric is similar on both sides.
They give you privacy.
There are many size options.
They are wrinkle-free.
They are easy to clean since they are machine washable and require hanging to dry.
They are very soft.
You won't struggle to get valances of a similar color.
They are heavy-duty thus, can withstand many conditions.
Cons
You are required not to use bleach on them.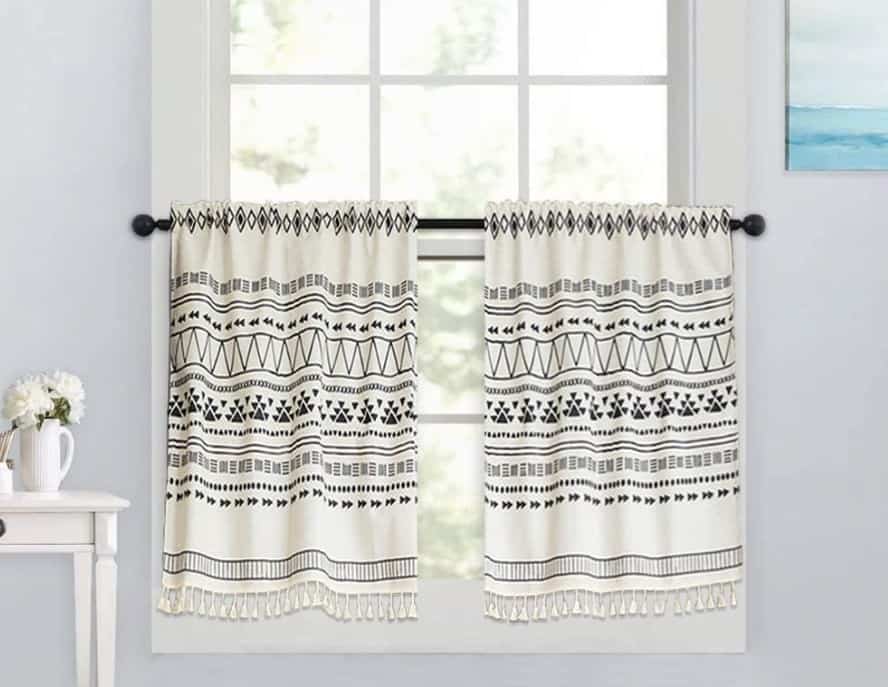 Ready-made curtains, anyone?
Pros
They have a bohemian style; thus, they will make your space look unbelievable.
These curtains are wrinkle-free.
Their design turns heads.
They give you some privacy.
These Xiongfeng curtains are pleasing to touch since they are made from linen blends.
These curtains are an excellent option for those who love vintage.
Cons
You may have to get your desired size custom-made if it does not lie in their size options.
The color or print options are few.
They should be washed with water below 30 degrees Celsius.
The use of bleach is prohibited.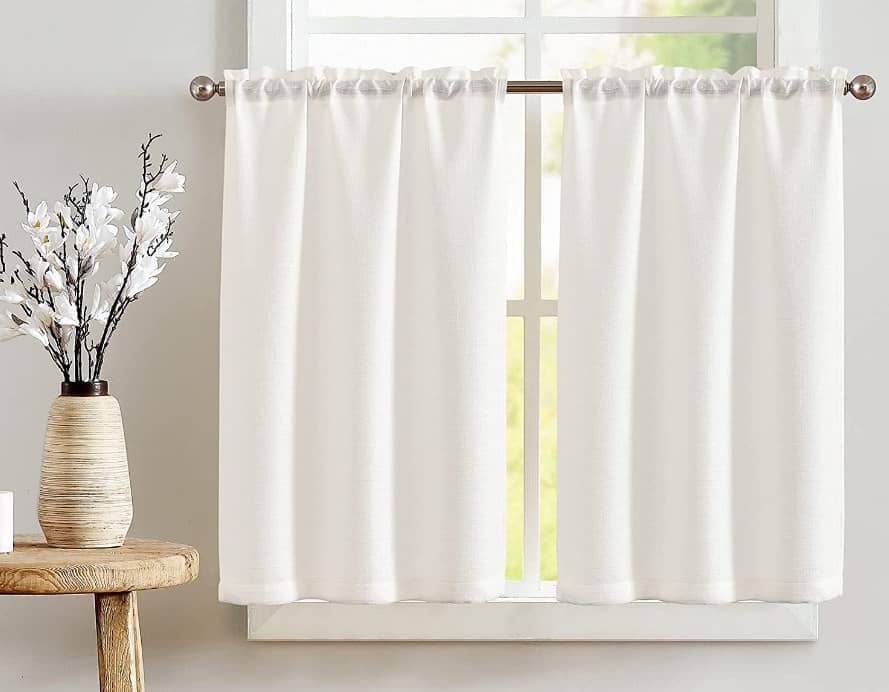 Do you need short curtains to complete your kitchen? This is for you.
Pros
They provide shade while allowing the right amount of light.
They have a simple design to complement your kitchen, cabinets, and living room.
They are durable.
You have different hanging options.
They are machine-washable.
They are ready-made.
They give your space a natural look.
They are made from sturdy fabric.
Cons
The use of bleach is prohibited.
They should be tumble-dried if the setting is gentle.
Their size options are limited: they are only two.
These curtains have few color options- primarily neutrals.
Frequently Asked Questions About Short Curtains.
The questions include:
Question: Are Short Curtains Worth It?
Answer: All that matters is what you think. After all, these curtains will be on your premises. If you feel like the reasons you have are sensible, there is not more to think about. You should probably be on your way to buy a pair or two or more! Why should you guess how they will make your house look and actualizing it is something doable. Remember, they don't consume so much fabric as their counterparts and, as a result, won't cost a lot of money.
Question: When Do You Use Short Curtains?
Answer: You cannot use short curtains every other day; however, they are deemed the best in some instances. They include when there is an object preventing curtains from flowing, for example, a sink. Another instance is when using curtains reaching the floor is considered unhygienic, like in the bathroom. Note that short curtains are known as sill-length or aprons. Therefore, if you decide to use longer curtains than the latter two, someone may think you got the measurements wrong, even when you thought it was a design.
Question: Do Your Short Curtains Have to Match Your Space?
Answer: Not at all. However, this all goes down to your preferences yet again. You should first ask yourself whether you are into color blocking or matching curtains to the room's color scheme is your thing. Note that if you want to have different colored curtains in one room, it cannot be done blindly. After all, who wants a house looking like it has so much going on anyway? We love the good chaos! You may choose the windows that will be the room's focal point. Afterward, use a consistent color palette or one fabric throughout the room.
Conclusion
The above points are detailed information about short curtains ideas and inspirations. We hope that this was useful and that you will turn your home around into something beautiful. Feel free to match colors with your curtain or color block. When hanging your curtains, you always call an expert to do it if you feel like it is a lot of work.
Ensure that you get your window's measurements right, and please do not use them to buy the fabric. Double or triple the size for your curtains to look attractive and like they have a body. Also, go to retailers who are good at their job or have been in this field for a long time if you want your curtains to look amazing. The short curtains we render best are the PONY DANCE blackout short curtains.