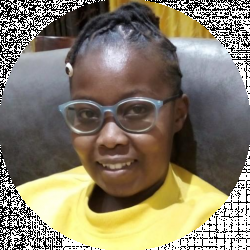 Latest posts by Jeanne Murugami
(see all)
You know, when you're in the mood for window treatments, it is tough to make a decision without feeling overwhelmed.  After all, there are so many different types of curtains and draperies to choose from!  What's more, some people will swear by one type while others favor another. 
Luckily for you, we have put together this helpful guide that includes the best 108 inch curtains on the market today. By reading our list of favorites and narrowing your choices down based on your personal preferences, it should be easy to find just what you need with minimal effort.
The first thing to think about when buying curtains is what style you want: do you prefer traditional or contemporary? What type of fabric would give your room the most personality? Do you need blackout material so that light doesn't enter through the windows at night? We hope this guide helps you find the best curtains for your needs. 
This article covers; opacity, texture, color, patterns, and tips on measuring sizes, lengths, and customizations.
How to Determine You Need 108 Inch Curtains
Curtains have standard lengths such as 63, 84, 94, 108, and 120 inches. So, how do you determine the right size of curtains for your windows? By knowing where the curtains should fall and how the draping should look. 
A curtain's length determines the look and feel of a space and also depends on the window's positioning. Sill, apron, floor-length, and puddle styles are the length options available for your selection. So, for instance, if you want a floor-length curtain, you need a 108-inch curtain. 
To determine your window's suitability for the 108-inch length, start by measuring 4 – 6 inches above your window frame. Then check whether your tape measure falls to the desired length at 108 inches. Most importantly, depending on your type of space, ensure that the tape measure barely touches the floor or is at least a quarter-inch off the floor. 
Tips to Selecting and Hanging Curtains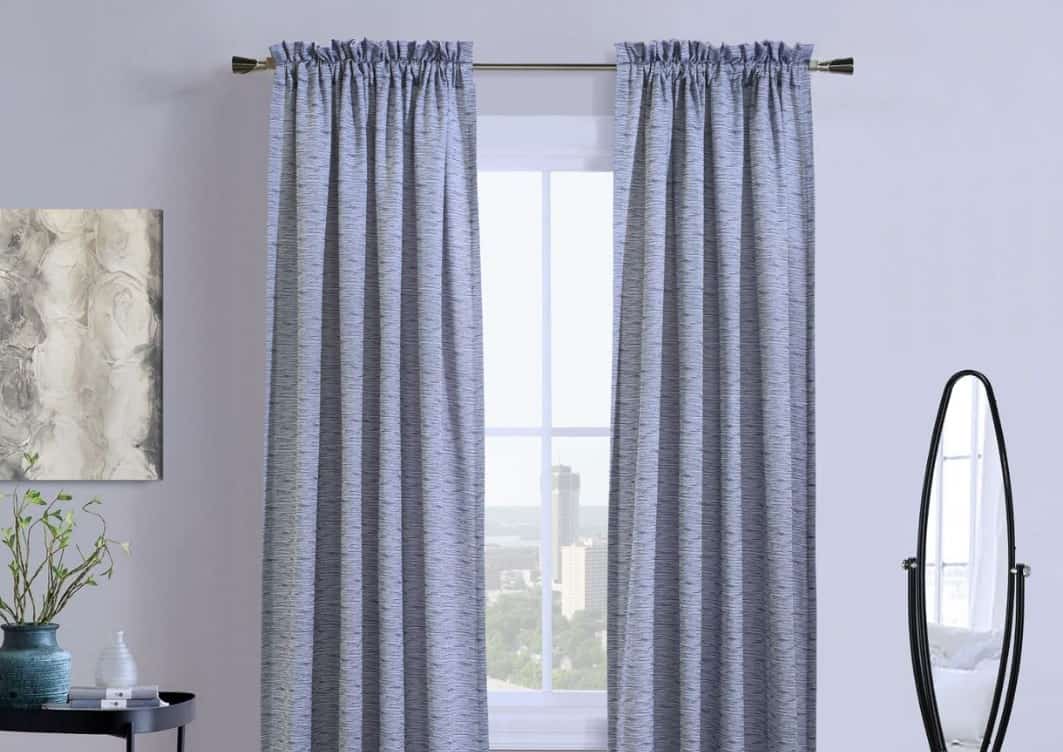 For your formal spaces like living rooms, offices, entertainment, and dining, let the curtains fall to floor-length because it gives the spaces depth and elegance.

A less formal or romantic space like a bedroom works best with a puddle length.

Sill and apron lengths are appropriate for kitchens, stores, and bathrooms.

Never place a curtain near a fireplace, stove, or over a power socket.

For long windows, use a valance or scarf in a bold horizontal pattern. You can also use a layered pattern or window treatment set to create a robust contrast. 
For shorter windows, attach rods below the ceiling molding and about 4 – 6 inches above the window frame. Then hang 108-inch curtains to make it look taller and elegant. 

For narrow windows, extend the rod beyond the window frame on either side, then hang long drapes without concealing most of the glass pane.

If the windows are wide, break it up by hanging several 108-inch panels along the entire width. These panels can fall straight or be tied. If you must have your privacy, consider pairing the panels with sheers.
Types of Curtains
Curtains come in varied designs and styles of hanging and draping. CurtainS can either come as a single or double panel depending on a window's width. Below are some of the most popular styles available in the market.
Blackout 
Blackout curtains consist of a double-lined, tightly woven fabric and are ideal for blocking all outside light completely.  The overall effect is to blackout your room, so if you want to sleep in the daytime or watch a movie, this is the best window treatment option for you. They have additional benefits like thermal insulation, soundproofing, protection from UV rays, and heightened privacy.
Cafe or Tier Style
These curtains only cover the window halfway, from the top to the middle or from the middle to the bottom. If hanging from the top only, they provide a decorative window treatment, and if hanging from the middle, they provide privacy while letting in light through the top portion of the window. You can opt to have both or one piece depending on your usage needs. Cafe curtains mostly consist of unlined, lightweight fabric and are often sheer or lace. 
Rod Pocket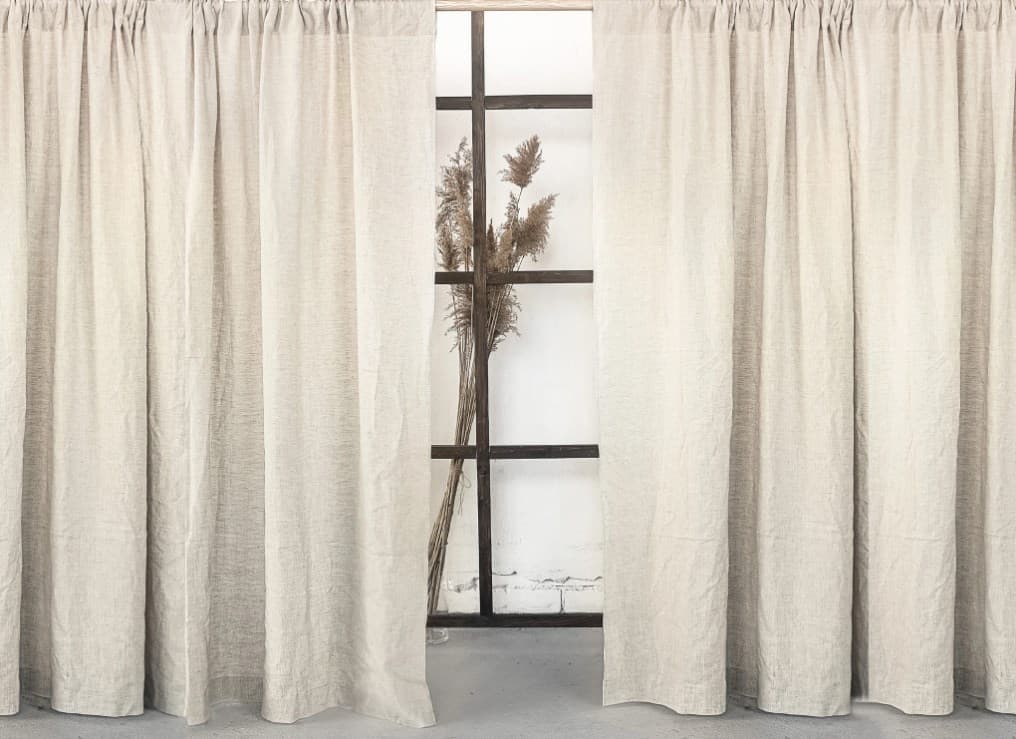 As the name suggests, this type of curtain has the header folded and sewn into a pocket to allow a rod to pass through. Although they're easy to set up, they're not easy to draw in or out; hence they're primarily suitable for sheers or other lightweight curtain fabrics. 
Sheers
Sheers or sheer curtains consist of a pretty lightweight, see-through fabric ideal as a minimal window cover. It provides measured privacy, light filtering and is an adequate accent for your space. They're also ideal for a layered design, especially when you want some privacy after drawing open your opaque curtains. 
Grommet
The grommet is an eyelet sewn into the header to allow a rod to pass through. They're pretty popular due to their minimalist design that's easy to blend with any decor style. Furthermore, they're easy to install and operate; hence you can use them in almost any space.
Pleated
This type of curtain has intricate pleats sewn at the top of the header and includes some space for hooks, rings, or grommets for easy installation. With this design, you can use bulkier fabrics since they typically incorporate a cord and pulley mechanic for easy operation. What's more, there are plenty of pleat styles to choose from, such as box, pinch, goblet, and pencil. The pinch pleat is the most popular one amongst all pleat styles.
Tab Top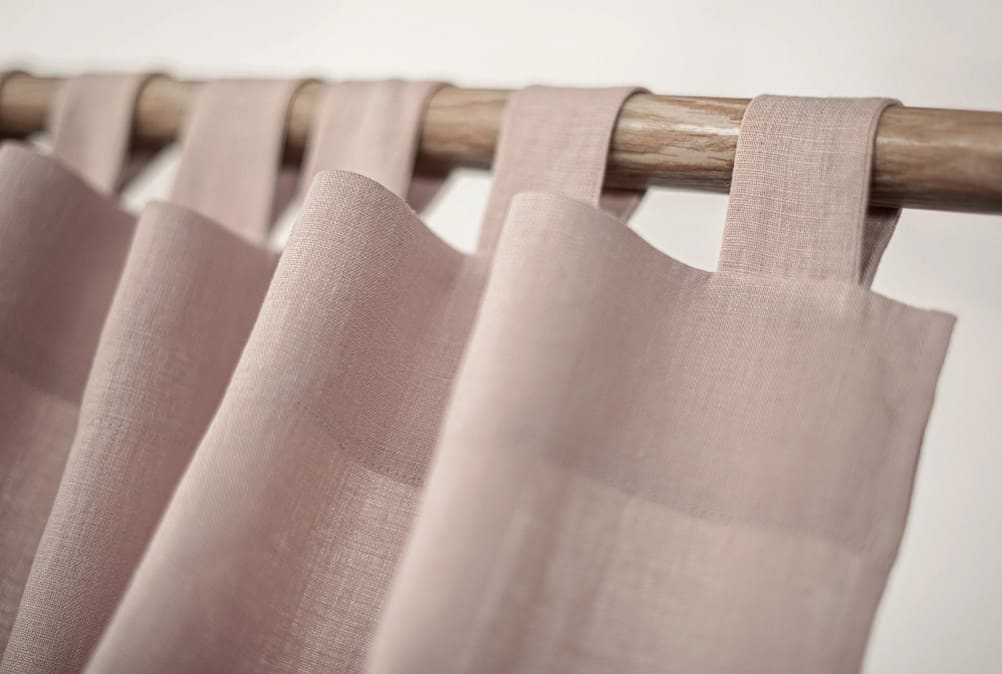 With a tab top curtain, the eyelets ( or oops) consist of the same material as the header. They're fixed on the header's top edge and are wide enough to allow a rod to go through. Like rod pockets, they're not easy to draw, so are best for use with lightweight fabrics.
Valance or Window Scarf 
This type of curtain consists of a fabric scarf that hangs loosely over the curtain rod and falls gently on either side. These types of curtains on their own can't block out light or guarantee your privacy but are an excellent way to add life and ambiance to a space. You can also pair them with a single or double panel curtain to add elegance to your space.
Window Treatment Set
This type of curtain has everything for a full window treatment. It consists of a double panel in any style, valance, liners, tie-backs, rods, and other mounting accessories. Some people opt for the set to ensure they complete the window dressing in one go, while others opt to dress in phases. It's all a matter of preference on what works for your styling process.
7 Hot Picks: Best 108 Inch Curtains
Curtains can give a room an instant facelift without having to paint or replace furniture. That's why you need to get the right curtains for your window. You may be asking yourself, what are the best 108-inch curtains? 
The best 108-inch curtains are those that can transform your living space. They will make it look larger, more inviting, and sophisticated. To help you find the perfect curtains for your home, we've compiled a list of our favorite styles and brands. 
We've reviewed the most durable, affordable, and versatile 108-inch curtains. 
1. Grommet Blackout Curtains: Best for Living Rooms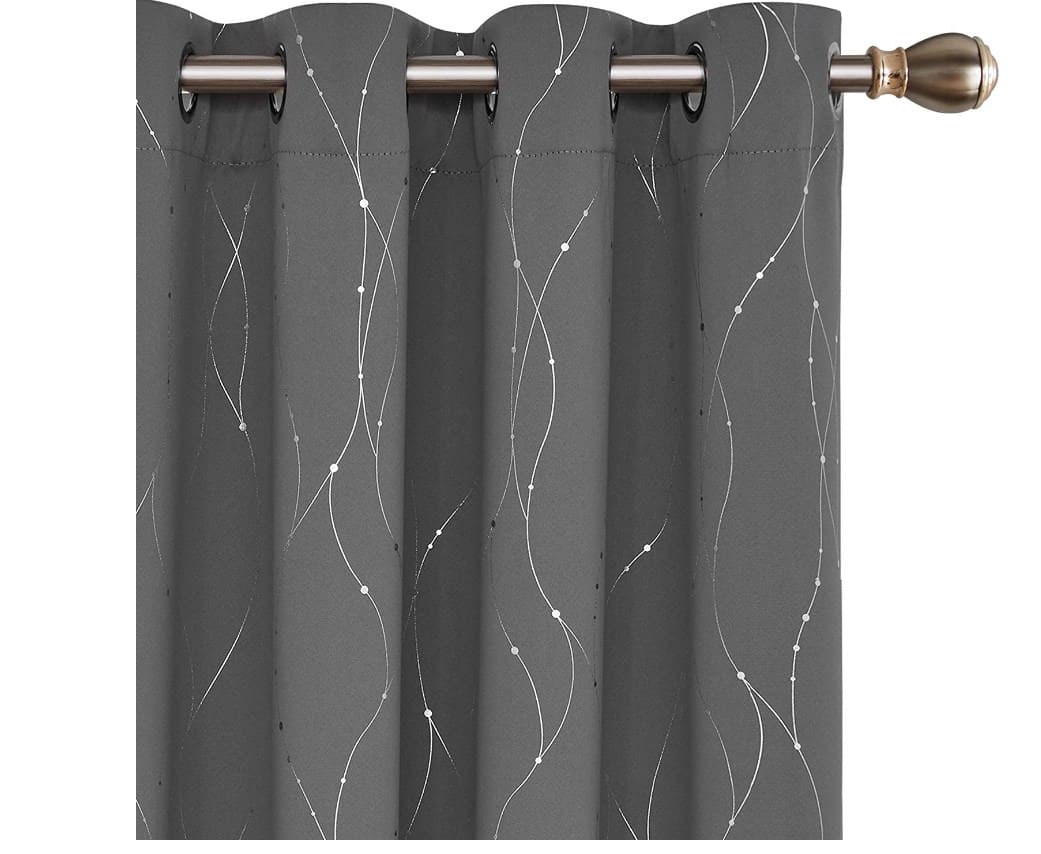 These Deconovo 108-inch grommet blackout curtains come in a set of double panels, with each panel measuring  52Wx108L inches and including two matching solid color tiebacks. To hang them, there are eight stainless silver grommets per panel with a 1.6-inch inner diameter each. 
Their fabric is 100% high-quality polyester, silky soft to the touch, available in various colors, and has the opacity to block out a significant amount of light. Besides, these curtains also ensure your privacy, are soundproof,108-inch, and thermal insulated hence ensuring you make savings on energy costs. The recommendation is to hand wash below 86F and low iron but avoid bleaching, softeners, or tumble drying on maintenance.  
Pros
This curtain consists of high-quality fabric that's also easy to maintain.

The fabric looks elegant and is soft to the touch

You'll get value for your money
Cons
It might not block out light completely 
2. Rod Pocket Sheer Curtains: Best for Bedrooms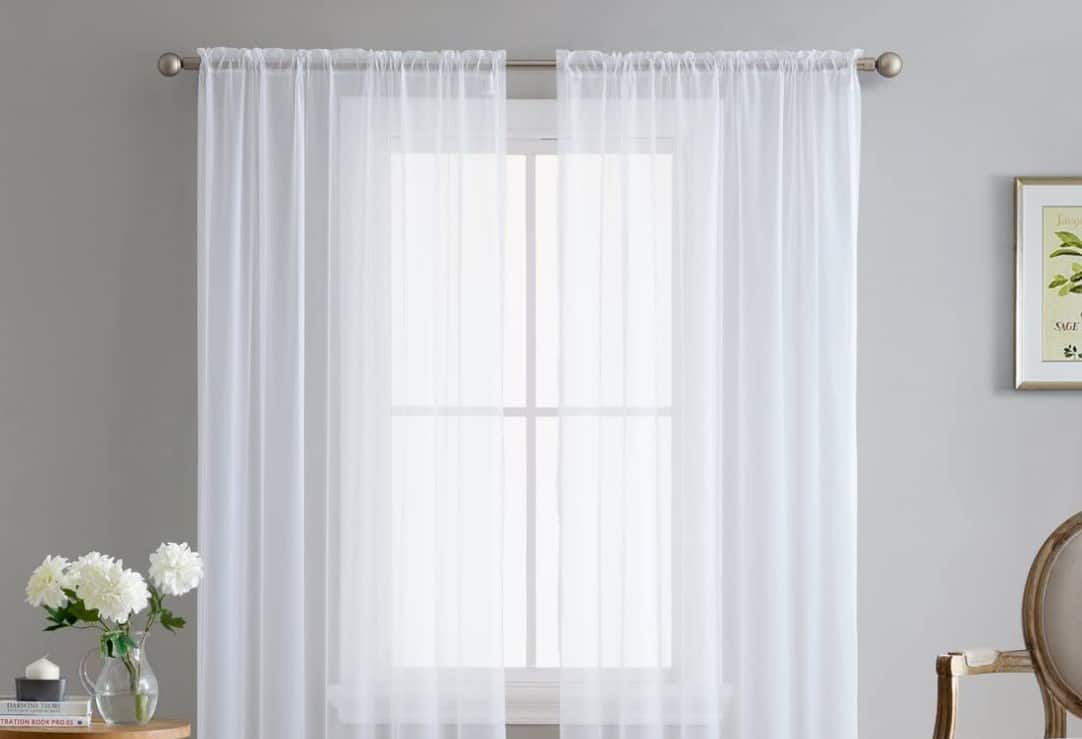 If all you want is a hassle-free window treatment solution, these HLC.ME Voile 108-inch sheer curtains will have you sorted. They consist of 100% textured polyester with a linen look and feel. 
Since it's lightweight, the fabric is sufficient as a light filter, and its brightness lends an airy, sunny feel to a space. It comes as a set of two, with each panel measuring W52 x L108 and 1.5 inches header and 3 inches rod pocket.  Maintenance is easy, with the only requirement being to wash in cold water with mild detergents. 
Pros
These curtains are wrinkle-free, have superior straight stitching with an elegant look and feel

Their opacity is sufficient to filter light

They're reasonably priced and worth the value
Cons
Ensure you recheck the sizing
3. Textured, Patterned Curtains: Best for a Spacious Living Room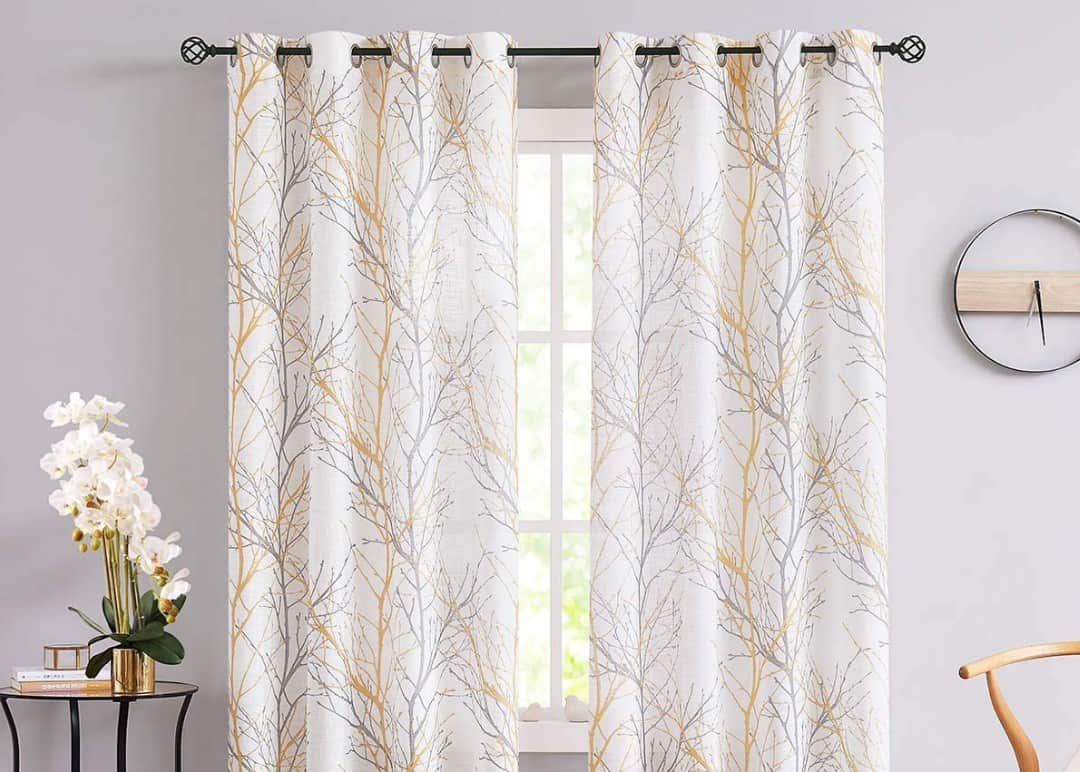 These 108-inch curtains from FMFUNCTEX have an exquisite yellow and grey pattern on the sheer white background that's pretty eye-catching. The fabric is premium, 100% wrinkle-free polyester with a linen look, and much thicker than standard sheers making it ideal for any space. 
They come as a set of two with a width of 50 inches per panel. It's recommended to order 2 to 3 times rod width for proper look and fullness. They're machine washable with cold water; you can tumble dry iron or steam at the lowest temperatures.
Pros
The benefits outweigh the cost, hence  good value for money

They're made of high-quality material

Their design will accentuate your space and make it look uniquely redone
Cons
Be sure to recheck the size and coloring
4. Tab Top Curtains: Best for Bedroom Patio or Sliding Door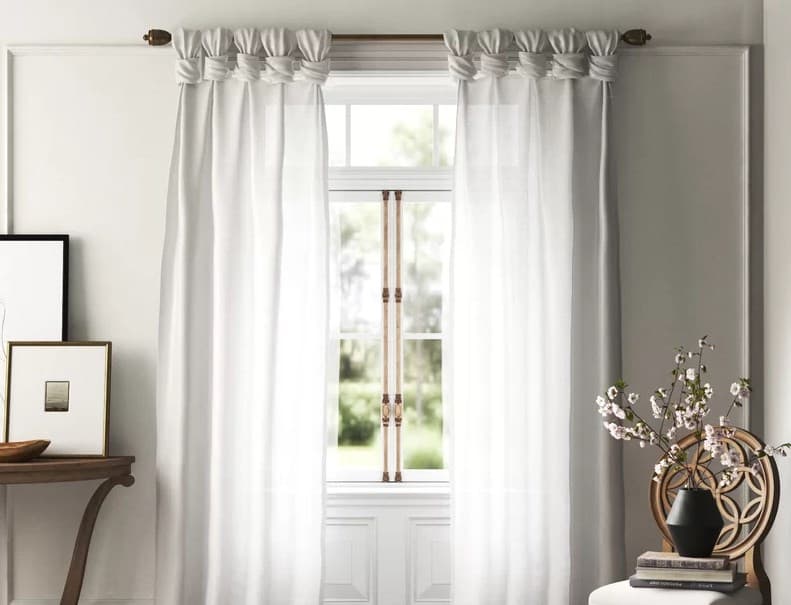 These Rivau Solid Semi-Sheer Tab Top108-inch curtains will enhance your space look and feel due to the twist tab top header and grey color on a faux-silk surface that goes with anything. 
They're available in an assortment of colors that include blush, bronze, charcoal, and more. The fabric is 100% high quality, durable polyester that's a sufficient light filter ensures privacy and is fade or stain resistant. It's reversible, comes as a single panel, and is machine washable with cold water.
Pros
Comes in high quality and durable polyester fabric 

There's a wide range of colors to choose 

Design and flow is elegant and eye-catching
Cons
Doesn't have the look and feel of a sheer curtain
5. Pinch Pleat Curtains: Best for a Small Apartment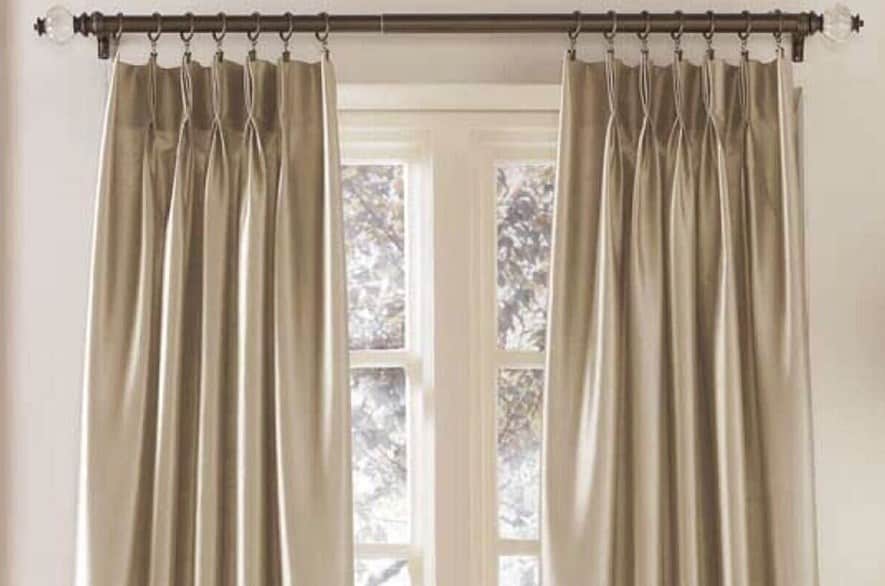 If you like some details on the header, these Curtainworks Marquee 108-inch curtains are a must-have. They come in a champagne beige color and consist of a polyester-nylon blend fabric that resembles faux silk with a subtle shimmer and all-over textured surface. 
The design features a pinch pleat detail on the header and comes with clip rings and drapery hooks if using a standard or traverse rod or hidden 4-inch wide back tabs if using a standard or decorative rod. It has sufficient opacity to filter and block light, protect your furniture from harmful UV rays and provide privacy. It's sold as a single panel, and to maintain it, all you need to do is hand wash or machine wash in cold water with mild detergents.
Pros
All panels are identical, so there's no stress of one panel being longer or shorter.r

The fabric is high quality, lightweight and durable

These curtains are good value for money
Cons
Ensure you recheck on colors and width sizing to be sure it works for you.
6. Elrene Home Fashions Valance Curtains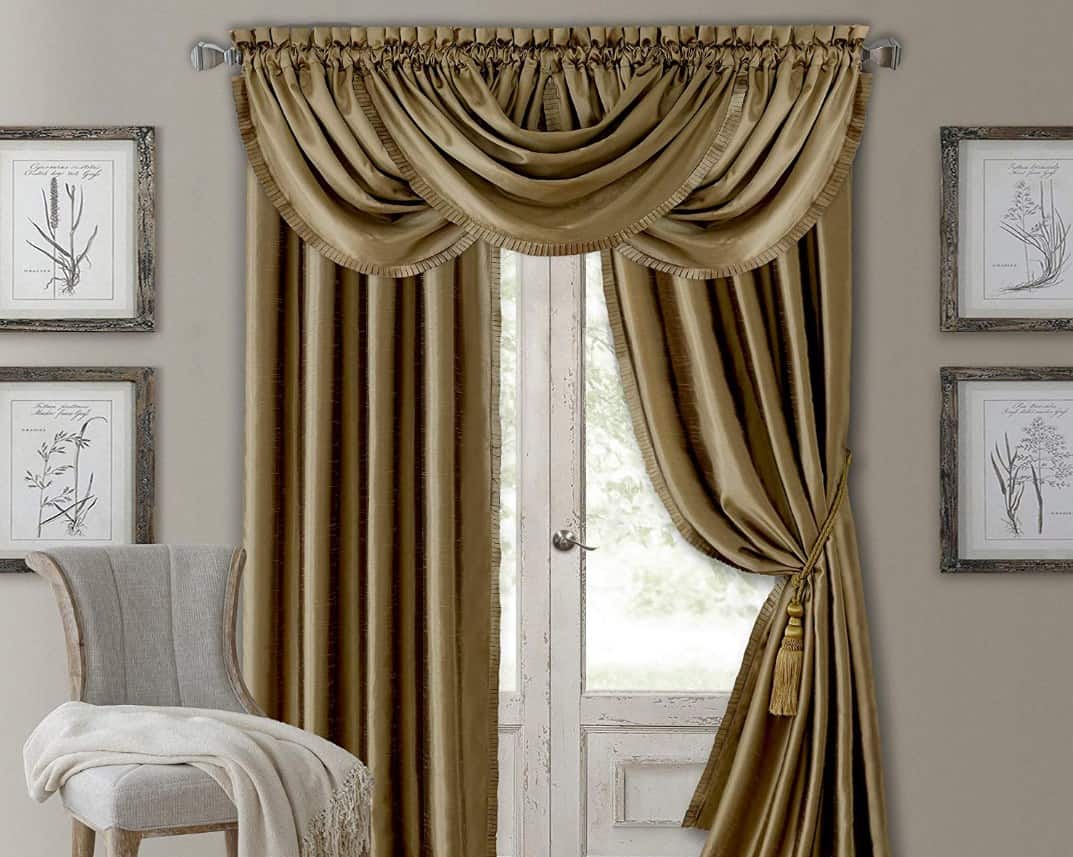 These Versailles style 108-inch curtains are 100% polyester and feature a faux silk texture with a pleated inner trim. Their opacity provides 99.9% blackout and the silky surface gives an elegant and luxurious shimmer. 
The rod pocket measures 4 inches and is recommended with up to a 2-inch rod for efficient operation. It comes as a single panel with a coordinating tie back. The valances also come as separate pieces; thus you'll need three valances and a double panel for a full window treatment. It's easy to maintain by hand or machine wash in cold water with mild detergents. 
Pros
The design is exquisite and eye-catching

The fabric used is high quality and durable

This curtain is lightweight hence easy to install and operate
Cons
Recheck how many valances and panels you need.
7. N&Y HOME Extra Long Shower Curtain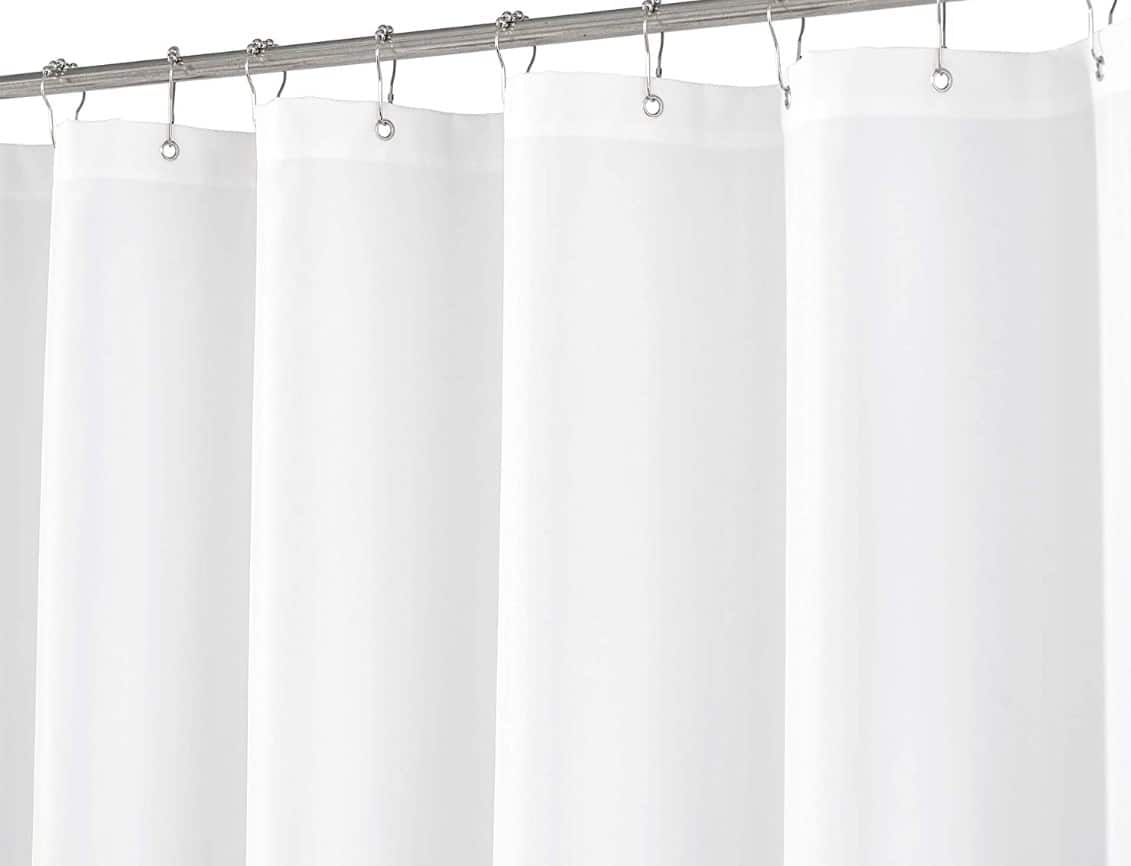 This N&Y HOME 108-inch shower curtain is 100 Gsm thick and consists of 100% premium polyester fabric with hotel quality and a width of 72 inches and 108 inches. You'll be happy to know that it doesn't have any lingering PVC or vinyl smells like is common with this type of curtain. Regarding the hanging mechanism, the header comes reinforced with twelve rust-proof grommets to prevent tearing and ensure durability. 
The bottom hem isn't weighted, but there's a magnet sewn in at the bottom of the hem on both the left and right side corners, which sticks to the tub and secures the curtain in place. The maintenance is easy since you can hand or machine wash it with cold water and mild detergents. Once you hang it, the water glides away to leave it clean and dry for use.
Pros
It's lightweight, meaning it's easy to install and operate

The fabric material is high quality and durable

Cleaning and maintenance is pretty easy
Cons
How to Measure Curtains
A curtain's dimensions start from left to right, being the width, then the top to bottom being the length (W x L). When measuring a window, you will not act out on the actuals; for instance, a window width of 30 inches will require at least  60 or 90 inches of fabric for adequate dressing. However, the width of a curtain also depends on the type of curtain; case in point, pleated curtains have the full width sewn in.
You can choose to have the curtain as a single or double panel, but we recommend the double panel for an elegant look. This also depends on the window type since a kitchen or bathroom window would work well with a cafe or tier style. 
On the other hand, the length should fall from above the window frame 4 – 6 inches to a length of 108 if floor length. To avoid having it touch the floor or forming a puddle, cut it about a quarter-inch from the floor.
How to Clean Polyester Curtains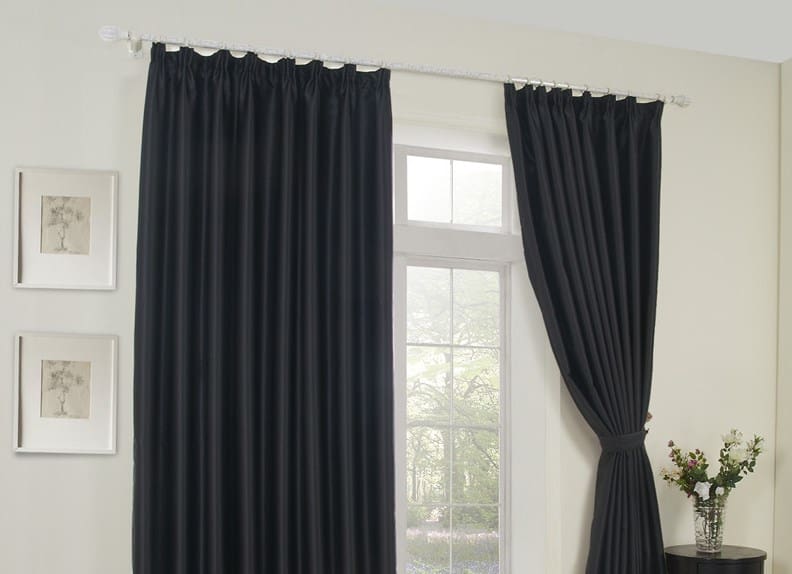 You've noticed that most of the curtains we've reviewed are made of polyester because they are affordable, durable, and sturdy. However, apart from polyester, there are other equally good fabrics like linen, cotton, silk, velvet, lace, and thermal suitable for curtains. 
Thus, when selecting your curtains, check the most suitable fabric because the fabric type determines how curtains hang and drape and also their durability, coverage, texture, and maintenance. 
Besides the above-highlighted qualities, polyester curtains' appeal lies in their resistance to creases, stretching, and shrinking and are pretty easy to maintain. Polyester curtains are appropriate for your living room and bedroom window treatments but not kitchen since they're flammable, limit air circulation, absorb odors, and aren't stain resistant.  
Below are some useful cleaning tips to help you maintain your polyester curtains.
Do regular vacuuming to keep your polyester curtains fresh and clean. Clean the interior and exterior of each panel since dust collects quickly, and insects become lodged on the surface, especially roaches. During sunny weather, take them out to the air after shaking or beating out the dust. 

Daily handling, for instance, while drawing them or kids and pets playing, means dirt and stains will show. So, every quarter take them down to hand or machine wash as per purchase instructions. Most times, you'll find the recommendation is to use cold water and mild detergents with low temperatures for tumble drying and ironing.

Some delicate or embellished panels are best for hand washing only or natural drying. If you notice stains that don't come out in the wash, turn to a gentle stain-remover solution of equal parts vinegar and water. If you want to check how safe the stain remover is, test it on the rod and if there's no alarming change, apply it to the stain as per instructions, rinse and tumble dry or hang the curtains to dry.
Most often, after a wash, polyester curtains will crease. So have an iron or steamer at hand on a low heating setting, then run it slowly over the curtain's surface. A steamer is preferable since you can run it as curtains hang from the rod. 
Frequently Asked Questions
Question: Do curtains come in 108?
Answer: Yes, they do because ready-made curtains come in standard lengths of 63, 84, 95, 108, and 120 inches. However, if your curtains don't prove to be a perfect fit, you can customize them by trimming and sewing the hem if it's too long. If too short, you can creatively add extra fabric to achieve the length and make it look like part of the overall design.
Question: What Curtain Length Is Best?
Answer: The best curtain length is 108 inches or floor length. This is because they elongate your window and give depth and height to your spaces. To ensure you get this look perfectly, ensure they don't touch the floor and hang straight from the header to the bottom hem.
Question: Is It Ok To Put Long Curtains on Short Windows?
Answer: Long curtains are the best dressing for short windows because they enhance them and make them proportional to the room. The only instance a long curtain can't work on a short window is if there's an obstruction like a bed, desk, or dresser.
Question: How Many Inches Should Curtains Be?
Answer: You should hang your curtains about 4 – 6 inches above the window frame. This style of hanging curtains creates the illusion of a high ceiling and gives depth to any space. Ensure there's proportion by seeing to it that the curtain barely touches the floor is at least a quarter-inch off the floor. 
Question: What Type of Curtains Are in Style?
Answer: Minimalist styles with subtle patterns, textures, and colors are the most popular. Sheers always get the big nod because they're versatile and budget-friendly. Others that are also popular include linens, layered, blackout tasseled curtains.
Conclusion
As you can see, it's easy to select the best 108-inch curtain if you know your needs and what to look for in your ideal curtain. Understanding the intricacies of window and curtain measurements and how they impact a space will help you make the right decision.
Remember, the best curtain length is 108 inches or floor length because it adds depth to a space. Besides, don't forget to match the length to your style by selecting a suitable fabric, color, pattern, texture, opacity, and hanging style.
Our best 108-inch curtain recommendation is the grommet black-out curtain because it gives you the most options. You can pair it with sheers to create a layered effect, rely on it to give you maximum privacy, give you the freedom to work night or day and save you money by conserving energy.