Latest posts by Angelique Alice
(see all)
Are you contemplating buying gray curtains? If so, this is the right place to be. There are many shades to the color gray, and you need to know where your preference lies. For example, would you prefer darker to lighter shades or vice versa?
Answering this question will help you narrow your choices down, thereby making the whole process hassle-free. After all, you can't afford to spend every other day looking for a pair of curtains; it could drive you crazy. However, we are here to rid you of all that uncertainty. Read on to discover gray curtain ideas and inspiration.
Tips to Remember When Getting the Right Gray Curtains
The following are some of the tips to consider:
The Design
You will undoubtedly come across gray curtains with several designs and patterns. If you already have a particular pattern in mind, it will be a matter of letting your retailer know. Note that you should go for plain fabric only if you have different patterns and designs in your space.
At this point, you would want a neutral color to enable a peaceful coexistence among them. However, feel free to go for striped or patterned gray curtains if your walls have a simple design or neutral color.
Budget
To get suitable gray curtains, you will need to have a budget. That way, you can look for one that lies within your range and not beyond.
Request for Double Panels
Do you want your window to look bigger or fuller? If so, double panels for your gray curtains; they will do the trick. Therefore, order two sets from your vendor when making that purchase and have them work miracles for your home.
This is a designer trick, and it wouldn't hurt to give it a try anyway. After all, interior designers know their way around this field and can't lie to you. Also, if you don't need to get two sets of panels, don't feel pressured if you are content with your windows.
The Fabric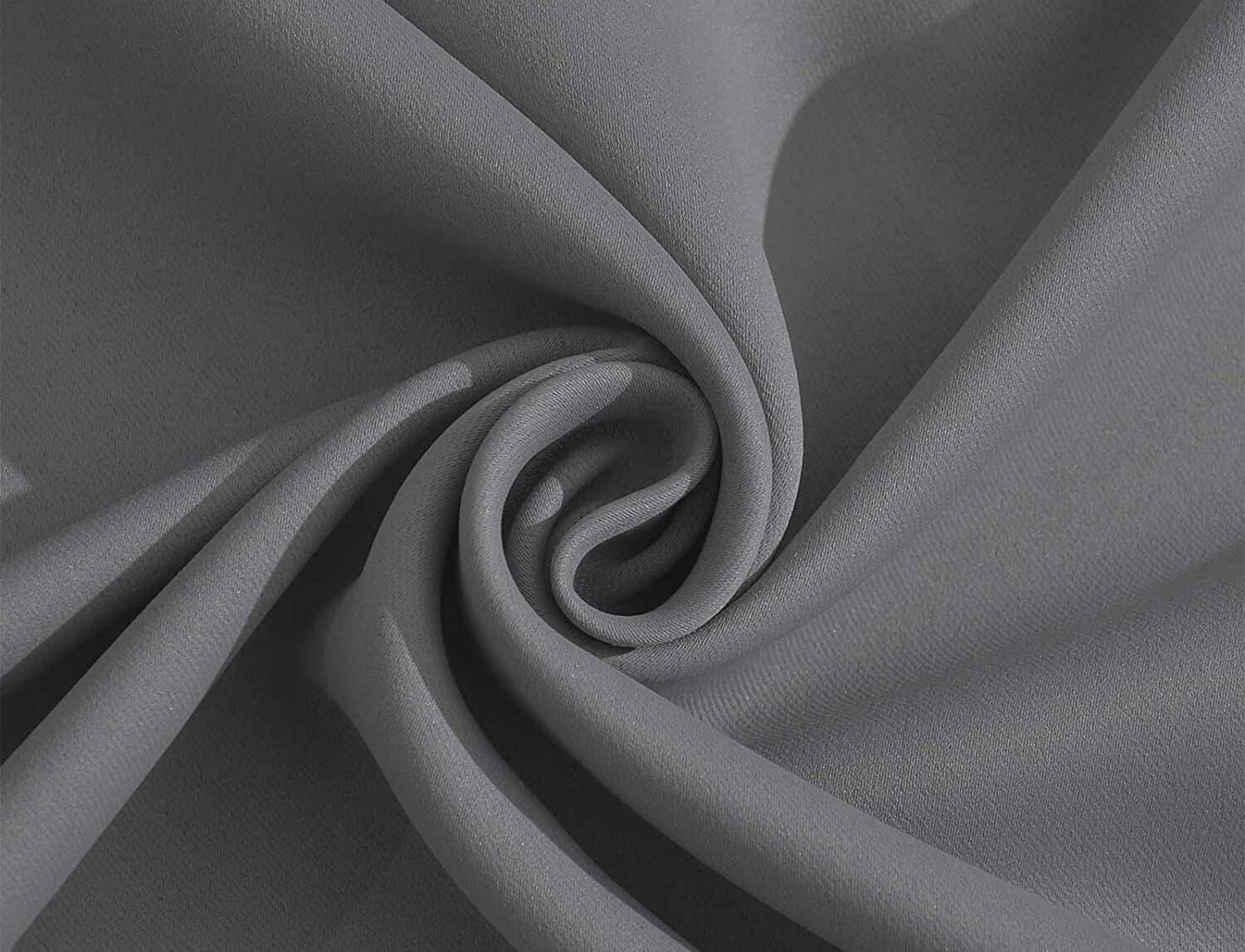 It is one thing to know the color and another to figure out the best material yet for your gray curtains. The first step is to see whether you want to take the luxurious or simple route. The fabrics available entail velvet and linen, to mention a few.
To get the best material yet, you will need to consider the room and its aspects. Does the room have a modern or traditional touch? For example, velvet gray fabric curtains would be the best fit for the latter. Therefore, don't choose fabrics blindly or simply because they look and feel great.
Super Tip
If the primary color of choice at home is gray, you should know there are two ways to do this either the gray curtains look great or turn into another shade like green, purple or blue. However, it is essential to point out that this varies depending on the lighting.
As much as choosing gray curtains is fantastic, you may have to think twice about it. Silver-gray curtains may be a splendid choice, but only if the wall's color is a softer shade of blue otherwise, the curtains will seem blue. You can opt for light gray curtains because under any lighting condition whatsoever, they retain their color.
Types of Gray Blackout Curtains
Blackout curtains are those that block out sunlight and UV rays.
Dark Gray Blackout Curtains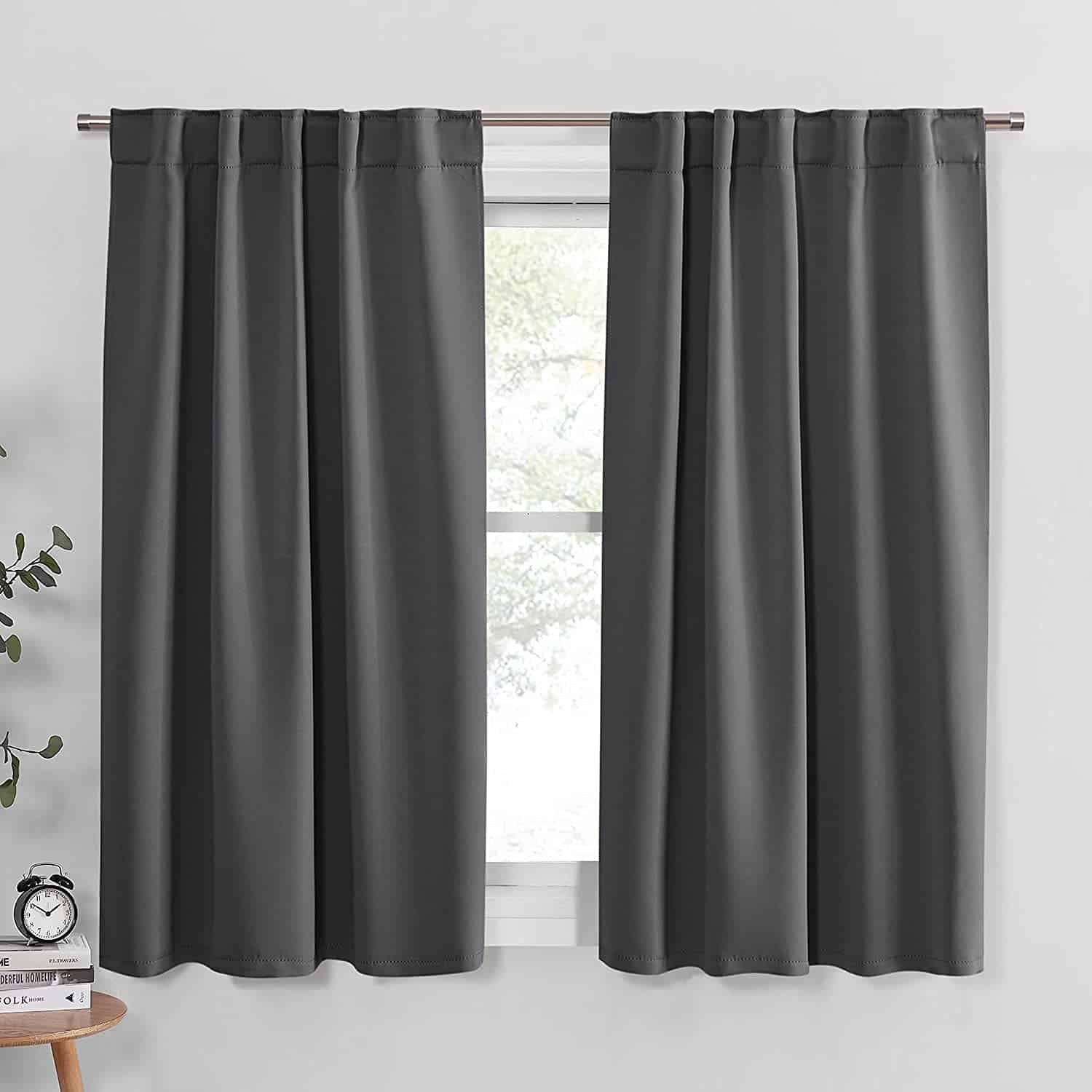 If the room you want to renovate is large, go for darkened gray hues. They are often rich, and their tones vary. In addition to that, they are excellent contrasts to bold or vibrant colors. There are many advantages of using dark panels, for example, keeping the sun out when needed and not forgetting they add to the aesthetic in the room. Isn't that great? Here are some of the dark gray blackout curtains:
Starry Night
When you use block-out curtains often, there may come a time that you miss the soft glow of starlight. However, you can always create yours by layering a sheer panel over your blackout curtains and place LED lights between them. If you have children, this should be on your to-do list. It allows them to sleep late and acts as a nightlight.
Heathered Hues
If you are not a fan of the total blackout effect, we got you! Opt for this heathered texture since it can block up to 90% of the light while leaving a soft pattern effect behind. The materials used are perfect for compromising entirely darkened rooms.
Light Gray Blackout Curtains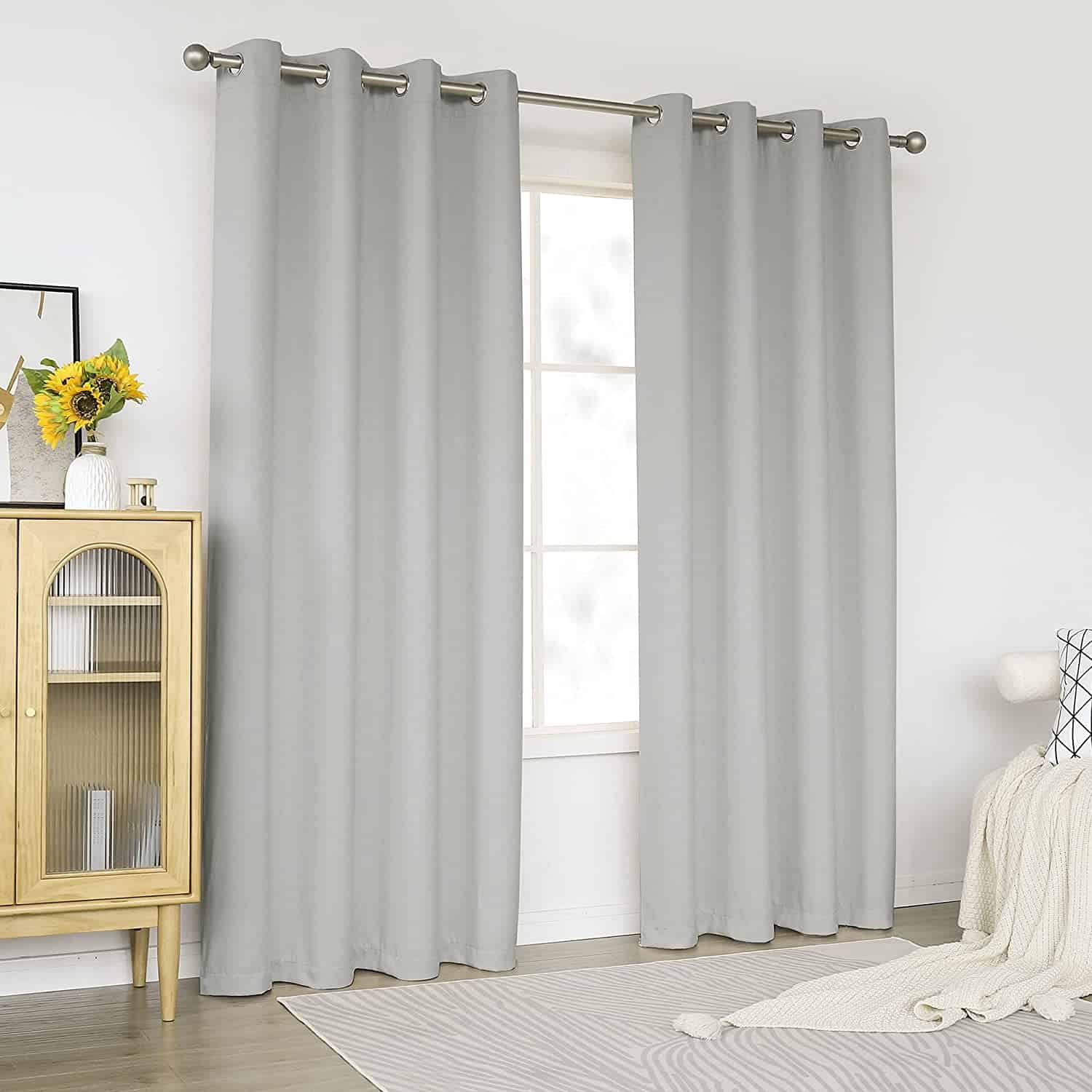 Light gray hues are a great option since they complement various decors. Moreover, they can take up the characteristics of neutral colors. As their name suggests, they are light and airy. However, when closed, allow you to be in a dark atmosphere. If, for instance, your walls are brightly colored, they tend to offer a fantastic backdrop. Some examples include:
Double Duty
Gray curtains can be placed together with various patterns without seeming misplaced. If you use sheer curtains with blackout curtains, you will have your privacy and the light of day. Gray should be your go-to if you want the patterns in your premises to be complemented and the lightness reflected.
Complimentary Curtains
Of course, we love a good pair of complementary curtains! How they go hand-in-hand with neutral tones is beautiful. They do not create a washed-out look; therefore, you are in luck if that was your worry. With this pair, the focal points are usually emphasized, thus become hard to miss. Also, they make the background soft and draped. Moreover, they are an excellent choice if you want to close out the sun while serving a delicate look.
Gray Patterned Blackout Curtains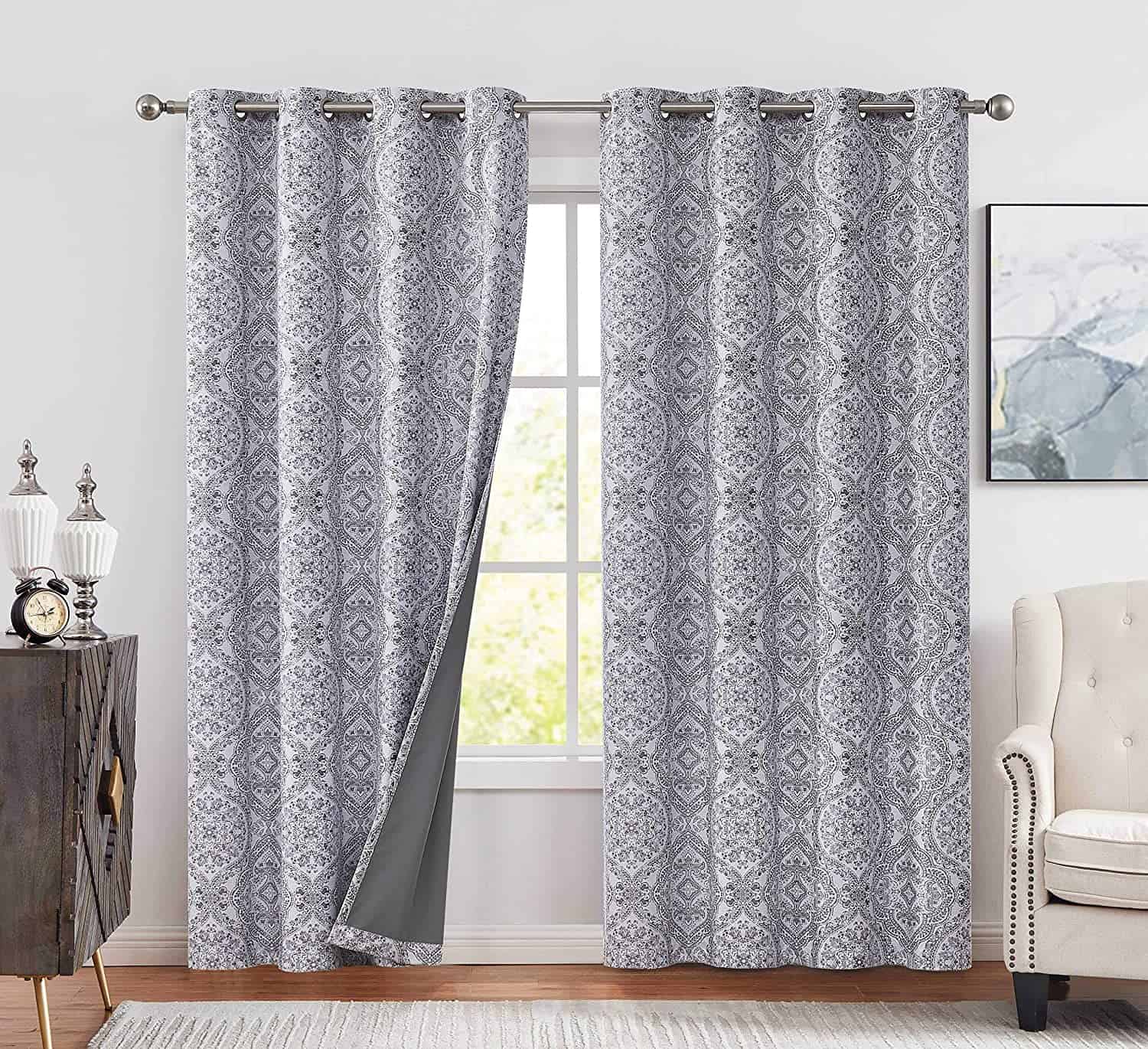 Plain gray hues or any of the previously mentioned one may not be ideal for you, and that is okay. Maybe the gray patterned blackout curtains match your style. Those that could be considered include:
Striped Source
If you are wondering which curtains will suit any room in the house, these are multifunctional. They will offer an unmatched contrast to your décor wherever you choose to use them.
Gently Patterned
Some patterns could be pretty heavy on the eyes but not this one. These curtains dance across the fabric because of their lace-like design detail. If you are not one to give patterns a try, these curtains are worth compromising against. They are not too bold or bright hence, perfect for you. In addition to that, their patterns may change, especially in light. As a result, they tend to look different, although this depends on the angle you are looking at them.
Gray Chevron Blackout Curtains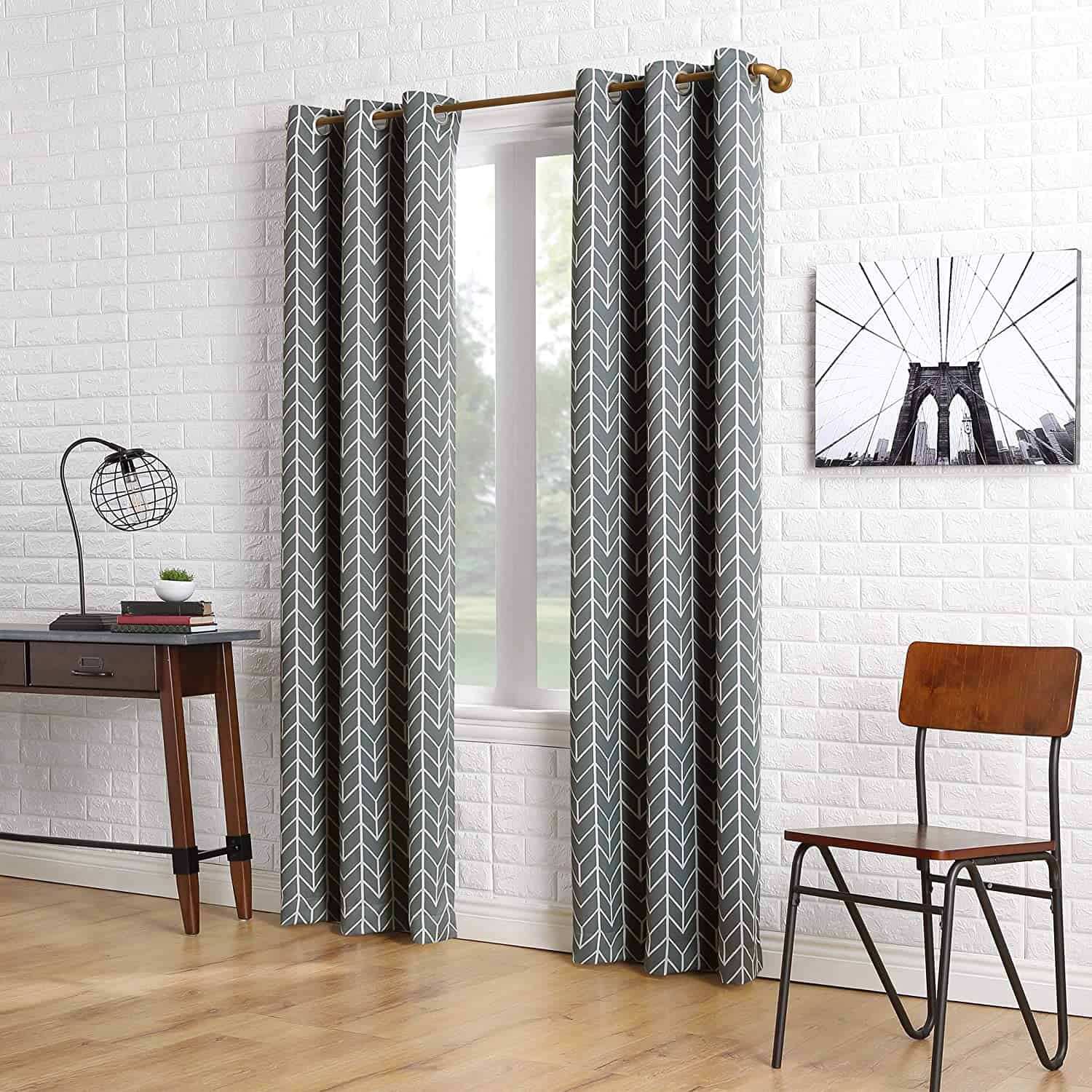 These curtains are renowned for the depth they add and the overall effect they have in a room. Gray chevron blackout curtains are a good option for people who want new textures and mix patterns. They will make your space look nothing short of elegant. The following are some of the gray chevron blackout curtains:
The Ombre Effect
If there is one thing about gray tones, you should know is that they go well with several colors. Dramatic chevron patterns will let you see how well ombre effect drapes show off the jewel tones of a soft teal. If anything, they will always be the highlight of the room.
Classic Contrast
Who doesn't love an alternating gray and white chevron pattern? It spells out classy in so many ways, and if you doubt this, there is only one way to find out. Choose this pattern and have these curtains hang nicely, and be the judge. They tend to be very good to look at and look beautiful against many neutral tones. Despite keeping the lighting at a minimum during the day and allowing you to sleep uninterrupted, they make the room look brighter when closed.
Gray Curtains We Recommend
Bedsure Linen Gray Curtains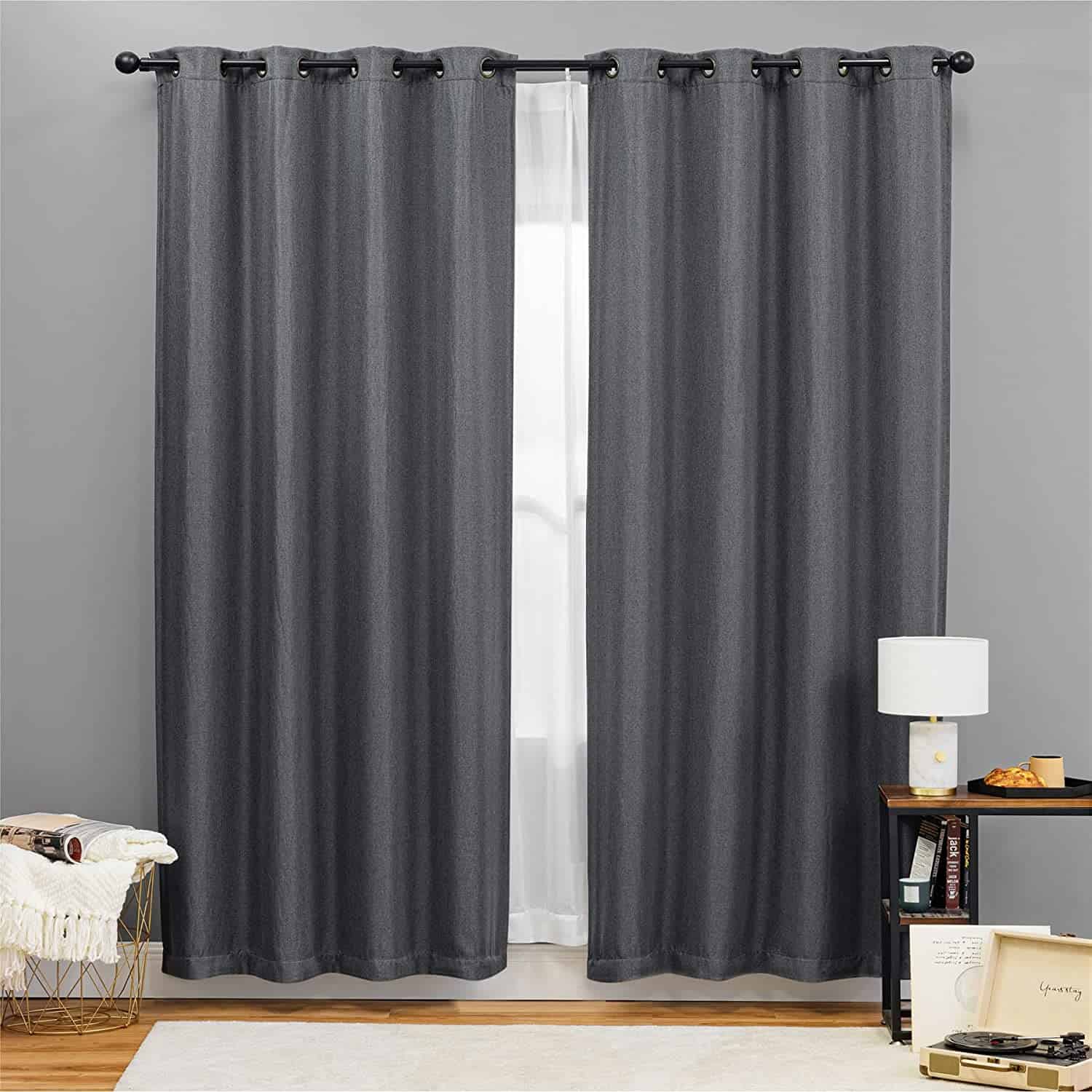 These curtains are made from polyester and linen. Bedsure linen gray curtains block 90 to 99% light while giving their users privacy. Note that they allow natural light into the room. They come with two panels and eight grommets, each with a 1.6 diameter. Once hung, they make the room have a soft glow.
Moreover, they are thermally insulated to ensure they keep heat and cold outside. They are machine washable, however, in cold water. If you need to iron, it should be on low heat. You should not tumble dry or bleach them or consider taking them to a dry cleaner.
Pros
Wrinkles fall out when they are hanged.
They absorb noise.
Cons
Few size options.
Few color options.
Require no bleach.
They should not be taken to a dry cleaner.
ChrisDowa Grommet Blackout Gray Curtains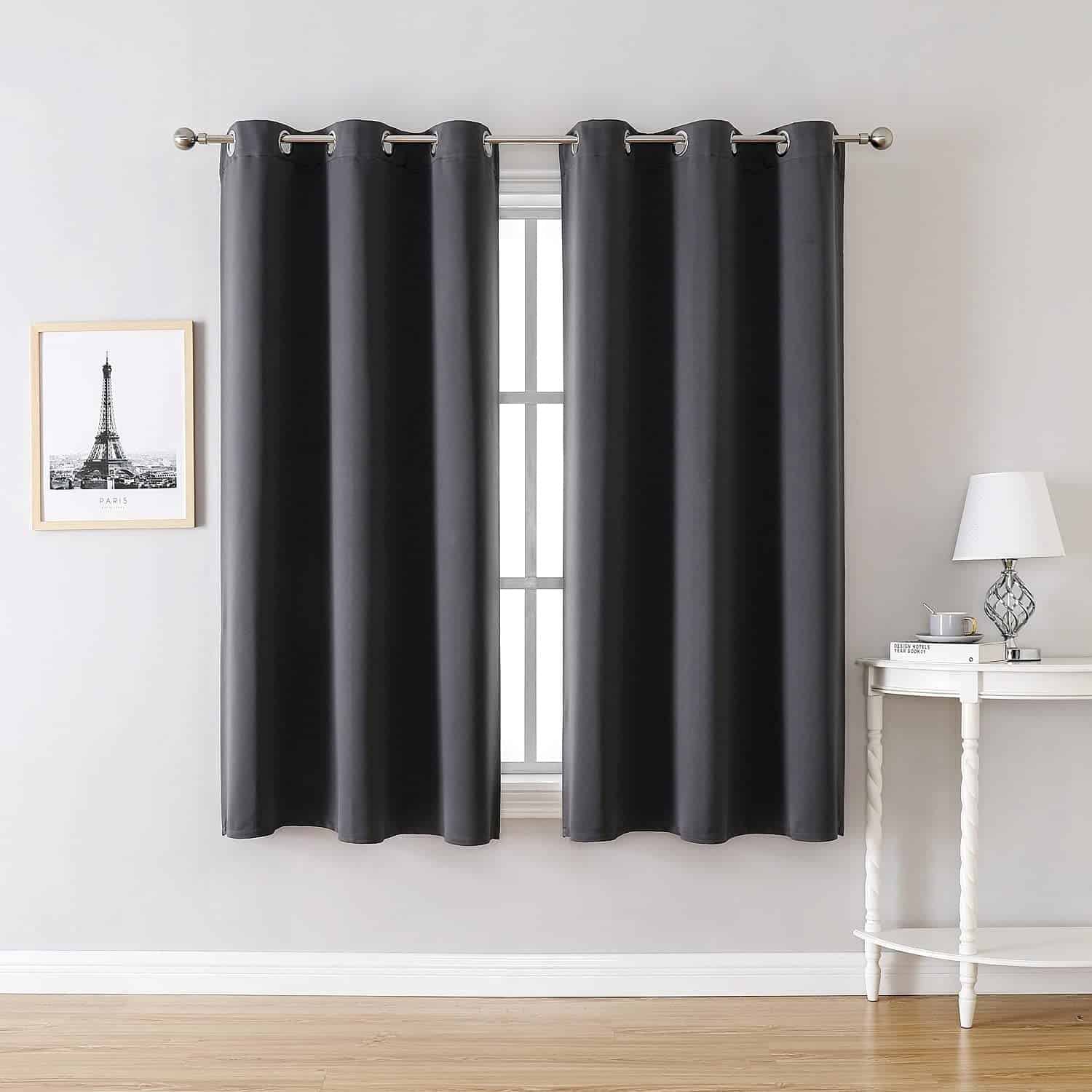 These curtains come in different colors besides gray, and their material is known as microfiber. It has a soft feel and no odor; therefore, it fits the kid's room. Its set comes with tiebacks as a gift, panels, and six silver metal grommets.
They block out 98% of sunlight and UV rays; therefore, the darker the color, the better it works. ChrisDowa grommet blackout curtains are energy efficient; thus, they balance the temperature, and as a result, help cut your energy bills. They are machine-washable and should not be bleached.
Pros
Numerous size options.
Great color palette
They are energy efficient.
Cons
They cannot be washed in bleach.
ISSUNTEX Blackout Gray Curtains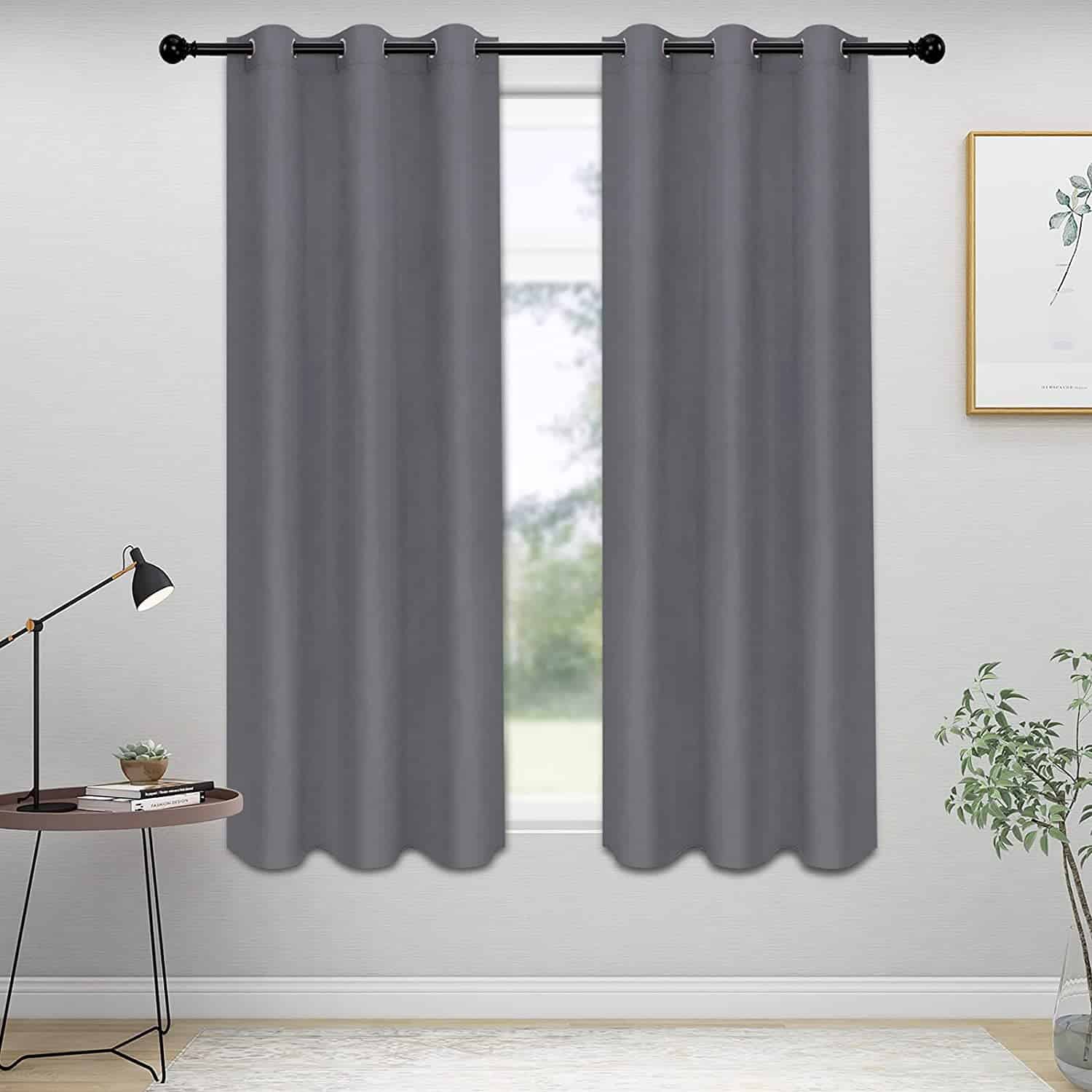 Its package entails a pair of curtains, and two panels finished with a rust-proof grommet construction. They block out 80 to 90% of sunlight and UV rays, thereby giving you a chance to sleep better. Besides that, they feature thermal properties that help save energy.
Their material is polyester of high quality, and on top of that, it is tear-resistant. They are available in many colors, and their panel looks great anywhere. Moreover, they have noise-reducing properties; hence, they will come in handy if you live on a busy street.
Pros
They are of high quality.
They have light-blocking properties.
Easy to install
Cons
The size options are limited.
FAQs
Question: Do Gray Curtains Go Well on Gray Walls?
Answer: Yes. Gray walls are very versatile; thus, why not? If you are going for charcoal gray curtains with embroideries or other designs and your walls are lighter gray, they will certainly look stunning. This is a combination that you will find in sleek and modern bedrooms, without a doubt minimalist and masculine bedrooms alike. Pro tip: use modern and sleek furniture to make the room look classier and stylish. You will love how amazing the room will turn out.
Question: Should You Have Gray Curtains Throughout The House?
Answer: This is all dependent on you. It is okay if that is how you want things to be. However, there is the need to ascertain that the décor and furniture match. If the furniture in each room is of a different style, you can have various colored curtains. We certainly want to ensure that everything in your home is complementing each other. Otherwise, your premises will look very complicated.
Question: Could Gray Curtains Act As A Backdrop For Color?
Answer: If you have colorful art, pillows, and furniture, gray curtains will be a timeless backdrop. Light gray curtains would do colors in your home a favor because it allows them to pop. You may think it doesn't exist since it fades and lets other accent pieces have the limelight.
On top of that, they balance out brighter colors that may be on the walls. Gray is a neutral color and, for this reason, can withstand the test of time. Also, they can be retained even when you decide to make a few changes here, for example, matters décor. Therefore, if you plan on staying with your curtains for a long time, you may as well consider these gray ones.
Gray Curtains Ideas: Conclusion
The above shows some of the information about gray curtain ideas and inspirations. You could never go wrong with gray curtains; therefore, once you use them, you will never go back. Ensure that whatever curtain you settle for goes hand-in-hand with your style.
Also, take your time choosing the design, considering so many that are available. If you want to block out light, remember you can always buy blackout curtains. The gray curtains we recommend are called the ISSUNTEX blackout gray curtains. Besides blocking 80 to 90% sunlight and UV rays, they have noise reducing and thermal properties that will help you save some coins.