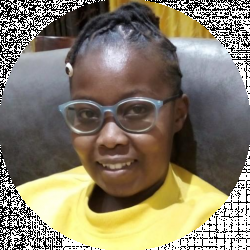 Latest posts by Jeanne Murugami
(see all)
Color affects your mood and triggers emotions hence the reason it's a big deal to interior designers and stylists. So don't be quick to discard the idea of blush curtains because you consider pink to be a girly color. It's a color associated with happiness, calmness, love, kindness, and vibrancy. 
Thus, we've created this informative guide on blush curtains to endear you to this incredible hue and dispel any negative notions. It will guide you through the designs, styles, and functionality of curtains and hopefully help you make the right purchase decision for the best blush curtains on Amazon. 
Curtain Designs And Styles To Look For
Curtains are the quickest route to a room's makeover. Besides aesthetics, they help to control the flow of light and secure your privacy. Also, apart from your preferred color, you'd need to factor in the type of fabric, texture, patterns, and hardware for functionality. Thus, here are some tips to guide your selection in their hanging.
Liners
The liners on a curtain give it structure and extra weight for versatility. They can come attached to the back of the curtain or hung separately using the same curtain hooks or clips. Curtain liners are perfect for blocking out light, soundproofing, noise reduction, or thermal insulation.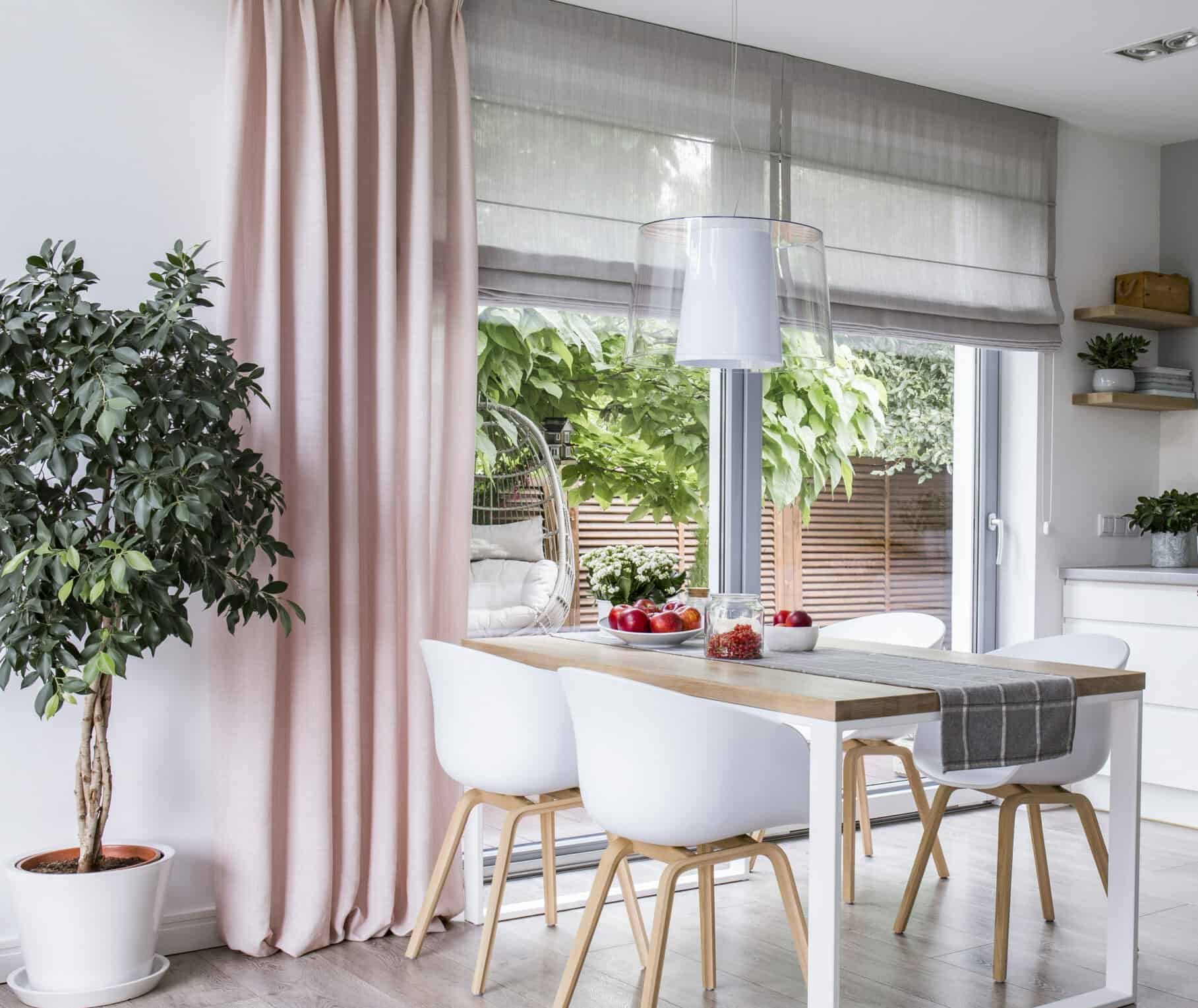 Tiers
Windows tiers only cover the bottom half of a window, leaving the top part uncovered. They're most suited to kitchens and bedrooms.
Valance
A valance is a short curtain drapery that sits on a rod or is stapled to a backboard at the top of the window. They're more of accents than functional and a perfect solution if you don't like full-length curtains.
Scarf
A scarf is similar to a valance, with the only difference being that it includes a flowy fabric on the sides. You can hang it on a rod or between two wall brackets.
Single Panel 
This type of curtain has one fabric panel for the entire window. You can operate it by pulling it to either side or tying it to one side for an asymmetrical effect.
Double Panel
This is the most common window style because you can part it in the middle for a symmetrical effect. It consists of two pieces of fabric to form a double panel on either side of the window.  They're ideal for patio doors and large windows. 
Curtain Set
When you want to dress a window fully, go for the window treatment set. It consists of a double panel, valance, or scarf.  Other accessories in the set include tiebacks, curtain rods, and more.
Blush Curtain Types
You can assess a curtain's functionality by the opacity of the fabric. Different opacity curtains suit the needs of other rooms and use. Here are examples for your consideration.
Sheers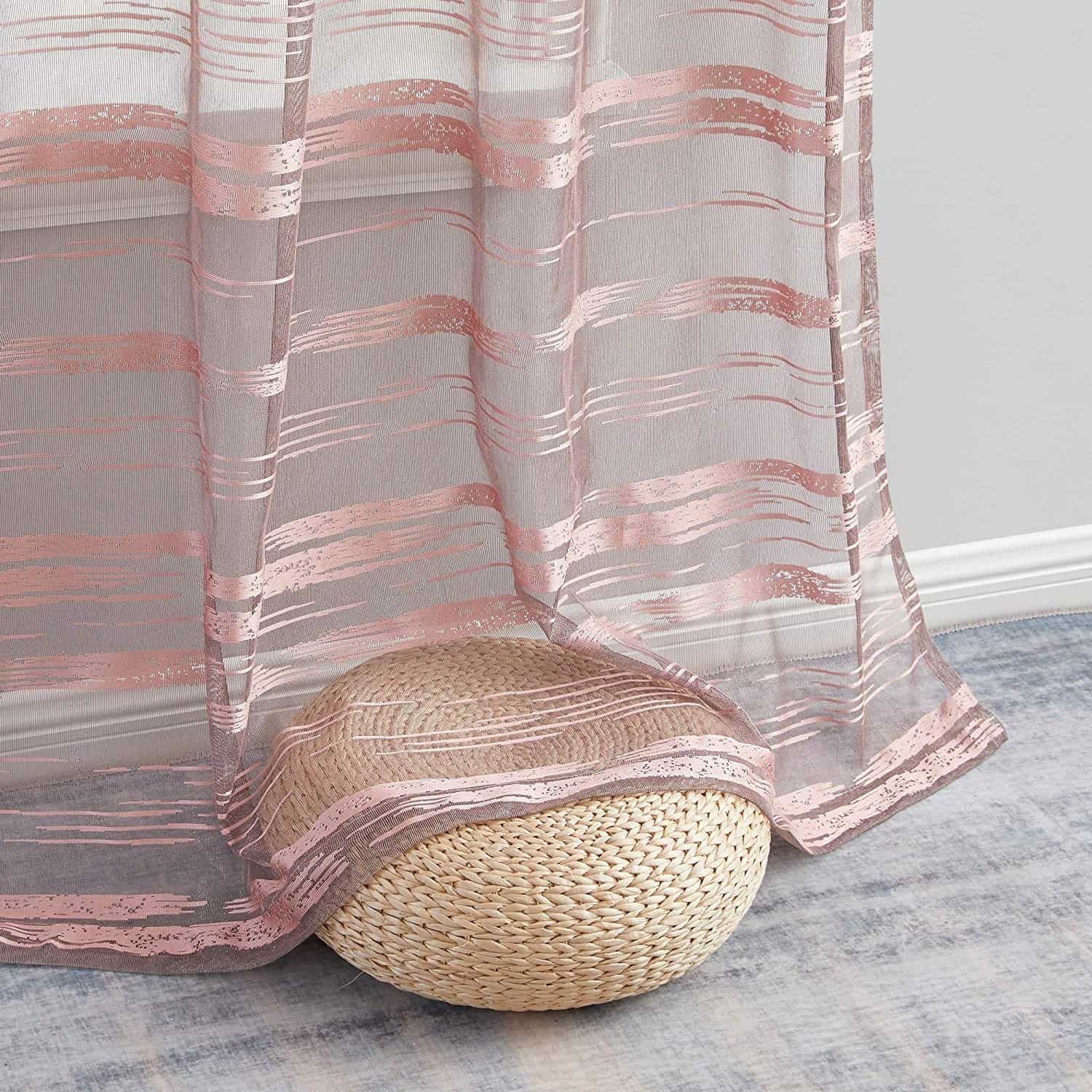 This type of fabric is thin and somewhat transparent to ensure sufficient light in the daytime. If you want to reduce the amount of light coming in, add a liner. However, these curtains serve best as accents and complement the heavier drapes in light control and privacy.
Semi-opaques
These curtains are a cross between sheers and blackouts. They're ideal when you need privacy but also need some lighting. They're a fantastic curtain option you can combine with other curtains for more effect.
Blackouts
Blackouts are the best option when you want to block out all lights or only allow minimal light to seep through.  They're heavier and even have liners for enhanced efficacy. Their other functions include securing privacy, accentuating a space, and noise blocking. Some have additional thermal insulation materials to ensure you stay warm on chilly days and cool on hotter ones.
14 Best Blush Curtains
Our review features the best blush curtains for various rooms in your home, office, patio, etc.
1. Blackout Grommet Single Panel Curtains: Best for Bedrooms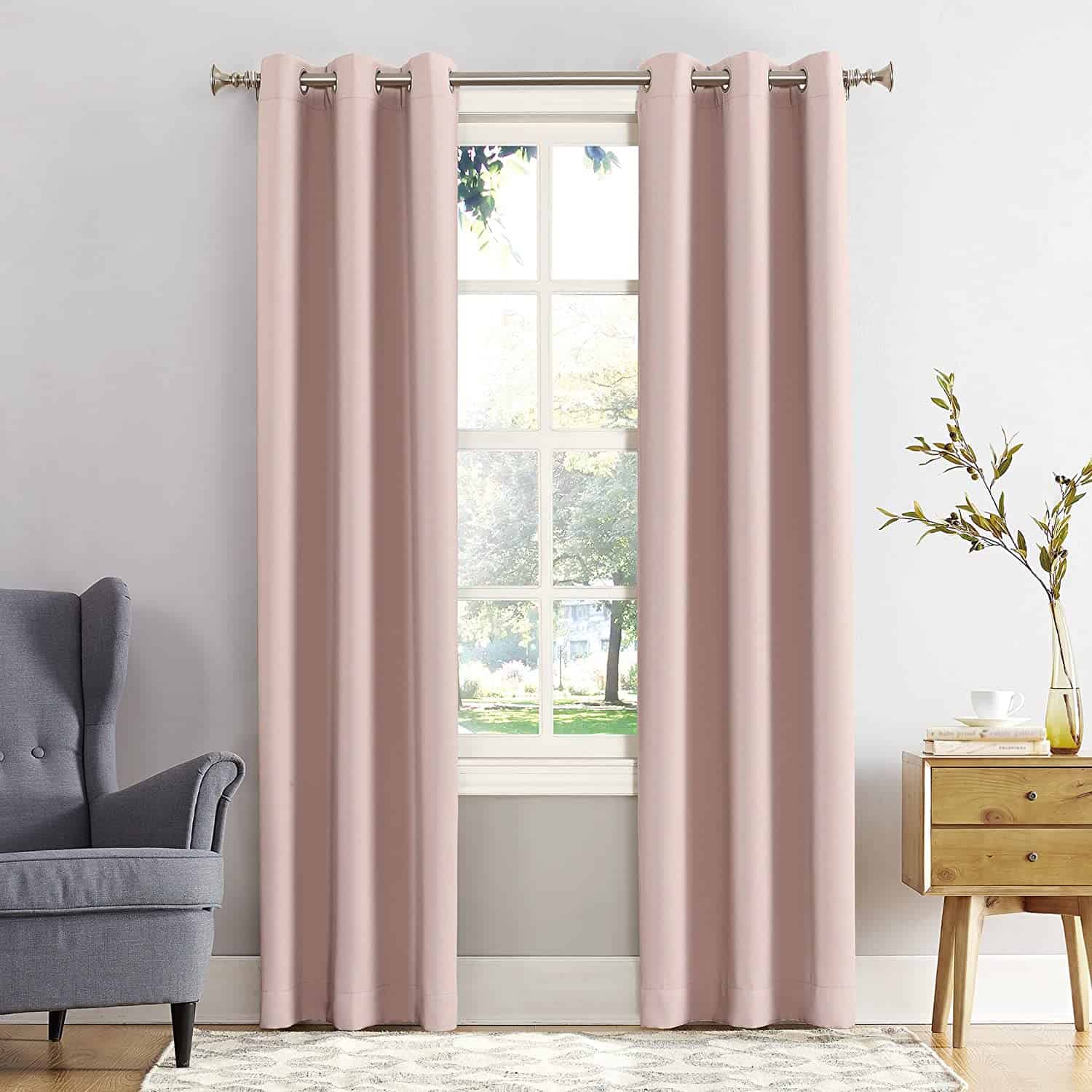 If you intend to block out sunlight, noise and secure your privacy while maintaining aesthetic appeal, these blush curtains are perfect for you.
What's more, they'll help you save energy by 40% and ensure you're adequately insulated during summer or winter. They have a woven solid design in polyester fabric with an easy to hang grommet-top. The built-in metal grommets fit the curtain rods up to 1.5 inches in diameter.
Pros
Washable

Aesthetically appealing

Good quality
Cons
Don't have 100% efficacy on blocking light
2. Grommet Semi-Sheer Drapes Tasseled Voile Curtains: Best for Kid's Room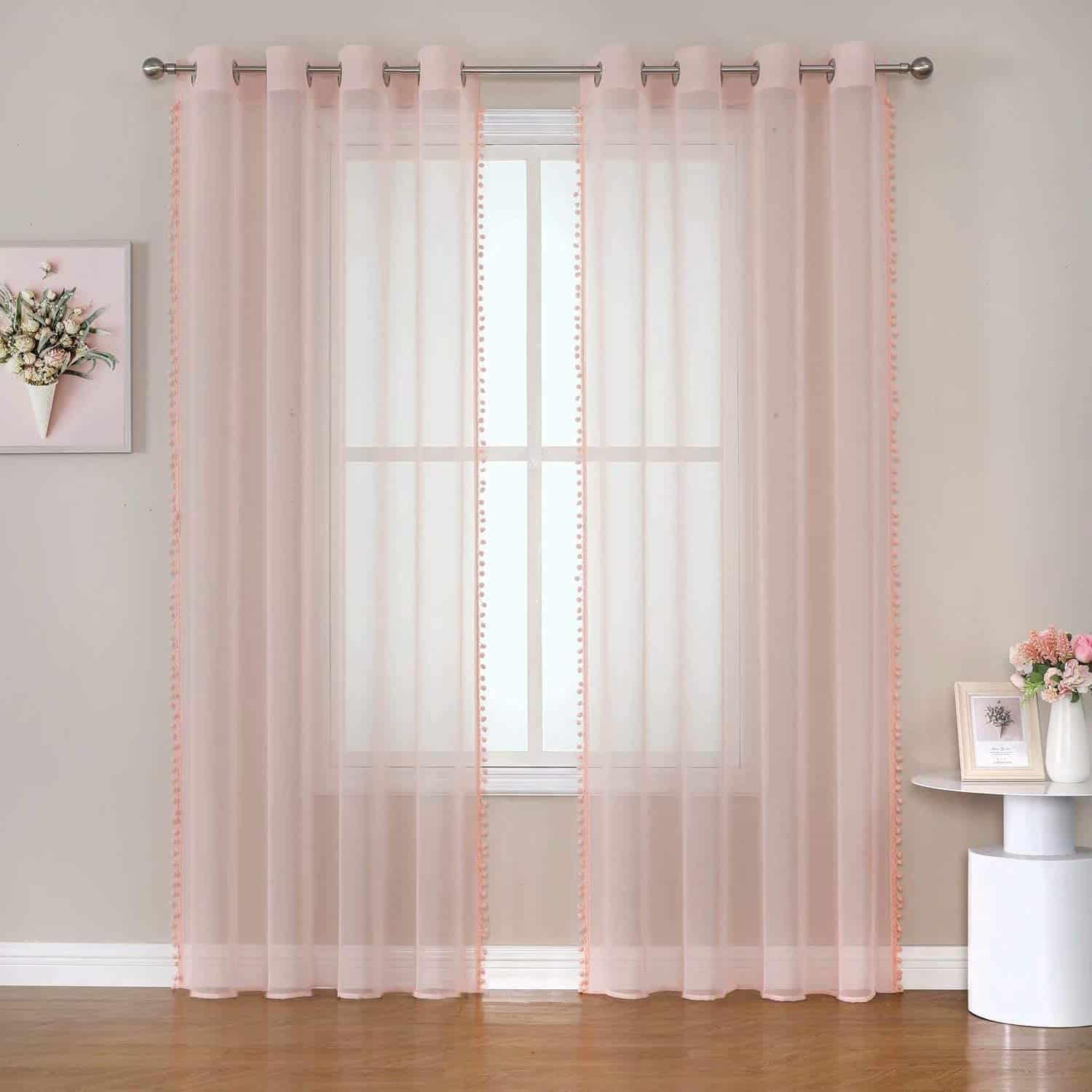 Have a look at these perfect tasseled sheer blush curtains for your bedroom or kid's room. These voile panels are 100% durable, lightweight polyester fabric featuring a grommet construction. Their vertical length on both sides is strewn with elegant pom-pom tassel decorations from top to bottom. The grommets can only fit rods with a diameter of up to 1.6 diameters, and while the fabric has a sheer texture, you're assured of privacy.  
Pros 
Durable

Value for money

Wrinkle-free 
Cons
Reconfirm your color requirement while ordering
3. Blush Ruffle Texture Double Panel Curtains: Best for Large Living Room Windows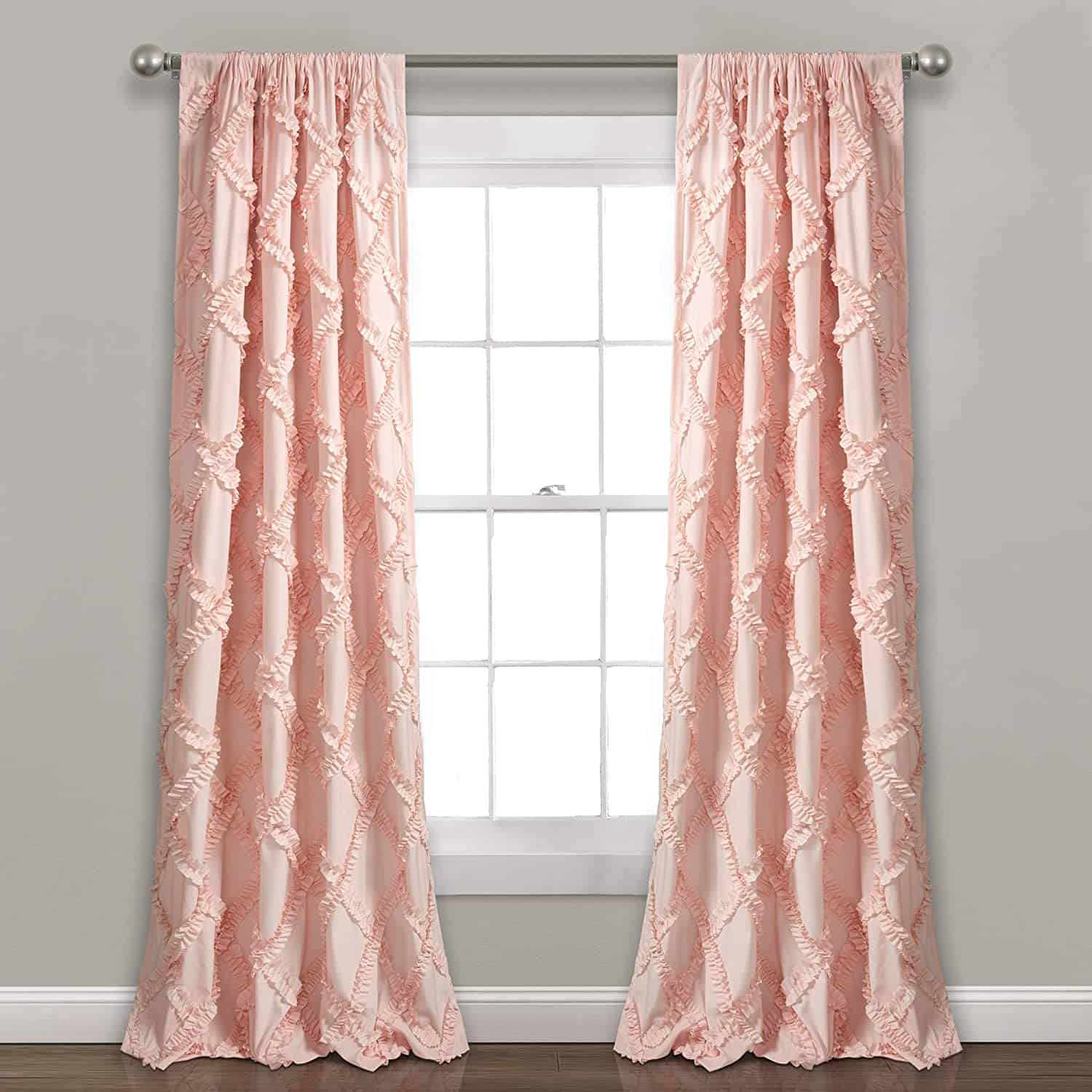 These blush curtains are difficult to ignore because of the ruffled diamond patterns that give them a stylish modern feel. They consist of 120 GSM microfiber, and if you're aiming for an ethereal glowy effect in your space, they'll deliver. That's because they have no lining to block out light. Installation is easy with a three-inch rod pocket that means you simply slide the panels onto the curtain rod or hang them with clips from the curtain rod.         
Pros
Value for money

High quality

Wrinkle-free
Cons
Look out for length and color variations
4. Lydia Ruffle Tab Top Curtains: Best as Accent Pieces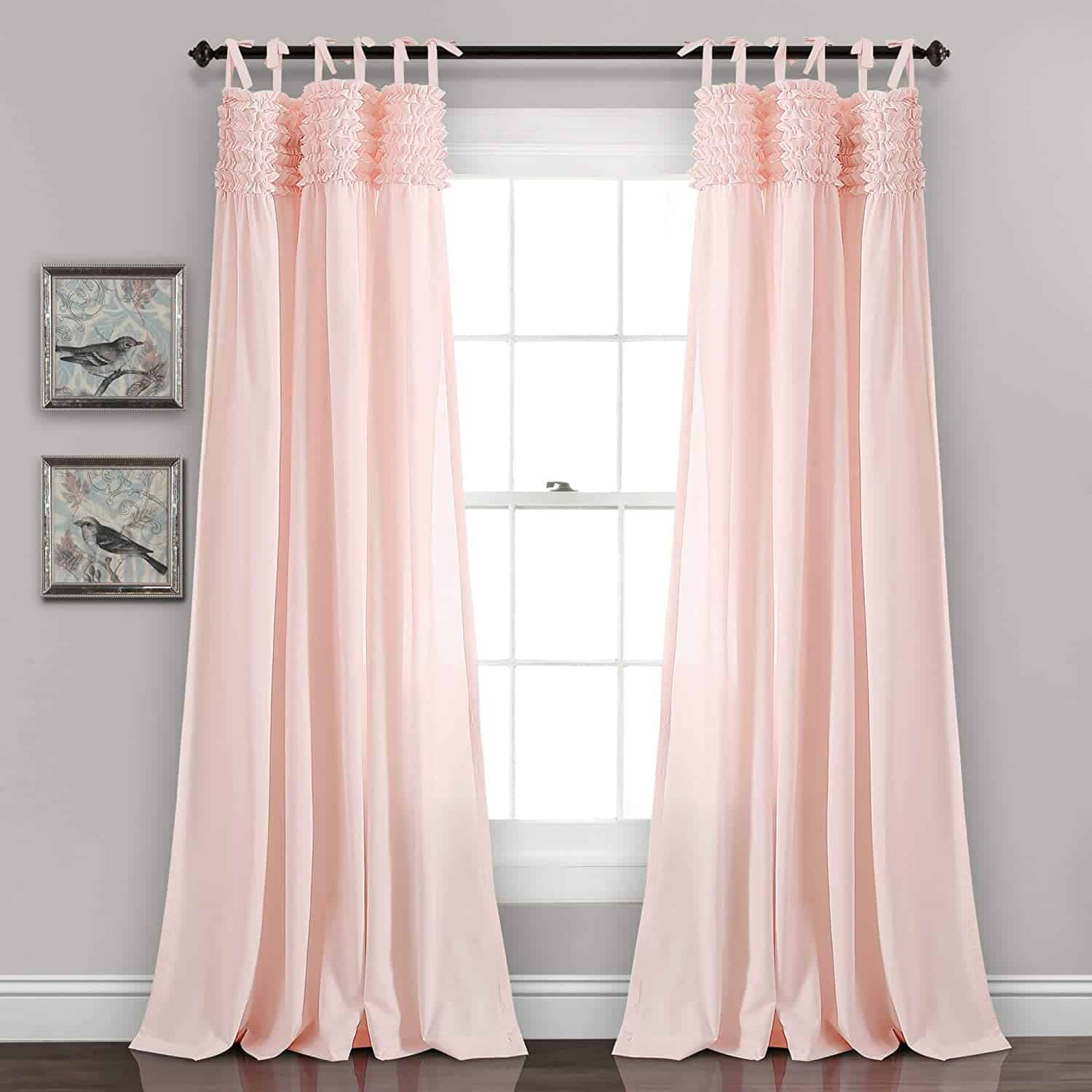 What a delightfully designed pair of blush curtains these are! They're 100% polyester fabric with a gorgeous row of handcrafted horizontal ruffles across the top of the panels. Although they don't come with any lining, you can still count on them to secure your privacy and filter some light into your space. The best thing about them is their aesthetic appeal and how fast they'll transform your space once installed. 
Pros
High-quality material

Value for money

Thick and lush
Cons
Look out for flaws in the stitching.
5. Nicole Miller Double Panel Curtain: Best for Home Office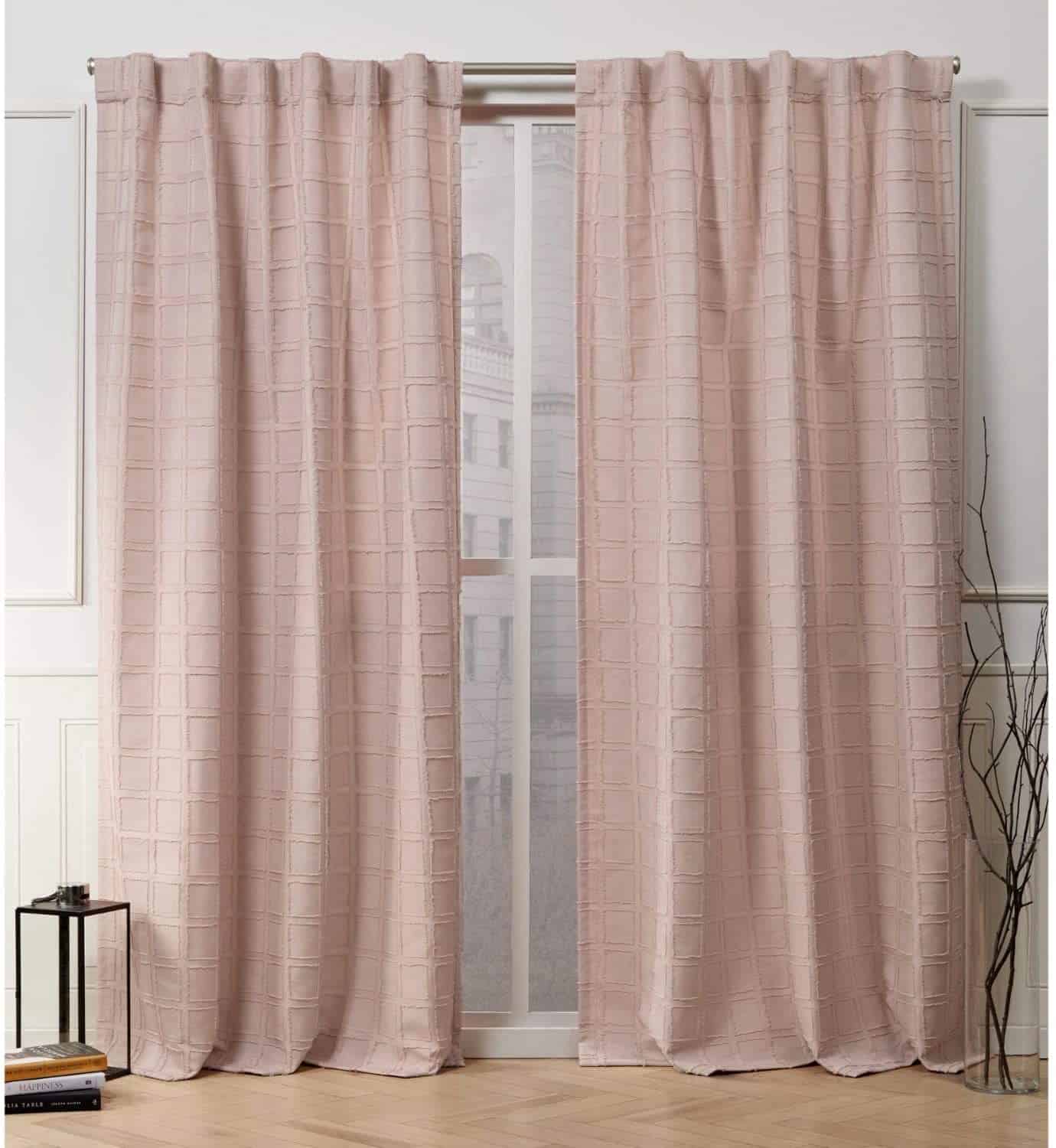 You'll love, love, these Nicole Miller blush curtains for their timeless designs and eclectic, modern sensibility. They come in a faux line with geometric patterns to bring a classical appeal to your space. The design also allows for minimal natural light to filter into your room. The panels flow exquisitely from the curtain rod by seven hidden tabs per panel or the 3.5 inches sewn-in rod pocket.
Pros
Reasonably priced 

Good quality

Beautiful pattern
Cons
Somewhat shiny when light hits them
6. Floral Bathroom Shower Curtain: Best for Spacious Bathrooms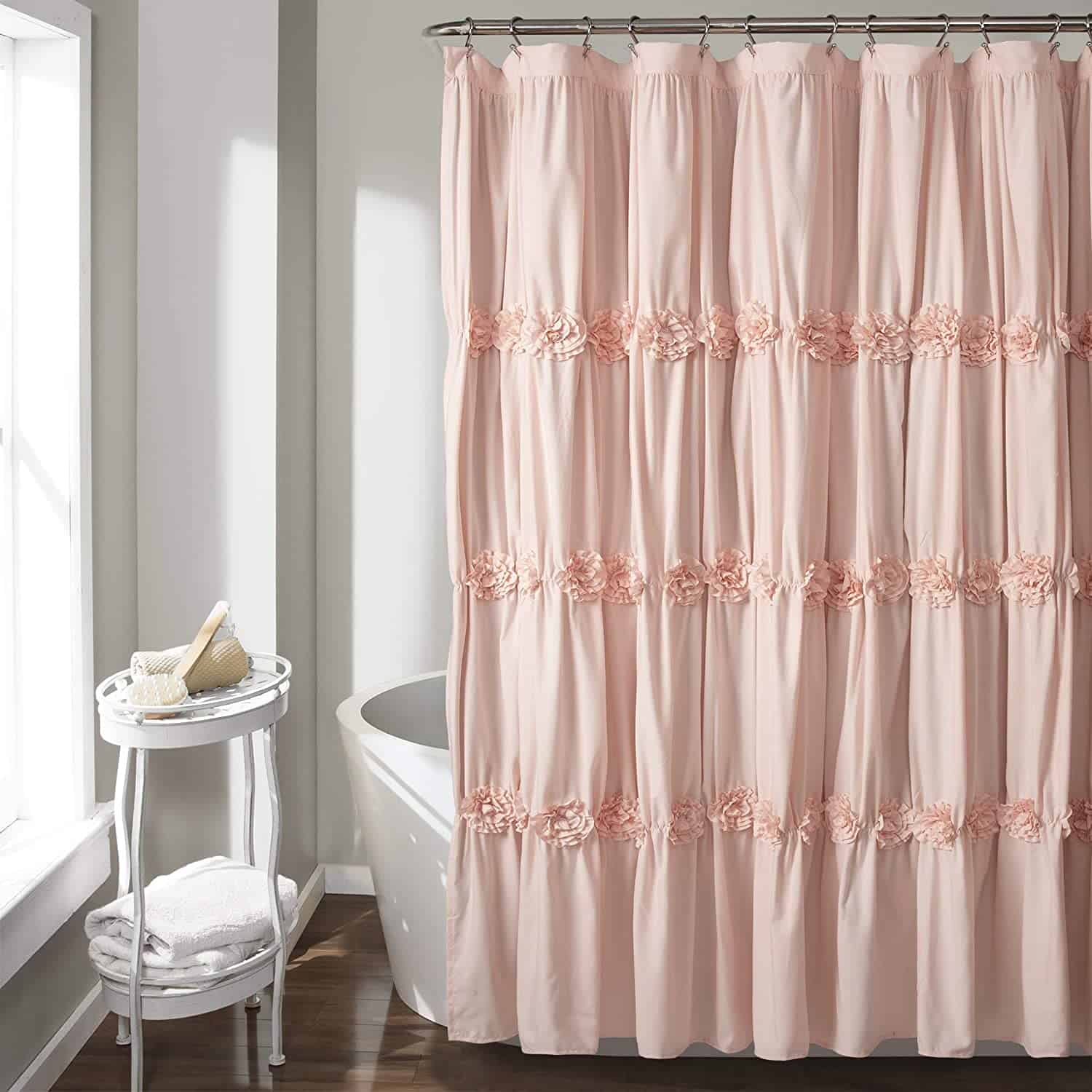 Tired of dull blue and burgundy shower curtains? Then complete your bathroom makeover with these delicate and feminine blush curtains. They're 100% polyester with a soft look and feel, plus a ruched floral design to give your bathroom a refreshing feminine touch. They'll hold out through hot, humid conditions and are ideal for farmhouse, shabby chic, or vintage bathroom decor styles. 
Pros
Easy to clean

Reasonably priced 

Lightweight and durable
Cons
7. Ruffle Blush Curtains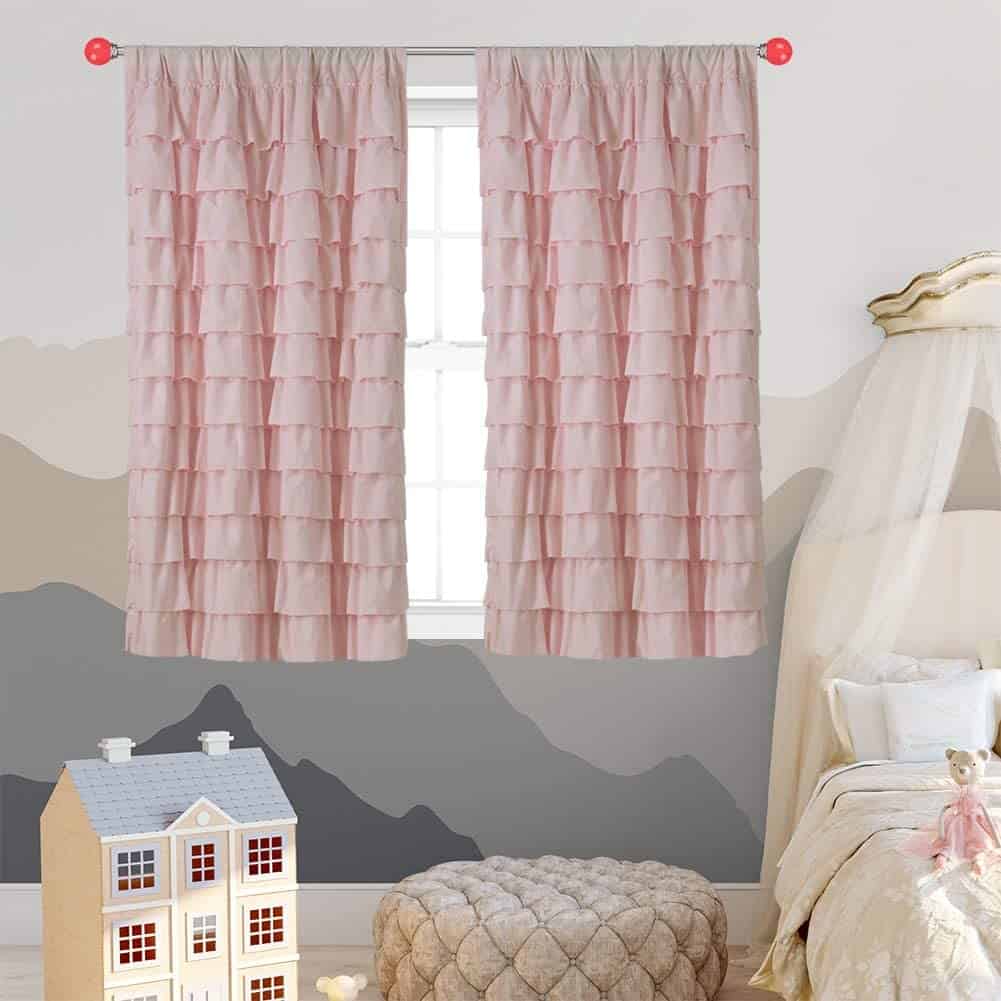 Decorating a baby's room will be so much more fun with these ruffle blush curtains. They feature handmade cascades of overlapping blush pink ruffles in high-quality polyester fabric. They hang as a double panel on a four-inch top rod pocket and are adequate for light filtering.
Pros
Value for money

Good quality fabric 

Cute design
Cons
Look out for color variation

Easy to wrinkle
8. Layered Solid Blackout Curtain: Best for Boardroom or Spacious Living Room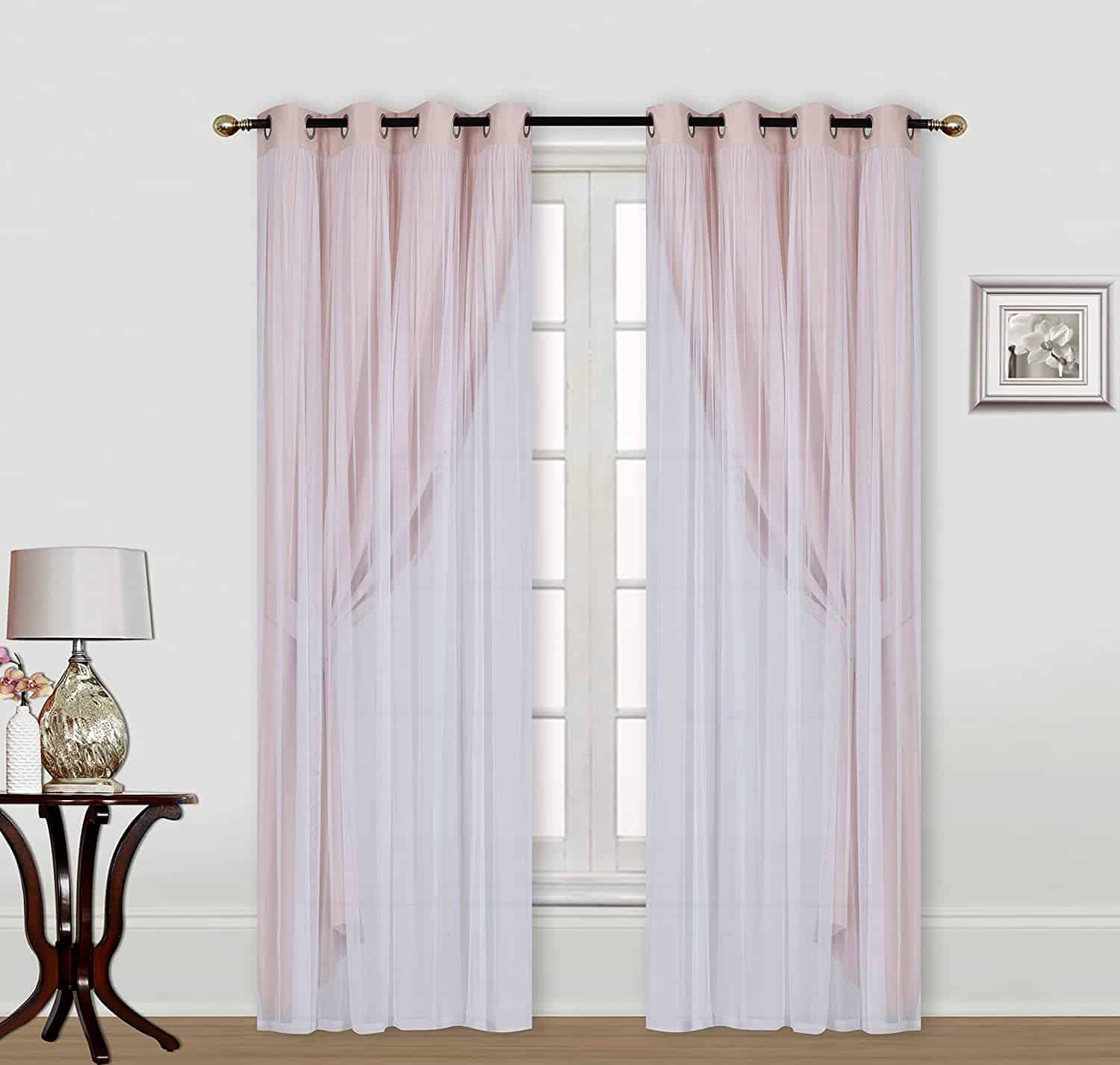 These blush curtains are a fantastic idea for your window treatments. They come in a light-reducing woven thermal fabric as double panels with an attached sheer fabric.
This way, they serve the dual purpose of sun blocking and light filtering. Even more remarkable is that their stylish look is a boon for your interiors, and each panel has eight matte silver grommets for easy installation.
Pros
Aesthetically appealing

Thick and lush, with excellent quality

Easy install and operate
Cons
Check on the blackout efficacy
9. Blush Velvet Curtains: Best for Patio Doors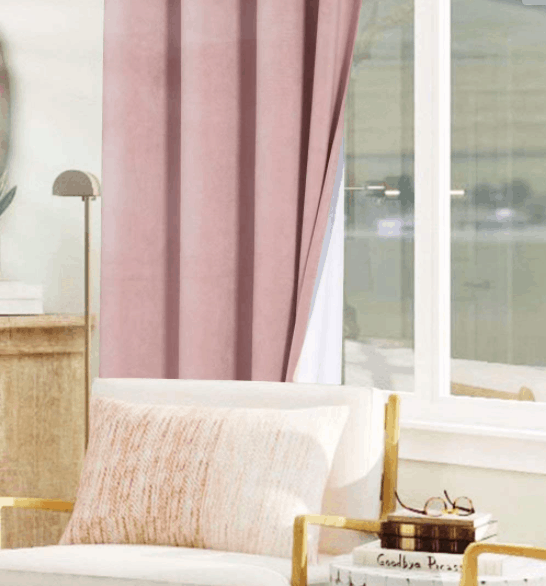 Do you love velvet and need highly effective blackout drapes for your windows? Try these magnificent velvet blush curtains. They consist of soft and waterproof velvet fabric, with a layer of 100% blackout fabric on the back. Its triple weaving ensures your space is sunblocked, and you can work, sleep or play games as you wish.
They also come with the added benefit of insulating your space, saving energy, and protecting your other furnishing from UV rays.
Pros
Colour fade resistant 

High-quality fabric 

Weight material with a nice flow
Cons
Limited wash options, dry clean only
10. Scarf and Valance Blush Curtains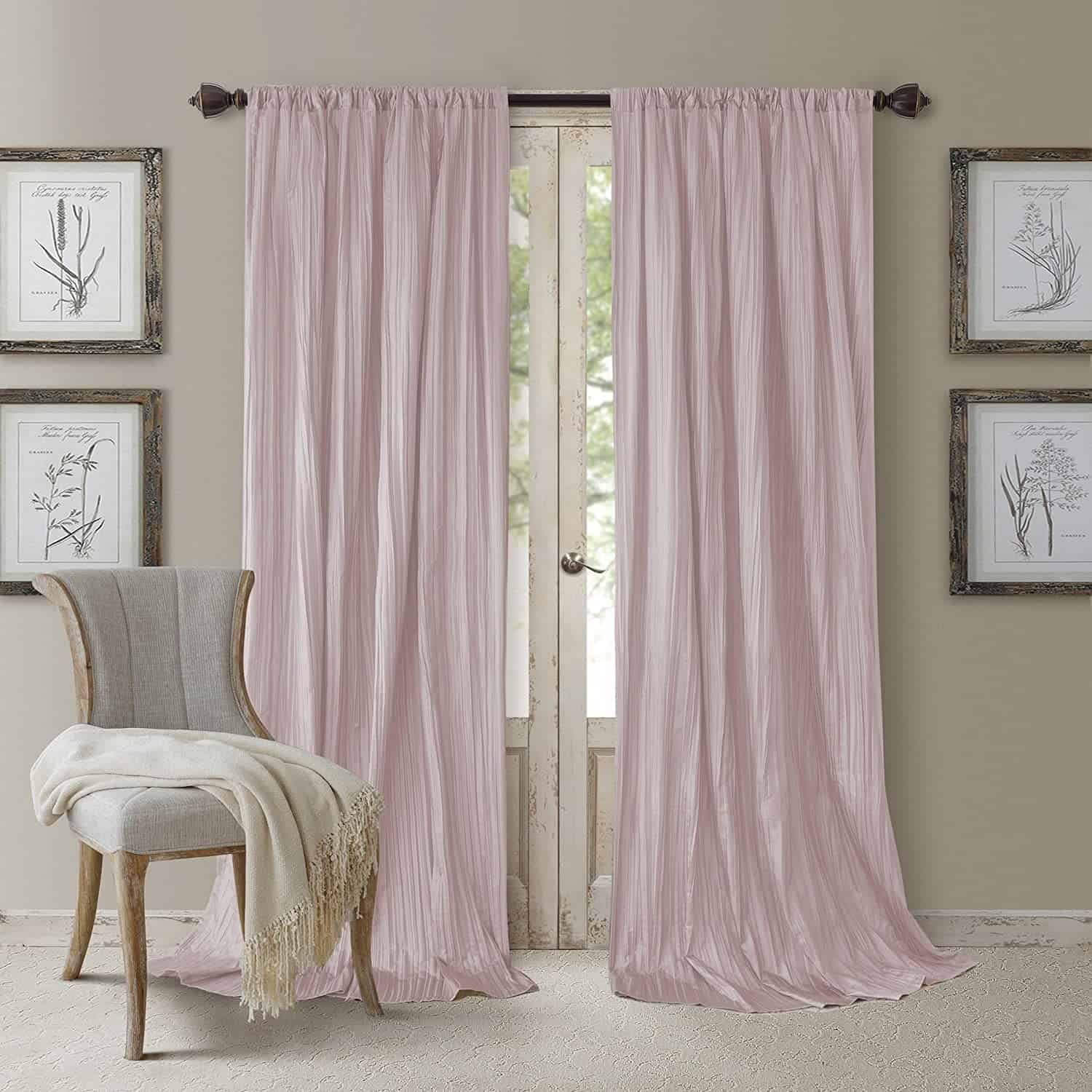 These blush curtains are simply superb! They're 100% polyester and come as a double panel. The fabric is lightweight to give you an effortless draping effect through the scarf and valance. In addition, their crushed silk look gives you a luxurious, elegant feel suitable to wow guests in your living or dining room.
The set includes two full-size 52-inch width curtain panels and one full-size 52 inches by 216-inch window scarf valance for a complete window dressing. 
Pros
Easy to maintain

Value for money

Lightweight and perfect for light filtering
Cons
Avoid if lightweight or sheer isn't your thing
11. Blush Pink Window Curtains:  Best for Accent (Shabby Chic Decor)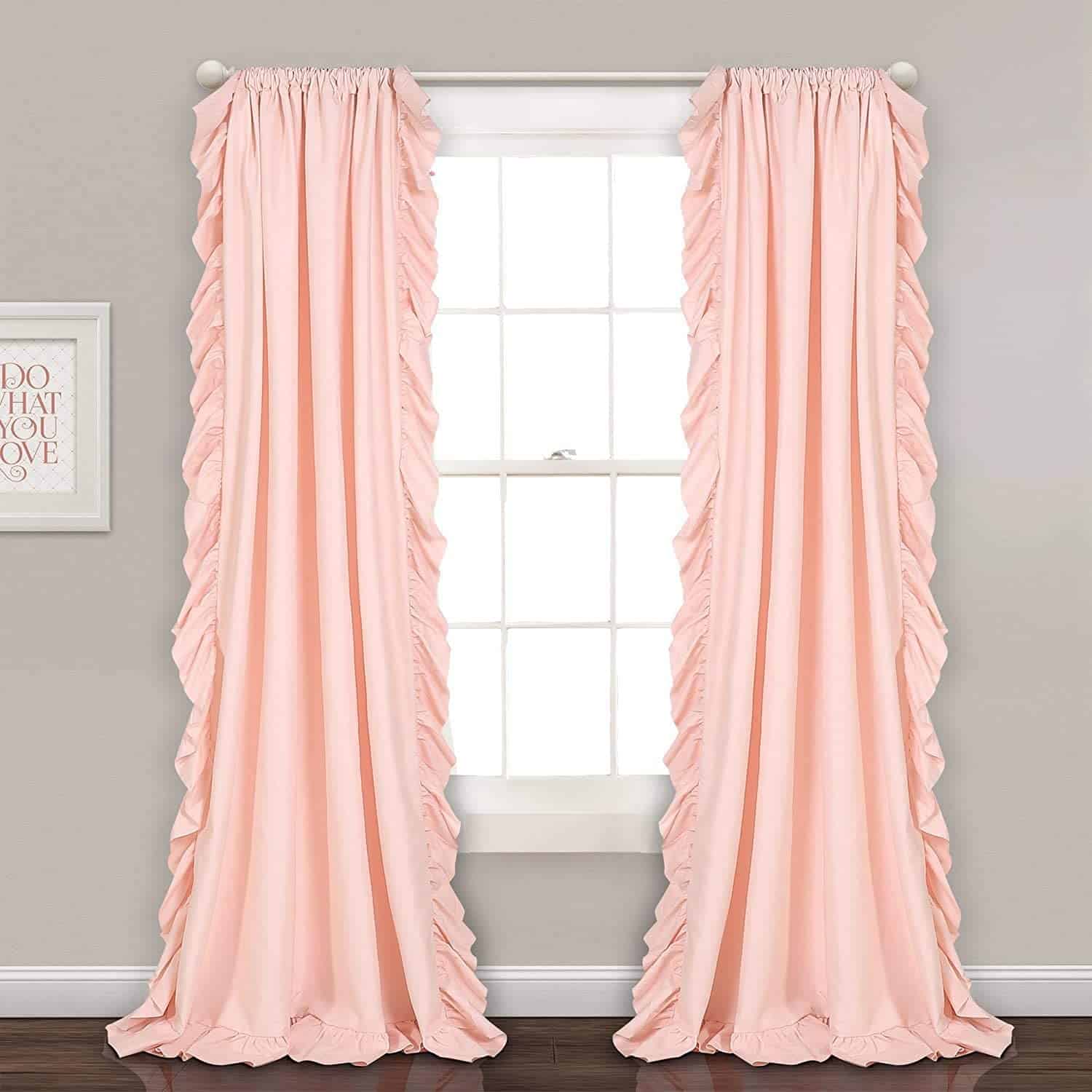 We picked these blush curtains for the unique design that seems to match with color perfectly. These elegant double panel curtains consist of a  soft, 100% polyester fabric with a cascading, ruffle border. They're not lined but allow for sufficient light filtering and privacy. They come with a 3-inch rod pocket, giving you two installation options: You can hang them simply by sliding the curtain rod through a 216-inch pocket or hanging them with clip rings.   
 Pros
Lightweight with an elegant flow

High-quality fabric

Striking design

Reasonably priced 
Cons
Look out for the ruffles, not so neat 
12. Double Panel Tier Curtains: Best for Kitchen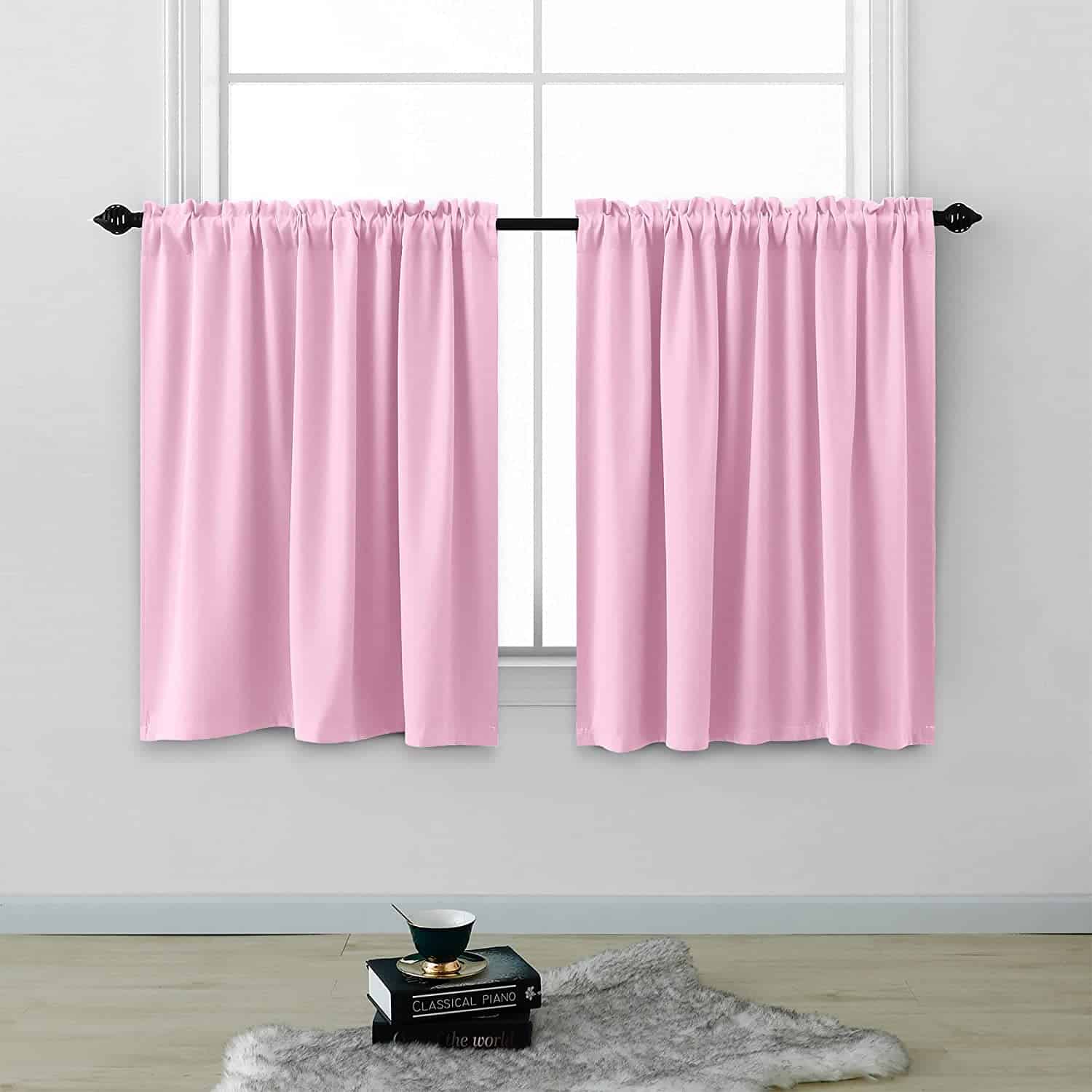 We were lucky to find these exquisite blush curtains tucked away in some corner. They feature a triple weave blackout fabric that comes with a promise to block 90 -99% of sunlight and UV rays. An added benefit is also that they're effective sound muzzlers. Regarding installation, they have a doubleheader with the very top one at  1 inch for ruffled effect and the second 3 inches for easy sliding.  
Pros
Soft, lightweight fabric 

Good quality finish and material

Easy to maintain
Cons
Look out for color variations when ordering
13. Valance Blush Curtains: Best for Small Windows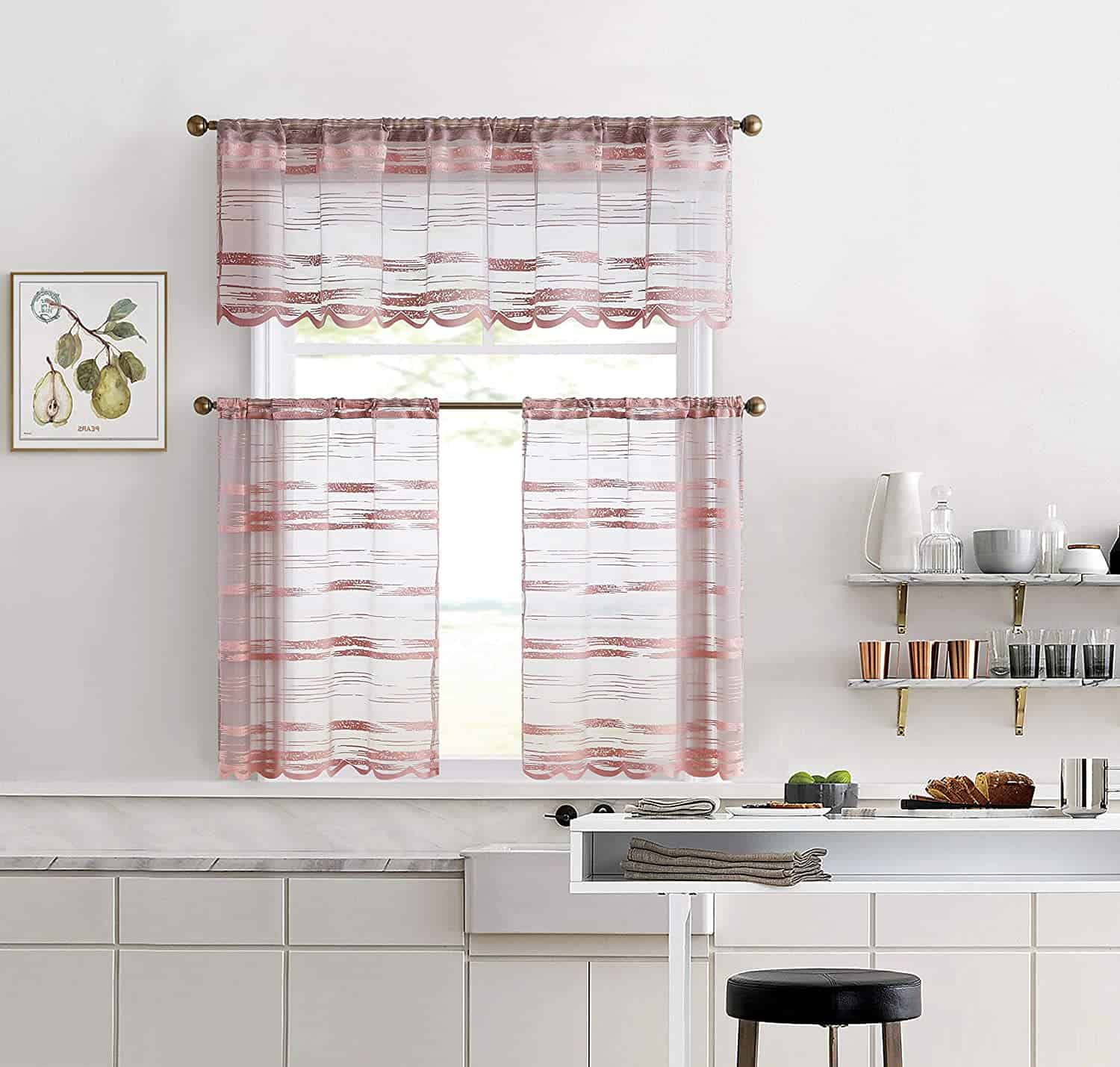 While we recommend them for small windows, these valance blush curtains work in any room. They have a sleek design to give your space a clean, airy, and stylish look. This design consists of a soft, see-through sheer, lightweight voile fabric with a distressed striped pattern. You can rely on them to effectively filter lights and guarantee you sufficient privacy. 
Pros 
Affordable decor ideas for various rooms

Value for money

Catchy design
Cons
The material is very thin
14. Floral Tie Up Curtain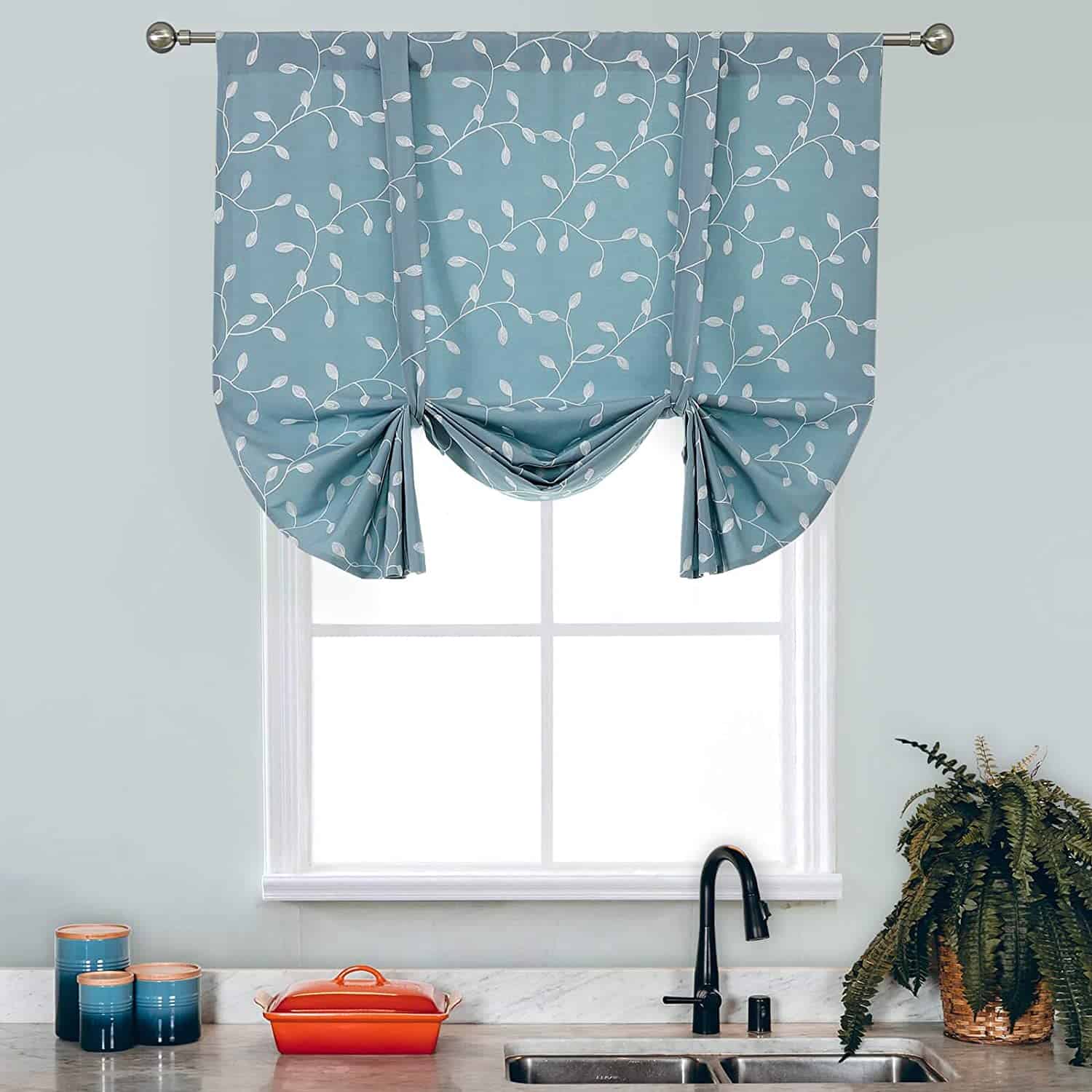 This one-piece, tie-up floral blush curtain is classic, elegant, rustic, and pretty soft and natural. It's exceptionally soft to the touch and consists of 100% high-quality polyester fabric.
Its delicate watercolor floral pattern with its abstract and artistic print gives it a modern appeal, ideal for any home. What's more, they have extra backing, and the 3-inch rod pocket allows it to slide easily onto your curtain rod for quick installation.  
Pros 
No pungent chemical odors

High-quality stitching and fabric

Durable and value for money
Cons
Take note of the hanging accessories as some may not be adequately sturdy 
Different Ways to Hang Blush Curtains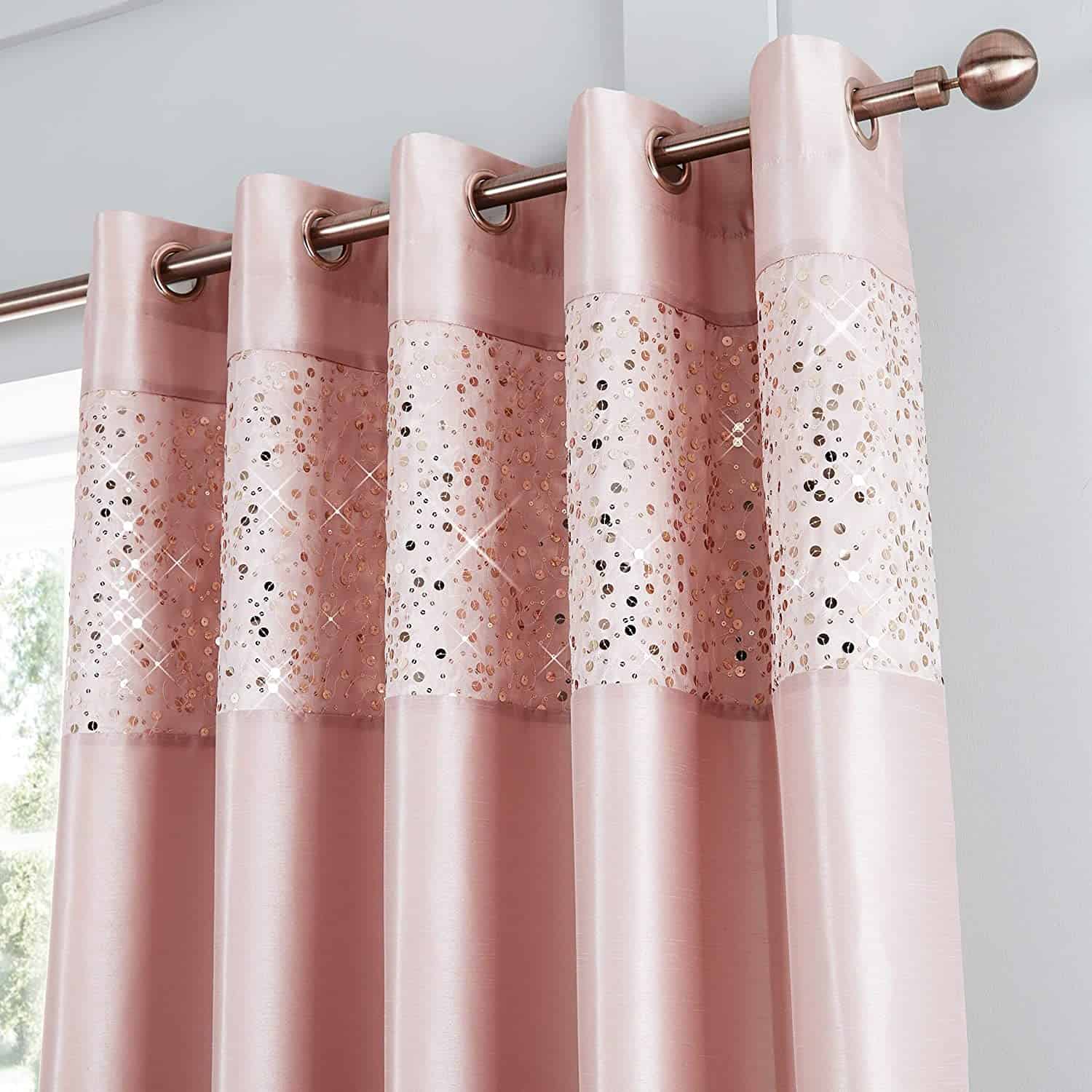 Rod Pockets
This attachment style goes best with valance curtains. It features a pocket sewn into the curtain top. To hang them, pass the rod through the curtain and out the other side of the pocket.
Eyelets (Grommets) 
Curtains with this attachment style have large eyelets at the curtain top enhanced with grommets. Most modern interiors feature this style.
Tab Tops
 In this style, fabric loops are sewn into the top of the curtain, and the curtain rod strings them up. It's ideal for casual or country-style interiors.
Hidden Tabs
This design resembles rod pockets and tabs where the hanging tabs stay hidden with a decorative piece of fabric. This style is ideal for a variety of interiors.
FAQs
Question: Is Blush Pink Trendy?
Answer: Blush is trendy and a barely-there neutral hue, unlike Barbie's loud pink. Its appeal lies in its assertive yet calming effect, which makes it perfect for masculine or feminine spaces. Designers love it for its versatility. If you want to add warmth and elegance to a space, blush is your go-to pastel.
Question: What Colour Curtains Go with Blush?
Answer: As a subtle and neutral nuanced pink, blush goes with several warm and cool colors. The first blush pairing is always white. Then dusty blue, grey, light gold, or dark gold. Navy is a gorgeous complement to blush, as is any shade of green.
You can also experiment with chocolate, olive (mind-blowing color combination), charcoal, black, burgundy, teal, ivory, peach, and more to balance out the muted and washy qualities of blush. 
Question: Do Blush and Grey Go Together?
Answer: Yes, they do. Very much so, especially when paired together for an interior. That's probably the reason this combination is currently the rage with modern interiors, especially living rooms.
Question: How Do You Decorate with Blush?
Answer: Do use a touch of blush to add elegance. A side chair, pillow, or even a vase of blush flowers can add a classic, elegant touch to a room. Don't limit blush to only classic and traditional spaces. It can work seamlessly in modern rooms with contemporary lines.
Question: Which Curtains Are Trending?
Answer: Sheers are always a sure bet for any stylish trends. They're elegant, flowy and the way they let in some breeze and light gives them a glowy appealing effect. You can use sheer curtains as stand-alone or pair them with heavy drapes for a dual impact or better view and ambiance. They're also ideal for any window, door, or room dividers.
Blush Curtains Ideas: Conclusion
You can never go wrong with blush curtains, especially now that stylists know how to apply them to masculine and feminine spaces. You can add warmth, coolness, and elegance to a space with the calming effect of blush. 
Besides, color your blush curtain serves certain functions like securing privacy, filtering light or blocking light, noise muffling, and thermal insulation—still, the best blush curtains are the ones that meet and satisfy your needs.
Our recommendation from this guide's list is the blush velvet curtains because they're versatile. With them, you get elegance and style plus multiple functionalities. They consist of a soft, waterproof, and color-resistant fabric with triple weaving. These qualities make blush curtains perfect for sun and noise blockers and thermal insulators. They're also guaranteed to protect your other furnishings from intense UV rays.