Latest posts by Angelique Alice
(see all)
Do you plan on buying sheer white curtains and feel somewhat stuck? Maybe you have come across many designs or none that caught your eye, and that is okay.
The chances are high that you have also gone through many home decorating magazines, looked on the internet, and are on the verge of giving up. However, quit getting stressed out, for we are here to ascertain that you get the best ones yet. Read on to know some of the best white sheer curtain ideas that we would recommend.
Things You Should Keep in Mind About White Sheer Curtains
They Can Change Your Home's Outlook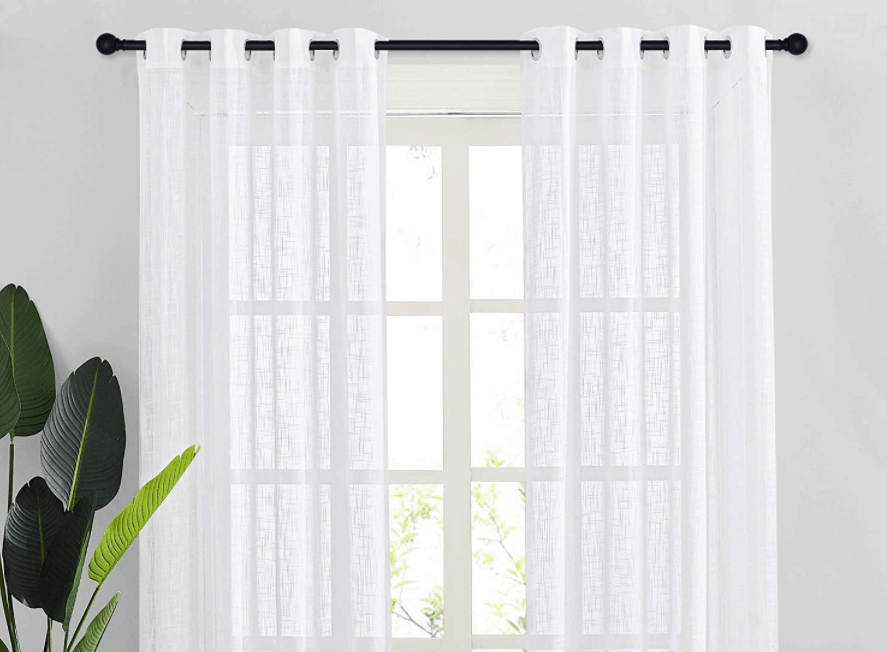 If your home has so much going on in terms of patterns and prints,  sheer white curtains will be the best option for you. Spaces with a busy design require such curtains to bring about a soothing visual relief.
You can choose to hang these curtains over a solid, block-out curtain. That way, your home will look very polished and have a hotel-like touch or appearance. It is, however, vital that we point out that sheers do not have to be layered with other curtains since they do just fine alone.
White Sheer Curtains Offer Privacy
Contrary to what you probably had in mind, sheers do offer privacy. Some people doubt this, but it is no wonder considering how transparent they look from a distance.
As much as they allow light into the room during the day, no outsiders can see your possessions or what you are doing. This is because they are usually made with an additional filtered layer. If you want to have more privacy options at your own time, you may consider layering the sheers.
White Sheer Curtains Tend to Come in Waves
You should know the most popular types of sheer curtains, which include the S wave curtains. The latter uses a tape heading and track to operate and is also referred to as the ripple fold sheer curtains.
The tape heading tends to give an illusion that there are smooth and continuous waves throughout the window. In other words, without sheers, the room would look flat. You don't have to worry about how these curtains operate; it's as easy as ever. In addition to that, they can fit perfectly in narrow spaces since they have a slim track.
They Allow Sunlight To Diffuse Effectively
If you want to give sheers a try, you will love them. This is because they make natural light softer. The difference between installing sheers and lacking them will not go unnoticed.
They act as light filters since they are lightweight and made from transparent fabric materials. Once the light gets through sheer white curtains, they diffuse it. As a result, your furniture and fixtures are protected against fading and the like. After all, we know the bad effects of the sun.
Thinking of Fabric Layering? They Are The Perfect Option
White sheer curtains go hand in hand with roman blinds, block-out roller blinds, and block-out curtains. If anything, they will complement everything in your space.
Besides being in control of the lighting levels, you also gain control over your privacy. You may choose to let the sun come in to play during the daytime or not; it is your call. Also, these sheer curtains have an additional layer, and this translates to having better insulation. What else could you ask for? Isn't it amazing how you could have so much control on your hands?
White Sheer Curtains Fabrics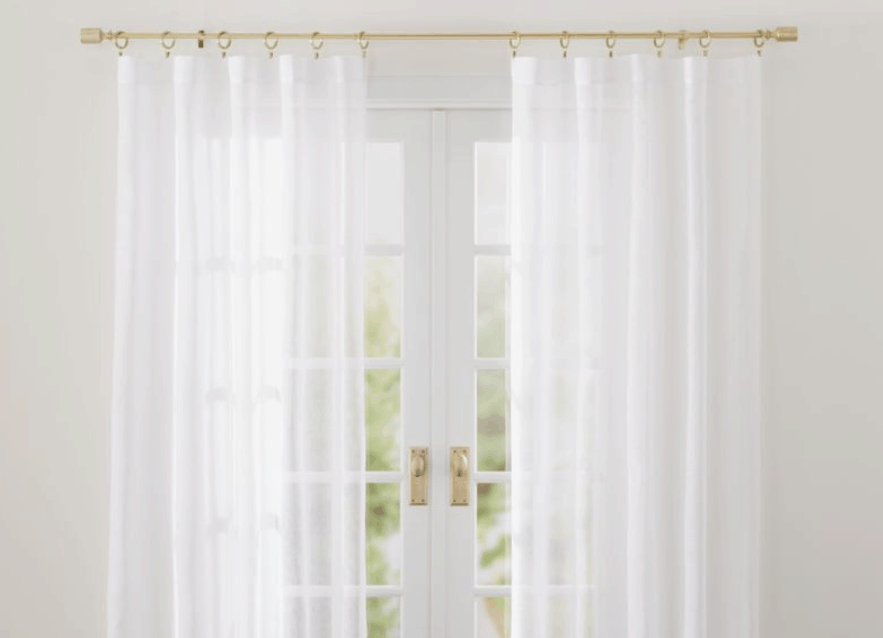 Numerous translucent textiles are used to make sheer white curtains, and they are as follows:
Linen
This fabric is made from the flax plant's fiber and is stronger than cotton but lightweight.
Voile
This is a sheer fabric that comes from a blend of both polyester and cotton with linen. Since they are woven together, they tend to be very strong.
Semi-sheer
If your goal is to have privacy, curtains made from this fabric will offer you that compared to regular sheer curtains. They are made with the same material, but the latter tend to be less opaque.
Tips to Consider When Buying White Sheer Curtains
Keep The Room In Mind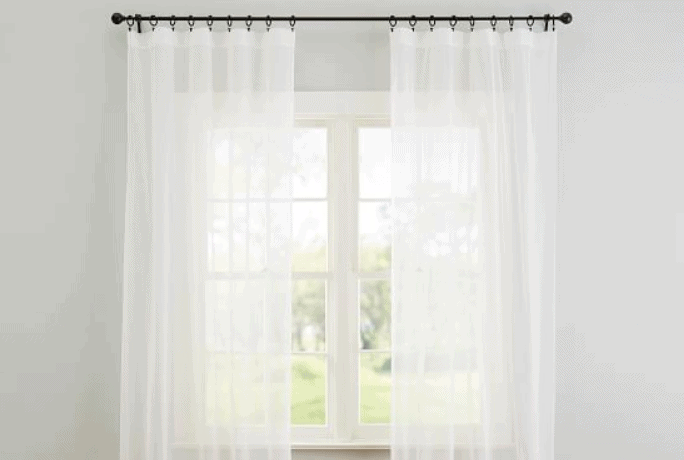 White sheer curtains are excellent for residences with many patterns and textures, to mention a few. They tend to bring enough light into the room, thereby making the details come alive. You might want to keep the décor in the room in mind too. For more privacy, ensure you layer them with solid drapes.
Consider Breaking The Curtains in Sections
As much as you want to have the sheer curtains installed, you want them to look nothing short of beautiful. An excellent way to do this is to break the sheer white curtains into sections.
The length or the breadth of the window won't affect anything. When you hang about six sheer curtains on the curtain rod, you will make the room look sophisticated and create a wavy structure, but if you narrow it down to smaller sections, the better.
What Are Your Window's Measurements?
This tip should be at the top of the list because once you don't know your window's measurements, you are bound to get the wrong-sized white sheer curtains. After knowing your window's measurements, what follows is buying the fabric that is approximated to be double or triple its size.
The bigger the fabric, the more waves you will have, and that is the goal. Note that if you use sheer curtains with the opaque kind, you will have to get them an inch shorter. If not, let them be the same height as the thick curtains. When it comes to the length, you have two options, either it remains at floor-length or be a little longer to give it room to puddle on the floor.
Best White Sheer Curtains Ideas
You Could Create A Window Scarf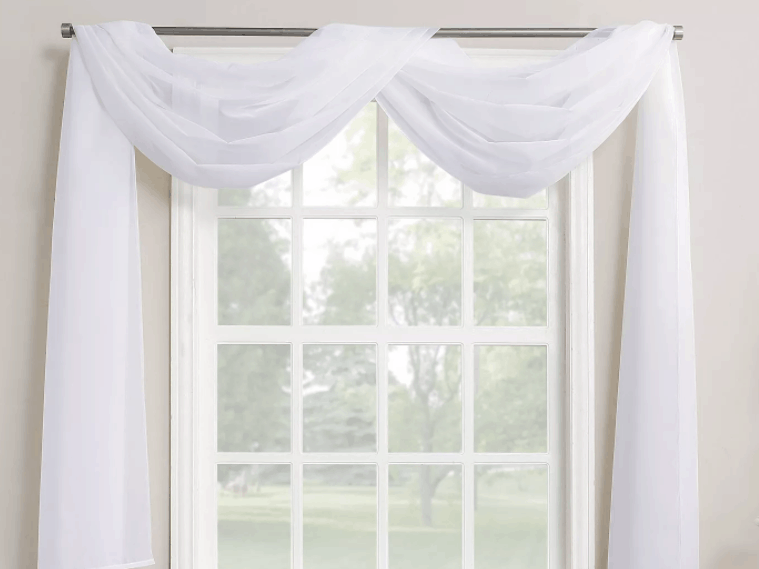 This style does not require much effort, but it will take your space from zero to a hundred in a snap. All you are required to do is drape the sheer fabric over the curtain's rod. Easy right? Feel free to switch the look by maybe mixing colors or hanging the sheers in different angles.
Use White Sheer Curtains to Beautify The Bedroom
Since we are getting creative, you should know that curtains are not only limited to windows' use. If you have a four-poster bed or your ceilings are pretty high, this is for you!
White sheer curtains could elevate the whole outlook of the room. Try hanging these sheers as a canopy. Your room will look like a luxurious oasis in no time. You will be looking forward to going to bed every night without a doubt! If you want, you could also have it as a backdrop of your bed, stunning, right?
Hang White Sheer Curtains on A Door or Entryway
If you feel like your door or entryway does not give you the privacy you need, use sheers to spruce them up. The same goes for those whose doors do not offer enough insulation. If you consider doing this, ensure that you purchase some curtain tiebacks. They will help you in drawing back the panels when and where there is the need to.
Some of The White Sheer Curtains We Recommend
They are as follows:
Zunchang White Sheer Curtains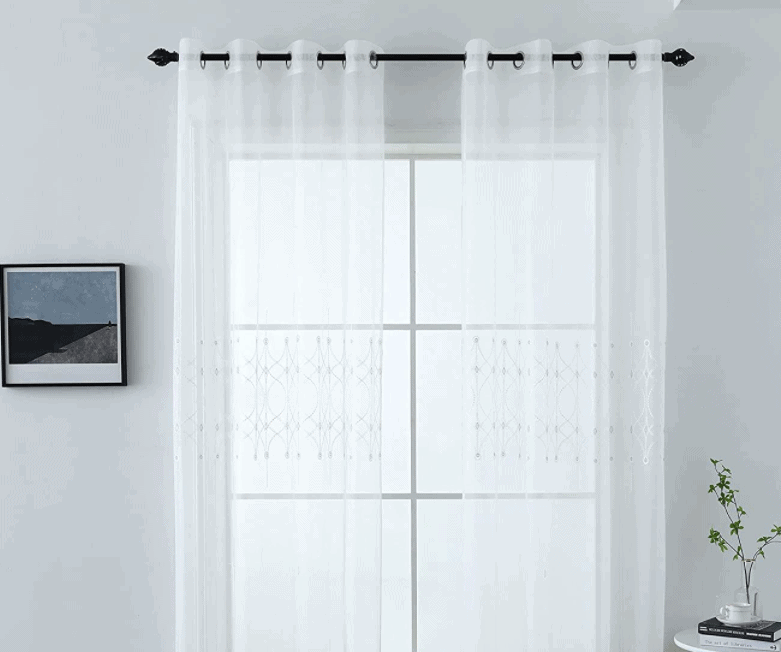 Zunchang white sheer curtains have a simple graphics design on their wavy embroidery belt. These curtains are great for any room and are made of 100% polyester. The voile sheer ensures that there is a balance on the light level. Also, they require to be machine-washed with cold water.
RYB Home White Sheer Curtains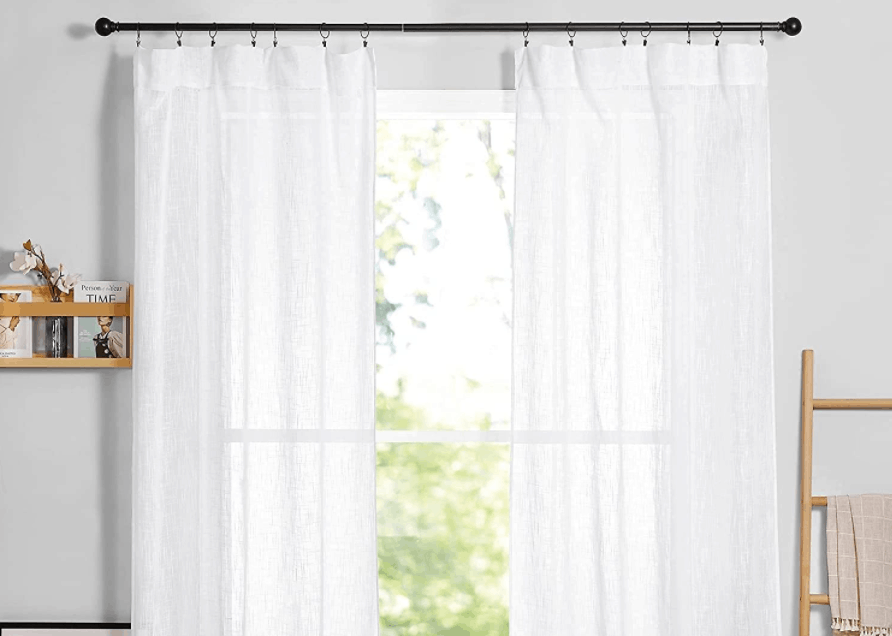 RYB home white sheer curtains have many size options; therefore, you won't struggle to get the best one for you. Moreover, they have some color options if you need more.
They are linen-textured sheers; thus, you have a rough idea of how they feel. Its package entails two panels with a width of 52 inches each and dual rod pockets design. These curtains filter out harsh sunlight and frame one's windows well.
On top of that, they are formaldehyde-free and lack odors; hence, suitable for your kid's room. They are also easy to maintain and care for.
Deconovo Patterned White Sheer Curtains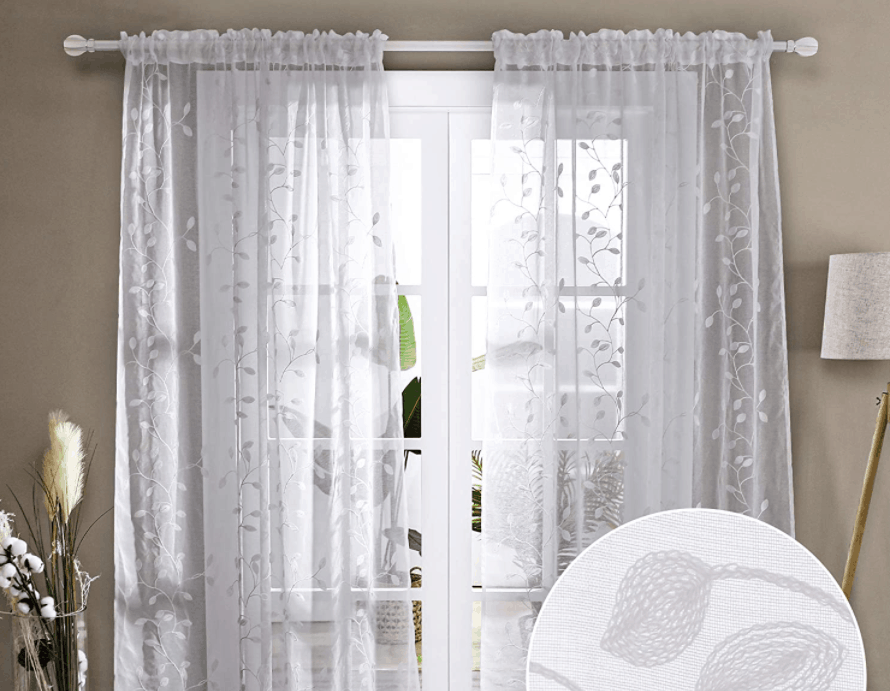 We put this here for those who love patterns on their sheers: we shan't leave you behind. These curtains are 100% polyester, and their embroidery entails leaf patterns. The package is inclusive of two panels measuring 52 by 54 inches each. They are perfect for modern homes, and you have the assurance that they won't clash with your décor.
Your home will be bright with this pair since they allow so much light in while enhancing privacy. Also, it has some color options for you to choose from, and they are hand washable. In addition to that, they dry very quickly.
DWCN White Sheer Curtains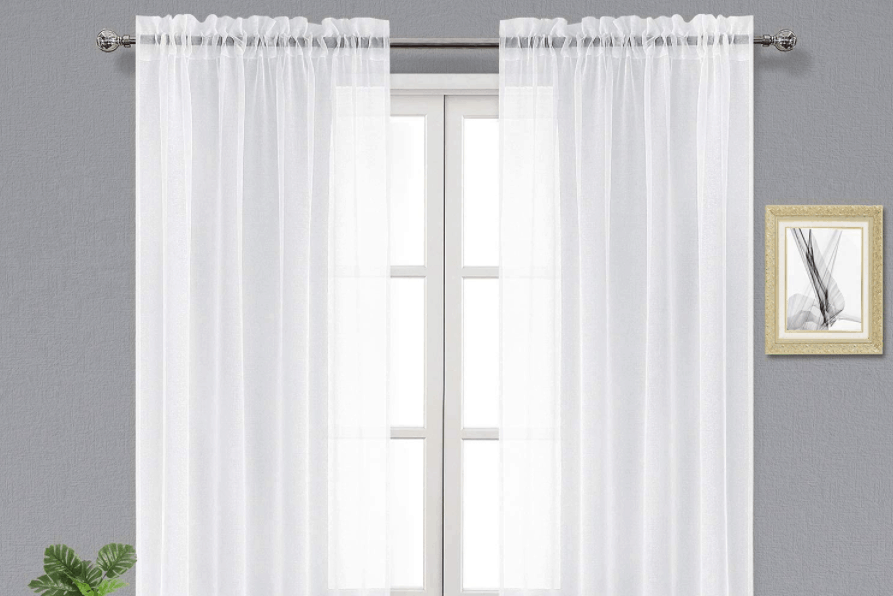 These curtains have a few color options and numerous size options. They are made from 100% polyester and textured sheer weave fabric. With this pair, you won't come across any wrinkles whatsoever.
They have a linen feel to them, and they always come in perfect condition. You don't have to worry about how their quality is, for it is top-tier. Their faux linen design makes the room elegant and stylish. Besides that, they make your windows have a more natural look. Since they are semi-sheer, they allow soft light in and, like the rest, offer privacy.
Jinchang White Sheer Curtains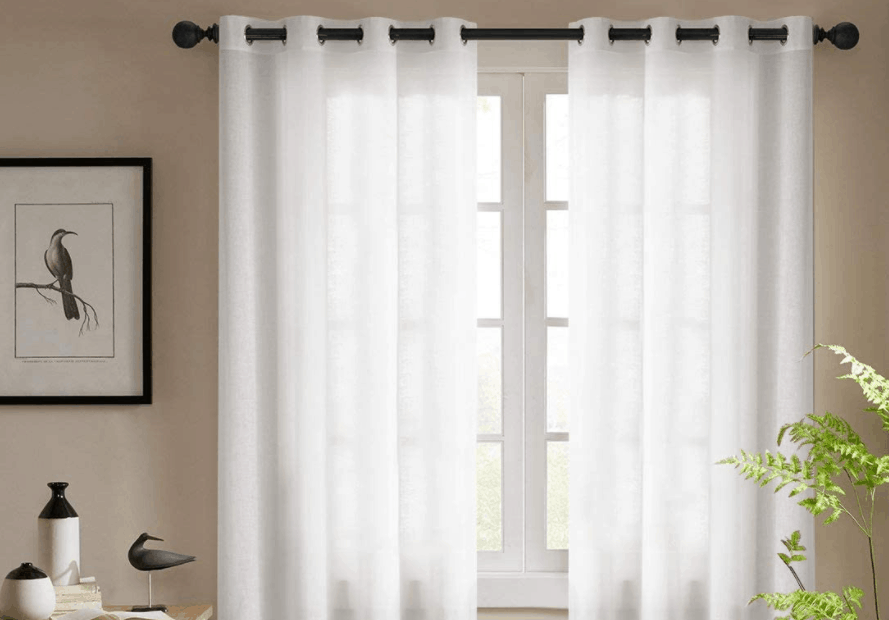 These thick and ready-made curtains allow soft light to stream in while giving you the ultimate privacy. They are great for the bedroom, infant, and living room, among others.
Its fabric has beautiful and neat seams, and it doesn't wrinkle, which is a plus. Getting rid of wrinkles is quite the task; therefore, choose them if you are not up for it. Its maintenance is easy since they are machine-washable. Their panels measure 50 inches in width, enough to cover any window and properly decorate wall parts.
PartyDelight Sequin White Sheer Curtains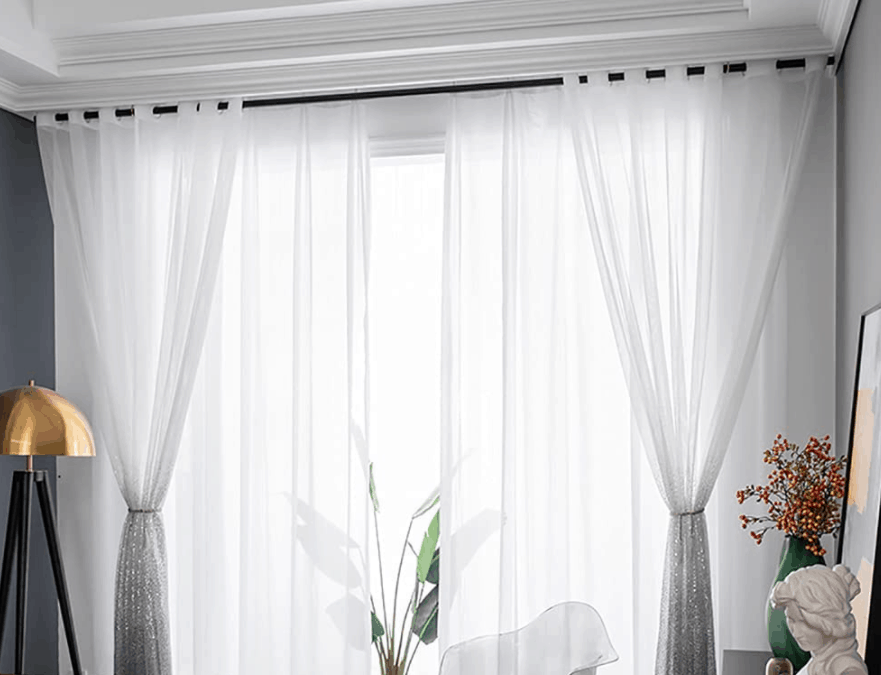 They do not have many size options, something you may want to think about if you like what its package has to offer or want to mix white sheers with a different colored pair. Installing them will be easy, so don't be troubled about that.
These curtains are unique since they are covered with sequins which adds a modern touch to your space. They are very light and airy thus hang nicely. You could consider having them at the office, dining, and bedroom. PartyDelight sheer curtains are versatile since they can be used separately or, better yet, matched to other curtains. They are not machine-washable; hence, hand-washed.
FAQs
Question: Are White Sheer Curtains in Style?
Answer: The truth is sheer white curtains have been in style since time immemorial and will continue to. They always elevate how a room looks effortlessly and are suitable for any room, making it all the more amazing. Also, if you love patterns, there are many available in white too. When you invest in sheer white curtains, you won't have to worry about trends if they matter to you since they are always trendy. Isn't that smart?
Question: What Are The Other Ways You Can Use White Sheer Curtains?
Answer: Sheer curtains can be paired with different curtains as this adds dimension to them.
They can also be placed together with striped or patterned curtains to elevate your home and its décor. Moreover, it can brighten the room.
White sheer curtains can be helpful if you want to tone down bright types of sheers in the room thus, dividing their attention.
Question: What Is the Difference Between Opaque and Sheer Curtains?
Answer: People usually view opaque curtains as the opposite of sheer curtains. When you want to block out all the light, opaque curtains are the best fit. Therefore they are suitable for those rooms you never want to allow any natural light in. Note that the opaque curtains provide more privacy compared to sheer curtains.
The latter may not be the best, especially if you live in an area where your house is a stone's throw away from your neighbor's. We love our privacy, and it is necessary to keep those prying eyes off our business. If you want to know which one is the best for you, you can consider the function of the curtains you will get first.
Question: Can Someone See Through Sheer Curtains at Night?
Answer: Yes. As much as outsiders cannot see anything that is going on in your room during the day, at night, they can as long as you have the lights on. Therefore, you should think this through. However, here are some of the things you could do to navigate this issue:
• Consider adding window blinds to the curtains.
• Adjust television brightness.
• Use multicolored sheers and blackout materials.
They will do the job. The question to ask is, are you willing to compromise to get that perfect and fashionable room, or is it too much?
Best White Sheer Curtain Ideas: Conclusion
The above shows detailed information about white sheer curtain ideas. You don't have to remember everything we have outlined. The point is to have a rough idea. Who knows? It may come in handy sooner than later. We recommend the Jinchang white sheer curtains; they lack wrinkles, are easy maintenance, and have neat seams.