Latest posts by Angelique Alice
(see all)
Have you been contemplating buying white linen curtains but are uncertain whether they are the best fit for you? We know white is quite a questionable color, especially if you have little ones running around the house. However, we will ensure that you can live your dream while maintaining them.
Whenever we think about linen, one word comes to mind; classy. Who doesn't want space to have an edge anyway? Linen curtains have gained popularity over time, and many people are opting for them. You wouldn't want to be left behind now, would you? Read on to know the guide for buying the best white linen curtains.
How to Choose White Linen Curtains
Cost
There is the need to plan yourself financially before buying these curtains. You need to know how much they cost or rather have a rough idea of their range. Pure linens may cost an estimated $100 per meter. In this case, you will need to have the measurements of your window to make out the whole amount.
You will undoubtedly come across some linens that are not entirely pure, ranging from 60 to $70 a meter; however, polyester starts from $40 per meter. Please don't go breaking bank; after all, it has its consequences.
Consider Privacy
When getting curtains, we need to prioritize ourselves too. Ensure you meet your needs. Besides, who wants people all over their business anyway? White linen curtains do offer privacy from outside observation. On top of that, they allow light in the room during the day.
We do love good lighting since it breathes life into a room. Using sheers in a layered window solution will provide you with the level of privacy you want at any time. Therefore, you will go about your life without worrying about your security and the like, which is a plus.
Consider The Best Heading Styles That Suit Your White Linen Curtains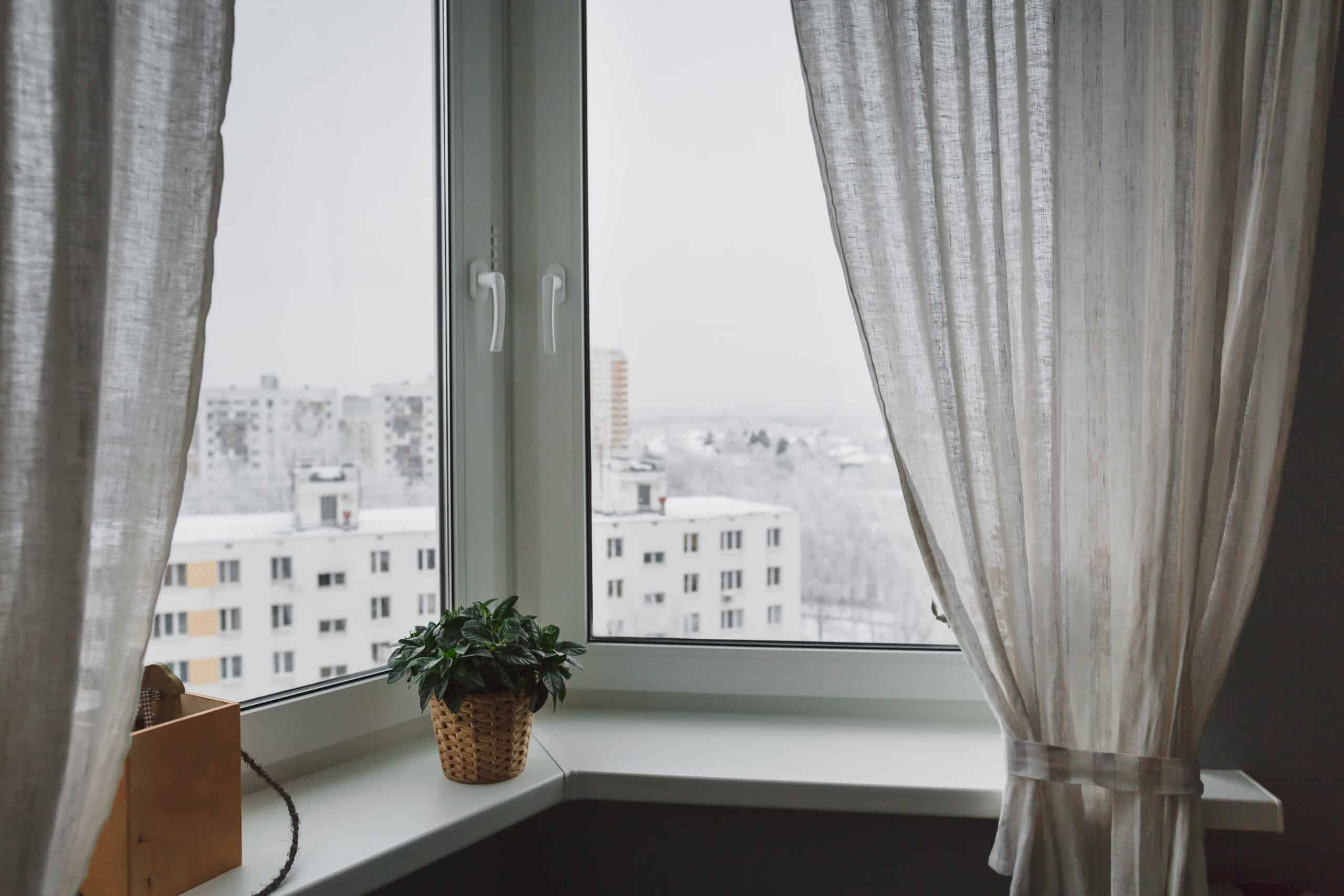 The good thing is that linen curtains can be in any heading style whatsoever. However, you should know the most renowned ones, which include an S fold or wave fold. The latter gives an illusion of a smooth continuous wave from one end of the window to the other.
Note that the stack-up required by this heading style is very bulky compared to the rest. Another heading style that you could consider is a pencil pleat which is also very popular.
How White Linen Curtains Are Cleaned Or Maintained
White linen curtains ought to be washed well if you want them always to look stunning. Fortunately, linen curtains are stain-resistant. Moreover, you won't have to put in a lot of work before they are clean. Isn't that amazing? Please don't get too excited, though.
There is the need to point out that they are not machine-washable. If you want to get them dry cleaned, you must look for dry cleaners with experience in linen curtains. Also, when linen curtains are washed, they tend to shrink in terms of height and get wrinkles. Ensure to let the dry cleaner in on the composition.
Know The Length You Want For The Curtains
It would be great first to know where you would like the curtains before using the tape measure. Do you want to give the room a sense of height? If so, hang the panels above the window- somewhat 6 inches above. From there, you can measure the top of the window to the floor.
Ensure that you include the inches starting from where the curtains will hang from. Consider adding two to three inches to the length. The same goes for the width, although the inches will vary since you will have to add four to eight inches.
Why Are White Linen Curtains Great For You?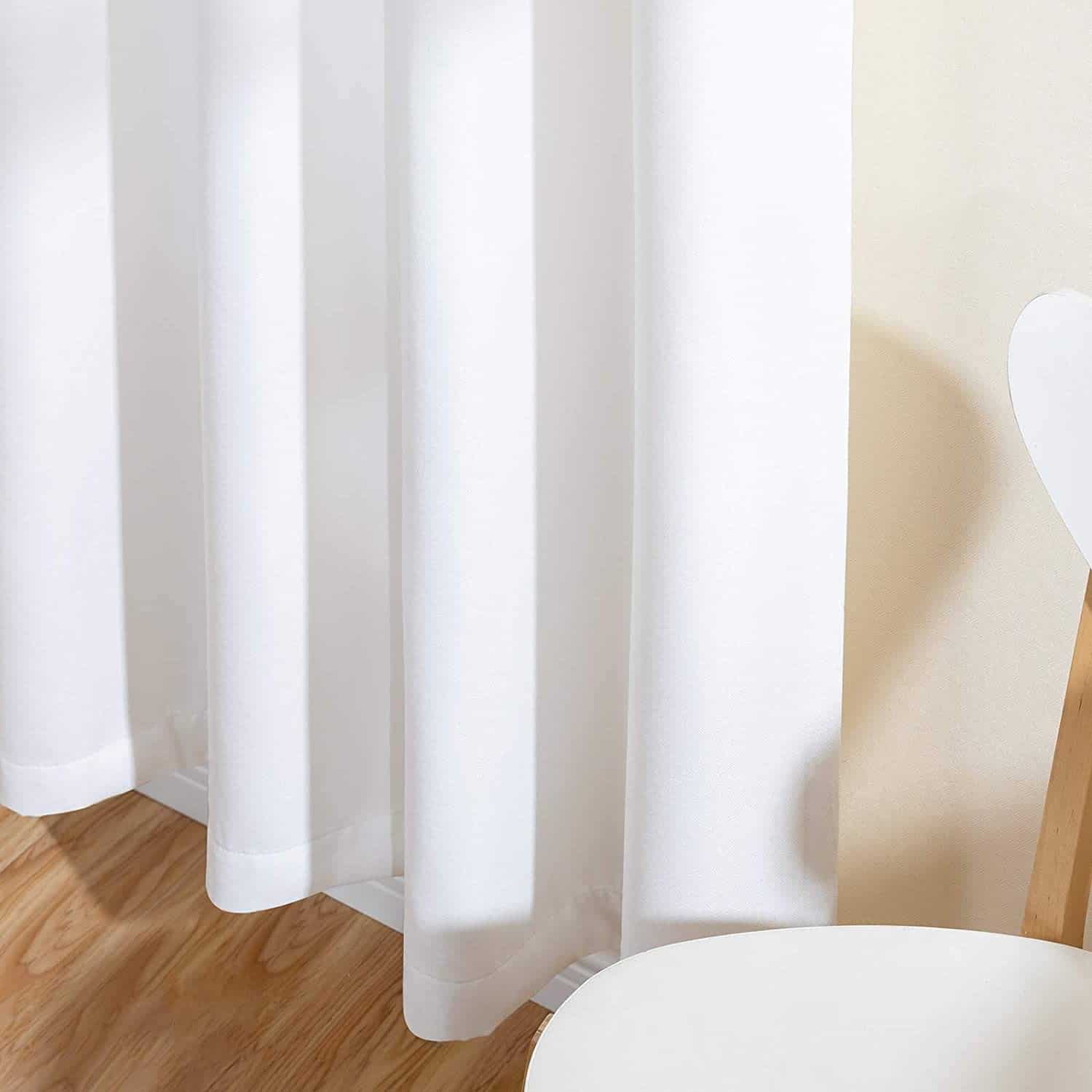 Here are some of the reasons linen curtains are an excellent choice.
No Drama
Are you a lover of neutrals tones and colors? If so, white linen curtains are ideal for you. They can be placed in many rooms, be it traditional dining rooms or beachside bedrooms.
If you are building a family home, consider white linen curtains, for they are effortlessly stylish. They also give off expensive look vibes. We promise once you buy them, there is never turning back: they are that good!
They Are Kid-Friendly
We can't dare forget about the kids! Being one of the strongest fabrics, Linen is a good curtain fabric for your children's rooms. In addition to that, it is a great window treatment fabric for the latter, splash-prone kitchens and bathrooms.
You undoubtedly want a material that will tear up or pill fast, knowing how messy kids can be. However, if you need pet-friendly window treatments, ensure to make that inquiry clear. You should have ordered these curtains by now; they are certainly worth all the hype they have recently garnered.
You Can Customize Them
Who said linen curtains always have to be simple? If you are worried getting white plain linen curtains would bore you, you can always customize them. However, ensure a professional does that for you if you want a great outcome.
White linen curtains could be customized with printed patterns, embroidery, and stylish custom trims, to mention a few. Moreover, if you want, you can layer them with other window treatments, for example, bamboo shades, sheers, and blinds. They are very versatile; therefore, you can play around with them as much as you wish.
Heat Is Not An Issue of Concern for White Linen Curtains
If you live in areas with so much heat, these curtains should do right by you. Unlike other fabrics, linen does not fade or become sun-damaged when exposed to a lot of sunlight. If anything, they remain cool because of their well-ventilated construction.
This is why they are rendered excellent for sunroom window treatments. Perhaps it is time to change your home, starting by replacing your current curtains with these. They will take you an upper notch; this we assure you. Linen will have you feeling like you are at the beach during the summer season.
Linen Has A Great Texture
When you come across this fabric, try running your hands through it, you will fall in love with it! Despite it being satisfying to touch, can you imagine viewing it throughout the day as the light changes its frequency from time to time? Also, did you know that the older linen gets, the better its texture becomes?
You are probably wondering, where does it end? Guess we will never know. If you had doubts about buying white linen curtains, we hope you love them so far.
Some of The Best Linings for White Linen Curtains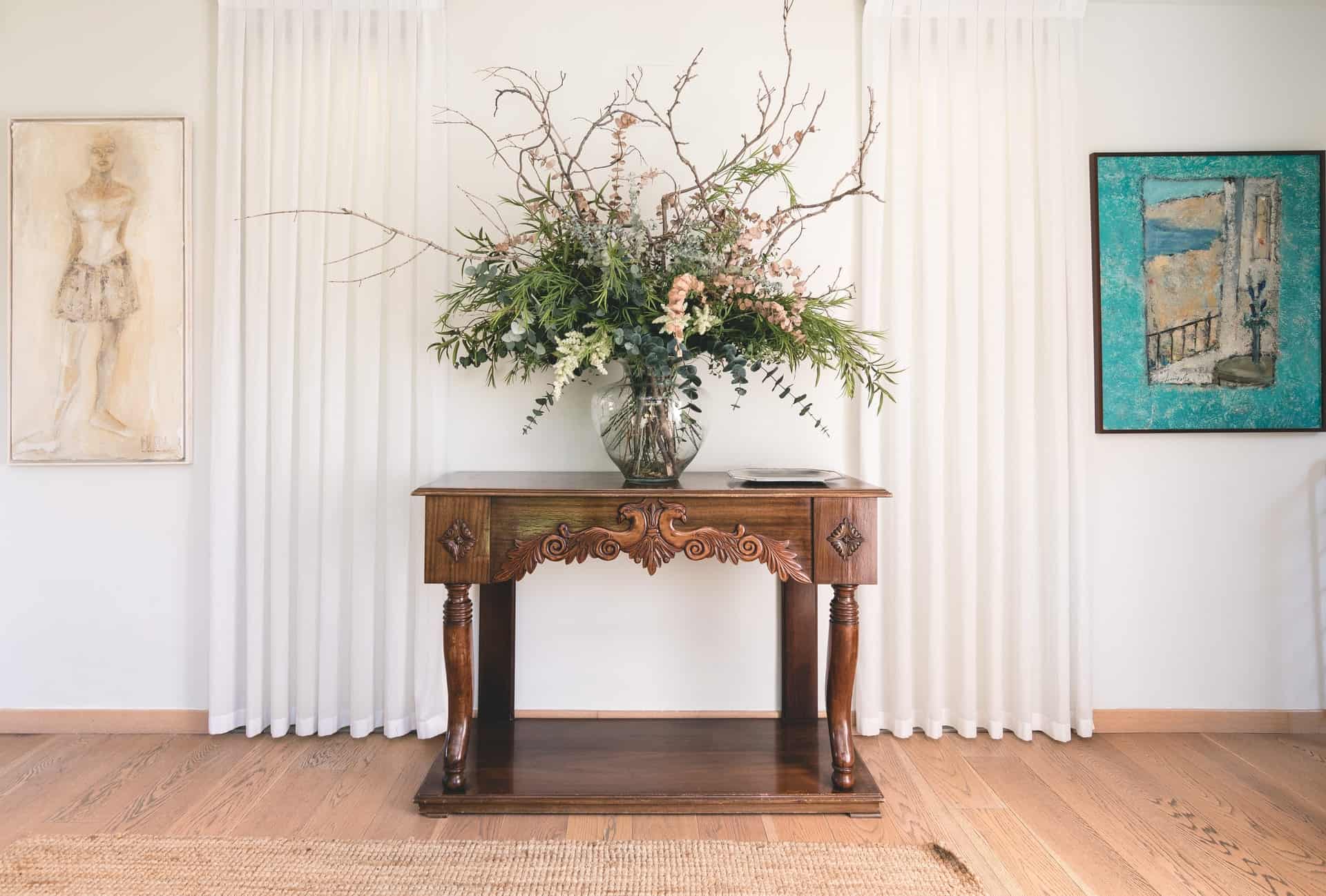 Since you are planning to buy these curtains, do you love linings? If you don't, feel no pressure to add them since they are not essential. However, there are some advantages to adding them that may make you change your mind. For example, they are aesthetically pleasing because they make your curtains hang gracefully. The following are some of the linings to consider:
Blackout Lining
The color you choose should be thought through. This is because it will be visible from the outside. To ensure you create harmony, you could consider going for a color scheme visible from the street. However, choosing a heavy fabric will be the best thing to do. For example, using darkening sateen on your bedroom curtains will hinder up to 90% of sunlight from passing through.
Standard Lining
For better hanging effects, opt for sateen lining since it weighs the curtain down. On the other hand, cotton sateen is usually used for over-drapes because it is economical. In addition to that, they bring about color contrast in a room and, as a result, make the room feel different. It is best for thin curtains like linen and, above all offers protection to your curtains.
The White Linen Curtains We Recommend
It would be best to have a list of white linen curtains to choose the ultimate one. The following are some of them:
Light Filtering Linen Textured Curtains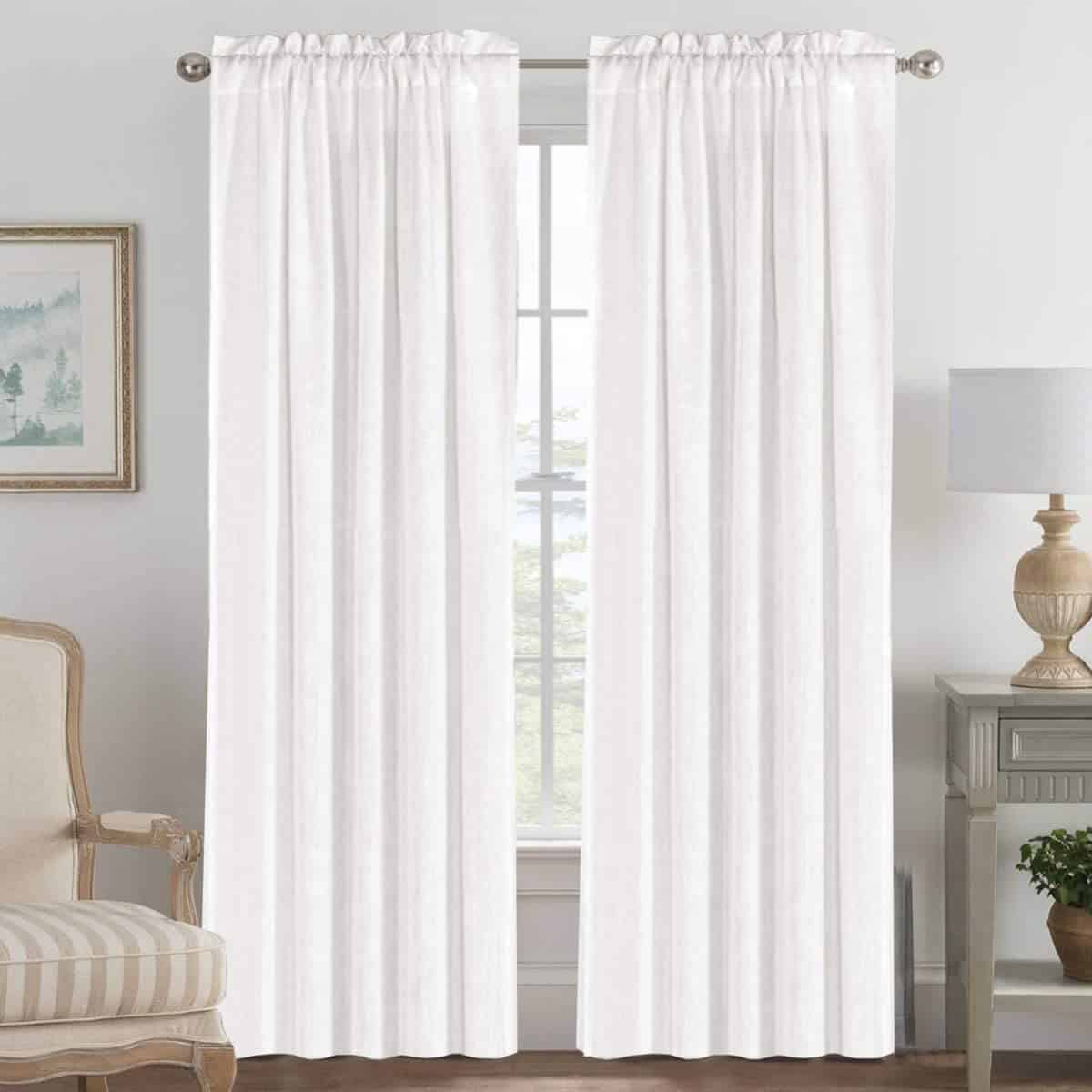 These curtains come with two panels that will make your home look decorated. That is a plus for any homeowner since it adds to their aesthetic. Also, they let in light while offering privacy. If you are keen on environmental conservation, these curtains are environmentally friendly.
Also, note that they are made from an open weave linen blended fabric. These curtains are easy to install because they are constructed with a rod pocket head.
Pros
Easy installment
They look aesthetically pleasing
Environmentally friendly
They are machine washable
Offer privacy
Reduce energy usage
Cons
When bleach is needed, you can only use non-chlorine bleach
HPD Half Price Drapes FHLCH-VET1319X-P Heavy Faux Linen Curtains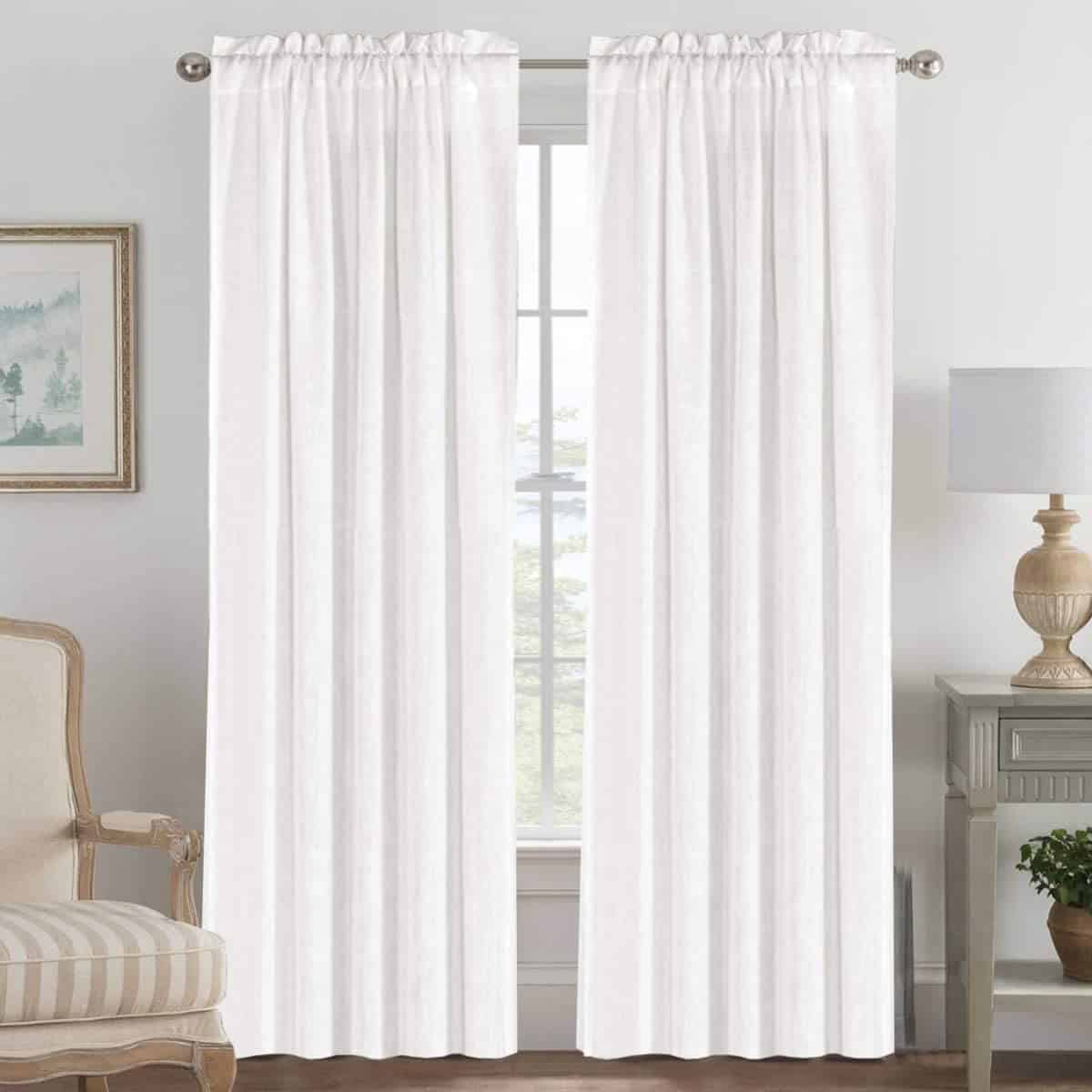 They are rice white in color and entail 96 percent polyester and 4 percent linen. When it comes to matters of maintenance, you are required only to dry clean it. You may want to get them because they are great for any occasion; thus, you don't have to think about changing them when an event is coming up to match.
These curtains are usually imported and come in different sizes to meet customer needs. Moreover, they are made from several materials and can come in different patterns. The quality is top-tier; therefore, you have nothing to worry about. 
Pros
Great for any event
They are of high quality
Available in many sizes, materials, and patterns
Cons
They require dry cleaning only
Jinchan Linen Texture Curtains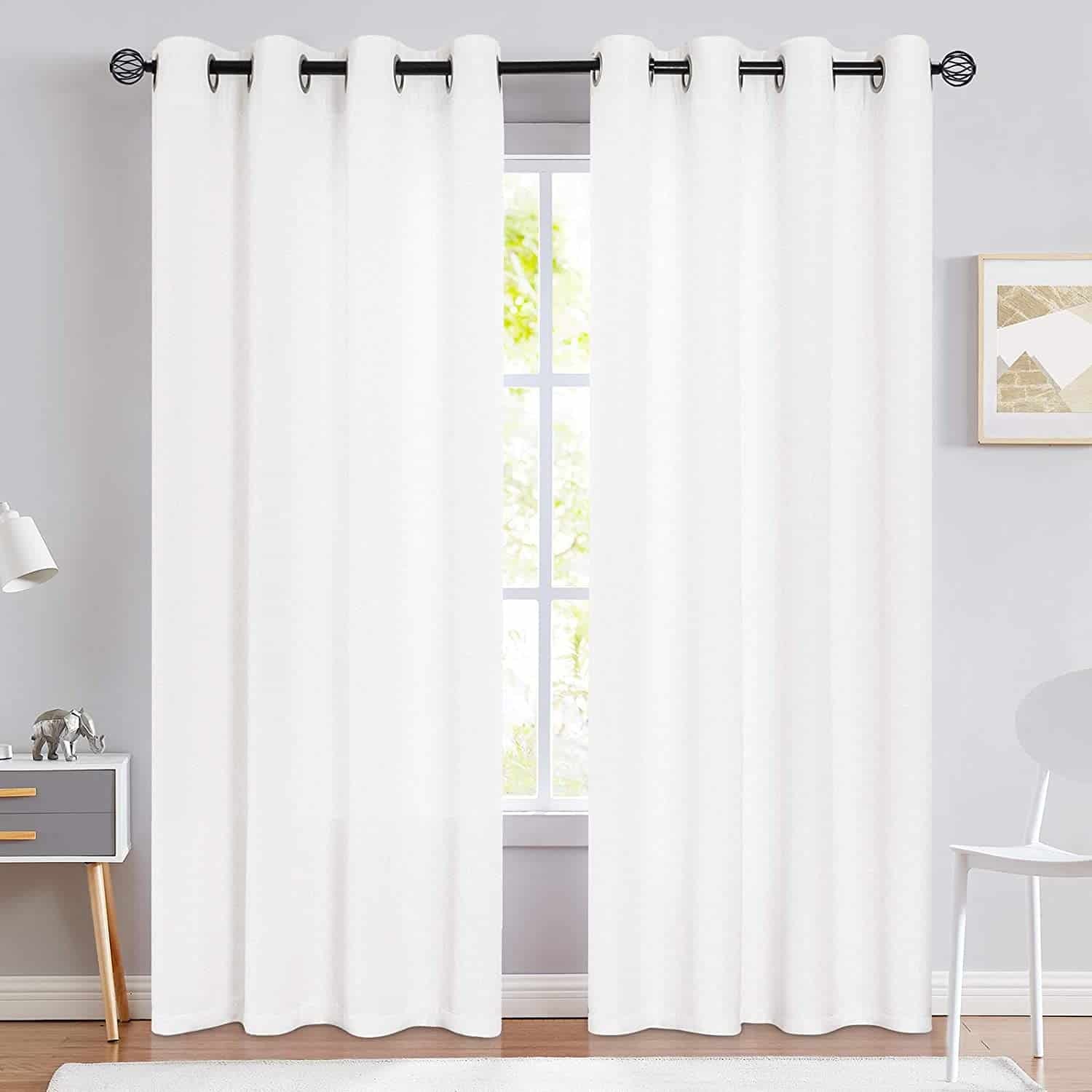 Jinchan linen texture curtains have a simple design; therefore, you will love this pair if you are usually inclined to such. They have a light control function since they come with room darkening denim blue panels. As a result, you get to sleep like a baby since the latter takes out up to 80% sunlight during bedtime.
Also, you won't experience TV glare; therefore, you can engage in any indoor activities whatsoever. On top of that, they are thermally insulated, meaning that your utility bills will decrease. They are also machine-washable in cold water.
Pros
They offer privacy
They have a simple design
They are energy-savers
Cons
They lack noise-reducing properties
Bonzer Linen Look Textured Curtains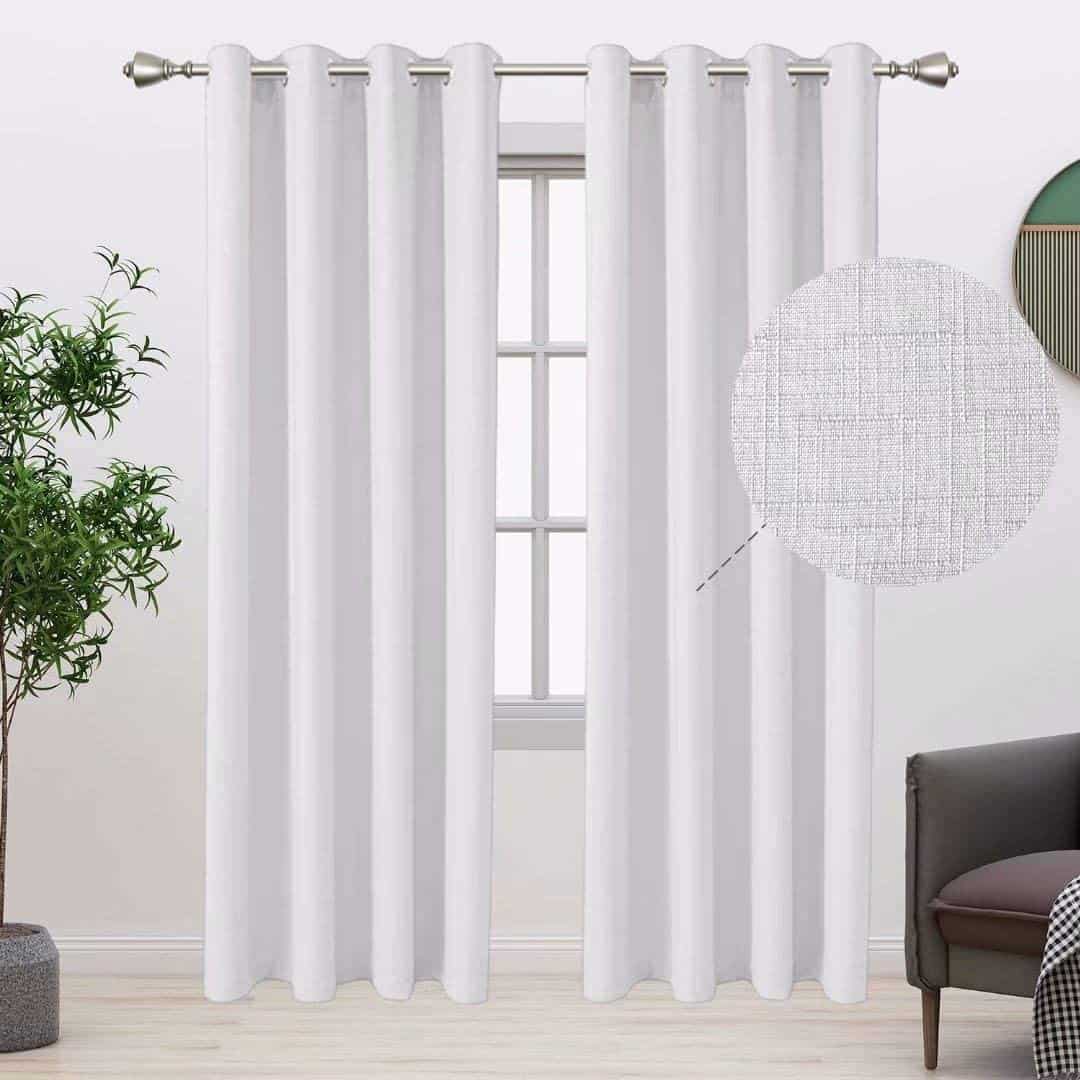 If you are going for these curtains, know that there are other color options. Thus, if you wish to take white and another color, it's possible. They are crafted with 5% linen and 95% polyester. If you have a modern house, these curtains will complement it beautifully.
These curtains can be fit for any room and hang alongside other curtain styles. Like the previous white linen curtain, they are machine-washable in cold water. Bonzer linen-look textured curtains will provide you with the privacy you need since they are not transparent. Also, they allow just the right amount of light into the room.
Pros
They can be used in any room
They are machine washable
They reduce glare
Let in the right amount of light
Cons
Do not allow the use of bleach
RYB Home White Sheer Curtains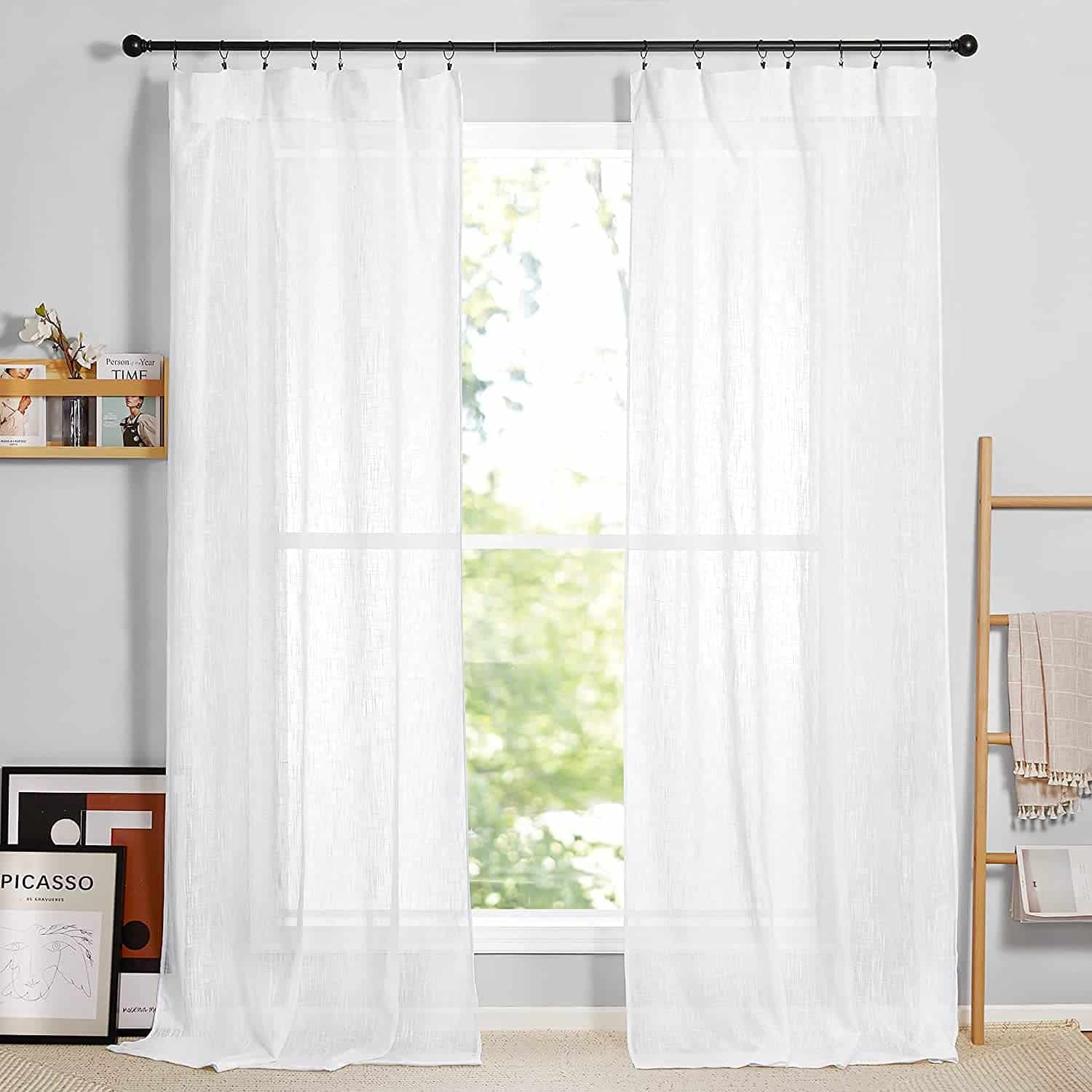 These have many size options, are 100% polyester but linen-textured. Its package entails two panels and a dual rod pocket design. They are easy to maintain and wash hence, making them more manageable. RYB Home curtains tend to offer broad compatibility.
Besides that, you have the assurance that they provide privacy yet provide enough light for a room. Also, they allow the breeze to flow through your windows freely. They can be used in the kitchen, laundry room, living room, and kitchen, to mention but a few.
Pros
They have many color options
Easy to maintain
Keep out harsh sunlight
They provide privacy
Cons
They are not thermally insulated
Lack noise-reducing properties
LORDTEX 100% Blackout Curtains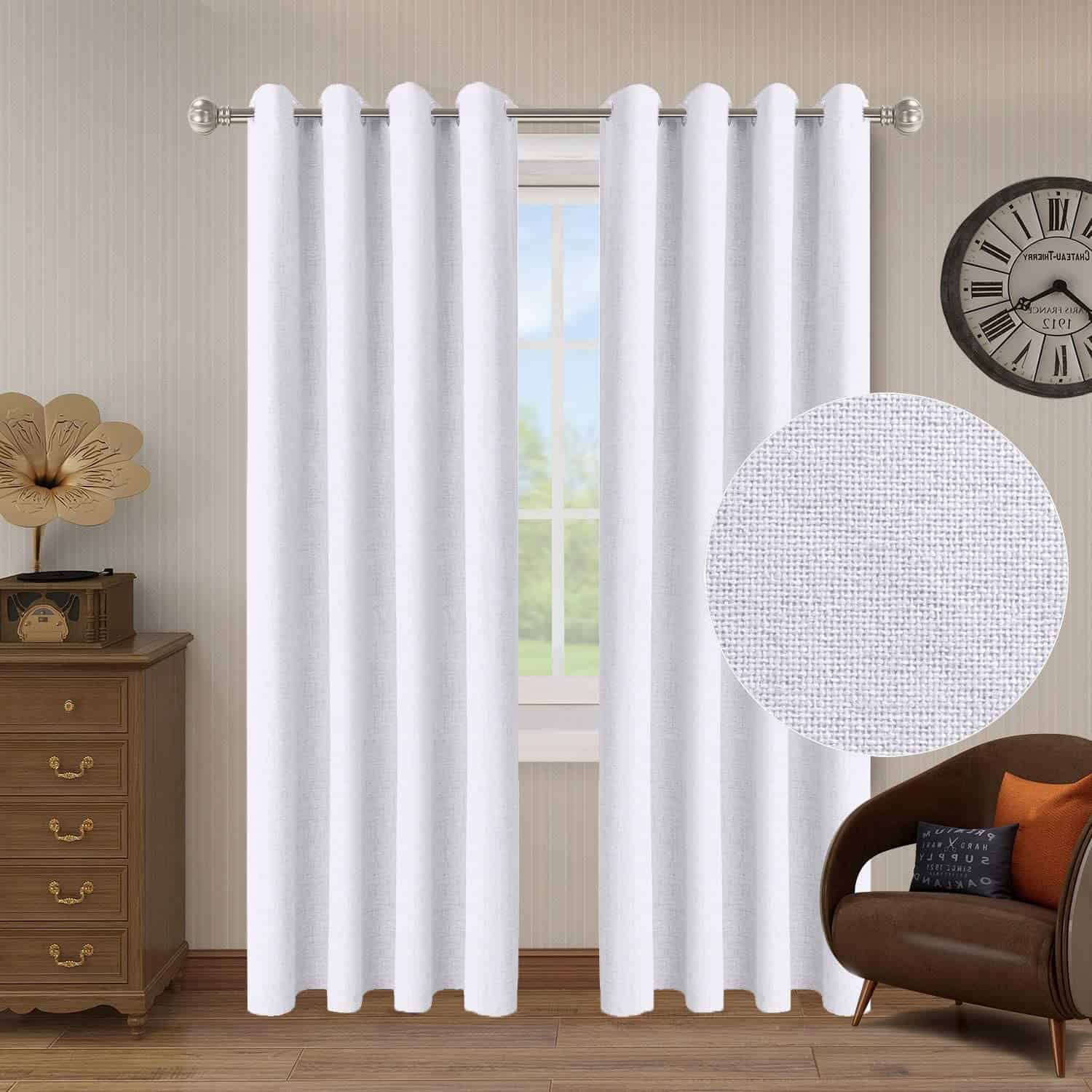 This item is made from soft and waterproof linen fabric. It comes with panels and eight grommets which are easy to install. It is purely white and one to catch the eyes of many without a reasonable doubt.
The LORDTEX curtains block 100% of the light out, thus turning day to night instantly, making it conducive for people who love sleeping during the day to nap. Moreover, they hinder furniture and floors from fading. They make the room cooler in summer and warm during winter. Also, they reduce noise while giving you privacy: what we would like to call a win-win situation.
Pros
Easy to install and slide
They are multifunctional
They balance room temperature
Cons
They should not be bleached
Frequently Asked Questions About White Linen Curtains
Before buying something, we tend to have many questions, and it is only fair since we don't want to buy anything blindly. Some of the questions relating to white linen curtains include:
Question: How Do You Get Rid of Wrinkles on White Linen Curtains?
Answer: It would be best if you weren't surprised when your curtains have wrinkles after being washed. To remove them, first remove the curtains from the dryer before they dry and iron them on low heat settings, then lay them flat to dry. Also, consider hanging them to dry and use a fabric steamer to get rid of the wrinkles.
Question: Do Linen Curtains block Light?
Answer: Yes. If you want to sleep during the day, you can always close the blackout linen curtains. You will barely even notice it's daytime.
Also, not entirely. Linen curtains allow just enough light into a room that won't cause any damage to you or your furniture and floor.
Question: Is Linen Fabric Good for Curtains?
Answer: Yes. If anything, they bring so much elegance and comfort into a room. Besides that, they also block light while still giving you privacy. Since it is created from plant fibers, it is environmentally friendly and energy-saving.
Conclusion
The above shows detailed information about the white linen curtains guide. We would recommend you to buy the LORDTEX 100% Blackout curtains. They have many features that are unique and will make them worthwhile. Therefore if time is not a luxury you have on your hand and need it sooner than later, look no further.
Ensure that you do the necessary maintenance if you want them to serve you for a long duration. Also, keep in mind the factors we outlined earlier to help you in choosing white linen curtains. Remember, if you love linings, feel free to add them to your curtains.