Latest posts by Angelique Alice
(see all)
You have just come from Sunday brunch at your friend's house, and one of the things that everyone can't stop talking about is their amazing orange curtains. Yes, you thought that you were the only one who noticed but no! Everyone did, and they cannot stop raving about them.
You then remember how dull your curtains are and decide that the year will not end without you revamping the house with some fantastic curtains. The good news is that we are here to guide you through this path and ensure that your home looks more adventurous and creative with the orange curtains that you buy.
The color orange is bright and bold; hence it will stand out at all times. It will bring out warmth, joy, happiness, and creativity in any home, thus why it has become quite popular over the years. Sadly, many people are scared of bold colors due to their vibrant and intimidating nature. This is quite normal, but it should not be the case, as you will find below.
Why Orange Curtains?
In 2012, Pantone announced Tangerine Tango as the color of the year, and since then, orange has gained a lot of popularity among designers and consumers. More and more people are incorporating it into their homes, offices, restaurants, and even libraries.
Named after a fruit, orange is described as a warm and calming color that will tend to draw you in. It sits right in the middle of red and yellow on the color wheel, hence embracing the sunny side of yellow and the daring side of red. The shade closer to red will encourage hunger, while the one next to yellow will tend to relax you. This is one of the reasons why orange is majorly used in restaurants as it stimulates appetite and social communication.
When it comes to the home, orange curtains are a win. This is because they can block light and, when used correctly, achieve your preferred style. Also, they are great with natural tones such as taupe, beige and gray. They are also perfect for the dining area and living room, where people gather for conversation and meals as the color creates a healthy social environment and comfort with others.
Amazing Orange Curtain Ideas
Below are some of the incredible orange curtain ideas you can incorporate into your home to give it a cozy environment throughout the year.
Rugged Orange
Why go for ordinary curtains when you can go for rugged ones? These give your home an expensive vibe and are not your regular curtains. They have a masculine feel, hence perfect for homes with wood furniture, giving off a rustic atmosphere.
Sheer Orange Curtains
To allow for sufficient lighting, you can go for sheer orange curtains. They are easy to maintain and will allow natural light into the room.
Playful Striped Curtains
You can also decide to follow your playful side and go for striped curtains. These come in different shades, and the vertical or horizontal stripes will liven up the room.
Floral Patterned Curtains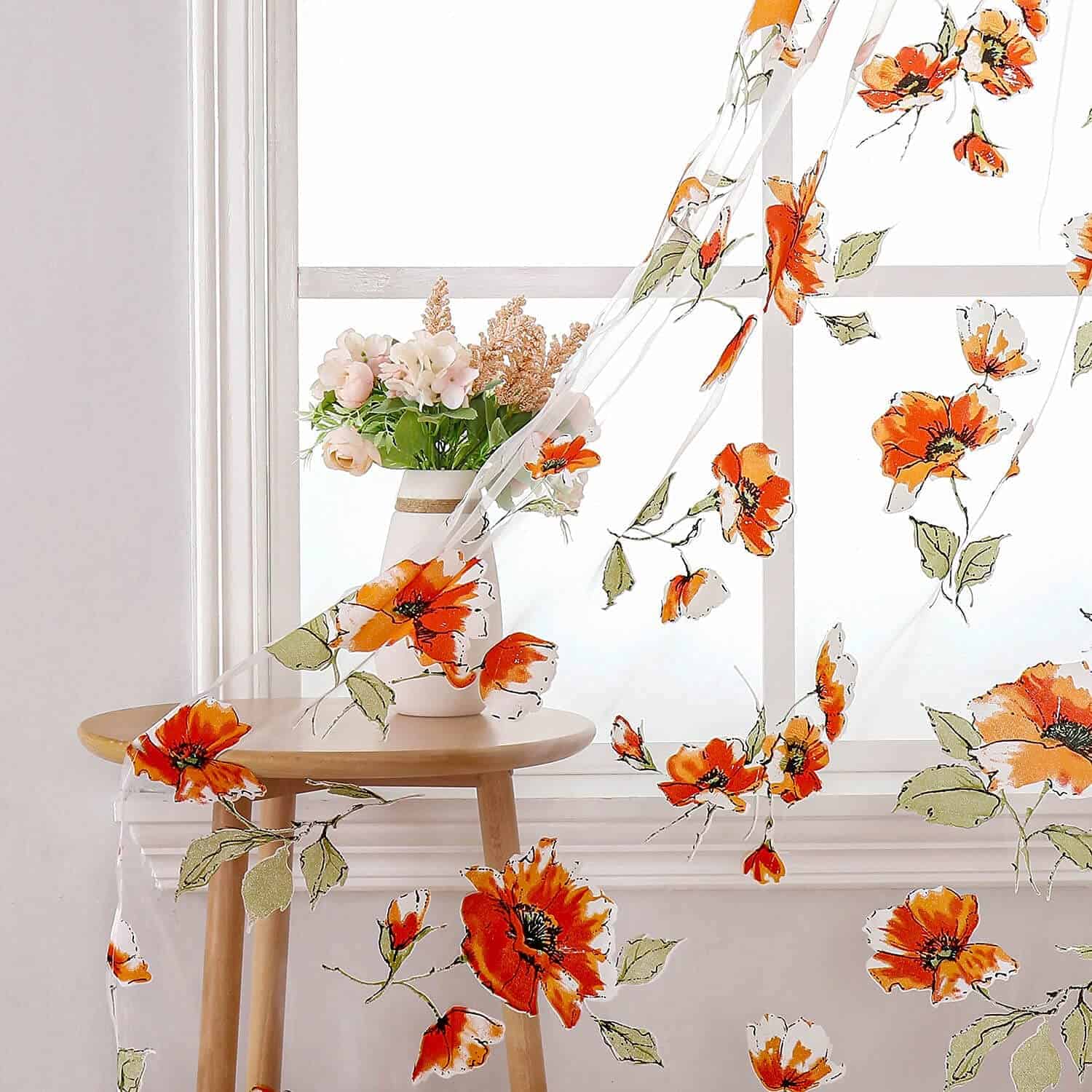 If you love flowers, then this is the perfect option for you. These curtains come in various shades and are great for people who adore flowers. They are also versatile and will match the house's decor, whether classical, vintage, or modern.
Orange Long Curtains
There is something elegant about having long curtains. They make the room look luxurious and complete, making them perfect for the living room or bedroom.
Orange Ruffle Shower Curtain
Orange ruffled shower curtains will be a life-changer for your bathroom. They will add some uniqueness to the home and make any plain bathroom look lavish.
Our Top 10 Orange Curtains
Below is a curated list of our top ten orange curtains that we highly recommend.
Nicetown Blackout Orange Curtains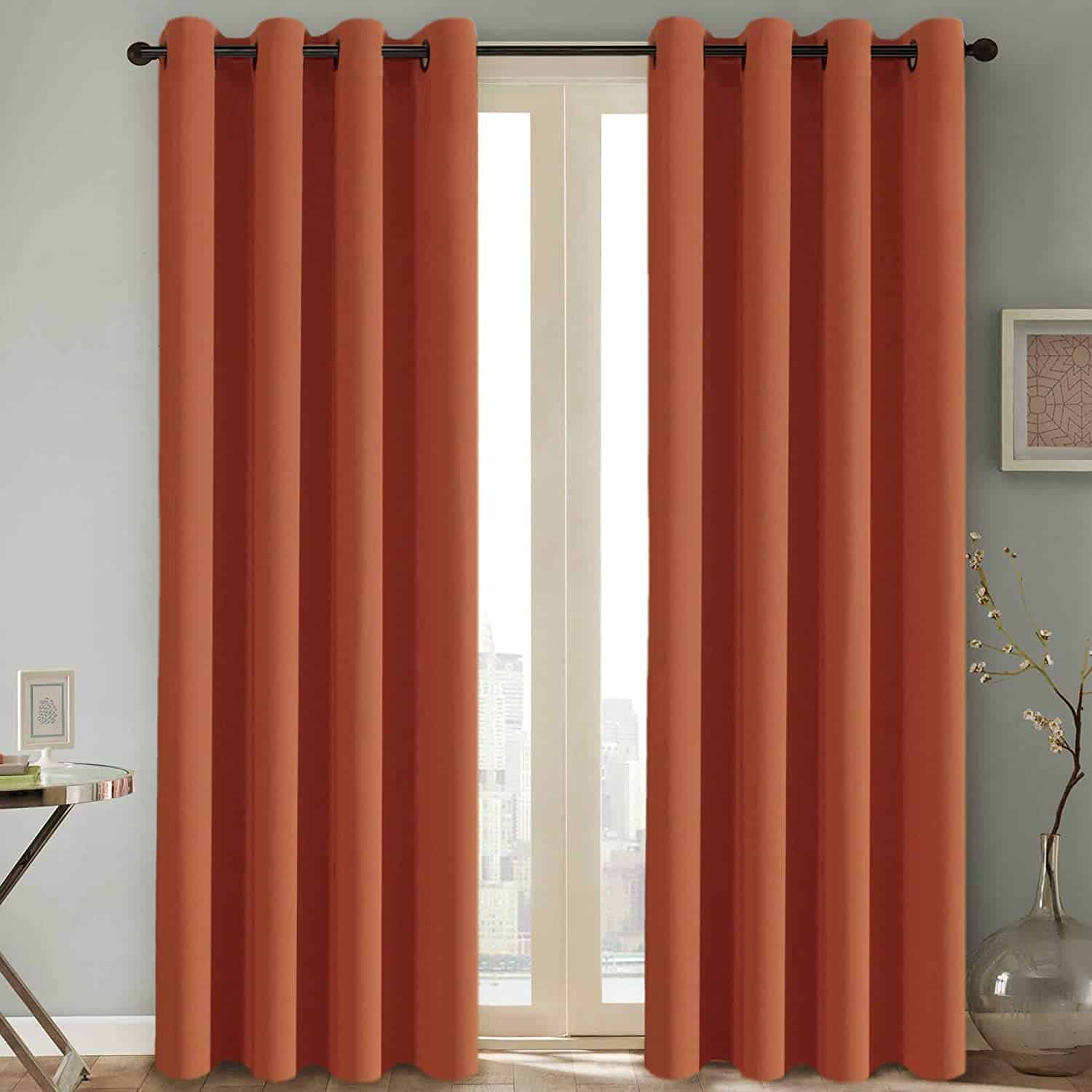 Nicetown blackout orange curtains stand out because they are not your ordinary curtains. They are more than the usual sewing of fabric to prevent sunlight from entering the home and offer privacy.
Why We Love Them
They Have A Noise Buffer
Yes, you read that right! If you need to enjoy your good night's sleep, then these are the curtains to go for as you will not get disturbed at night by outside noise, be it from the house members, the neighborhood, or even the rain.
Therefore, even if you are a light sleeper, you will not have problems with noise when you get these curtains. You will enjoy your night's sleep and wake up ready to face the day.
They Are Light Blocking Energy Savers
These Nicetown curtains are multilayered with microfiber; hence they drastically reduce the light coming in from outside. Their fabric is woven with three-layer construction, with the middle layer creating a curtain panel that will block out up to 99% of light. This makes them also highly energy-efficient as they will reduce your energy budget by up to 25%. Isn't that great?
They Offer Privacy
These blackout curtains are perfect as they will ensure that you get the privacy you need. Therefore, you can enjoy your Netflix movie without anyone creeping into your space.
They Are Easy To Install
These curtains come with matte silver grommets that will fit your curtain rod up to 1.6 inches in diameter; hence installing them will be a breeze.
They Are Highly Durable
These curtains have incredible finishing; hence they will last you many years. Also, ensure that you only use mild detergent on them.
Deconovo Thermal Insulated Blackout Orange Curtains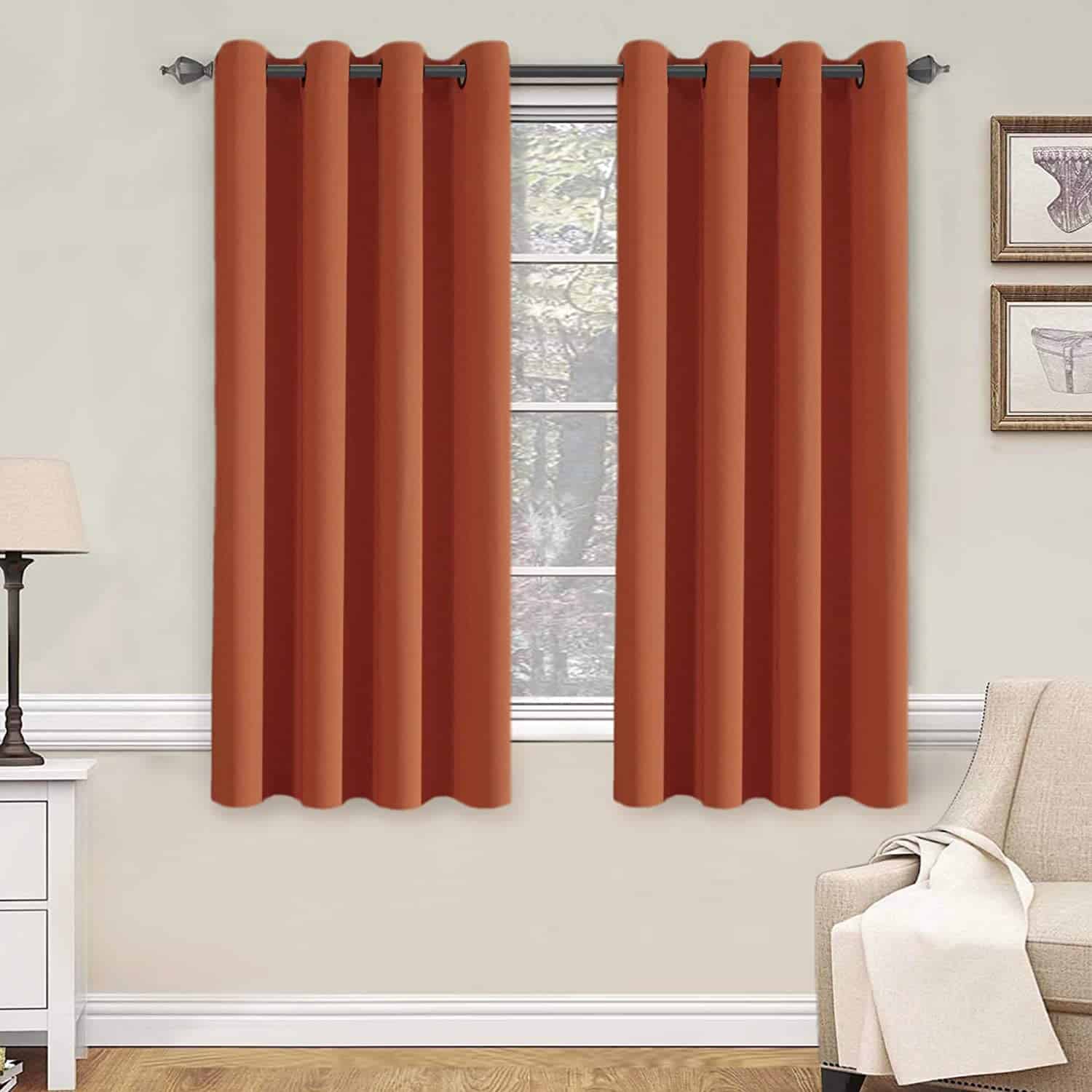 If you want silky and soft curtains that are not bulky, then these Deconovo orange curtains are the perfect ones for you.
Why We Love Them
They Are High Quality
These curtains are made of 100% high-quality polyester.
They Are Energy Savers
They have an innovative triple-weave 230GSM polyester fabric that blocks out light and also saves energy. This also helps insulate against heat and cold, keeping the house warmer in the winter and cooler in the summer.
They Are Modern
Their solid orange color has an elegant fabric that gives them a modern look. We particularly love their silky touch that will wow you.
Amazing Customer Service
One of the best things about Denocovo is that you will experience one of the best customer services in the market with them. Therefore, you do not have to worry about after-sales issues as they are only an email away and will help you in no time.
Linenaffairs Orange Sheer Curtain Panel Set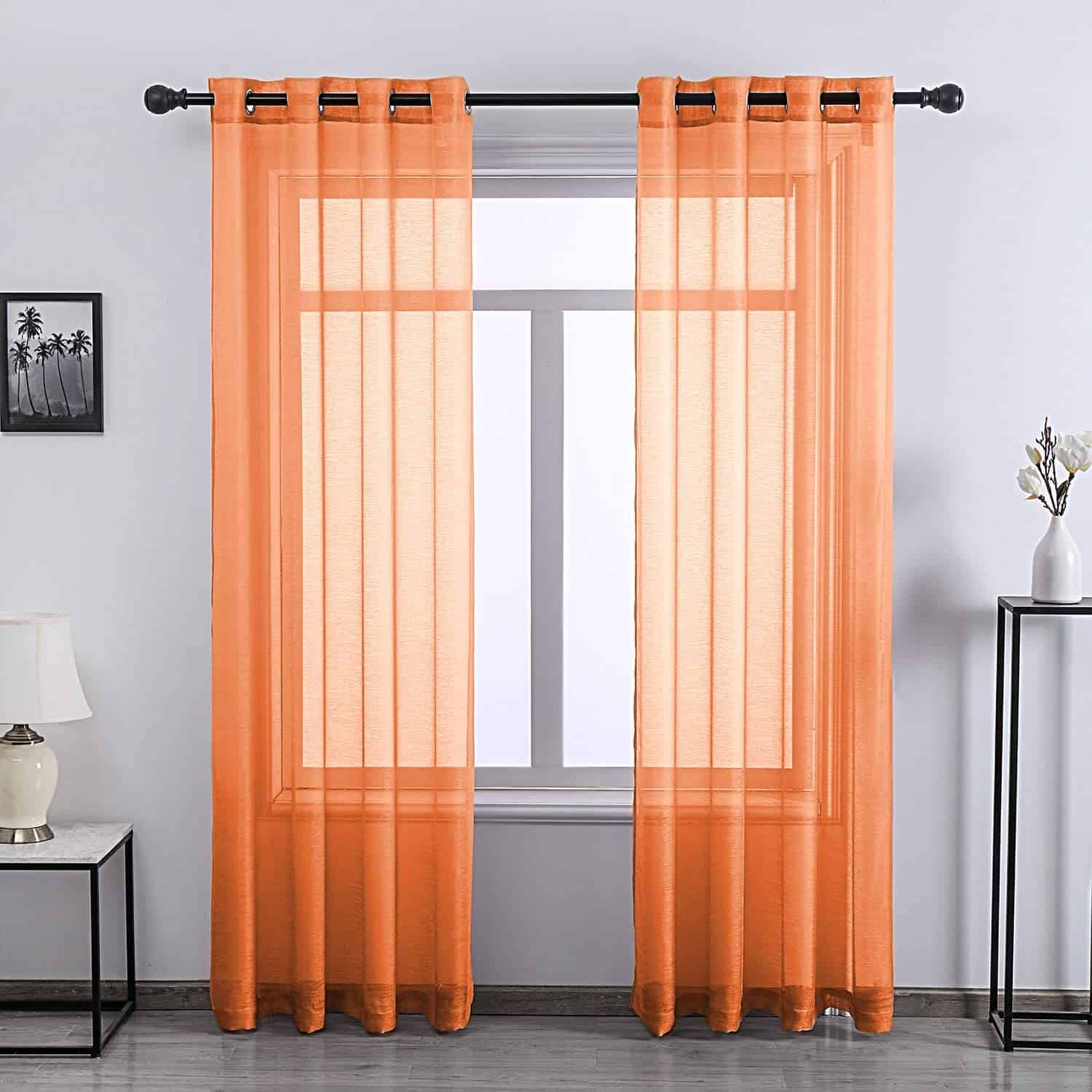 Sheer curtains can never go out of style, and these are some of the best ones in the market.
Why We Love Them
They are simple yet quite stylish. The set comes with two panels and one scarf.
The orange color will add warmth to the house while still providing some privacy, perfect for you.
Best Home Fashion Flax Linen Blend Orange Moroccan Print Curtains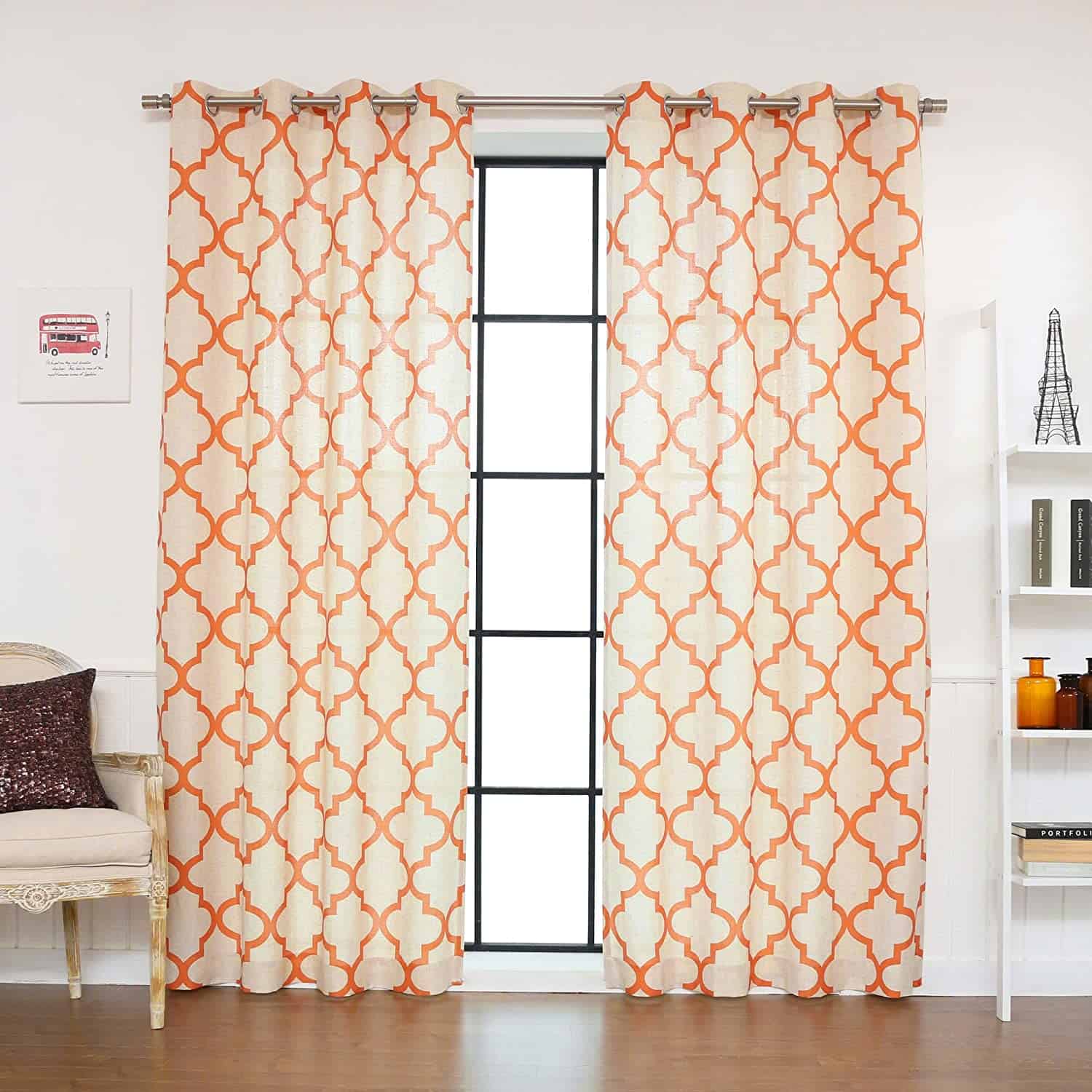 This Best Home Fashion flax linen blend curtains have durable linen fabric that will serve you for years. They are made of 80% polyester and 20% linen; and will add subtle texture to the home.
Why We Love Them
The flax linen will give these curtains a natural speckled look that you will love. Also, they come in two sets, which is great for you.
They also only allow some light to filter through; hence they will give you privacy.
They are also easy to care for and clean as they are machine washable.
Window Elements Quatrefoil Printed Sheer Grommet Orange Curtain Panel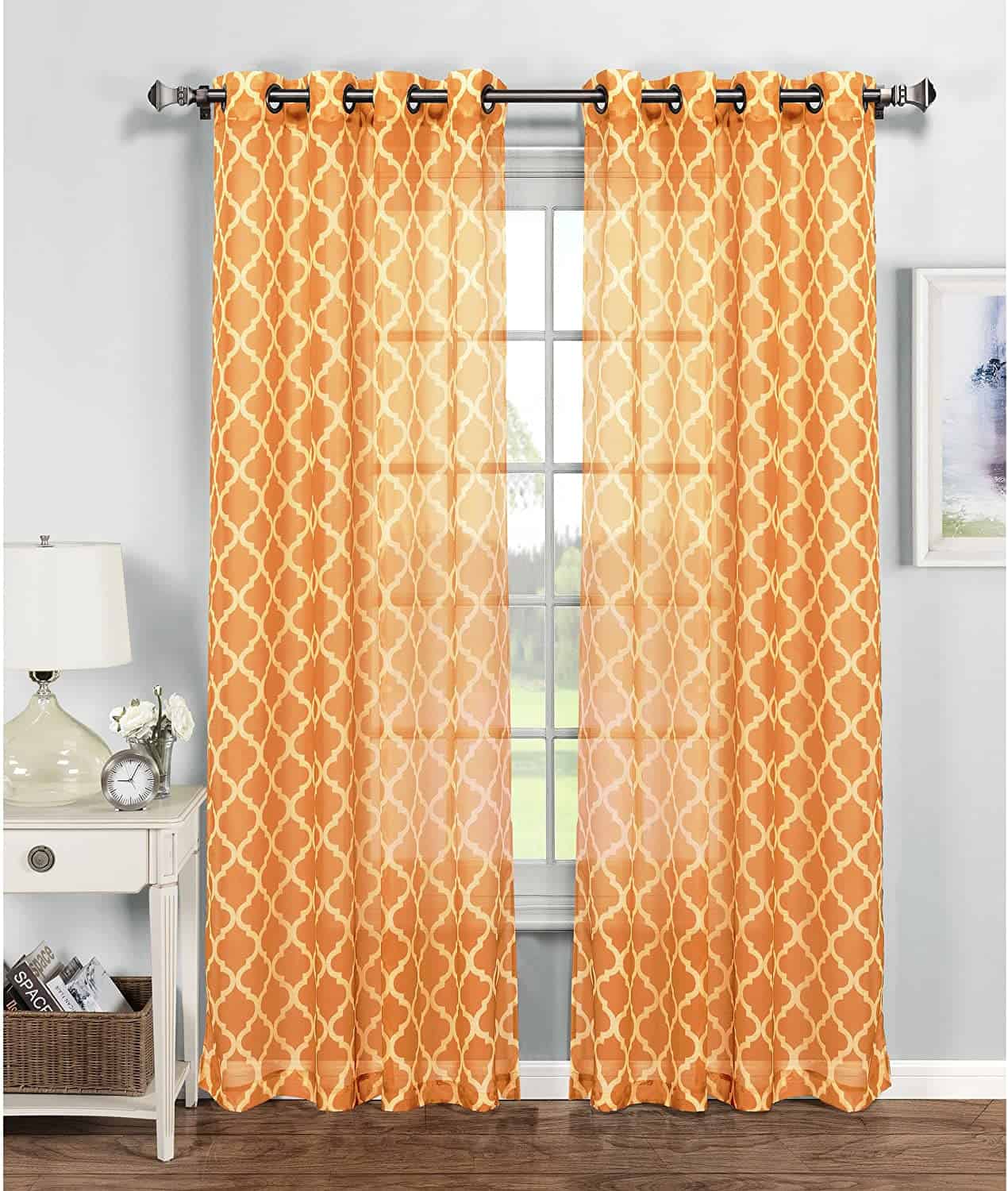 If you want to try a design out of the box, these contemporary quatrefoil patterns will do just that. They come in bold orange color placed on sheer fabric.
Why We Love Them
Their contemporary quatrefoil design will elevate your home's decor.
They are machine washable, hence easy to clean. Do not bleach them and only use a cool iron when need be.
They have unlined sheer window panels that gently filter light.
Orange Melodieux Chevron Brommet Curtains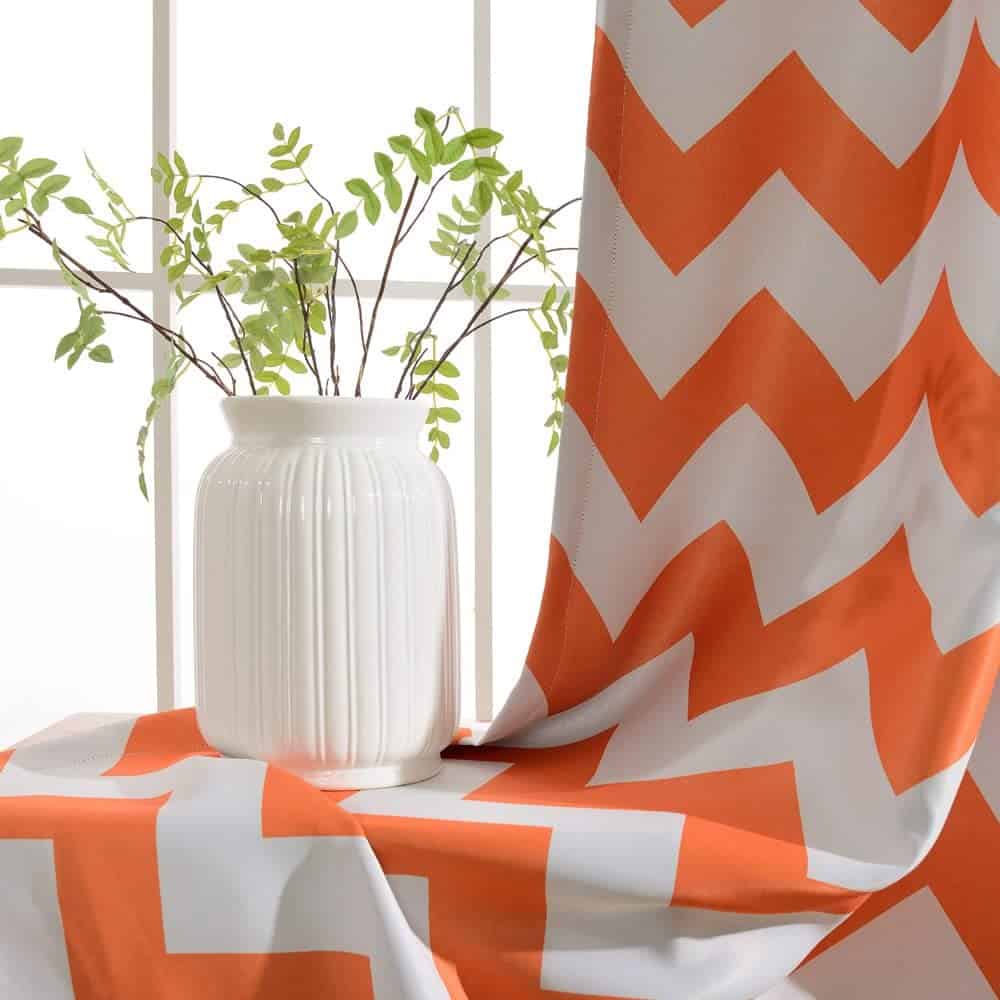 These Melodieux orange curtains cannot be left out due to their unique design. They have a Chevron print pop on an off-white background that will add life to the room.
Why We Love Them
They Have A Triple Weave Fabric
This allows them to block about 90% of the light. Also, they are soundproof, which is perfect if you are living in a noisy neighborhood.
They Have No Chemical Coating
They come in an eco-friendly fabric with no chemical coating, hence safe for you and your family.
They Are Easy To Install
They have eight antique bronze top grommets per panel, making them relatively easy to install.
They Are Wrinkle-Free
You do not have to worry about ironing them as they are wrinkle-free.
Belvoir Curtains by Zoffany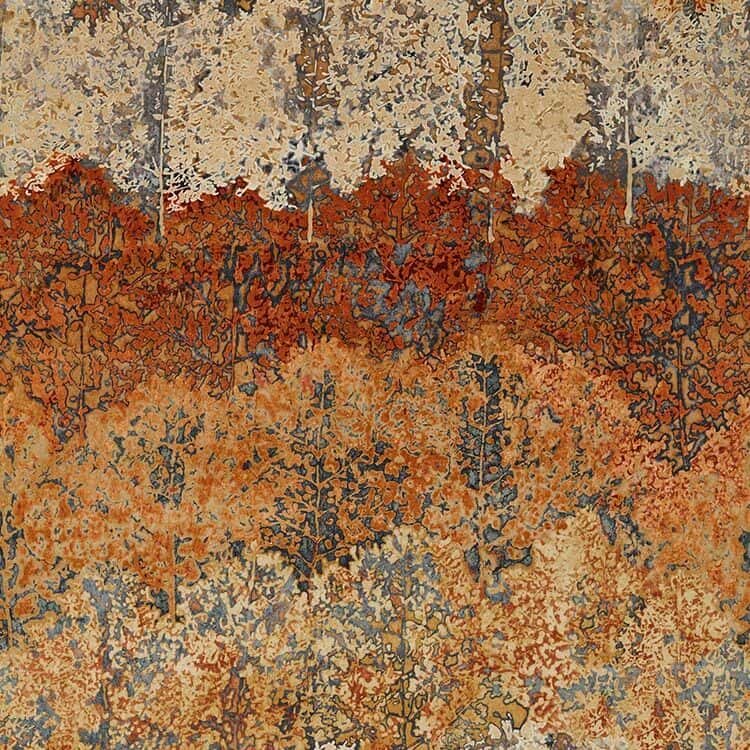 Are you looking for curtains that look like you are adding an autumn look to the home? If that is the case, then worry not, as these orange curtains from the Boleyn collection by Zoffany are precisely that. They have various orange hues infused with blue shades, resembling a floor filled with orange leaves.
They come in velvet fabric and are perfect for lounge areas. We recommend that you do not bleach or tumble dry them. For them to last long, only dry-clean them.
Persimmon Bellino Grommet Blackout Orange Curtains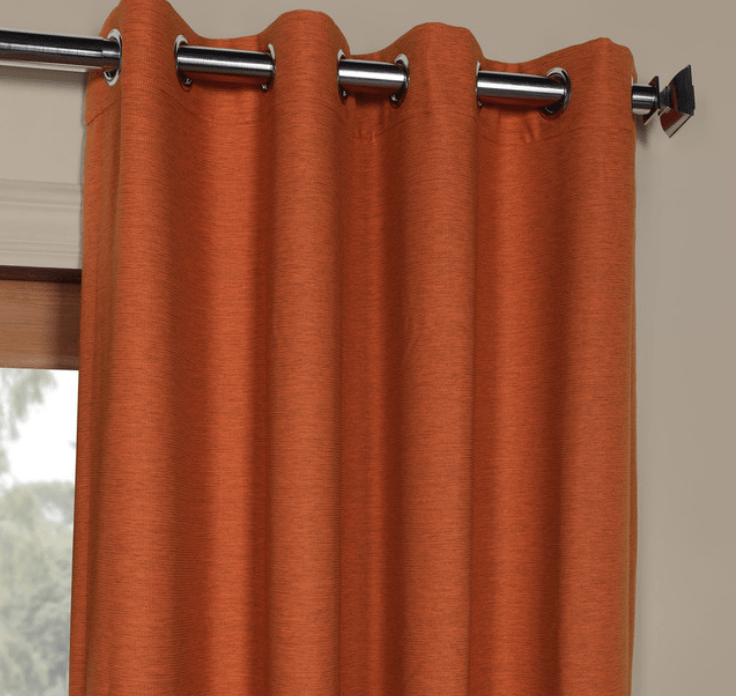 These Persimmon Bellino blackout curtains are quite long and come with a yard-dyed texture. They provide thermal insulation while still keeping the light out, which will be advantageous for you. For proper fullness, we recommend that the panels measure two to three times the window's width. We also recommend that you only dry clean them, as they are fragile.
Spotty by Fryetts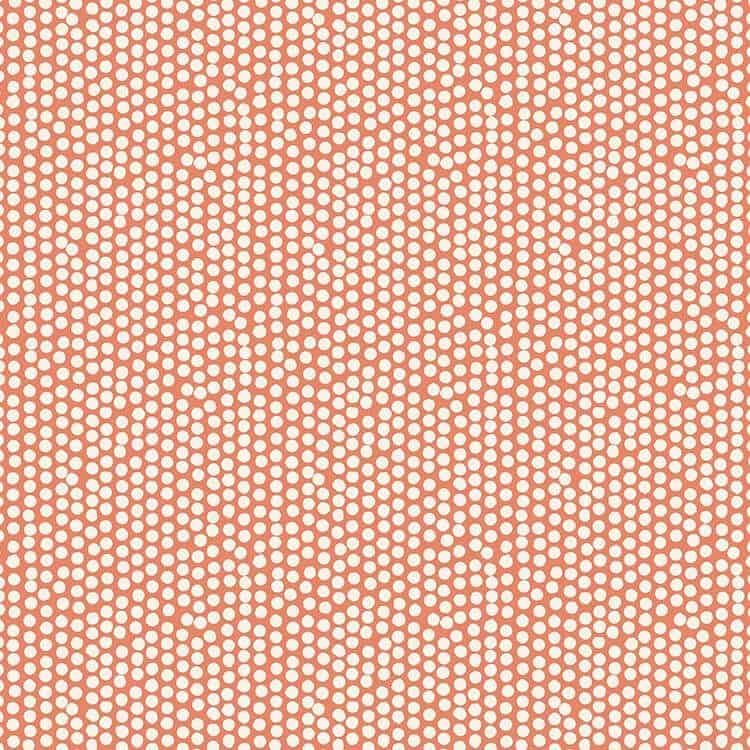 If you have rooms lacking bright colors, then these Spotty orange curtains by Fryetts will do the trick. Their carroty orange look with dabs of white splashed fabric will add a modern touch to your home. This curtain is perfect for contemporary interiors and is ideal for the kitchen or bathroom. You can also use it in the kids' room as it is playful. However, it is crucial to note that the bright color can intimidate and overwhelm the children.
Creative Home Ideas Ombre Textured Shower Curtains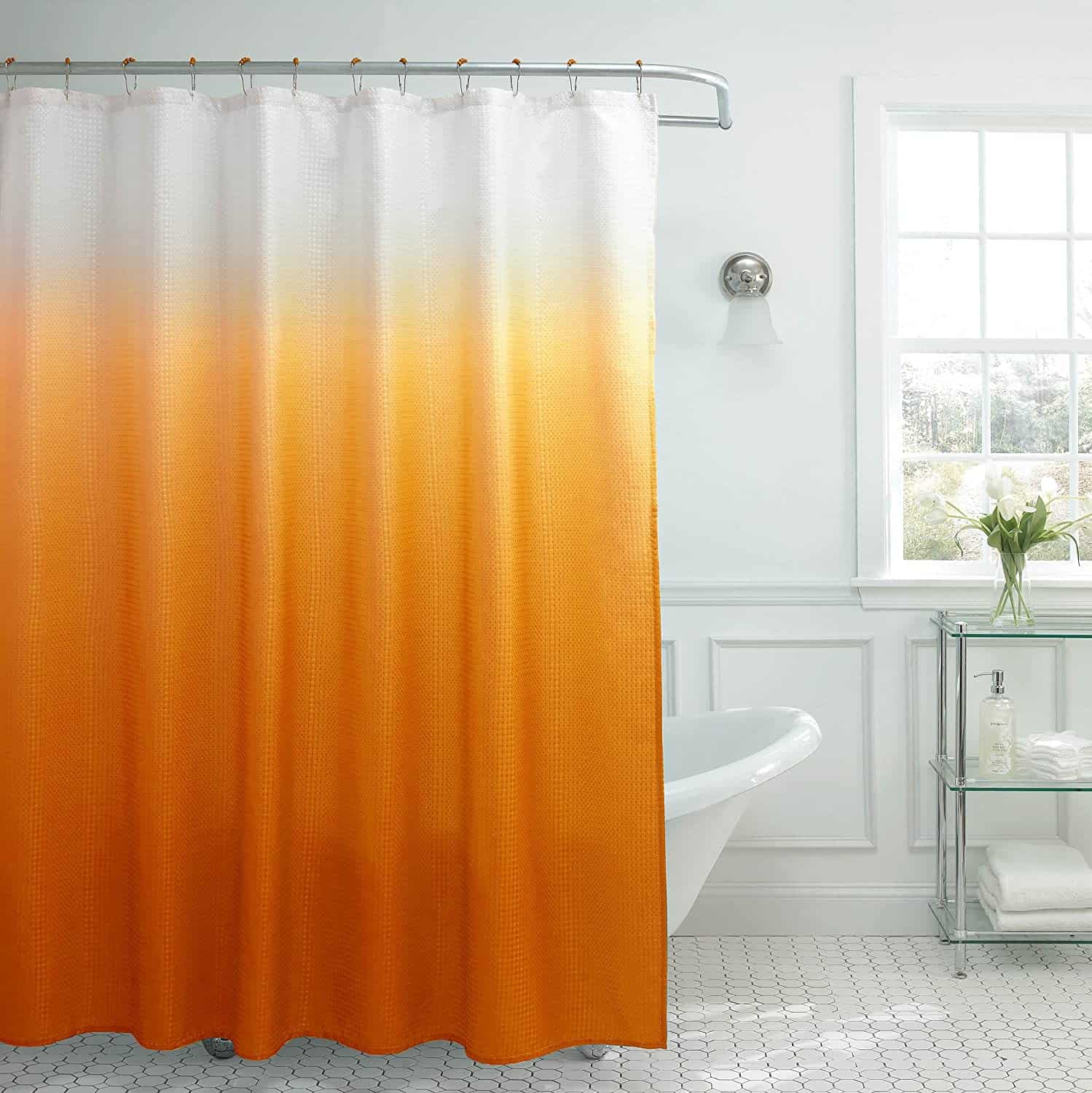 Why should your bathroom have the usual white or cream curtains when you can be bold and go with orange? These ombre shower curtain set from Creative Home Ideas will give your bathroom an incredible makeover that will make you want to spend more time showering.
Why We Love Them
They Are Durable
For shower curtains, durability is a component that you need to look into. The good news is that you do not need to worry about that with these curtains as they will last you many years with no issues.
They also have fade-resistant fabric and rust-resistant metal shower hooks that make them quite durable. Their polyester fabric is also wrinkle-resistant.
They Are Easy To Clean
They are machine washable, hence easy to deal with. All you need to do is wash them in cold water with a mild detergent, and you will be good to go. You can tumble dry on low and only iron on low heat on the reverse side.
They Are Easy To Install
With Creative Home Ideas curtains, you do not need to worry about installation as all their shower curtains are designed to fit straight, curved, and adjustable curtain rods.
They Add To The Bathroom's Decor
These ombre curtains add a modern touch to your bathroom with their design. They will therefore add to the decor effortlessly.
They Come In A Luxury Set
They come in a Creative Home Ideas luxury set that you will love. The collection includes 12 beaded roller-free metal shower rings that are pretty stylish. The roller balls also help reduce friction by ensuring that the gliding is effortless.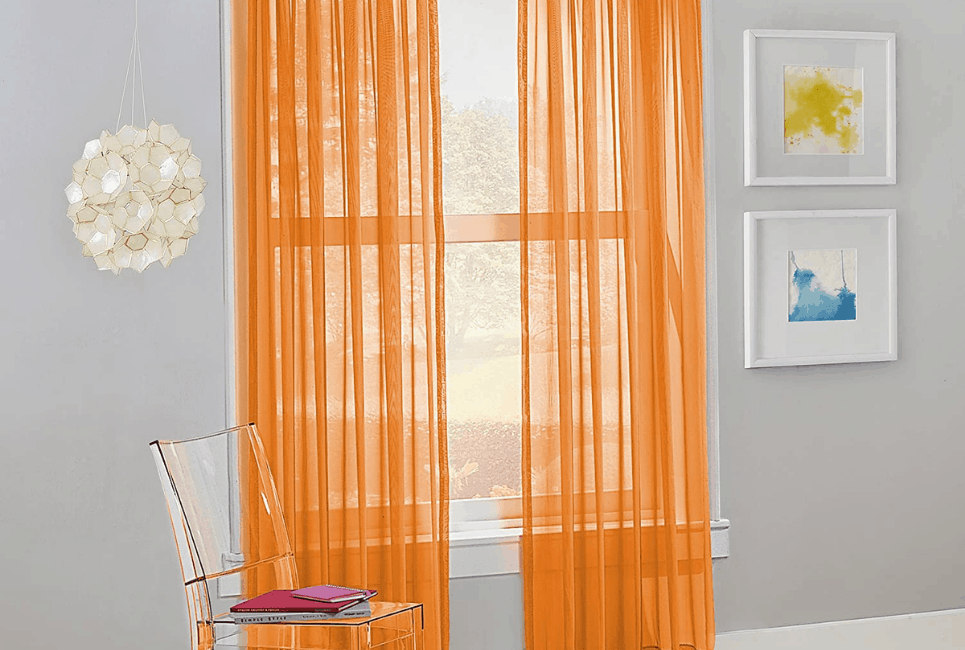 FAQs
Question: Can I Use Long Curtains On My Short Windows?
Answer: Yes, you definitely can! Long curtains will tend to make your short window appear larger, which will be a win for you.
Question: Should My Curtains Match Throughout The House?
Answer: It depends on your preference, as you can use the same curtains throughout the curtains or use different colors and shades. It depends on what you want to achieve with the home's interior design. For example, if you want a consistent theme, then matching curtains will be the answer. However, they do not need to resemble each other exactly, as long as they complement each other.
People who love to diversify with each room may use different themes and design elements to make them unique to the other. Therefore, it all depends on your home's design, theme, and style.
Question: Does My Toddler Need Blackout Curtains In Their Room?
Answer: Babies sleep at any time of the day and night. So, should you get blackout curtains for their room? The answer is yes! They will come in handy in eliminating bright sunlight and moonlight. Also, they will help regulate the room's temperature and ensure that it is consistent, regardless of the time.
Therefore, blackout curtains are perfect for the nursery as they will help your toddler fall and stay asleep with no hassles. According to the American Academy of Pediatrics (AAP), complete darkness stimulates the production of the melatonin hormone, which helps children adjust to better and healthier sleep.
Amazing Orange Curtain Ideas: Conclusion
Orange curtains have numerous advantages and will change the outlook of your home drastically. As seen above, there are multiple options to choose from; hence you have nothing to worry about. We particularly love the Nicetown Blackout Orange Curtains, as they are effective, energy-saving, and will have a fantastic design. Try them today and let us know if they live up to the hype because we know that they will!