Latest posts by Angelique Alice
(see all)
Solid colored curtains are winning this time around. For those who may not know, brown is a solid color and, for that reason, can go with anything. Therefore, if you had this color in mind but had doubts, this is the sign you have been waiting for to go ahead and make that purchase.
Most people usually shy away from bold colors and opt for neutral colors. However, some avoid the latter, and if you are in this category, brown curtains will undoubtedly have you at your knees. You won't always feel like you are in the mood for bold colors, and brown is an excellent color to go for. The following are details about elegant brown curtain ideas and inspirations.
Colors to Pair Your Brown Curtains With for a Change in Ambiance
Many people overlook the color brown, but they don't know what they are missing out on. If anything, it is the new black. Here are some of the colors you could pair brown curtains with if you are renovating your home and need more insight:
Turquoise with soft, warm brown earthy tones. This is a modern way to pair colors if that is the vibe you are going for. However, in some ways, this could take a vintage turn.

Orange with dark lattes and mid-tone chocolates. We have probably seen this in the fashion world, but interior designers love the combination.

White with darker chocolates and browns. Want to make your space look dramatic? This, here, is the solution. Brown curtains never looked better against crisp white walls! On top of that, if you have brown wall trims, the room will have a more traditional look.

Pink and soft grey browns. This is bound to bring about a feminine touch to your space. Moreover, it will make it look brighter and lavish.
Ways to Shape a Dramatic Interior with Brown Curtains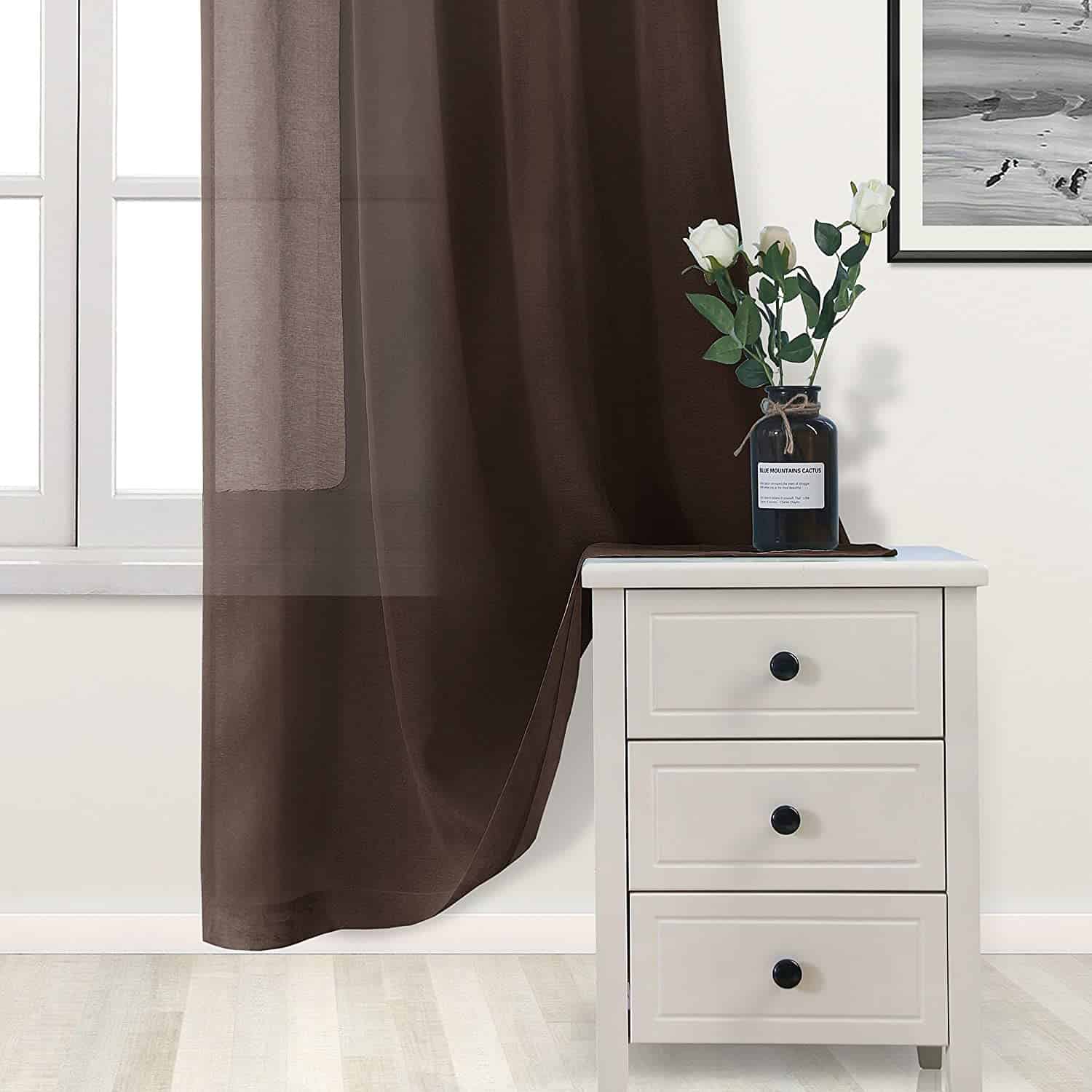 If you are going for chic and sophisticated looks, dark brown curtains with moody lighting and a chandelier so out of this world will do right by you. To top it off, you could consider adding a contemporary touch since it will make it look more stylish and trendy. However, you don't have to go for this over-the-top style. If anything, brown curtains can always help you find the balance you need. Hence, you can play around with it until you find the vibe you are going for.
Are you trying to keep things light? Remember, things don't always have to be dark and moody. Also, we are grateful there are many brown color options from light to dark shades. As we speak, many people are opting for a cheerful interior, and you probably are too.
Note that dark brown curtains could do the work, too, since they tend to bring about a visual contrast and as a result, make focal points noticeable in a room. Moreover, they make colorful accents and modern wall art hard to miss. Therefore, if your home has so many neutral colors, these dark brown curtains will look gorgeous!
Do you have a spacious and airy interior? If so, opting for dark brown curtains will be a good way to shape your dramatic interior. This is because they do not make your space seem overwhelmed. Besides, they will make a beautiful yet unique backdrop in any luxurious bedroom, double-height living room, and formal dining room while offering privacy.
If your mind is stuck on the idea that solid colors like brown are dull, you may add some flowery or geometric patterns to spice things up. That way, they won't seem plain and lifeless, as some would put it.
Advantages of Using Brown Curtains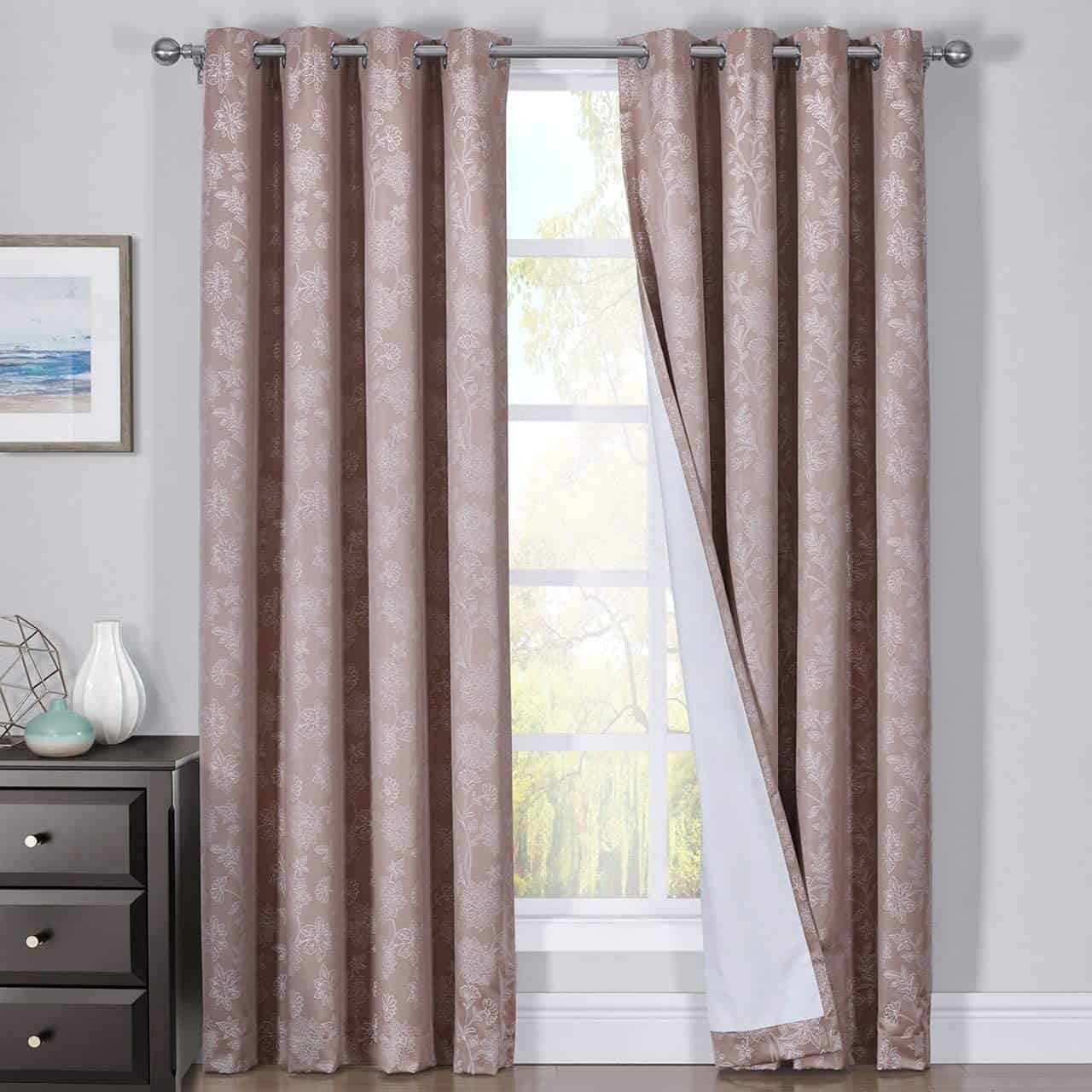 They

help

 in toning down other neighboring tones.

Brown curtains are versatile. Brown can be used with different colors.

Color options range from light beige to chocolate.

They have good insulation properties.

Brown curtains are a symbol of security, peace, and comfort.

They have an association with wealth and luxury.

Many materials can be used to make them.
Disadvantages of Using Brown Curtains
Visually, there will be a decrease in space.

They are not an excellent option for small rooms.

When the dull-brown spectrum is predominant, they can make the atmosphere very dark, and if you are not careful, a gloomy atmosphere will be transpired on to you.
Unique Brown Curtain Designs We Recommend
When looking to get a pair of brown curtains, have a design in mind to make work easier.
Triangle Brown Curtains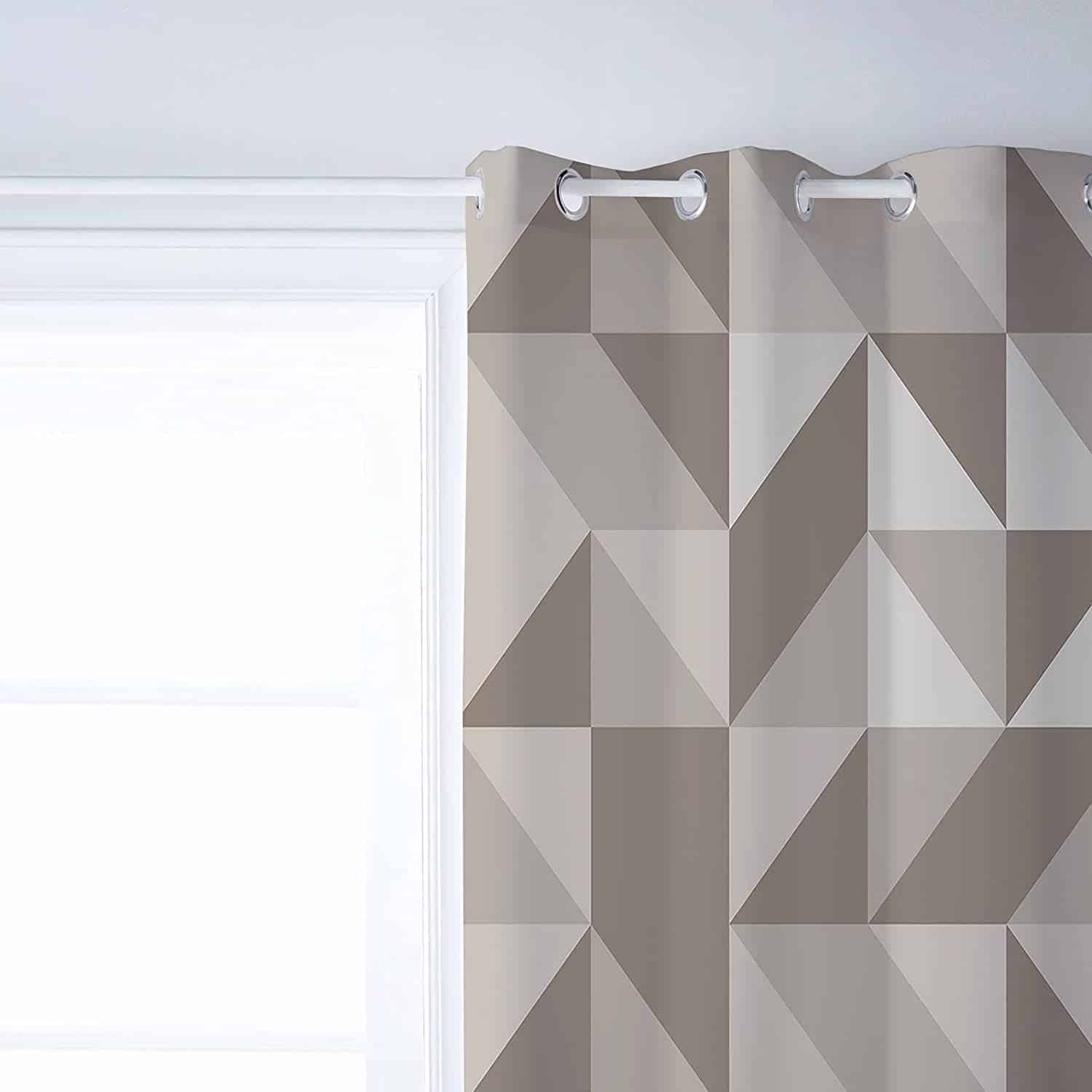 These curtains usually have a triangular pattern hanging over the flowy bit of the curtain. It serves as an ornament and is cut from brown curtain fabric to match the rest of the curtain. If you install this pair, your space will certainly feel luxurious. Consider having it in the living room.
Two-Way Brown Curtain
As the name suggests, it is a combination of two shades of brown, namely brown and gold. On the inside, there is a full gold-colored plain curtain. However, on the outside, it has a sheer curtain that is in dual color.
On the other hand, the upper and lower parts are entirely brown, while the outer curtain has a portion of the gold transparent in the middle. Is this is what you have been looking for? If so, it is certainly suitable for those who don't want anything to do with solid browns.
Rod-Pocket Brown Curtain
Are you looking for classy curtains? This one here is quite the catch! You may wonder why but let us break it to you. The beige and brown color combination is sick! While being made this pair, is created with a pocket-like shape at the top that is colored brown while the other part of the curtain is beige.
The rod-pocket brown curtain design is a great choice, especially if you want something so simple yet soft. What are you waiting for then? Get yourself this pair today; it won't disappoint.
Botanical Leaf Brown Curtains
Besides going to the shower with the ultimate playlist, who wouldn't want to have a shower bath curtain? Spice up your showers with this curtain, and you will be looking forward to spending your time in the bathroom. The botanical leaf brown curtain has green as its base color.
However, it has leaves that are brown and white. Note that, for the most part, it is covered with the leaf design. The remaining part is usually blank. We know many people barely remember to buy shower curtains and thought it crucial to mention it.
3-Piece Eyelet Brown Curtains
People are fond of two-piece curtains, and the chances are high that you belong with this lot. Perhaps it is time you went against the tides. It wouldn't hurt now, would it? The three-piece eyelet brown curtains entail two browns and a cream curtain in the middle.
They are plain; therefore, appropriate for people who have many prints and patterns in their residence. These curtains are simple and, for that reason, bring about a sober look to your space. They are ideal for people looking to give their home a unique touch.
Circle Pattern Brown Curtains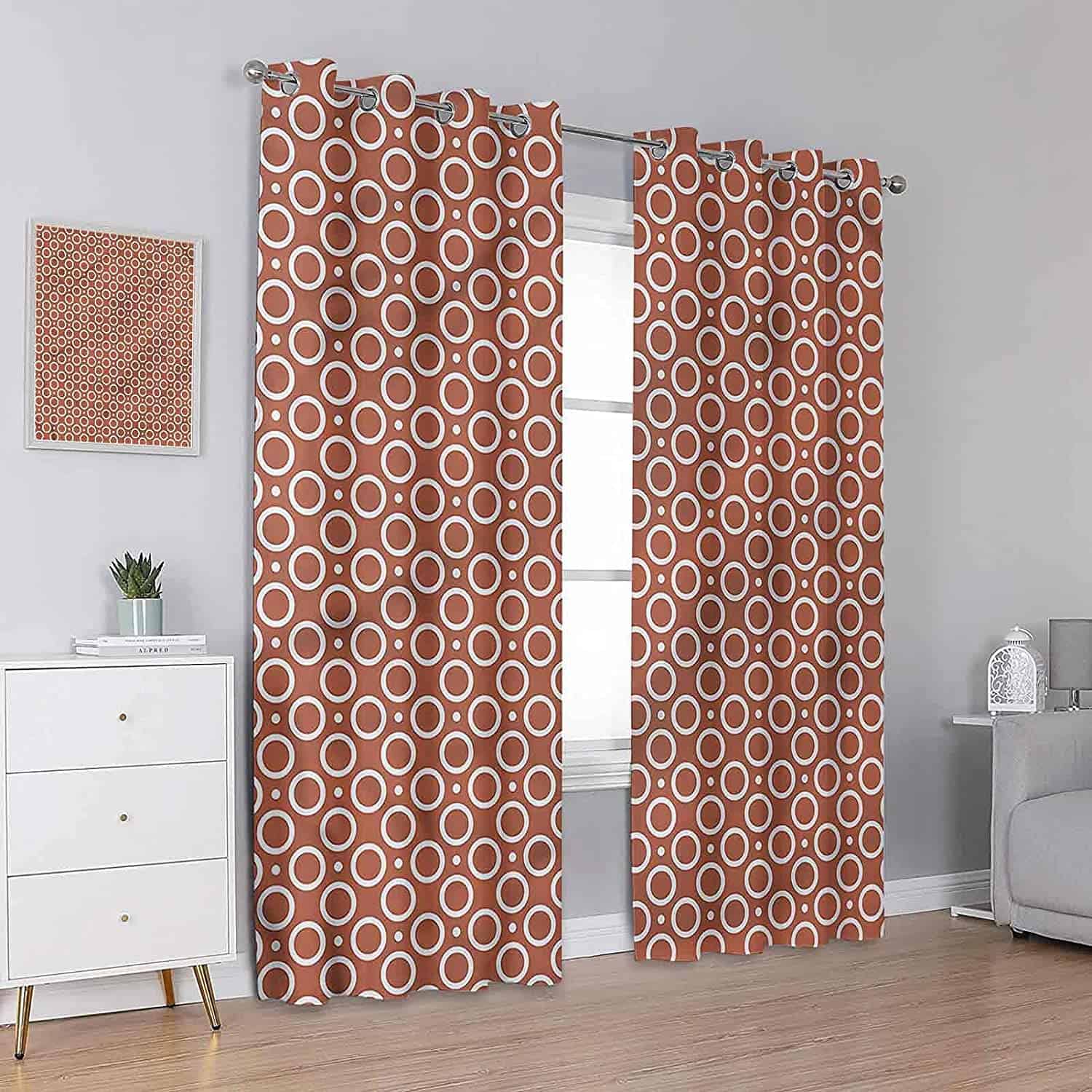 This is another option for anyone looking for bathroom curtains. Most of our bathrooms tend to have neutral colors, and this curtain would be the best fit if you want a print to make it look lively. These curtains have circular prints with patterns.
The circles in them have colors, including brown, blue, and red. Also, there are empty spots. They can be hung with hooks which are in turn hang on rods. If the bathroom is inclusive of the toilet, this curtain will help in hiding the bath area. That way, your significant other can access the toilet when you are showering. Isn't that killing two birds with one stone?
Brown Stripe Curtains
If you adore brown shades, then the idea of having some on a pair of curtains will undoubtedly get you excited. The stripes are vertically placed. Under every stripe lies a different shade of brown, and they are three. They remain consistent throughout the entire curtain.
Since the stripes are vertically positioned, they tend to make the window larger. Therefore, if your window is small and you want to give this illusion, don't install new windows; instead, get these curtains!
Brown Curtains We Recommend
BGment Blackout Brown Curtains
If you are looking for brown curtains that are easy to hang, these are the ones for you.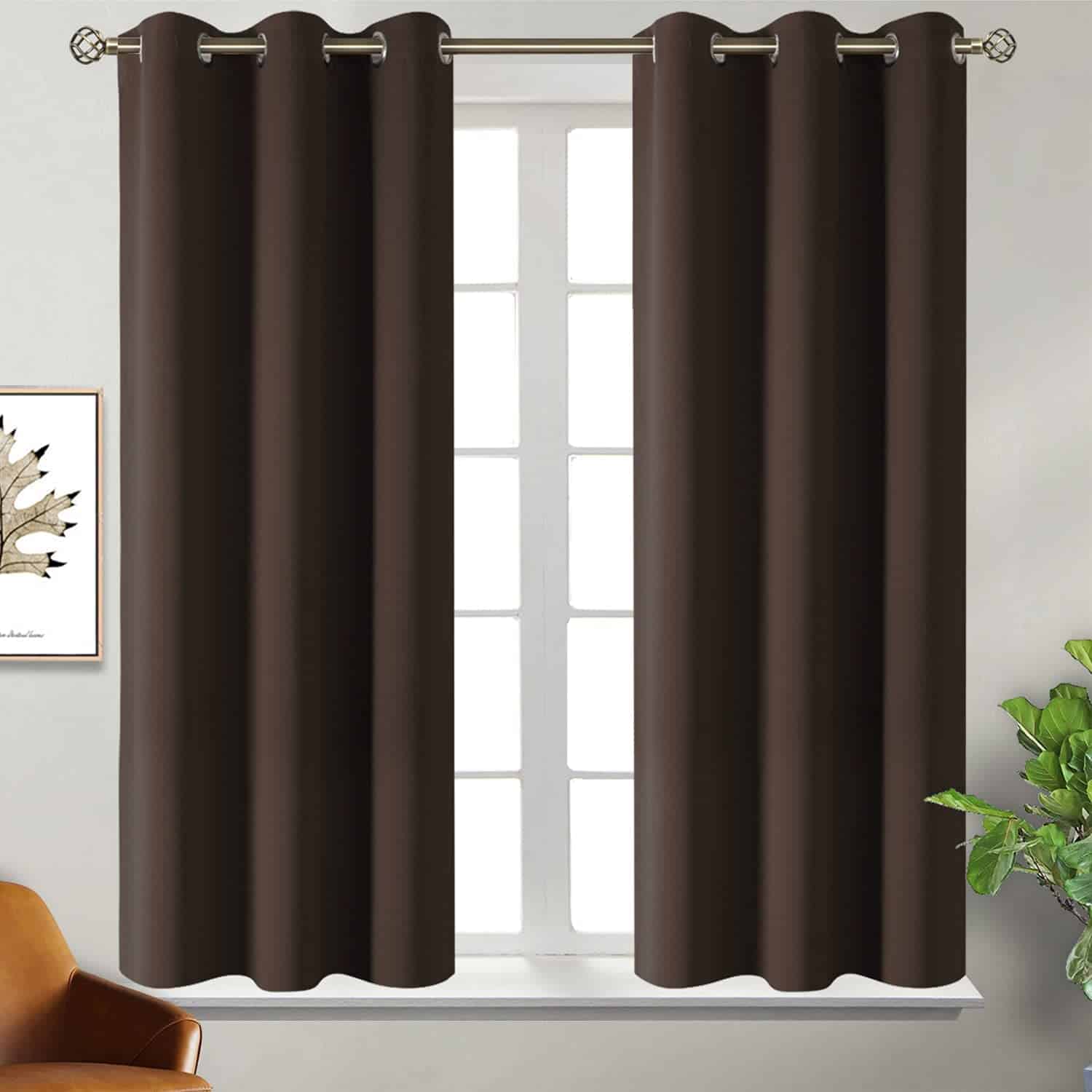 Why We Love Them
BGment blackout brown curtains slide easily on the rod. They can block out 85 to 90% of sunlight and UV rays from entering a room. That way, you can sleep during the day without having any trouble. In addition to that, they prevent floor and upholstery from fading and shading.
These curtains are such energy savers that they reduce your energy bills. We cannot forget that they also reduce noise thus, enhancing good sleep.
Cons
NICETOWN Bedroom Blackout Brown Curtains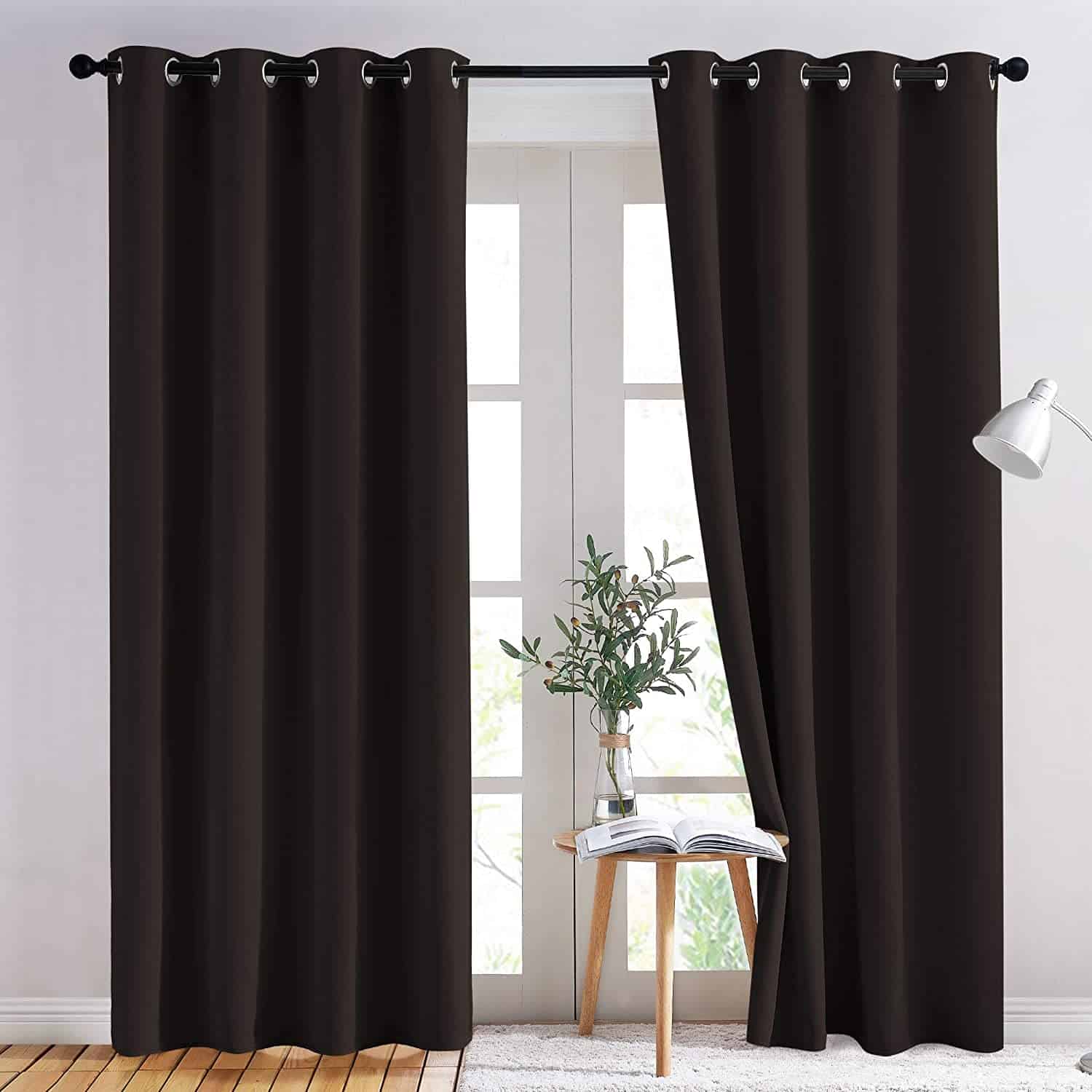 Are you looking to forego sheers? These are the curtains you need.
Why We Love Them
NICETOWN bedroom blackout curtains are of good quality and, as a result, can last a prolonged duration. They offer you privacy, therefore, allowing you to do whatever you want. Moreover, they are wrinkle-free and thermal insulated. These curtains get rid of 85 to 99% of light and UV rays. They are durable and machine washable; however, in temperatures below 86 degrees. Also, they have a good finishing.
Cons
Sharp things should not scratch these curtains.

They should not be washed with bleach.
Hiasan Thermal Insulated Blackout Brown Curtains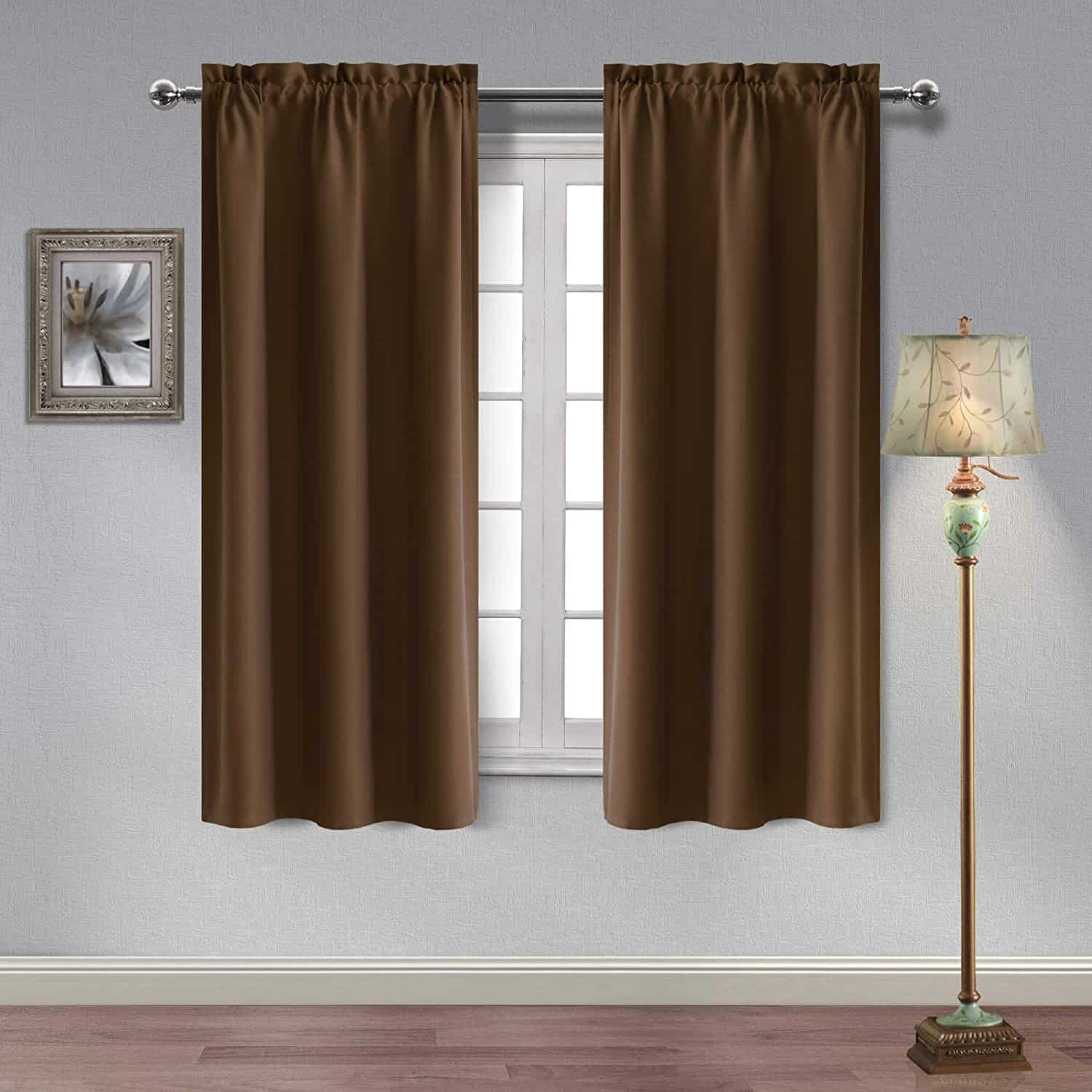 Need some thick curtains? Hiasan thermal insulated blackout brown curtains are the best option for you.
Why We Love Them
Besides maximizing your privacy, these curtains have an alternative color palette and different size options. They are light-blocking curtains that get rid of 90 to 98% of light. On top of that, they balance the temperature during summer and winter. Hiasan thermal insulated blackout brown curtains could be decorative and functional. When it comes to maintenance, they are machine washable.
Cons
Use of softener is not allowed.

They should not be washed with bleach.
MIULEE Blackout Brown Curtains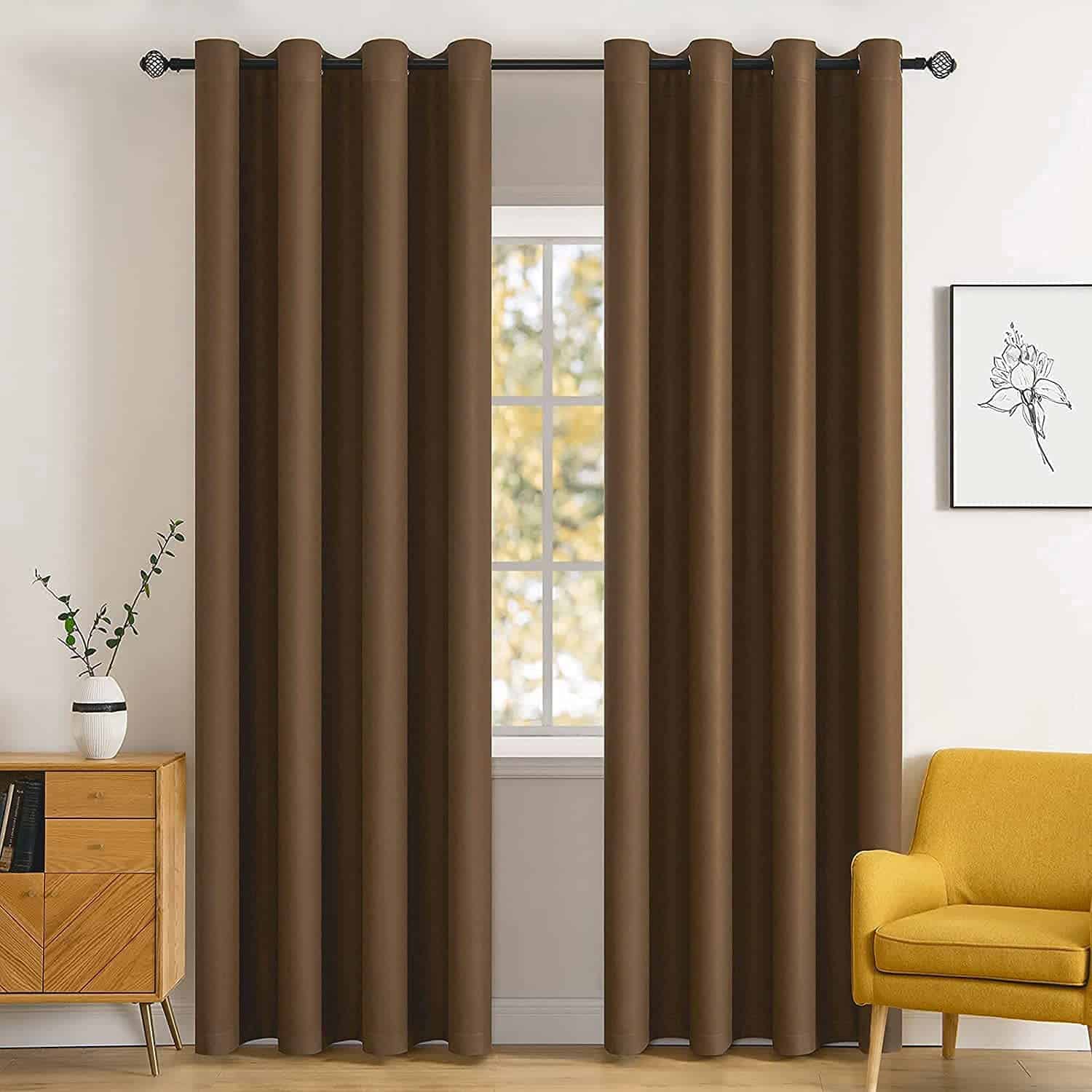 Do you want a pair of brown curtains that would fit in the most standard curtain rod? If this is you, these curtains are the best ones for you.
Why We Love Them
Their grommets are of great quality; thus, allowing curtains to be drawn easily. They block out up to 99% of sunlight from entering the room. MIULEE blackout brown curtains are wrinkle-free and never shrink. In addition to that, they give you privacy and are thermally insulated. Also, they are machine washable and require quick ironing although at low temperatures.
Cons
They cannot be used with bleached.
TinyUnicorn Faux Brown Linen Curtains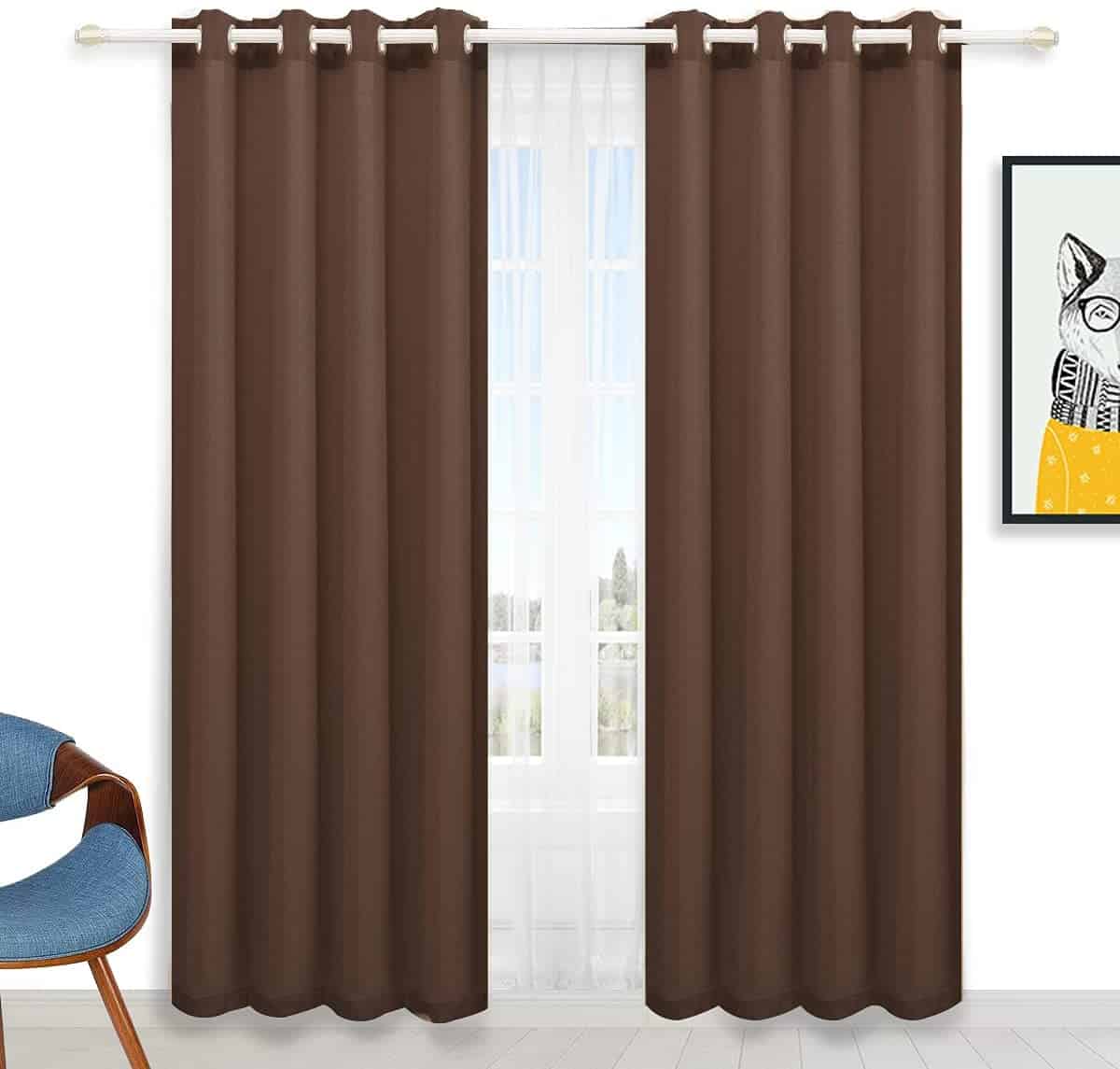 These curtains won't stress you out when it comes to installation; you will be done before you know it.
Why We Love Them
There are available in plenty of colors including camel, and coffee among others. Besides that, they can be used for several occasions. These curtains have a vintage and classic look to them; therefore, if you love either they are ideal for you.
Cons
They can only be hand washed.
They should not be drum-dried.
They do not require bleach.
FAQs
Question: Should One Consider Other Costs When Buying Brown Curtains?
Answer: Yes. Curtains cannot hang without things like rods and hooks, and on other days, you may require the help of someone to get them up there too. Ensure that you think about the rod type that you will need.
Moreover, they should match your fabric's choice and be within budget. If you are considering getting blinds or shutters, you will have to get them customized. Also, the chances are high that they will be installed by a professional, which requires more money.
Question: Does The Size of My Window Matter When Getting the Brown Curtains?
Answer: Of course, it does. If anything, it is one of the most crucial aspects of choosing your curtains. In that regard, you will have to measure your window's height from the rod to the floor. You need to consider the height of the rings or the hanging hardware and the space you will need between the curtains and floor. On the other hand, when measuring the width, you have to keep your considerations in mind. For example, how full do you want your curtain to be?
Question: Is the Size of The Room Important When Buying Brown Curtains?
Answer: Yes. Interior designers have been pointing out the impact that curtains have on our spaces. They take a large amount of visual space; therefore, you need to remember this when looking for the ultimate brown curtains.
The height of your room is also very crucial, and you have to measure it. Small spaces do not need dark brown curtains since they tend to make the room seem smaller. Therefore, you need to be keen even with the smallest of details. After all, you want your space to look stunning.
Conclusion
The above are some of the elegant brown curtain ideas and inspirations. By now, you shouldn't have an issue with giving brown curtains a chance when making changes in your home interior. Go out of your way and style your windows with the shades of brown of your choice.
Suppose you can give feedback about how everything goes; the better. It is a beautiful color, and the advantages are unmatched! Also, there are so many designs for you to choose from, which is a plus. After all, who doesn't love having options? The brown curtains we recommend you to buy are the Hiasan thermal insulated blackout curtains.