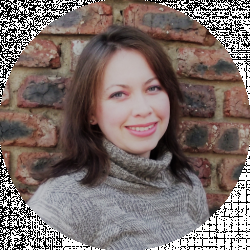 Latest posts by Talitha vanNiekerk
(see all)
Choosing curtains for your home can be a real pleasure, but it can also be a pain when you don't know what to look for or how to choose the best. There are a host of options available online, but knowing what to look for will determine whether you are buying the best for your home and your décor scheme. 
Wayfair curtains are always top quality and offer reliable options for the discerning homeowner who wants to redecorate without paying a fortune for custom curtains. 
Deciding whether you want to choose your curtains based on your light and temperature control or per room can guide you toward choosing the best curtain options. Our buyer's guide will help you make the right choice with none of the doubt that comes with buying a curtain online. 
Criteria for Choosing the Best Wayfair Curtains
Before you even look online, and potentially become overwhelmed by the dizzying volume of choices, decide what works best for your home (and not the photo on the sales page). Ask yourself some pertinent questions. These questions will inform your decision on what curtains to purchase. The criteria for a good curtain should include:
What kind of hanging system would you like? Tab top, grommet, or rod pocket? 

Will you be layering your curtains? 

Do you need light filtration or blackout lining? 

Will the curtain you choose influence your room's temperature and climate control? 

What color scheme will suit your current décor scheme?

What kind of fabrics will best suit your lifestyle? Do you have dogs or cats that may cause your curtains to pill or tear? (These will influence your fabric choices.)
Buying Criteria for Types of Curtains at Wayfair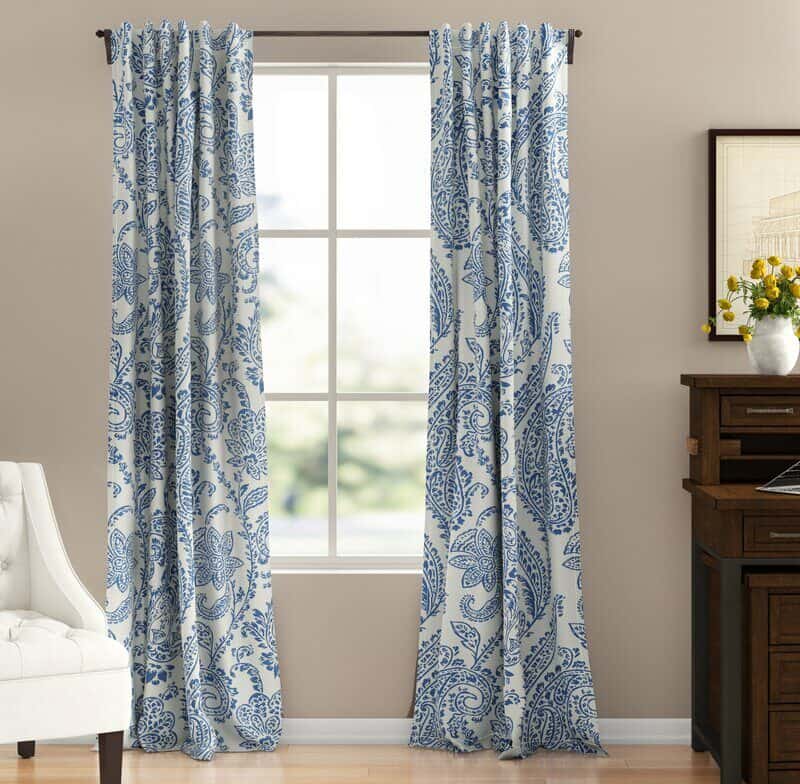 There are a number of curtain types at Wayfair, each with their own pros and cons. From the hanging system to the fabric choice and the design, you have a lot of options. Having answered the above questions, you may need to consider the details of each criteria before making your choice. 
Hanging Systems
If your home already has curtain rods, then choosing a curtain with a rod pocket may seem logical, but what do you do when you can't find the right length or you find a curtain that has a different hanging system? Luckily, most curtains can be adapted for different hanging systems.
If you find a taped curtain that is perfect, you can always use curtain rings to attach the curtain to your curtain rods, or you can sew on curtain ties. So don't let a different hanging system stop you. 
There are benefits to different hanging systems, though. If you are starting with a new hanging system, you may wish to consider installing curtain rods as these allow at least three hanging systems (tabs, grommets, and rod pockets) as opposed to curtain rails that can only accommodate taped curtains. 
Light Filtration
Depending on the room you are curtaining, you may wish to get a 99% blackout lining curtain that will completely block outside light and noise. Or you could wish for a filmy sheer curtain to let in air and light but still give you some privacy. We have options for both these categories, with the best blackout curtain and the best sheer curtain.
The amount of light filtration will also influence your climate control in your home as you can cut out heat or cold, improve insulation, and help reduce noise pollution. Choosing a more light filtering curtain will control how light or dark your home is. 
Specific Curtain Types at Wayfair
From Wayfair's online catalog, you can choose between thousands of curtains, all grouped as curtains or drapes (which are standard panels), French door curtains (that are usually a single panel with a split in the middle or a set of two panels), and as window scarves and liners. Depending on how much of the curtains will cover your window, these curtain types can be chosen to create a specific look or feature in your home. 
Whichever you choose, be sure to consider your lifestyle, your budget, and whether you will perhaps be combining several types to create a unique and more practical look. You may decide to combine a window scarf with a set of plain curtains or a sheer curtain that gathers in the middle of the window for a classic feel. The possibilities are endless. 
The length of your windows will also be a deciding factor as you may opt for a floor length curtain, go for the puddle look, or choose a curtain that fits in the window sill. Again, it is up to your lifestyle too, as you may not want to have a puddle length curtain when your two-year-old is learning to walk. 
Curtain Fabric
Most curtains offered by stores like Wayfair tend to be made from polyester, cotton, or linen. Some will be a more exotic material like silk or blended fibers. For your unique needs, you need to consider whether the curtains will need to be washed frequently, in which case an easy-care polyester-cotton blend would be ideal. 
Should you struggle with allergies, then a 100% pure linen curtain would be ideal. You also wouldn't choose to hang the most expensive synthetic curtains in your baby's room or where your three-year-old tends to write on the walls with wax crayons. 
Consider how often you would need to wash the curtains, whether you want to iron them each time (which a high-crease fabric may require) or simply want an easy lifestyle with a curtain that you can throw in the washing machine and just hang to straighten a few odd creases. 
Curtains Per Room
Depending on which room you want to hang your curtains in, consider what your needs may be. Bedrooms may require the most privacy, while studies and lounges can be quite charming with sheer curtains that let in light. TV rooms would typically require light filtration to ensure you can watch TV without a glare ruining your Netflix episodes from a bright window. 
Kitchens may do well with a sash treatment or a half-lace that gives some privacy while letting in warm light. Bathrooms might do better with a lightweight curtain that dries easily to prevent mold forming from those hot showers you love so much. 
Our Criteria for the Very Best Wayfair Curtains
In choosing the six best Wayfair curtains, we considered the following criteria in making our selection:
Price
Since a curtain doesn't need to cost an arm and a leg, we also factored in affordability and expense as opposed to quality when reviewing our curtain selections.
Customer Reviews
A the end of the day, customers have the best and most diverse experiences with curtains, and we carefully considered each curtain type for their customer reviews and ratings.
Easy Care
While having a great curtain can be exciting, wash day is less exciting, especially when you need to clean a complicated and overly delicate curtain. Therefore, we kept easy maintenance and care in mind in our selections.
Functionality
Curtains are not all made equal, so we carefully considered how each curtain would fit into a potential home. These curtains have different sizes or multiple hanging systems to make them more user-friendly, and they provide easier installation to get that great look much more easily.
How to Care for the Curtains You Choose From Wayfair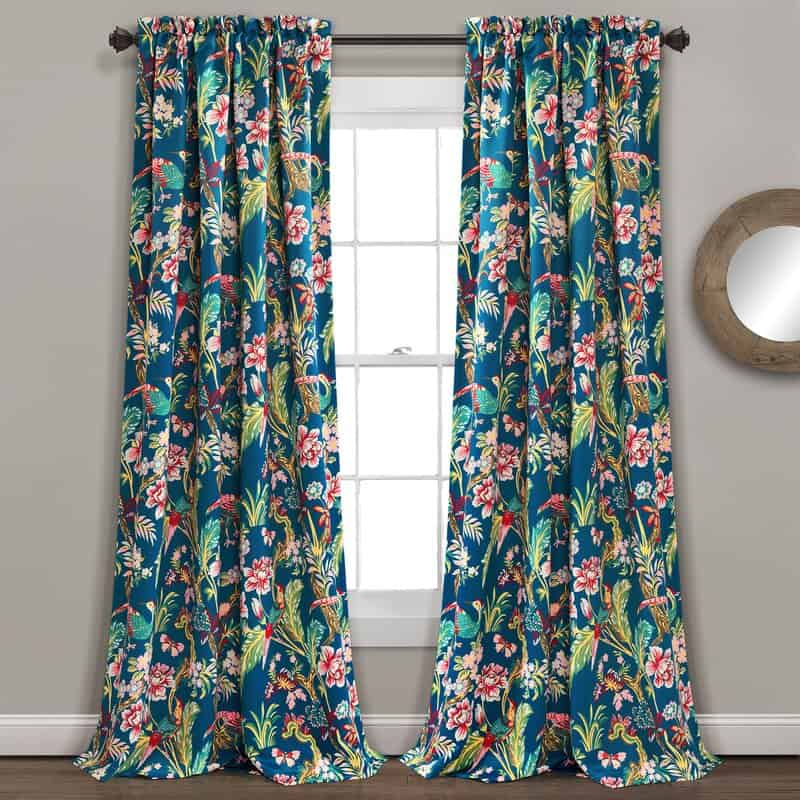 Curtains can be fully washable, but the real question is whether you want to wash your curtains often. Fabric, even the best quality type, may experience shrinkage. If your curtain requires ironing, then you would also not want to wash and iron it weekly. 
Instead, you can follow the following steps to care for your Wayfair curtains:
Shake Daily
Curtains can be magnets for dust, dirt particles, hair, and other bits that can soil them. By giving your curtains a daily shake as part of your cleaning routine, you will ensure your curtains remain fresh and limit the amount of dirt that gets trapped into the weave of the fabric.
Vacuum Weekly
Giving your curtains a weekly vacuum is a great way to ensure the curtains remain dust free, without having to wash your curtains. Most vacuum cleaners come with a special brush attachment to ensure that fabric can be effectively cleaned without causing pilling. 
Wash Each Season
Washing your curtains will depend on the season and whether your curtains really need to be washed. If they begin to smell dusty or you notice the colors are fading, it may be time for a wash. Be sure to follow the instructions for care that came with your Wayfair curtains to prevent fading, shrinkage, or fabric damage during the wash process. 
Guide to the 6 Best Wayfair Curtains
Each of the curtains below are top in their class, and they satisfy the criteria of having a great hanging system, offering good light filtration or total blackout, and being made from an easy-care fabric. Our different options offer you the best overall curtain based on the customer ratings, the best bedroom curtain with full blackout lining, the best budget curtain based on price, the best lounge curtain based on formal aesthetics, the most decorative curtain based on trimmings and decoration, and finally, the most sleek curtain for sheerness and draping qualities.
Best Overall Wayfair Curtain
To be chosen as one of the best overall Wayfair curtains is quite an accomplishment, and the Brockham Solid Blackout Grommet Curtain Panels ticks the boxes to earn this.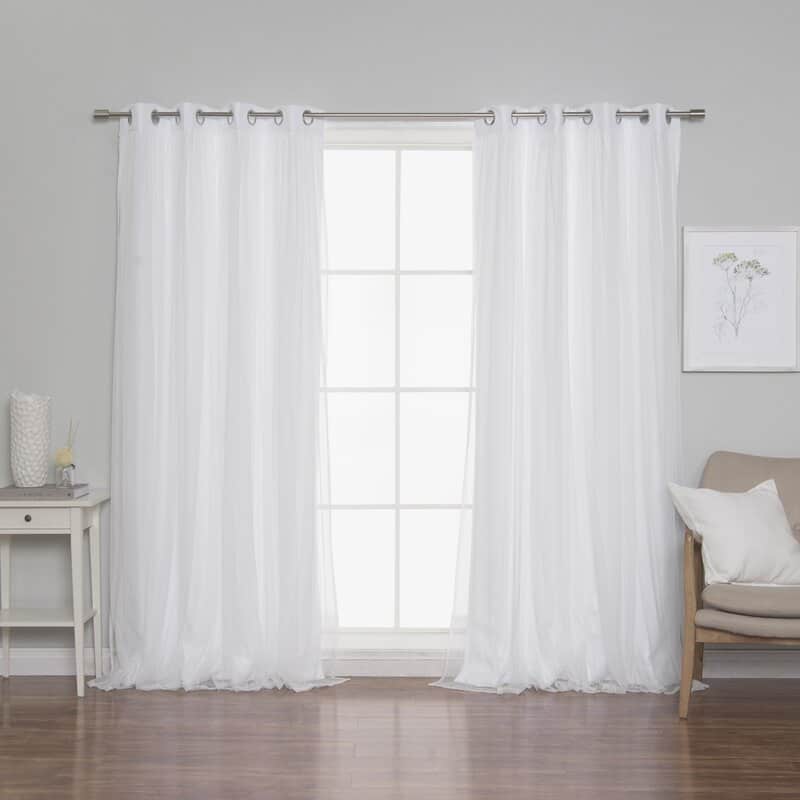 In a classic white, this blackout curtain has an overwhelming rating on Wayfair from satisfied customers who all agree that this curtain is the best. The set of two curtains is available in 13 additional color options, ranging from dark gray to indie pink and navy. 
Combining the best of both worlds, this curtain design offers the blackout capacity of a 100% polyester blackout curtain with a filmy sheer curtain that is layered over the outside of the blackout curtain. This results in an ethereal feel that is quite whimsical, yet also practical.
These curtains are fully machine washable, and they are easy to care for too. With a standard width of 52 inches, you can choose between four lengths, from 63 inches to 108 inches. The grommet hanging system effortlessly opens and closes these curtains by running on a curtain rod. 
The sheer overlay on the blackout lining makes for a nice contrast point and will be a staple to any décor scheme. 
Best Bedroom Curtain from Wayfair
Bedrooms are supposed to be tranquil spaces that foster good sleep hygiene and peaceful rest. In our cities that are filled with light at all hours of the night, having a curtain that is fully light blocking is an asset (and in some cases, a necessity).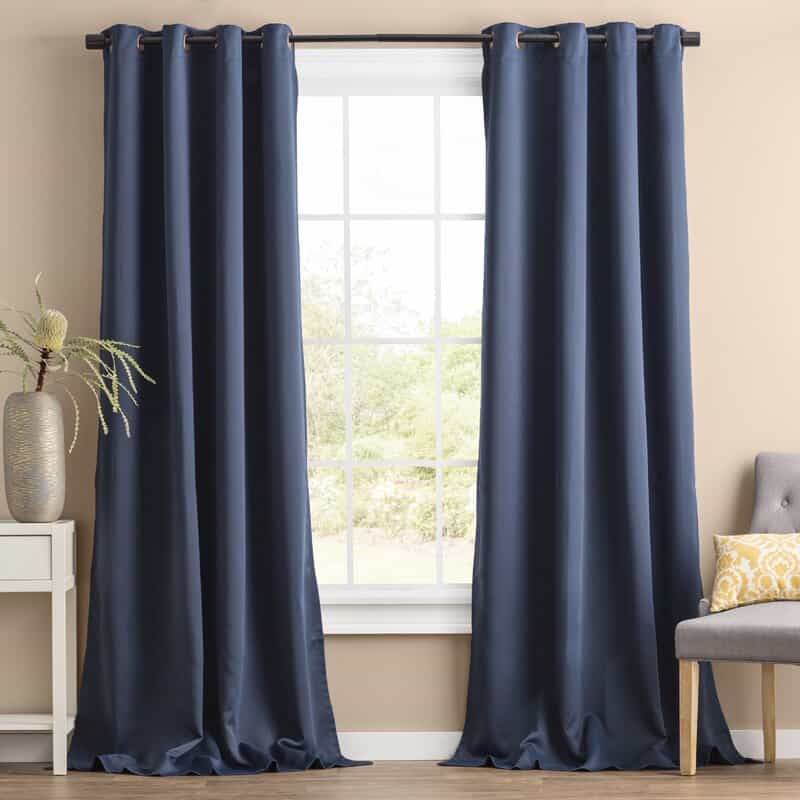 The Solid Blackout Thermal Grommet Curtain Panels by Lark Manor come highly recommended. In 30 different colors, these curtains will match any décor scheme. 
The panels are soft and hang beautifully at any window. The triple weave allows for a full blackout effect, creating a cocoon-like feel in your bedroom. As a result, you will feel more peaceful, and you can also enjoy the benefits of thermal regulation as these curtains make rooms feel warmer in winter by locking out cold and cooler in summer by keeping heat out. 
Made from polyester, these curtains can be machine washed, though it may be better to dry clean them. They are available in a range of sizes from 52 by 54 inches to 52 by 120 inches. With a grommet top, you can choose to go for extra length and create a puddle or choose a window sill length to give your room a more modern feel. Either way, your bedroom will be pure bliss with these blackout curtains.
Best Budget Wayfair Curtain
When you're tight on cash, the Huxley Semi-Sheer Rod Pocket Curtain Panels are the best value for money option around. At less than $10 per curtain, this twin pack will ensure your windows are dressed in a simple elegance.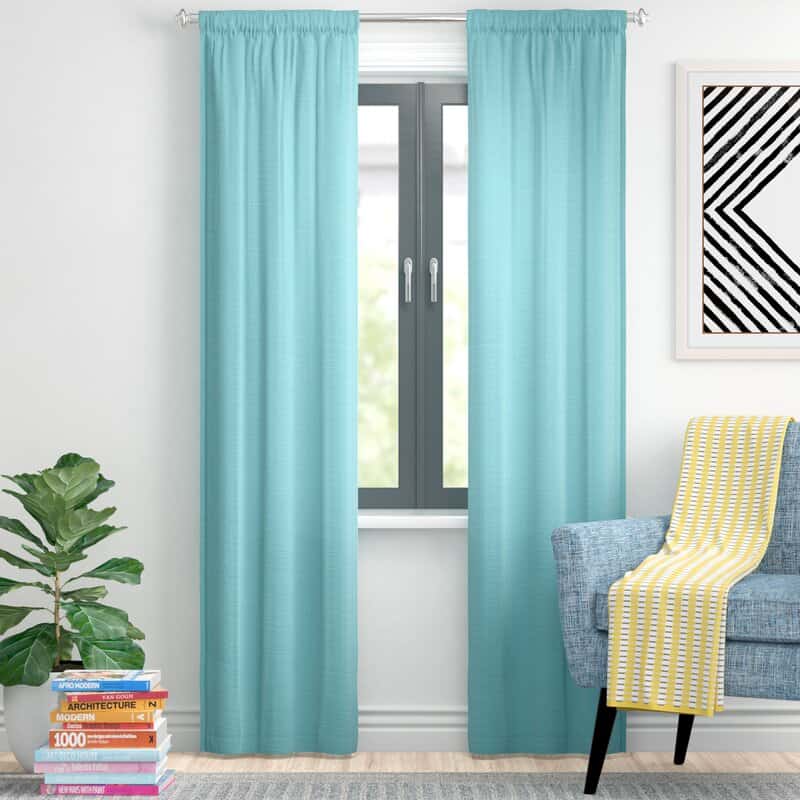 Available in seven stunning colors, ranging from Aegean to mimosa and smoke color selections, these simplistic curtains will brighten up any décor scheme. These semi-sheer curtains favor a weave that lets light in while cutting out the world beyond your window.  
The rod pockets cater to great hanging solutions as you can choose between hanging your curtains by sliding them over the rods or you can attach curtain rings to give you extra length. 
Made from 100% polyester, these curtains are fully washable, affordable and also versatile, suiting your budget and décor scheme perfectly. 
Best Lounge Curtain by Wayfair
The lounge is a more formal room in most homes, and therefore, it is also a room where you can indulge in some opulence. Choosing a more luxurious fabric like velvet may be a great option to investigate. We love the Clayborn Velvet Room Darkening Rod Pocket Single Curtain Panel by Willa Arlo, since it ticks most of the boxes when it comes to creating a warm and inviting space to socialize in.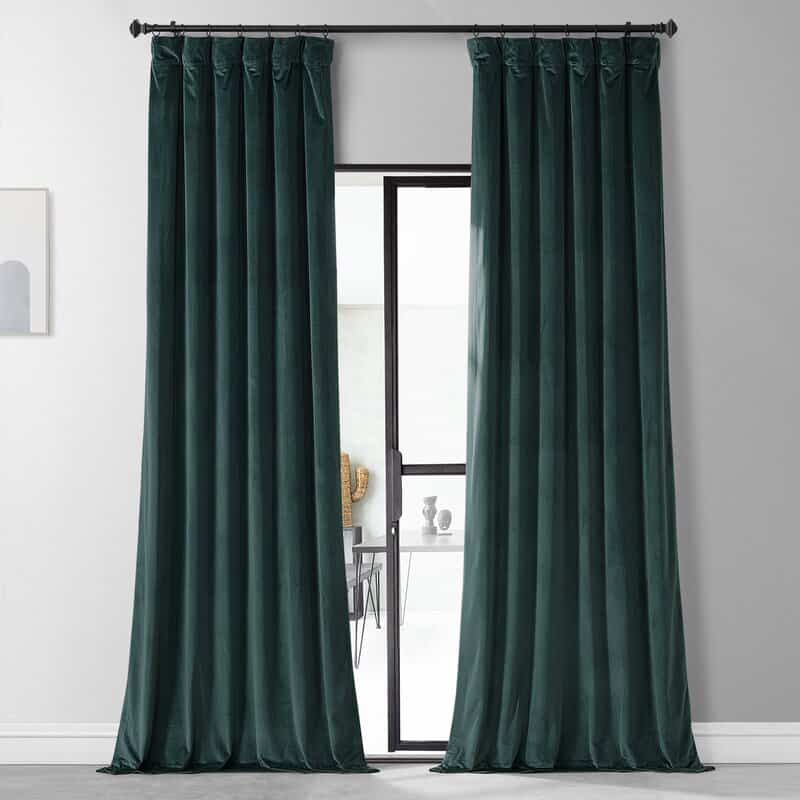 Available in eight great colors that shimmer with the glorious feel of soft touch, deep pile velvet, these curtains are a great choice. You can choose between color shades like lucky green, marshall cream, and louge teal. Whatever your décor and color scheme, you will find a shade to suit your overall look. 
The weighted curtain hem adds to the graceful drapery, and the comprehensive hanging systems can accommodate curtain rails and rods. With a curtain rod, you have the choice between using the rod pocket or you can use the curtain tabs that are folded back at the top of the curtain. You can also add in curtain rings if you desire a specific look or need to increase the length a few inches. 
There are three sizes, ranging from 50 inches by 84 inches up to 50 inches by 108 inches for tall windows. The curtains are sold as a single panel, so for larger windows you will need to buy two or more panels. This can result in a rather costly end-result, but the quality and final look are well worth it. 
Bear in mind these curtains are only dry cleanable, so you should avoid velvet curtains if you have small children or pets that play with your curtains. Washing would not be a daily thing with these curtains, so you would need to rely on daily shaking and vacuuming to clean your velvet curtains and keep them looking stunning. 
In addition to the great look, you will also benefit from the room darkening effect as these lined curtains will block out the light substantially. This will also have the added benefit of better thermal regulation in your home, which can save you on your energy bill. Thick velvet curtains keep the colder air out and the warmer air inside.
Velvet curtains are a winner for lounge spaces due to their elegance and appealing looks. Choose your color in muted shades for a more subdued look or go for a rich gemstone color to create a magical palette to create your décor scheme against. 
Most Decorative Wayfair Curtain
Curtains say a lot about you and your home. Choosing a curtain that is unusual can add some special charm to your home and your life. We love the Aonghas Floral Semi-Sheer Single Curtain Panel for those special long-and-narrow feature windows that are such popular architectural devices in modern homes.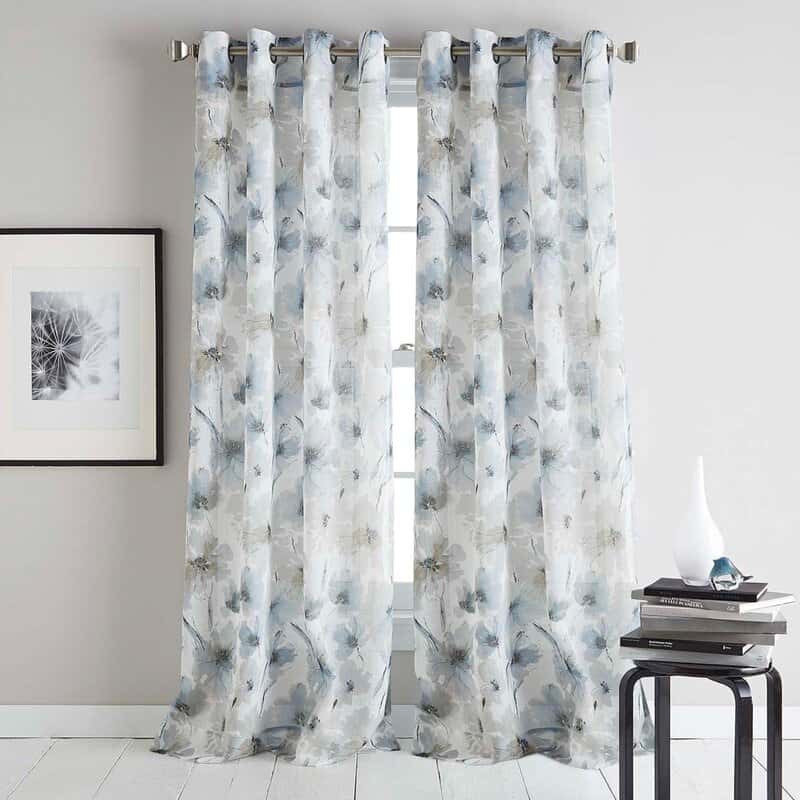 The sheer panel can be a bright point in your home, while still keeping the worst light out and privacy in. There are three color options to choose from, with purple and blue being whimsical, but we really love the bright red with the golden butterflies and leaves. These fun elements are added in laser cut elements that are 3D and add depth to your window space. 
With a soft lining, you will find these curtains easily modulate a bright window, while still ensuring there is enough flow of light and air into your home. Made from 100% polyester, you would believe these to be machine washable, but we recommend dry cleaning these delicate curtains as the 3D elements would not stand up to machine or hand washing. 
Sadly, there is only one size available, 42 by 84 inches, which may not fit all windows, but if you are lucky and these do fit, you won't regret the color and vibrancy these curtains add to your home. 
Sleekest: Wayfair Sheer Curtain
A sheer curtain is a delicate and completely translucent panel that demarcates a window, creating a divide between the outside and inside worlds. It gives you a measure of privacy, while also providing some protection against harsh sunlight. Yet, often, we find sheer curtains that are made of a fabric that is not suitable to provide that gossamer elegance that a good sheer curtain should have.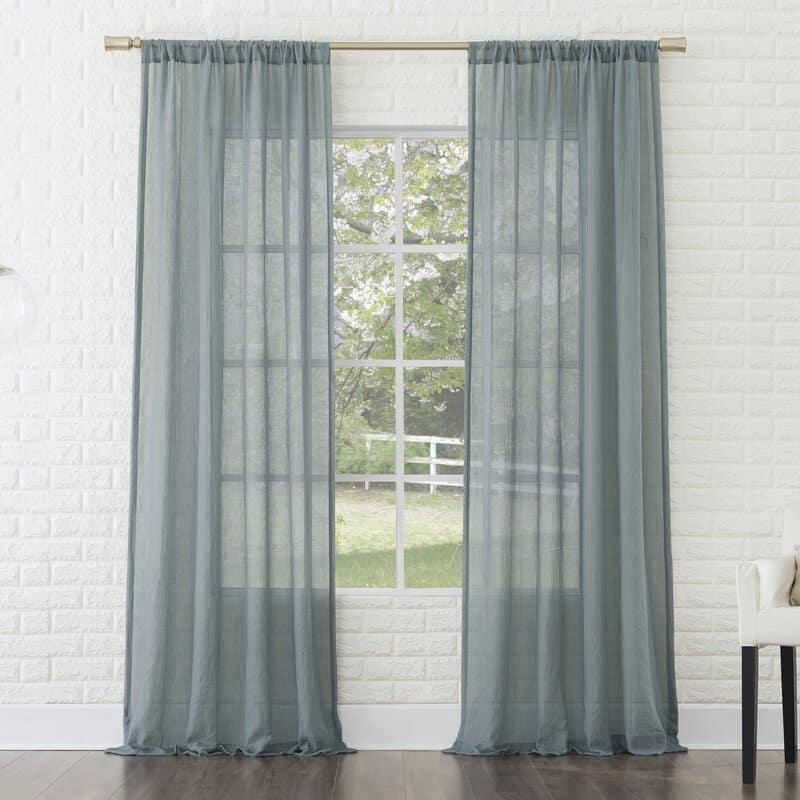 We love the Reese Solid Sheer Rod Pocket Single Curtain Panel by Hashtag Home. These sheer panels are made from a quality polyester weave that drapes beautifully, letting you play around with different ways to tie these panels back, tuck them into tie-backs, twist or knot them, or simply puddle them on your floor for an almost absent minded elegance that is so popular in modern décor. 
Hang these curtains with a rod pocket or add curtain rings to create a luxurious feel. You can also choose from any of the 12 amazing colors to fit in with your décor and color scheme. The color options include harbor blue, marine, and sienna orange for a diverse color scheme and brilliant tones when you combine them.
Layering these curtains is also a trend that is taking off, and you can easily combine sheer curtains in different tones with plain lined curtains for better light control and more privacy. The options are endless. 
Note these are sold as single panels and you may need to order several for a wider window. There are six sizes available, depending on the color you choose, and you would be able to accommodate most windows with curtains ranging in size from 50 by 63 inches up to 50 by 120 inches, which would give you a full puddle length. 
Best of all, these curtains are easy to care for and can be machine washed in cool water. Be sure to hang them out fully as ironing is not advisable. 
Best Wayfair Curtains FAQs
Question: How do you choose the best curtains for your home?
Answer: When choosing curtains for your home, be sure to consider what your home's décor scheme is and what your room specific needs are. You would need to choose a curtain type that meets your light filtering needs, matches the color tones of your décor scheme, and requires the kind of care you can offer. 
Choosing a curtain that requires high maintenance like velvet or satin may not be suitable if your home has small children or pets. In such cases, choosing a curtain type that is easy care like polyester may be better. 
Question: Why choose Wayfair curtains over other ready-made curtain options?
Answer: Wayfair curtains are made to a high standard, and you can be assured the curtains are of good quality. The rating system allows you to see what other consumers have experienced when ordering a curtain you are interested in. 
The different search metrics allow you to search for curtains by color, price, and light filtration. This helps you find the best curtain for your home without needing to sift through almost 7,000 curtain options that are available online. 
On Wayfair, you can also search for a curtain based on a specific hanging system, or you may choose to look for a specific type of curtain such as a window scarf, blinds, panels, and liners. This makes it really easy to find the curtain that best meets your taste, pocket, and practical needs. 
Question: How do you ensure the best fit when purchasing a Wayfair curtain?
Answer: With any curtain, be sure to measure your window space as per the specifications on the Wayfair site. 
When you measure the width of your window, you should times this by two to get the most full or gathered look. Your final curtain will have plenty of pleats to cover the window pane with graceful folds. 
The length should be measured from the curtain rod to the window sill, but if you wish to achieve the puddle look, then add in the additional distance to the floor (times this difference by three for a full puddle or times by two for a medium puddle). Read our full guide to measuring curtains.
Question: How do you prevent your Wayfair curtains from shrinking when you wash them?
Answer: Most of us hate washing our new curtains as we never know if they will shrink or retain their length. To ensure your Wayfair curtains remain true to their size, be sure to read the manufacturer's care instructions. 
The instructions will contain information on whether the curtains need to be hand or machine washed, or dry cleaned only. This will help to prevent shrinkage when the curtains get washed. 
The Final Verdict on the Best Wayfair Curtains
Wayfair remains a popular option for choosing curtains online. The quality is reliable, delivery is fast, and payment is secure. The range of designs, fabrics, patterns, and hanging systems for curtains makes it a one-stop shop for all your curtaining needs. 
While each of these curtains offer their own appeal, and they are all top in their class, we love the classic value for money of the Brockham Solid Blackout Grommet Curtain Panels. These curtains offer excellent service, will fit any room and décor style, and best of all, they rock in at an affordable price too. Being easy to care for and clean also makes these curtains a firm favorite.
When choosing Wayfair curtains, be sure to look at the measurement given and measure your windows accurately. Check what the hanging system of your curtain choice is, and be sure to consider your lifestyle and whether you will be able to maintain your curtains in a good condition for years to come. Delicate curtains that have laser cut elements sewn on can be much harder to care for and keep in good quality, so be warned. 
Curtains are there to decorate your home, create a boundary with the outside world, or invite light and air inside. Whichever curtains you choose, be sure to have fun with them.