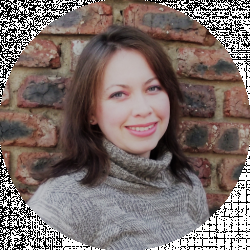 Latest posts by Talitha vanNiekerk
(see all)
In our daily lives, we are surrounded by noise, light, and other distractions. So when you get home, you want to enter a quiet space that is private and secluded from the busy world out there. 
Blackout curtains are one of the best ways to cut out light, sound, and noise pollution. They help you sleep better by creating a cocoon-like environment in the bedroom, or they can make the simple pleasure of watching TV better by filtering light in your lounge. 
Knowing which blackout curtain to choose can be a challenge, but this guide has you covered. We'll look at the considerations, pros and cons of blackout curtains, and also which are the best blackout curtains on Amazon. 
Why Should You Get Blackout Curtains?
There are several benefits to having quality blackout curtains in your home. These include:
Blackout curtains create a darkened environment that triggers your nesting or sleep instinct. This is because the darkened sleep space helps your brain's production of melatonin, the sleep hormone, which is responsible for making you sleepy and helps ensure deep and lasting sleep patterns. 

These curtains are ideal for people who work shifts or for those who live in an area with bright lights at night. High-end hotels will often combine blackout curtains with drapery to create a luxurious feel that helps their guests sleep better in a nicely darkened room.

Silence your room with polyester blackout curtains. These tightly woven curtains help reduce noise pollution too, which also benefits your ability to sleep. In an apartment in the city, you can't go wrong with blackout curtains as they help keep the outside world outside by cutting down noise that would normally filter into your home.

Keep your home private with a tight weave. By hanging blackout curtains at your windows, you can keep prying eyes away. This is valuable in neighborhoods where the houses are close together or if you have a nosey neighbor.

It also provides a measure of security to keep people from looking into your home. Thieves need to see what they will steal before they steal it, so if they can't look into your home, they won't be as interested in visiting.

Give your HVAC some assistance and cut down on your utilities cost by using blackout curtains. They help with climate control by filtering out warm outside air in summer while keeping warm air inside during winter. They can also help reduce dust and pollen, since they are thick enough to catch particles that may drift in through an open window.

Stop your furnishings from fading with UV resistant blackout curtains. By limiting light, cutting back on the amount of UV rays entering your home through large windows, and reducing heat penetration, blackout curtains can protect your home from the harsh effects of sunlight.

Blackout curtains can save you quite a buck as you would need to replace your carpets and other furnishings less frequently when they are protected from the sun's damaging influence that can cause fading.
Blackout Curtains Pros and Cons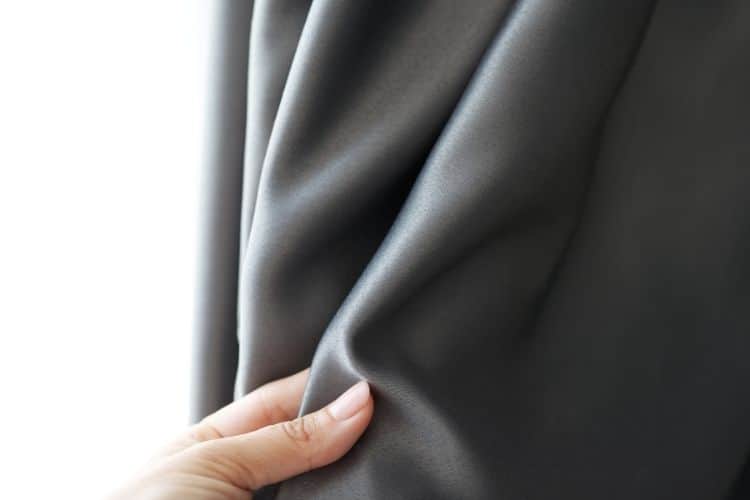 There are many pros to getting blackout curtains for your home and especially for your bedroom. 
Pros
These include the improved sleep quality you will gain as well as the resulting health improvements you can expect from sleeping in a darkened room due to blackout curtains. 
Due to sleeping better, you will feel more rested, experience greater energy levels, enjoy reduced insomnia, see improvement in depression, and have the benefits of lowered insulin levels that can cause type 2 diabetes.
Cons
On the flipside, blackout curtains can darken a room so much you will oversleep because you won't realize it's daytime. Your natural circadian or sleep rhythm also needs a balance between light and dark to function optimally. Having only darkness will cause sleep problems too. 
Therefore, opting for a 90-95% blackout curtain instead of a 100% blackout curtain can help you by allowing morning light to filter into your room. 
When choosing your blackout curtains, be sure to choose curtains with a hanging system that can support the weight of the curtains.
Blackout curtains tend to be heavier, so a regular curtain tape top may not be able to cut it. I like grommet top curtains as these open and close easily, and they are sturdy enough to accommodate the weight of the blackout curtains. 
Five Considerations Before Purchasing Blackout Curtains
Before you purchase a set of blackout curtains from a dealer or online, you should keep the following in mind:
Fabric Choice
If you can, you should feel the fabric of the blackout curtains. It should feel tightly woven and resist tufting or pilling when you rub it. Quality blackout curtains are made from tightly woven polyester fabric. 
The best fabric for blackout curtains is thick and heavier than standard curtains. Remember: the idea is to keep light, sound, and temperature changes out. If you hold blackout fabric up to the light of a window or place it over your mobile phone (with the flashlight function on), there should be minimal light shining through. 
Care and Maintenance
Caring for blackout curtains should be easy. The fabric is usually quite washable, and you can easily pop it into your washing machine for a quick rinse. However, this requires the fabric to be either 100% polyester or a polyester-cotton blend. 
Some treated fabrics such as those with a second foam layer that increases the light blocking capacity of the fabric may not be washable. If this is the case, you would need to spray or dry clean them. 
Cost of Purchase
I love a bargain—who doesn't? However, when it comes to blackout curtains, you need to ensure you buy the best quality you can afford.
Inferior quality curtains that have a poor mix of fabrics will result in curtains that shrink when you wash them, or they will not offer the full level of protection against light, heat, and noise they may have promised. 
Buying cheap will usually end up costing you more in the end. If you can afford it, buy a more pricey set of blackout curtains. They are long-lasting, which makes them a great investment, justifying the cash layout. 
Color vs Light Blocking Capacity
Choosing the right color blackout curtain will depend on your color scheme, but it will also be determined by your blackout requirements. If you are buying blackout curtains for your bedroom, you may prefer a darker 100% fabric, which means you also need to choose a darker color as this further enhances the capacity to block light. 
In rooms that require less light blocking, you can choose a lighter color fabric for your blackout curtains.
Also keep in mind that a curtain that faces strong light will take on a "glowing" appearance, which can turn that rustic blackout curtain into a fiery Nevada desert sky once the sun is shining fully on it. In such a scenario, a muted tone such as gray, charcoal, or black curtain would be a better option. 
Buy the Right Size
Cutting cost by buying a smaller size curtain will end up defeating the purpose of a blackout curtain.
I always encourage people to raise their curtain rod one or two inches above the window and extend it another two to three inches past either side of the window sides. This is to ensure you cut off all possible light that may filter around the edges of the curtains. 
There is nothing worse than seeing a narrow beam of concentrated light around the edges of your blackout curtain.
Blackout curtains should also hang as full as possible (I often opt for a two times the width measurement) to ensure the curtain provides a substantial barrier to light and sound, and so they can provide an insulating effect. 
Best Ways to Clean Blackout Curtains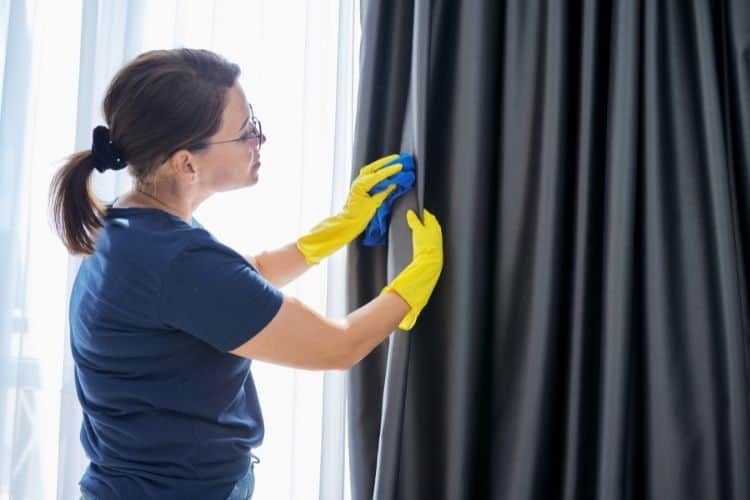 Blackout curtains can be cleaned in a number of ways, and depending on the fabric used and the surface treatments, you can use any or all of these methods:
Spot Treatment
You may find your blackout curtains pick up a spot or two. These can be treated and cleaned by simply scrubbing it with some dishwashing liquid, water, and a soft sponge or soft bristle nail brush. Simply apply the cleaner and wipe dry. 
Vacuum Cleaning
Since blackout curtains are heavier and have a tighter weave, they may absorb more dust and household debris. This may become a problem if you leave micro particles to collect in the fabric. 
I like to shake my blackout curtains at least once a day and vacuum clean them once a week using a curtain cleaning attachment or hardwood brush fitting. This helps keep your blackout curtains cleaner for longer and also reduces allergens in your home.
Steam-Clean
If your blackout curtain is of a good quality polyester or a polyester-cotton blend, you will be able to steam-clean it. However, if the curtain has a coated side that looks even remotely plastic, you may have to opt for the safe side and avoid steam cleaning. 
Launder
I always check the manufacturer's label for care instructions. If the label indicates the fabric is washing safe, then you can easily drop it in the washing machine for a quick spin and rinse.
This option is efficient, but you may need a large size washing machine for a larger curtain as this can easily outmatch most domestic washing machines. 
Best Amazon Blackout Curtains
Amazon is the go-to e-commerce store for most shoppers in the U.S., and these are some of their top offerings for blackout curtains. Each category winner has a proven track record and offers top-class quality. 
Best Hotel Quality Blackout Curtain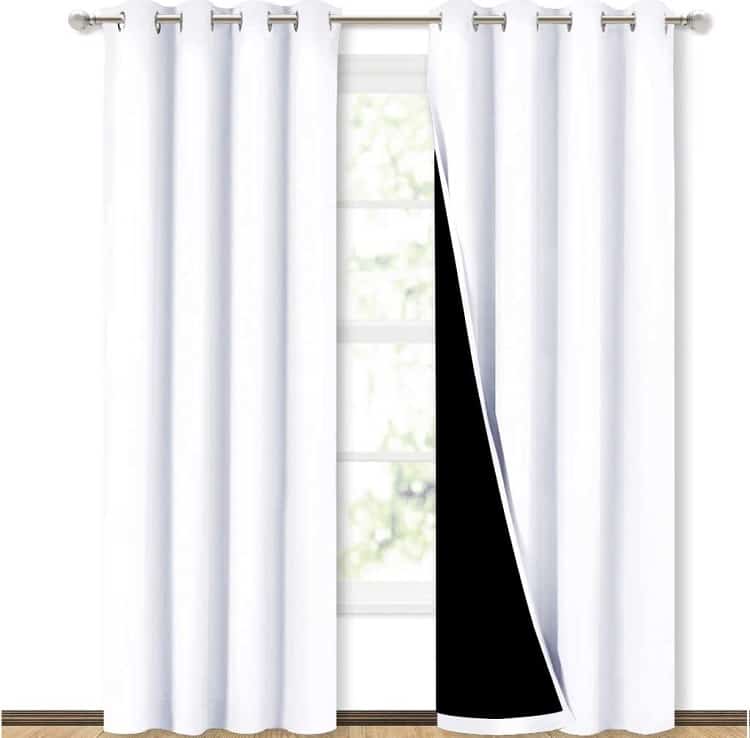 We all love that hotel quality blackout curtain for our homes, and with the Nicetown range, you can't go wrong. The top option is the NICETOWN 100% Blackout Window Curtain Panels. They come in a set of two, and the black sewn-on backing ensures 100% blackout quality. 
With these two panels, you can opt for any of 20 colors, including white, biscotti beige, lavender pink, coral, or bright yellow, as well as some classic colors like navy and black. This wide variety will suit any décor scheme, color scheme, or style. 
Available in over 15 length and width combinations, you will be sure to match any size window. Sizes of each curtain panel start at 42 by 62 inches up to 70 by 108 inches. 
The grommet top allows for easy installation on a curtain rod, and the drawing action to open or close the curtains is effortless. Being machine washable is an additional bonus for home care. 
Some of the cons with this option include that purchasing darker colors can increase room temperature in warm areas. There may be some discrepancy between the size indicated and what the actual curtain size is, though this often happens with most curtains bought online. 
While the curtains indicate they are fully washable, the white color becomes somewhat stained if washed. This may be due to the sewn on black lining, or it may also reflect the impact of poor water quality in some U.S. states, which can cause color bleed.
Overall, I still recommend this option as it is affordable, does provide 100% blackout, isn't going to expose you to VOCs, has a range of colors and sizes for any home, and they are luxurious and long-lasting.  
Best Rod Pocket Blackout Curtains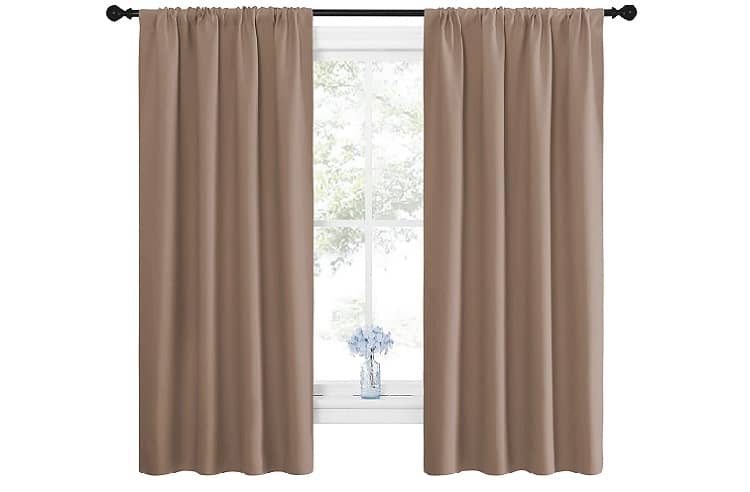 Not everyone likes to hang their blackout curtains on a grommet system. Rod pockets are an ideal option for curtains that are simply folded back to open as opposed to drawing them open or closed. The NICETOWN Kids Blackout Curtain Panels are ideal with a quality rod pocket hanging system. 
Available in 21 colors, these curtains are also available in a range of sizes from 34 by 45 inches up to 70 by 84 inches per panel. Each pack contains two panels, and the rod pocket comes in a standard two-inch slip. 
Most curtain rods will fit the rod pocket, though sliding heavier fabric directly on a curtain pocket can cause friction and wear on the curtain top. In rooms where simple tie-backs are used to open the curtain to the side without drawing the curtain top on the rod, this may be a suitable design. 
The fabric is constructed with a triple layer weave, which has black core fibers to ensure minimal light penetration. This ensures an even color and better washability. However, don't expect complete room darkening or 100% blackout either. 
Best Patterned Blackout Curtains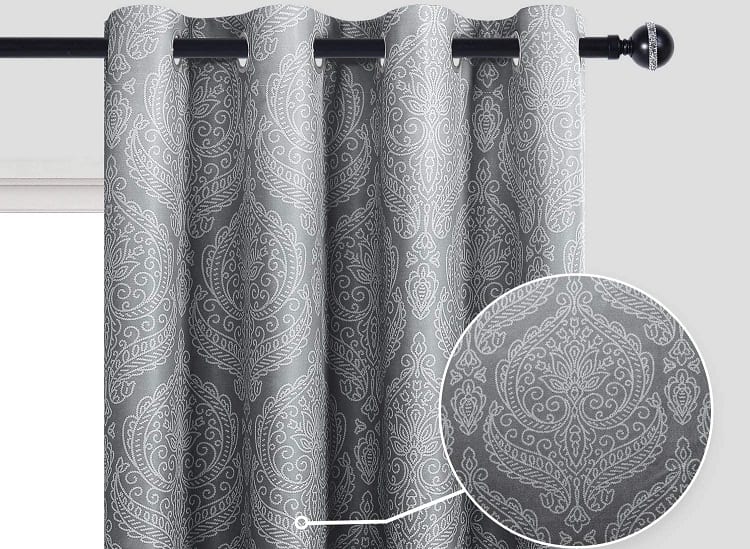 Mostly, we tend to think of blackout curtains as being monochromatic or plain colored. However, there are a range of patterns available in some blackout design curtains. The DWCN Ombre Blackout Curtains for Bedroom – Damask Patterned is one such option that will complement any room décor.
This curtain is made from a finely woven fabric, has a natural fade from bottom to top to give you a range of color tones to match your décor to, and it presents an elegant look.
You can choose between six colors from black and gray to navy blue and pink. Sizes range from 42 by 54 inches per panel to 52 by 96 inches. Each panel has eight grommets to hang the curtain by, making for an elegant finish and easy use. 
Due to the thick weave, the curtain fabric is tear and color fade resistant. Being fully washable in cold water or dry cleanable, these curtains are highly practical for a real-world home that may have pets or kids and increased dirt and dust loads. 
For thermal control, these are an excellent choice and you can expect them to noticeably reduce heat in summer and cold in winter. They are also thick enough to dampen noise intrusion from outside. 
Expect some color variation between the online image and what you will receive, though this is often the case with online purchases. 
Best Extra Length Blackout Curtains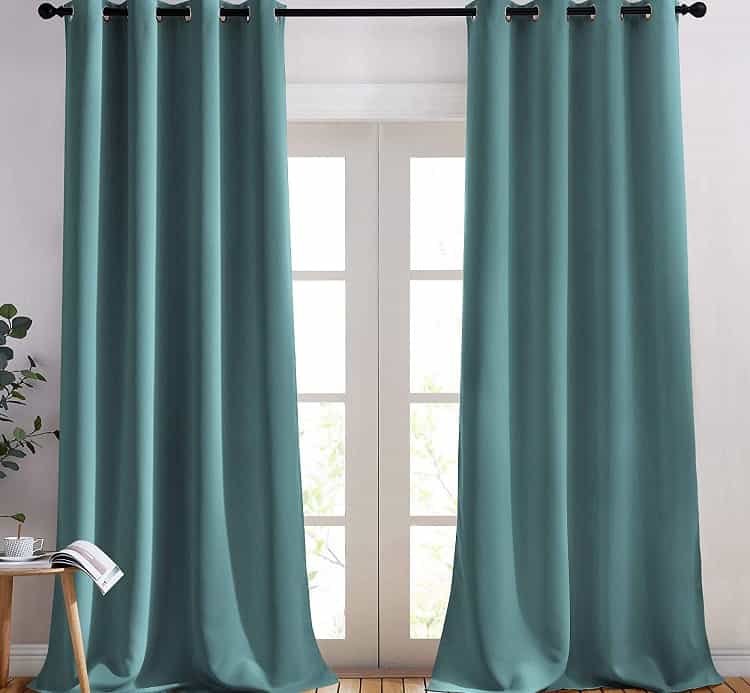 Not all windows are standard sized, and with blackout curtains, it is often desirable to create a puddle look with longer curtains. The NICETOWN Patio Glass Door Panels tick this box with a curtain length of a whopping 120 inches, one of the longest drops on the market. 
The color range is the standard Nicetown 21 spread, with colors like burgundy red and fresh green up to olive and toffee brown to choose from. Using triple weave fabric, you get to avoid VOCs, and the 100% polyester is soft to the touch and fully washable. 
Improve energy efficiency in your home with the thermal control to keep cold air out in winter, thereby giving your HVAC a break. 
While some curtain packs come with one hanging system, the extra length NICETOWN Patio Glass Door Panels allows you to choose different hanging systems. The options include grommets, rod slips, and back tab or tab top. 
The bottom hem is not a wider hem as with some curtains, which makes it less than ideal if you have a secondary curtain or sheer curtain with these blackout curtains. For puddle curtains, it would be best to take the longest length to ensure a generous collection of fabric at the bottom. 
Best Basic Blackout Curtains Set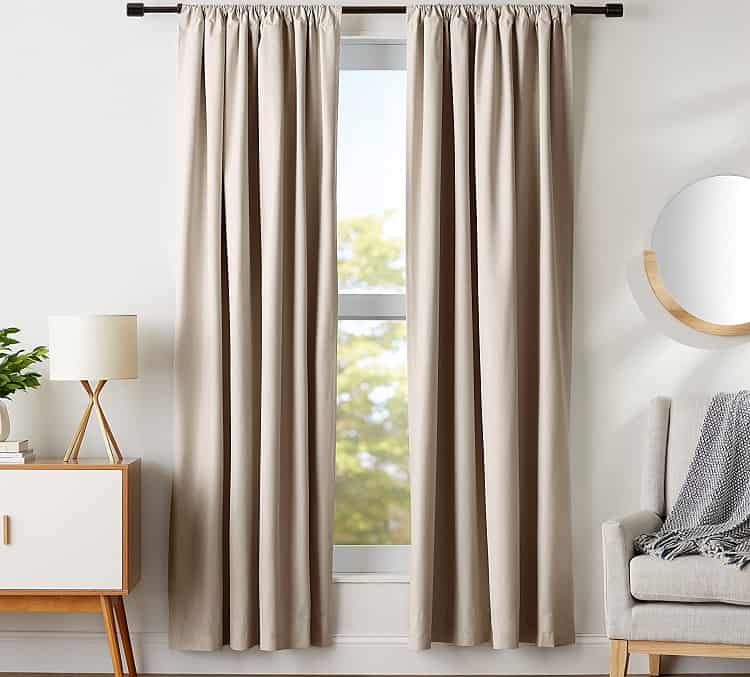 If you are looking for quality, environmental friendliness, and color range, then the Amazon Basics Room Darkening Blackout Window Curtains with Tie Backs Set are ideal. 
The triple weave fabric has an additional foam backing to ensure maximum blackout, noise reduction, and thermal control. These curtains are a real investment and will last much longer than some of their counterparts. 
Fabricated from 240 GSM polyester, these curtains are thick enough to provide a nice feel, great use, and generous visual appeal. They are also fully washable, and you can iron or steam iron them to remove any wrinkles that may remain once unpacked.
Made in a certification factory, these Amazon Basic Room Darkening Blackout Curtains are tested for safety in an OEKO-TEX Standard 100 factory, an independent certification system. They are certified not to release VOCs, despite the foam backing that is normally the culprit in releasing compounds. 
You will find a color or pattern that suits most décor schemes in this range, with 21 colors and patterns available to choose from. There are plain colors like beige, black, and seafoam green. You can also opt for patterns like navy lattice and dark gray herringbone or taupe stripe. 
Though there are not as many sizes available as some of the other blackout sets, you can choose from six sizes ranging from 42 by 63 inches per panel up to 52 by 96 inches. 
There are two hanging systems available: grommets or rod pockets, which helps you choose how you wish to hang the curtains. Boasting a huge popularity on Amazon, these are definitely blackout curtains to consider for your home if your windows match the sizes. 
Best Amazon Blackout Curtains FAQs
Question: Can I Dye Polyester Blackout Curtains?
Answer: Yes, you can dye polyester blackout curtains, but be sure to use a dye that is indicated as safe for polyester fabric. If the blackout curtain has a rubber lining, then you may need to rethink the idea of dyeing them as you could end up with a blotchy look. 
Always dye a lighter color blackout curtain as darker fabrics will not dye evenly and these can't be made lighter.
Question: What Blackout Curtains Do Hotels Use?
Answer: Hotels opt for a 100% blackout curtain that offers complete light diffusion, acoustic regulation or sound blocking, and climate control. 
The NICETOWN 100% Blackout Window Curtain Panels from Amazon is a typical hotel quality blackout curtain. It meets the light, sound, and climate control parameters of hotels, which makes it a good choice for your home too.
Question: Is Blackout Fabric Toxic?
Answer: Due to the manufacturing process, some fabrics that are used for blackout curtains can release harmful chemicals into the atmosphere. This raises some concerns with discerning homeowners who question the safety of simply opting for the cheapest blackout curtains. 
If you are concerned, then look for a blackout curtain that is volatile organic compound (VOC) free. These may cost a bit more, but they ensure premium air quality and safety. 
Question: What Are Blackout Curtains Lined With?
Answer: Blackout curtains can be backed with a layer of foam that is sprayed onto the fabric during the manufacturing process. These are usually 100% blackout quality, and the foam seals up any transparency in the curtains.
Spraying a foam backing usually makes the curtain heavier, and it increases the risk of VOCs being released into your home. A three-pass lining is when three separate layers of foam are sprayed onto the blackout fabric. This usually starts with white foam, then black, and a last layer of white foam. 
A triple weave blackout curtain without a rubber backing is considered the best quality and the most durable too, though there are some with blackout foam backing that delivers high performance too.
Question: How do I Iron Blackout Curtains?
Answer: To iron blackout curtains, simply cover your ironing board with aluminum foil, place your curtain, add a second layer of foil, and iron. The foil helps with spreading the heat evenly throughout the fabric and removes any wrinkles properly. 
The Final Blackout
Installing quality blackout curtains in your home will help save you money and aggravation, and ensure you get quality sleep. They contribute to the privacy and climate control of your home, as well as reducing noise pollution from outside.
Buy the best quality you can afford such as a three-pass lining blackout curtain that offers a solid 100% blackout capacity as these will also be the most durable. You can alternatively opt for a lining-less blackout polyester that is woven densely enough to provide at least 90% blackout.
Choosing a lining-less option reduces the chances of VOCs in your home, though these may be more sun-sensitive than the lined options.