Latest posts by Erin Jamieson
(see all)
Affordable curtains are always sought-after. And now Boscov's is making headlines as it continues to extend its stores, guiding more consumers than ever to budget-friendly curtains. 
In a year still grappling with a pandemic, Boscov's has made a bold move to not only expand its online offerings but also its physical presence. The latest store is set to open at Eastwood Mall in Ohio, with a ribbon-cutting ceremony slated for early October.
But Boscov's didn't just announce a new store– but made a splash with a charity event. The Boscov's charity event partnered with local non-profit organizations to pass out $5 shopping passes. The goal wasn't just to make Boscov's presence known– but to show how the company was invested in the community itself.
Beyond selling home goods like curtains, CEO Jim Boscov explained that the event was important for showcasing how the company invests and connects to each community it settles in.
But while it's great to see a company giving back, an important question for consumers is whether their products live up to the hype. In this guide, I'll answer that, and tell you everything you need to know about both Boscov's and Boscov's curtains so you can make the best Boscovs curtains purchase possible. 
What is Boscov's?
Boscov's does sell curtains and other window coverings– but it's not a specialist. Boscov's is a department store that sells a bevy of products, including clothes, shoes, handbags and accessories, beauty products with major brand names, jewelry, and more.
Bed and bath products include bedding, pillows, mattresses, personal care, and more–including well-known brands like Eddie Bauer, Laura Ashley, and Nautica. In addition to window coverings and treatments, you can shop for everything from luggage to kitchen and dining and fitness and health products. In short, Boscov's offers just about everything, like a Target. 
When was Boscov's founded?
Boscov's was founded in 1911 by Solomon Boscov, an immigrant from Russia. At the time, he worked as a traveling salesman but eventually opened Boscov's first official storefront in 1914 in Reading, Pennsylvania. More stores began opening during the 1960s, mostly within the Reading region. By the end of the 1960s, Boscov's boasted five stores and over $50 million in revenue. 
Boscov's first store outside of the state wasn't until 1982, in Delaware. The department store is still family-owned today, though much has changed. In 2008, during the recession, Boscov's filed for bankruptcy, but luckily, the company persevered and a mere year later was back on good footing.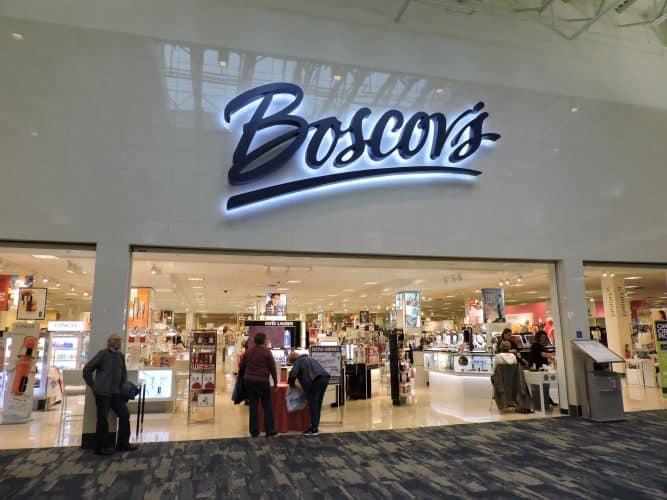 What are Boscov's policies?
Before you buy or even start searching for any curtains from Boscov's, it's ideal to understand what the purchasing experience is like.
Does Boscov's do free returns?
Boscov requires you to have a receipt for returns. You can have an item returned, replaced, or exchanged within 90 days if you have the original packing slip. However, online-exclusive items cannot be exchanged. There are a few other non-returnable items if you purchase online, including personalized items. You can read Boscov's Return Policy Here. 
How many locations does Boscov's have?
Boscov's now has around 50 store locations across the United States, in Pennsylvania, New York, New Jersey, Delaware, Maryland, Ohio, Connecticut, and Rhode Island. You can search for your nearest location using the Boscov's Store Locator Here.  
Is Boscov's a good store?
Boscov's as a department store has earned a respectable reputation. Boscov's has been accredited through the Better Business Bureau since 2013 and holds an A-plus rating based upon filed consumer complaints. Across consumer sites, Boscov's ratings vary. A few sites have ratings around average– 3 out of 5 stars. On Bizrate, it scored an average of 9 out of 10 stars. But on TrustPilot, Boscov's earned a meager 2.1 out of 5 stars.
Averaged out, Boscov's has mixed reception, with a mediocre experience. Most of the complaints are linked to the online shopping experience itself, one that seems to have worsened during the pandemic. Consumers cited a hard-to-navigate website, as well as missing or messed up orders. 
The plus side is that since most complaints and bad reviews are related to the online shopping experience, you could circumvent this by shopping in one of their physical stores. 
Is Boscov's ethical?
Boscov's is like many department stores: they do offer some ethical and eco-friendly products, but it is not their specialty. You can find some sustainable options, but the norm is conventional products. 
What are Boscov curtains like?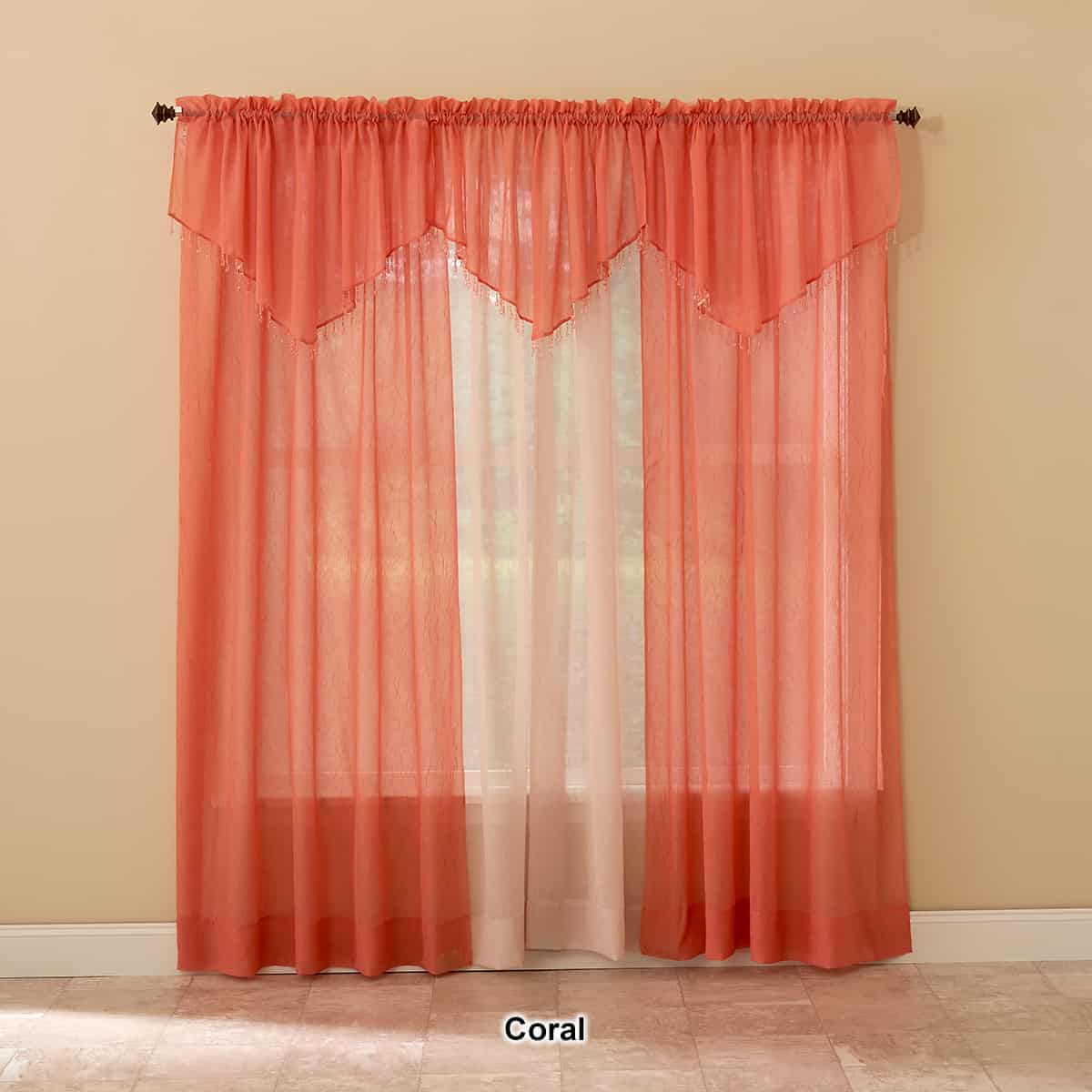 Boscov offers blackout, room darkening, sheer curtains, and more. You can find curtains with special features, including insulation. Searching for curtains includes filtering for patterns, colors, brands, and types of the curtain. Though many find the website cumbersome, I feel it is relatively easy to navigate. 
What fabric types does Boscov's use?
Boscov curtains are neither the poorest nor the finest quality. They tend to lean more towards basic functionality rather than luxe fabrics or special features.
While there are a few linen and cotton curtains, nearly all Boscov's curtains are made out of 100 percent polyester and have the benefit of being easy to care for. They are machine washable, and durable. 
There have been some concerns about polyester in general. Polyester is a known source of VOCs, which are found in other household products, including paints, aerosols, and more. While these can be toxic in high concentrations, curtains hung and used properly don't have significant evidence that they are harmful. 
Boscov's Curtains: My Picks
Now I'll give you a few of my favorite ideas for the best curtains Boscov sells. I've selected blackout curtains, room darkening curtains, and sheer curtains. My picks took into consideration materials used, price per quality, and average consumer reviews. I also selected based upon either the most versatile styles or ones that stand out from their collection. 
Boscov's Blackout Curtains
Blackout curtains provide privacy, insulation and may help you get a better nights' sleep. All of Boscov's curtains are made out of polyester and are machine washable. Boscov's blackout curtains are up to market standards, and more or less what you'd expect for a lower to average price range. 
I admire the variety of styles and the thoughtful construction, from classic to modern looks. You'll find solid color curtains, but also ombre colors and modern patterns. Prices range from $9.99 to $49.99. Shop All Boscov's Blackout Curtains Here. 
Spectra Embossed Grommet Panel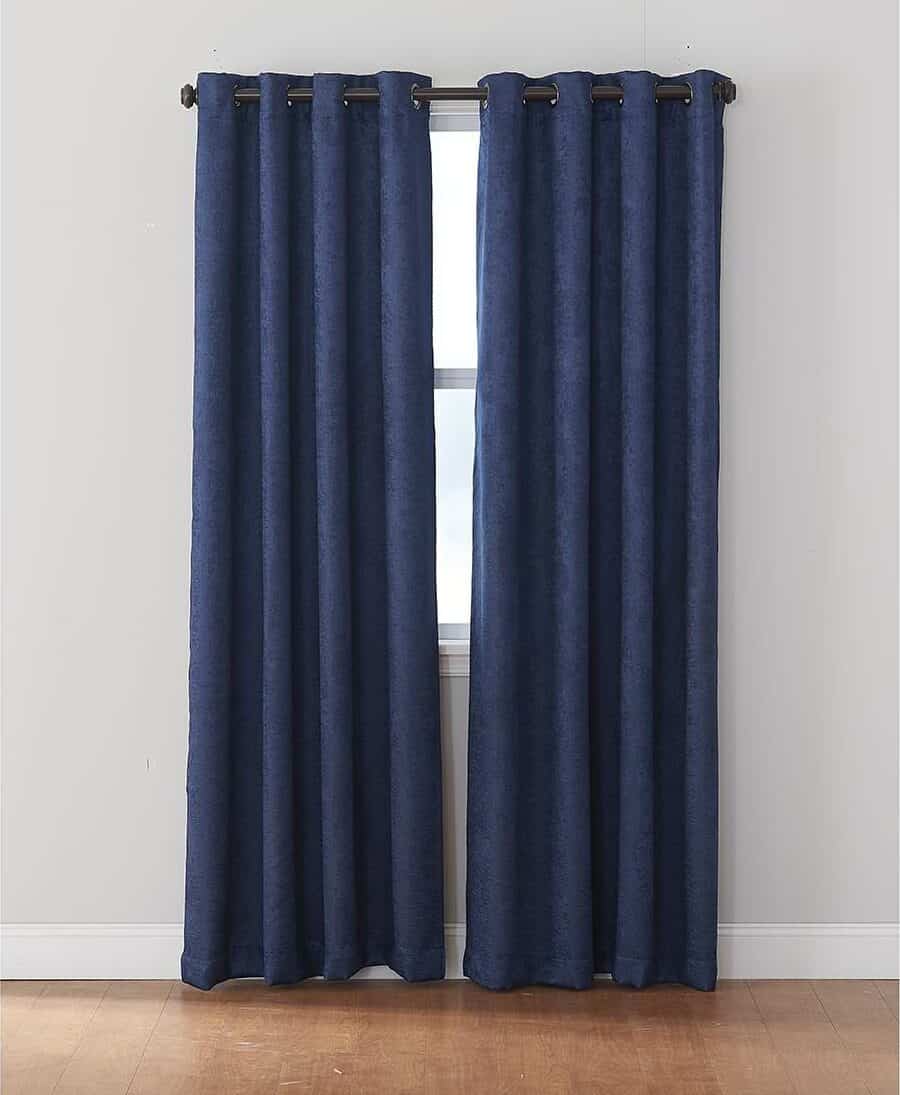 It is possible to find a blackout curtain for just $9.99, with the functionality you need. These curtain panels (originally $26 to $30) block out 98 percent light– so they aren't perfect– but go a long way in keeping a room dark. They also boast noise reduction and energy savings, with a simple embossed and scalloped detail. Available in beige, navy, silver, and black; Buy Here. 
Diamond Chenille Lined Grommet Blackout Curtains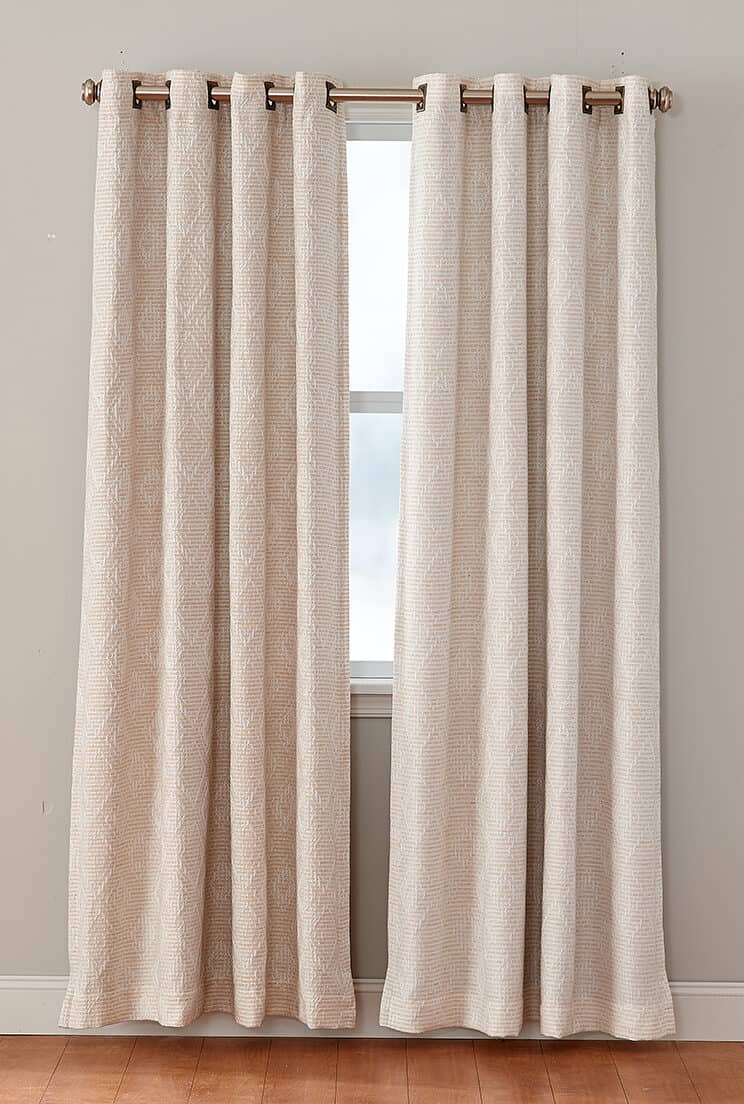 Do thick blackout curtains have to be basic? These blackout curtains are understated but offer classic sophistication with a woven chenille fabric. The square grommet design is equipped with a blackout lining for privacy and noise reduction. Priced at $29.99 to $39.99 and available in blue, grey, natural and taupe; Buy Here. 
Merritt Blackout Grommet Curtains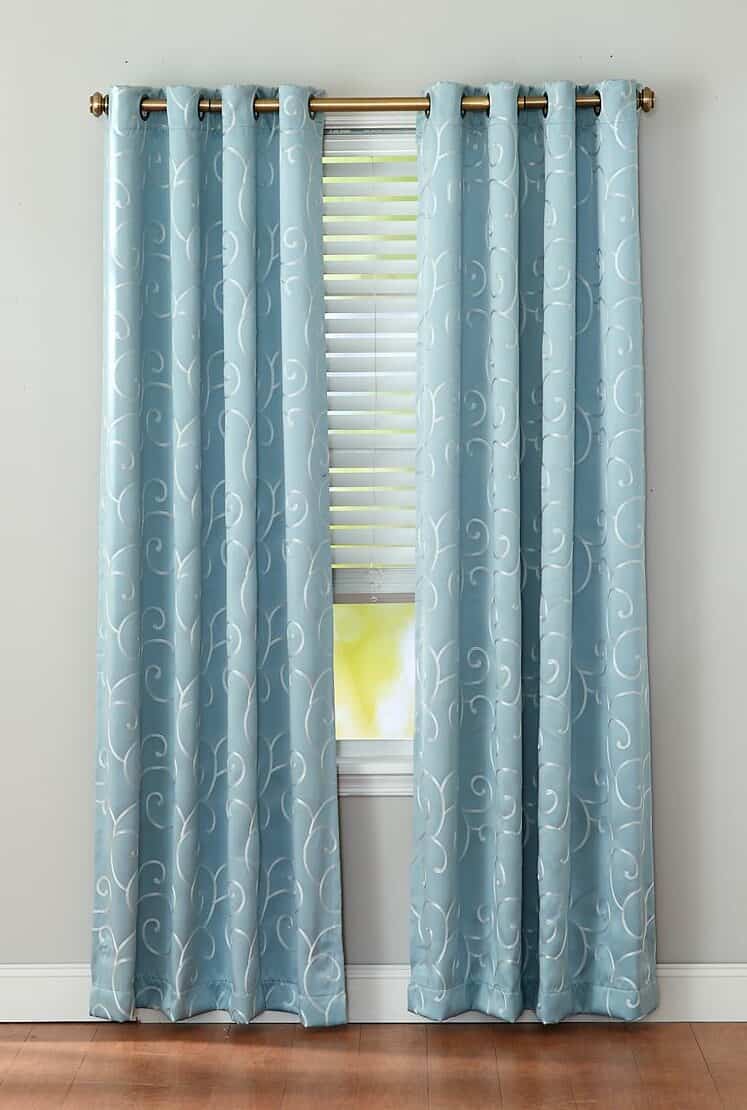 Looking for a blackout curtain design but just a tiny bit of light? This happy medium curtain offers a fresh style, with an embroidered scroll pattern (in gray, ivory, navy, and light blue). Just a faint bit of light shows through the modern embroidery. For some, this may be a downside, but for others, it may actually be appealing for a bedroom. This way, at night you still get most of the benefits of blackout curtains, but you may find it easier to wake up.
Priced at $27.99 to $29.99; Buy Here. 
Elrene All Seasons Blackout Curtain Panels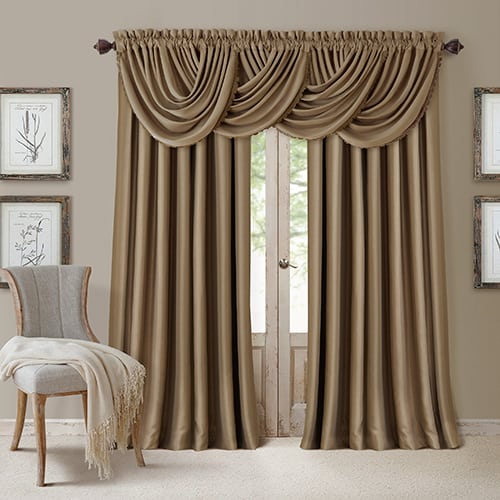 It's hard to find blackout curtains that are both machine washable and classically elegant. If you love the look of silk curtains but can't maintain or afford them, these polyester curtains provide a similar look. Complete with about and energy-efficient technology, you can also buy a coordinating valance. Priced at $34.99 to $44.99 and available in antique gold or rouge; Buy Here. 
Boscov's Room Darkening Curtains
Room darkening curtains are the most popular and versatile curtains. While blackout curtains block out 95 to 100 percent of outside light, room darkening curtains are meant to reduce glare and provide more privacy, while still allowing some light to come in.  
Boscov's room darkening curtains come as grommet panels, rod pockets, cachet, and pleated, among other styles. Both classic contemporary and more formal styles are available Like the blackout curtains, most are polyester and machine washable. Prices range from $9.99 to $39.99 for most, except for a few. Shop All Boscov's Room Darkening Curtains Here. 
Brynn Leaf Jacquard Grommet Panel with Room Darkening Lining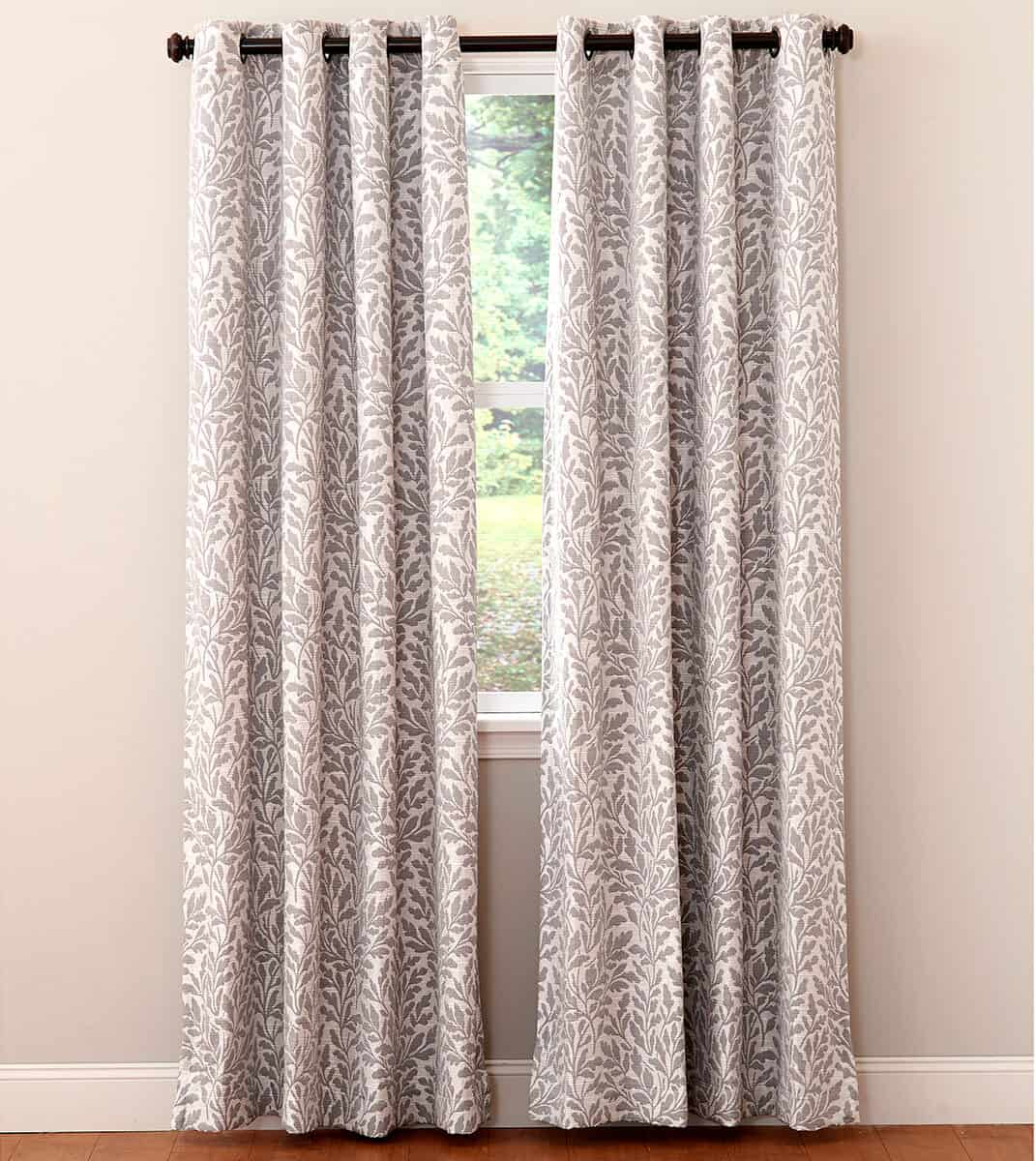 These highly rated room darkening curtains feature a modern leaf design. I've seen many nature-themed curtains trending in 2020 and 2021, and this subtle pattern offers a solid amount of room darkening– just shy of a blackout curtain. Along with the playful pattern, you'll get the benefit of energy savings and noise reduction. Priced at $27.99 to $29.99 and available in blue, gray, green, and linen; Buy Here. 
Sun Zero Michael Room Darkening Door Curtains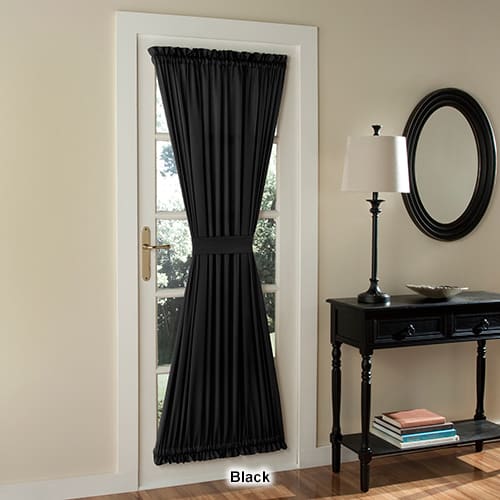 Sub Zero is one of the most popular options for room darkening and blackout curtains. These door curtains are rod pocket style and offer both elegant contemporary style and energy savings. Useful for insulating and also reducing noise and light, these curtains are available in black, chocolate, gray, stone, and taupe, priced at $19.99. Buy Here. 
Elrene Braiden Room Darkening Curtains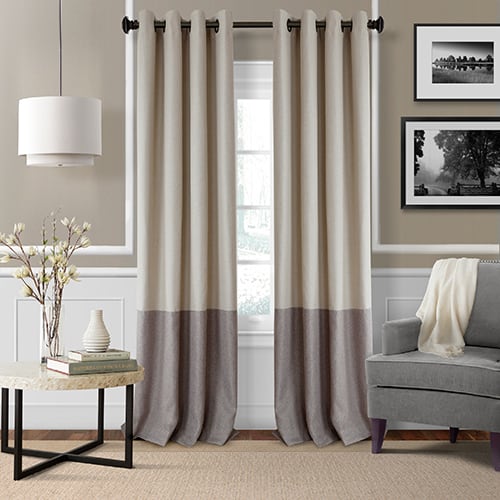 Color blocking is a modern, or even retro style, depending on the hue and how you style it. These cheerful color-blocking curtains make any room feel updated, without being overwhelming. The textured grommet panels feature light blocking and fit easily with modern, minimalist, and even some retro decor. Priced at $34.99 to $39.99 and available in grey, linen, or navy. Buy Here. 
DKNY Urban Melody Faux Suede Room Darkening Curtains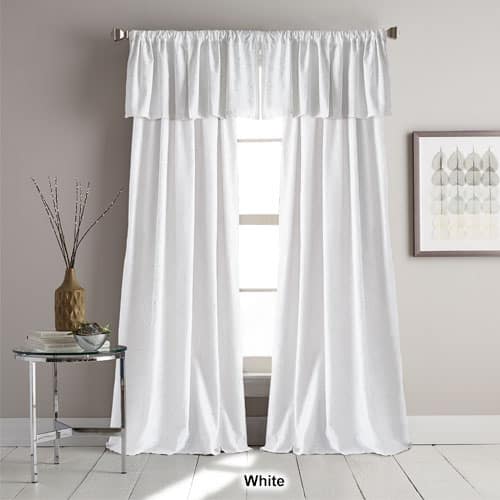 Suede is a beautiful and sophisticated fabric, but it's not usually used for curtains. While suede is durable and has a smooth surface, it can be quite pricey and has a habit of collecting both dust and dirt. These polyester, room darkening curtains offer a similar style for just $29.99 to $39.99. Available with a pleated valance, these curtains use a raindrop effect print for a modern option that would also look at home in boho or rustic rooms. Available in gray, ivory, and linen; Buy Here. 
Boscov's Sheer Curtains & Light-Filtering
Sheer curtains are used to create a soft lighting effect and allow natural light to flood a room. Used for decor or room dividers, these curtains create an elegant accent to all styles, from classic to contemporary. 
Voile, crushed voile, grommet, and rod pockets styles are the most common. Plain colors in this collection provide a versatile style, but I also love that Boscov's offers unexpectedly intricate embroidery and patterns. While you'll find cream colors, I also love that they offer a few bold options, even neon hues. These are machine washable and polyester as well. Prices range from $9.99 to $34.99, except for one luxury option. 
Shop all Boscov's Sheer Curtains Here. 
Farmhouse Woven Stripe Semi-Sheer Grommet Panel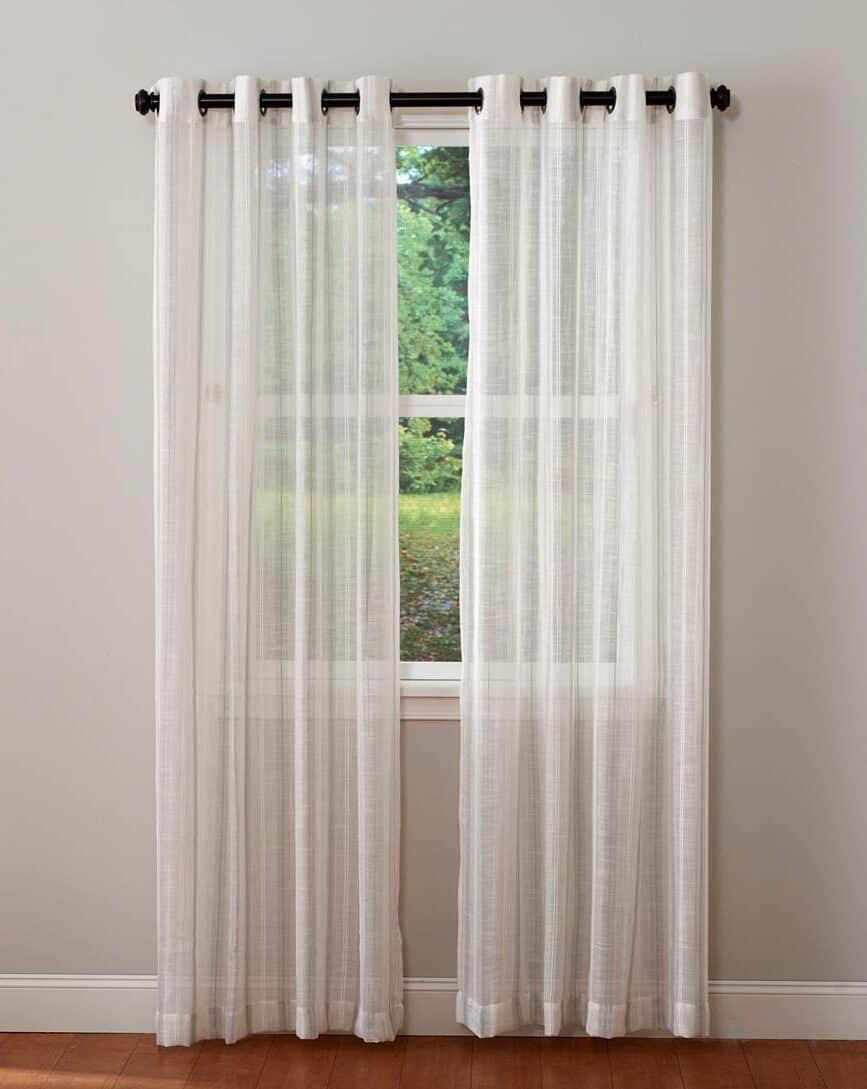 Can't fully commit to a sheer curtain? This semi-sheer curtain gives you just a hint of more privacy, which all the appeal of the natural sunlight a sheer curtain brings in. The minimalist style features Farmhouse woven stripes for a modern take on rustic and farmhouse decor. Available in blue and gray and priced at $19.99; Buy Here. 
Landon Metallic Embroidered Sheer Curtain Panels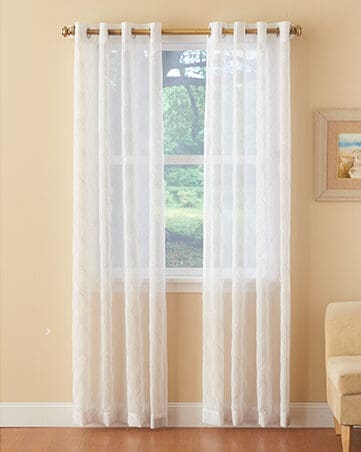 Available in blue, gray, ivory, and white, these sheer curtains are about as modern-classic and versatile as they come. The no-frills style is faintly embroidered with metallic detailing with semi-sheer fabric that's suited for any room. Priced at $19.99; Buy Here. 
Lorraine Home Toile Lace Print Grommet Curtains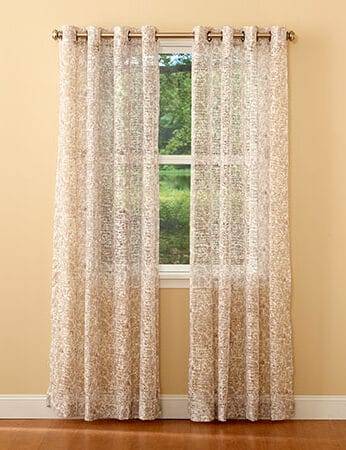 Lace curtains are becoming more popular for 2022, for everything from classic to rustic to vintage styles. These $19.99 to $21.99 curtains may not look exactly like lace, but give you some of that elegance. These semi-sheer, light filtering curtains are easy to open and close and available in gray, blue, and antique colors. Buy Here. 
Erica Crushed Voile Curtains
 
The crushed texture adds vintage sophistication to a room. A high twist design is complemented with a beaded ascot. I should mention that these cannot be ironed– they are meant to look slightly crushed. Available in coral, pale blue, whisper, and yellow, this is a unique way to accent a room. Priced at just $12.99 to $14.99; Buy Here. 
Frequently Asked Questions
Question: Does Boscov's take expire coupons?
Answer: Boscov's, like most department stores, won't accept any coupons that have expired. The good news is that most of their products go on sale and are already affordable. In fact, you can find some curtains for as little as $9.99. 
Question: Does Boscov's offer a senior discount?
Answer: There are no senior discounts offered by Boscov's at this time, but you should always be on the lookout for both online and in-store promotions and sales for all customers. 
Question: Does Boscov's give veterans a discount?
Answer: Boscov's does have a military discount, but it's tied to special sales events. The discount offers up to 15 percent off on certain items, but you'll first be required to complete an application. You'll only be eligible for discounts after this has been completed and during special promotions. 
Final Thoughts
Boscov's offers a reasonable selection of curtains for modern to classic styles. The prices seem fair for the quality, and it's a reasonable option if you're most interested in polyester curtains. 
Some do feel safer going with polyester alternatives– in which case I'd recommend checking out Target Cotton Curtains or Target Linen Curtains as the closet alternative.