Latest posts by Erin Jamieson
(see all)
When you're shopping for closet curtains, chances are the first thing on your mind is windows. But in 2022, closet curtains are one of the best ways to add some privacy to a bedroom. 
For one UK mother, closet curtains are not only a way to add privacy but create a magical, Narnia-like experience for her kids.
In a series of Tik Tok posts, mom Carolyn, who goes by the username @lovingthe.crew shared how she used curtains to reveal storage and a hidden play area for her children. A closet door in their finished basement became the inspiration to expand her children's imagination. 
What appears to be an ordinary closet door opens up to sheer curtains with textured trim, accented with a vine of fairy lights. The video, which has now been viewed over 148K times, shows a lit-up "Play" sign that introduces a play space. Complete with a ball bit and even a mini slide, it's nothing short of magical.
But you don't need lights and a playground to make the most out of closet curtains. From sophisticated to simple, practical to whimsical, closet curtains can pair with both closed and open closets for a truly remarkable look.
In this guide, I'll tell you how to select and make the most out of closet curtains. I'll also give you my ideas for finding the best closet curtains in 2022. 
How do you make an open closet look good?
One of the most common reasons why people buy closet curtains is because they have an open closet– that is, a closet without doors. Closets without doors are actually more common than you think and they do have some advantages. But many find that an open closet is taking an open concept design too far, and long for more privacy, or even just separation of space. 
In addition to hanging curtains over open closet space, you can install sliding glass doors, adding shelving and other organizational units, such as shoe racks, which can be helpful and keep the space from looking cluttered. 
Can I use a curtain as a closet door?
In fact, you don't need a door at all to add structure for a closet door. Closet curtains can be used for open closet spaces to provide that sense of separation, and even add some privacy. Plus, they double as decor to make a statement for almost any bedroom. 
What is a closet curtain?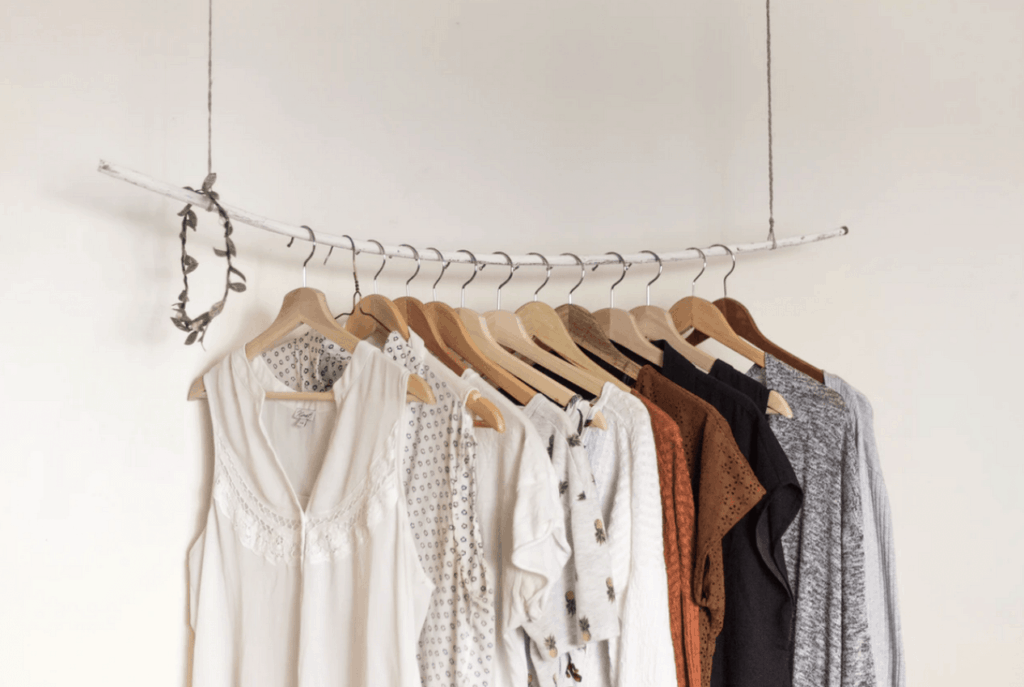 A closet curtain is not so different from regular curtains. They are curtains suited for doors, and some are extra wide to accommodate the closet space. Closet curtains are often used in place of doors for open closets but sometimes are even used over or inside closet doors to add some decor to a room. 
What's the point of closet curtains?
Closet curtains can be used to reduce the appearance of clutter and provide privacy or be used as decor. They also can be used to coordinate different decor in a room. For a shared room, closet curtains can divide one's possessions from a roommate's. 
How do I hang curtains in my closet?
Though closet curtains are most popularly used outside– for both open and close closets– you can, in fact, also hang curtains inside your closet. You can buy an adjustable ceiling curtain track set or a tension rod for such spaces. This is usually the easiest and cheapest solution.   
How do you measure closet curtains?
Most commonly used in bedrooms, closet curtains often need to be ordered to a specific size. How to measure the curtains depends on how you plan to hang curtains for your closet. The most important factor is the mounting position of your curtain rod. You'll need to carefully measure the curtain rod, starting at the floor.
However, you must add anywhere from 3 to 6 inches to accommodate hems and curtain tops. For the width, measure the doorway (open or closed) and add inches on each side (usually around 2) for a curtain hem. 
How do you choose closet curtains?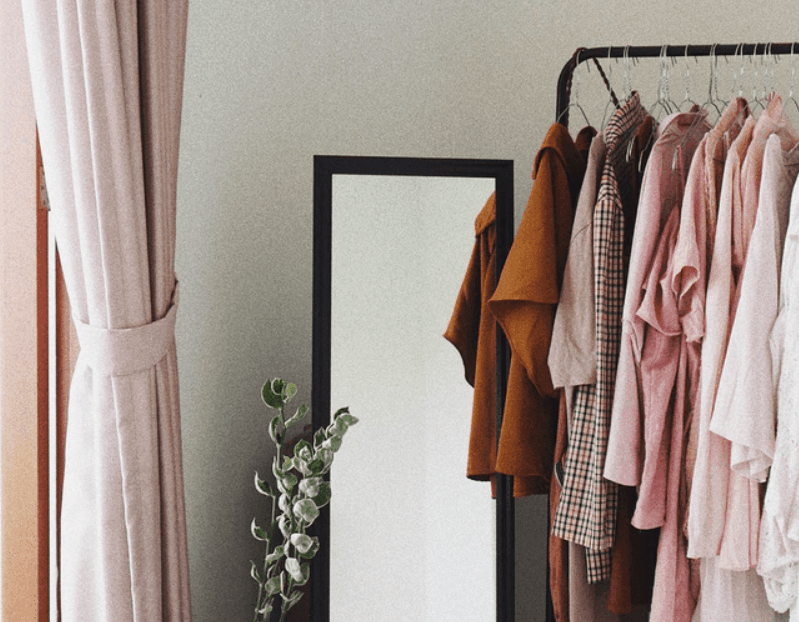 The good news is that finding closet curtains isn't as tricky as it may seem. While there are not many curtains that are marketed specifically for closets, door curtains in the right dimensions will work just fine. The key is to measure your space, assess your needs, and think critically about the styles and fabrics that make the most sense for your space. 
What materials are best for closet curtains?
The most important decision you'll make is what fabric to select for closet curtains. Because closet curtains will be heavily used– maybe even more so than your average window curtain– you need to make sure that you're buying durable and sturdy fabric. For that reason, I recommend delicate fabrics like lace, or beaded bamboo curtains, which can be fragile. 
Cotton, linen, and polyester are my top three ideas for fabrics. Faux silk is also a great option, but it's difficult to find faux silk curtains for a closet. While all three fabrics have some downsides, they are generally easy to care for, come in a wide range of styles, and are well suited for everyday use. 
Where do I buy closet curtains?
You can buy closet curtains on Etsy, Amazon, Target, and even a few home goods stores, including Pottery Barn. The most important thing is to take a look at the materials used, features, and care required. If you buy curtains in one of the materials I suggested, they shouldn't be too expensive, but be wary of super-budget curtains.
While there's nothing wrong with saving some money, make sure the brand itself is reputable, and the curtains have the materials and features you're looking for. 
Should I buy sheer, semi-sheer, room darkening, or blackout closet curtains? 
Understand that you'll have a little less room for different options if you're buying closet curtains and that there is no one answer for what kind you should buy. Sheer closet curtains are only used as decor, and won't provide anything in the way of privacy– these are more popular for closed closets or inside closets.
Room darkening or semi-sheer curtains are usually the most useful– providing more privacy while still allowing you to easily access your clothing. Blackout curtains are a little bulkier and cannot be seen through. However, they are sometimes used for open closets in a sunny room. They are a great replacement for closet doors, and many boast UV protection so your clothes won't fade. 
Closet Curtains: My Picks
Here are my picks for a few of the best cotton, linen, and polyester closet curtains. I've selected modern, traditional, and boho styles, as well as different degrees of light filtration. I made sure to include closet curtains with versatile features from reputable brands, with the advantage of high customer reviews.
Cotton Closet Curtains
Cotton is a go-to fabric for everyday curtains. Durable, lightweight, and biodegradable, you'll also get a wide range of options. The biggest downside to cotton closet curtains is that they can be prone to mildew since they're absorbent. Regular cotton curtains can also fade over time. But since they're cost-efficient, these downsides are fairly small. 
Tiny Break Cotton Closet Curtains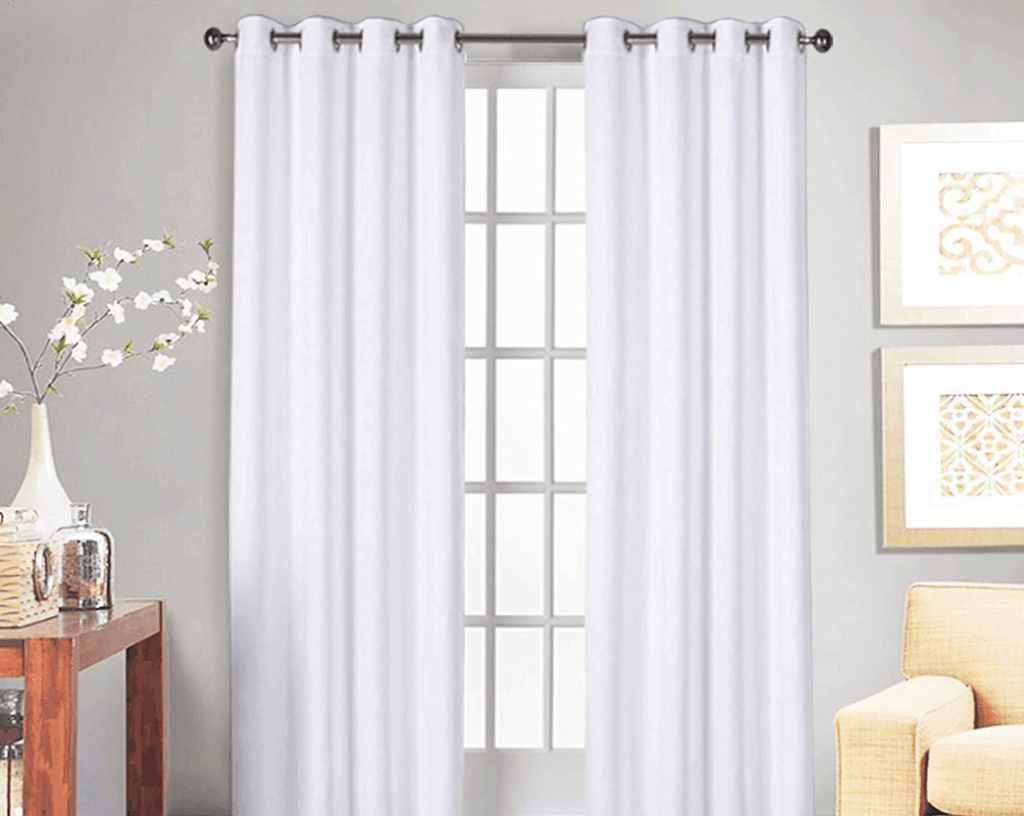 These 100% eco-friendly cotton curtains feature a modern grommet top and darken your room– providing privacy and protection for your clothes. Blocking out 50 to 60 percent light allows you a nice balance of an airy feel, but the privacy you want for your closet. Available in white, avocado, red, purple, and sky blue. It's a modern, solid curtain that's hard to go wrong with for most bedrooms. Buy Here. 
Madu International Cotton Mandala Curtains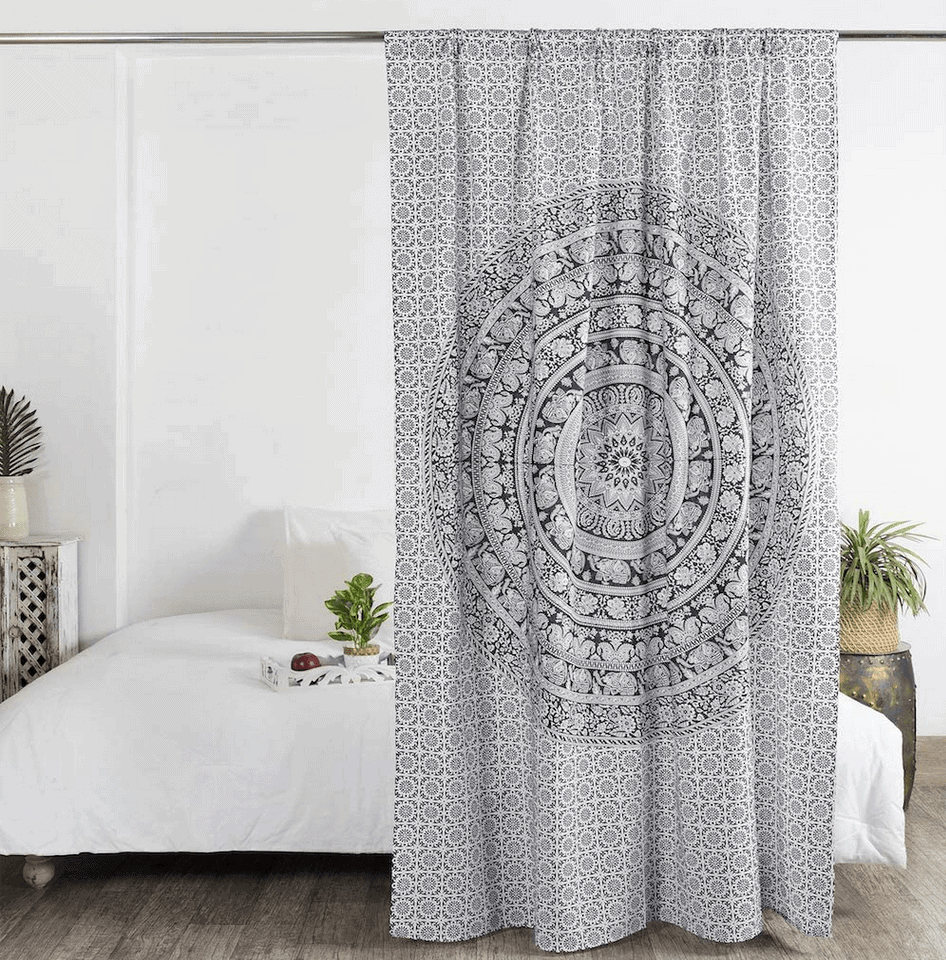 Use these mandala curtains to make a statement for your closet. A mandala is a geometric design that's meant to represent a spiritual journey or growth.
Though tied to Hinduism and Buddhism, the symbol has also been used that outside of those communities simply as a symbol of peace and meditation. The 100 percent cotton curtains are made in India, lightweight, and machine washable for easy care. They can be hung using a suspension rod, both for open closets and over beds. Buy Here. 
Morgan Banded Curtain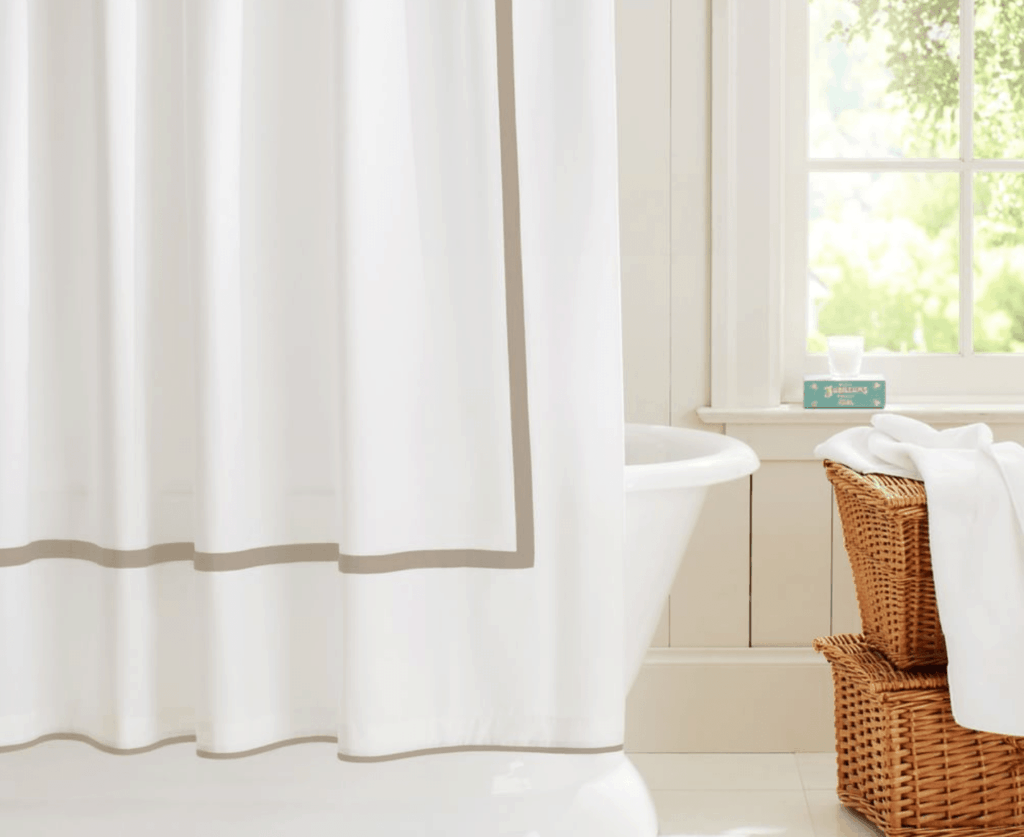 Technically, this is a shower curtain– but it's actually a great option for a closet curtain. If anything, it's more suited for a bedroom, made of 100 percent pesticide-free cotton.
The high-quality curtains are not only certified organic but also certified by the Global Organic Textile Standard, which requires stringent environmental and social protection. They're also machine washable and come with a crisp white and single stripe design. Buy Here. 
Hand Block Printed Cotton Closet Curtains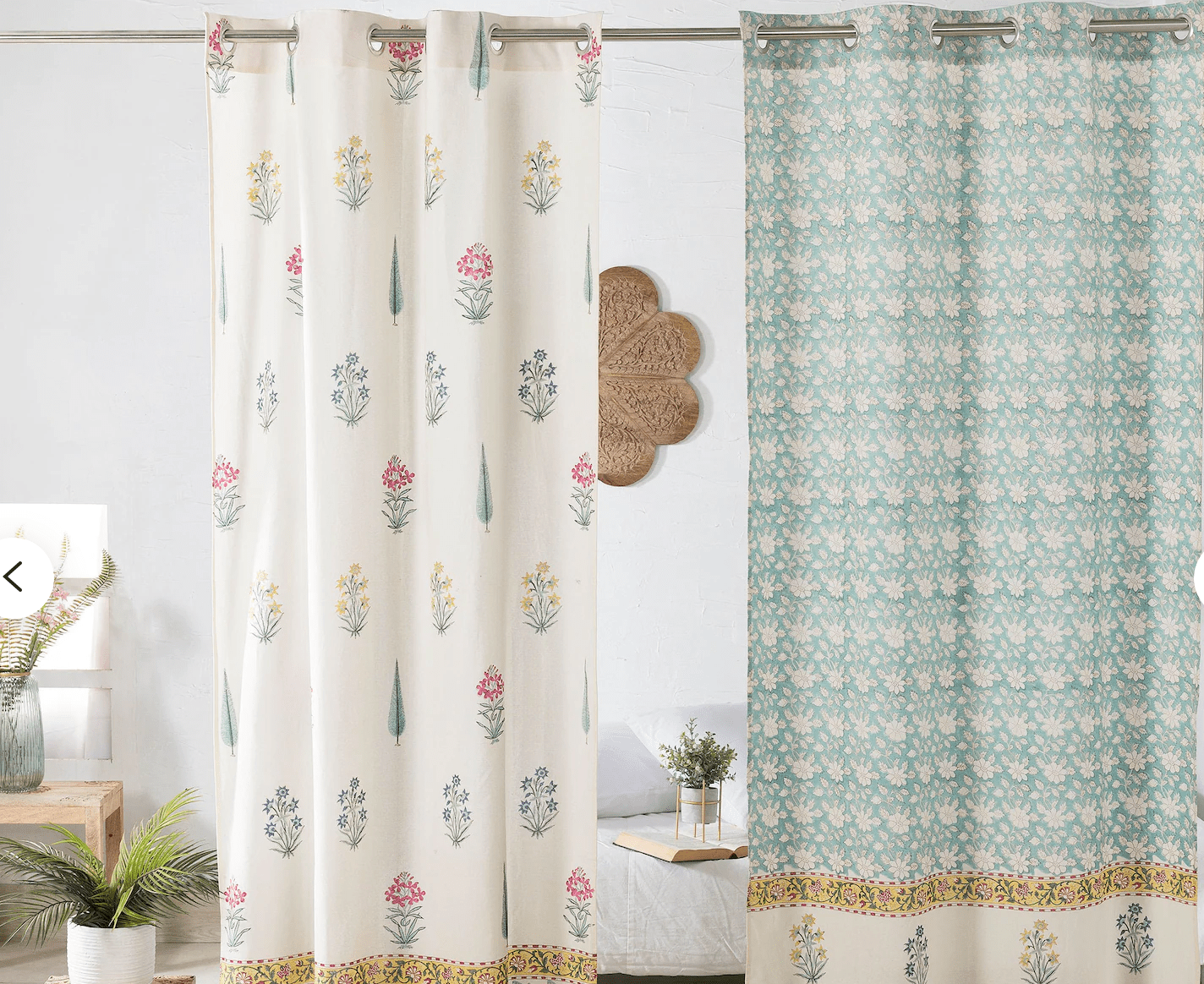 These handmade curtains are made out of breezy, lightweight cotton for a light, semi-sheer option. Ornate floral motifs are made using a special block printing technique. These traditional-style curtains are a beautiful addition to a bedroom and shipped for free within 3 to 5 business days. Buy Here. 
Linen Closet Curtains
If you want a more formal fabric, consider linen for your closet curtains. The linen won't fade like cotton, because it's UV resistant. Both linen and linen and rayon blends are prized for their sophisticated look and durability. However, you will need to clean them regularly. Linen curtains can attract mold or mildew if they get damp, and they do wrinkle and crease. You'll also have to pay a bit more.
Emery Linen Blackout Curtains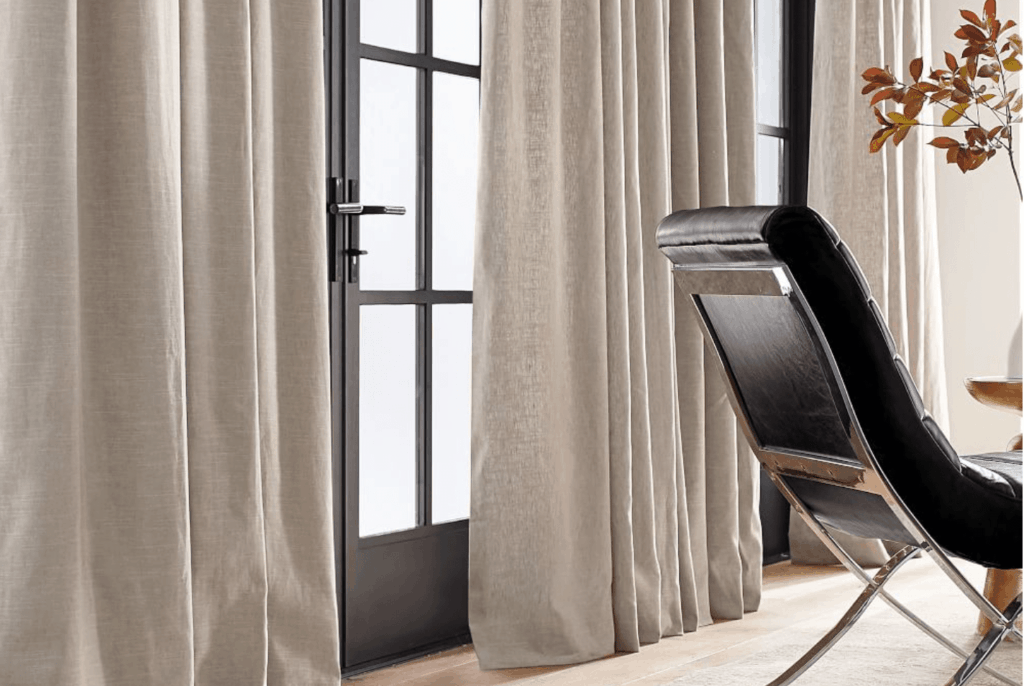 Have expensive clothes or clothes that are important to you, but prone to fading? These blackout curtains may be a great option for you. Though certainly not cheap, these curtains exude modern sophistication, made out of their bestselling linen and cotton blend (73% linen).
Natural yarn-dyed fibers add dimension and are paired with blackout lining to protect your clothes from UV rays and temperature changes. These curtains are also produced in a Fair Trade Certified fabric. If you have the money to spend, they're certainly a beautiful and stand-out option. Available in white, ivory, oatmeal, blue-gray, gray, denim, and black. Buy Here. 
Riviera Striped Linen & Cotton Curtains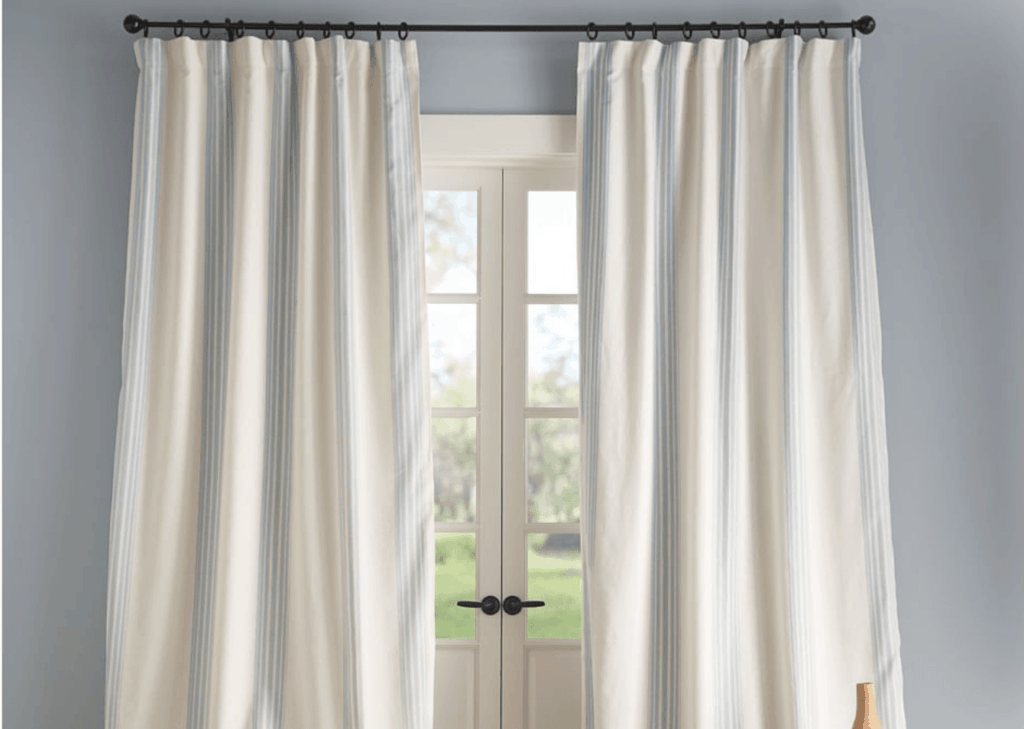 These stately but contemporary curtains are another great option for your closet. Like my previous pick from Pottery Barn, these curtains are made in a Fair Trade Certified factory and built to last.
The cotton lining means they're a bit lighter than the blackout curtain option, and the blend (55 percent linen) is a little more balanced between cotton and linen. One downside is they do need to be dry cleaned.  A simple stripe pattern adds a modern accent. Available with blue, navy, charcoal, and sandalwood stripes. Buy Here. 
Linen Noren Door Curtains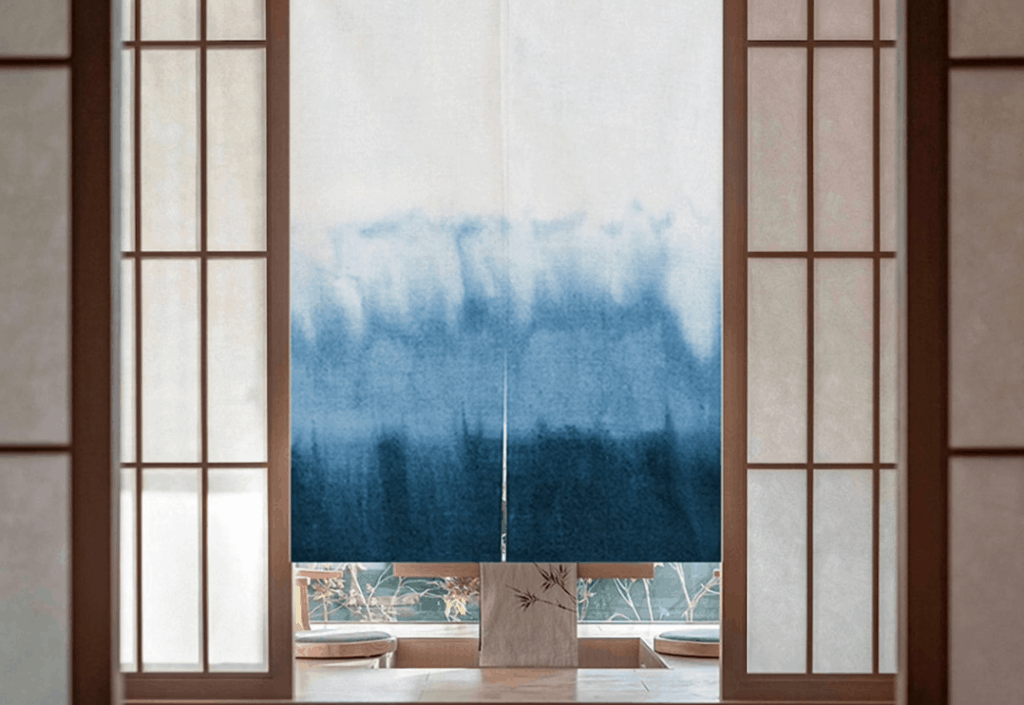 Use these handmade door curtains for open closets to create ambiance. Available in 12 stunning patterns, these unique Japanese curtains are meant to provide just a little privacy but with a style unlike so many other closet and door curtains. They're available in a variety of standard and custom sizes and are machine washed. Sewn by hand, these linen curtains are truly special and great if you like more of an open concept closet. Buy Here. 
Simple Pure Linen and Cotton Semi Sheer Curtains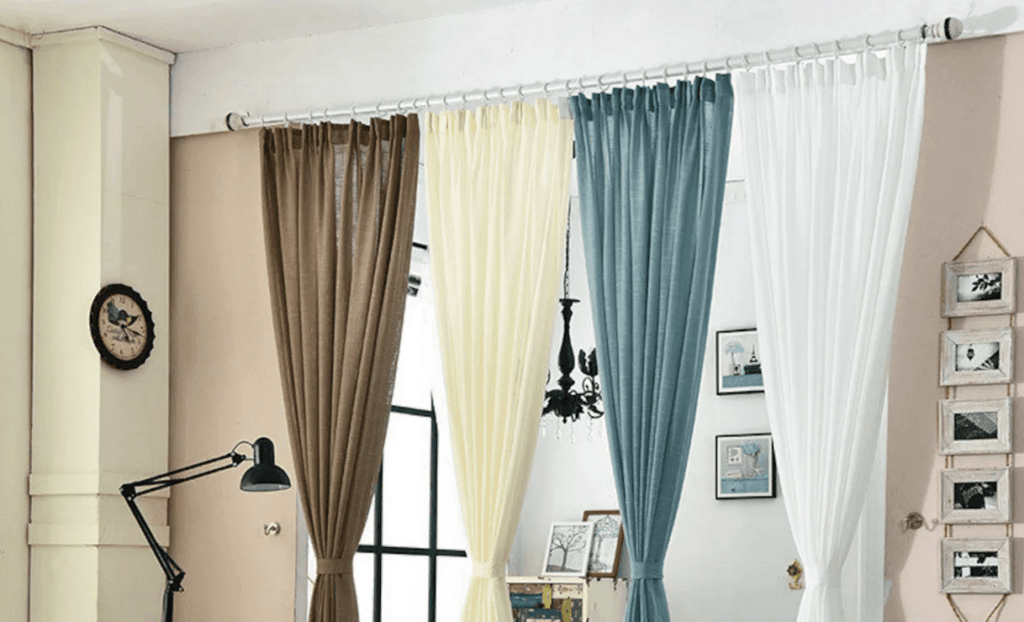 Love the look and feel of linen but have a smaller budget? Consider this simple but elegant linen and cotton blend curtains. Available in white, blue, coffee, and beige, the style is contemporary, versatile, and classic. Handmade to the size and hanging style of your choice, they're durable and cost-efficient. Buy Here. 
Polyester Closet Curtains
Polyester is a popular option for lightweight and affordable curtains, and you'll have the largest selection of options for styles. It's easy to see why this material is popular, as it's not prone to fading and is usually resistant to mold, mildew, and bacteria.
It's also known to work and an insulator and the #1 material used for blackout curtains. Some do have concerns that polyester products have a mild level of toxins found in household cleaners. Experts have indicated that these are at suitable levels so long as they are used correctly. 
Some curtains are OEKO-TECH certified that have been tested to not contain any potentially harmful chemicals. 
Tricia Room Darkening Extra Wide Curtains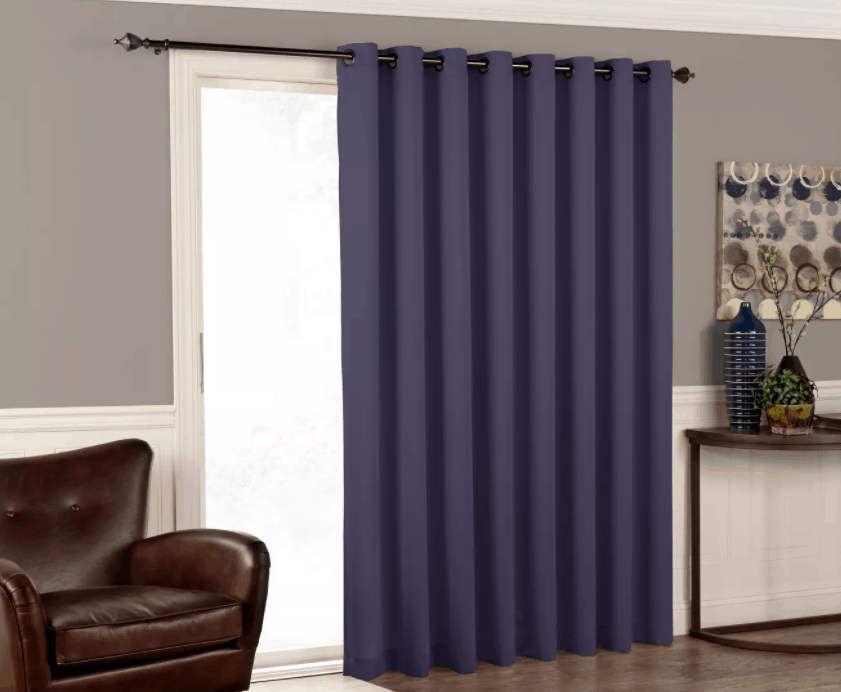 Have a wide closet? Consider these room darkening curtains for a plain, contemporary look. The 100 percent polyester curtains are machine washable and offer privacy and protection from outside light. They're also energy-efficient and easy to install. Available in navy, brown, turquoise, red, and stone. Buy Here. 
Emily Sheer Curtains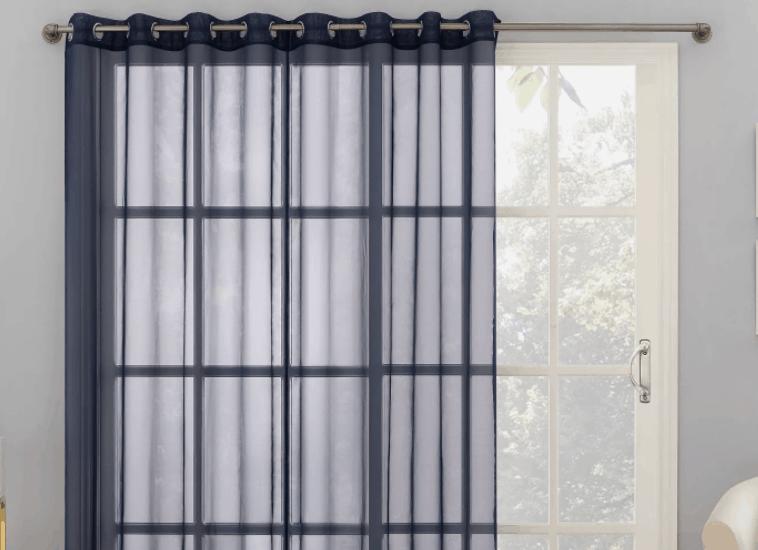 If you're an organized person– or want to showcase a section of your closet– a sheer curtain can be a decorative touch that separates your space, while still providing an open concept feel. These sheer polyester curtains are lightweight, machine washable, and can even be layered with other curtains. They're sturdier than they look and available in classic beige or navy.
Wontex Room Divider/ Closet Curtains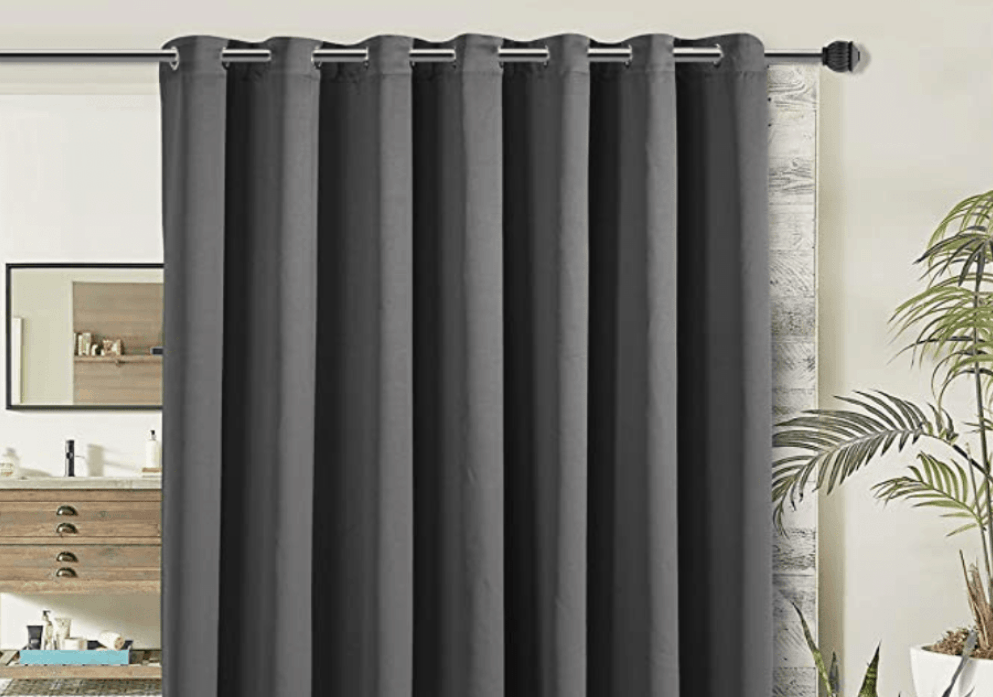 These study polyester curtains are a great choice for a shared bedroom. Thermal, insulated, and blackout construction provides the ultimate privacy. These popular curtains feature a no-fuss solid color and are available in a wide range of sizes. They also reduce noise. Available in gray, black, brown, gray, white, off-white, khaki, light gray, navy, red, and royal blue. Buy Here.
RYB Home Privacy Curtain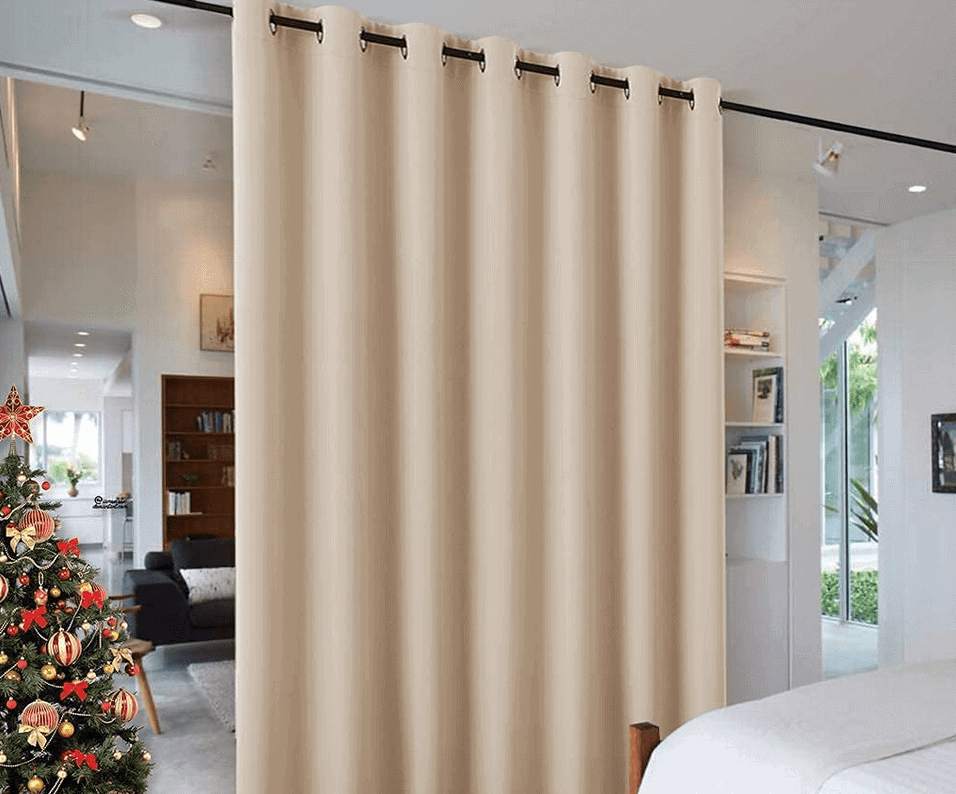 Useful for open closets and as a room divider, this Amazon Choice curtain has several features at a great price. The polyester fabric is soft and highly durable, constructed with triple woven fabric. Offering insulation, privacy, and noise reduction all in one, these curtains are also machine washable. Available in beige, black, cappuccino, cream beige, white, gray-white, white-gray, navy, teal, brown, burgundy red, mustard yellow, navy blue, olive green, and even purple– you'll have no shortage of solid color choices. Buy Here. 
Frequently Asked Questions
Question: What can I use instead of a closet?
Answer: Not everyone has the space for a closet, and the good news is that there are still solutions. Obviously, a dresser will allow you to easily store your clothes. Many opt for clothing racks and wall racks. You can invest in cubbies or organizational units for shoes. 
Question: What can I do with a small closet?
Answer: I understand that a small challenge can be challenging, especially if you're sharing closet space with someone else. One of my favorite tips is to optimize space through layering or stacking. This can be done using modular organizational units, additional racks, or event organizers underneath beds if there isn't any more closet space. You can also add an upper shelf. And, of course, downsizing your clothes could be a good idea. 
Question: Can you use a shower curtain as a closet door?
Answer: In a pinch, you actually can use a shower curtain as a closet door. All you'll need is a tension rod and hooks. Of course, the trickiest part is ensuring a good fit. Polyester, common for bathrooms, is suitable for a bedroom as well. 
Final Thoughts
Closet curtains can be used for decor, privacy, or even in place of closet doors. Focus first on setting a budget, then selecting a fabric that will work for you. Sheer curtains offer an airy and open concept feel, while room darkening curtains or blackout curtains can help protect your clothes–and privacy.