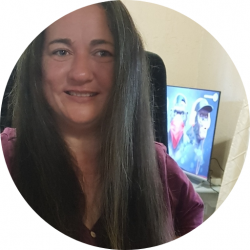 Latest posts by Caroline Lambert
(see all)
They say there's a silver lining in all clouds, and these amazing silver curtain ideas and inspiration could be the silver lining of your home. Silver seems like a flashy color, but you won't believe what it can do in the fitting room. It can turn boring into exciting, neutral into fantastic, and bland into a stylish fashion statement.
I'm also not calling your home a bland, boring, and neutral space that resembles a dark cloud. I'm telling you that adding a silver lining is a bold move in the direction of modern styles. It matches so many colors, accents, and decor pieces, and it steals the spotlight while toning down darker colors like black.
It brings a silver lining to dark shades and bland decor. Admittedly, silver doesn't fit every room in your home, but I'll show you my top picks for the four main rooms in which silver curtains will pop like it's hot. And to show you how great silver can be, I'll share my most precious secret for the color.
What's so Special About Silver?
Silver is a metallic shade of gray, being more reflective and flashy. It also corresponds to one of the precious metals once used by royals, the wealthy, and eventually, standard trading. It's a magnificent color that signifies prosperity, elegance, glamor, grace, and sophistication.
Silver has deep roots in metaphysical meaning, and it signifies a deeper self, a connection to the soul, hope, mysticism, and psychic connections. The metal's other metaphysical properties are loving tenderness, self-love, perseverance, patience, healing, and a gateway to higher consciousness.
Silver as a metal, color, or piece of jewelry corresponds to many more profound meanings and higher understandings. We ironically use it to make mirrors as well due to its high reflective nature. Think about having silver curtains in your home to reflect on your innermost consciousness and self.
If these reasons don't win your heart to add silver curtains to your interior design, maybe a fun fact will do the job. Silver iodide is used in cloud seeding, to encourage rain, and even ease the tide of hurricanes; pun intended. If only John Milton knew the true meaning of his "silver lining" phrase.
No one knew in 1634 that silver could alter the weather, but Milton unknowingly created a phrase with two meanings. For me, silver in my home is the perfect breakaway from the bland or dark decor. Dark colors are trending, but breaking them with a touch of silver does incredible things for a modern home.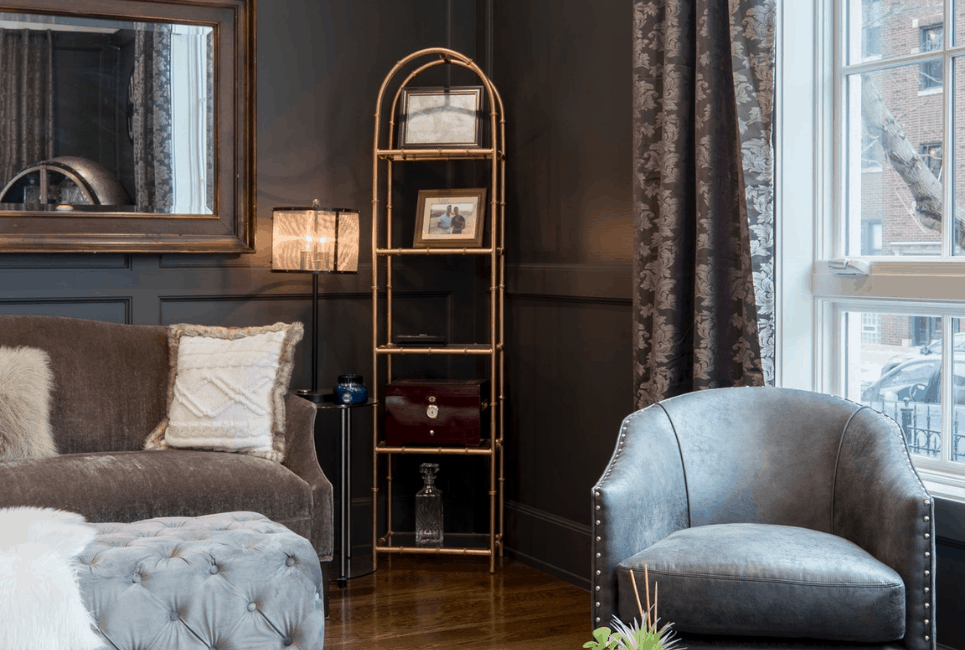 What Nudges Me?
Before choosing my top silver curtains for each room, I consider the price and versatility.
Price: Silver seems so precious once you know the meaning of the color and metal, but you aren't investing in the precious metal, so you want the curtains to be within a reasonable price range. I stuck to a budget of no more than $50 when choosing my favorites.
Versatility: In fairness, silver is a versatile color, but mixing metallics can be challenging. You'll find excellent tips on how to incorporate metallic shades in this article. Nonetheless, I choose my favorites for each room based on how versatile they can be if you're constantly changing your decor like myself.
Top 10 Amazing Silver Curtain Ideas and Inspiration
Without wasting more of your precious time, allow me to introduce my top picks for the four rooms that work with silver curtains. Sure, you can use silver curtains elsewhere, but the bedroom, dining room, living room, and office work well.
Silver is a hot and modern color, so it would look best in spaces where you can apply contemporary designs. It's also a social and opulent color that suits best to rooms you want to give the sense of abundant liveliness.
Top 3 Ideas for Bedrooms
A bedroom is where you want to be lost in that deeper consciousness and reflect on your day before bed. I meditate in my "higher self" corner every evening and morning, and silver makes its way into my bedroom often when I change my curtains and decor. Those streaks tend to push me deeper into myself, relaxing me.
Natural Roots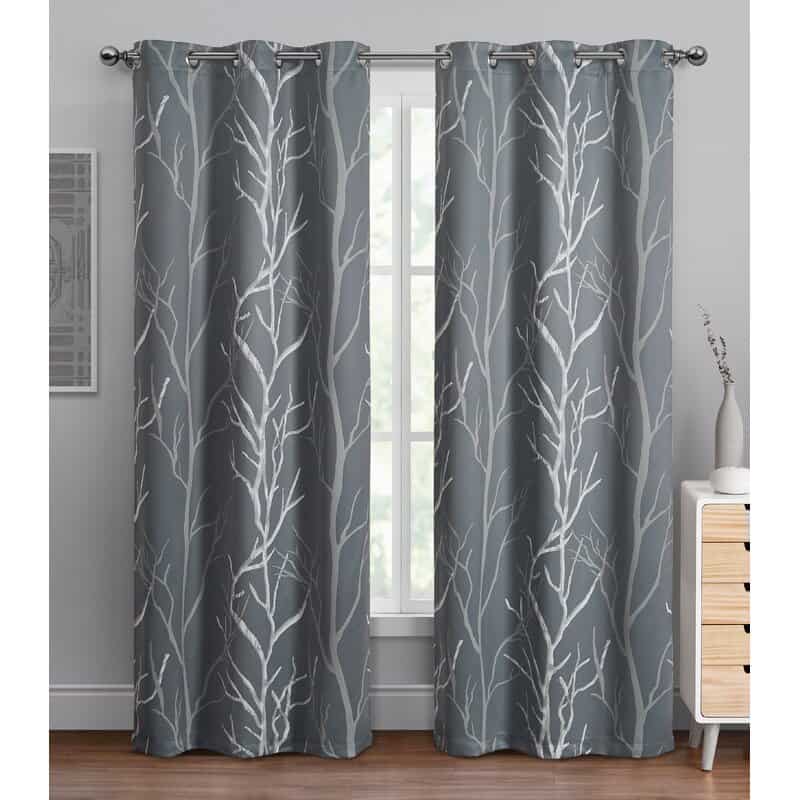 Nature is the one thing that brings me closer to relaxation when I'm in meditation mode. These beautiful Winston Porter Curtains blend nature and the silver element into a fantastic experience. The background is a gentle blue-gray, while the branches of silver run across the panels in a feral fashion.
These panels fit into the contemporary style like a hot knife slices through butter. The branches also aren't too bold, allowing the pattern to match with simple decor. I changed my linen to a darker blue-gray shade and placed three shades of cushions on my bed, ranging from black to dark gray to silver.
I also had a black throw over the foot of the bed. My bedroom walls are a lighter shade of gray, and I had a beautifully gilded silver frame over my bed. The room felt elegant while giving me the right mindset to drift into another realm. Whether you want to dream or meditate, this is a great idea.
Key Features
Costs $25.99 (per panel)
It comes in various background colors
Blackout curtains to reduce light for improved sleep
Grommet style header
Made from polyester (high durability)
Panel size: 40″ W x 84″ L
Suits contemporary or farmhouse homes
Works in a bedroom, living room, dining room, or office
Possible Setbacks
The panels won't suit the elaborately patterned decor
They also don't look great against dark wooden tones (even though the pattern is inspired by nature – the colors don't match darker woods)
Options Galore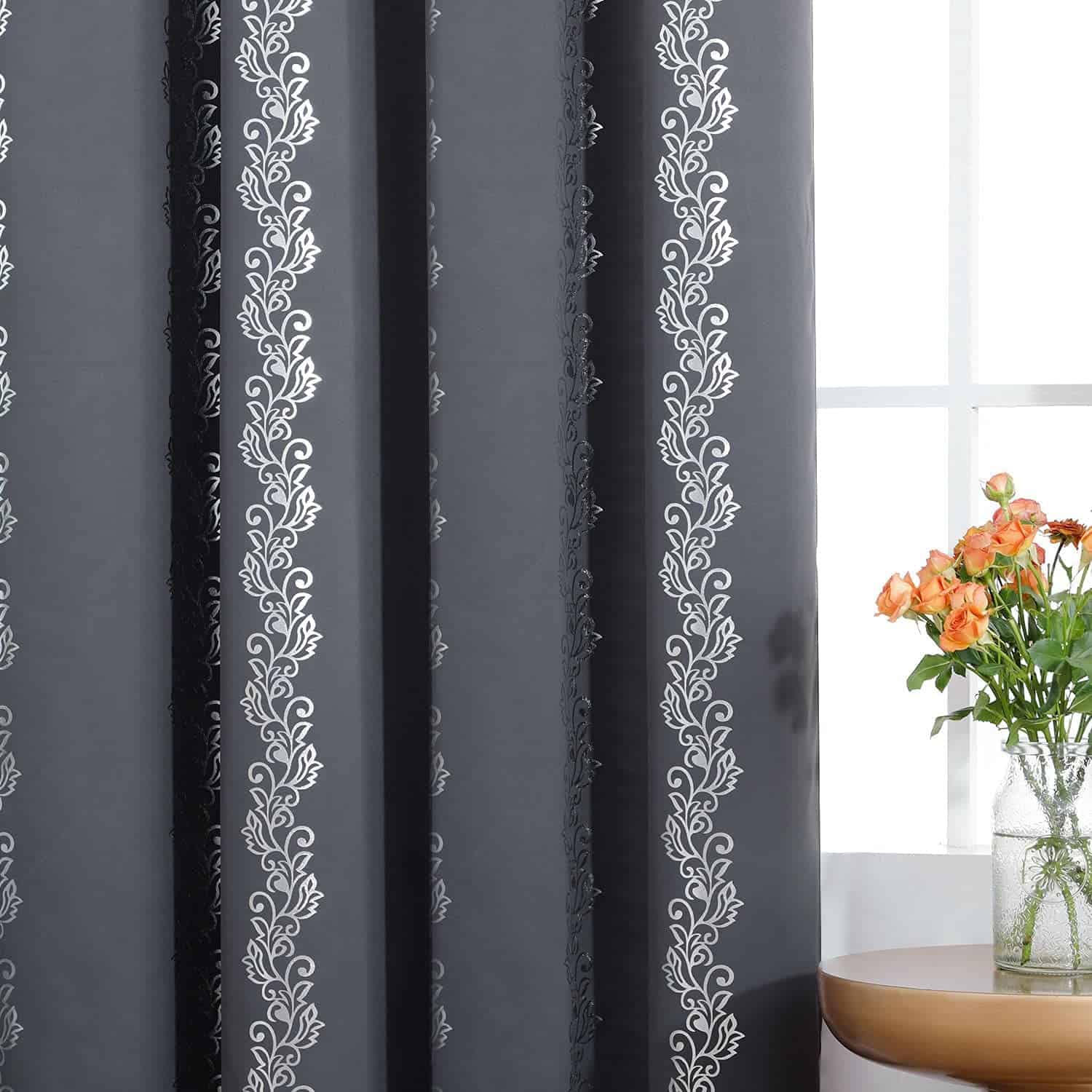 The color silver is vastly versatile, as can be seen by the myriad of background color options of the Esteler Extiler Curtain Panels. Not only do you get to choose the background color, but you also have choices with the silver patterns on the curtains, and some patterns include floral, stars, crosses, and vines.
Background colors include pink, blue, beige, white, black, turquoise, red, and gray. These curtains can fit into any bedroom decor you already have due to the color and pattern range. You can even use them in a girl's bedroom if you choose pink with stars, and use them in your bedroom if you want navy blue with vines.
Key Features
Costs $23.49 (both panels)
It comes in various patterns and colors
Blackout and thermal curtains (to warm the bedroom up a little, too)
Grommet style header
Made from a polyester blend
Includes tiebacks
Panel size: 38″ W x 45″ L / 38″ W x 54″ L / 38″ W x 63″ L / 38″ W x 84″ L / 38″ W x 96″ L / 52″ W x 45″ L / 52″ W x 54″ L / 52″ W x 63″ L / 52″ W x 72″ L / 52″  W x 84″ L / 52″ W x 96″ L / 52″ W x 108″ L
Suits contemporary, shabby chic, and formal homes
Works in a bedroom, living room, and dining room
Possible Setbacks
The silver patterns may look white from a distance
The bolder background colors won't fit into all decor unless you choose a color that fits your current accents
Sleek Boldness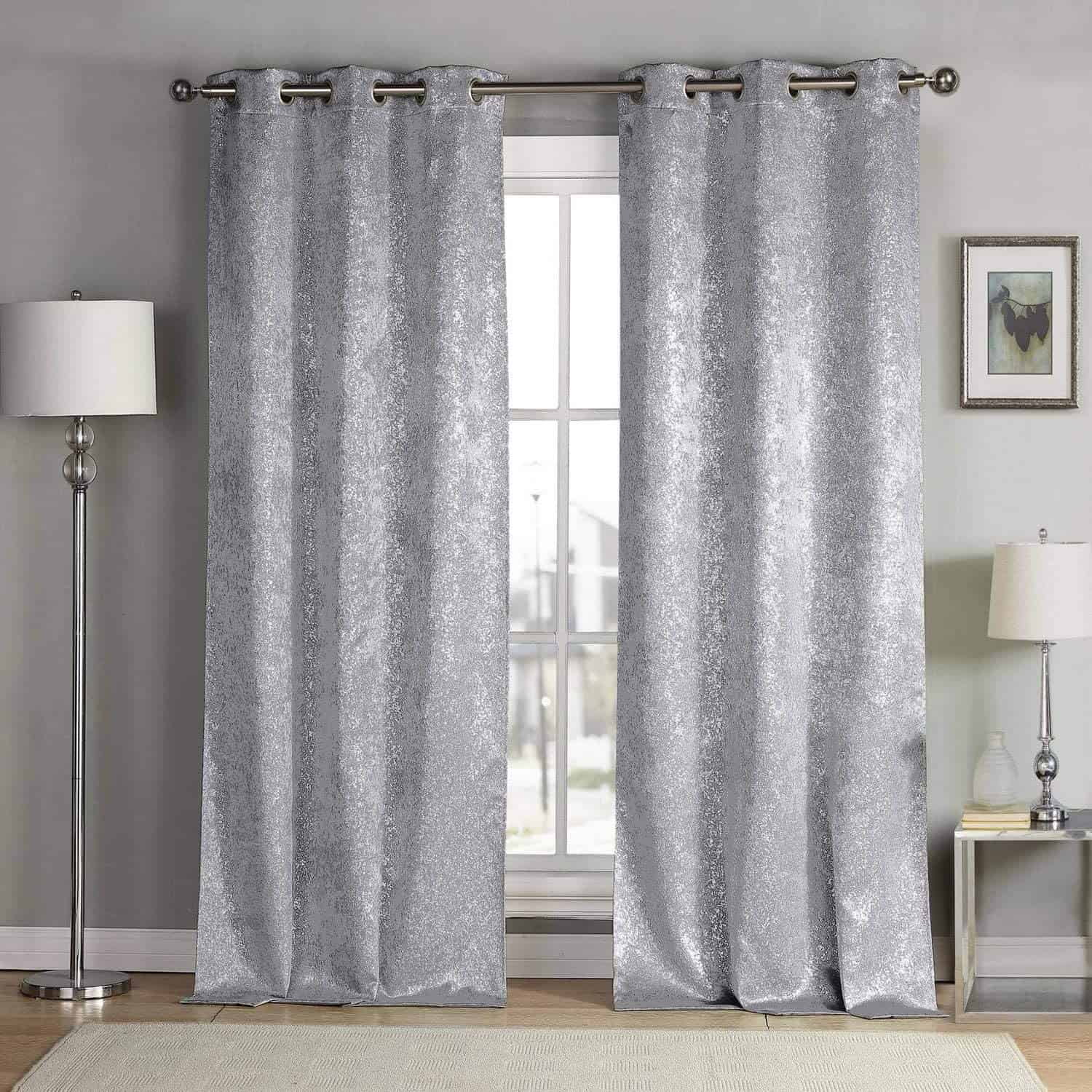 There's always an option to use your silver curtains as the centerpiece that accents everything else in your bedroom, which can be done with the Kelvin Maddie Curtain Panels. From a distance, they look like warm, gentle velvet welcoming you into an all-consuming space of silver beauty.
It takes just a moment for the glittering silver to wow you. Mix this panel with darker shades of gray, black, deep reds, and dark blues, and you have a centerpiece worth talking about. Ladies, maybe you can get your partner talking more at night when he sees these glamorous curtains.
Key Features
Costs $18.19 (both panels)
It comes in one color and solid pattern, but it looks like a modern epiphany of awesome!
Machine washable to easily keep it splendidly fabulous
Grommet style header
Durable polyester fabric
Panel size: 37″ W x 84″ L
Suits contemporary, shabby chic, and metallic designs
Works in a bedroom, living room, or dining room
Possible Setbacks
The panels give a sense of a disco, which may liven a bedroom up too much for some people
The reflective nature of the panels won't work well with mirrors and reflective or shiny wall hangings
Top 3 Ideas for Living / Dining Rooms
The living and dining rooms are social spaces where family and friends often relax and laugh together. It's also the space you want to make a bold statement if you're into standing out from the norm. Silver curtains work wonderfully in both rooms because of the possibilities with couches, rugs, tablecloths, and decor.
Add that touch of luxury to your social spaces.
Draping Elegance
A living/dining room is often a place you get to flaunt your stuff while inviting guests, family, and friends into your home. It can be a formal or casual space, but these incredibly elegant Elrene Home Fashions Drapes lean toward a formal room. The valance-style scarf hugs the panels in a sophisticated manner.
You could have darker couches reflecting the outstanding shine of these drapes, or you can be brave enough to put white sofas and rugs down to impress your visitors. Please note, you'll want to stay away from white sofas and carpets if you have kids. Trust me; they'll find something to mess with the pure formality.
If you choose white accents, balance them with a few darker shades of gray, almost touching black. However, these curtains make you feel like you're walking into a palace when you enter the room. Drapes are always a sure-fire way of turning a room into a formal space.
Key Features
Costs $39.99 (2 panels and 1 valance)
It comes in the sterling silver color you're learning to love
It's machine washable, even though it looks fragile
Rod pocket style header
100% polyester fabric
Panel size:  52″ W x 84″ L / 52″ W x 95″ L / 52″ W x 108″ L
Suits formal, contemporary, vintage, farmhouse, Victorian, and Art Noveau designs
Works in a living room, dining room, or bedroom
Possible Setbacks
The room will lean toward formal
The color matches will be extreme for this panel, either going much darker or lighter
Simple Geometrics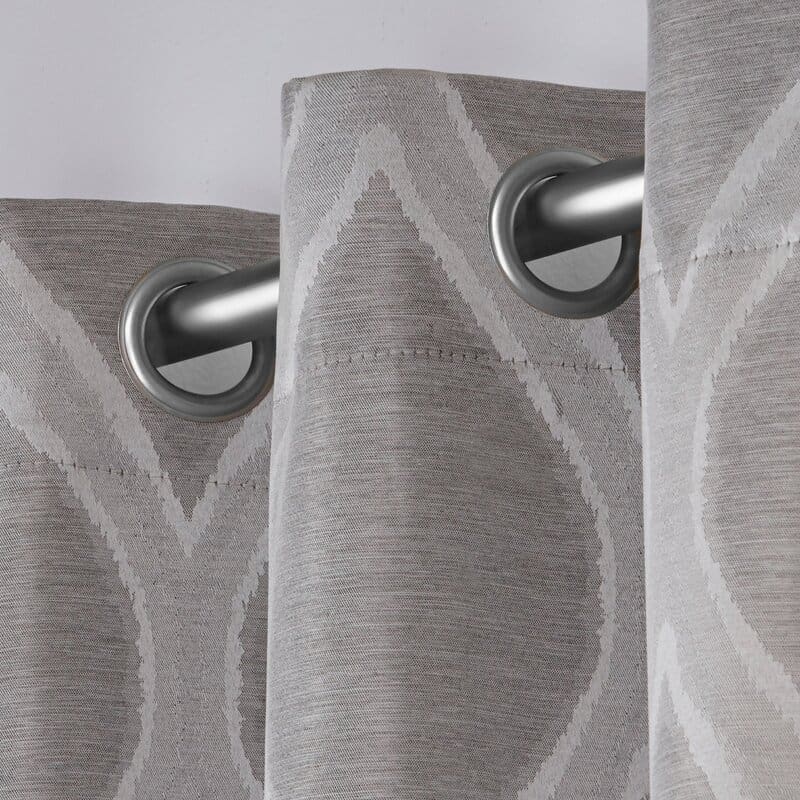 You might not want such elaborate curtains as the previous drapes, especially if you're thinking about the kids tracking mud into that beautiful white rug. The Baronne Sem-Sheer Panels might suit your taste better. They're a simple gray background with modern silver geometric patterns, easy to match.
The simplicity of these curtains allows you to match them to bright, contemporary colors like illuminating yellow or a lavish blue to make the curtains fade into the living room. Be yourself, even if that means matching one blue and one yellow couch to these practical curtains.
Key features
Costs $42.46 (both panels)
It comes in four colors
The semi-sheer panels block some light
Grommet style header
It looks like a jacquard fabric, but it's a textured linen fabric
Panel size: 54″ W x 84″ L
Suits contemporary and Eastern designs
Works in a living room, dining room, bedroom, or office
Possible Setbacks
You can only match the panels to solid colors
I recommend bright colors to reduce fading too much
Night Sky (Winner!!!)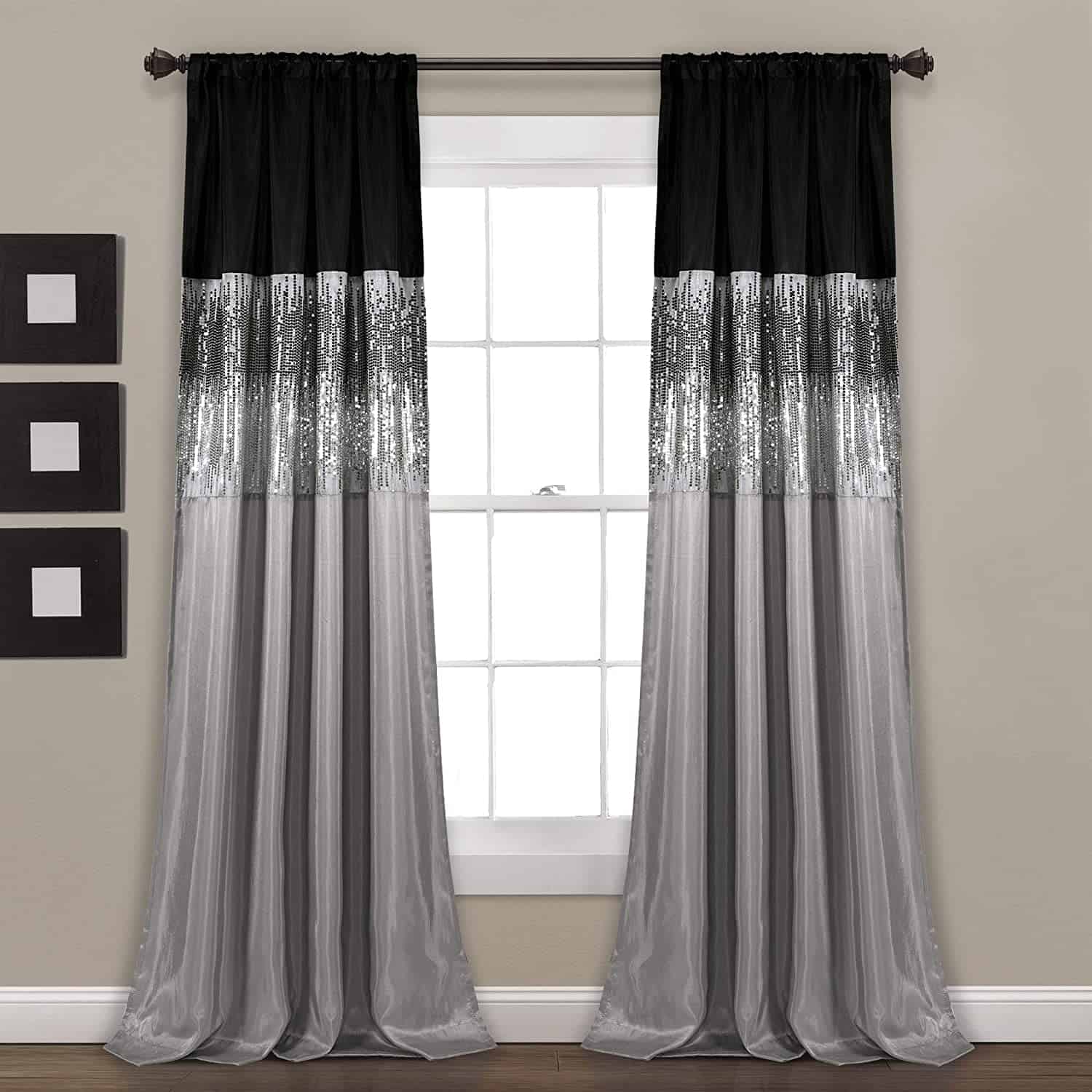 Between the elegance of drapes and the simplicity of geometrics lies a curtain that combines silver with the best color, black. Don't think dark and dreary; think black as it's a trending color in interior design. The Lush Decor Night Sky Panels combines three contemporary colors to create a perfect statement.
The silver lining separates black and gray, allowing these curtains to fit into any modern living room with various shades of gray, silver, black, and even white. The silver is also not overwhelming, but it's enough to say: "hey, notice me already!" It's one of my favorite curtains among all colors as the gray also has two shades.
Key Features
Costs $19.99 (per panel and totally worth it)
It combines three of the best interior colors to work with
It also comes in various colors, including purple, white, blush, and yellow (all with the silver lining)
You can order the valance extra
You can reverse the panels to turn the pattern upside down
Some thermal insulation and blackout potential
Rod pocket header
Combines 100% polyester with faux silk (layered panels)
Panel size:  42″ W x 84″ L / 42″ W x 94″ L / 42″ W x 108″ L
Valance size: 84″ W x 18″ L
Suits contemporary designs
Works in a bedroom, living room, and dining room
Possible Setbacks
It only suits contemporary styles, limiting the room design
Decor and accent matches will depend on the color you choose
Top 3 Ideas for an Office
An office doesn't need to be a dull space where productivity is the only thing on your mind. Being creative in your workspace is precisely what you want. Designing a beautiful office with silver curtains will spark your deeper consciousness and creativity.
Jacquard Inspiration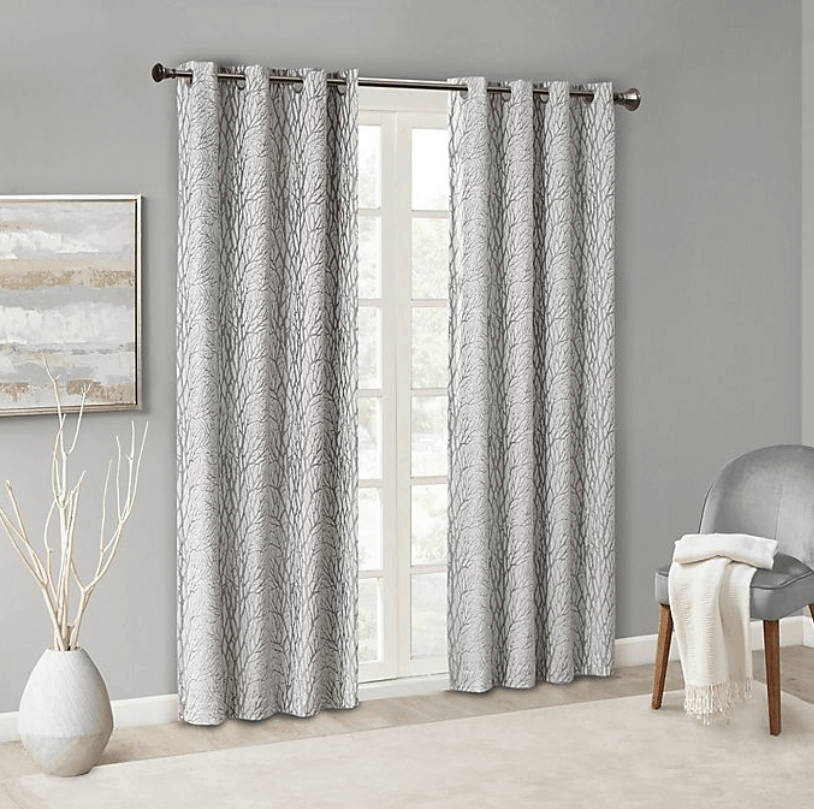 Jacquard fabric is a complex, woven pattern rather than a printed pattern, initially inspired by the Italian Brocade. The SS Everly Branch Panels add depth to your curtains by allowing the rich textures to boost your mental depths while working. Inspiration lies on a deeper level.
The panels are gorgeously designed with branches against a solid white background, which works if you want your office to look like it belongs to the year's executive. The branches are embroidered to pop out into the imagination of any client. This panel will also suit most color and style designs.
Key features
Costs $46.39 (per panel – oops, but it's still under my budget – wink, wink)
It comes in three colors (gold, silver, and navy blue)
Total blackout panels with noise reduction benefits
Grommet style header
Wonderful polyester
Panel Size: 50″ W x 84″ L / 50″ W x 95″ L
Suits contemporary and formal offices
Works in an office, bedroom, dining room, and living room
Possible Setbacks
The solid color and pattern will limit the decor to recommended accents
It doesn't work well with wood office furniture (yes, surprisingly, branches don't work with wood desks again)
Sheer Brilliance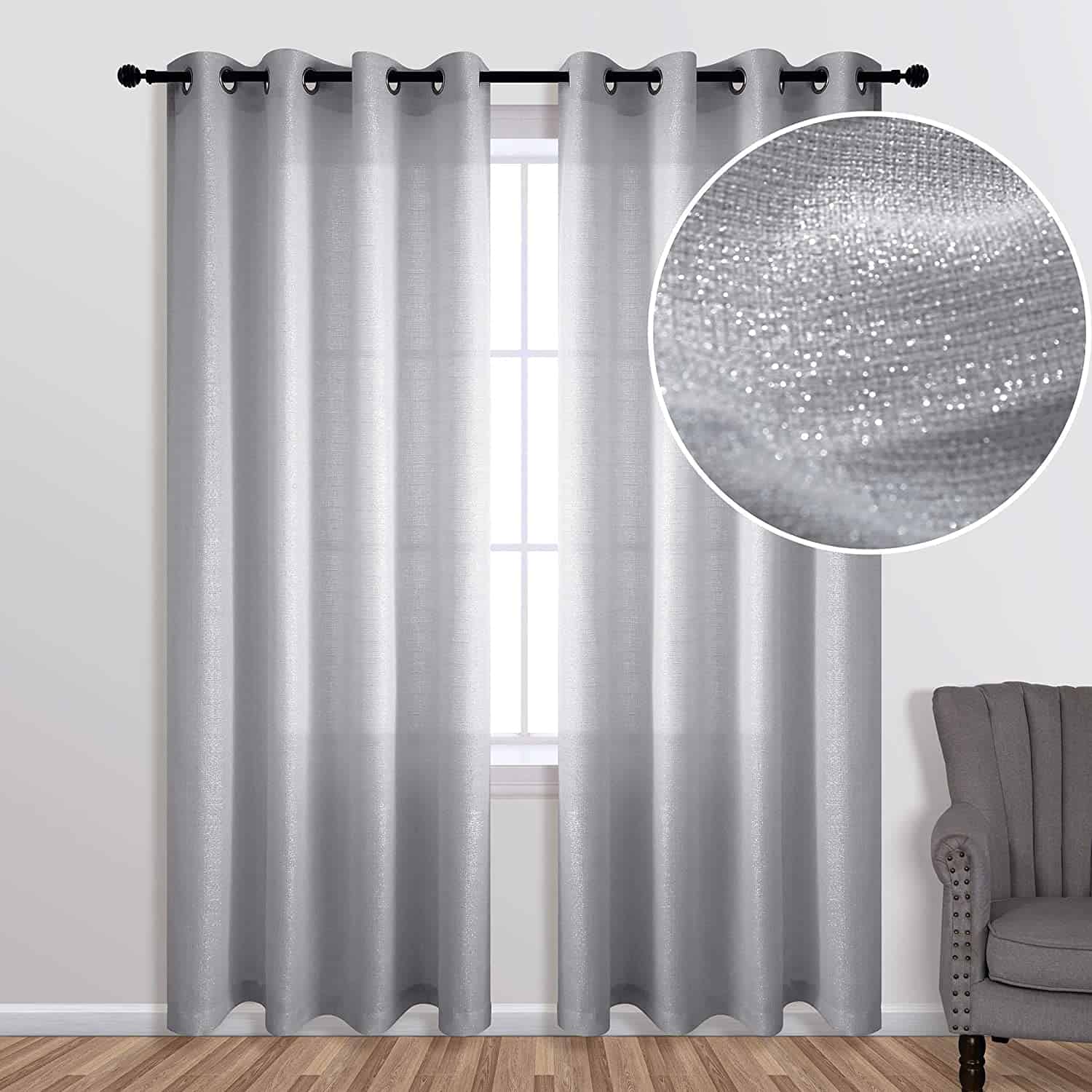 An office is also a space where brilliance is welcome. The Sheer Glitter Panels will remind you how brilliance and mastery are a part of your working mind. They're not too bold or glittery, so they can also work in a man's office. They look gray from a distance, but the shimmer shines as you near the curtains.
These panels could fit any space and design where you'd typically use gray curtains, which are pretty popular in offices for that "professional" look. It's modern, easy to match, and changing from gray to silver can boost your mental flow.
Key features
Costs $21.99 (both panels)
It comes in six colors (white, gold, silver, black, dark blue, and gray)
Semi-sheer (blocks some light)
Grommet style header
Combination of faux, polyester, and linen
Panel size: 52″ W x 45″ L / 52″ W x 63″ L / 52″ W x 84″ L / 52″ W x 95″ L
Suits contemporary, traditional, and shabby designs
Works in an office, bedroom, living room, or dining room
Possible Setbacks
The shimmer style can be overwhelming if it's close to your desk
Men might not be into trying the shimmer over classic gray
Block Breaker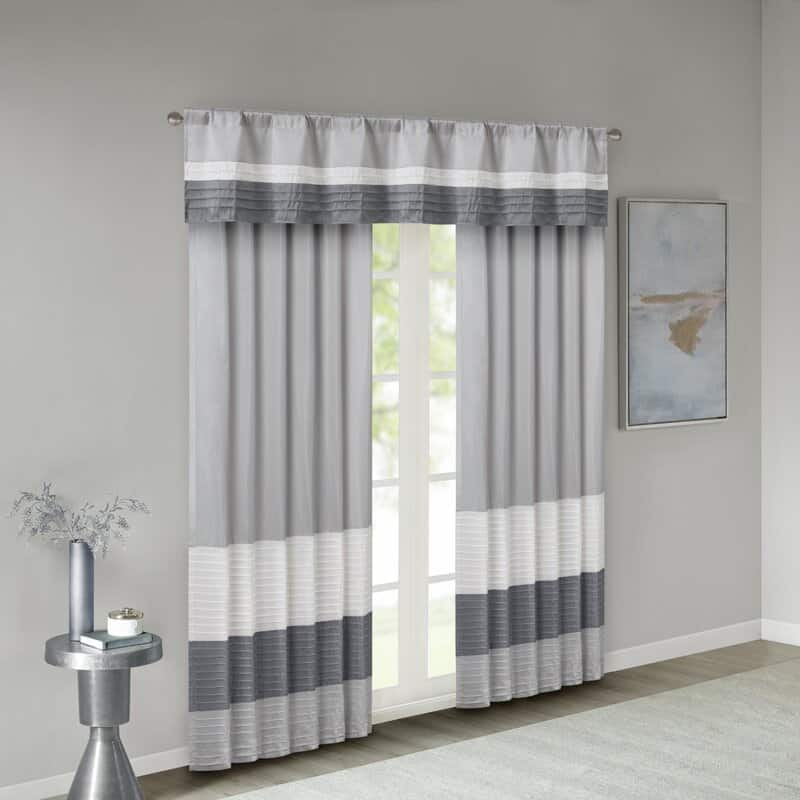 As a writer, I know writer's block is common, which applies to every profession. Our creativity can hit a brick wall. However, the Liesel Striped Panels break the block by giving you control over symmetrical inspiration in the office. The panels also combine the most beautiful shades of gray, white, and silver.
Matching them to furniture, decor, and even your suit if you wear one is a simple task. The valance adds that extra depth again, while the silver lining brings optimism and mental prowess. The curtains will also look incredible in a white space. Many offices are going for that contemporary, minimal design.
Key Features
Costs $48.99 (both panels)
It comes in 11 colors (blush, silver, black, yellow, blue, aqua, coral, cranberry, ivory, natural, and navy)
Semi-sheer (blocks some light)
Rod pocket header
Polyester for durability
Machine washable, and you can place it in a dryer
Panel size: 50″ W x 84″ L
Suits contemporary and formal designs
Works in a bedroom, office, living room, and dining room
Possible Setbacks
You can't match elaborate patterns in your decor to these panels
You should stick to similar shades of complementary colors as the panels already have three shades
The "Wow Factor" of Silver Curtains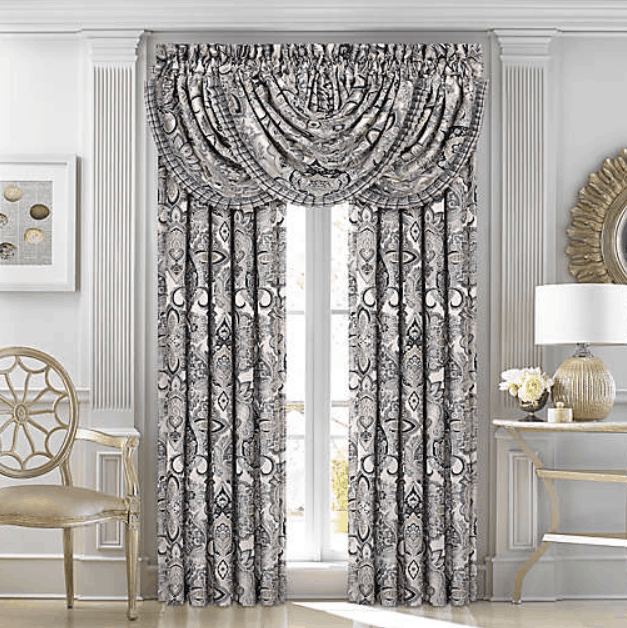 I have to admit I have a problem when it comes to following the rules, and I don't always follow them, and I'm about to break both my budget and versatility rules with that note. My final silver curtain inspiration is enough to break the bank while it doesn't suit many styles, colors, or decor.
The J. Queen New York Giuliana set is so beautiful that I'll allow the rules to bend for this one. It takes a trip down an elegant lane through old European and Eastern designs, and it's unapologetic at best. A famous person doesn't always care about what others think as they walk down the red carpet.
Consider this the celebrity of silver curtains. As limited as it may be and as expensive as it seems, this is a gorgeous silver curtain set if you have a larger budget and a formal living room. I can only imagine what a beautiful, silver gilded chaise would look like under these drapes.
Key Features
It costs your life savings (just kidding)
The price is steep at $189.99 for two panels
The panels are gorgeous shades of silver on a white background with black hues
Rod pocket header
The valance is sold separately
Textured polyester with floral-medallion jacquard embroidery
Tier size: 100″ W x 84″ L
Suits Eastern, formal, and French designs
Works best in a living room
It's a bold statement to show wealth, prosperity, and class
Possible Setbacks
It can only be dry-cleaned
It won't match contemporary furniture or decor
It can't fit all colors
It's expensive (understatement)
One thing we can all agree on is that beauty has no price. Sometimes, our design budgets don't allow for absolute glamor, but we should go as big as possible when it does. On the other hand, some people aren't into elaborate styles or curtains. Minimalists won't love the luxury designs, but they can still use the simpler silvers.
Complementary Tips for Silver Curtains
Such fabulous curtain ideas need some tips to ignite the most profound inspiration. Silver has many potentials for complementary decor and colors, and there are some big no's. I've dug deep to find the secrets to making silver your perfect color curtain.
Rods
Have you ever walked into a home with bright blue or olive green curtain rods? Well, I know someone who has green rods, and all I can say is that she has super limited options regarding curtains. The worst was when she put beige curtains over green rods, and the walls were also beige, so the color match was a train smash.
Rods aren't always considered when designing your rooms, but the smallest thing can offset a beautiful design. For silver curtains, it's best to stick with white, silver, gray, and black rods. Many colors accent silver well, but the rod is the slight offset that could create a big blunder.
Whatever you do, stay away from gold rods with silver curtains.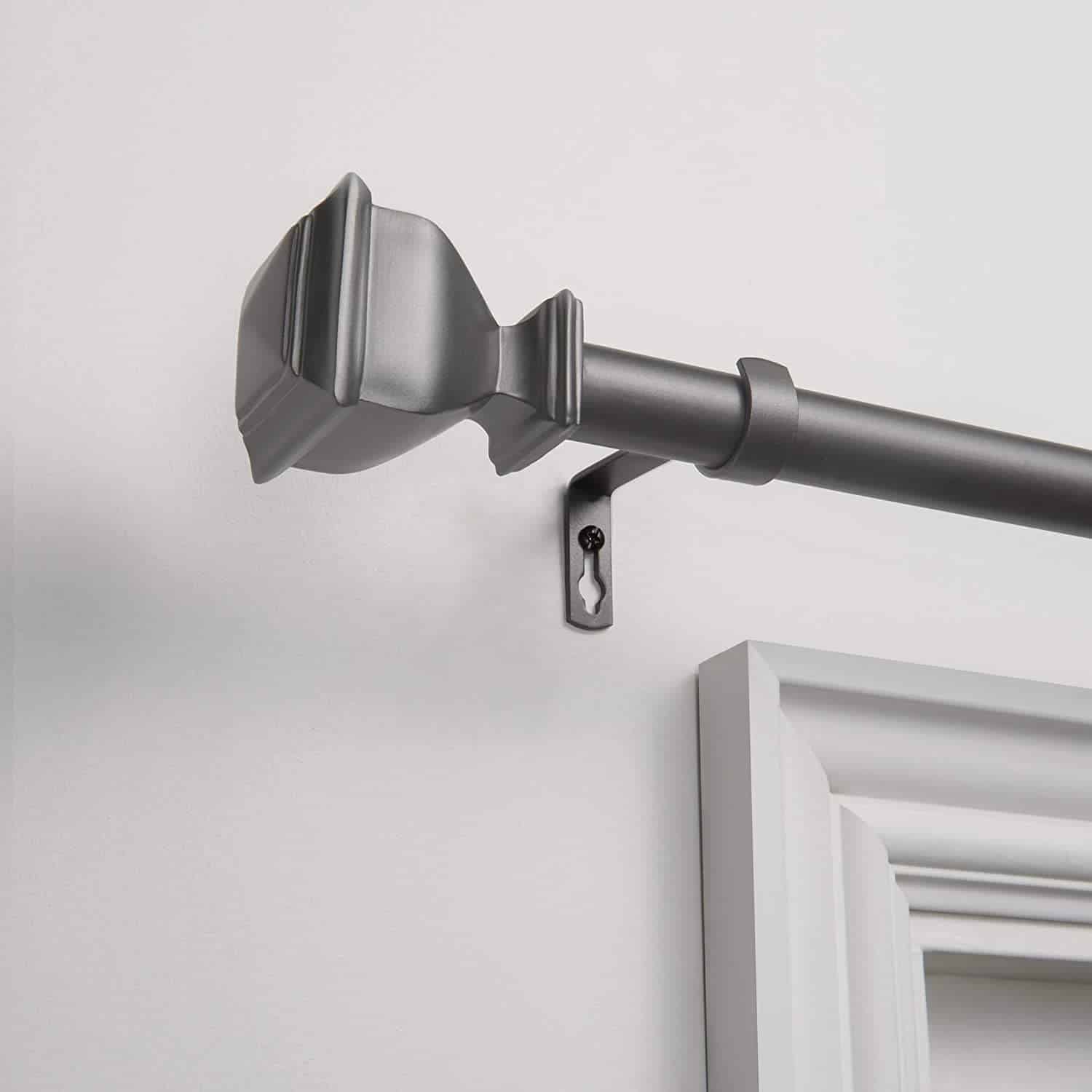 Accenting Colors
Silver goes with many colors, but it depends on the amount of silver in your curtains. Hints of silver can easily go with other metallics and various shades of gray, blue, pink, yellow, white, and even purple. However, beware of the background color of your curtains if you only have mild silver accents.
Don't place pink linen on a bed if the background color is turquoise. This is not the 1970s! Psychedelic color matches can ruin your decor. If you have a predominant background color, match it according to that color. If you have beautiful silver curtains with neutral or same-colored background, try these accents:
Light pink, blue, green, yellow, or purple
Sonic, Roman, old, or pale silver
Silver sand, pink, or chalice
Soft coral
Various shades of yellow
Black
Various shades of gray
White
Navy blue
Red or brown (only with light shades of silver)
Pale neutrals like cream or beige
Bold silver matches any jewel color like ruby red and tanzanite blue
Again, never use gold with silver if you want the latter to stand out. People's bias automatically leans toward shadowing silver in the light of gold. Silver can accent gold, but it can't work the other way around.
The Top Silver Curtain Secret
Silver is a precious color with deep-rooted meaning, so adding it as an accent is a sin! Using it as a bold statement is the way to go. The secret to striking a silver lining through your home is to combine silver and velvet. These gorgeous Lush Decor Curtains show just how unapologetic silver and velvet can feel.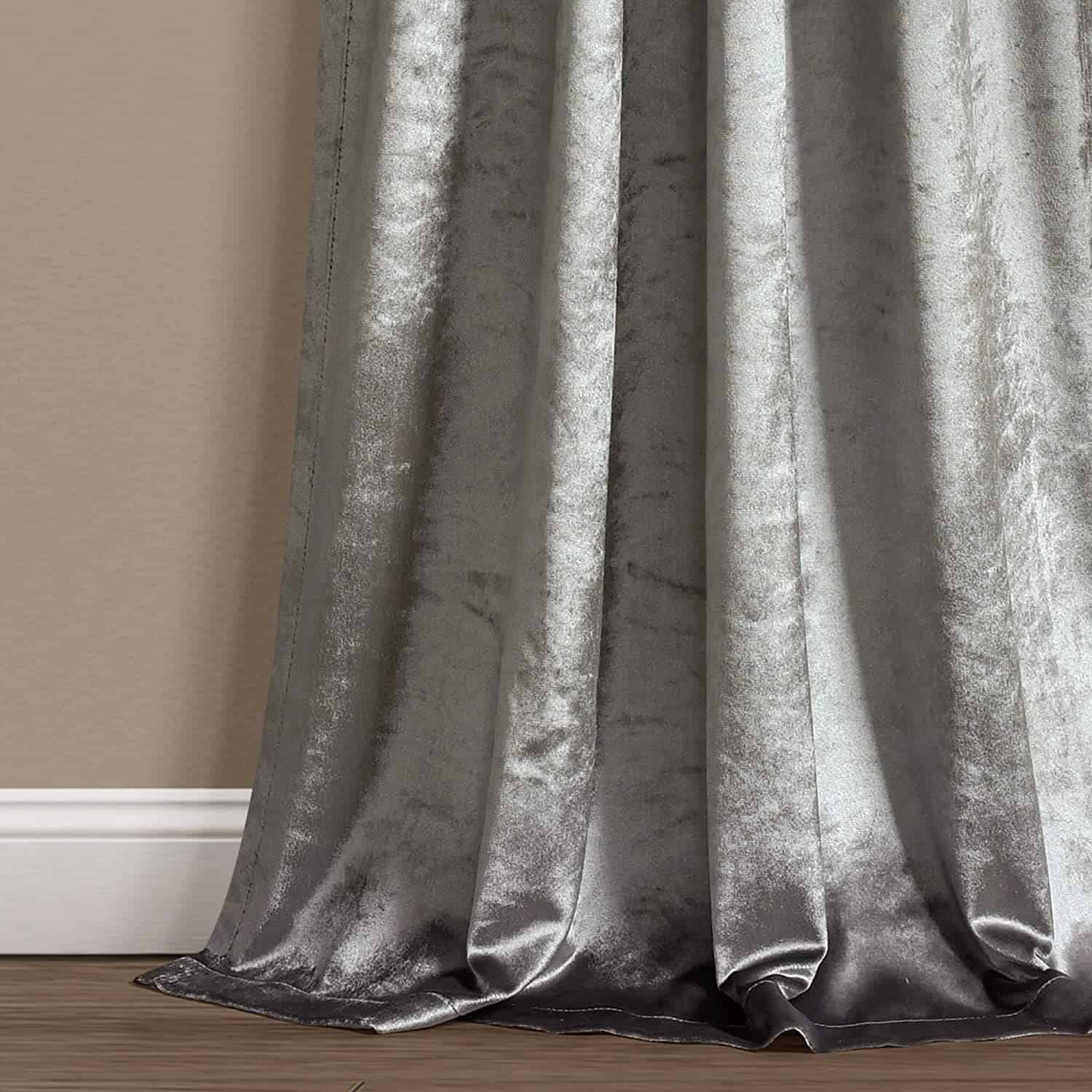 Frequently Asked Questions
Question: Are Silver Curtains Over-The-Top?
Answer: Tell me, is your personality over-the-top, or do you love a little pizazz? Silver curtains are what you make them. Some have bold, in-your-face attitudes, and others are subtler, using simple geometric designs on neutral backgrounds. Silver curtains are only as over-the-top as your personality. Let your personality shine!
Question: Do White and Silver Curtains Look Amazing?
Answer: White is a neutral color, meaning it's one of the best accents to silver in any shade. Combining the right white and silver will even give the sense that the curtains are simply varying shades of silver, much like you can see in the Natural Roots selection above. White and silver look incredibly beautiful together!
Question: Where Can I Buy Silver Curtains?
Answer: Silver curtains are so popular that you can buy them from any online or home store. I collected my favorites from Bed, Bath, & Beyond, Amazon, and Wayfair, but these stores also sell silver curtains:
• Walmart
• Overstock
• Target
• Home Depot
There's no shortage of places to buy silver curtains due to them being so popular and versatile.
Amazing Silver Curtain Ideas and Inspiration: Final Thoughts
Silver deserves as much attention as gold in many ways, metal, and color. From the roots of optimism to the abilities of silver to change the weather, it has a great essence about it. Moreover, it looks like a classy, sophisticated, and modern addition to any home.
My most profound connection to silver in my interior design is that I feel at peace with my inner self, enough so to reach a deeper stage of meditation. However, I also love the awes I get from friends and family. Silver is a highly underrated color in many ways, but don't allow it to be underestimated in your home.
Add some silver curtains to your home to open the gateway to extraordinary opportunities and endless awes. My favorite is undoubtedly the Night Sky, and if you're feeling brave enough, go for the ultimate Wow Factor!
For more curtain ideas: