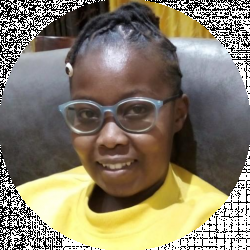 Latest posts by Jeanne Murugami
(see all)
Customized beaded curtains are one of the most popular and affordable ways to add style and elegance to any home. They come in various colors, styles, shapes, sizes, and designs, and you can find them online or at your local store for a reasonable price. 
So, what are some of the best-beaded curtains that you can get? They are numerous, ranging from the ones that act as dividers to others that are suitable for decorative and privacy purposes. 
Read through this blog post to get information on some of the top beaded curtains on Amazon and how you can make your own beaded curtain in simple steps. We've reviewed and chosen the Best Beaded Door Curtains according to the design/make and function of the curtains. Some of the most common are stringed and decorative beaded curtains
Top 7 Best Beaded Door Curtains in Amazon
Timere Crystal: Best Overall Beaded Curtain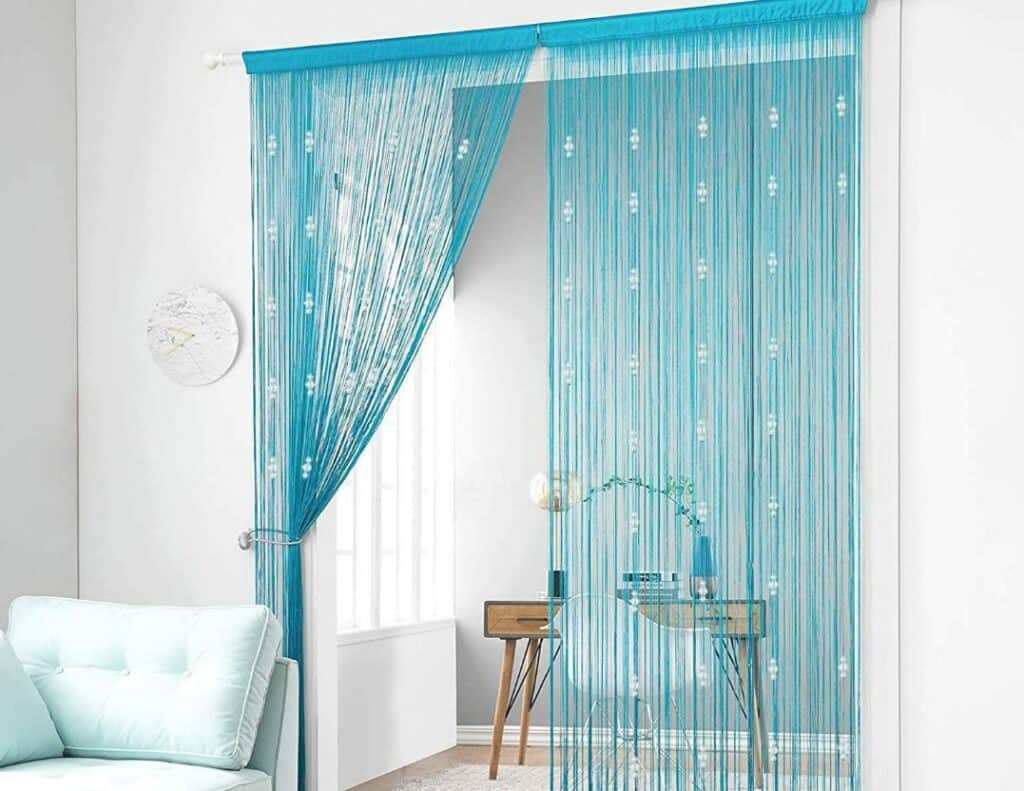 With a shimmering, iridescent effect that naturally brings your room to life, the Timere Silver Beaded Curtain will indeed become a focal point for all who enter. 
The string curtains contain 90 beads and are then woven onto strong polyester fibers for punctuated texture with dazzling brilliance. With its super lightweight strings of silver lurex or beads, it's like being flooded in an ocean of glitter and magic, with each strand giving off the stunning visual delight from every angle you look at it. 
String curtain panels have a loop-style heading on one end, so you can easily hang by any standard curtain rod. This makes it perfect to put up in large windows or next to doorways as decorative drapes.
Pros 
It is versatile

It is easy to hang

It is durable and strong

It has an elegant look.
Cons
It is sometimes tangled up
Eve Split: Best Decorative Beaded Curtain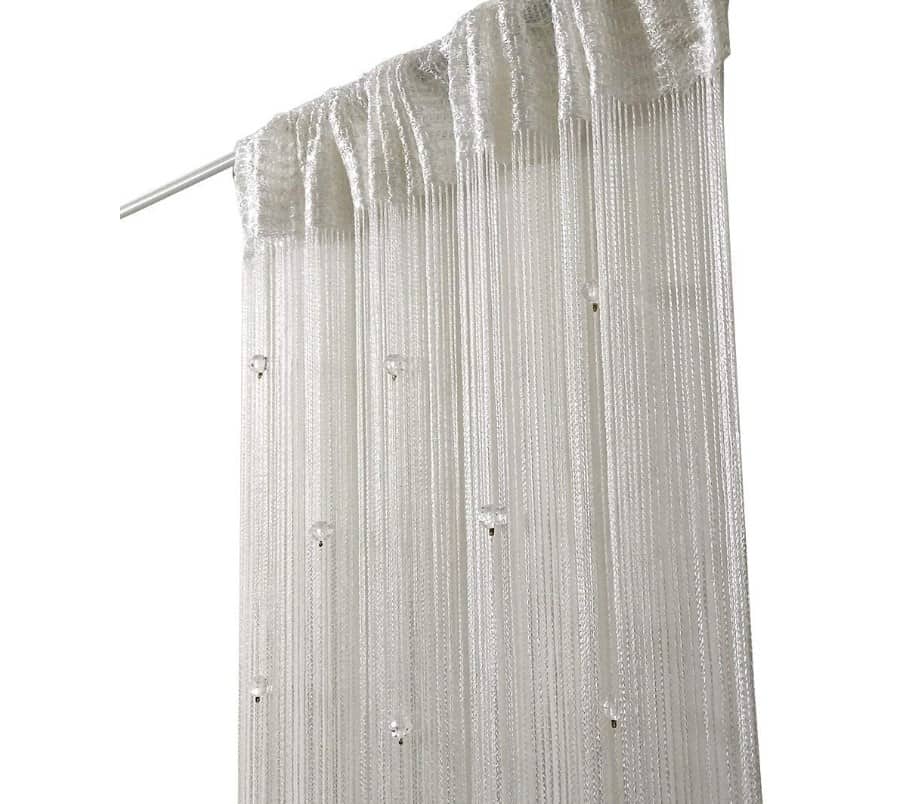 There are many intricacies in the work that goes into making these delightful door curtains. From their delicate design to the cleverly chosen coordinating beads, the Eve Split Decorative Door String Beaded Curtains feel luxurious and extravagant up close and personal. 
The fabric is lightweight yet strong enough to withstand years of use as a decorative accessory for any windows or doors around your home or office. This versatile window treatment can be used to add glamor to your daydreams on the couch with dim lamps shining down from overhead, lending visual interest while providing privacy at night when you want time out all alone just for yourself.
They are made from polyester- a material with excellent air quality control (breathable). If they don't match your window or door frame exactly, just grab some scissors and cut to size!
Pros
They are easy to install

They are durable, elegant, and sturdy.

They are versatile
Cons
HSYLXYM: Best Stringed Beaded Curtain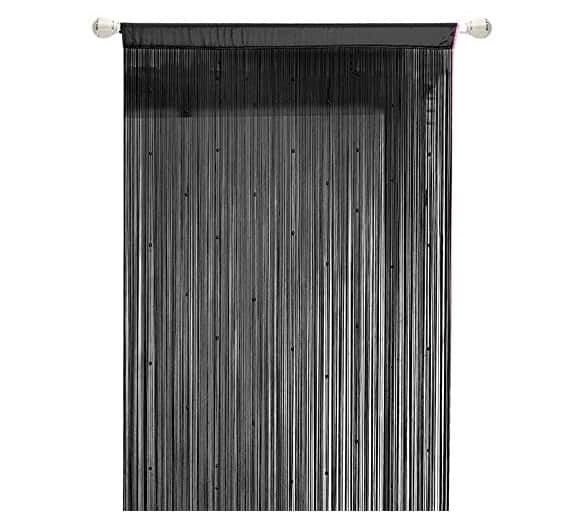 Start the morning with a refreshing cup of coffee and one of your newest decorative pieces: HSYLYM String Beaded Curtains. While blocking out some light and dirt, these curtains are a great addition. Customizable for any room in your home or workspace with different lengths and widths, they'll fit just about anywhere.
Best of all is our new fabric bead fringe tassels which can make your curtain more textured and beautiful looking than ever. These also add a nice touch to restaurant decorating and living rooms, bedrooms, bathrooms – you name it! You won't regret investing in this product because everyone can put them up easily to match their specific style.
Pros
They are quick and simple to install

They are available in many colors

They are durable

They have  an elegant appearance
Cons
The strands sometimes clamp at the bottom
ZideTang Beaded Door Curtain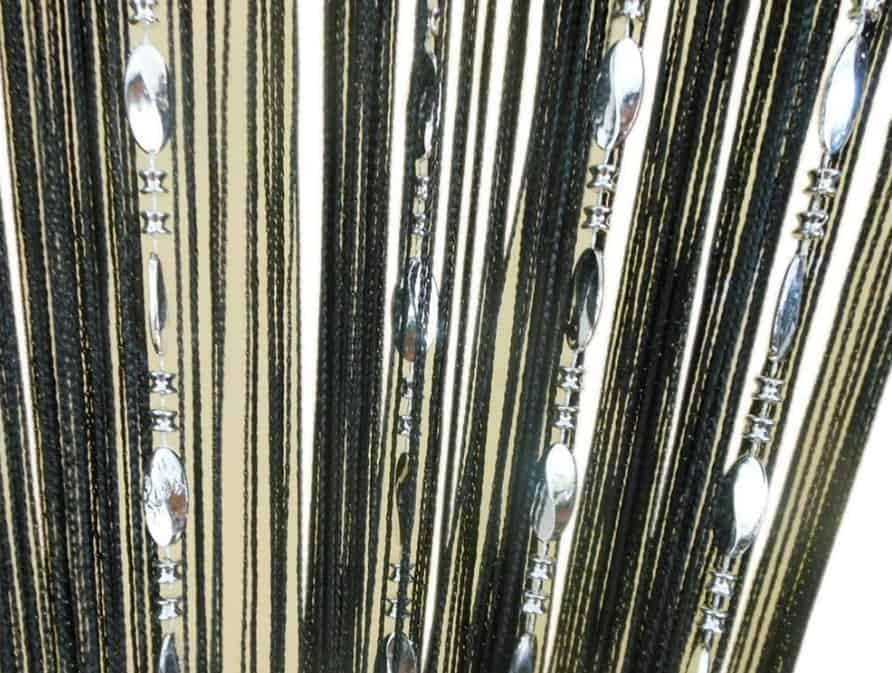 Adorn your plain entryway or window with these beaded curtains to get that gilded look. With bright colors, diverse patterns, and rich detail, the bead curtain is perfect for special occasions when you want something grand. 
Whether you're giving a big presentation at work or throwing a party, simply place one of our ZideTang Curtains on your entranceway's door for an instant touch of style. 
Perfect as both doorway curtains and room dividers, this versatile design can dress up any space in no time. 
Pros
They are easy to hang

Have an incredible design and appearance.

They are versatile and can be used in various places
Cons
There are a few beads in the strings
Faux Crystal: Best Iridescent Beaded Curtain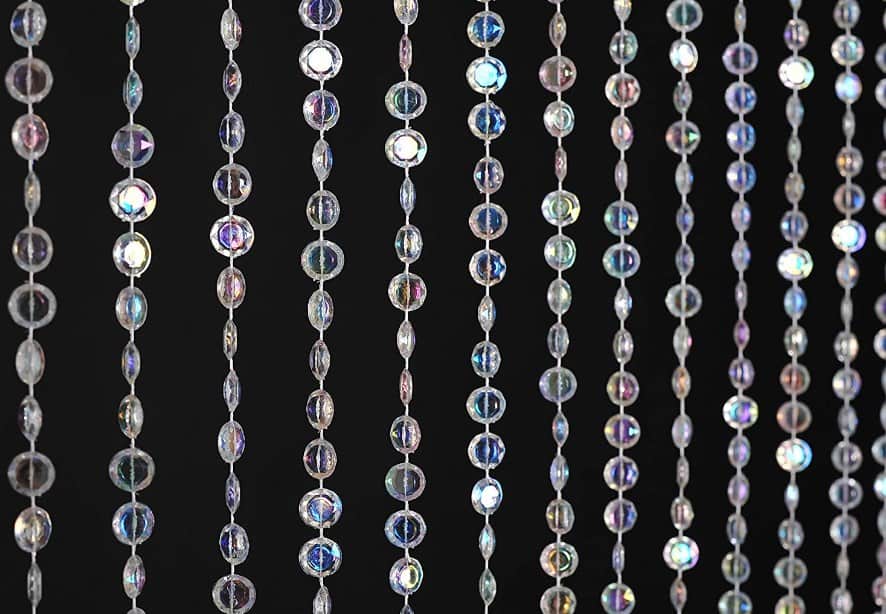 Take your home to the next level with these bendable beaded curtains. You'll have no trouble getting them installed and set up thanks to its easy installation process with built-in eye hooks that are ready for you out of the box. With a side of faux crystal beads, these curtains add glamour and shine beautifully just off secondary light sources.
 Even when used in spaces without lights, this curtain will create an amazing atmosphere wherever it is placed. Next time you're looking to rejuvenate one of your rooms or walls, don't forget about these glittery and nifty drapes.
Get window dressing that really makes your doorway stand out with this bead and door curtain. With over 34 feet of shimmering faux crystal beading and a convenient adjuster, you can show off flair without compromising practicality. Showcase your style.
Pros
They are easy to install

Look elegant

They easily match with other home decors

They are versatile
Cons
Customers have complained that the curtains tangle easily.
TACHILC: Best Bamboo Beaded Curtain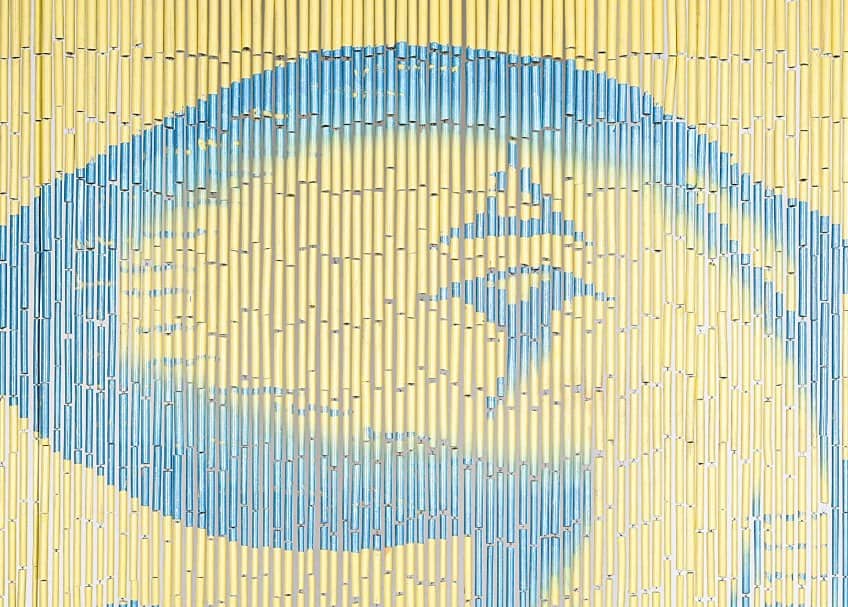 It's bamboo curtain time! Quit life cold with a dreaded beaded door curtain and just let the beads roll. If you're looking for something with an interesting accent to spice up your home, then this is just the thing- the TACHILC Octopus Bamboo Bead Door Curtain.
Crafted of natural bamboo tubes, each bead wondrously unique from its string, this is a true piece of art that will remind all who see it of its appearance.
But trust me, folks, those beads are not all talk-they do wonders at blocking pesky pests or sunlight seeping through windows. Feel free to explore other creative ways they can help keep your space feeling luxe while complementing your decor.
This beautiful door curtain is a great gift idea for your mom, dad, sister, or any friend who still needs their house to sparkle just a little more! It's also a multi-tasker that you can use as a closet door curtain or even partition it off in an office where privacy and security are needed. 
And you have two metal rings which make hanging this piece so easy! They really stand out when you walk by and look through because of how chic these beads are mixed in with softwood accents. So brighten up your doorway.
Pros
It is multi-functional

It is very durable

It is effortless to hang.

It matches easily with other home decors such as wall arts.
Cons
It is more expensive than most other beaded curtains.
Most Common Decorating Styles for Beaded Door Curtains
Beaded curtains have been a hot commodity in the home goods industry for many years. The reason is simple: they complement most decors but don't always work with every decorating style.
Here are some of the more common styles that work well with beaded curtains – put them on your radar and give it an old-time spin.
Bohemian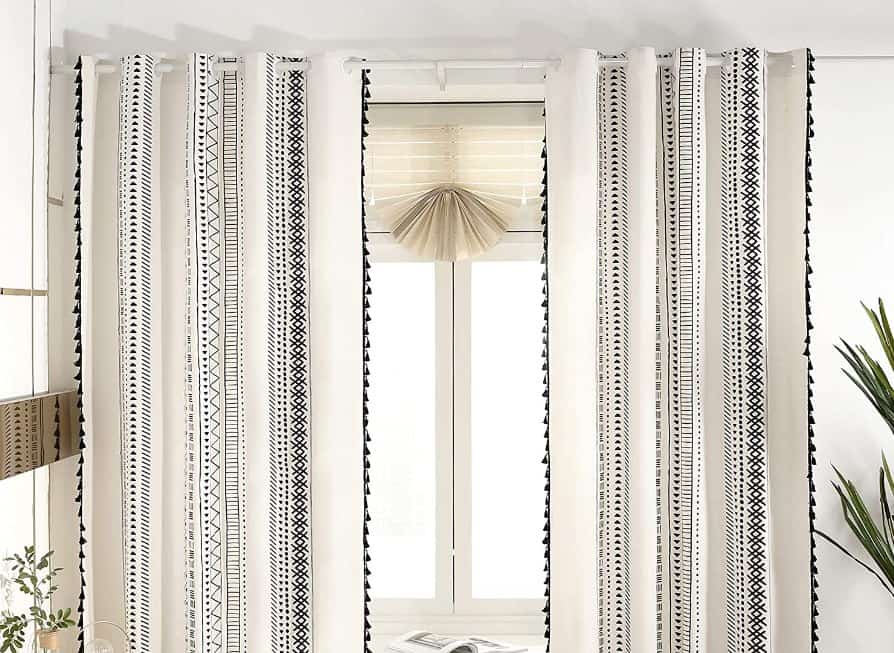 The Bohemian style is an eclectic, creative, and expressive decorating option that can use a variety of materials. The most popular type of beaded curtain for this look are metallic beads or acrylic glass bead etchings which allow you to create vibrant patterns on the curtains while also inspiring creativity in your home's design!
Retro
Retro design is not complete without a beaded curtain. They are perfect for adding that lovable, hip vibe to your space and make you feel like the center of attention at any gathering in your room.
The best part about these curtains is they come in so many different styles, shapes, and sizes- all made with quality materials from seashells to wood beads (and everything in between). One excellent option would be acrylic or glass beads which give off an iridescent look, while another popular style includes painted psychedelic motifs.
Eclectic
This style features a mixture of different styles of decorating.  Consider tying your beaded curtain together with your decorating scheme by using fabric that blends with other decor or by repeating a color.
Hipster
Hipsters are known for their taste in retro and vintage, so it's no surprise that they would enjoy beaded curtains. To bring this aesthetic into your home without sacrificing authenticity or style, opt for a repurposed material curtain, like one made from thrift jewelry or an authentic vintage curtain; alternatively, you can go with bamboo if you're looking to use eco-friendly materials when possible.
Contemporary / Modern
The beaded curtains we have today come in many different styles, but most popular are those that make use of acrylic beads and metallic glass or metal for a more contemporary look. If you're looking to create an industrial theme with your splashy door décor, then opt for these materials as well! A simple yet elegant design is the rain pattern which will give any room a sophisticated feel while still being fun and playful at the same time.
Asian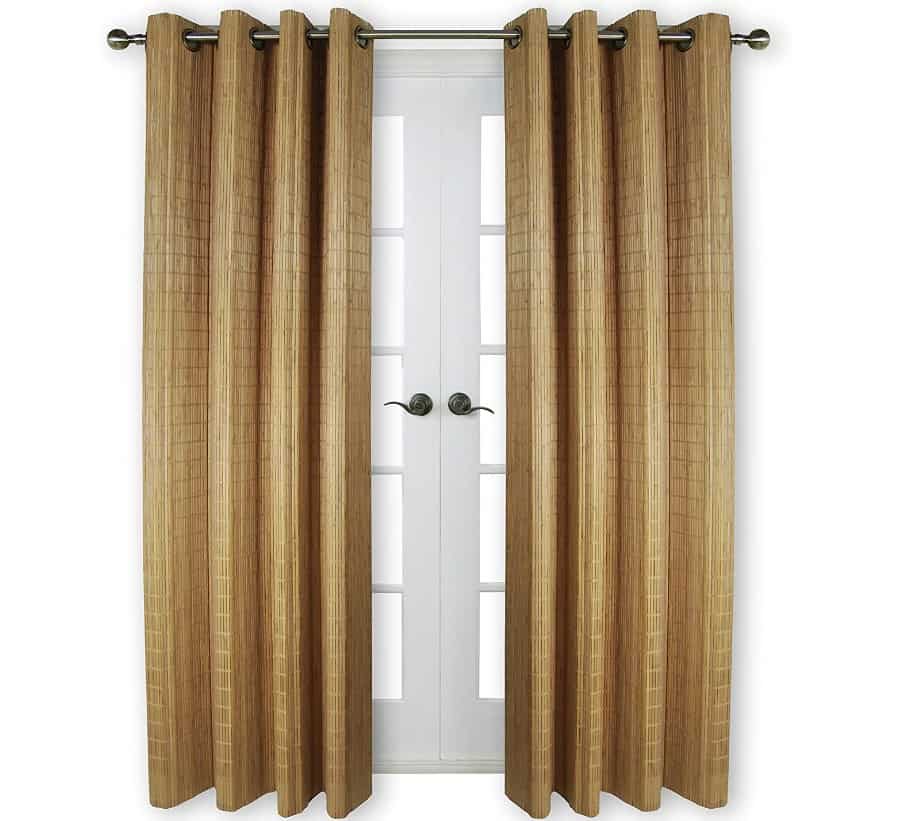 Bamboo bead curtains are perfect for bringing a touch of Eastern culture into your home. They're often found in Asian-inspired homes, but they'll also work well with any motif or design style you prefer! You can choose from many different colors and even customize them according to the size of your window.
Beach/Tropical
A perfect way to create a tropical atmosphere in your home is by choosing beaded curtains. Curtains with natural materials like wood, bamboo, coconut shell, or painted-on motifs are the best choice for this style. Beach/Tropical styled beads can include green and blue beaded bubbles and those with silk fabric – both of which make great additions to any setting!
How to Make Beaded Curtains
Beaded curtains are available in many outlets and online stores, but this does not mean making your own is impossible. You can consider making your own beaded curtains if you are to hang them temporarily or if they are non-standard-sized curtains for your doorway.
What Do You Need?
To make your own beaded curtain, you'll need beads,  thread, a Curtain rod, and some brackets that will support the rod.
Instructions
To make the perfect beaded curtain, you need to know which type of loops and hooks are best for your situation. For a temporary installation in just one room or as an impromptu privacy screen, tie each strand to either small metal loop eye hooks.
If this will be used often throughout your home (think kitchen curtains), then use more oversized steel grommets with the washer on top so they can withstand years of pulling and tugging from little hands looking out into the world below them.
Depending on the size and strands of beads that you want, divide your curtain rod into sections ½" to 1".

At regular intervals, screw your eye hooks in.

Finally, tie each end of your bead strand at the eye hook. This will make your curtain have a permanent and secure placement.
How Do You Hang Beaded Curtains?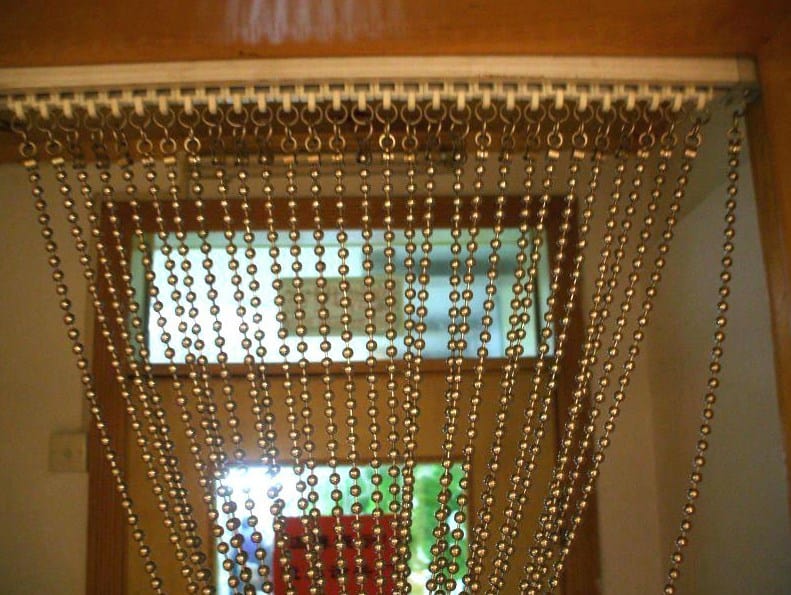 Hanging beaded curtains over a doorway or window is easy with the right attachments. Depending on the size of your curtain, all you need to do is attach nails into either one side or both sides (depending on how wide) and hang them up just like any other drapery.
The three steps that you can follow to hang your curtain correctly are:
1. Position and Measure Your Curtains
To do this, you first need to measure the width of your doorway and compare it with the width of beaded curtains. Use a pencil to mark where hooks should go on the wall at both ends to hang evenly across each side.
2. Attach the Nails or Hooks
Firmly attach the hangers for huge beaded curtains to test its wall adherence while being mindful of how much weight it can hold before putting them on your walls.
3. Place Your Beaded Curtain on the Rod
It is time to lift your curtain and place it on the rod. Test its stability by wiggling the edge of the fabric around, and if it holds itself in place without falling off, you can say that you are ready for this door treatment project.
Factors to Consider Before Buying Beaded Door Curtains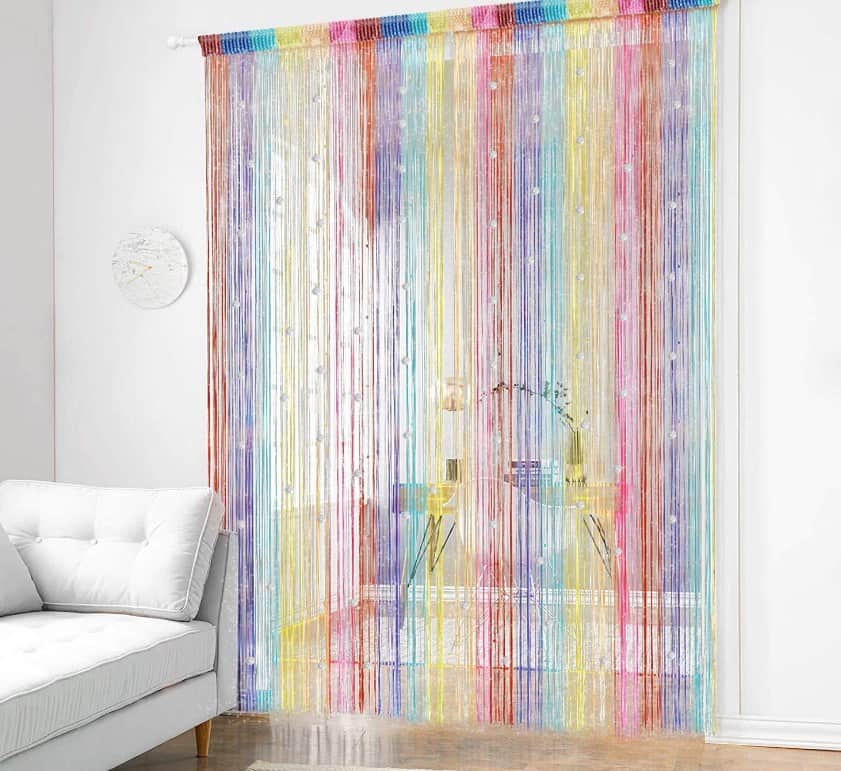 The Fabric of the Beaded Curtain
The type of fabric you choose will strongly affect how well your home breathes and with what frequency you need dusting regularly. For example, if you have textured fabrics that are not easily cleaned or framed by other furniture pieces in your room, they could quickly become very dusty.
There are many fabric types that each have their own properties and uses. Some fabrics will cause a mess to ensue more quickly than others, so when looking for the right fabric, you must take into account what kind of spillage or flow is desired in your home. Some fabrics keep dust away, while others make it easier for dirt particles to cling on longer since they don't allow air through as easily.
The Material of the Beaded Curtain
Choose your material wisely. Your curtain will only be as good as what you choose to make it out of, but there are many different possibilities from which to select. Make sure that the bead doesn't obscure or distort light and is durable enough for any situation for it to last a long time, with minimal upkeep required on your end.
Best materials include cotton, silk, velvet, and linen, while faux-silk can also work well if you want something more affordable than real silk (though not quite as elegant). More expensive options like bamboo may require some maintenance due to their natural state, so keep this in mind when pondering over these choices.
The Color of the Beaded Curtain
Few colors can make a room feel more inviting than turquoise, purple and blue. These shades of green will brighten up the space like no other color. The best way to incorporate these delightful tones is with large drop-shaped beads in an eye-catching design for those who want their art gallery wall pieces to stand out from all others. 
You could go with smaller round droplets or even mix shapes if you're looking for something bolder, but we recommend staying away from contrasting colors such as red. This is because it might upset your relaxation vibe instead of adding warmth and vibrancy, which you were aiming at in the first place.
Whether It has a Lining or Not
The choice of whether to purchase bead curtains with linings or without is a personal decision. If you are looking for something to help keep your room cool on hot days, an unlined curtain may be best suited for the task. However, if you want protection and energy efficiency in what could otherwise be dusty fabric, then investing in inlined bead curtains might make more sense as they would last longer than their un-lined counterparts when exposed to dirt particles.
Budget
When considering the price of beaded curtains, it's hard to think about anything but their sticker tag. However, when looking at a purchase as an investment into oneself and lifestyle (and not just something that will get thrown away in three months), other factors should also come into consideration, such as longevity cost vs. initial cost. Analyzing these aspects before making any purchase decision can help ensure you are fully satisfied with your choice- both now and later on.
Frequently Asked Questions
Question: Can Beaded Curtains Keep Flies Out?
Answer: Doors make up the majority of entry points into your home. When you turn a knob to open them, you create a large enough opening for bugs like flies and mosquitoes to pass through too easily. Luckily there's one easy way around this! Beaded curtains form a real barrier against these insects, making it impossible for them to creep in unnoticed. Plus, who doesn't love some extra decoration?
Question: What are Beaded Curtains Made Of?
Answer: A beaded curtain is a beautiful and elegant way to protect your privacy. These curtains are usually made up of nylon strings that hang down from the rod, creating an even layer on either side of it.  The beads can vary depending on what you want- some use marbles or bamboo strips, while others prefer ball chains with colorful stones as decoration. If these don't suit your preference, there are always raindrop crystals.
Question: What Is the Point of Bead Curtains?
Answer: The importance of bead curtains is to filter light while providing a sense of privacy and ample view. They also provide an aesthetically pleasing look that some may enjoy having on their windows or as part of their home decorating plans.
People often use them either by themselves or together with other forms of window dressings like blinds and shutters because they're not too heavy-duty.
Conclusion
Beaded curtains are a unique way to add interest and personality to your home. They can be used in any room, but they work exceptionally well for bedrooms or living rooms with high ceilings. 
We love how these beautiful pieces transform spaces into something that feels like nothing else out there, which is why we've shared some tips from us about what factors should go into consideration before purchasing them. You can consider the Timere Silver Beaded Curtain because it is versatile, durable, and with an elegant look.