Latest posts by Erin Jamieson
(see all)
Most Americans worry about decorating their living rooms, but now bathrooms are getting updated with window curtains. In fact, curtains may just guide 2021 and 2022 in some of the best affordable home upgrades.
If you've ever renovated a bathroom or considered it, probably the first things that come to mind include bigger budget items, such as vanities, sinks, and other pieces of furniture. But the truth is, even something as simple as a bathroom curtain can really tie everything together–and transform your space.
More affordable bathroom renovations– and little touches– came into the spotlight with a recent Business Insider article on hotels with luxury bathrooms. While these bathrooms included glamorous additions like rainfall showers, soaking tubs, and aromatherapy, perhaps the biggest highlights were the small touches– and the fact that every bathroom had a budget of $500 or less.
While some feature breathtaking open concept looks, others add accent curtains. From diaphanous to neutral and earthy panel curtains, in some cases these understated touches can really tie the look together– even when you're on a budget.
Whether you're trying to create a luxurious bathroom experience or just looking for a little more privacy, though, the good news is that 2021 is a great year to buy curtains for your bathroom window.
This guide will cover everything you need to know–from what fabric to buy, to how long your curtains should be. I'll also give you some of my favorite picks, and where to buy them.
Should I add a window to my bathroom?
If you're starting from scratch, the first thing you need to consider is if you want to have a window in a bathroom. For anyone who is debating this option– or even if to add a window, there are things to consider, from window placement to the pros and cons of having windows in a bathroom.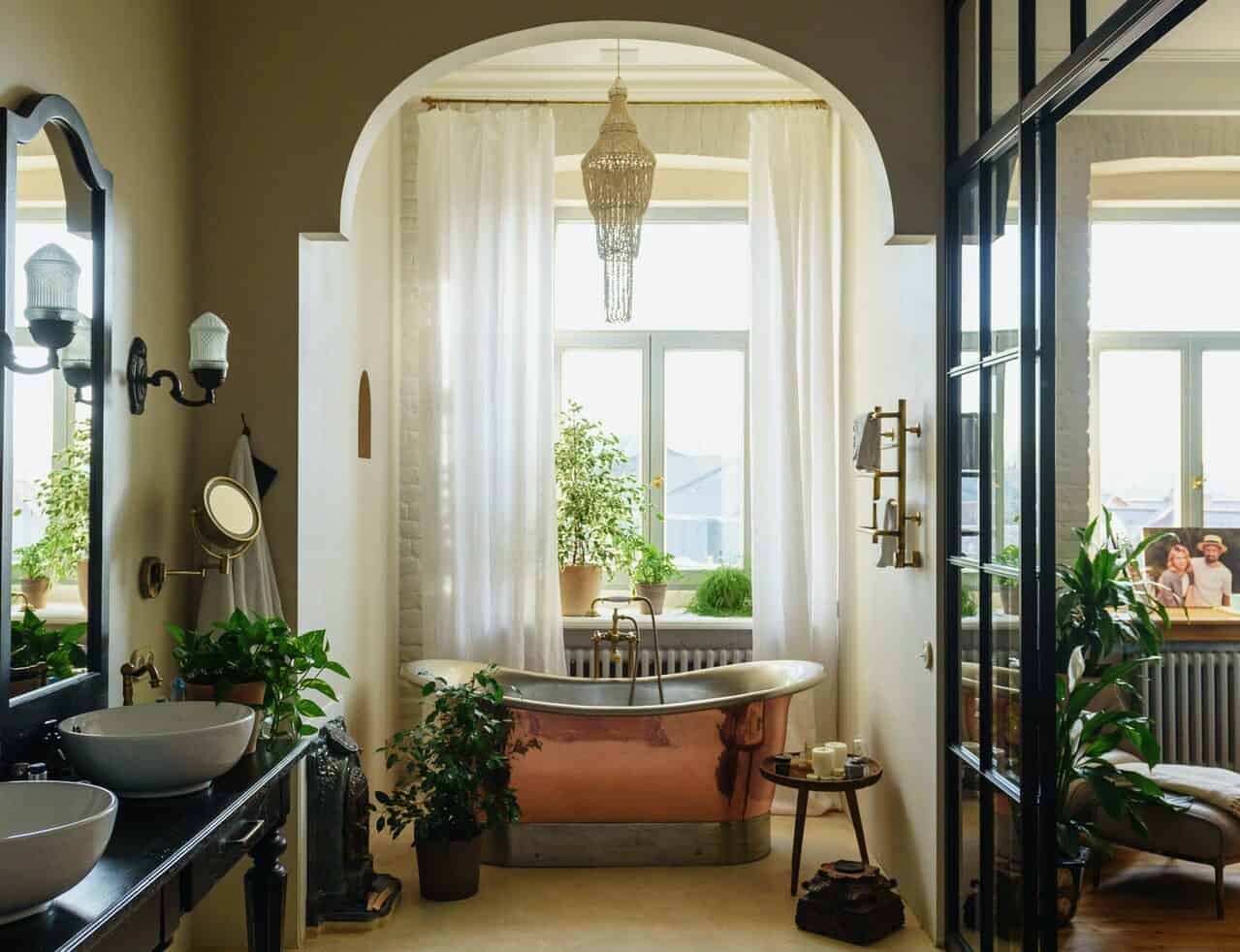 Can a bathroom have no window?
Interestingly, in California, residents are required to have at least one window in their bathrooms for ventilation. A window in a bathroom is quite helpful regardless of where you live. In fact, bathrooms risk also feeling stifling without windows– but by no means does every bathroom have to have one window.
Using bathroom mirrors and glass doors to showers can add a more open feel. Plants also help. Invest in some sort of vent or fan to improve airflow. All of these are lower-cost ways to improve the atmosphere in your bathroom, regardless if you have a window or not.
Is a window in a shower a bad idea?
Some opt to add a window in a shower, and I understand why. A small window can add a modern, airy feel to a shower. But it's also not the best investment. The truth is that most window frames are susceptible to damage over time. If constantly exposed to water and steam from the shower, the window can become damaged and you'll likely run into problems down the road. If you want a similar feel, you could add a small mirror or opt for glass doors for your shower.
Should bathroom windows have curtains?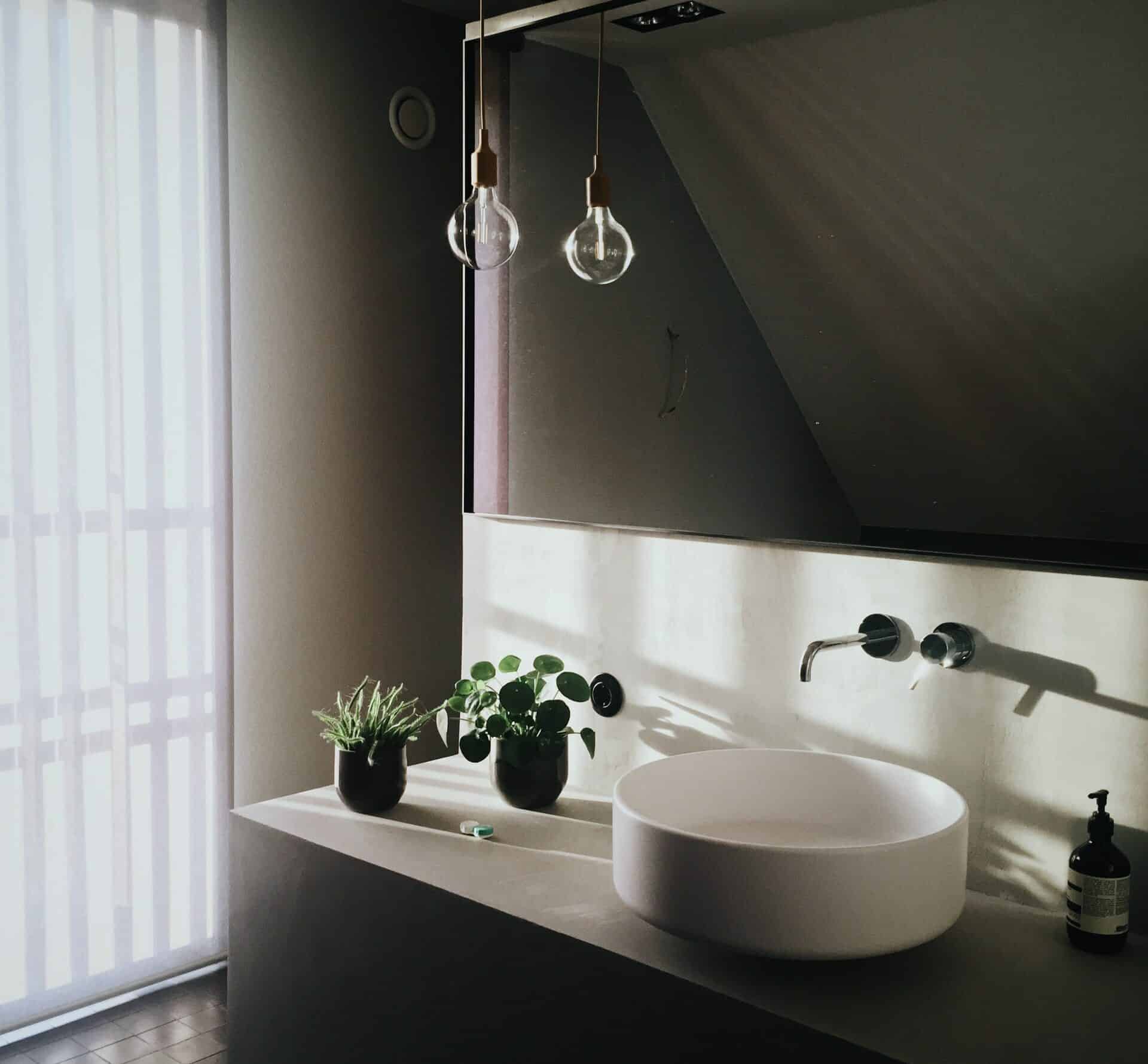 It's up to you whether or not to add curtains to the windows in your bathroom. Curtains add privacy but also ambiance to a room. Tall, light curtains can make a room appear airier, while darker color curtains will make it feel a bit cozier. Curtains are a great way to accent a room or tie a theme together.
What can I do instead of curtains?
If you've decided on adding a window to your bathroom– or already have one–then the next thing you'll want to consider is whether or not you want curtains for your windows. Obviously, the purpose of curtains is twofold: to provide some privacy and also add some decor to your bathroom.
Curtains are certainly not your only option, however. You can also opt for blinds, shades, shutters, or even window films to add some privacy. Or you can even pair blinds with curtains, especially if you like the look of sheer curtains but need additional privacy.
How do I select curtains for my bathroom windows?
If you've decided that curtains are the best solution for your bathroom windows, there are a few factors I recommend you consider before buying. While you can pull off any style–from modern to boho to formal– the fabric and type of curtains will matter a good deal.
What is the best fabric for bathroom curtains?
Bathrooms are humid locations, and, of course, rooms where the fabric will be exposed to water, moisture, and temperature fluctuations. Bathrooms also tend to be heavily used. For this reason, you need to select a durable fabric that won't mar under these circumstances.
Cotton, linen, polyester, and nylon are some fabrics that work quite well. You can even find some fabrics that are specifically treated to be moisture resistant. As another plus, all of these fabrics are affordable and popular enough that you'll have plenty of options.
What fabrics should I avoid for bathroom window curtains?
On the other hand, some fabrics simply won't hold up in bathrooms. Avoid silk, wood, and velvet curtains. All of these will easily become worn or discolored and will not hold up in a bathroom. These also tend to be quite formal curtains, so they'd likely look out of place in most bathrooms anyway.
What is the best type of curtains for bathroom windows?
Of course, you'll also need to decide if you want sheer, semi-sheer, solid, or blackout curtains. Blackout curtains provide a great deal of privacy and work if you aren't using any blinds. However, Sheer curtains can be paired with blackout blinds if you like a lighter look or are placing them in a non-sensitive area, such as near a sink.
In short, all levels of light filtering curtains will work in a bathroom– you just need to think about strategic placement, and whether or not you'll be pairing with other window coverings.
How long should bathroom curtains be?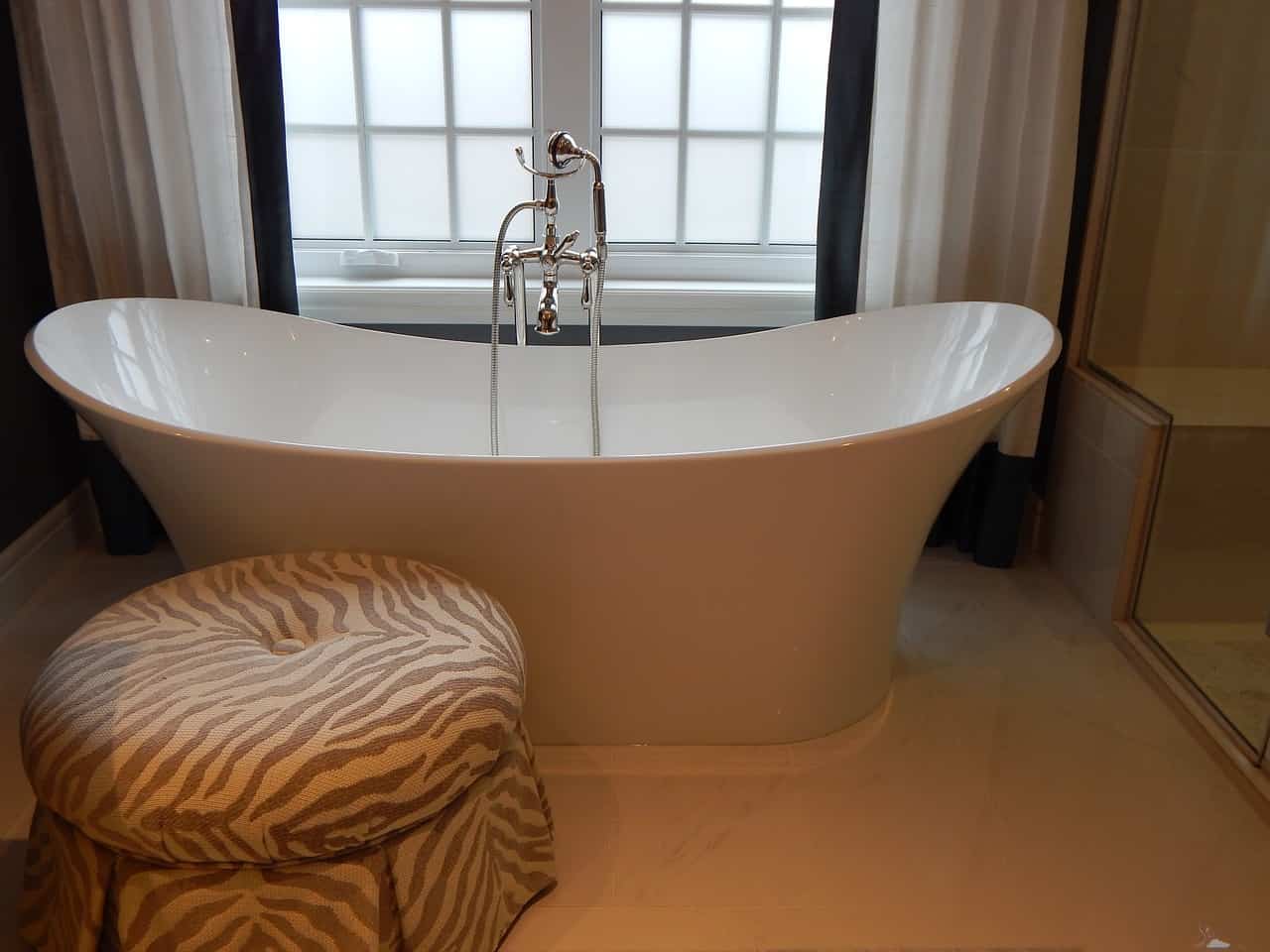 You may be surprised, but bathroom window curtains are typically floor-length. Floor-length provides more coverage and is an elegant option. Of course, if you have a window directly over something that would interest you, such as over a sink or a radiator, then you'll need to go with a shorter length, as you may commonly see in some kitchens.
Bathroom Window Curtains: My Picks
Now I'll give you my picks for bathroom window curtains you can buy now. I've included a variety of styles, for cotton, linen, and polyester. While most of my picks are floor-length curtains, you'll also find a few shorter-length curtains so no matter what you're looking for, you'll get a little inspiration for your own project.
Cotton Bathroom Window Curtains
Cotton curtains are durable and absorbent. Since they're natural, they're also biodegradable. The biggest worry about cotton curtains in a bathroom is that they can absorb mildew. For this reason, I recommend placing cotton bathroom curtains near the entrance, rather than directly by a water source, like a shower. However, many have added panels, or even a foam layer, which is more durable.
Also note that if you machine wash, as is the case with cotton materials in general, they can shrink. Cotton and cotton blends are fairly popular, so you'll have a wide range of styles to choose from.
Weathermate Insulated Cotton Curtain Panel
These eco-friendly cotton curtains are perfect for insulating a drafty bathroom window. To provide more insulation, the foam underlayer also makes these curtains more durable. Machine washable, these light filtering, contemporary curtains can be paired with blinds for added privacy. Depending on the size, choose from white, sage, navy, blue, red, natural, and khaki. Buy Here.
O'Reilly Tree of Life Darkening Cotton Curtains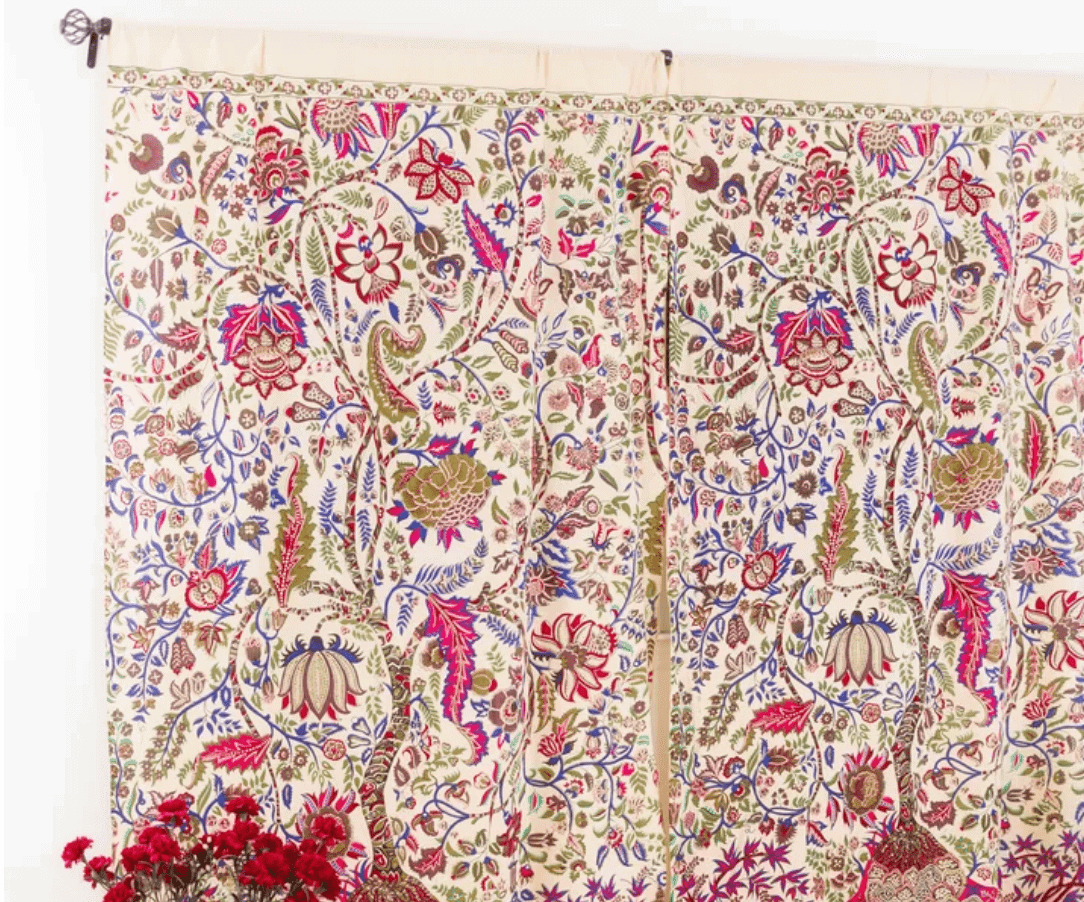 If you're looking for an accent curtain that provides room darkening, this is an eye-catching choice. These handmade curtains are machine washable, iron safe, and handmade in India. The gorgeous textile pattern elevates bathrooms and would look excellent beside an accent mirror or plants. Buy Here.
Broadway Cotton Rod Pocket Curtains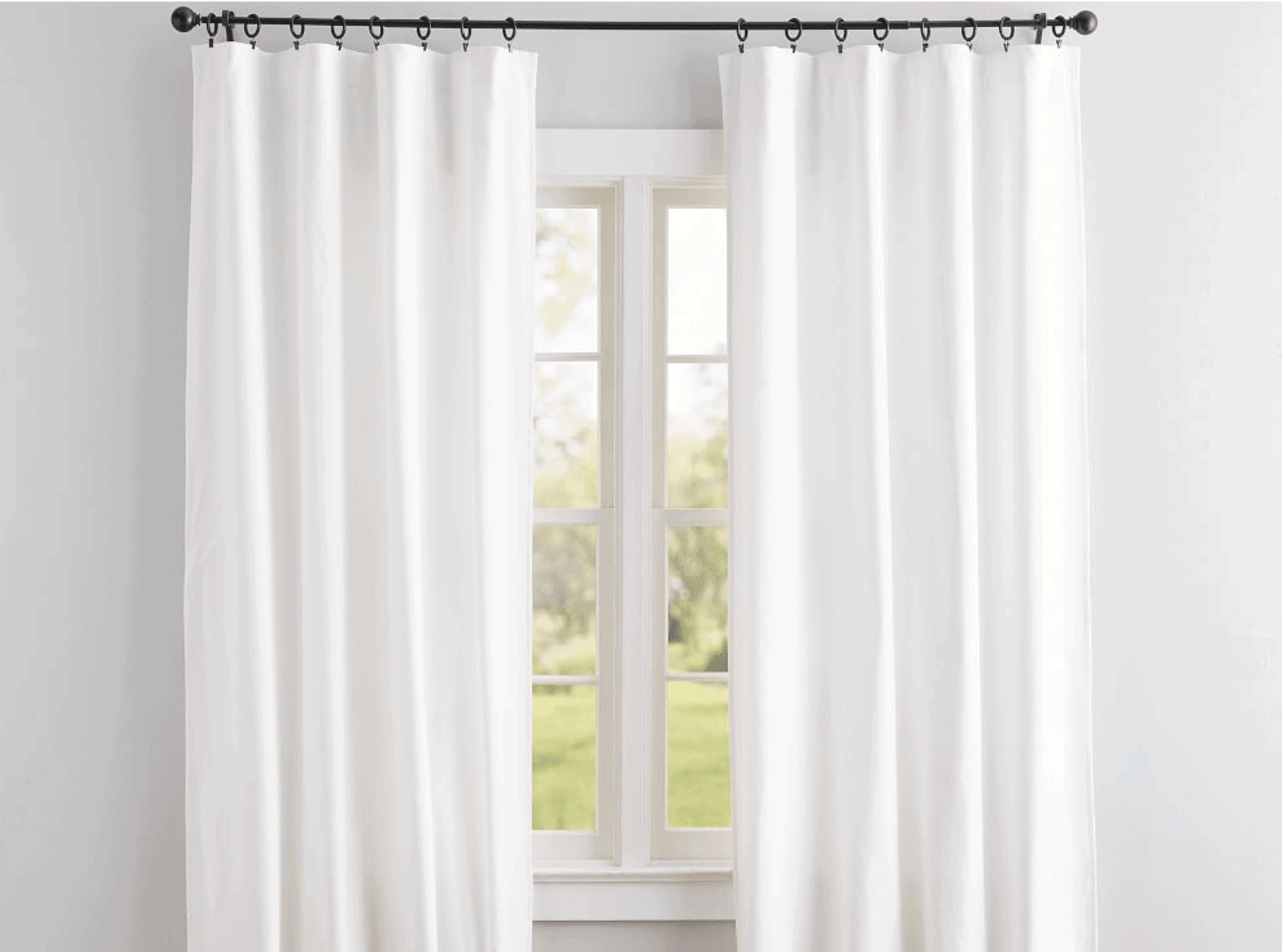 Looking for a sleek, modern design? These contemporary cotton curtains are also available with blackout lining and are OEKO-TEX certified, which means they contain no harmful chemicals. They're also machine washable and fair trade certified, meaning you're supporting fair labor practices around the world. Available in white, ivory, gray oatmeal, and gray-blue. Buy Here.
Cashel Striped Clean Spaces Window Curtain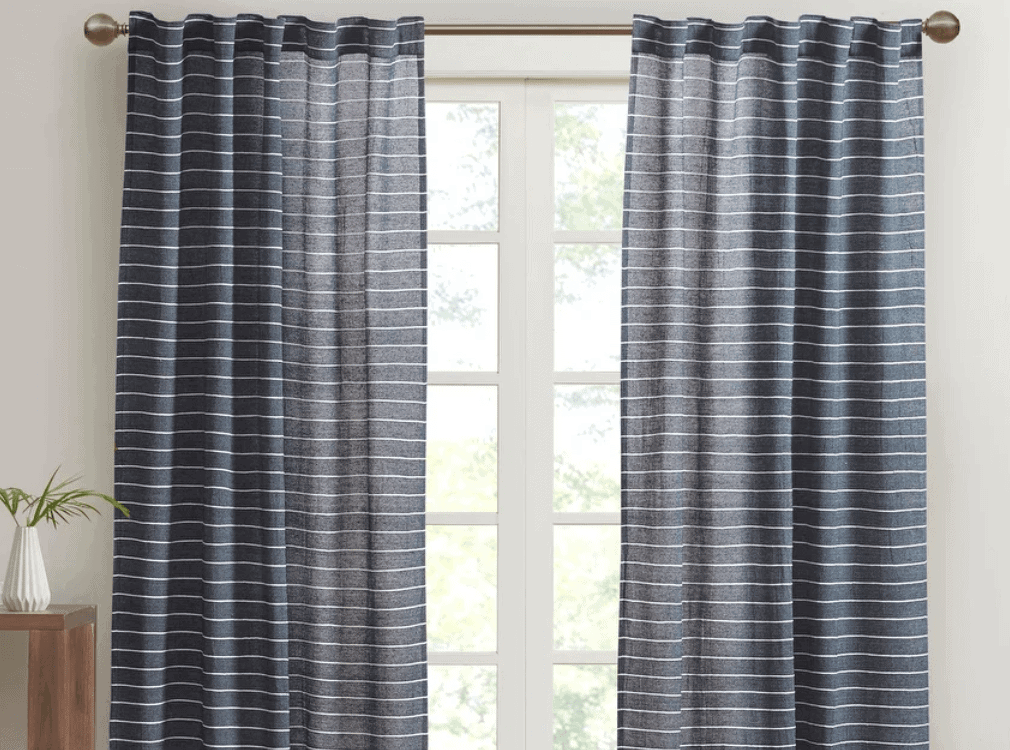 These curtains are my favorite option for cotton curtains on this list. The textured stripes are versatile but more visually interesting. Available in white, gray, and navy, these provide a contemporary and classic look for bathroom windows. But this mostly cotton (and some polyester) blend is not only OEKO-TEX certified, but also designed to be resistant to bacteria. It's a sensible solution if you like cotton curtains but are worried about mildew. Buy Here.
Sunsmart Kassia Energy Saving Cotton Blackout Curtains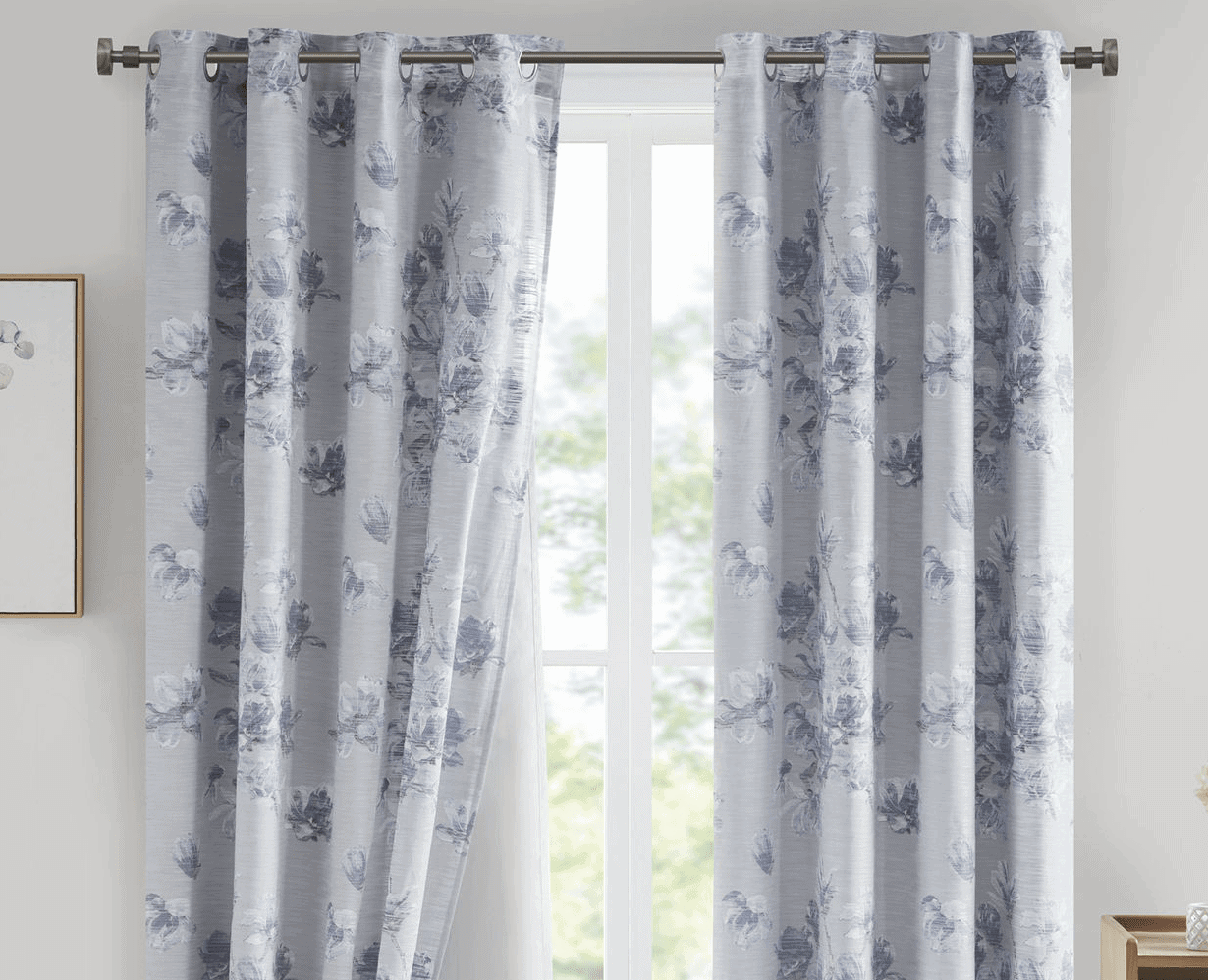 If you live on a busy street and you're looking to save energy, these cotton pull double duty. Equipped with a 3-pass snap-in foam layer for blackout lining, you can go from total privacy to semi-sheer. Not only are these curtains suitable insulators, but they can also feel light and breezy. Plus, the added layer helps block out noise. Complete with a contemporary floral print in blue-gray and neutral, these curtains will add a nice touch to most bathrooms. Buy Here.
Linen Bathroom Window Curtains
Linen is also biodegradable and pleasing, easy to work with fabric. For a sunny bathroom, it may be a better choice than cotton. Unlike cotton, linen curtains are resistant to UV rays, meaning they won't fade. However, linen can still have mildew issues if not cared for properly, and it will look 'wrinkled' more easily. More expensive than cotton, linen curtains tend to be a bit more formal and sophisticated, making them more suitable for luxury or traditional bathrooms.
Custom Flax Linen Curtains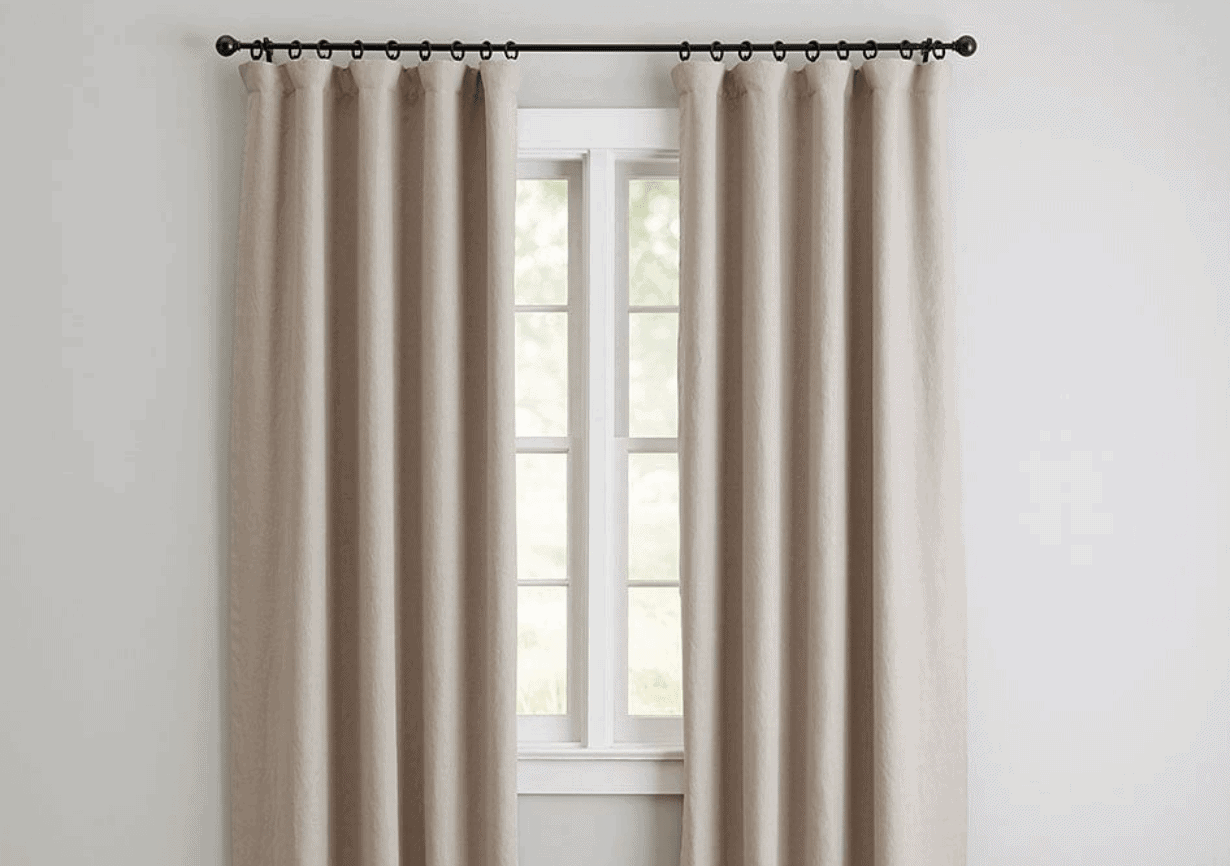 These contemporary and sophisticated linen curtains are Fair Trade Certified and sturdy, but breathable. Allergen-free, absorbent, and meant to last, it's easy to see why these curtains are a classic option for many rooms. A special enzyme wash had been applied for a cozy, lightly worn look that's popular for modern farmhouse styles. Buy Here.
Gracie Oaks Solid Tailored Linen Curtains (Short)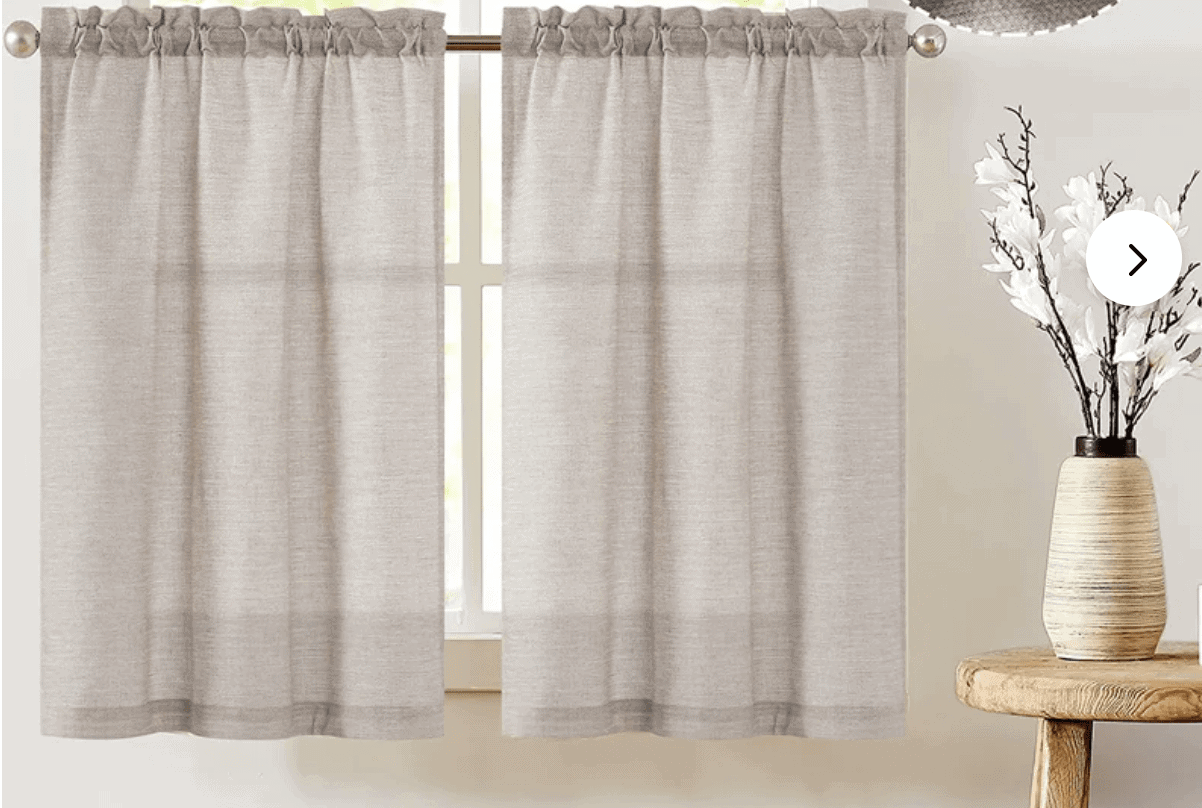 Looking for an accent curtain but can't do floor-length? These durable linen curtains provide a contemporary, rustic look. The rod pocket design allows you to customize with additional curtains or blinds for more privacy. These curtains are also machine washable, which is often not true for many linen curtains. Buy Here.
Primeau Linen Blended 100% Waterproof Coated Curtains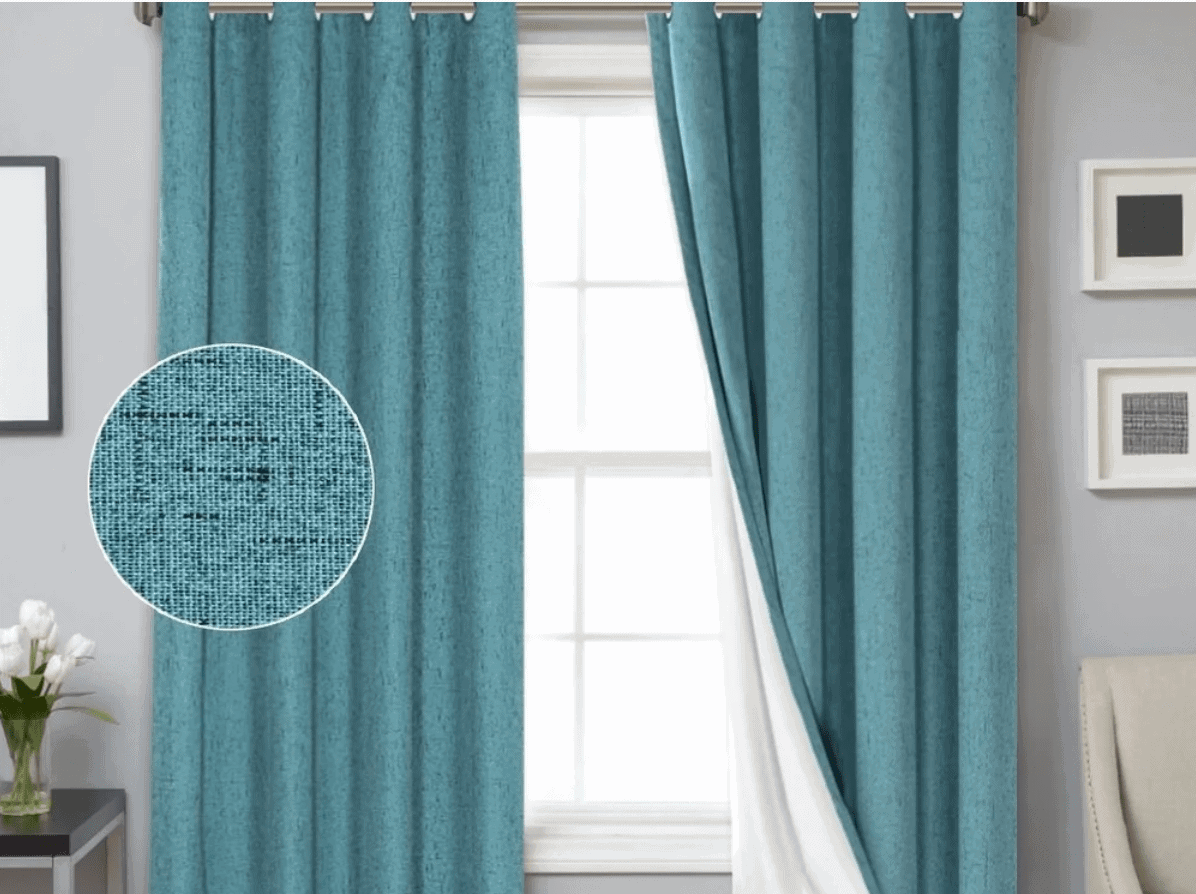 This is my favorite idea for linen bathroom window curtains. Offering thermal insulation, these contemporary linen curtains have a special coating to protect them against any water– meaning you can feel free to place these events near a shower! They're machine washable and available in white, natural, blue, gray, and navy. Buy Here.
Polyester Bathroom Window Curtains
Polyester bathroom window curtains are my favorite option, hands down, for bathrooms. The biggest downside is that you can't iron them to smooth them out, and they may appear less formal or traditional. That said, these curtains are durable, wrinkle-resistant, and even mold-resistant– perfect for placing near a water source. Like cotton, polyester curtains are also affordable. As an alternative, nylon has a similar appeal– it's just that you're much more likely to find polyester or polyester blends.
Sateen Room Darkening Curtains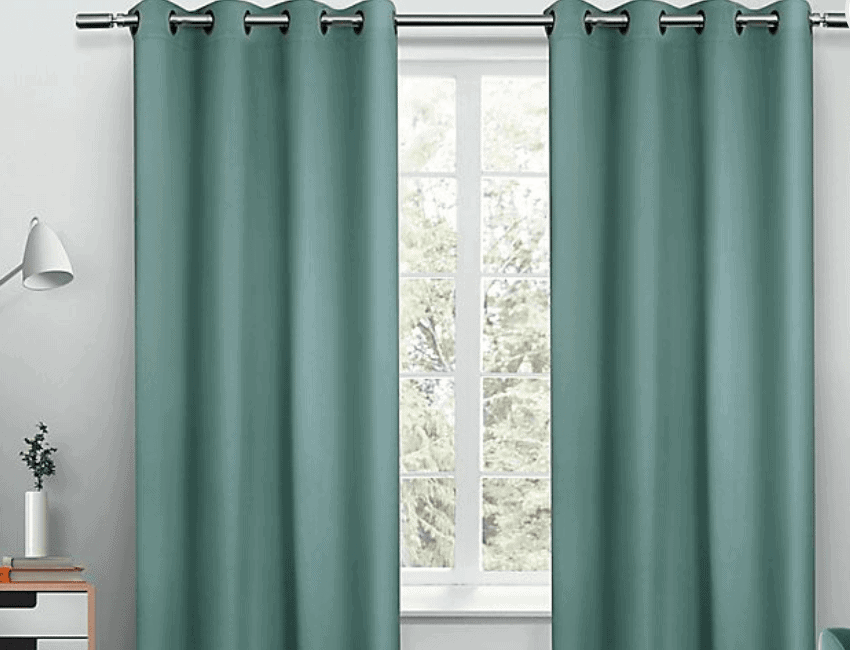 With a satin-like finish, these curtains are both practical and stylish for bathroom windows. Lightbox and Thermax technology allow these curtains to insulate drafty windows and block out noise at night. They come in a variety of colors, including black, gray, red, natural, orange, teal, white, and aged yellow. Buy Here.
Driftaway Mackenzie Curtains (Short & Long)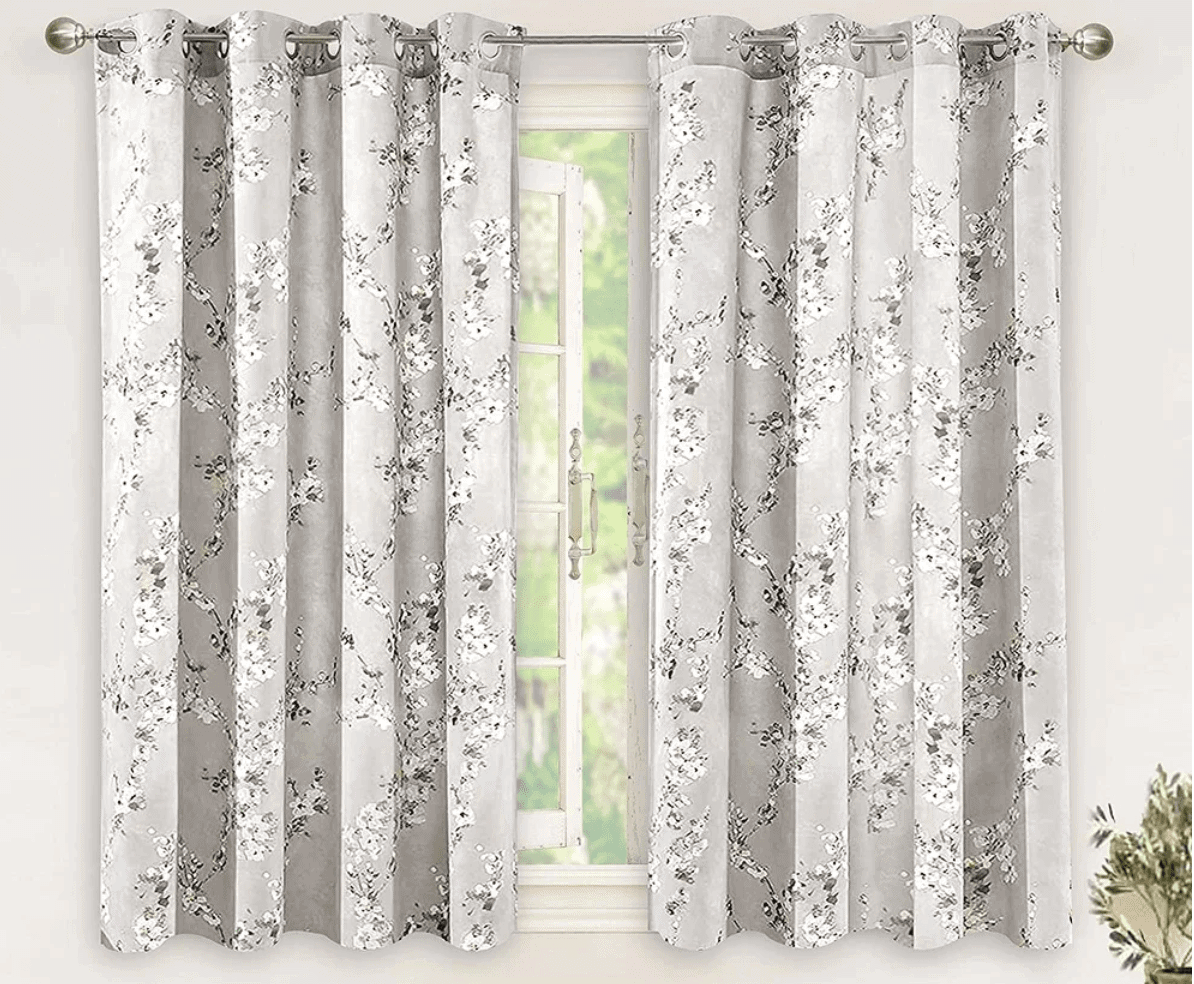 An elegant option for bathroom windows if you need a short length, these room darkening curtains also come in longer lengths. Triple-weave technology provides noise reduction, greater energy efficiency, and insulates for cold and hot weather alike. They're also effective at protecting against UV rays and have a silky finish. Buy Here.
Greenland Home Fashion Polyester Astoria Curtains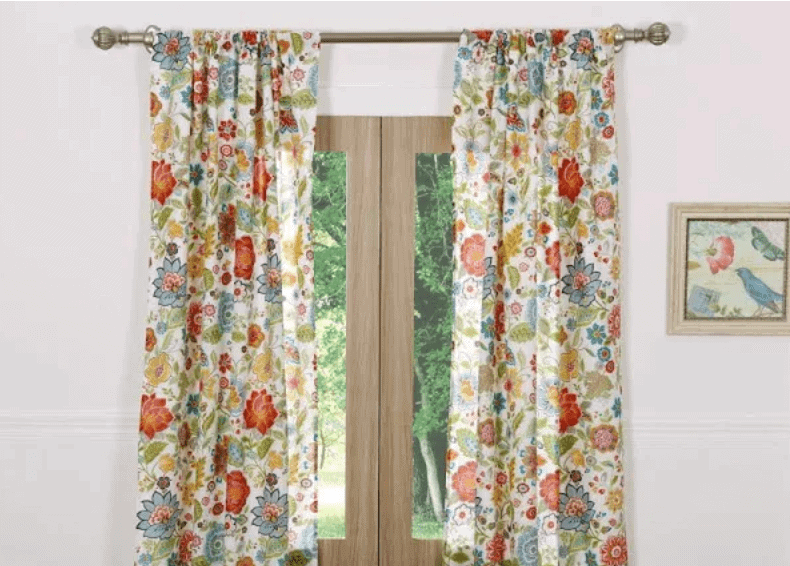 This bold floral print will add a pop of color and cheer to neutral and cozy bathrooms. These curtains are light filtering, so they'd be ideal to pair with blinds if you want more privacy. The breezy polyester fabric is available with a white or neutral backdrop, includes tie-backs, and is machine washable. Buy Here.
Eclipse Solid Thermal Panel Curtains (Short and Long)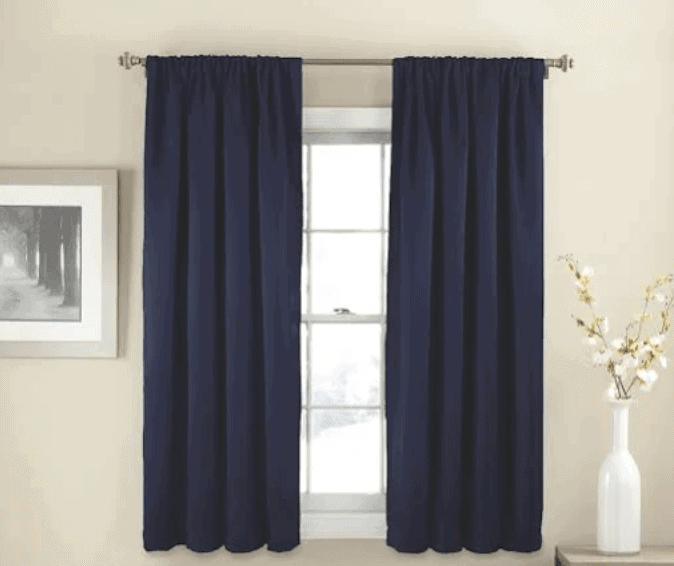 Another option for either short or long, these bathroom window curtains are budget-friendly and machine washable. Ideal if you want some added privacy and insulation and a fuss-free style, these curtains do what they need to do without extra features you may not need. Buy Here.
Living Logic Printed Polyester Curtains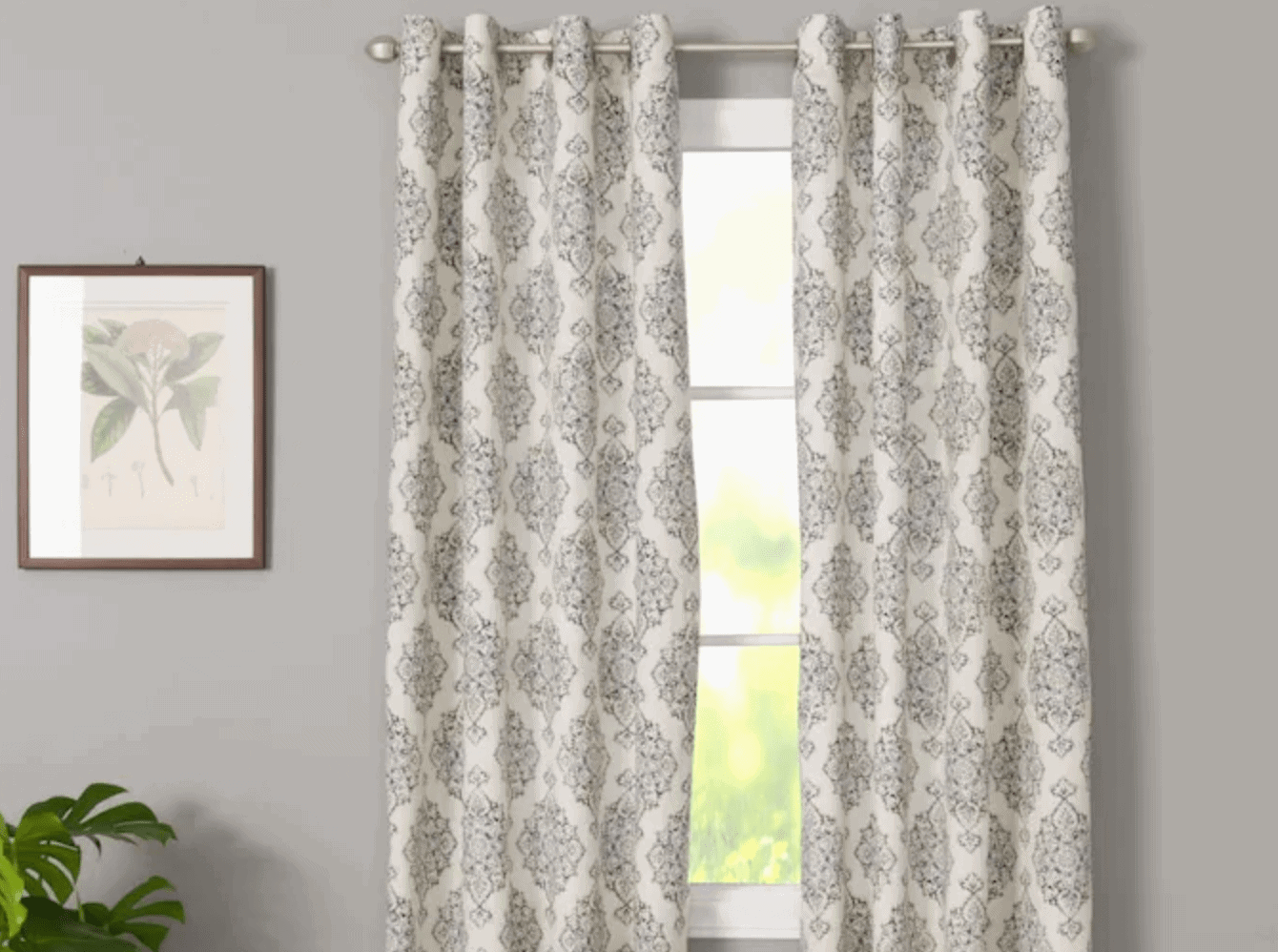 These grommet-style curtains feature a modern print and easy installation. The muted design is appealing but contemporary, available in both gray and blue. The polyester curtains are light filtering and can be paired with blinds or shades for more privacy. They can be machine washed on a gentle cycle. Buy Here.
Frequently Asked Questions
Question: Where should I hang my bathroom curtains?
Answer: You can hang your bathroom curtains where you feel is best. At the same time, there are certainly pros and cons to certain locations. The higher your curtains, the larger a room tends to appear. Curtains like cotton or linen should not be hung directly over a water source. For shower curtains, you should hang your curtains six inches beyond the shower or tub rim.
Question: Can you put long curtains on a short window?
Answer: Long curtains are not only for tall windows. In fact, long curtains help provide an illusion of larger windows on a short window. You can use floor-length curtains on any windows you like.
Question: What is the proper placement of curtain rods?
Answer: Curtain rods generally should be placed so that they reach 4 inches on each side of the window. If you want the appearance of a larger window, you can push the rod beyond 4 inches. You'll also, of course, want to consider the curtain type and what suits your desired use and style.
Final Thoughts
Not all bathrooms will have curtains or even windows. That said, bathroom window curtains are a great way to create atmosphere, add a finishing touch, and a little extra privacy or even insulation. If you do plan to place window curtains near a sink or shower, I recommend waterproof, or at least polyester. Linen and cotton can work in a bathroom in other locations.
You can also buy waterproof spray and other protectant sprays to improve the durability of whatever curtains you purchase. Finish up your bathroom decor with plants, real or artificial, and wall hangings. You can easily pull off traditional and contemporary styles– you just have to look at all of your options.