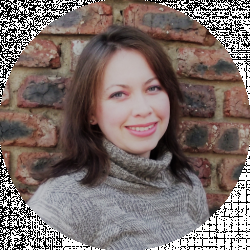 Latest posts by Talitha vanNiekerk
(see all)
Bunk beds are a great way to save space and accommodate multiple guests in your home or in a college dorm room. However, they don't offer much privacy. It's hard to sleep when there are other people in your room!
Using bunk bed curtains can help solve many of your sleep problems. Let's discover how to find the best bunk bed curtains with this handy guide.
Why Do You Need Bunk Bed Curtains?
Closing your bunk bed curtains can afford you some peace of mind and privacy. Bunk bed curtains can greatly improve your sleep quality, and they can help a small room feel more spacious than it is. If you are sharing your room with someone, these curtains can help cut out light and reduce social pressure.
Bunk beds may be handy, but they don't give you much room or privacy. In college dorm rooms, they have been a staple for many decades. Yet, your roommate may not be operating on the same hours as you do. Having the means to close off their presence from your sight is a great solution to roomie woes.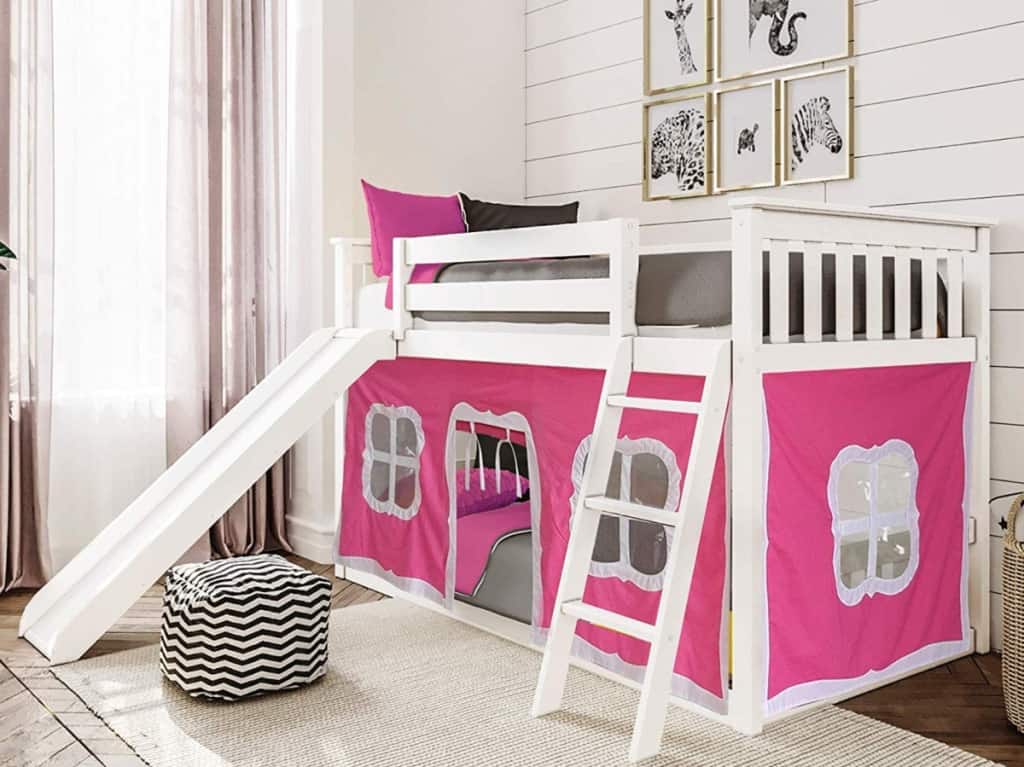 For younger children who share their bedroom with a sibling, having bunk bed curtains can help establish a sense of identity and give each child a personal space within their shared space. Bunk bed curtains are also available in a range of styles, which can help your child develop their own tastes and have some privacy without having to close their bedroom door. Under bed curtains can also help organize a messy room and are ideal for kids.
In terms of sleep psychology, having a closed off area you feel safe in greatly improves your sense of comfort. This can help curb anxiety and night terrors in young children as they can relax inside their cozy bunk bed "curtain-cave." Sound sleep becomes much easier to experience when you are relaxed.
Having lined bunk bed curtains can also help cut down on noise pollution from your noisy next door neighbors or your snoring roommate. These curtains help regulate sounds from outside, helping those with audio sensitivity to sleep better.
What Should You Look at When Choosing Your Bunk Beds Curtains?
There are numerous considerations to keep in mind when choosing your bunk beds curtains. No two curtains are the same, and you would need to keep in mind whether the curtains are for a student, a child, or adults who are sharing a room. Here are some of the top considerations and what to look at:
Transparency
If you are adding bunk beds curtains to your beds, you need to consider whether they are for privacy or to add to the aesthetic of a room. A college student would prefer privacy, whereas a child would like something more see-through like a planet curtain or a fairy curtain.
When choosing curtains for blocking out light, you would look at the thread count, whether the curtains are lined or not, and also the fullness of the curtains when they hang, which increases the opaqueness of them.
Material
Flimsy curtains that offer a fairy quality might be ideal for a little girl's room, but not for rough-and-tumble boys. So choose a material that is appropriate. College students who use a communal laundry may also need a more durable fabric that can take some rough handling and washing.
Something that doesn't require ironing is also a winner for college students. Even better is to choose a material that can be dry-cleaned as this would mean the curtain can be handed in at the dry cleaners, collected, and hung back up on the same day.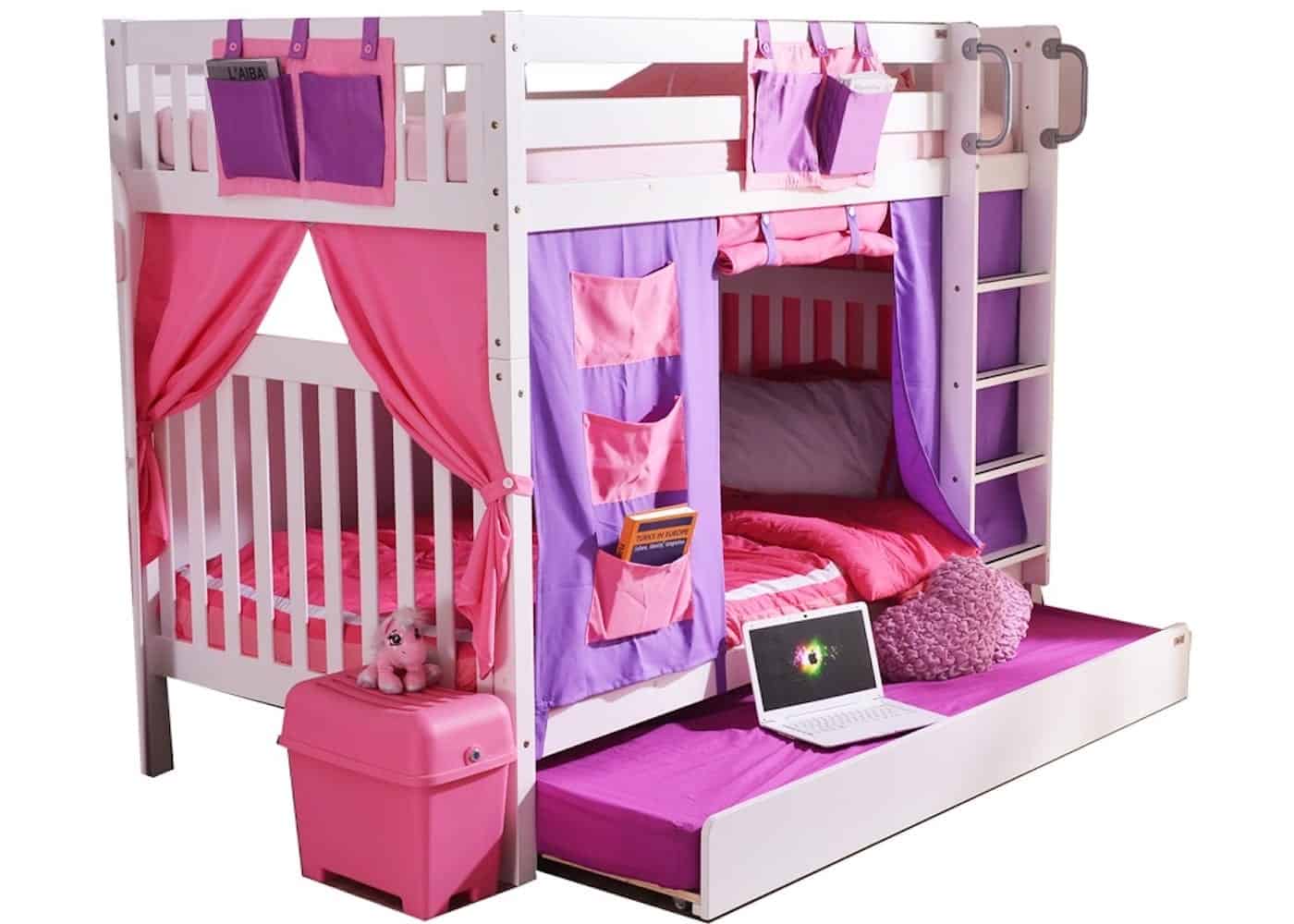 Rails Vs Rods
How you hang the bunk beds curtains is also going to be a factor. A metal bunk bed may require some adjustment to have rails or rods installed to mount the curtains on. Wooden bunk beds are easier as you can simply screw on the brackets for either rails or rods. High-quality rails are the most functional as the rings of rod curtains can sometimes jam against the side of the bunk beds.
Rods are popular systems for bunk beds curtains that have an eye-let sewn in, negating the need for rings. This is also an efficient hanging system and super easy for college students who don't want to fuss with runners or hooks.
Length and Measurements
Next, you should consider the length and measurements of any potential bunk beds curtains you wish to purchase. Make sure they overlap the base of the bed by several inches to cut out light better, and when fully drawn, bunk beds curtains should have sufficient pleats in to ensure there are no peekaboo holes that open on the sides and could limit privacy.
Measure your bunk beds according to length and height, and multiply the length by 1.5 to get the finished length. Next add an additional seven or eight inches to the height to get a good coverage at the bottom of the curtains. Another way to check this is that the hem of the curtain (which is usually six to seven inches wide) should hang below the edge of your bunk bed.
Color and Patterns
Choose a bunk beds curtain that will fit in with the aesthetic of your room. While you can choose any fabric under the sun and make your own curtains, you should choose something that is quiet and suitable for a bedroom, or you can choose to select a material or design that can become a feature point.
Children's rooms often have themed bunk beds curtains like Frozen or Disney curtains. For college students or campgrounds, a more neutral color palette is appropriate.
Cost
Finally, keep your cost in mind. Bunk beds curtains will have a limited lifespan. They are functional curtains, and they will be handled daily, so the edges may become frayed or damaged easily. Balance a quality fabric with the final cost as you will likely have them replaced within a year or two.
Children's rooms also change themes quickly, and where your child loves Shrek curtains today, they may decide tomorrow they hate it and want a Buzz Lightyear themed curtain. Be sure to consider the cost of replacing bunk beds curtains frequently.
Know Your Needs Before You Shop for Bunk Beds Curtains
Before you are dazzled by gorgeous designs and pages full of Pinterest ideas, be sure you know what function your bunk beds curtains need to fulfill. This will help you make the most functional choices. Do you need: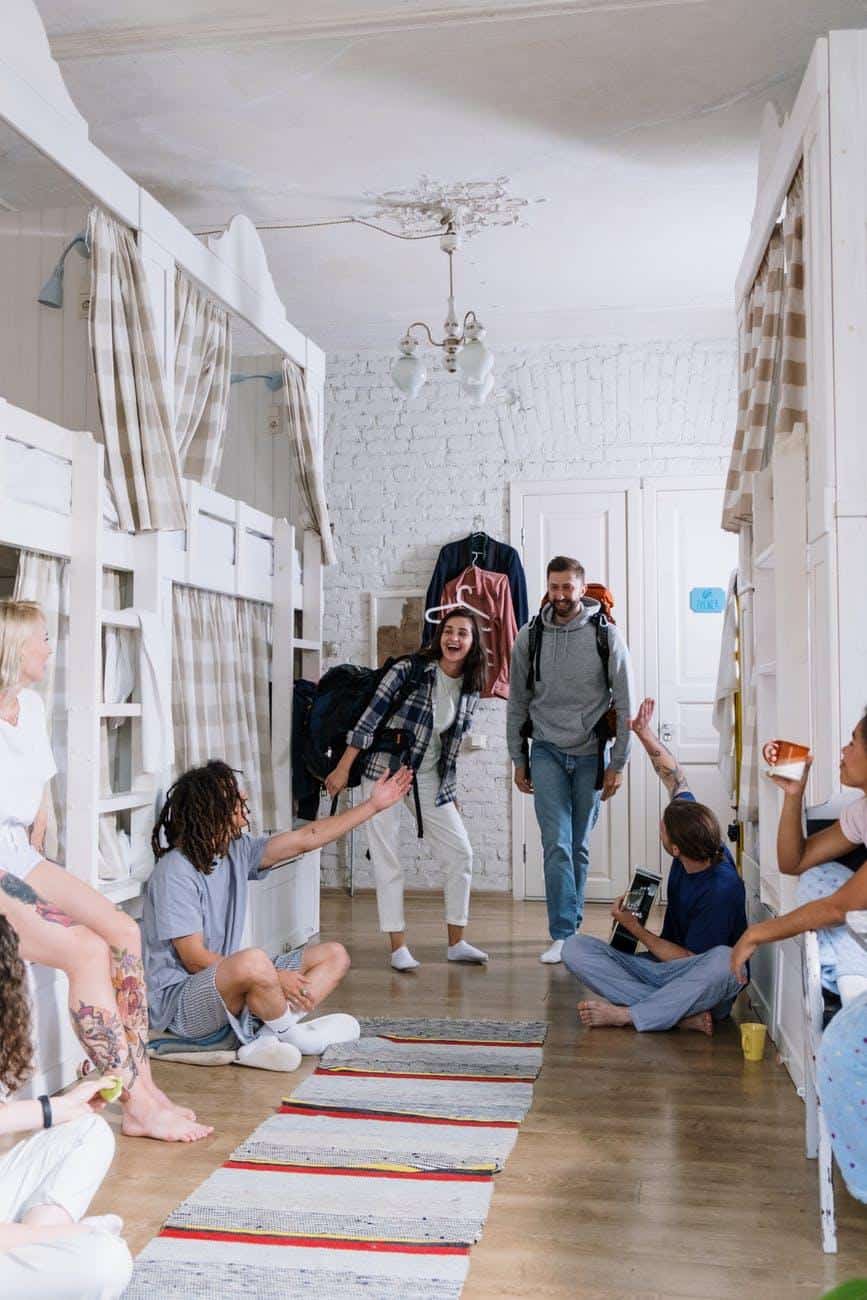 Privacy
If you want privacy, then you will choose a bunk beds curtain that is made from an opaque fabric. You will want something that closes off your space completely, while still allowing easy access to the bed when you need it. A bunk beds curtain on a rail will offer more privacy than one on a rod system as there are no gaps to peer through.
Light Reduction
For those sleeping odd hours, the light reduction is a must. Using a heavy weight and lined fabric will increase the bunk beds curtains' ability to shut out light. Again, using a rail and not a rod system for hanging the curtains will help cut out light and darken the sleep space more.
Decoration
In guest rooms or at accommodation facilities, having a bunk bed curtain that complements the decor is a great asset. When fully closed, bunk beds curtains present a wall of color or pattern, so choosing something that is suitable and fits in with the room's theme is a great decision.
Space Division
In a room being shared by two or more people, having some form of demarcating different spaces is a great way to bring some order and privacy to the space. Having bunk beds curtains helps to establish who a particular space belongs to.
If you share with people you are comfortable with, then you can consider the aesthetics more. But if you share with people you don't know so well, having thicker curtains to create more privacy is better.
Bug-Proofing Your Sleep Space
When you have bunk bed curtains, you can also use them to keep mosquitoes and other creepy crawlies out. Having a curtain that allows airflow but keeps crawlies out is a great aid to better sleep.
Top Options for Bunk Beds Curtains
To make things easier, we have the top bunk beds curtains options for children, dorm rooms, and adults sharing for your consideration.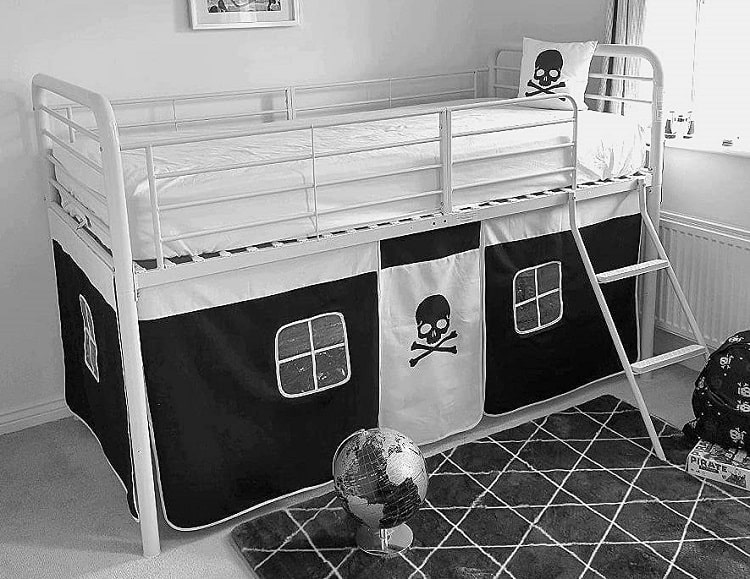 This is an ideal bunk beds curtains design for young boys. The pirate-themed design never gets old, and boys of ages 3-12+ will love it.
Pros
Made from durable 100% cotton
Can be used on both metal and wood frame bunk beds
Five panels allow easy access to the sleep space
Dual attachment system (ties or velcro) for easy installation
Fair priced
Cons
The ties are not the best quality, compared to the curtain material
Hanging by velcro or the thin ties present a problem with young children who can rip at the curtains
Curtains are shorter than illustrated, requiring accurate measurement
These pirate bunk beds curtains are ideal for any little boy's room. It can be used to darken the bottom sleeper, or hide toys underneath a loft bed. It offers both privacy, darkens a bright sleep space, and stirs up the imagination with the cool theme.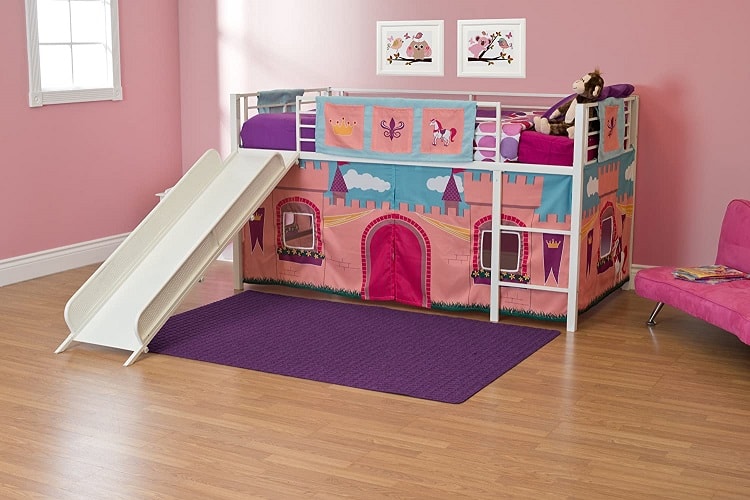 Ideal bunk beds curtains for your little princess, these curtains will charm any young lady. Providing privacy and the element of fantasy, your little girl will enjoy playing in this castle of curtains.
Pros
Made from high-quality polyester
Additional features like toy storage pockets
Good hanging system
Color proof for washing
Cons
Shorter curtain ties for attachment
Can be shorter than some bunk beds designs
Tent design means the curtains are always open
Overall, this is a great bunk bed curtains set. It has neat features like storage and peek-through windows, making it ideal for little girls who want their privacy but also want to know what's going on.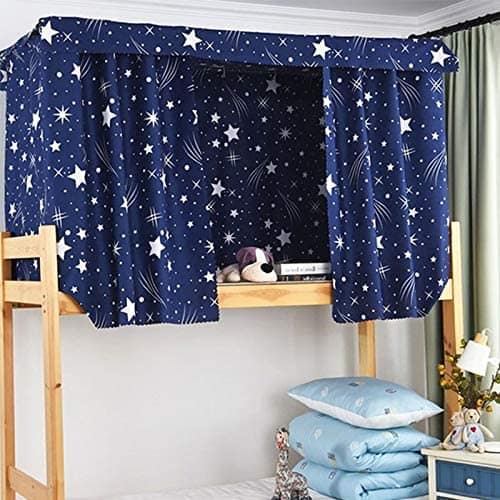 Students require dark spaces to catch up on sleep when they are studying at odd hours. This makes a high-quality block-out bunk beds curtain a must for any dorm room.
Pros
Inclusive package with hanging rope and rings
Medium thickness polyester to allow airflow while cutting off light
Can be used to block out insects like a mosquito net
Cons
Hanging system is a bit flimsy
Size differences can create issues with different style bunk beds
Design requires two orders for a complete canopy
This is a good design for college bunk beds; however, there are multiple patterns available, making it suitable for younger children too. The fabric is a good quality, and it provides privacy and darkened sleep areas for college students. With the rope design hanging system, it is more adjustable for different college bunk beds.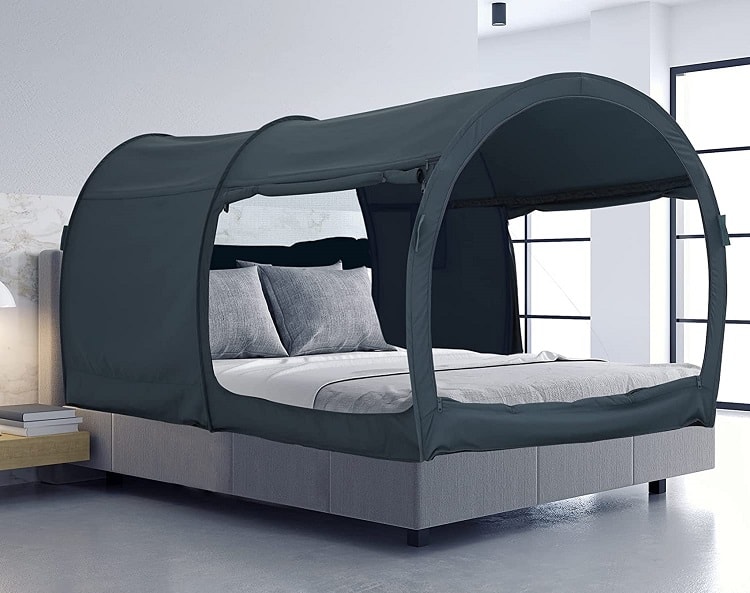 The last offering is an alternative to traditional bunk beds curtains. It is an easy-to-assemble pop-up tent that can be used on bunk beds. There are a range of benefits to this product, making it a firm market favorite.
Pros
Sturdy construction
Complete and adjustable privacy with multiple zipper panels
Dark block-out color reduces light for daytime sleeping
Cons
Zippers are located on outside of the tent, which makes opening or closing harder when inside the tent
Without a supporting bed frame, the tent can sag slightly
Installation can be a bit challenging the first few times
The frame structure of the tent doesn't make washing the tent possible
This is an awesome alternative for adults who are using bunk beds. For kids it's also great to create a fort or cave to sleep in. The mesh windows allow for airflow, while the zip-down sides create additional privacy and darkness for better sleeping. Those with anxiety or autism will find it as a great way to sleep safely in a warm cocoon-like space.
Bunk Beds Curtains FAQ
Question: How do you hang curtains on a bunk bed?
Answer: There are several ways to attach curtains to a bunk bed. Whichever way you choose needs to offer support to keep the curtains from sagging and need to be suited to the type of bunk bed frame you have. Try these methods:
• Attach curtain rod hooks to a wood frame bunk bed by screwing them in and resting the rod in these. You can also add a tension wire that runs from the one end to the other, with interspersed hooks to support the wire from sagging.
• Tie curtain ties to different parts of the bunk bed frame. This holds the curtains in place, but doesn't allow curtains to be opened. Best used for panels instead of draw curtains.
• Curtain rails can be installed by screwing the rail in place on wood frame bunk beds or gluing them onto steel frame bunk beds.
Question: How do you make a top bunk bed more comfortable?
Answer: Bunk beds are often uncomfortable due to the person not having privacy and the bunks offering limited space. Create more privacy by adding bunk bed curtains, and increase your space by adding elements like clip lamps, mirrors, and storage units to help you make it more cozy. Adding extra cushions and pillows will also make the space more inviting.
Question: How do you decorate a room with a bunk bed?
Answer: Bunk beds can create unique room elements by positioning one bed to the side of the other if you have a split frame. Adding bunk bed curtains can turn the bottom space into a private area for play and to place a desk.
Single stack bunk beds can become more private by adding bunk bed curtains to the bottom bunk and adding a canopy and curtains to the top bunk. Curtains are available in a range of designs to match any decor scheme.
The Top Bunk: The Final Verdict
Finally, bunk beds curtains are designed to offer you privacy, light regulation, block-out of noise, and create a space that is bug-proof. Choosing curtains that are of a sturdy fabric with a great and practical hanging system is an effective way to make your bunk beds into a dream. Whether you choose a traditional curtain system of a rail, rings, or eyelets, or a pop-up tent design, these offer ways to make your bunk beds into a new and pleasing sleep zone.
Have you discovered the best bunk beds curtain to use? What are your requirements for a great bunk bed curtain? Share your experiences in our social feed, and help other sharing sleepers sleep better and have more privacy too.