Latest posts by Erin Jamieson
(see all)
From curtains to bold statements, 2022 is proving to be a year of buying curtains to update home styles. And maybe it's one of the best years yet to buy from well-known brands like Marburn.
With home renovations still on the rise from a 2020 boost, countless Americans are looking for ways to freshen up their homes and put a new style on display. The problem is renovations can get expensive. Perhaps that's why curtains are trending as a simple way to add flair to a room.
Considered by some lifestyle outlets to be the most transformative decor, curtains and drapes are being paired with area rugs and to either shake up or put together a room's style. What's interesting is that there is not a single trend, but many trends for curtains– proving 2022 is a lot about your own personal style.
Luxurious velvet curtains, breezy boho curtains, and sheer modern curtains are all being purchased. And if you're not sure where to start or what style suits you, the process can be overwhelming. That's why many are looking for one-stop shopping.
But is the Marburn brand name right for you? And what is the best style of curtains that Mourn offers?
Consider this your guide to Marburn curtains in 2022. I'll tell you about the company, give you some buying tips, and my top picks for Marburn brand curtains for this year.
What are Marburn Curtains?
Before I provide my picks for the best Marburn brand curtains, it's important to discuss the company itself. Marburn Curtain & Home supplies a collection of home goods products. These include pillows, organizers, mattress pads, rugs, and, of course, curtains and drapes. Though it's not clear when they first opened their doors, they've had a Better Business Bureau profile since 2012.
Where are Marburn Curtains located?
Marburn Curtains has store locations in Pennsylvania, New York, and New Jersey. There are 5 locations in New Jersey, 2 in New York, and 2 in Pennsylvania. If you happen to live in these states, or near one of them, click here for the Marburn Store Locator.
They also offer an online store. However, they currently do not allow shipping for this store, and it's unclear when or if this will be made available. For now, all links I am providing in this article are from the online store but require in-store pickup.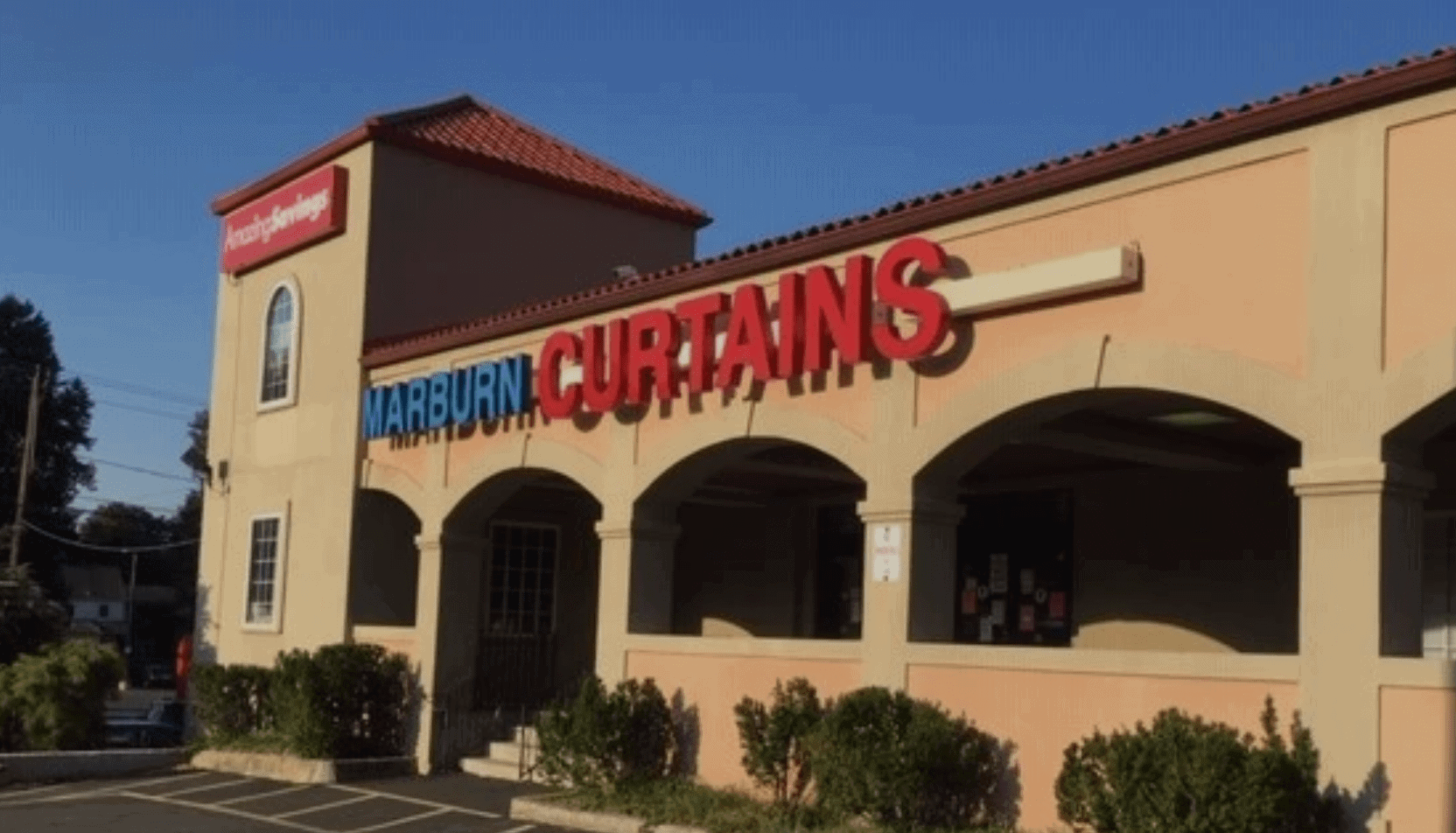 What days are Marburn Curtains open?
Marburn Curtains is open 7 days a week at all locations, except for Teaneck, NJ, which is closed on Sundays. Typical store hours are 9:30 am to 8 pm Monday through Saturday, and 11 am through 5 to 6 pm on Sundays. You can find individual store hours in their store locator.
How is Marburn Curtains rated?
Marburn Curtains is not officially accredited with the Better Business Bureau, but it does have an unofficial rating of an A+, based upon consumer experience. For the 9 years, it's had a profile on BBB, Marburn Curtains hasn't had any filed complaints.
Other ratings are hard to come by. On Yelp, there are just a dozen ratings for Marburn Curtains, with an average of 3.5 out of 5 stars. Many enjoyed the small family business feel, with a personalized approach. Though some customers had some mixed experiences, many did praise the service.
At the same time, complaints were made about the store's organizational structure, and upkeep, depending on the location. As a whole, it seems customers are not blown away by their experience, but fairly pleased.
What type of curtains does Marburn sell?
While Marburn may seem like a reasonable option, I wanted to take a closer look at what they sell, from how expensive their curtains are to their selection and overall quality.
How much do Marburn curtains cost?
One thing that immediately struck me about Marburn is how affordable their collection of curtains is. Panels start at $5 and go up to $50. Sheer curtains start at under $5 and go up to $30. Of course, there are more options when you shop in a store, but, all told, Marburn curtains aren't going to create a hole in your wallet.
In addition, Marburn curtains also go on sale. You can see that on their online site alone, as well as through other promotional events. The bottom line is that Marburn brand curtains are especially affordable.
Are Marburn brand curtains high quality?
Price aside, it's also important to consider quality. Most Marburn curtains are made out of 100 percent polyester, which is convenient because they are also machine washable and easy to maintain. Polyester curtains are very popular because they also don't shrink or wrinkle. Of course, there are downsides as well.
Polyester curtains like Marburn sells aren't recommended for kitchens because they easily take on room odors. More importantly, this material makes these curtains flammable as well. Some polyester curtains do have treatments but these chemicals can be somewhat harsh.
That said, most prefer a cotton and polyester blend to get the best of both. Cheaper curtains tend to have slightly less thick or sturdy fabric. Marburn curtains are of decent quality, and a respectable choice for living rooms or bedrooms, but they won't last forever and I'd avoid using them in kitchens or rooms susceptible to humidity.
It is important to note that there are a few select styles that are made of a cotton and polyester blend– they're just in the minority. There are also a very select few that have a linen and polyester blend, which is one of my favorite options.
What styles of curtains does Marburn sell?
Marburn sells grommet and rock panels, as well as kitchen curtains and sheer panels. The styles lean modern, though the kitchen curtains draw inspiration from country chic. Some of the sheer curtains could work with elegant boho/ boho chic homes. You won't find much in the way of vintage or retro.
I also noticed that Marburn tends to favor neutral and muted hues over bold ones. You'll notice creams, whites, and dusky tones. While a few deep tones are available, you won't come across bold statement curtains.
Mostly, Marburn curtains are versatile and meant to easily suit a variety of styles. There are a
Marburn Curtains: My Picks
Now I'll give you my favorite ideas for Marburn brand curtains. I'll discuss every curtain collection they offer and provide my selection. I focused on styles that stood out as either unique or useful, rather than focusing on price points. Remember that you cannot directly order online for now, but you can add items to a virtual shopping cart and pick them up at the store location of your choice.
Marburn Grommet Curtains Panels
Grommet panels are defined by their clean, modern look. Rimmed, curved opens on the top make for easy hanging. They also stack and squeeze into tight spaces or with decorative curtains easily. Marburn brand grommet panels feature solid colors and a few subtle prints and are contemporary with some traditional touches.
Sunsplash Blackout Grommet Curtain Panels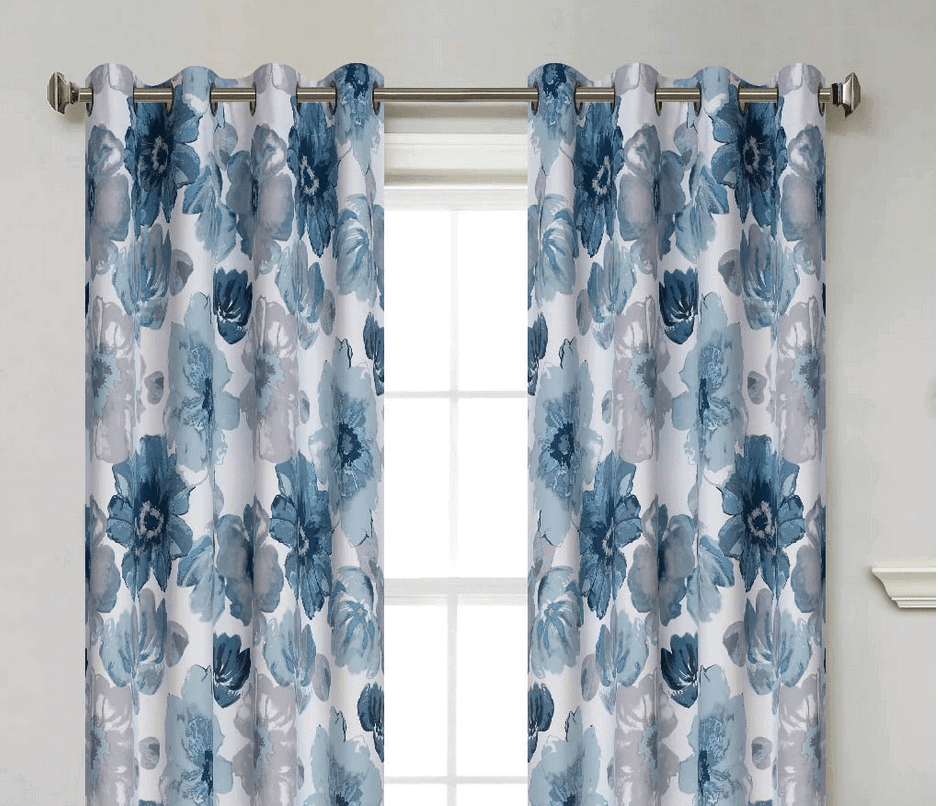 This bestseller allows you to keep your privacy while staying stylish. The blackout lining is accompanied by a modern floral print that's just the right mix of casual and elegant. A watercolor aesthetic adds an arctic or versatile splash to dining and living rooms. Choose from blue or pink hues. Buy Here.
Glitter Foamback Grommet Curtain Panels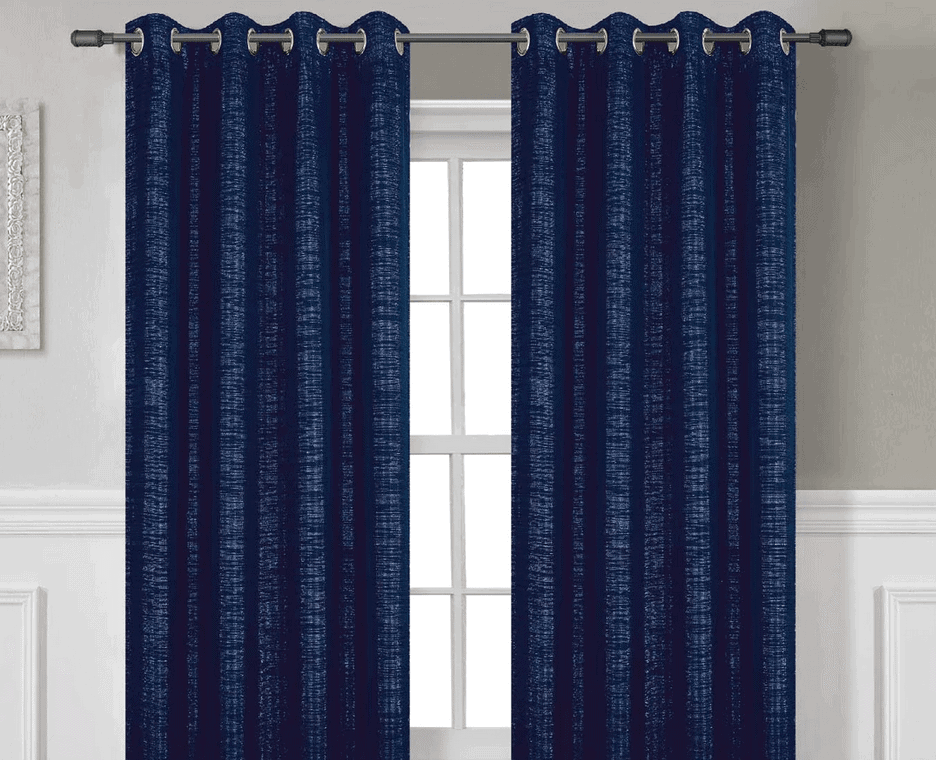 Metallic hues look at home with modern styles and touches of sophistication. Still quite versatile, a clean modern look is accented with metallic threads with lining. Select from blush, sapphire, and mint green. Consider pairing with silver and gray rugs or furniture.
Winston Grommet Curtain Panels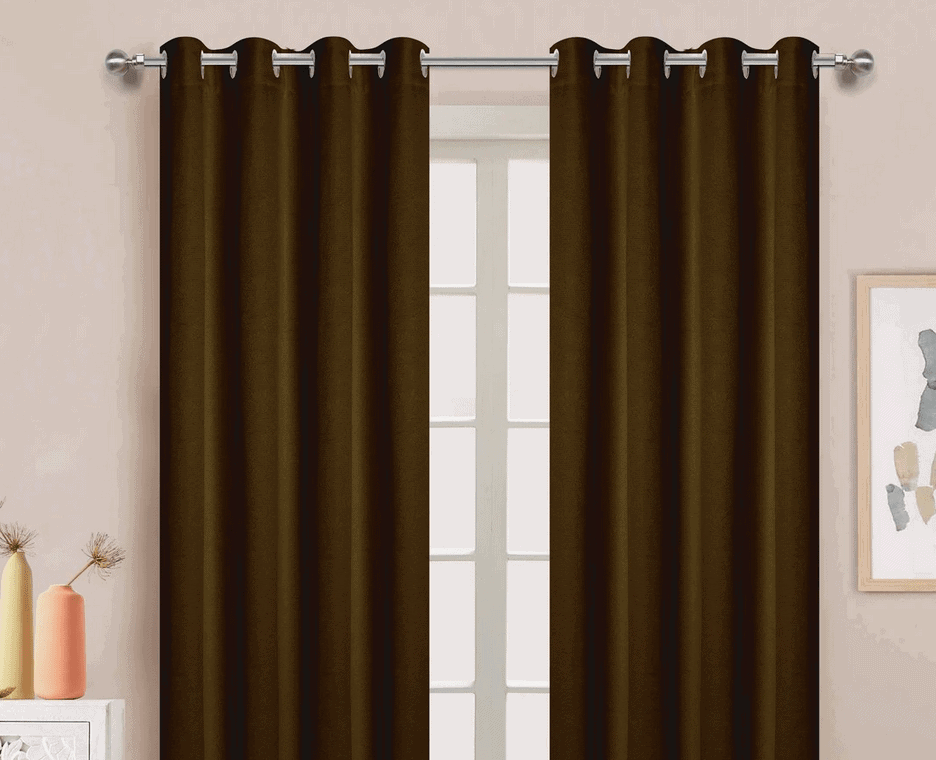 Sometimes you just need a go-to for a modern, neutral curtain. These curtains feature a barely-there leaf pattern and come in versatile colors that will suit any room, traditional and minimalist alike. Select from white, silver, charcoal, gray, or chocolate. Buy Here.
Atlas Grommet Curtain Panels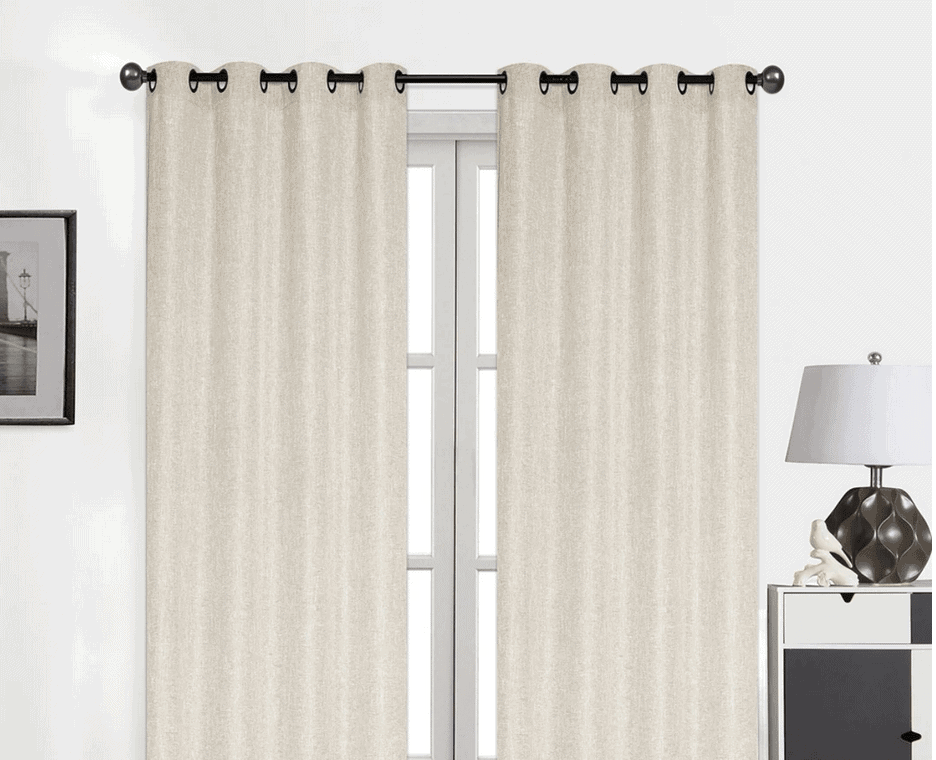 A brighter, more minimalist take on the Winston, these inviting curtains could be used in just about any room. Select from coral, gold, or gray. This style is effortless, contemporary, and adds a nice finishing touch, especially with white and brown walls, floors, and furniture. Buy Here.
Lilies Solid Grommet Curtain Panels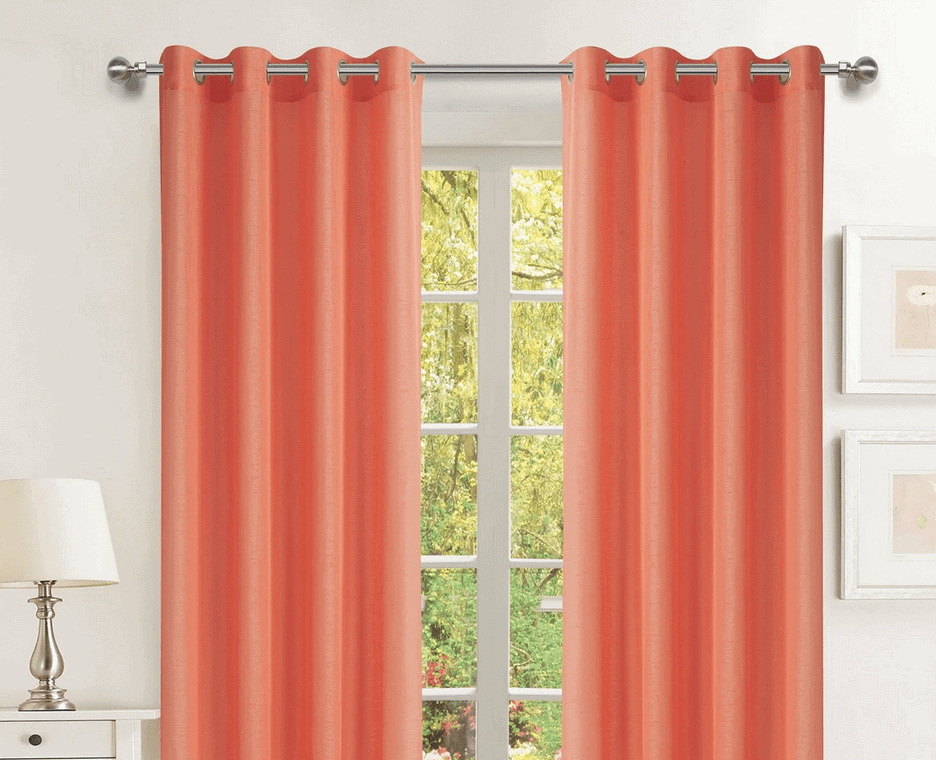 These curtains are one of the exceptions to the darker hues the Marburn brand tends to favor. Mustard yellow, violet, blush, sky blue, and red add spring-like touches to dining rooms, living rooms, and bedrooms. Contemporary, with a streamlined design, you can have a lot of fun pairing these solid color curtains with patterns or keeping things simple. Buy Here.
Twilight Thermal Grommet Curtain Panels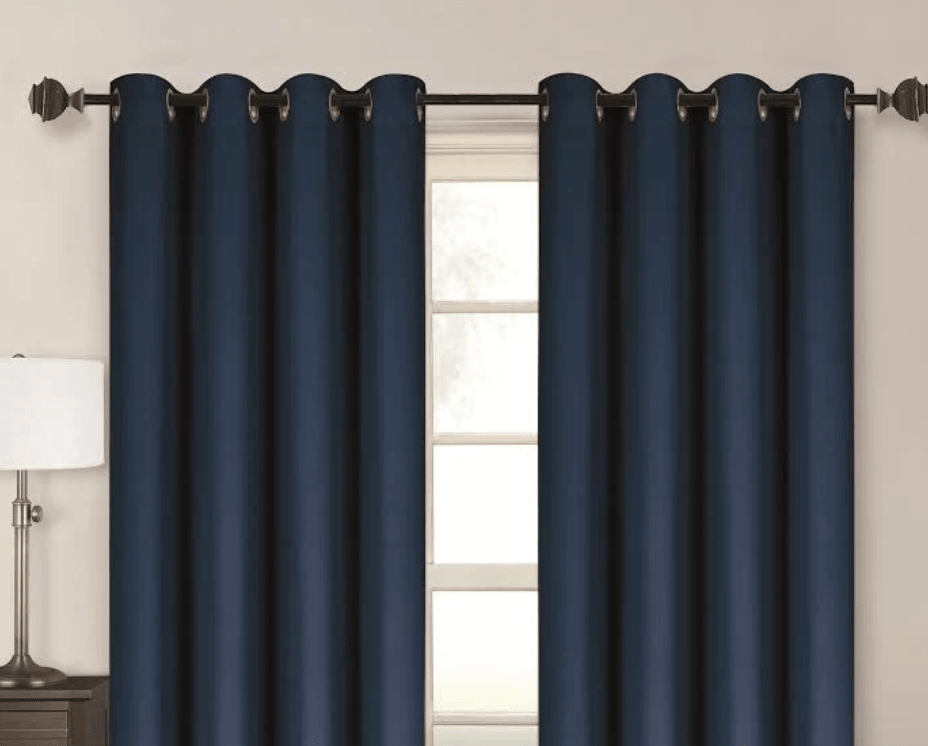 These curtains are my number one choice for grommet panels by Marburn. You'll enjoy thermal insulation, blackout curtain privacy, and a sleek, modern look. Even better? They are still quite affordable and available in 15 colors, as well as different sizes. Most hues are dark and traditional, but there are a few surprising bright swatches, too. Buy Here.
Marburn Rod Pocket Panels
Rod pocket panels are actually the most common and traditional ways to hang a curtain. A sewn pocket slips seamlessly over a rod for easy hanging. This is an excellent choice if you want fuss-free curtain hanging, like to change your curtains often, and favor a more traditional look. You'll find classic contemporary, formal traditional, and even country chic styles.
Buffalo Check Rod Curtain Panels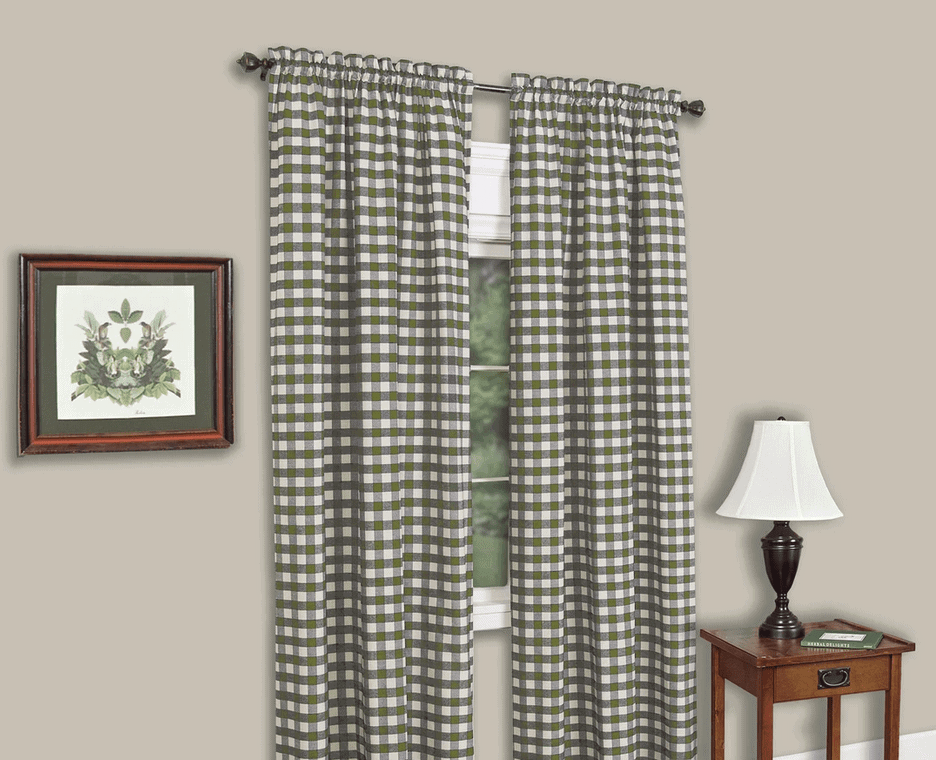 This collection of checkered curtain panels is perfect for a country or country-chic look. The checkered pattern is accompanied by a macrame border trim. You'll have your choice of panels, but also tiers, valances, and shades.
Colors include black/ white, burgundy, gray, navy, sage, and taupe. These are also one of my favorite options because they feature a polyester and cotton blend— unlike nearly all other Marburn curtains, which favor 100 percent polyester. Buy Here.
Read our full guide to the best Buffalo Check Curtain Ideas and Inspirations.
Reverie Semi-Sheer Rod Pocket Curtain Panels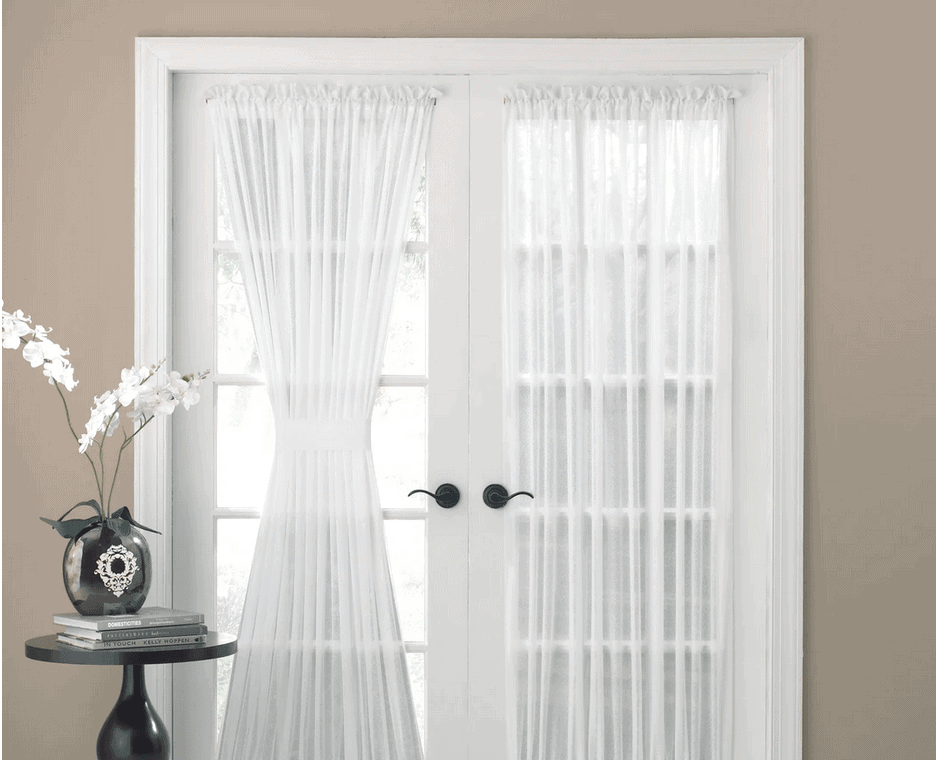 These elegant creatine panels are semi-sheer, allowing light to pass through a room. Snow voile tailored panels exude modern sophistication and can easily be paired with almost any furnishings. Choose from blue, burgundy, chocolate, eggshell, gold, green, spice, taupe, and white. Buy Here.
Shannon Rod Pocket Panel Curtains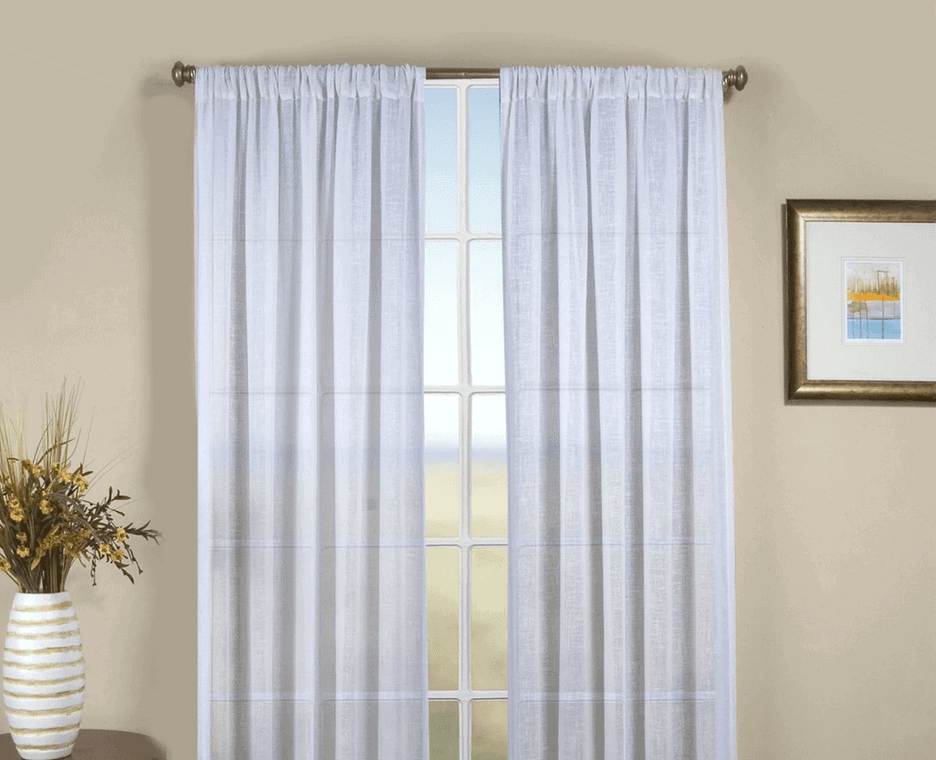 They may not be the most exciting option, but these curtains are one of my favorites in this category. The linen and polyester blend is a rare find from Marburn, making these a more durable option and suited for high-traffic areas. The look is classic and contemporary, and you'll have an option of white, gray, and neutral hues. Buy Here.
Vera Cruz Velvet Rod Curtains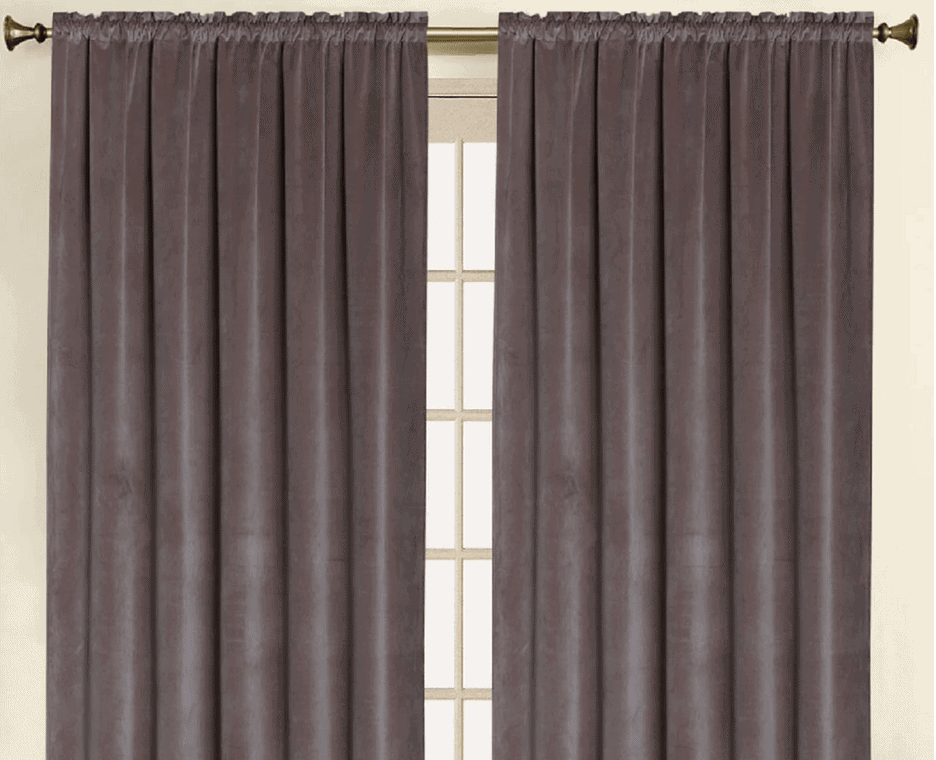 One surprising trend in home decor? Velvet. Velvet couches in particular are popular, but velvet curtains may slowly be making a little comeback too. Polyester velvet curtains add warmth and formality to any room. This is a contemporary take, available in black, burgundy, chocolate, gray, ivory, navy, and taupe. Buy Here.
Sheffield Rod Pocket Curtain Panels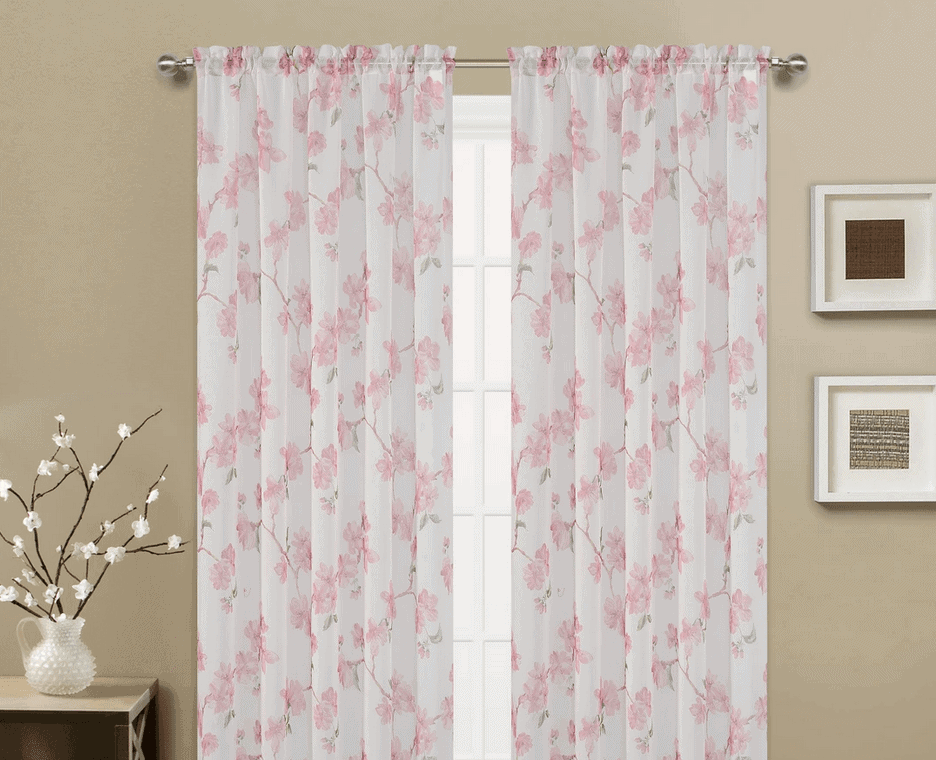 Also available as a valance, these airy floral curtain panels are light and playful. A watercolor-inspired floral design is set on a contemporary curtain panel. It's an inviting but not overwhelming pattern. Select from teal, coffee, lilac, and rose. Buy Here.
Sheer Marburn Curtains
Sheer curtains are used for a few reasons. Some use them to divide a room, especially in open concept homes. Many love them as a way to bring in natural light and highlight the outdoors. Dainty, contemporary, or boho, sheer curtains add a soft touch of decor to any room. Of course, they won't give you privacy, so either pair with liners and blinds or only hang them where you don't mind.
Emelia Sheer Voile Tailored Curtain Panels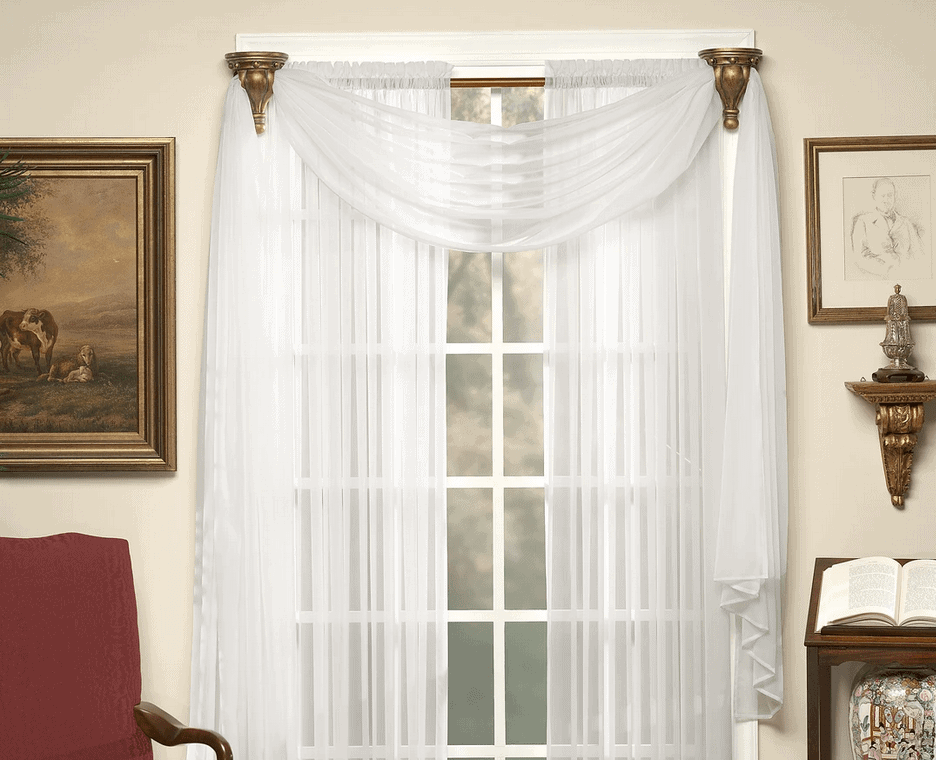 Simple elegance exudes from this budget-friendly sheer voile curtain panel. Hang them in traditional rooms, formal rooms, or just to add an inviting accent near a door or window overlooking a backyard. Choose from amethyst, black, burgundy, dusty leaf, ecru, gold, gray, lilac, navy, peach, rose, sage, sky blue, taupe, white, and yellow. Buy Here.
Vintage Embroidered Semi-Sheer Curtain Panels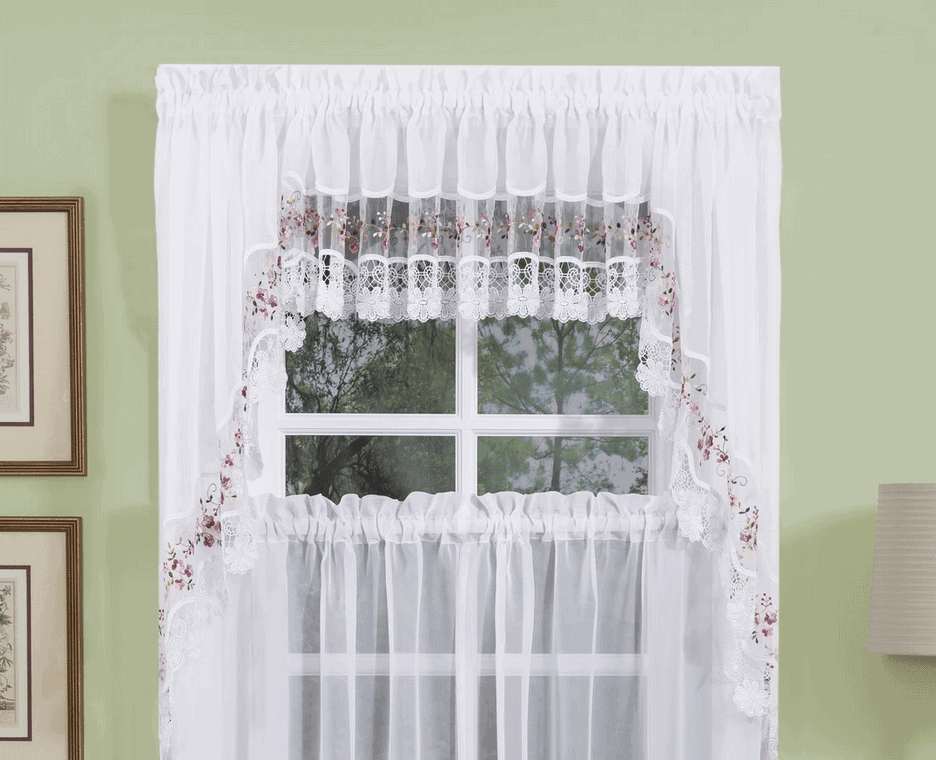 Vintage and also suited for a country or rustic look, this is a unique find from Marburn. You'll also be able to pair with or choose from valances and tiers. Finely embroidered floral details are paired with macrame trim. The dainty and vintage style is pleasing and comes in ecru/ gold, white/ blue, and white/ rose. Buy Here.
Joy Sheer Lace Curtain Panels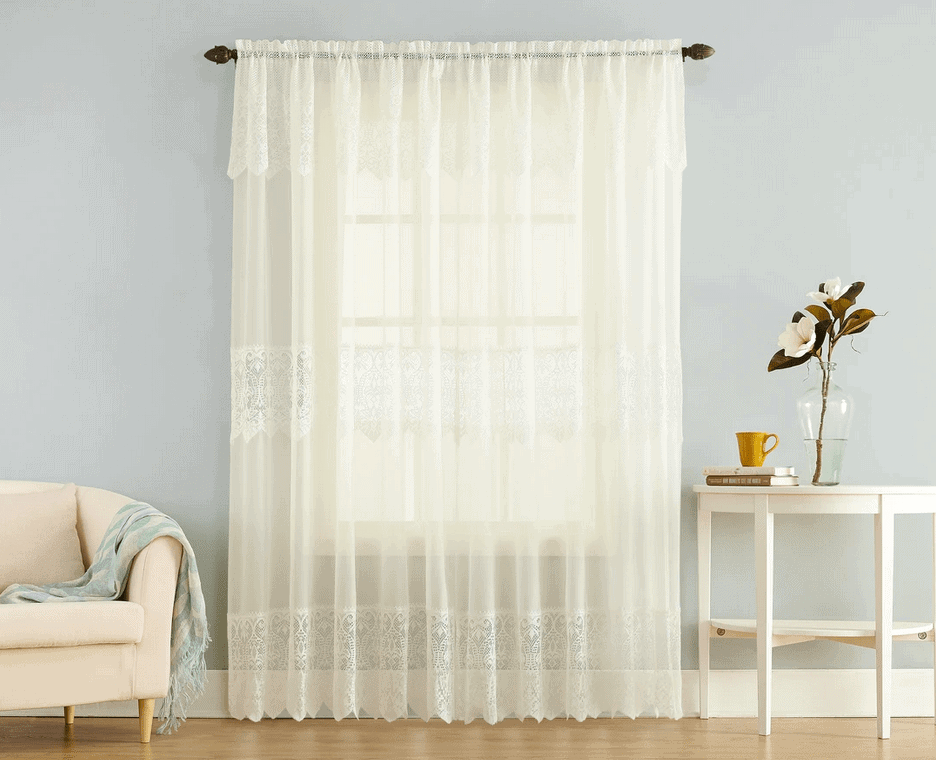 Lace curtains are coming back in style, especially modern takes on lace curtains. These sheer curtains come with an attached valance and come in ivory or white. Consider this delicate style for bedrooms and living rooms. While these curtains look lovely with wood and neutral tones, you can pair them with almost any color. Buy Here.
Allure Sheer Curtain Panels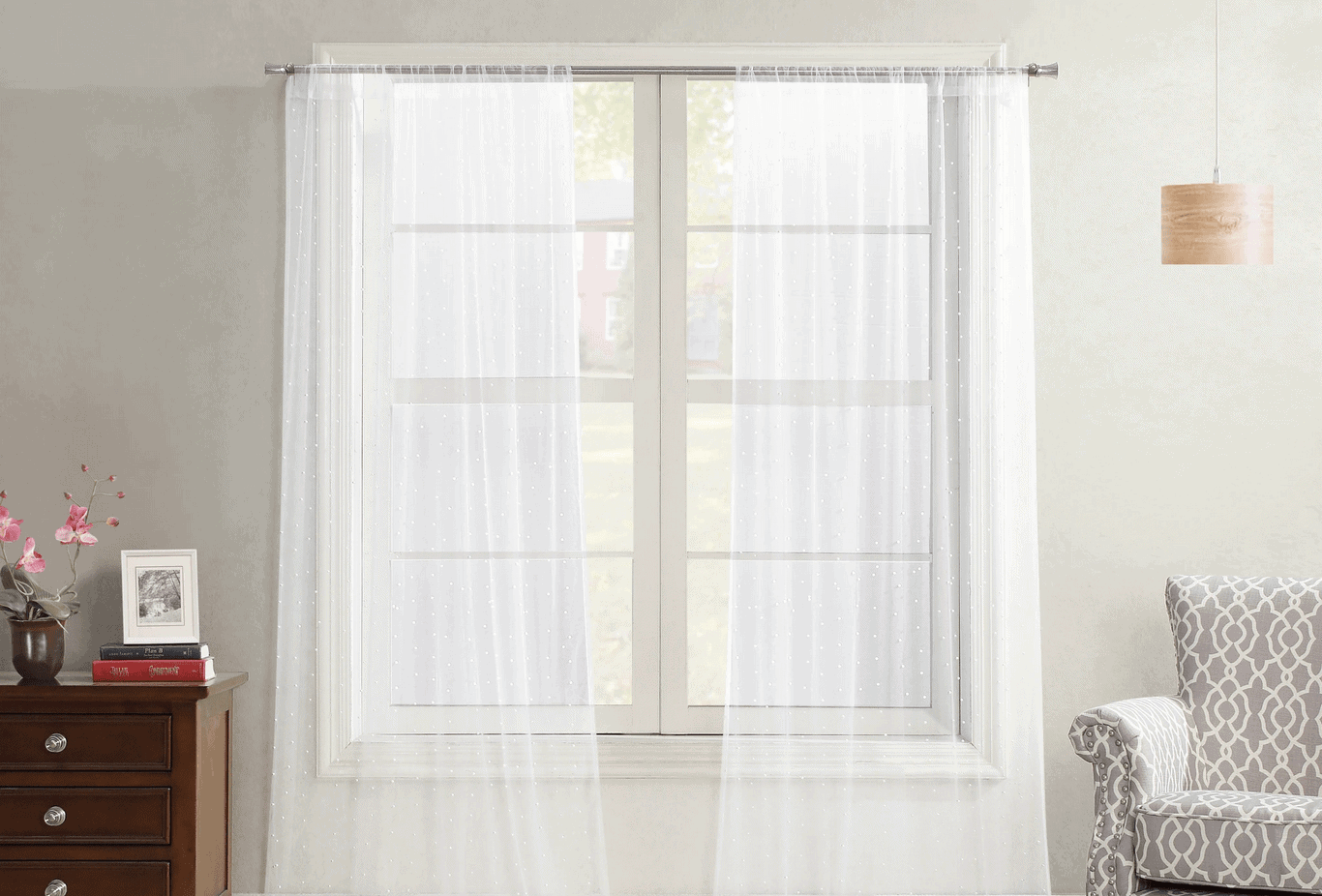 These rod pocket style panels provide an effortless sheer look. Let natural light flood into any room white these beautiful constructed white curtains, accented with delicate pearl details. Subtle but elegant, these curtains will add a finishing touch of refinement. Buy Here.
Calypso Sheer Curtain Panels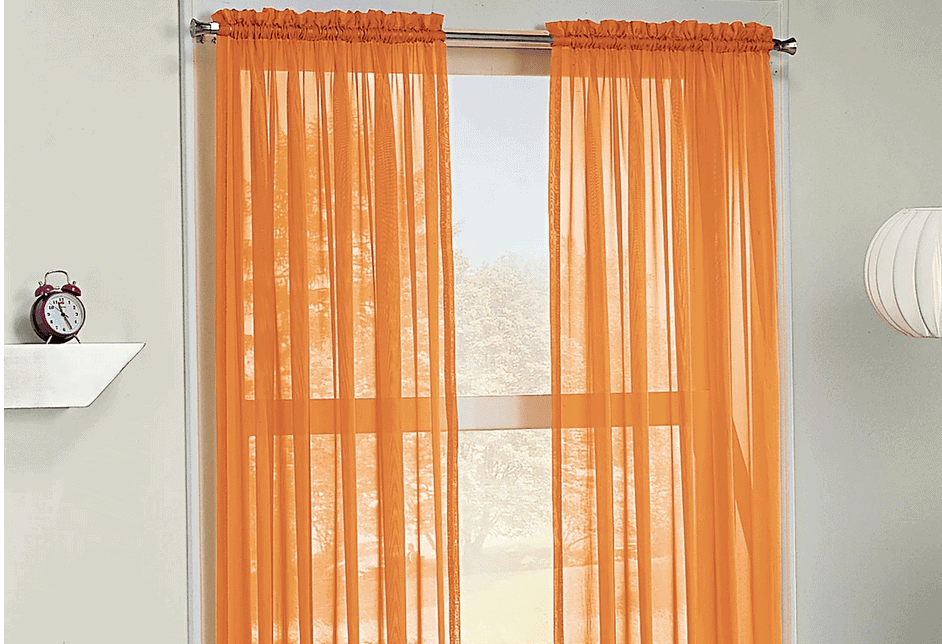 Looking for a bright look that's sure to turn heads? These curtains certainly won't be for everyone, but they stand out from the brand's focus on neutral and practical colors. Recommended for kids' rooms, these affordable curtains come in lemon, lime, orange, pink, purple, and sky blue. Buy Here.
A note about Kitchen Curtains
Marburn also sells kitchen curtains. The Kitchen Curtains Collections overlaps with some selections from other collections. I most recommend buying cotton or linen if you can, while polyester and cotton blends may do. Just make sure not to buy 100 percent polyester curtains, as they offer– they simply won't last as long in a kitchen. Shop the Kitchen Collection Here.
Frequently Asked Questions
Question: How can I make cheap curtains look expensive?
Answer: If you purchase more budget-friendly curtains, make sure to buy ones that still are made of suitable fabrics, such as polyester, cotton, or linen. The best way to add to their appeal is to pair them with polished, high-quality hardware and attachments. Adding complementary accents and a statement rug can also help.
Question: How do you hang curtains to make a room look bigger?
Answer: Interestingly enough, curtains can provide an illusion of a larger room. To achieve this, hang your curtain rod high. Curtains should be floor length to extend the look of the room and even the windows. Meanwhile, lower and shorter curtains tend to make space feel cozier.
Question: Should you have long or short curtains in a bedroom?
Answer: It's usually preferable to have curtains extending to the floor, except for kitchens or bathrooms, where it may make sense to have short curtains. The exception would be opting for short curtains when you're working in a tight space and long curtains would intersect with something in the room.
Final Thoughts
Marburn brand curtains are affordable and offer contemporary and classic styles. If you're near a store or want to take a drive, they're budget-friendly creations of reasonable quality and are useful for decorating mostly living rooms and bedrooms.
Interested in more Marburn curtains? Shop Marburn's Online Store Here.