Latest posts by Erin Jamieson
(see all)
You may not be familiar with the name, but buffalo check is one of the most popular patterns for clothing and home decor. And in 2021, it's inspiring curtain ideas for bold and cozy styles. 
Interior designer Ashely Campbell is latching onto buffalo check curtains as one of the best ideas to make your home feel quaint and cozy. The style is especially popular right now in Western cities, including Denver, Colorado. 
Paired with modern and clean accents and furnishings, Campbell proves that classic patterns never go out of style. She also firmly believes that patterns can add dimension to rooms, and, paired with comforting colors, really transform the mood.
Buffalo check curtains are still a go-to for interior designers like Campbell, proving just how much of a difference your choice of window curtains can make. And it's by no means limited to Western states, or any one season.
But what exactly is the buffalo check curtain trend about, and are there any ideas that suit your home? I'll guide you through this iconic style and give you a little inspiration by showing you my favorite buffalo check curtains.
What is a Buffalo Check Pattern?
The buffalo check pattern is a classic style that has hardened and continues to be used in homes today. The name was established in the 1850s in Pennsylvania, where the design was copied by a Scottish pattern.
The original Scottish pattern was a type of gingham print and specifically features black hashes with a red backdrop. Today, however, the style has also been used to describe the pattern with other hues, especially black, white, and blue, among other classic colors. Likely. The term buffalo check has been equated with gingham prints. 
Another way the buffalo check name has evolved by material. Originally, it would indicate cotton or a cotton blend, but the modern home decor, including buffalo check curtains, now includes other fabrics, such as linen and even polyester. 
Why do they Call it Buffalo Check?
The truth is we only have myths and legends as to the origin of the name. While we do know that buffalo check patterns were originally designed by the Woolrich Woolen Mills company during the 1850s, the name is more mysterious.
It's said that a designer owned their own herd of buffalo and was somehow inspired by the uneven patterns and fur of these animals. The check pattern was originally worn as shirts and later has come to be used in decor, curtains, bedding, rugs, and more. 
What is the Difference Between Buffalo Check and Plaid?
Buffalo check is a specific type of plaid. Buffalo check usually has larger checkered patterns than regular plaid styles. For this reason, it may be a bit more cozy and casual, while some plaids are seen as slightly more formal.
Buffalo check is most common in red and black, as well as black and white, but has also included some other classic colors, such as blue and white. Plaid can be made with both traditional and bold colors. 
Why is Buffalo Check so Popular?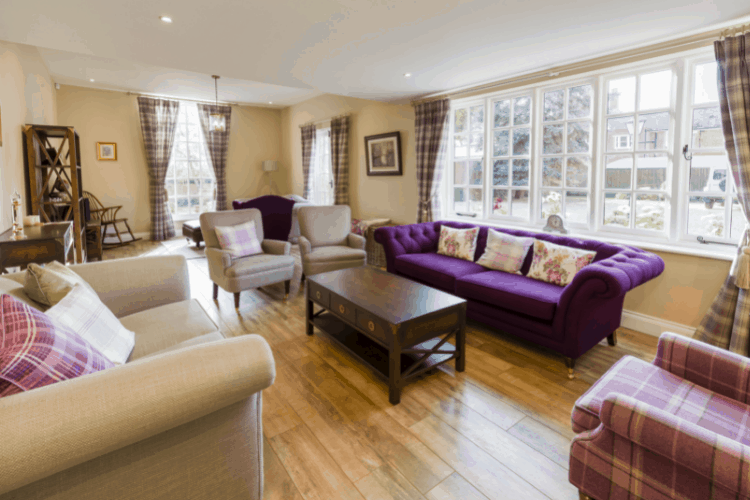 Of course, even if you're considering the style, you may wonder why–or if– it's all that popular. It's also a good idea to consider how to use and style buffalo check curtains. A reason why it's so popular is that it's simply a classic pattern, which can work with farmhouses, New Western, and even modern homes. And with more options than ever for colors and materials, you can find curtains that suit your needs.
Are Buffalo Check Curtains Only for Christmas?
Though the classic red buffalo check pattern is associated with Christmas, by no means is it limited to celebrating the holidays. If you're concerned about the association, you can swap out the red pattern for other colors. Opting for lightweight materials will also switch up the expected look. 
Are Buffalo Check Farmhouse Style or New Western Curtains?
The two most commonly cited styles associated with buffalo check curtains are farmhouse and new Western. The classic pattern can look at home with both styles of decor. 
Modern farmhouse style combines sleek, contemporary designs with cozy and traditional patterns. Natural tones, like wood, and warm hues are emphasized.
Meanwhile, New Western style is actually a term also used for a type of gin but now is likewise associated with decor. Like farmhouse style, it blends traditional (in this case, western) elements with modern designs, such as sleek hardware and smooth wood. 
What Fabric is Best for Buffalo Check Curtains?
While cotton is an excellent choice for durability and overall cost, it can attract mildew and moisture and may not be right for everyone. For the low-cost option, cotton and polyester blends give you the best of both.
Pure polyester is lightweight and durable but doesn't provide a traditional or cozy look. If you're concerned about polyester toxicity (considered relatively safe when used properly) you can also opt for OEKO-TEX certified materials.
If you have a larger budget and don't mind a little more upkeep, linen and rayon or linen blends are some of the best options for buffalo check curtains that are used indoors. They're a little more traditional, cozier, and substantial. 
Buffalo Check Curtains: My Ideas 
Now I'll give you my favorite ideas for buffalo check curtains in 2021. I've included classic and some expected colors, all from reputable vendors. These curtains are all well-rated by consumers and have a reasonable price for their value. 
I've included options for blackout curtains, room darkening curtains, and light filtering curtains to inspire all rooms in your home. I didn't include completely sheer curtains, of course, due to the pattern that will always block some light from coming into your home. 
Buffalo Check Blackout Curtains
Buffalo check patterns are a great complement to blackout curtains. The traditional, cozy appeal makes your room feel more comfortable, with the benefit of 100 percent light block out, as well as some energy savings and even sometimes noise reduction. Blackout curtains are studied and carry the iconic buffalo check pattern well. 
Grainger Buffalo Check Blackout Curtains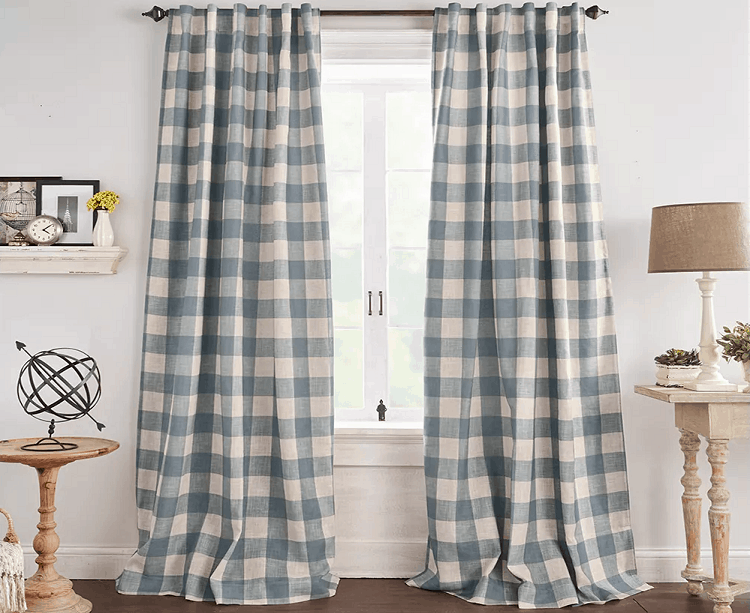 These Target blackout curtains provide privacy and protection from the sun at an affordable price. Linen and polyester blend is a great option for sturdier but easy-to-care-for curtains. The distressed buffalo check pattern suits a modern farmhouse aesthetic. Machine washable, with three pocket tabs for maximum flexibility; available in red, indigo, neutral, chambray, gray, and black. Buy Here. 
DriftAway Buffalo Check Woven Blackout Curtains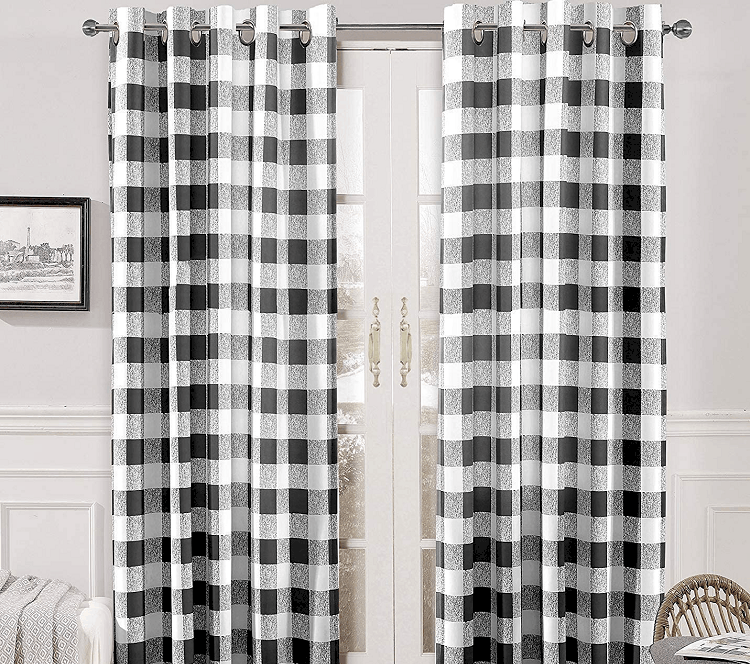 A modern take on the buffalo check pattern, these woven blackout curtains are multi-functional. Designed to protect against UV rays and block light, they're also energy efficient. Use them year-round to keep your home insulated. I also like that the polyester is machine washable and fade-resistant. Buy Here. 
Crate & Barrel Buffalo Check Blackout Curtains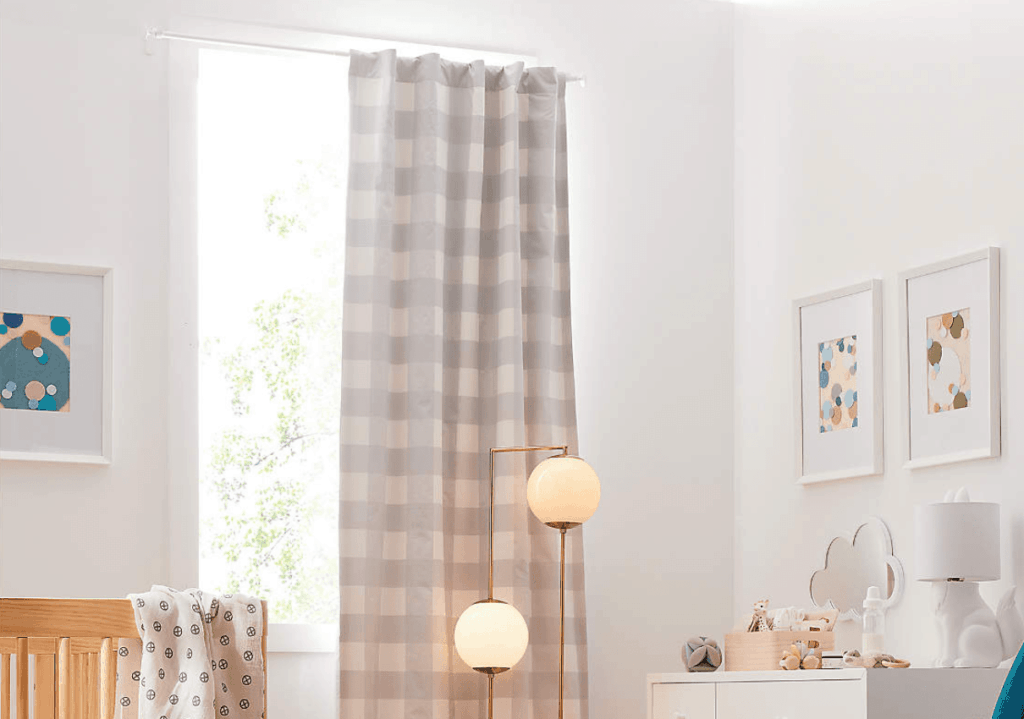 Designed for a kid's room, these buffalo check patterns come in expressive blue, black, pink, and gray for a slightly more modern style. The 100 percent cotton curtains are durable, soft, and come with an attached liner that blocks out light and reduces noise. They're also machine washable. Buy Here.
Monarch Orange Modern Farmhouse Buffalo Check Curtains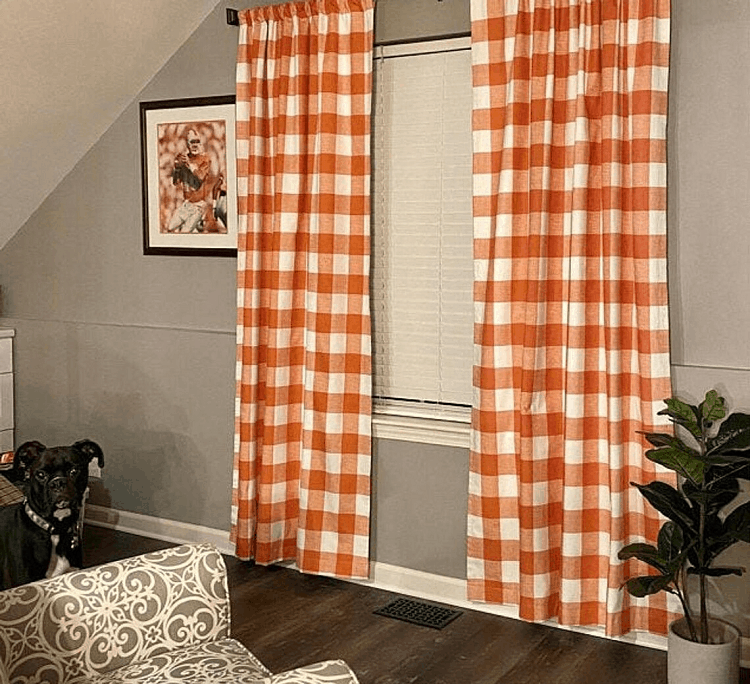 These handmade cotton curtains are made to order and thoughtfully designed. The blackout lining is sewn in, with fade-resistant fabric along with light-blocking, noise reduction, and insulating abilities. The lining is lightweight, not bulky, and fits a modern farmhouse aesthetic. The monarch orange hue is unexpected and vibrant. Buy Here. 
Buffalo Check Room Darkening Curtains
Room darkening curtains are a great option for entertaining rooms when you want to reduce the sun's glare. You'll get plenty of privacy, with the classic, striking pattern of buffalo check. At the same time, they don't tend to be as heavy as blackout curtains and still allow a little light to stream in. Buffalo check room darkening curtains can be used in just about any room in your home. 
Murrieta Cotton Room Darkening Curtains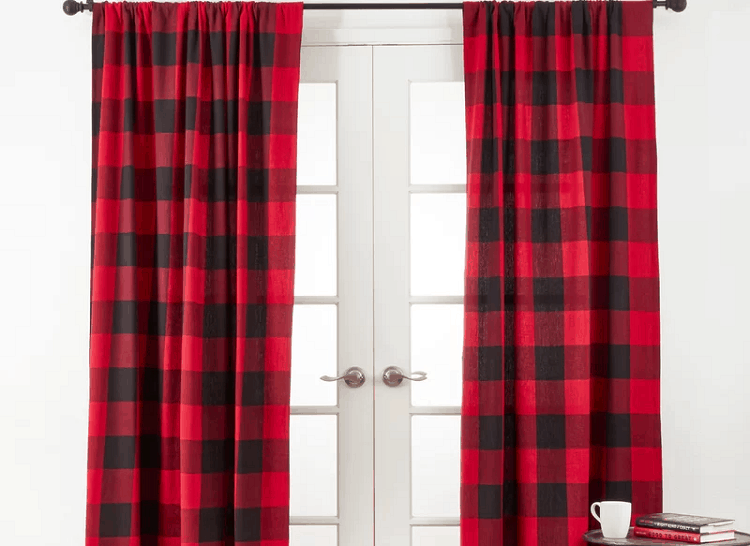 These 100% cotton curtains are a great idea if you're not committed to buffalo check. Available in the iconic red and black duo buffalo check is known for, the pattern is slightly smaller and more formal. These budget-friendly buffalo plaid curtains are cozy, machine washable, and provide the privacy you expect from a room darkening curtain. Buy Here.
Ambesonne Lumberjack Fashion Buffalo Check Curtains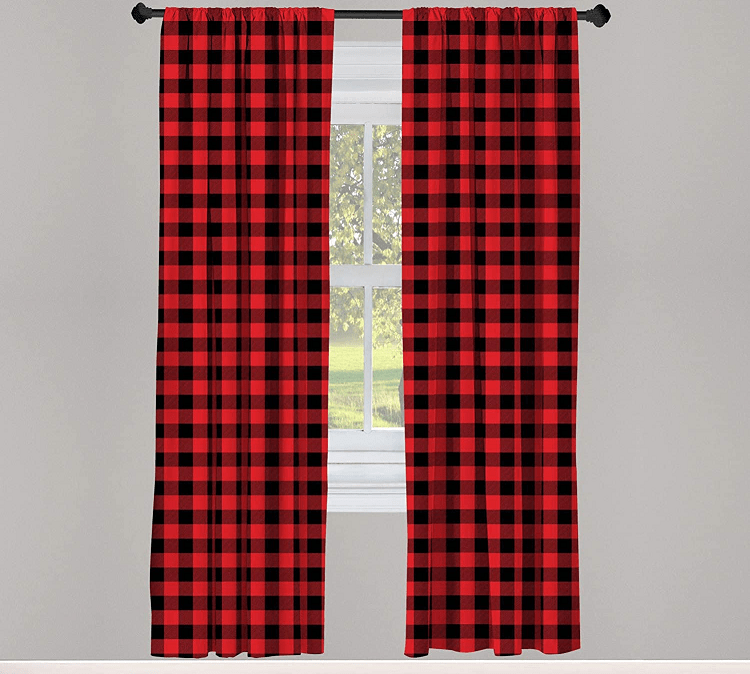 This is about as classic as it gets. These room darkening curtains are durable, machine washable, and allow just a bit of light to enter a room. The 100 microfiber polyester fabric is soft and suits the classic pattern. Buy Here. 
Buffalo Check Navy Cotton Blend Curtains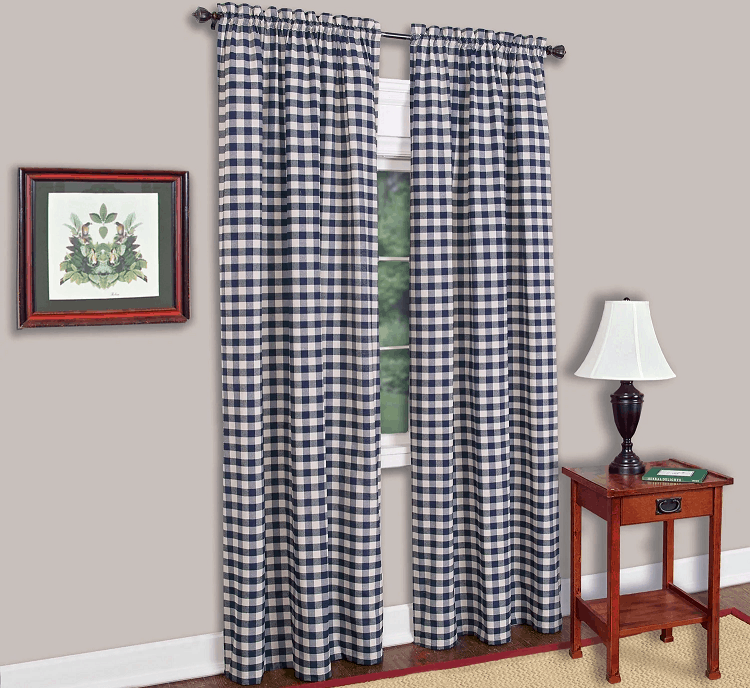 A navy and off-white buffalo check pattern provides a classic look, equipped with room darkening, machine-washable panels. Soft cotton is suitable for all seasons and can make rooms feel more comfortable and cozy. Especially popular for farmhouse-style modem rooms. Buy Here. 
Kentfield Buffalo Check Room Darkening Curtains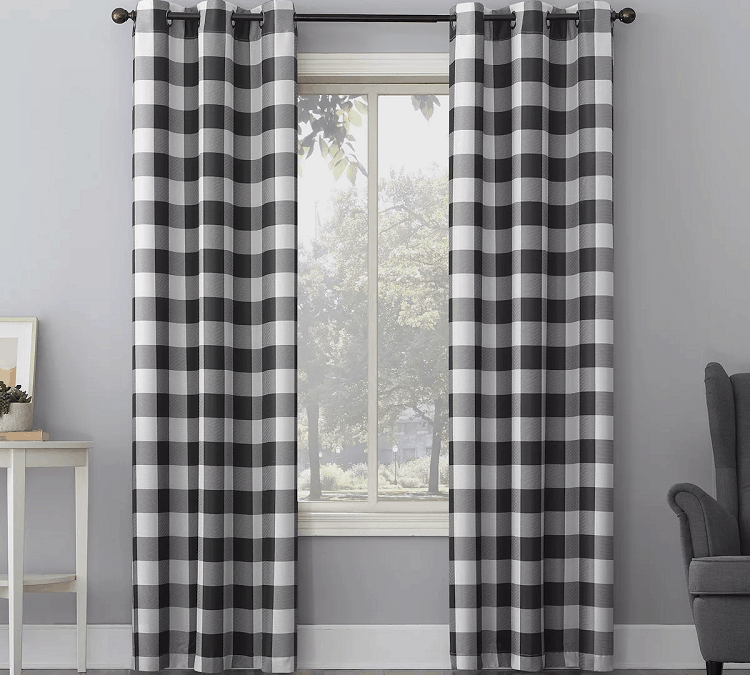 These stylish curtains are a modern take on a buffalo pattern. Room-darkening polyester fabric is also energy efficient, machine washable, and lightweight. Made with OEKO-TEX certified fabric, these curtains are an excellent alternative to your average polyester, and free of toxins. Your purchase also comes with silver-finish grommets. Available in black and natural; Buy Here. 
Buffalo Check Light-Filtering Curtains
One of the less expected options? Light-filtering curtains allow natural sunlight to flood your room but provide a little privacy from neighbors. The buffalo check pattern is often associated with heavier looks, but these curtains prove you can make it work for you regardless– and show why the print continues to be popular in modern, famous, and New Western homes alike. 
ACHIM Buffalo Check Light Filtering Curtains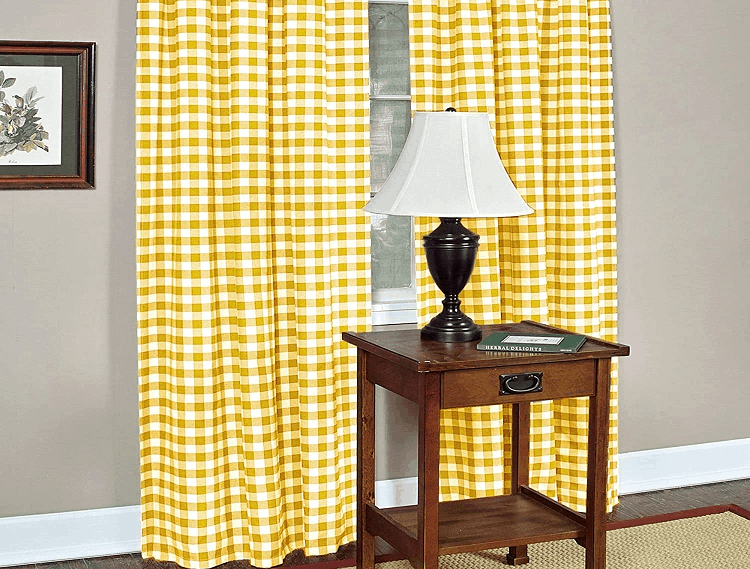 These highly rated light filtering curtains are made out of a polyester and cotton blend. Soft, durable, and easy to maintain and install, they hang with a rod pocket panel. Natural light floods your room, but you still get the benefit of a little privacy. The check pattern is classic and easy to coordinate with other decors. Available in black, burgundy, gray, navy, sage, taupe, and even yellow. Buy Here. 
Buffalo Check Rod Pocket Tiers
Want a buffalo check kitchen curtain? These short tiers feature a vibrant buffalo check pattern and are made in the USA with 100 percent cotton. The finished hems provide a classic, dressy look that would even suit a cottage aesthetic. Natural light-filtering material provides a little privacy but makes for a sunny room. Available in black, gold, navy, red, and gray. Buy Here. 
Gracie Oaks Cotton Buffalo Check Semi-Sheer Curtains
These buffalo check curtains are a rare find. Rarely do you nearly find sheer curtains with qualities? The buffalo check pattern is crisp, classic, and set on 100 percent cotton with a liner for added privacy. These machine-washable semi-sheer curtains are available in tan, black and gray for easy matching in most rooms. Buy Here. 
Anderson Large Buffalo Check Curtains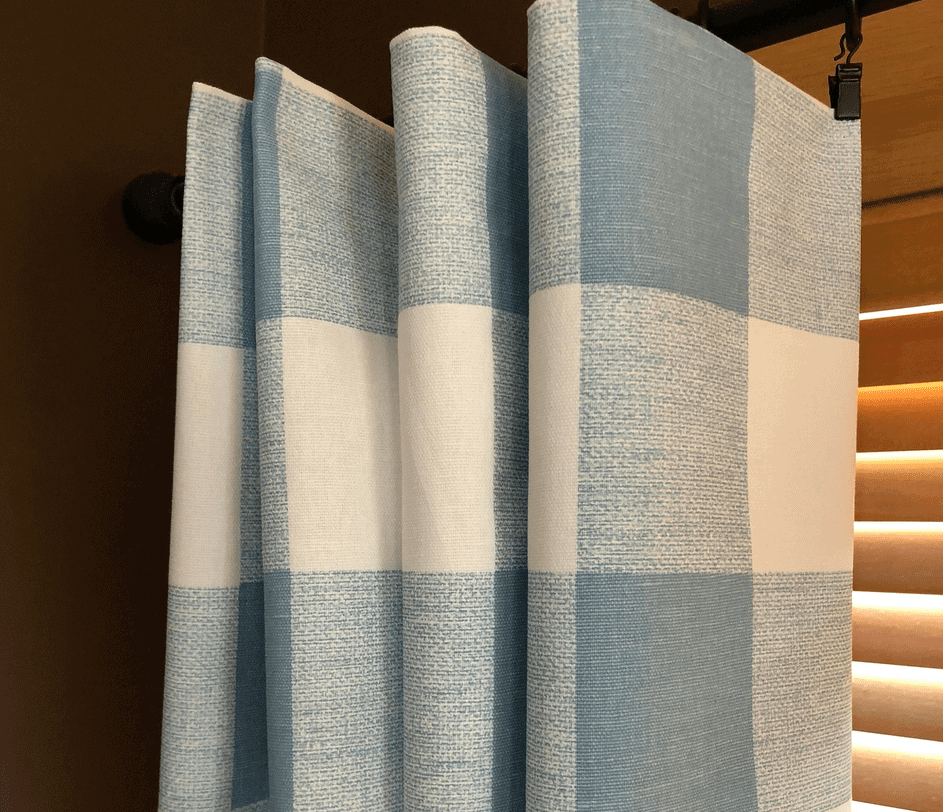 These buffalo check curtains are made to order and are available with cotton lining, unlined or blackout options. A stitched hem suits a rod pocket hanging with these handmade curtains. A soft cozy look and available in 11 colors, including cashmere blue. Buy Here. 
Frequently Asked Questions
Question: Are Plaid Couches Out of Style?
Answer: Some plaid patterns go in and out of style, but buffalo check plaid tends to stay popular. This classic look can be seen in New Western, modern farmhouses, and even rustic homes. Buffalo check plaid is best styled by looking at the two colors featured. Keep the rest of the room pattern-free, or with fewer patterns, and pick up those two colors with other furniture. 
Question: What Pattern Looks Good With Plaid?
Thinking about plaid curtains or a plaid couch? Buffalo check is a favorite because the larger pattern is less overwhelming and easier to match. Gray, black and tan, or even navy blue are easy to use in a room.
Look for complementary colors to tie everything together. For instance, if you opt for blue and white plaid, then colors in that room should either pick up those blue and white colors or directly complement them. 
Question: Is it Plaid Irish or Scottish?
Answer: You can find roots in plaid styles from both the Irish and the Scottish. The Irish plaid patterns are largely seen in family tartans. Plaid is more common, though, in Scotland, and the legend goes that buffalo check patterns were inspired by traditional Scottish plaid. 
Final Thoughts: Which Are Your Favorite Buffalo Check Curtain Ideas?
Buffalo check curtains are hard to go wrong with. Far from being out of style, the classic pattern makes any room feel a bit cozier. I recommend keeping the rest of the room more neutral so the decor doesn't look too busy. Accent pillows and painting are a great way to tie everything together.