Latest posts by Erin Jamieson
(see all)
Never has online shopping for curtain and home decor ideas been bigger than in 2020 and 2022. And the Vermont Country Store is now being listed as one of the best places to buy curtains online.
Curtains are exploding in sales–both due to record-setting months in home renovations and now many Americans headed back to classes for both college campuses and high schools. In fact, college students are projected to spend an average of $1,200, which is a 13 percent increase from 2020.
But much of that shopping is still taking place online, according to a CNBC report. While shopping for a home and room decor is surging even in brick and mortar stores like Bed Bath & Beyond, others are still interested in remote shopping– both for safety and convenience. 
And while the expected places, like Home Depot and Wayfair, are always options, it's the Vermont Country Store that's making a splash for its unique catalog. Featured in The New York Times for its nostalgic catalog, Vermont Country Store offers curtains with personality and classic designs.
But is this store right for you? This guide will tell you about the Vermont Country Store, from the curtains they sell to my tips for how to find their best curtain options.
Is the Vermont Country Store real?
The Vermont Country Store is a real company but doesn't only have two physical stores.  Rather, it's mostly an online catalog that makes all of its sales, curtains included, via e-commerce. But still, for most, it's the physical shopping experience that is actually the best experience you can get.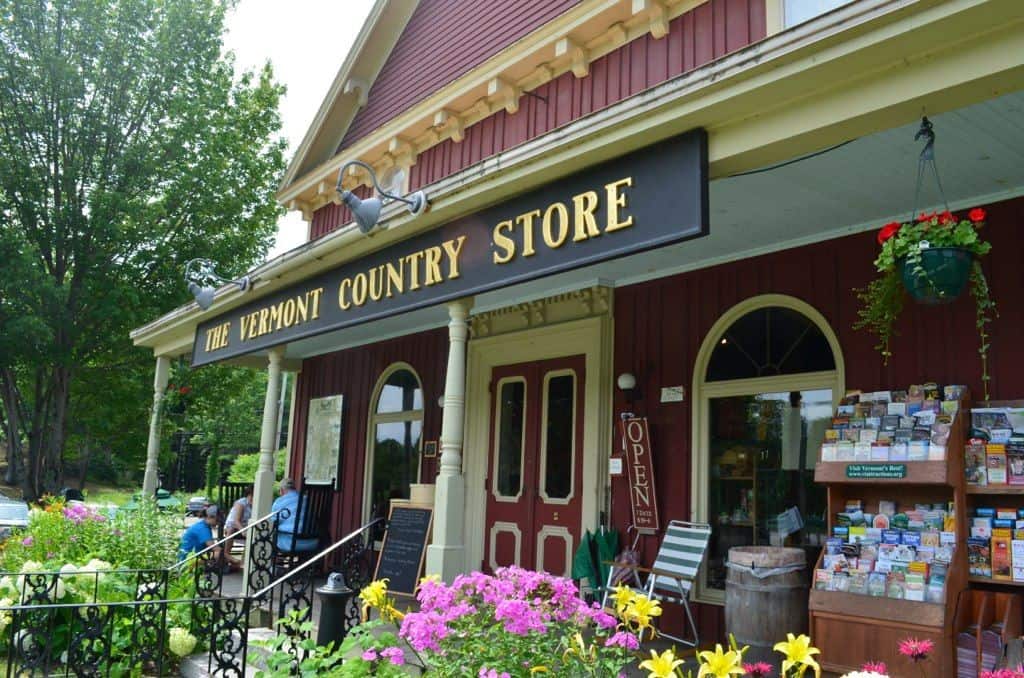 Who started the Vermont Country Store?
The Vermont Country store was founded in 1946 by the Orton family, in Weston, Vermont. It started as a traditional print catalog. The first catalog featured just 12 pages and 36 items and grew in attention with time. In 1952, the catalog was featured in The Saturday Evening Post and began earning widespread recognition. This allowed them to expand to open another storefront as well as venture into other products. 
Where is the Vermont Country Store located?
The Vermont Country store now has two physical locations: one in Weston, Vermont, and one in Rockingham, Vermont. In addition, they also have a grill and dairy connected to their storefronts. The grill includes sandwiches, soups, salads, burgers, and ice cream desserts. 
What does the Vermont Country Store sell?
The Vermont Country Store embodies the idea of an old-fashioned, general home goods store. You'll find not only curtains but also clothing, personal care products, makeup and bath products, bedding, furniture, home decor, food, and holiday-related products. 
For window coverings, the Vermont Country Store sells curtains and drapes, valances, Roman and roller shades, and curtain rods and accessories. 
Is the Vermont Country Store a good place to buy curtains?
While the Vermont Country Store enjoys name recognition, it's good to see whether or not their services and products align with your needs. Though the Vermont Country Store has been in business for 75 years, it's been accredited through the Better Business Bureau since 2005 and holds an A-plus rating. 10 complaints have been filed and closed within the past 3 years, and 8 complaints within the past 12 months–perhaps pointing to an uptick in issues during COVID.
Vermont Country Score usually averages 3 out of 5 stores from customers amongst review sites. The physical stores themselves are highly rated, usually earning 5 out of 5 stars for the shopping experience. The bulk of complaints stem from the online shopping experience, especially about customer service. While the quality of products is not a huge concern, many had issues with getting a hold of anyone or having the correct order received or getting a refund. 
As a whole, Vermont Country Store does sell decent products, at reasonable prices– and some unique options. But they do need to work on their customer service for the online shopping experience.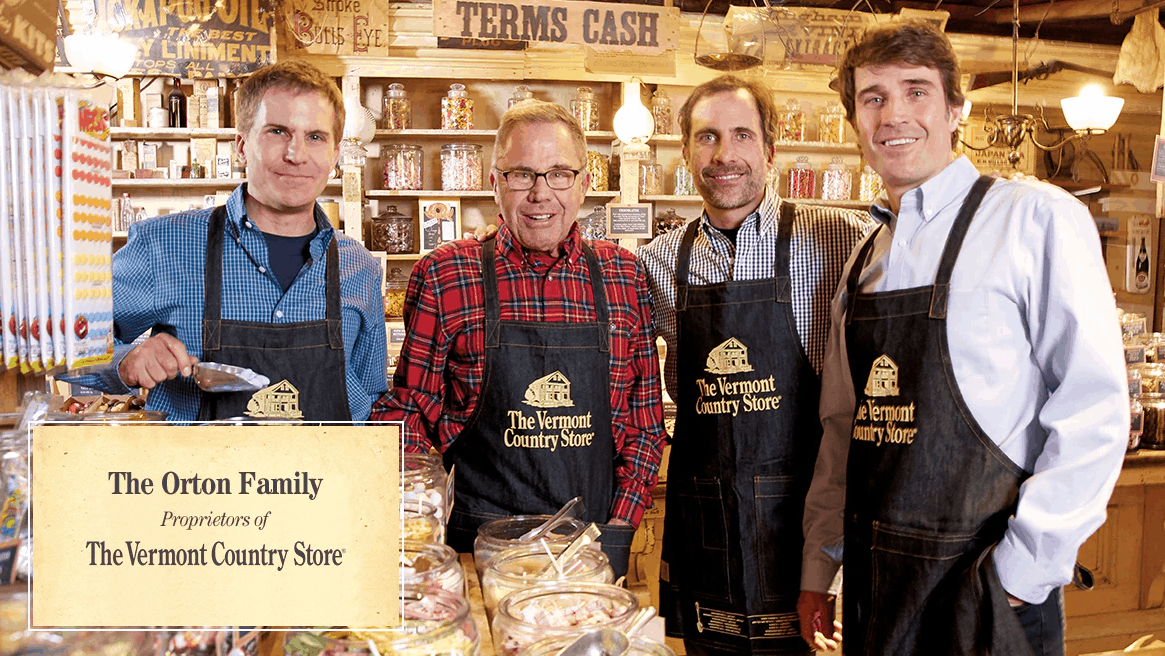 What customer service does Vermont Country store offer?
Speaking of customer service, the Vermont Country Store does have a few perks. You can sign up for email alerts and track your order. Orders over $65 come with complimentary free (ground) shipping when special promotions are running. They do also have a live help chat, as well as a toll-free number (though some customers haven't had the best experience). 
What kinds of curtains does the Vermont Country Store sell?
The good news is that the curtains Vermont Country Store is known for our unique and affordable. Specializing in classic and vintage styles, you'll find lace-themed curtains in about every form you can imagine. You'll also find floral prints, checkered, and other cozy features.
Farmhouse, cottage, cozy and vintage homes will all be suited for their signature collection. There's something timeless about their curtains, and charming that is hard to find from competitors, who tend to focus more on contemporary styles. 
How expensive are Vermont Country Store curtains?
Vermont Country Store curtains range from as little as $10 to as much as $600, though the majority of curtains are priced below $200. They aren't cheap as Target curtains, but they also aren't the very most expensive you'll find.
I really admire the wide selection of curtain styles and prints. They also sell everything from sheer to insulated curtains. One thing I did notice is that they tend to rely a lot on polyester, though there are some linen options. 
Polyester is an inexpensive but durable fabric and is commonly sold. I would like to see the price point, however, come down for some of their curtains. No doubt do they boast beautiful designs, but sometimes the pricing seems a tad high. 
Vermont Country Store Curtains: My Picks
Here are some of my top ideas for the best Vermont Country Store curtains in 2022. For my selections, I paid attention to the material type, unique style, and overall value based upon price. I've also selected curtains that are highly rated by customers, so you're only buying some of the best that the Vermont Country Store has to offer. Below, you'll find selections for door and patio curtains, indoor curtains and drapes, and kitchen curtains. 
Door and Patio Curtains
Patio doors tend to be wider, though these collections sometimes can be termed interchangeably. For a solid door or patio curtain, you need to look for materials that are durable and not susceptible to mold and mildew. French door and patio curtains are naturally wider, whereas a door panel is typically understood to fit a single door. Sheer curtains are used for ambiance and decor. Room darkening and especially blackout curtains have the added advantage of providing some insulation for drafty doors. 
HoneyBee Lace Rod Pocket Door Curtains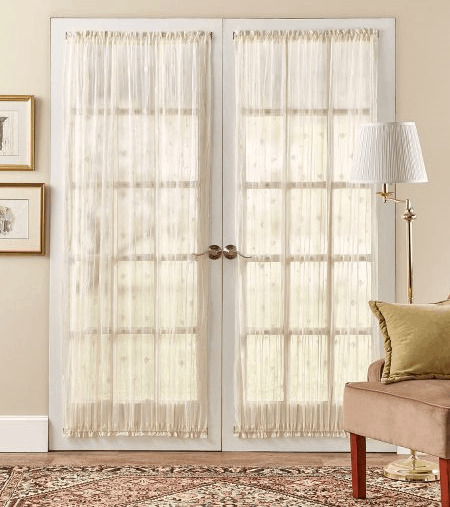 A customer favorite, these lace door curtains feature a delicate fleur-de-lis print for a breezy and charming look. Intricate French country stitchwork is made with machine washable polyester. This is a sheer door curtain that should last well and makes an impression as you exit or leave. They also sell coordinating lace tiers to complete the style. Available in white and ecru.  Buy Here.
Striped Semi-Sheer Pocket Door Curtains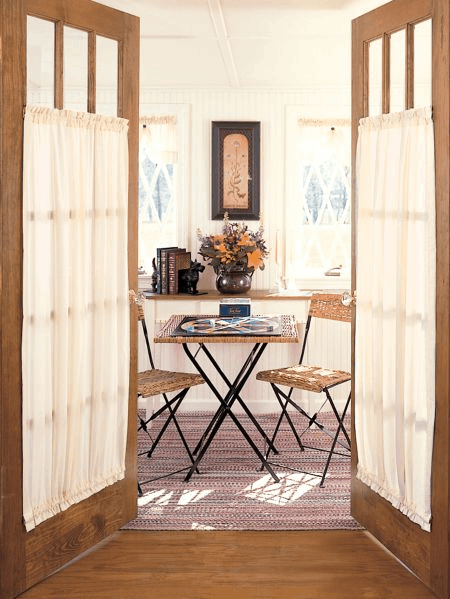 Another highly rated door curtain, this semi-sheer adds a little more privacy but still keeps the charming appeal of lightweight, sheer curtains. Available in white and natural, the vertical stripes add classic, subtle style and optimize light filtration. The cotton and polyester blend provides the benefit of both materials. Buy Here. 
Classic Sheers French Door Curtains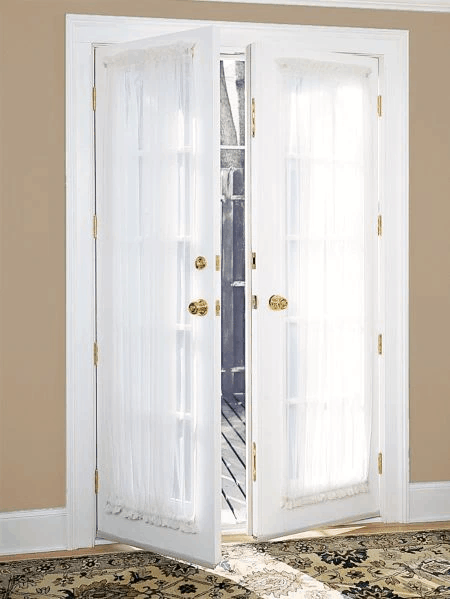 A diaphanous voile style panel makes for a classic look for French doors. These curtains filter sunlight gently and provide just the right touch of elegant decor for front and back doors. The 100 percent polyester material includes finished hems for a classic look. Available in natural and white tones; Buy Here. 
Supreme Blackout Grommet Patio Curtains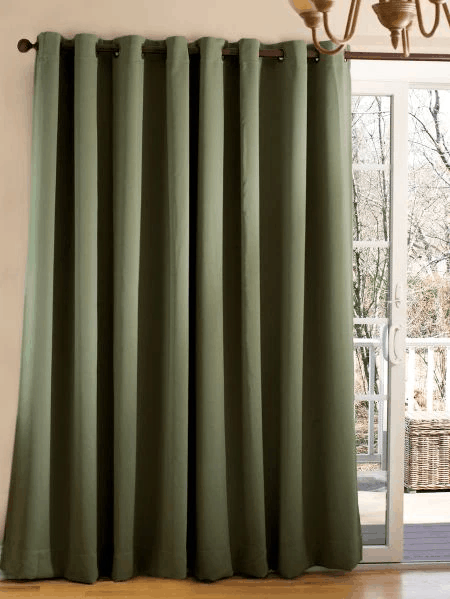 These are by far the most unique curtains from the Vermont Country Store– the contemporary style is familiar. At the same time, there's a good reason behind the high ratios for these patio curtains. Made out of triple-weave polyester, these curtains are energy efficient, great insulators, and effective at blocking out light. A solid option for a screen in the porch, and available in sage, gray, stone, and sand. Buy Here. 
Elizabeth's Garden Pleated Patio Curtains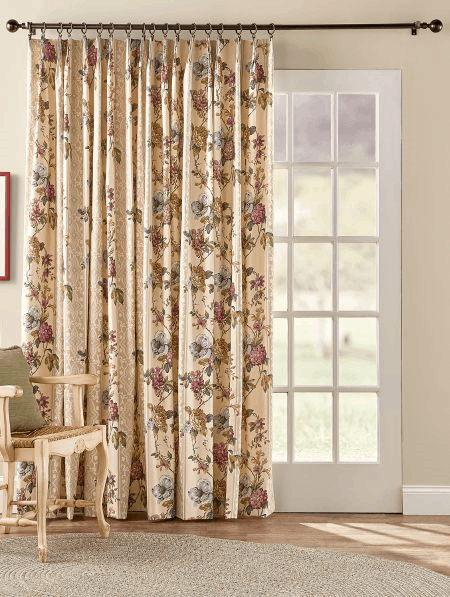 These unique patio curtains offer a floral print with cottage or vintage appeal. The cotton and polyester blend curtains feature an insulated panel plus specialized acrylic backing. Available in blue, sage, and cream, these curtains are a good option for a yard with shade or for inside. Buy Here. 
Lined Sheer Linen Patio Curtains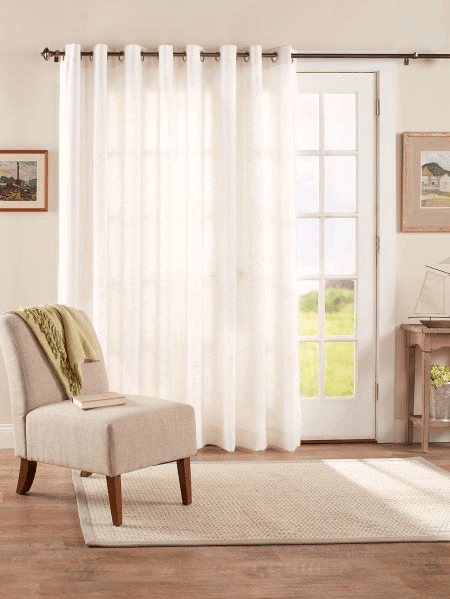 These sheer linen curtains are paired with durable polyester lining. The fabric is soft, classic, and prewashed, with a woven texture and relaxed drape style. These curtain panels also feature a pull wand for easy use and brighten any sliding glass door or patio. Available in white, toffee, gray, and natural. Buy Here. 
Indoor Curtains and Drapes
This is a sizable category, but all of these curtains are used for general windows inside the home. These curtains and drapes stick to the classic, cozy, and country styles that the Vermont Country Store has become known for. You'll find plaid, checkered, striped but also solid color options. 
Mille Fleur Floral Print Curtains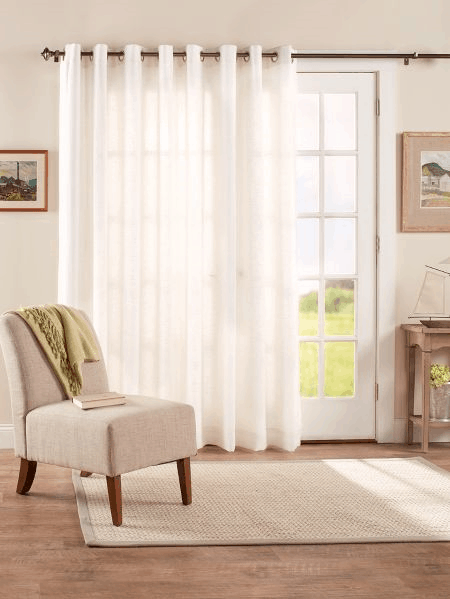 Priced at just $30 to $40, these are one of the more budget-friendly options from the Vermont Country Store. These highly praised polyester curtains feature a crushed texture for a country style. Abundant blooms adorn a natural backdrop with a flowing finish. These light-filtering curtains provide privacy while letting natural light flood in. Buy Here. 
Insulated Pinch Pleat Curtains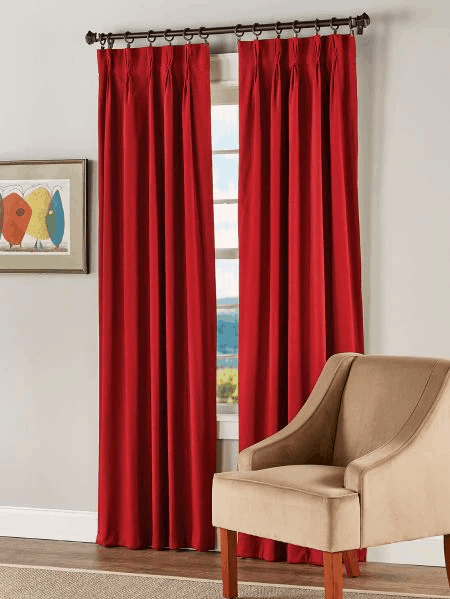 These curtains are highly versatile, so it's easy to see why they're among the best rated from the Vermont Country Store. While the solid colors (gray, burgundy, eggshell, linen, navy, sage, and white) are contemporary, the pinch pleating provides a cozy and country touch. Suited for a modern farmhouse style, these cotton curtains are lined with acrylic for insulation– perfect for saving on energy bills year-round. Buy Here. 
Country Floral Rod Curtains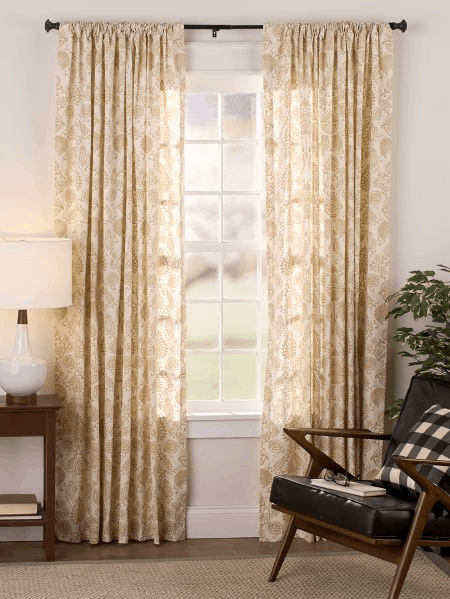 These floral, country-style curtains are an instant classic. Durable cotton twill is easy to care for and an excellent choice for bedrooms and living rooms alike. These light-filtering curtains are machine washable, available with coordinating valances, and can be hung as a rod pocket. Available in red, navy, black, and natural. Buy Here. 
Homestead Check Lined Curtains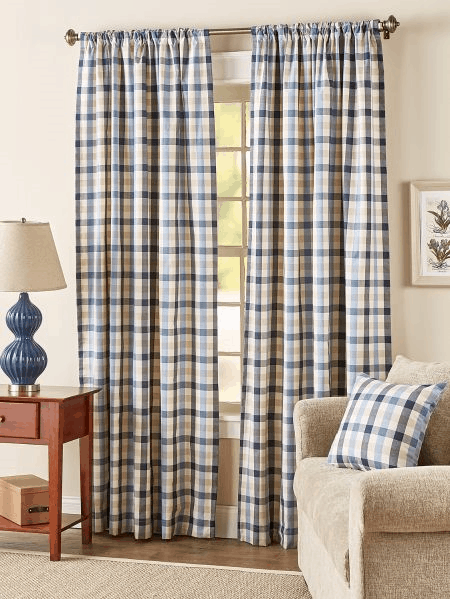 One of my favorite options? These yarn-dyed cotton check rod curtains. While they don't come cheap, the classic design isn't about to go out of style anytime soon, and the yarn dye is fade-resistant. The cotton curtains are durable, paired with polyester, and can be matched with valances, tiers, and even throw pillows, all available from the same store. Natural and white, available with blue or black accents; Buy Here. 
Landgrove Lattice Rod Pocket Curtains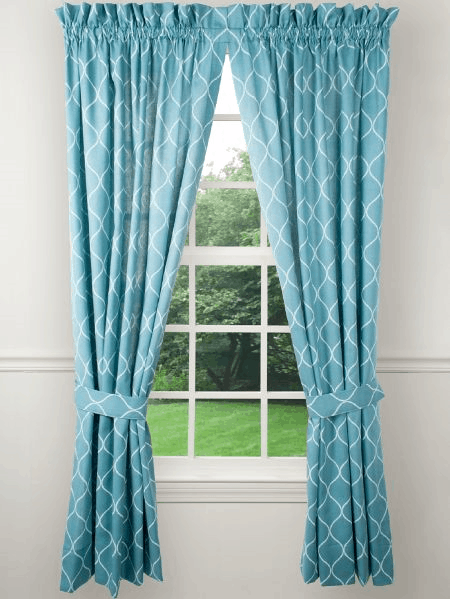 These lattice rod pocket curtains feature tailored panels and a bright, large lattice print. You can either use the matching tiebacks for a country look or pull them straight for a more classic appeal. The polyester and cotton blend is machine washable and versatile. Available in blue, natural, and teal. Buy Here. 
Kitchen Curtains
Kitchen curtains usually consist of shorter valances and tier curtains, with a cozy and quaint aesthetic. You'll want to be choosey with your kitchen curtains, minding the exposure to heat, steam, and everyday soil. Kitchen curtains should be in the style that suits you best, but you need to pay a bit more attention than you might to curtains used for decor in a living room. The Vermont Country Store offers a cheery and inviting collection of checkers, floral, and pastel prints. 
Essex Toile Scalloped Valance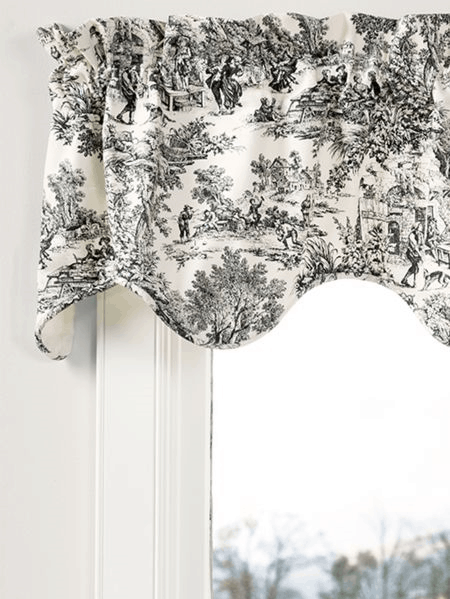 The French toile pattern is utterly timeless and traditional. The valances are made with cotton lining and a durable cotton and polyester blend. The scalloped edge adds an elegant accent. These are versatile valances that can be paired with matching panels. Available in black, blue, gray, and red. Buy Here.
Elizabeths' Garden Floral Insulated Lined Valance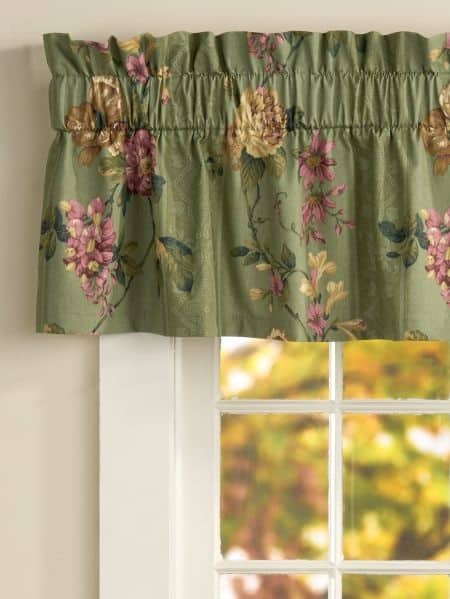 These floral print valances provide country charm with a polyester and cotton blend and a foam lining for added insulation. These machine-washable are also great for protecting against the draft and harsh sunlight. With a pleasing design and great features, these are one of my favorite options for a kitchen. Buy Here. 
Gingham Pocket Window Topper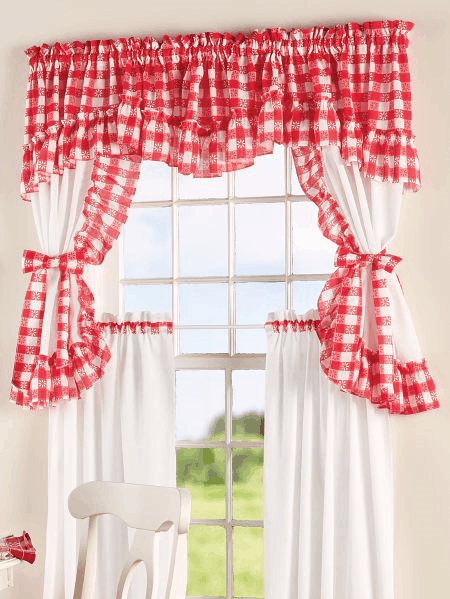 These charming valances are great for adding a bright note to any kitchen. A ruffled top, gingham pattern, and tie-backs make for a pleasing and easy-to-use window covering. These valances are made with a polyester and cotton blend and are both machine washable and dryable– making for a practical choice even in busy kitchens. Available in yellow and red; 
Point D'Esprit Sheer Curtains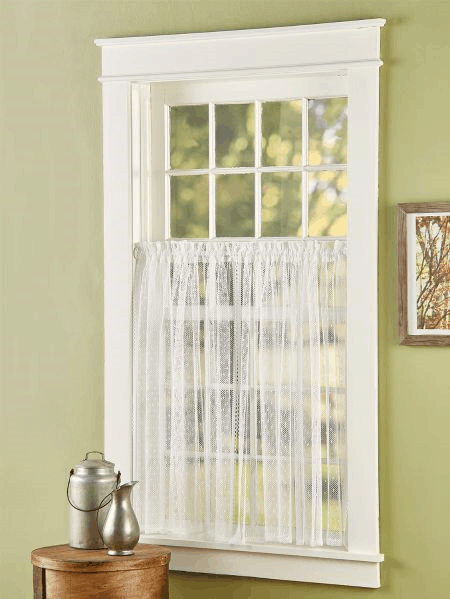 These sheer curtains may not add much privacy, but they'll still protect from the sun's glare, and add a lovely accent to your kitchen windows. The sheer panels feature a netted lace pattern, accented with dot embroidery.  The 100 percent polyester curtains are paired with cotton trim and are machine washable. Buy Here. 
Frequently Asked Questions
Question: Did Vermont Country Store buy out Country Curtains?
Answer: Country Curtains has another beloved store and source for the country, rustic, and vintage-themed curtains you could buy online. In 2017, the shareholders of the Country Curtains liquidated, and later, it was purchased by the Vermont Country Store. The company had attempted to replenish the brand, but was unsuccessful and had to lay off more than 300 employees. 
Question:
What are tiers curtains?
Answer: Tier curtains are also known as privacy liners or cafe curtains. Sold by the Vermont Country Store, these curtains are used to cover the lower half of windows and sometimes are complemented with a matching valance. 
Question:
What is the short curtain called?
Answer: While it's usually preferred to have floor-length curtains, in some rooms, including kitchens, that's not always possible or safe. Short curtains are called valances. Valances actually sit on top of a window and can be paired with tier curtains or even long curtains. Short curtains are also used when something would otherwise obstruct a longer curtain. 
Final Thoughts & Alternatives
As a whole, the Vermont Country Store has an undeniably classic and even nostalgic catalog of curtains. There's much to admire for the styles and overall value of their curtains. At the same time, online ordering has enough complaints. I still think your very best bet is to shop in person.
Not in the cards for you? There are a few places you can shop online for a cozy, cottage look. 
Although not as dedicated to vintage and country styles, you can find a selection of Wayfair Farmhouse and Country Curtains as well as Bed Bath and Beyond Country Curtains.  These are also a little cheaper on average, though it depends on the style of the curtain. You can also find some country and classic styles from popular stores such as Home Depot.