Latest posts by Erin Jamieson
(see all)
Americans are always looking for ideas for reducing energy costs. And in 2021, inspiration is coming from a seemingly humble source: white blinds.
White blinds are nothing new to homeowners. White and off-white blinds and shades have always been the most popular. While other colors come and go, white is a versatile color that works for all homes.
But they're also a great pick if you want to cut back on energy consumption. In fact, white blinds or other coverings could reduce your energy consumption by as much as 77 percent, according to the Department of Energy.
And it's white that was the recommended color mentioned for window coverings in a special report on 4 hacks to keep your home cool . Of course, white blinds are not a magic solution– nor are they the best solution for every situation.
To help you decide, this guide will tell you what color blind to choose, and everything you need to consider when buying white blinds. I'll also give you my favorite ideas for types of white blinds you can buy in 2021.
What Type of Blinds is in Style 2021?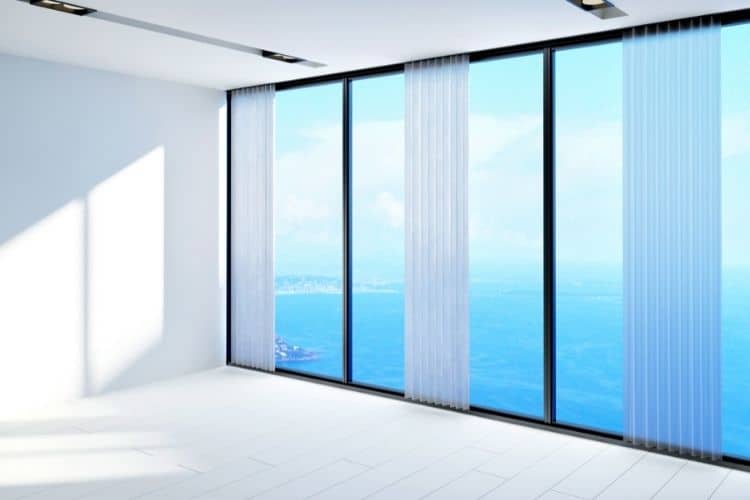 When deciding on what blinds to buy, I'd never recommend going purely on trends. For one, the trends may not suit your situation. For another, trends come and go, and ideally, your blinds should last seven to eight years, on average.
That said, 2020 and 2021 have focused on rather practical trends, many of which are aimed to reduce energy consumption or make home offices more comfortable.
Some of the biggest blinds trends in 2021 have included blackout blinds and vertical blinds, as well as blinds you can easily roll up or down. Convenience, privacy, and security have been key trends for blinds.
How do I Select My Blind Type and Color in 2021?
While there's a lot that goes into selecting the correct blinds, if you don't consider anything else, consider the following factors.
Should My Blinds Match My Window Trim?
With some exceptions, the majority of blinds will sit inside the window trim, so they should either match or be within a shade or two of the window trim. Add from pair to darker option, such as wood, with white window trim.
Should Blinds Be Lighter or Darker than Walls?
Like curtains, when it comes to blinds and matching wall colors, there are no hard and fast rules. The consensus is that you should be a shade or two darker or lighter than your walls. For light walls, many opt to make their blinds darker. For dark walls, most opt ​​​​​​​​​​for lighter blinds.
Should All Blinds in a House Match?
While many may think that all blinds in a house should match, this too is not a hard and fast rule. It's certainly common to see matching blinds for an entire house, but there are other options. Homes going for an eclectic style can mix and match. This is generally best when the blinds are complementary.
Not into the mismatched look? Some blinds have white exteriors and patterned interiors. Though hard to find, these blinds offer a uniform look on the exterior, but a custom look from inside individual rooms.
What Blinds Let in the Most Light?
When selecting blinds, you need to consider privacy vs light. The blinds that allow the most light to come in offer the least amount of privacy, and vice versa. The larger the slat, the more light that will come in. Thus, narrow blinds will offer the most privacy.
You can always opt for blinds that offer more light to come in– and pair them with curtains for added privacy when you need them.
For nighttime privacy and bedrooms, blackout blinds are popular.
Should I Get White Blinds?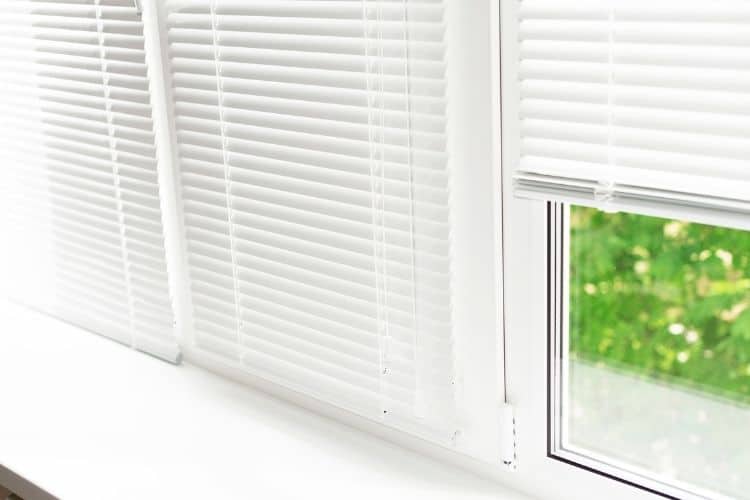 Are white blinds right for you? You'll need to consider your different options for white blinds– from different shades to light blocking and more.
What Colors do Blinds Come In?
Blinds come in more colors than you might accomplish. The most common blind colors include: tan or beige, black, bronze, brown, blue, gold, green, gray, pink, purple, red, yellow, and wood stains.
For white, you'll have a choice of mostly stark white and off-white, as well as cream tones. To decide on the right color for you, consider both your window trim and your wall colors. To play it safe, go with a shade or two lighter or darker.
Do White Blinds Go With White Walls?
You may not immediately think it, but not only can you pair white blinds with white walls, but it's actually very common to do so.
White blinds with white walls provide a classic, clean, and contemporary look. You'll just need to put thought into what shades of white best suit your space. Stick with the rule of keeping the wall color and blinds within a shade or two of each other– and don't try to exactly match them.
Do White Blinds Block Light?
The misconception is that white blinds don't block any light. Well-made blinds of any color can block light. Indeed, dark blinds will initially block more light going through thinner blinds, but white blinds have the advantage of staying cooler.
Do White Blackout Blinds Work?
Another option if you want white blinds but are worried about privacy? White blackout blinds. It may seem like an oxymoron, but white blackout blinds do work.
However, if you want the optimal impact, you may want to consider pairing with solid or even blackout curtains. Blackout blinds do give your privacy, but white maybe a little less effective than darker blinds.
White Blinds: My Ideas
Now here's some inspiration for white blind shopping in 2021. I'll give you my picks for white blind ideas– from blackout to panels, Venetian style, vertical and more.
For each kind, I'll explain why you might want (or not want) that style, and supply ideas of where to buy them. Without further ado, here are my white blind ideas for your home.
Blackout White Blinds
Blackout blinds usually include foam backing and are opaque. Not only are these blinds effective at blocking out light from coming in, but they also provide privacy by making it hard to impossible to see inside. Lighter colors, including white blackout blinds, may have an added liner to block light. Some experts especially recommend blackout blinds and curtains for children's rooms.
Classic Cordless Blackout Blinds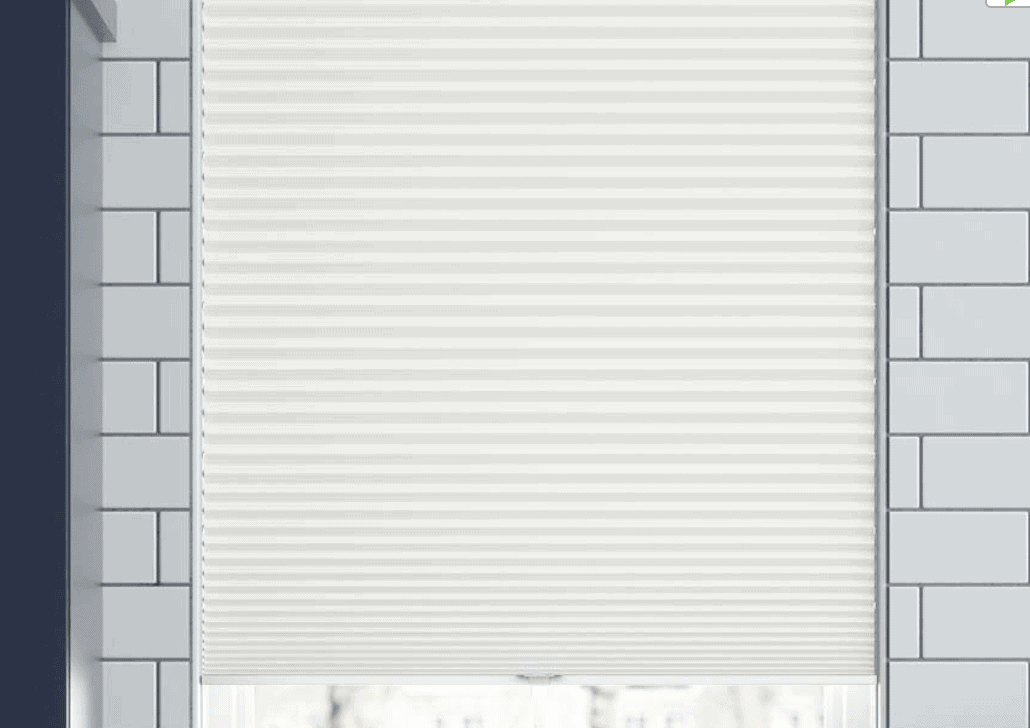 These blackout blinds are available in white, but also cream, pebble, brown, black, gray, taupe, and other neutrals. The cordless style is sleek, modern, and popular. I also love that you can order samples and custom order your desired size mounting choice– all online. Buy Here .
Hampton Bay Cordless Blackout Mini Blind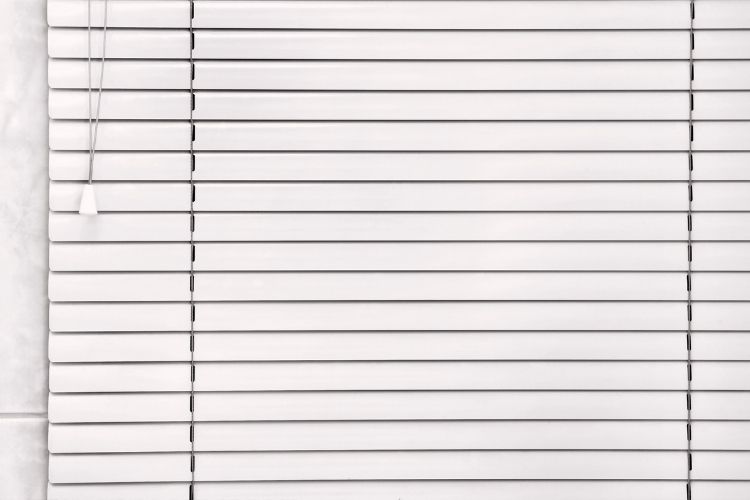 These blinds combine two trends: cordless and mini– for an effective blackout design. These budget-friendly blinds are made out of durable vinyl, which have been treated to be heat and moisture-resistant.
Promising to block out 95 percent of incoming light, the "S" shaped slats are meant to maximize control and are stylish and modern. Buy Here .
Arlo Room Darkening Roman Blinds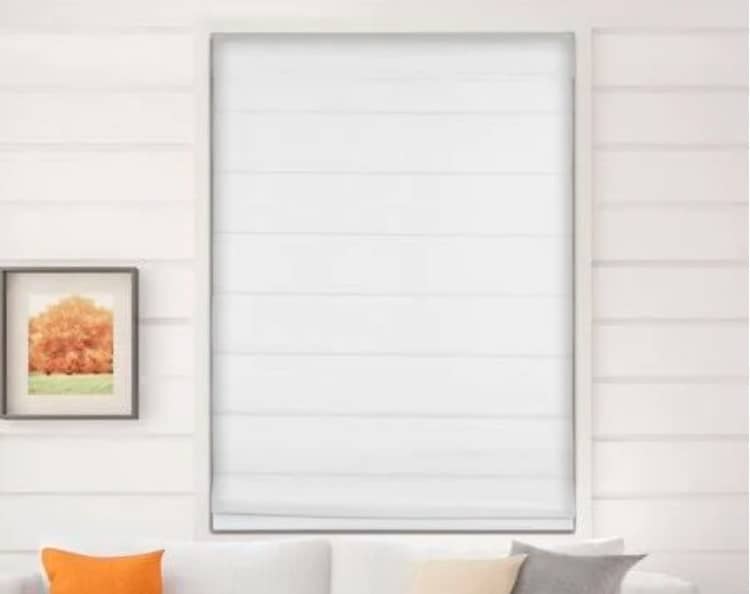 Technically, darkening blinds are not the same as blackout blinds – but they're a great option if you want added privacy. Roman blinds are traditional style blinds that fold, instead of roll-up.
The bonus to these blinds is that they offer privacy without blocking out all light– making for a great compromise between regular blinds and blackout. These white blinds are also thermal, specifically designed to insulate your home. Buy Here .
Ebern Designs Custom Crystal Blackout Blinds with Sheer Shades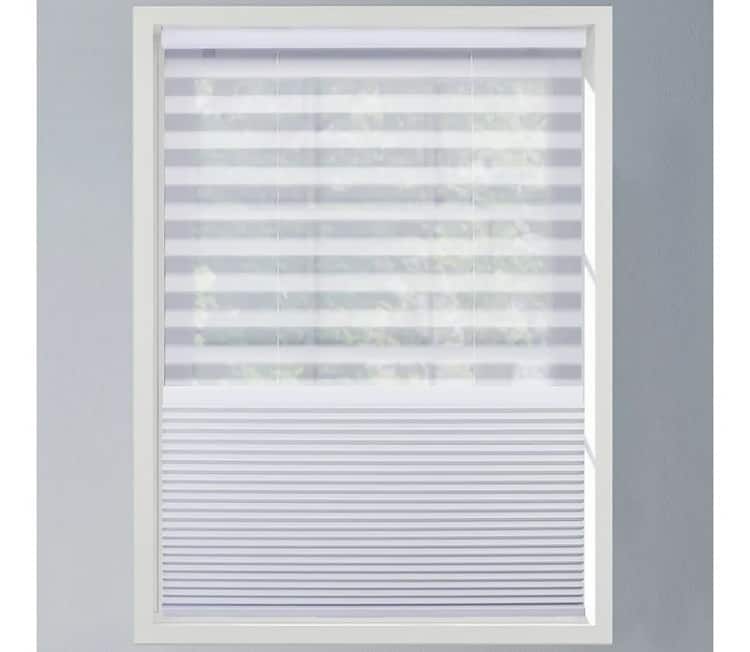 These white blinds are unique, pairing sheer features with blackout paneling, allowing you to have a bit of both privacy and natural sunlight.
The blinds feature easy installation, are versatile, and not overly modern or traditional, meaning they can fit into any home style. You can also custom order to your liking. Buy Here .
Mini White Blinds
The mini white blind is a modern transformation of Venetian blinds. These horizontal blinds can easily be adjusted to allow light in or shut it out. Moderate in their light filtering abilities, they're a more modern but classic style of blind.
The main difference between Venetian blinds and mini blinds is that the slits are half the width of Venetian blinds.
Mini blinds typically are quite affordable and made out of aluminum. However, the push cord style is not considered a pet option for small children. Luckily, there are many cordless options available now.
Riviera 1 Inch Mini Blinds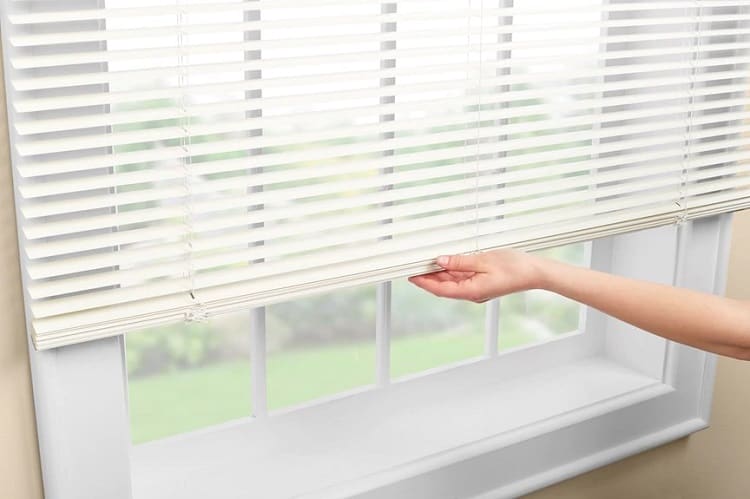 Contemporary and sleek, these white mini blinds also come in less expected hues, including dusky blues and pinks, metallics, and many more, for a total of 23 colors in total.
Designed for intuitive light and privacy control, the aluminum blinds offer easy to install and a guaranteed fit. They're made to order within 18 business days. Buy Here .
Project Source Room Darkening Mini Blinds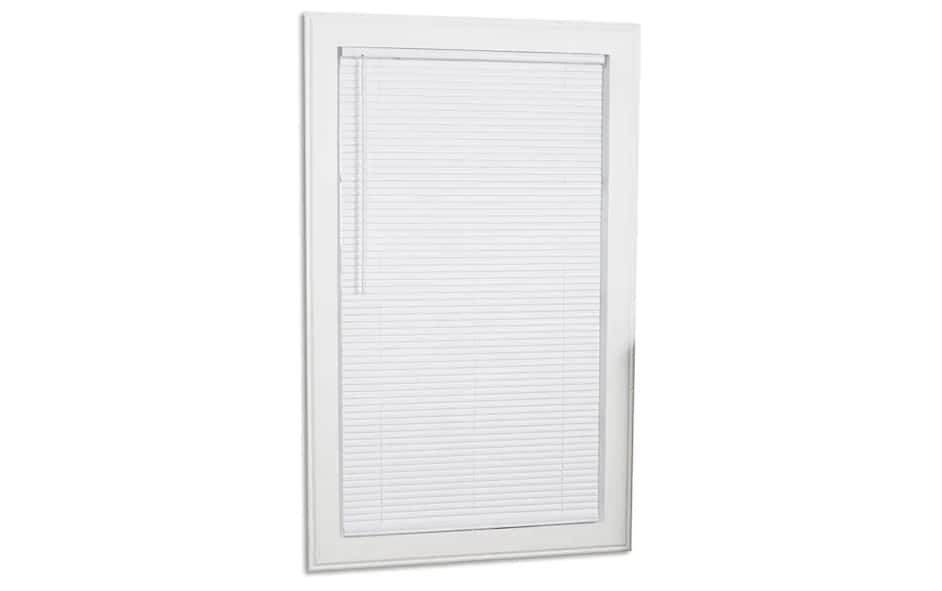 Not quite a blackout blind, these mini blinds offer a darkening room for a little privacy and light control.
The 1-inch mini blinds also stand out with a sleek, modern design that doesn't have dangling cords– making them more child-friendly. They're also moisture-resistant and easy to clean. Buy Here .
Mark One Mini Blinds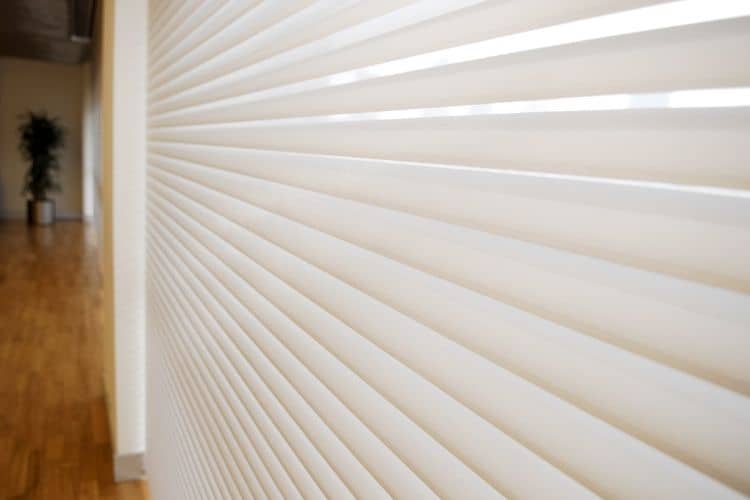 These white mini blinds are recommended for French doors or shallow windows. Featuring 1" horizontal 8-gauge aluminum blinds, they're meant to last for a long time. They can be made to order within 18 business days, and pair well with sheer or semi-sheer white curtains. Buy Here .
White Gloss Aluminum Mini Blinds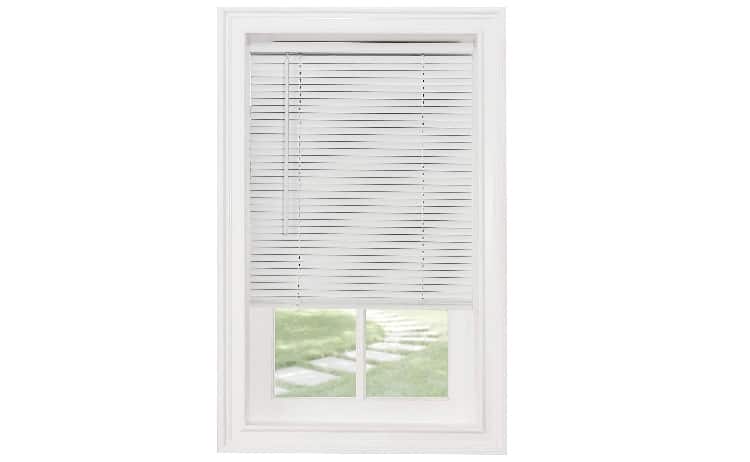 Glossy white makes for a modern and appealing finish to these mini blinds. Available in a wide range of modern colors, the sturdy aluminum is meant to be durable, low cost, and lightweight. They feature an enamel finish and fit French doors and shallow windows. Buy Here .
Panel & Vertical White Blinds
Panel blinds are a modern take on traditional vertical blinds. Compared to traditional vertical blinds, panel blinds use wider panels that are installed on a multitrack system.
The blinds naturally stack when closed. This optimizes the amount of light that can enter your room– making these blinds ideal for someone who wants blinds but loves natural light.
Traditional vertical blinds, meanwhile, are popular to use in rooms that tend to be dark, and used in place of curtains.
Vertical blinds are a little easier to maintain than horizontal blinds because they don't become as dusty. They allow in more light on a whole than horizontal blinds do.
Bella Legacy Fabric Sliding Blind Panels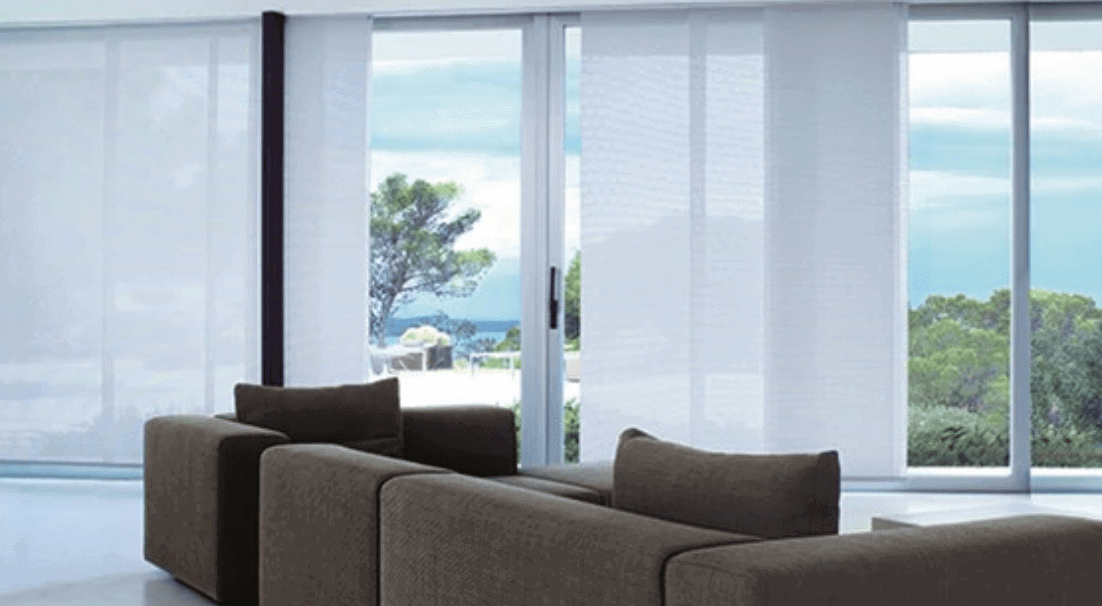 Looking for a modern take on white blinds and want many options for different hues? Consider these contemporary panel blinds.
Made to order within 10 business days, choose from a wide range of white hues, from cotton to snow to bright white and many more, as well as neutrals.
These panels are sophisticated and even come with blackout colors and solar colors– allowing you to get the light control you're looking for. Buy Here .
Vinyl Panel Track Blinds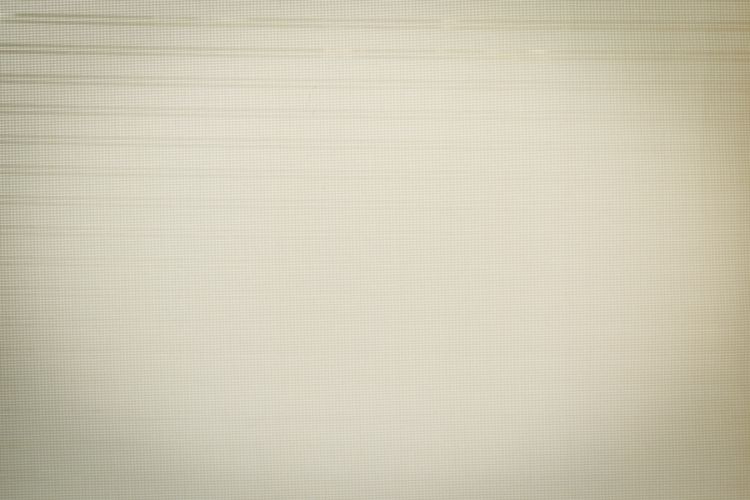 These refined panel blinds come in colors like alabaster, champagne, boucle white, and many more. You'll have your eggshell and matte finishes and inside and outside mounting option.
You can also select from cord and wand control styles, number panels, hem bars, valence types, spacer blocks, and more. These customizable vinyl white blinds are contemporary, pleasing, and offer just about anything you'd want in a vertical panel blind. Buy Here .
Faux Wood Vertical Blinds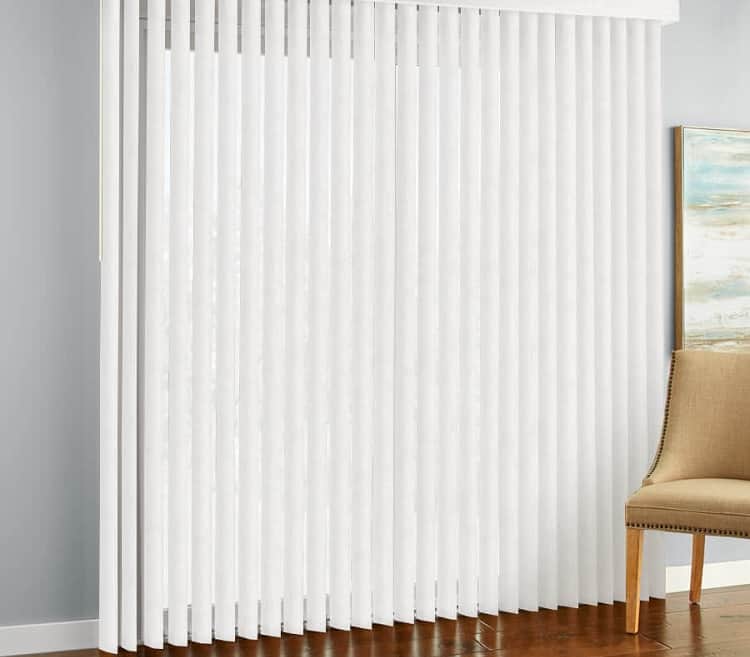 Faux wood is actually a smart option for bathrooms, kitchens, or anywhere that tends to be humid. While faux wood blinds offer a similar look to traditional wood, they won't chip, crack, peel, warp, or fade.
They're generally moisture and humidity-resistant as well. These blinds also come in painted white and off-white tones. Realistic wood grains and a pleasing design make these a perfect choice for a traditional or classic home. Buy Here .
Premium Light Filtering Vertical Blinds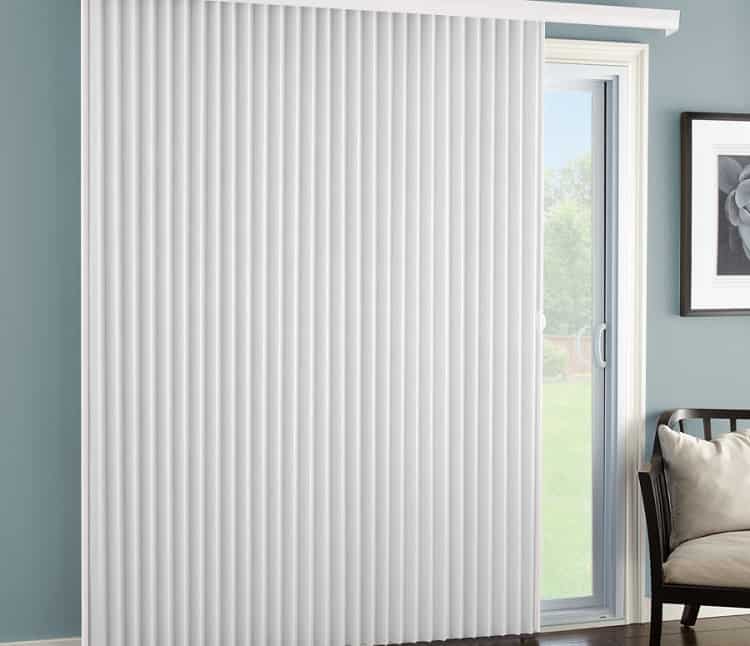 These vertical blinds can be custom ordered and made within 5 business days. Meant for optimal light filtering, select from 10 shades of white and off-white, as well as other hues.
These blinds also come with a free three-year warranty, with options for extended 5 year limited and unlimited warranties. These are modern but traditional enough they could suit nearly any home. Buy Here .
Crown White Vertical Blinds for Sliding Door or Window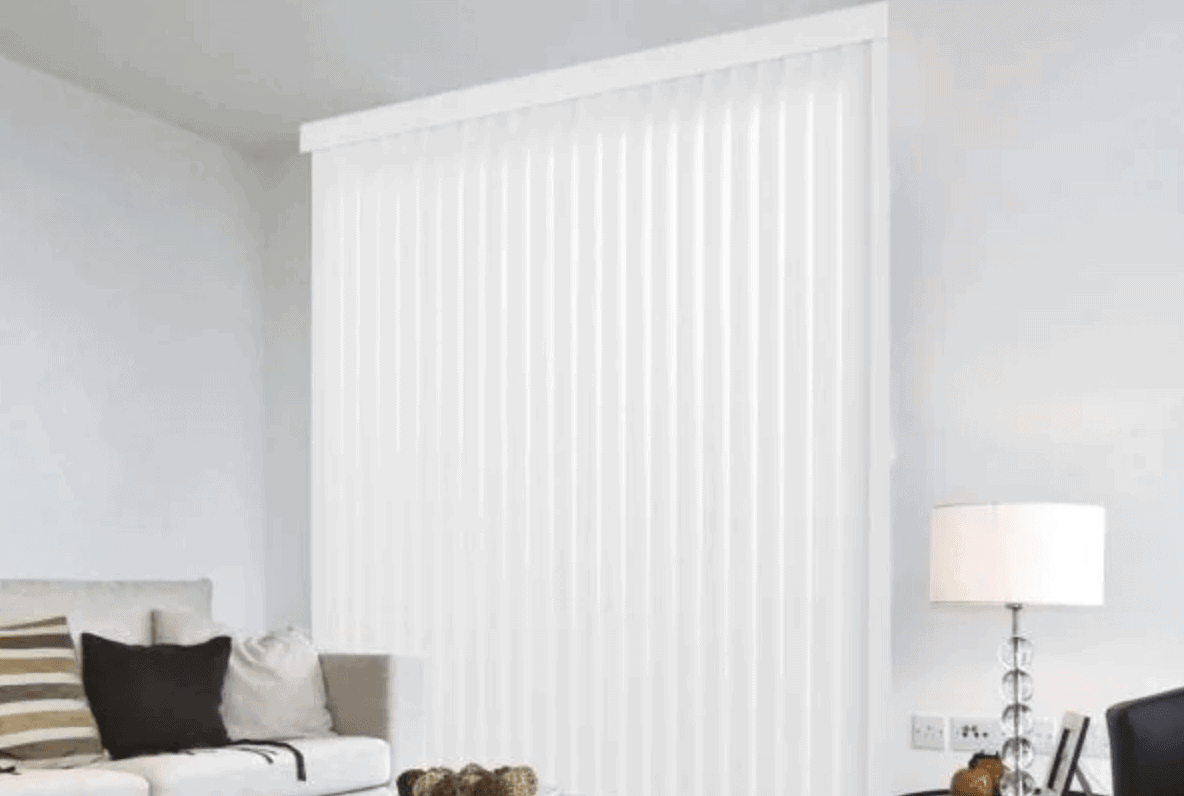 These vertical blinds come in a bright, modern white hue and can even be used to add privacy to sliding glass doors. An embossed texture feels modern, while these provide room darkening– without shutting out all light– when you need it. Buy Here .
Venetian White Blinds
Looking for white blinds with a timeless style? Then you may want to consider Venetian blinds. Venetian blinds are horizontal blinds that are usually 2 inches wide and made with wood, aluminum, or plastic.
Tapes or cords are used to pull Venetian blinds up and down, though modern designs sometimes allow you to pull them from the bottom.
They tend to be durable, relatively inexpensive, and easy to maintain. While they are customizable for light filtering effects, they also create an elephant and uniform look for your exterior. They do collect dust more easily, but may not be the best option for large windows.

Available with a kid-friendly cordless option, these blinds are an updated classic. Real wood is available in 24 finishes, including 8 white and off-white options.
They have a timeless, but classic look and can be custom ordered and shipped within 4 to 5 business days. Genuine wood blinds are classic and elegant. Just keep in mind they require more upkeep: unlike faux wood, they can crack or splinter. Buy Here .
Luna Cordless Vinyl Semi-Sheer Venetian Blinds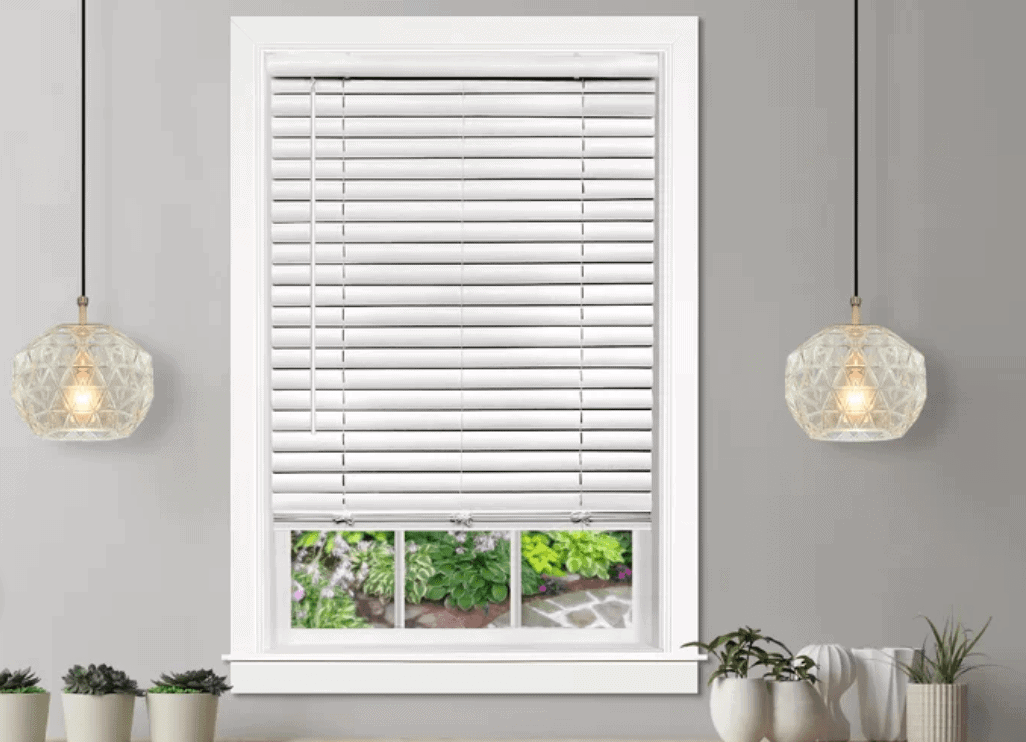 These cordless white blinds (also available in mahogany) exude fresh elegance. The vinyl slats offer beautiful light filtering and are chip, dent, and fade resistant.
A light wood grain texture adds a sense of timelessness. These blinds also come with removable valance and all-metal mounting brackets for easy installation. Buy Here .
Mistana Lift Room Darkening Venetian Blinds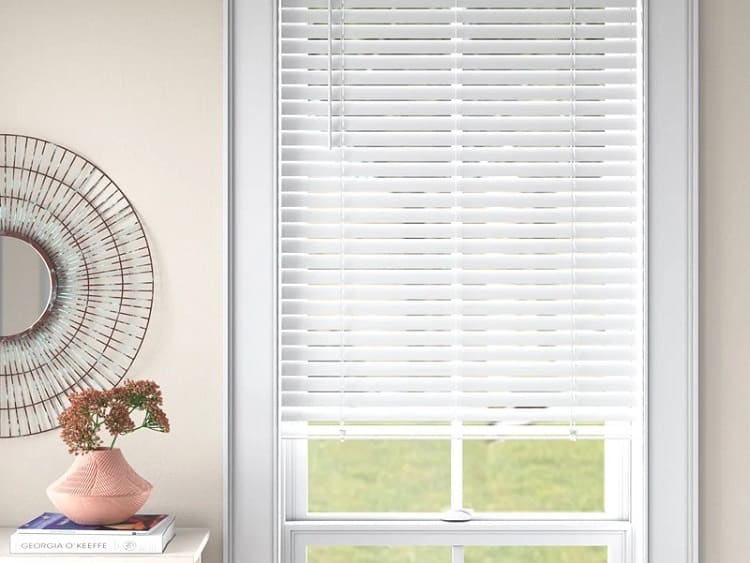 These custom-made white Venetian blinds are made with durable faux wood. The cordless design is kid and pet friendly, and the blinds offer privacy and darkening room when you need it.
A classic style, these blinds are meant to be used indoors with drywall. Buy Here .
Modern White Venetian Blinds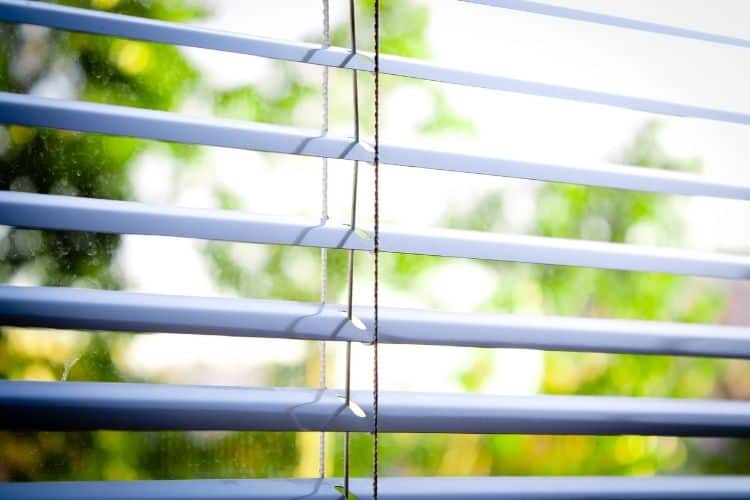 These understated white Venetian blinds feature a cordless wand system and are easy to keep clean.
Featuring a smooth, satin finish, these blinds feature an easy installation process, can be mounted inside and out, and come with a fit guarantee. Made out of vinyl, they're a practical solution when you just need simple blinds. Buy Here .
Frequently Asked Questions
Question: How much do blinds cost to install?
Answer: As you can imagine, the cost of having professionally installed blinds varies widely based upon the blind type and what company you choose.
According to Home Depot, you should budget an average cost of $250 to $300 per window for a typical installation project. Of course, I always recommend getting an official quote.
Question: Is it better to have blinds or curtains?
Answer: Blinds vs curtains have been a debate for some time, and there's no definitive answer. Generally speaking, blinds are favored over curtains in smaller and confined spaces. Curtains are also used as decor and are at home in large, spacious rooms. Blinds are more practical for kitchens and bathrooms.
Question: Is it OK to have blinds without curtains?
Answer: It's perfectly acceptable– and even common practice– to have blinds without any curtains. In some rooms, in fact, that may be preferable.
Final Thoughts
White blinds offer a classic look– both contemporary and traditional. They're as versatile as you can get when it comes to adding privacy and light control to your home.
But as you can see, there are many factors you'll need to consider, from material type to what shade of what to what style. Corded blinds are perfectly fine, but cordless is more modern and also a better choice when you have young children or pets.