Latest posts by Angelique Alice
(see all)
Did somebody say Christmas? It is almost that time of the year again, with jingle bells singing everywhere you turn. If you cherish Christmas, perhaps you could start looking for things that will help keep you in that holiday spirit as early as now, for example, the best Christmas curtains.
It is never too early, or is it? If this is a first for you, you are in the right place. With a guide in mind, you will certainly get beautiful curtains, and we are here to break down everything you need to know. Stick around to know the best Christmas curtain ideas all in this guide.
Tips for Choosing the Ultimate Christmas Curtains
Consider the following, a guide when you are shopping for the best curtains for this Christmas season:
Look at The Prices
If you can save some money, why not opt for stores that have affordable prices? The best thing is to buy the curtains now when the prices are not over the roof. If you have gone for Christmas shopping decoration before, you are probably familiar with how costly most things usually are.
Do yourself a favor and peruse the internet looking for retailers who sell curtains and compare prices. From there, make the purchase from the one with affordable prices and good quality curtains.
Consider Maintenance
Curtains get dirty with time, and you need to ascertain that you get Christmas curtains that are easy to clean. Ensure that you look at the curtains' manual to avoid washing them the wrong way. After all, you would like to have these curtains for an extended period.
Remember you will be using them once a year, and the chances are high that you would not mind choosing high-maintenance Christmas curtains, which is okay. Please do what you deem best or choose what is best for you; after all, they are yours!
Choose the Right Color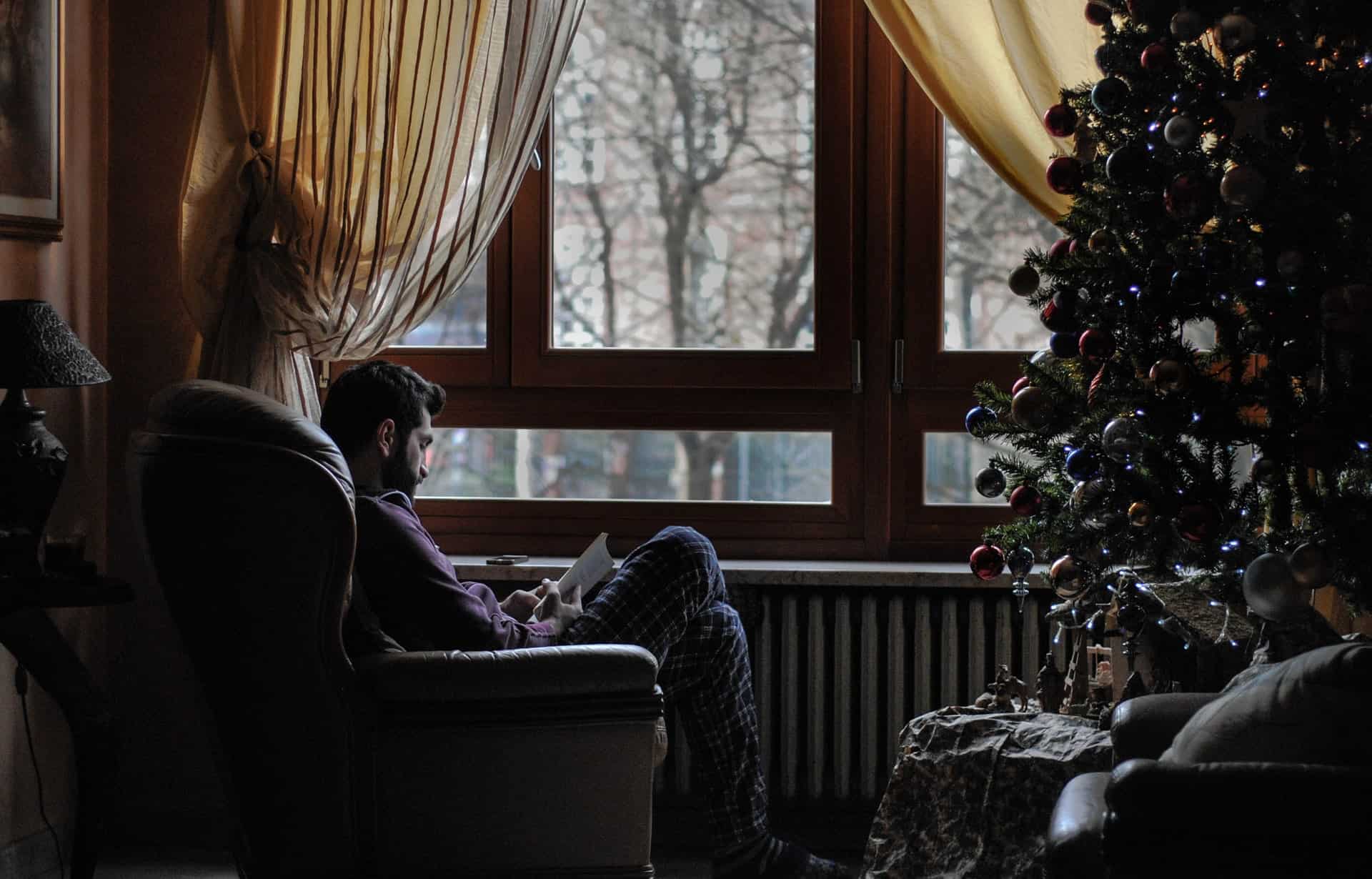 As much as Christmas has its theme, you need to consider your home's interior design and colors. If you go against this, your home won't look appealing; if anything, it will look like an amusement park. Can you imagine the picture you will portray to your visitors?
Certainly, not one to reminisce about. The color of your Christmas curtains will determine whether they will be in-sink with the décor. In other words, they are co-dependent; thus, the wrong color selection will mess you up. Pro-tip: consider the color of your cushions and walls and opt for a color that goes well with either or both.
You Cannot Afford to Forget the Length of Your Christmas Curtains
The length of the curtains affects so many things in your house. For example, short curtains will be the best option for you if your bed is below the window.
The living room area needs you to consider where the sofas are. For instance, if they are at the window, you will have to opt for short curtains. However, you can go for long curtains if the sofas or beds are placed far from the windows. You will be in awey how well your home will look.
Select the Right Fabric
There are numerous fabrics to choose from, and this could be quite overwhelming. However, you must know that the right one needs a certain testing process. It is necessary to point out that using silky curtains is not a good idea since it is hard to spot dirt or stains.
The same goes for smooth curtains. We need to avoid using either smooth or silky curtains in the dining room area. Instead, go for thick fabric Christmas curtains. This is because you won't have a hard time cleaning them, and they also make the room look great.
Ways to Choose or Design the Best Christmas Curtains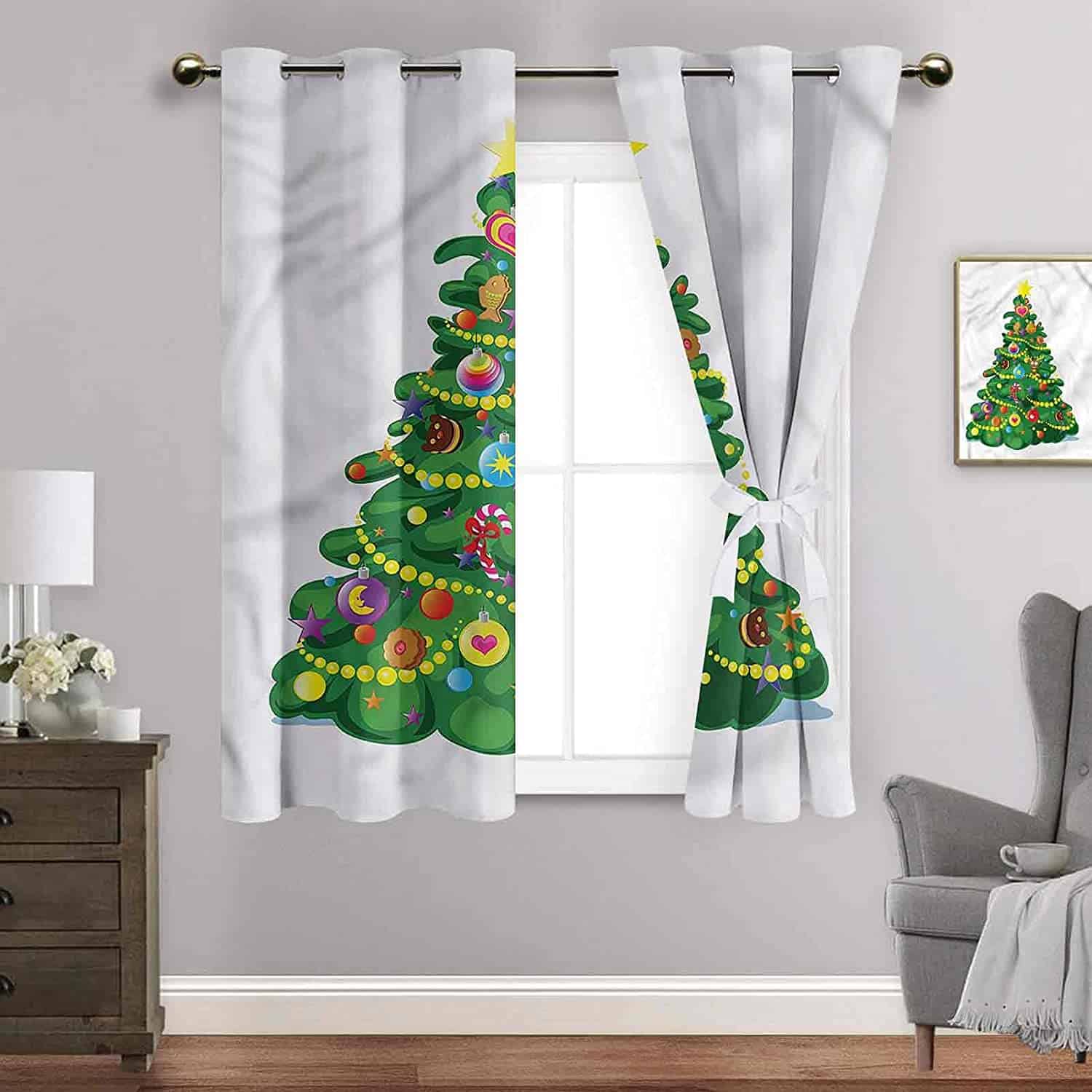 By now, you will have probably chosen a color for the Christmas curtains of your choice. The next step would be to get the decorations and accessories you love or improvise for designing purposes. The latter may include small colored balls that could be hung on the curtains.
Preferably, you can cut out Christmas trees, for example, from clothes and sew them on the curtains. Also, consider adding light branches for them to look more attractive. If someone told you that you cant have low-budget beautiful Christmas curtains, they are wrong.
Whoever said you couldn't have low-budget Christmas curtains was wrong. All you need is to make do of what you have at home. Also, if you can get clothes with Santa's face on them, the better! Kids love him, and we all know that. Cut them off and sew them.
In addition to that, you can also use flowers to decorate the curtains. There are so many options for you, and that is a plus. If you have a solid-colored pair of curtains, you can turn them into Christmas curtains instead of buying new ones. Trust us, it will be fun, especially if you do it with your loved ones because it will bring you together.
Importance of Having the Best Christmas Curtains
They Act As An Effective Window Treatment Solution
Using curtains to cover your windows is great and considering that there are many window curtain options nowadays makes things better. Having Christmas curtains that are fire retardant when holding events like a Christmas party will keep your guests safe in case of a fire incident.
This is because they prevent combustion and that is crucial. If you have been looking for the best window treatment options, getting Christmas curtains will be a good start.
Also, don't forget that there are numerous color options, designs, and materials you can use to your advantage to make your dream home goals a reality. Remember, curtains don't have to be boring; let them match your style.
They Make Your Visitors Feel Comfortable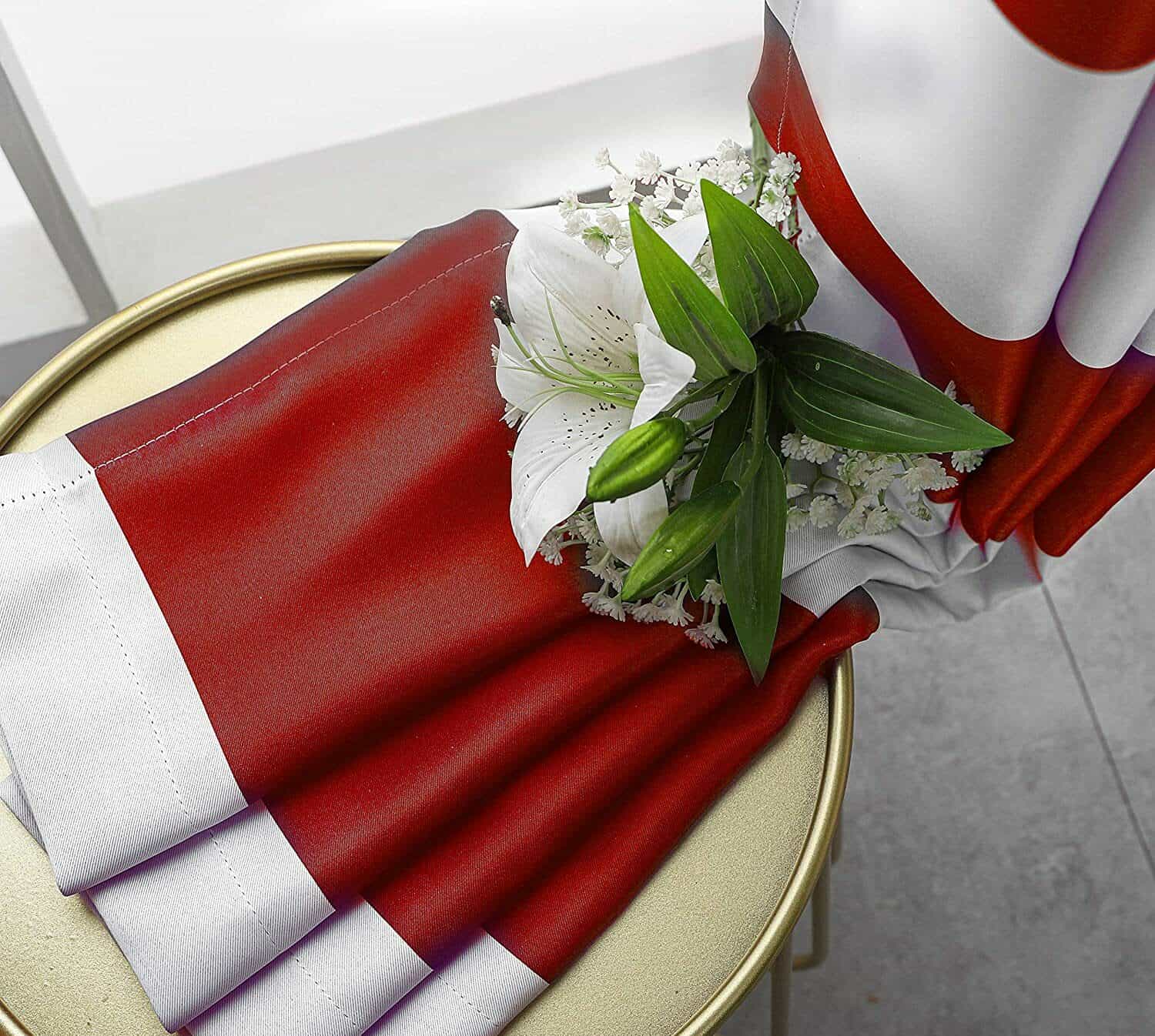 Curtains tend to bring about an intimate feel. For example, when we use Christmas curtains in darker hues, we unknowingly increase the bond between other people and us. On the other hand, lighter or subtle hues usually make the space feel airy and spacious.
You must know that thick curtains make the room very warm, whereas light ones create an illusion that your space is larger and spacious.
They Enhance the Décor Aesthetics
If there is something that we pay attention to at parties during the Christmas holidays is details no matter how small or big they are. If anything, they show the effort put and linger in one's mind for days. Interior designers have said one too many times that curtains impact your home and décor greatly.
It is no longer a secret, and you should use it to your advantage. Ensure that your Christmas curtains speak elegance in every way possible. This is because they will take your Christmas decorations to the next level, which is the end goal.
Mistakes to Evade When Looking for the Best Christmas Curtains
People need to know that there is a thin line between making their house seem like a Christmas circus and like Christmas. You can this mistake if the house is pretty colorful and still pick festive colors like red and green which are bold.
The Christmas festivity colors entail red, green, gold, and silver. It is, however, advisable that you select your main color and another one to complement it. That way, your home will still look elegant. Also, if you have a colorful home, opt for neutrals, gold, or silver decorations, whereas if your home is neutral red and green are ideal for you.
The Best Christmas Curtains We Recommend
They are as follows:
Ambesonne Christmas Curtains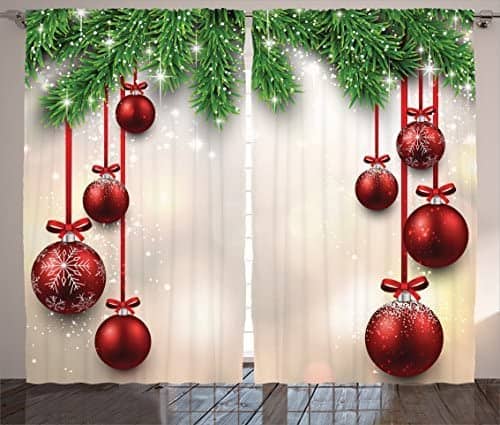 This pair is made from a high-quality blend of silky satin and polyester. These curtains have quite bold graphics; thus add a great perspective.
They speak for themselves in the sense that you don't have to explain to people what event it is. These Christmas curtains are made in Turkey and are machine-washable, although on a cold delicate cycle. From there, they should be tumble-dried. Their package entails two curtain panels and a rod pocket.
ANHOPE Christmas Curtains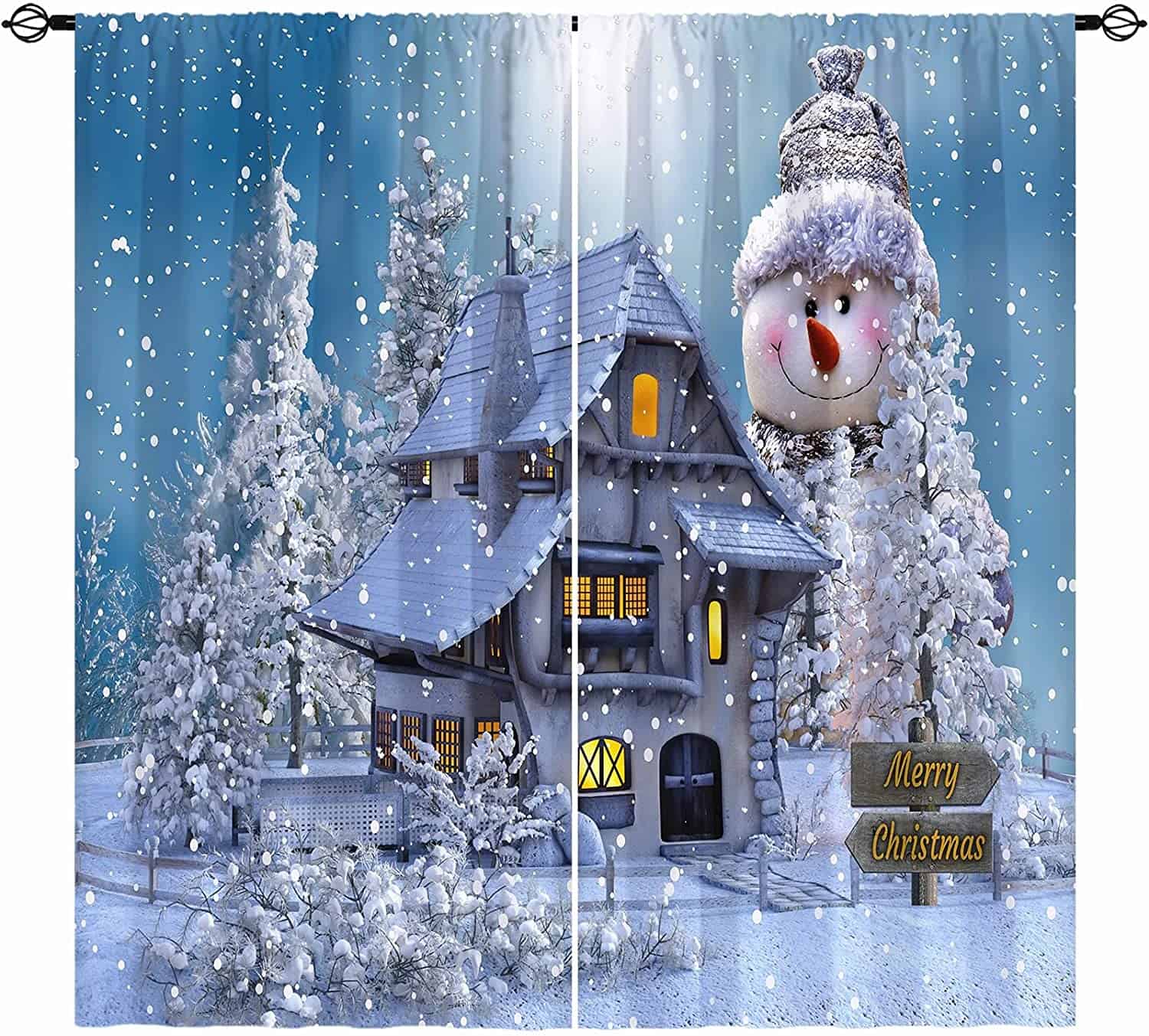 These snowman-patterned curtains are excellent for kids; therefore, you could consider them if you have children. They are undoubtedly safe for them because they are eco-friendly. However, they are multifunctional and could be used in the bathroom and nursery, among others.
We know you are keen on your little ones and what they get into contact with; why it made it to this list. These Christmas curtains are wear-resistant and have no chemical coating, to mention a few. Their material is 100% polyester, soft silky extra-durable innovative 150 GSM fabric. It takes a long duration before it fades and has the best HD printing effect.
LORDTEX Snowflake Foil Print Christmas Curtains
You have the option of choosing different colors if you buy from this brand. The curtains' material is blackout; thus, it will block out 90% of sunlight and UV rays. As a result, your furniture and floor will not deteriorate. In addition to that, they will ensure there is a balance in temperature during winter and summer.
These curtains have a noise-reducing effect and offer privacy. If you have been looking for space partition curtains, these are a good choice. Also, they can be washed with cold water and are machine-washable.
BONZER Stripe Christmas Curtains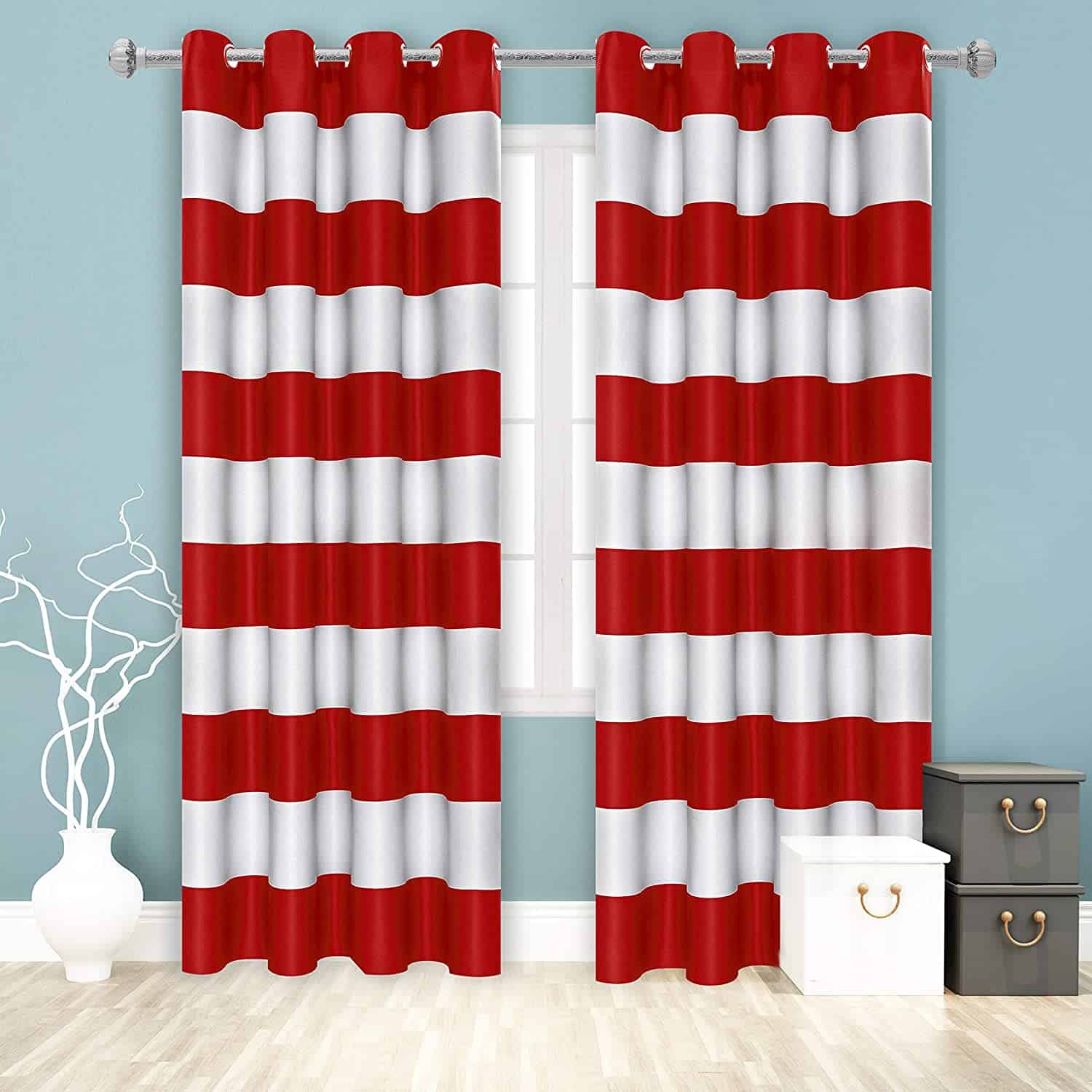 These curtains are 100% polyester and come with two panels colored red with silver-white stripes. They are also made with a blackout fabric which means that they block out sunlight and UV rays. However, when choosing from their color palette, go for darker colors for they work better.
Their stripe design is unique and there ooze elegance all the way. BONZER stripe Christmas curtains are a smart option since they save you money by reducing your utility bills. They are machine-washed and don't easily deform. However, ensure that you do not use bleach on them.
Buffalo Check Textured Grommet Window Curtains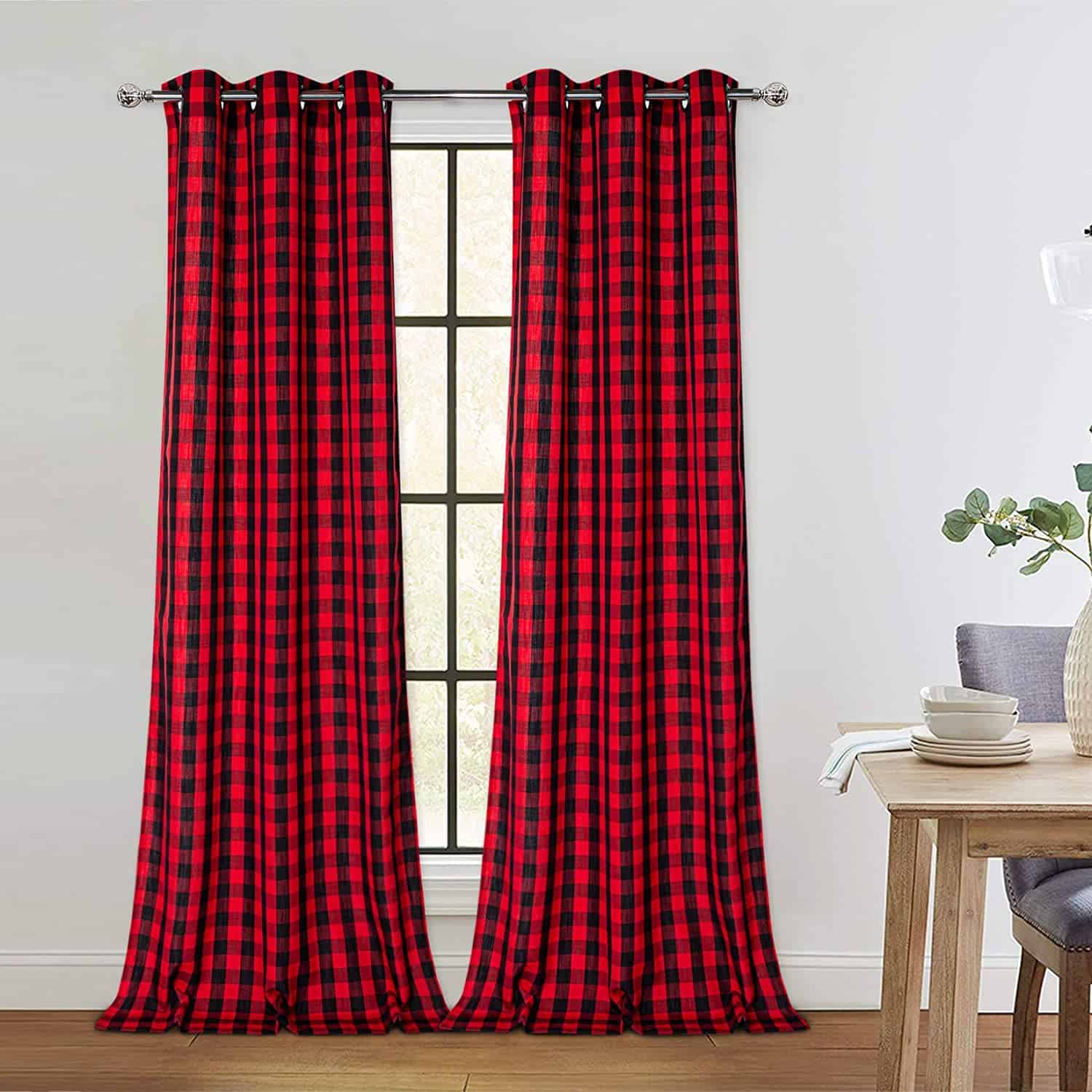 This readymade pair has a few size options for you to choose from. They have a stylish design that catches the eye and is suitable for several decorating styles, including Christmas decorations. The quality is top-tier since it is made with 100% yarn-dyed spun polyester.
The latter is long-lasting and has a textured look. It is not only wrinkle resistant but lint and snag resistant. These curtains can be used in various rooms. Like the rest, it is machine washable, and if there is the need to use an iron, ensure that it is cold.
Estelar Textile Thermal Insulation Blackout Christmas Curtains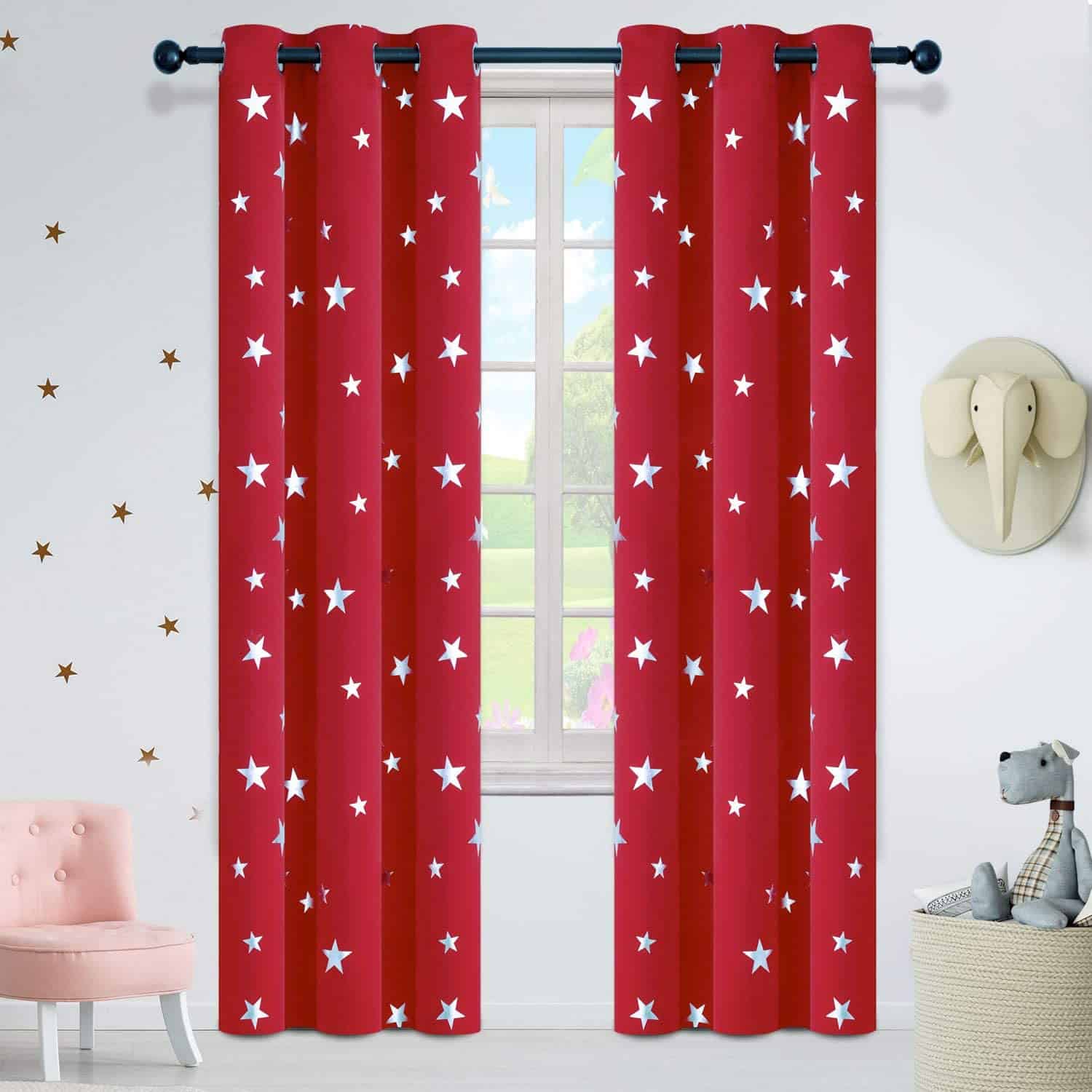 These curtains have numerous size options. They are 100% polyester and block out 85 to 99% sunlight and UV rays. Yet again, the darker the color you choose, the better the performance. This is because of their triple weave technology. They are soundproof and fade-resistant, not to forget they save a lot of energy.
Their design is quite charming since it has silver stars, thus making your windows more stylish. You can hang these curtains in your kid's bedroom, kitchen, and living room. Note that when you buy them from Amazon, you get 30 days money-back guarantee on the return policy.
FAQs
Question: Do Christmas Curtains Have to Be Red or Green?
Answer: Neither. However, that is your call to make in the sense that, if your home has dull colors or no patterns and prints, you should opt for either colors or even curtains with them both.
They will make the room seem lively, thereby bringing the holiday spirit into your home. In case your home has so much activity going on, you should opt for neutral-colored Christmas curtains and go for gold and silver decorations. That way, everything will complement one another.
Question: Do Christmas Curtains Require Sheers?
Answer: No. Yet again, the ball is on your court. This all goes down to what you deem best. Feel free to install both if you, for the longest time, have believed that sheers and curtains belong together. However, if you like them separately installed, no one will question your choice.
After all, it is your house, and everything runs by you. If you love your curtains hang alone, there are curtains made just for you. for example, those made with block-out fabrics to hinder the entry of sunlight and UV rays, among others.
Question: How Are Christmas Curtains Maintained?
Answer: Since they are all made differently, it would be best if we followed what the manufacturer recommends. Some are machine-washable, hand-washable and to ensure they last long, we should adhere to the instructions given.
Best Christmas Curtain IdeasConclusion
The above is detailed information about the best Christmas curtain idea guide. We recommend that you buy the Estelar Textile Thermal Insulation Window Blackout Christmas Curtains. They have many benefits that you would not want to miss out on, including that they block out 85 to 99% sunlight and UV rays, among others.