Latest posts by Erin Jamieson
(see all)
Adding interest to a front door can be done in many ways, from statement door curtains to potted plants or elegant porch lights. In 2022, sidelight windows are guiding Americans towards welcoming entryways–but it's the best blinds that finish the look. 
You'll find sidelight windows in grand homes, including Channing Tatum's former Beverly Hills mansion and a Northville Colonial featured in the Oakland Press as a dream home. The colonial's charming architecture is accompanied by a welcoming entrance, with beautiful natural light balanced with a warm brick exterior. 
But sidelight windows are also being installed in more modest homes. Sidelight windows have been declared one of 7 DIY window projects to take on, according to Fit Free Press. They also earned a mention as one of the best window designs in other publications, and have been featured in home showcases across the country. 
But whether you already have sidelight windows or you're considering having them installed, you'll need a great set of blinds. At their best, blinds control privacy and lighting and add a finished look to your home. 
I'll tell you what you need to know about sidelight blinds and guide you to buying the best for your home. 
What does sidelight mean?
A sidelight simply means a light that's placed off to the side. The idea is that some form of light is coming from, or pouring into, something else. If that sounds vague, that's because the definition in architecture is a bit more specific.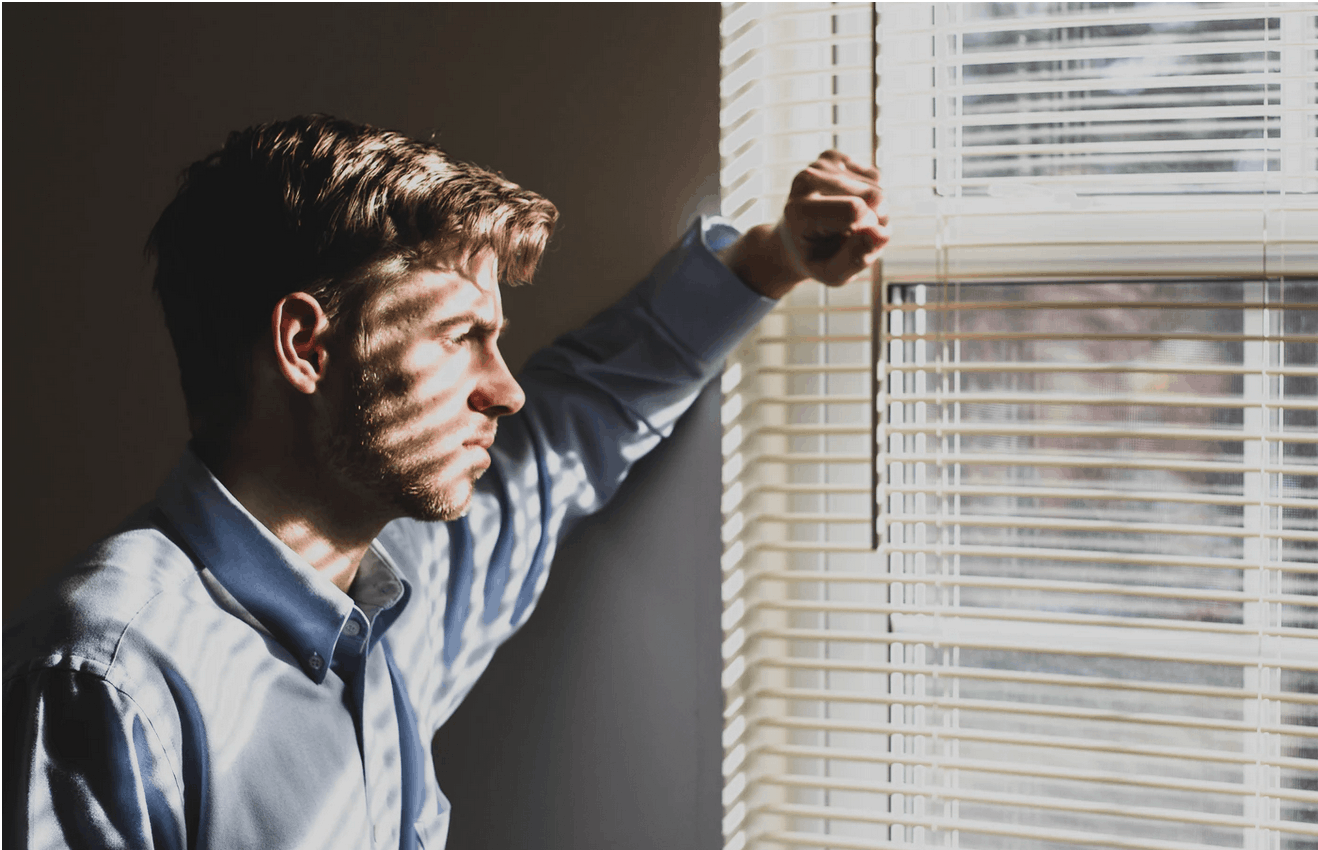 What is a sidelight in architecture?
In architecture, a sidelight is a term used to describe windows that flank either side of a door, usually a front door. These windows are vertical and quite narrow and provide a peek into the home and add ambiance to a front entryway. 
What are sidelights made of?
Sidelights can be made from a variety of materials. The most common include leaded glass, stained glass, and beveled glass. Some of the best sidelights are insulated from the inside.
This is a great way to save energy, especially for a front door, a drafty space, or a door you're opening and closing often. Stained glass adds a bit more privacy and a traditional, elegant accent. 
What color should sidelights be?
The trim around the sidelight should complement your home. Most favor a seamless look where there isn't visible disruption between the trim of your home's exterior and the windows.
While many opt to paint their front door an accent color, it's best to keep your sidelights the same color as your trim. A different color can make your entrance visually distracting, blocky, and may even give off the illusion of being smaller than it is. 
If you opt for stained glass, usually this look works fine with neutral colors. You can opt for stained glass that picks up a complementary color– such as your door. Of course, that means committing to a door color within that range for a while– or another complementary color. 
What size do sidelights come in?
Sidelights are often custom ordered and installed. But many are opting to save money by DIY projects and buying from stock. Some home improvement stores have options for standard sidelight sizes, which are meant to accommodate a standard door size.
These sidelights come with prehung construction and are 60 by 80 inches or 64 by 80 inches. These measurements include the door and the two sidelights. In other words, you can buy a door with sidelights already installed on either side. 
Why do you need to cover your sidelights?
Not everyone covers their sidelights, but there are plenty of reasons why you should consider opting for window coverings. The main reason, of course, is privacy. If you opt for something more opaque, such as stained glass, you may feel you don't need to do so.
But many sidelights either can be seen in or, of course, will bring natural light into your home. While that's part of their appeal, it may not be ideal at night, especially if you live on a body street.
In other words: whether or not you cover your sidelights is a matter of personal choice, and depends on your situation. But for many, it's a practical solution for privacy and comfort.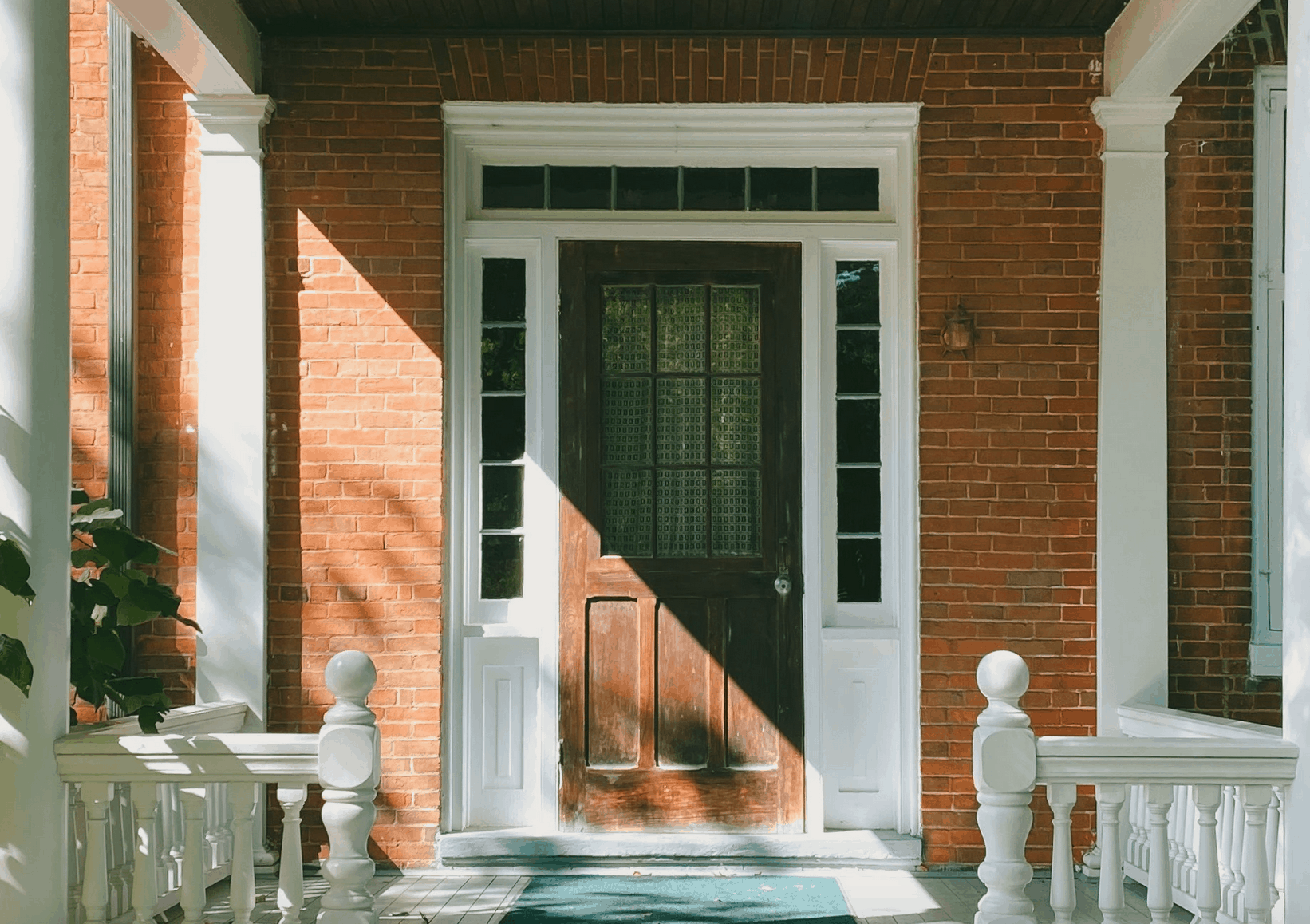 What are the different window coverings for sidelights?
If you're considering windows coverings for sidelights, you have a few options. Window film is usually used for decorative purposes. Curtains add ambiance, but a slightly more formal and heavier look.
Some even opt for a paint and frost technique. Other options include sheers, which provide a more modern curtain look– but less privacy. But amongst all of these choices, blinds are the most practical. 
What's the advantage of sidelight blinds?
Binds may not be the most decorative option, but they still provide a finished look, with the added benefit of more choice for privacy and sunlight control. Blinds add a finishing touch without overpowering the overall appeal. You can easily adjust them to let natural light flood in during the day, and close them whenever you need privacy.
How do I select the best sidelight blinds?
Selecting sidelight blinds hinges on two important factors: selecting the right materials for you and making sure they're measured properly for a great fit. Of course, I recommend buying sidelight blinds from either blind specialty stores or home improvement stores.
The good news is that, with a standard door size, you can find your blinds online and save a little money. Some sidelight blinds you have to look in store for if you have a custom size. 
How are sidelight blinds measured?
Measure the length of the top to a bottom rod. Inside mountings will be the length of the sidelight glass. On the off chance that you're installing an outside mount– which is typically reserved for cafe-sashes and magnetic rods for curtains– you'll need to add a few inches. But almost always, blinds are installed from the inside. 
What are the best materials for sidelight blinds?
Sidelight blinds are going to be used often, and many want either a sleek, versatile look or classic appeal. I'd avoid going for anything too gaudy or bright. Mini blinds, faux wood, and wood are the most commonly used.
For mini-blinds, aluminum is quite popular. All of these blind types are meant to be understated and versatile– but each comes with its pros and cons. I'll go over each blind type under my picks to explain my choices.
Sidelight Blinds: My Picks
For my picks, I've selected blinds that offer a balance of light control and privacy. Customer ratings, style, and value were also important factors that went into making my selections. And while this guide is about blinds.
My selections include faux wood blinds, mini blinds, wood blinds, and roller shades. For each, I'll provide pros and cons so you can make the best decision for you and your home. 
All of these blinds are from Blinds.com, under their recommended sidelight blinds. Nearly all can be custom fit to fit sidelights and are meant to be durable. 
Faux Wood Sidelight Blinds
Faux wood blinds have become increasingly popular as an alternative to genuine wood blinds. Unlike real wood, faux wood blinds won't warp and they'll also hold up under moisture.
They're lightweight and fairly affordable. While their pattern is meant to mimic wood, they don't look quite the same– which may or may not be noticeable from the outside.
The biggest con of faux wood blinds is that they are usually made out of PVC, vinyl, or a blend of both. There are some higher standards for these materials, there are concerns about the toxicity of some of these materials, though commonly used. Read Here about Safety Concerns. 
Two Inch Faux Wood Blinds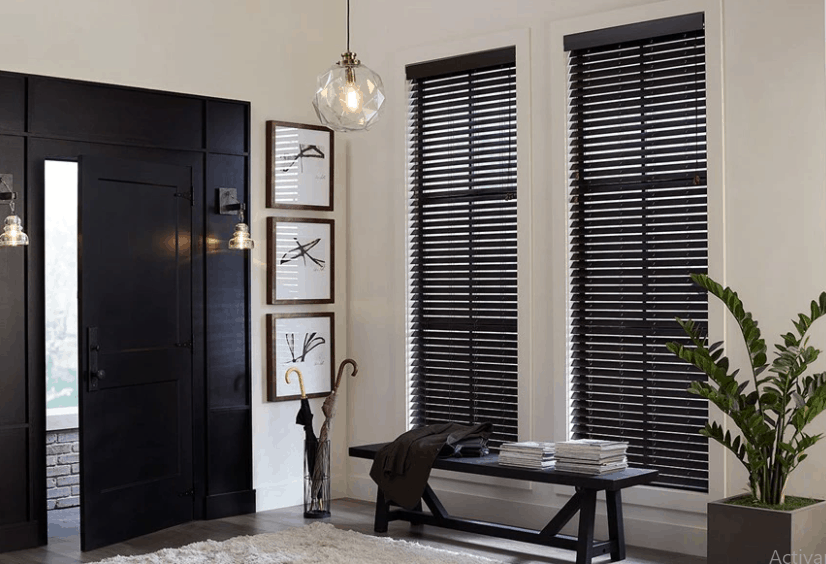 Highly recommend faux wood blinds for sidelights with excellent customization options? These faux wood blinds are a great fit– with a SureFit Guarantee, courtesy of Blinds.com.
These blinds are durable, moisture-resistant, all with a great view of the outdoors– but with enough privacy, These blinds come in wood stains as well as white, off-white, gray, and black solid colors. You can even order decorative tape. Customize to your perfect size; Buy Here. 
Bali Two and a Half Inch Faux Wood Blinds

Want a slightly wider view of the outside? These 2.5-inch faux wood blinds are made to fit. The PVC materials are meant to endure sunlight and moisture, so you have to worry about warping or fading, or fading, cracking, and other related issues.
These durable faux wood blinds are now offered at a discounted price and are available in white or neutral colors, as well as 11 wood stains, from off-white to smoky gray. Buy Here. 
Cordless S-Curve Faux Wood Blinds
Look for faux wood blinds for sidelights on a busy street? These unique s-curve blinds offer a little more privacy. Available in white or wood stains, these 2-inch blinds feature slim slats that are made out of UV-resistant vinyl.
Not only won't you have to worry about cracking, fading, or breaking, but they also feature a modern appeal, all with an easy to operate, kid-safe design, with the same SureFit Guarantee; Buy Here. 
Economy Two Inch Cordless Faux Wood Blinds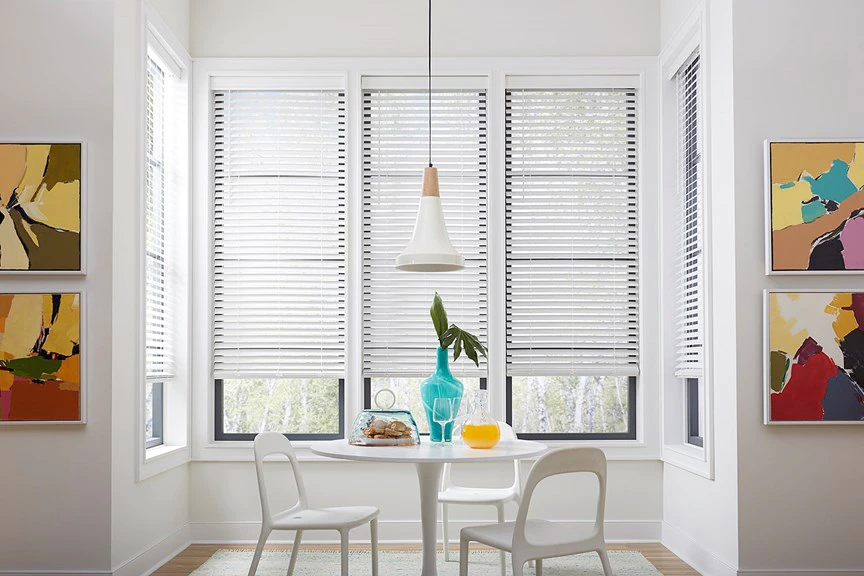 It's a familiar dilemma: invest in a higher quality set of blinds or save money. These economy blinds aren't quite as visually appealing as some more expensive options– but they still boast a respectable average of 4 out of 5 stars from customers, and are a great fit for home renovations on a tighter budget.
The cordless blinds come with a wand for easy titling, and 2-inch slats for light control. The biggest downside is that they're only available in white. Buy Here. 
Mini Sidelight Blinds
Mini blinds are a little under half the width of traditional blinds. While they may not block as much light as curtains, they're prized for the flexibility of light control– making them an excellent option for sidelights. Mini blinds can be made out of different materials, but the most common are aluminum, followed by vinyl.
Aluminum blinds are affordable, lightweight, modern, and come in an array of colors. They're resistant to moisture and known for their durability. The main downside is that they are noisy to use, and some tend to collect dust. Of your options, aluminum mini blinds are my favorite for sidelights. Of course, they may not fit well with more traditional homes. 
Classic Mini Blinds
These mini blinds are made with 1 inch, aluminum slats that are both durable and stylish. Equipped with a steel headrail plus a bottom rail, they have some excellent, unexpected features.
These include a clutch-tilter and crash-proof cord lock. Smooth and easy to operate, I also love that they come in a range of designer colors– for a unique touch to sidelights and even around your home. Opt for glossy, satin to white hues, neutrals, tans, and even dark hues like chocolate brown or navy; Buy Here. 
LightBlocker Mini Blinds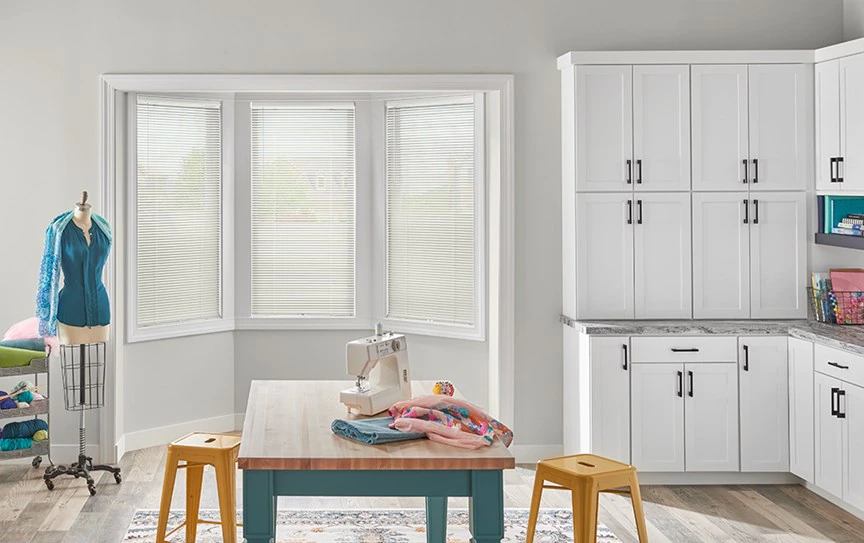 These clever mini blinds provide the privacy you want for sidelights on a busy street. Available in a thickness of up to 6 inches, the mini blinds are made out of durable aluminum designed to reduce "light leakage." Perfect for French Doors, these mini blinds come in white, neutral, and bold darker hues; Buy Here. 
Mark One Mini Blinds
These aluminum mini blinds are excellent if you want even more light control for your sidelight blinds. Useful for a variety of doors and shallow spaces, these mini blinds can withstand even heavy or more aggressive use.
The 8-gauge design gives you full control– while staying stylish with textured colors. Stylish, versatile, and one of my favorite choices overall; Buy Here. 
Sleek Cordless Mini Blinds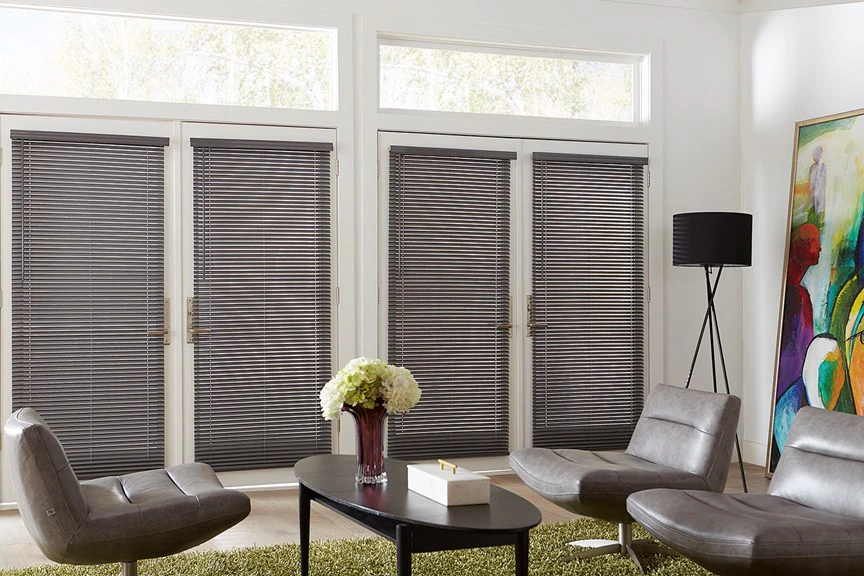 Lightweight, modern and durable– these mini blinds are a stylish but practical option for sidelights. The cordless blinds include a special enamel finish to resist fading and repelling dust. The aluminum blinds also include a stylish matching valance with an easy snap-in capability. Available in five classic hues; Buy Here. 
Wood Blinds
Genuine wood blinds are classic and offer a rich look for traditional homes. They're easy to maintain, for the most part, offer excellent privacy and exude elegance.
The downsides are that they tend to be pricey, and, more importantly, they may warp in humid climates, though some do come with special treatments. Shop wisely, and consider if it's a good fit for your home. 
Warp-Resistant Deluxe Wood Blinds
These classic 2-inch wood blinds make for a beautiful, traditional statement for sidelights. Far more affordable than what you'd expect, these blinds are made with American basswood and are treated to be resistant to warping– making them one option. Choose from white, gray, and natural to cheaper cherry colors; Buy Here. 
UV-Resistant Wood Blinds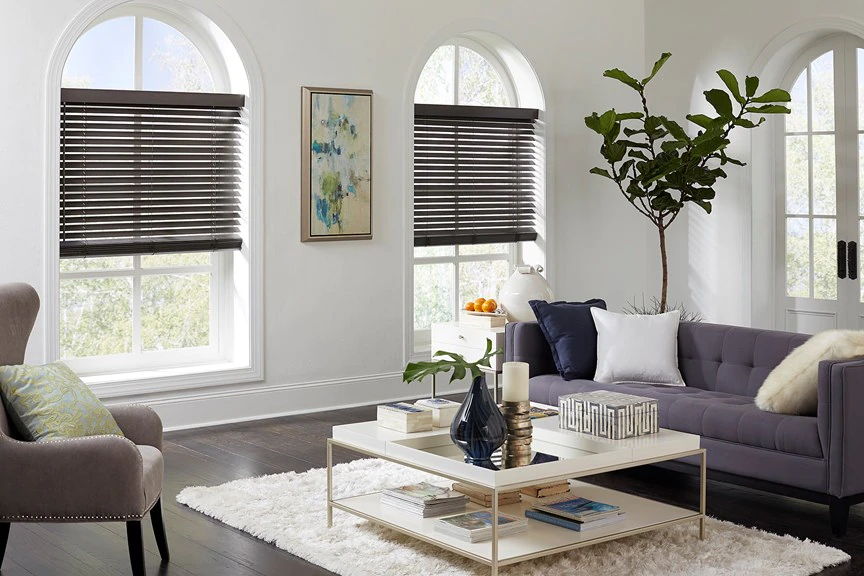 Living in a sunny region? Consider these UV- resistant wood blinds. Like all other blinds on this list, you'll get a fit guarantee and can custom order in the size and color of your choice.
American basswood features a real grain finish, complete with a UV-resistant protective coating. With several lift options, and countless wood tones, along with decorative tape, you'll be able to order blinds that fit your needs; Buy Here. 
Levolor Wood Blinds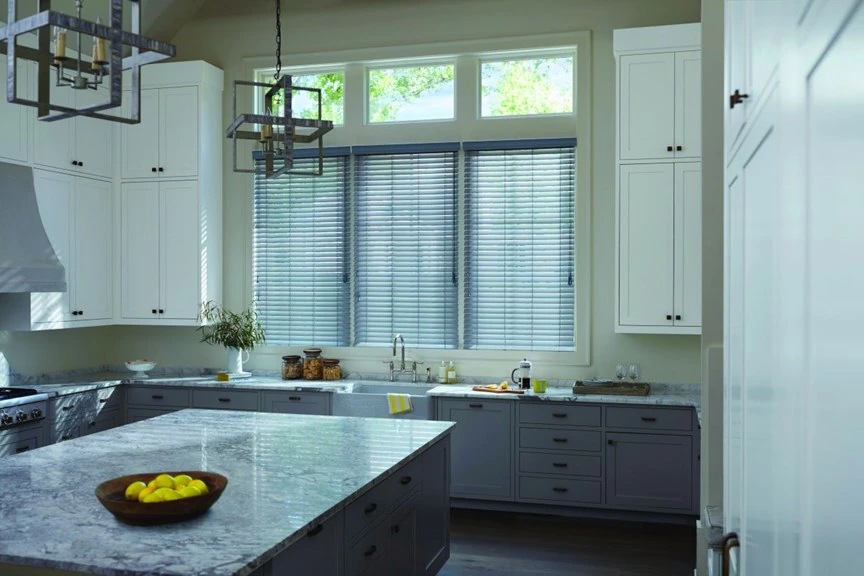 These wood blinds are sure to make an elegant impression for sidelights. The two-inch blinds come with a complimentary, matching valance and decorative tape to customize your look.
Modern and elegant, these blinds are par for the course for a contemporary wood blind. Available in white, off-white, gray, and a variety of wood tones, complete with a wand tilt for easy use; Buy Here. 
Frequently Asked Questions
Question: What does a side by side blinds mean?
Answer: Side by side blinds are just like they sound: a few (2-3) blinds mounted beside each other with the same window frame. This is done by mounting brackets next to each other, with the center bracket adjusted to fit the top of the window's frame. 
Question: What blinds look best from the outside?
Answer: The best blinds from the outside are those that complement the architectural design of the home. Many prefer shades for decorative purposes, but classic wood, faux wood, and even blinds of other materials in neutral colors are usually preferred. 
Question: What is a zebra blind?
Answer: Zebra blinds are technically shades. Zebra shades offer a fresh, sleek, contemporary look like a direct alternative to standard horizontal blinds. They're usually 3 inches thick and are prized for their balance of insulation, privacy, and adjustable lighting. 
Final Thoughts 
Sidelight blinds add a finishing touch to your home. No matter what kind of materials you opt for, make sure you're buying the proper fit. With blinds, you can keep your home private but also airy and light. While blinds may seem like a simple addition, they really can add a finished look for a bright, welcoming entrance. 
Want more options? See more Sidelight Blinds Here.